Best Travel Shoe Bags For People On The Go Reviewed
In a Hurry? Editors choice: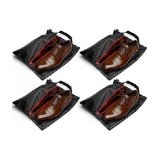 Test Winner: Tuff Guy

When vacationing, we may have a tendency to contemplate travel shoe bags as an afterthought. With excitement for the trip ahead and the mental checklist of ensuring everything is in order before we depart, it is no wonder why we can so easily forget such an important aspect. The truth is that our
footwear may be clean
when we pack, but more times than not, as the vacation continues onward, these same shoes will become dirty at some point. A simple shoe bag can not only help keep the rest of our clothes, as well as our suitcase, clean, but it can also protect our footwear from becoming soiled or damaged during travel. Below, you will find our top 10 choices of travel shoe bags.
Standout Picks
Criteria Used for Evaluation
Water Resistance
We, generally, do not consider taking hold of our traveling gear and then tossing it into the water, so to speak. We, also, may not consider the chance for humidity to seep into our carefully packed luggage, only to cause sweat and, in turn, ruin our valuable possessions within; including our brand new pair of satin dress shoes. And although the first former may not be as likely to occur, the latter former certainly has the higher possibility of happening. This is why waterproof packs are a necessity, in terms of better preparation for a happier vacation.
Nylon – nylon can be a great asset as a material for waterproofing. In its raw state, nylon has water-resistant properties associated with it. It is not, however, waterproof on its own. A process involving lamination must be applied to the outer surface. This, in essence, transforms a water-resistant characteristic into a waterproof one.
Face Fabric – face fabric is the outer layer in relation to waterproofing nylon. Most generally, polyurethane (PU) is a chemical which is commonly used to achieve this. So, when you spray water on your new waterproof product, then chances are, when the water runs off and everything inside is still dry, PU is the friend which helps to form the face fabric, as it were.
Closure System – If the container utilizes drawstrings as the only means of closure, it will never be truly waterproof. Believe it or not, certain zipper setups can eliminate water from entering. They may not all be 100% waterproof in their design, but they can certainly detour water droplets, per se. That is, a zipper always trumps a drawstring, as this applies to waterproof design as a whole. Furthermore, if the zipper borrows from the zip-lock design, then 100% waterproofing is highly achievable.
Oddly enough, when discussing waterproof design, there are different standards by each company as to what 100% waterproofing actually is. For the most part, there is no standardization which demands any given set of protocols should be met. What does this mean? In essence, it means that one company may see their product as waterproof when another company would define the same product as water-resistant. And we, the consumers, are left trying to sort through the mess. This is why it is paramount to have a basic understanding of what waterproofing actually is; at least, as it is applicable to protecting our footwear.
Breathability
It may sound counterproductive to house the words waterproofing and breathability into the same context. But they are, indeed, two sides of the same coin, so to speak. Waterproofing is the ability of a product to repel water from the outside in. Breathability, on the other hand, is the ability for the same product to allow water to escape from the inside out.
As a general note, there are two numbers that associates with the waterproof and breathable paradox. The first number is in relation to waterproofing and usually measures in millimeters. The second number is in direct correlation with breathability factors and, usually, measures in grams. The amount of grams which can pass through a square meter in a 24-hour period tells us how breathable the item is.
Cotton and Furs – although both cotton and fur items are highly breathable; that is, they both will allow humidity to escape more rapidly than nylon, these materials are tougher to waterproof.
Rubber and Plastics – although both of these materials are easy to waterproof, they provide an environment which makes it very difficult to allow humidity to escape. Water may not get in, but it certainly isn't getting out, either. This can certainly damage a nice pair of velvet shoes under humid conditions.
At the end of the day, we need a way to allow our footwear to have the best of both worlds, per se. We need a product which repels as much water as possible while, also, allowing a decent amount of water to escape during a 24-hour period. Strangely enough, nylon with a face fabric is not only cost-efficient, but it is, also, a great combination to give us the solution to the waterproof and breathable paradox.
Adjustability
One of the key things to consider when shopping for any type of bag is the closure system which it employs. Most people will find they have different preferences, where some will prefer to have something that's easy and no-fuss, while others will require a safe closure system that will be reliable, and will withstand years of use.
Generally, garment and shoe bags come with two types of closures:
Drawstring - this is the simpler, cheaper, more lightweight type of closure. It's perfect for children's gym equipment, as well as lightweight sneakers that aren't wet or muddy, just dusty from your recent workout. Being lightweight and easily packable, these will easily fit into any backpack or bag, and are a great way to make sure you don't have a mess inside your suitcase while traveling.
Zipper - if, however, you're after something a bit more sturdy, that can ensure a secure closure and can completely enclose your footwear inside the bag, a zipper will be the better choice. It's key to choose a quality one, as they can often deteriorate, or leak. It's also good to know that there are zippers which are water-sealed, so that they don't let water and moisture through, protecting either your footwear, or the rest of your clothes from a muddy mess.
Of course, some manufacturers will also use different closure systems such as buttons or velcro, which can all serve their purpose well, as long as they're what you need. Overall, the best way to make sure you're satisfied with your purchase is to go with the product that will serve a specific purpose, or go with something more versatile you'll be able to reuse in different situations. For some, this may mean investing in a couple of products, but that's an investment worth making, seeing that it will make your life so much easier.
Durability
One of the first things to consider is the amount of traveling you will be doing. Also, another factor is the places you will be going. After you have both of these mental points in your mind, you can better assess the type which will better suit your needs.
Disposable­ – when it comes to disposable containers for your shoes, there are some things to consider. Disposable is usually a one-and-done scenario. Simply, remove your shoes and when you are ready to re-pack, grab another bag. For the most part, you can purchase disposables for literal pennies on the dollar while doing so in bulk. In this, disposable bags are budget-friendly and there is no worry over cleaning, either. These are usually lightweight and compress well. The more common of the design is a drawstring at the top. The downside is that most of them are not waterproof and/or will not breathe well.
Permanent – permanent travel bags, on the other hand, do have more choices readily available, in terms of the waterproof and breathable paradox. These are, normally, made with a zipper and are, also, a bit sturdier. This means they will last you for many miles and/or could potentially last through multiple journeys. These types will cost a bit more but the overall gain in protection for your footwear is worth the investment. After all, it is better to spend more on prevention than to purchase another pair of shoes which are ruined, due to humidity, water exposure, and etc.
Also, other important places to consider are work and school. Some of us prefer to wear certain shoes in only these designated areas; whereas, for others, it may be a requirement. When considering overall cost-effectiveness, then a permanent solution overrides a temporary (disposable) one. And for the most part, a dust-free option will function just fine if walking is not part of the process to get there. As such, this can save even more to be tucked away into the piggy bank, so to speak.
The amount of traveling really will dictate on which one works best; not to mention, the places you are visiting. For example, if you are visiting a hotel near a waterfall or will be seaside on a cruise ship, then a permanent, waterproof product may be the right call. If, however, you are headed only a few hundred miles and the temperate climate is dry, then there is no reason not to take advantage of dust-free disposables. At the end of the day, it is all about where you will go and what you may be exposed to during your vacation or everyday lifestyle.
Advanced Features
The overall design is a leading factor as to which product better suits your individual, specific needs. Some items may have divisional compartments; whereas, others do not. Also, the internal lining may or may not be made up of the same material as the outside. Other important factors to mention are handles, the ability for easy stowaway when not in use, and accessibility.
Compartments – compartments are great in combating the scuffing and abrasion dilemma. Usually, in reference to sleeves or dividers, compartments are a great way to ensure everything remains kosher while traveling.
Lining – the lining can defer from what the actual outer is made of. In general, most products are the same inside as they are on the outside (i.e. nylon both external and internal). There are a few cases, however, where the internal lining will differ from the outside; usually, in the form of a breathable and softer material (e.g. nylon on the outside and fleece on the inside).
Handles – handles may seem irrelevant when thinking about the fact your footwear will be inside a bag which is, also, inside of a suitcase, so to speak. Handles, however, can be quite convenient when thinking about the arrival at your destination. That is, you can unpack your suitcase; thereby, hanging all of your shoes up on hangers or a rack system. This prevents you from constantly having to open and shut your luggage all the time.
Accessibility – accessibility matters, in terms of ease of use. A zipper is easy to access, more so than a drawstring at times. Also, something to consider is how snug your footwear fits inside of the item in the first place. If you have to spend ten minutes placing your shoes inside of a protective storage unit, then it isn't as accessible as it should be.
Storage – storage, when not in use, is something we may not take into account. After all, the item we are discussing is a storage device; used to store the footwear that we need, in the realm of protection. But when this device is not in use, it is nice to know that we can put it away without any hassles of taking up too much room. Preferably, a system which folds up or collapses is the ideal solution and can make storing away a lot less painful, as it were.
Top 10 Travel Shoe Bags
1

. Nike Sport Golf Shoe Tote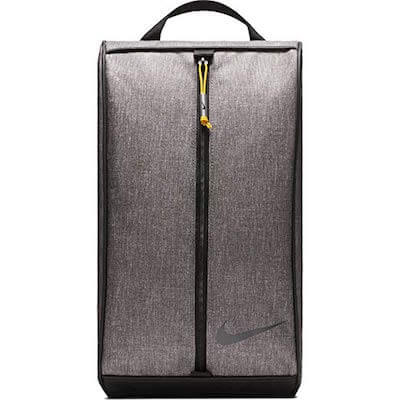 This product by Nike was developed for sportsmen and women who need a durable, reliable product which will not only protect their footwear, but that'll make the whole transportation and storing process a lot easier. With a sleek, modern design, you'll be happy to show this tote off, and may even carry it to the gym, instead of just using it for your travels.
The Golf Shoe Tote was developed primarily with breathability and practicality in mind. With a mesh panel integrated in the design, it'll ensure that your shoes are stored in an airy container that'll help with the drying process after a long session of working out. You'll also benefit from the tough polyester material that is used in the construction - not only is it durable, but it won't allow the dirt from your golf or running shoes stain the rest of your gear.
Other features include a zipper closure, as well as a carrying handle which enables you to carry this tote without the need for other bags. In addition to being highly convenient, this product is made by a reputable brand, so you can rest assured you'll be getting a high quality product that won't let you down after a few uses. The price reflects this as well, so don't be surprised by the higher associated cost. Do note, however, that this bag is perfect for those who want something they can customize, as it has enough room for custom graphics, crests or logos.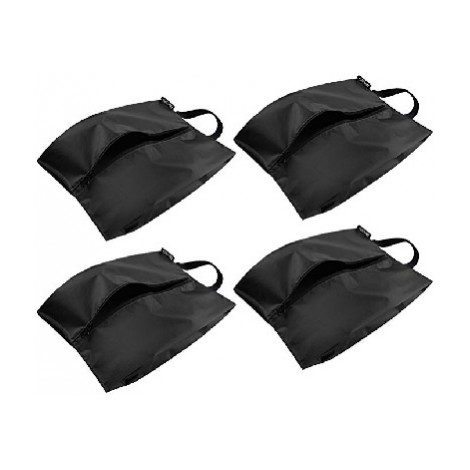 Wonderful for two pairs of sandals or a pair of hiking footwear, this item is made of nylon. In addition, it is waterproof and contains dust-resistant properties. Furthermore, the material is breathable and will allow your shoes adequate airflow. The full-length, zipper closure is ideal for ease of access. Also, the handle at the top makes hanging these after your arrival a valid option.
We like this design for the overall convenience they give. That is, you can choose to hang them up after you arrive at your destination or leave them be inside your suitcase. Ease of access is a guarantee with the full-length, zipper closure. This product is waterproof and performs well. In addition, there is the right amount of ratio to the breathability factor, as well. This means water can't get in, yet humidity can escape.
The item runs in the midrange of cost association. It is, indeed, waterproof and contains decent breathability, too. For the cost, this is a wise investment, as the product delivers great.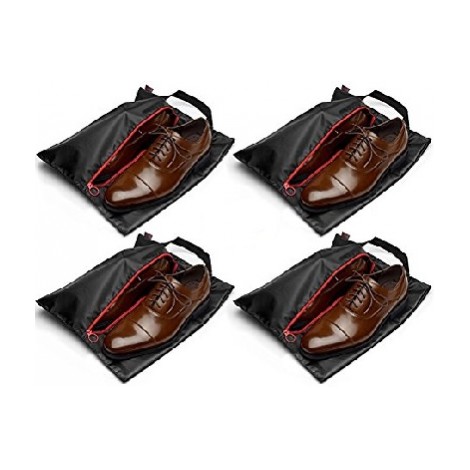 Tuff Guy ups the ante with these tough-built bags made of ballistic nylon. In addition to these lasting for a long time and through multiple journeys, this product helps to ward against abrasion and scuffs. Furthermore, with the zipper closure, these are water and dust-resistant, as well. Moreover, there are six available sizes to better suit your individual needs.
This product design utilizes ballistic nylon. In essence, this is a tough material and will last for years to come. It is water- and dust-resistant and does well at the prevention of scuffs and abrasions. The closure is a zipper which helps to solidify the water-resistant quality of this item. Furthermore, it is a high-quality zipper which should last for many trips and journeys.
Depending on the size, these range in the lower to upper in cost association. The design is well done and the quality is even better; making these a must-have purchase for those facing serious travel.

4

. Dot&Dot Packing System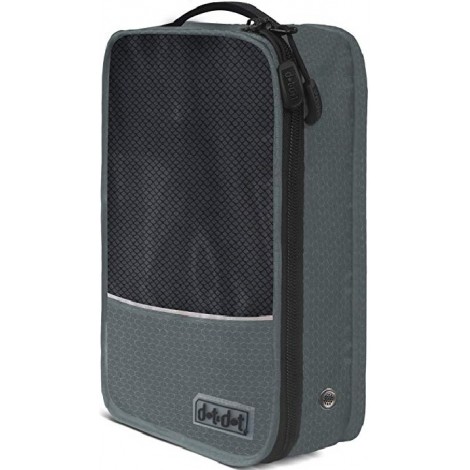 We love this item for the overall general design. It collapses for easy storage and utilizes a flap system internally to help footwear remain both scuff- and abrasion-free. In addition, it fits nicely inside of luggage with wheels and there are multiple color choices, as well. Furthermore, breathable grommets are at the side to ensure your footwear receives adequate airflow.
With a suitcase-style zipper closure and a collapsible feature for an easy stowaway, this product has a unique but solid design. Internal flaps help to separate footwear within, so you can remain confident they will remain scuff-free. The mesh outer lining works to keep out the varying size of dirt particles; thereby, aiding in maintaining a dust-free environment. Furthermore, in combination with the side grommets, this performs well in giving you decent breathability, too.
The upper midrange is where this product falls into, in terms of cost-efficiency. Having a design to ensure easy travel and abrasion-resistant footwear along the way, this is a great purchase for the price point.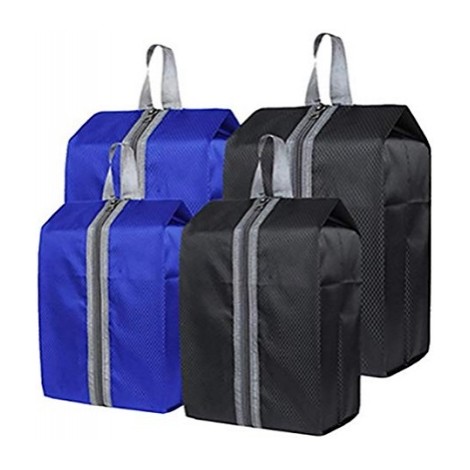 With the handle across the top, there are both alternatives to carry separately or pack away into your luggage for ease of usability. In addition, the full-length zipper makes for easy storage and retrieval. The nylon material ensures these remain water- and stain-resistant. Furthermore, they are machine washable. As such, cleaning is much easier.
Nylon is great for allowing water to remain outside while, also, allowing your footwear to breathe. In essence, these work well at combating humidity levels. These are resistant to both stains and water. This means, in addition to maintaining the proper environment to fight against humidity, these are easy to clean and will last over the long run, as well.
This product falls into the midrange of the cost associated with others on this same list. They are made well and should last through multiple journeys. At the end of the day, these are worth every penny spent.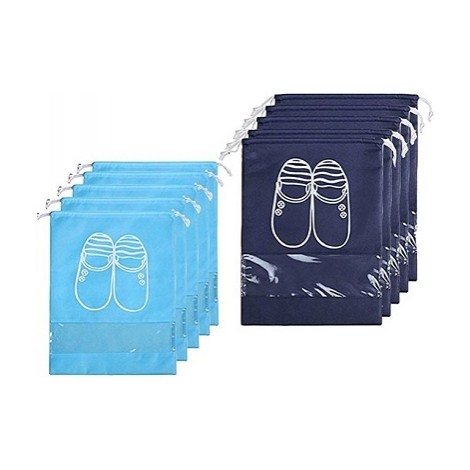 Whether you need dust-free or water-resistant bags, Yamiu covers your footwear well. Made with non-woven fabric or nylon, respectively, you have your choice between the two. Furthermore, the drawstring option comes with a window for quick identification of the contents inside. In addition to a lifetime guarantee, both products have a two- and four-pack option, with the dust-free version having an additional 10-pack alternative.
The dust-free version has a design utilizing non-woven fabric. It folds up nicely for easy storage and has a drawstring to cinch easily. The water-resistant version is made of nylon and deploys a zipper for easy access. Most footwear tucks away nicely in this product. With a small and large alternative available, these will house anything from sneakers to heels and nearly everything in between.
Dependent on the choice of material and the quantity, these vary in the cost range of budget-friendly to the upper end, in terms of evaluation with others on this same list. They do, however, have a great design and are well made. As such, these are a worthy investment.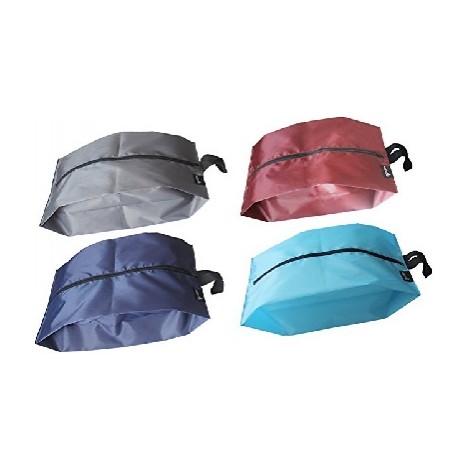 Great for traveling with low-profile footwear, this product works well at keeping everything dust-free. The design is of nylon and has a full-length, zipper closure. There are two packaging choices available; black or multi-color. Furthermore, these are lightweight and fold up nicely for an easy stowaway.
Having a design of nylon implies that these are water-repellent and are dust-free. Furthermore, with the material makeup, they will last through multiple trips and have a nice longevity. These come in two color variations. Choose to your personality with vivid colors, or remain in a business tone with the black. You have your choice of either one.
Midrange is the cost association of this wonderful product. They are made with the standard nylon for good travel bags and have a zipper closure. As such, you cannot go wrong with this purchase.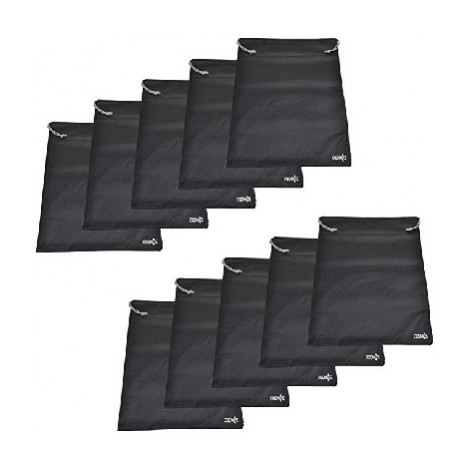 This design of the non-woven and polypropylene material works to repel water rather nicely. The lack of a zipper, however, prevents these from being completely waterproof; albeit, they are easy to maintain and clean. With the double drawstring closure, there is easy access and the color variations allow for some nice styling, as well.
Non-Woven polypropylene is the deployable material in this product. In essence, they are easy to keep clean and will, also, repel water to some extent. The double drawstring closure is certain to last for many outings, as you enjoy the benefits of having quick and easy access to your footwear. Made with the notion of always being on the go, the closure performs well.
These fall into the midrange of cost. They have a decent design and the material is non-woven. This means the product will have a nice water-resistant and breathable ratio, in turn. As such, this is a great investment for those on the go.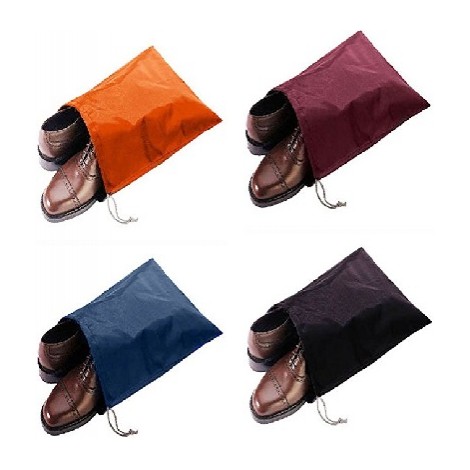 These are perfect for dress shoes, flats, sneakers, and other low-profile footwear. What sets these apart from some of the others on this list is the sheer amount of color variations available; there are many. They have a drawstring closure and utilize nylon for the main material. This means they will be dust-free and are easy to maintain and clean.
There are three size choices available. With each choice, the overall design is about the size of the footwear and not the style, per se. That is, these are better as a low-profile shoe bag.
These have a drawstring closure at the top of the bag. With the nylon material, this means they will do well at keeping dust at bay. Moreover, the drawstring allows for quick and easy entry.
This set is easy on the bank account. Moreover, they are made with great material and have a drawstring closure for easy access. With the multiple color stylings, these can be easily matched to either your luggage or personality. In other words, for the price point, these are a worthy addition to your journey needs.

10

. Richards Homewares 6847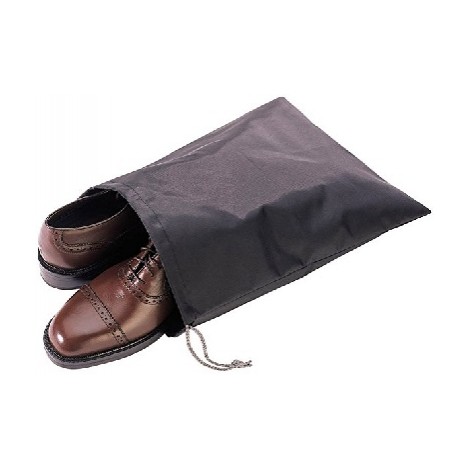 With 210-Denier nylon at the helm, you are certain to not only have a truly dust-resistant atmosphere, but the longevity factor is a given, as well. In addition, the drawstring closure makes for ease of retrieval and storing. Add to this the ability to snugly house your low-profile footwear, and you are left with a product which is ready for many journeys ahead.
210-Denier nylon is the design feature of this item. In essence, this means the material is resistant to both water and dirt debris. Furthermore, the longevity factor is great, too! A drawstring closure system is in place. There is easy access during the packing phase or while on the go. That is, storing your footwear is a cinch with this closure system.
Budget-friendly, you get a set of 3 when purchasing this product. Moreover, it is made with high-quality, 210-Denier nylon. That is, you cannot go wrong with this investment for your travels.

Subscribe to our Newsletter