Best Fur Boots Reviewed & Rated
In a Hurry? Editors choice: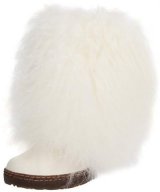 Test Winner: Bearpaw Boetis II

In order to keep your feet warm in cold to very cold weather, you will need something that is made to heat your feet up, therefore, heating your entire body. A great way to keep your feet at a comfortable temperature in the coldest of weather is wearing a pair of fur boots. Whether it is real or faux, people have been using animal hair in clothing and shoes for thousands of years. Designers at one point exclusively used the real thing, but after much resistance from animal rights activist, many companies found ways to make replica or "faux" materials for their shoes.

The list below looks at the highest rated pairs of fur boots currently available for purchase, with a variety of styles suitable for both casual and dressed up occasions. Read on to find the perfect model for you.
Standout Picks
Criteria Used for Evaluation
Insulation
Obviously, the top criteria for a pair of winter fur boots is their ability to retain heat. After all, that is the main goal of footwear such as this. It needs to have a few key aspects in order to maintain the heat inside the shoe.
Material: Typically, strong and solid materials are used to keep heat inside fur boots. Fur is one of the top contenders for materials that store heat. This is because it is found in nature. Some design companies use the real thing but for the most part, companies have developed faux-fur; a great replica that behaves in the same way as its real counterpart, without harming an animal.
Breathability: When searching for a pair of fur boots with optimal heat retention, it is absolutely imperative to find an option that does not have high airflow. The purpose in airflow is to cool the foot. So you will want to have exactly the opposite to steady your body temperature. You will not want to get something that has a light weave pattern as it will cause too much air flow. Instead, search for a tightly-constructed upper. A tight weave of fabric will ensure that little to no heat escapes through the air holes. This not only prevents heat from escaping but also blocks cold air from going into the shoe.
Lined/Unlined: Another barrier against heat escaping or cold air entering is whether or not there is a lining. The lining of your fur boots adds to the structure and the durability. Furthermore, and more importantly it acts as a blanket. It wraps the foot with even more heat retention. This is not to say all of them need a liner. Some are constructed well enough to not need the liner as they prevent heat escape altogether.
Style
Though it may not sound like it, fur boots come in all styles. What will work best for you depends on the type of use you require this footwear for. While some people want to purchase this type of product to wear on a daily basis in subzero temperatures, others may only want a little bit of fur for insulation, or for looks.
Overall, you'll find that fur boots can be categorized into a few groups based on how they use the fur:
Lining: If you're after a pair of footwear that will keep you warm in low temperatures, you may want to look into boots with a fur lining. These come in all shapes and sizes, and can be appropriate for either mildly cold weather or Arctic conditions. If warmth is a crucial factor, make sure to purchase a pair of fur boots with a temperature rating, as this will ensure you're getting exactly what you need. Otherwise, you'll do well with most models listed above.
Collar: One of the best uses of fur in footwear is to protect the wearer's feet from moisture. This is achieved through the addition of a collar on a pair of fur boots. This part of the design will catch raindrops and snowflakes, preventing them from making their way inside the shoe, and keeping you dry and warm.
Decoration: Last but not least, you may want to purchase a pair of fur boots for their looks. Whether you want something with natural hair or synthetic, practical or just good looking, you'll find that a number of designers use fur to embellish their designs, creating unique, attractive footwear that not only looks great, but also helps protect you from the elements.
Weight
When wearing winter footwear you can automatically assume you will have extra baggage on your feet. They are typically made to be heavier than say a sandal or running shoes. Their purpose is for something completely different so they have to be constructed completely different. The average running athletic shoe weighs only 1.5 pounds. Compare that to an average pair of fur boots weighing in at 5-6 pounds and you can see the difference that would make on your foot.
Heavier fur boots contribute to foot and leg fatigue which overall affects your attitude and physical abilities. No one wants to walk a long way in something that are ultra heavy. Do you remember roller skating and when you took the skates off, your feet felt heavy because they were used to dragging those skates around? Well, that is not pleasant to experience in everyday life if you are dependent on this to carry you through the harsh winter.
If your pair of fur boots is too heavy to be worn on a regular basis, you may find yourself becoming unhappy with your purchase. No one wants to buy a pair and not like something about it; therefore, it will get donated or forgotten in their closet. Also, a person is not going to be comfortable or inclined to wear a pair that wears them out. Especially, if they are somewhere where walking long distances is a daily requirement.
Value
When you think of an investment piece (which a pair of fur boots definitely are), right away, your mind goes to the top brands and those outrageous prices which can sometimes be associated with them. Although it is never a crime to want to invest in a nice item every now and then, on a day-to-day budget, splurges are not realistic, and in most cases, a quality pair of fur boots does not always need to be a budget-breaking splurge. So, why do we automatically associate brand-name with money? It might be because of the ad campaigns and flashy commercials, or even a brand our friends and loved ones may swear by. At the end of the day, however, the quality isn't always that different between generic and brand names.
On that note: the quality of materials used in construction can, also, raise the price drastically; especially, in athletic and dress wear. Is the material made of genuine leather or faux leather, and so on?
Deciding on which brand you want to buy from simply comes down to a preference of not only their styles but the brand, itself, and what that brand may stand for. A lot of times, it might be a purchase out of loyalty you may have towards a certain brand. Knowing their products, and/or the fact you have previously purchased from them, means you know what you're in store for and what to expect from your purchase. That can take a lot of pressure off of the purchase and the worry of spending too much on something you may not like. That does not, however, mean you shouldn't branch out and try something new, because companies are always coming out with newer and better models.
While shopping for a running or walking shoe, you will automatically start looking at specific brands that excel in the athletic department, starting with, probably, Nike or Adidas. A lot of their popular, classic styles are fairly priced and easily attainable to most. Taking the time, however, to look into the products, will show you how much their price-ranges vary and will make shopping at high-end brands less intimidating. If, however, you're after a pair of fur boots, you'll most likely turn to Ugg, Bearpaw, Sorel or Columbia.
The most popular styles from specific brands are the most popular for a reason; they are attainable. When, thoroughly, looking into which brand of shoes to buy from, take a look at their most popular styles in whichever style it is you're in search of. More often than not, you will come to find that even luxury brands have affordable options. Purchasing the brand's most popular item not only saves your wallet but it, also, ensures you're getting a quality product, tried and tested by countless consumers, and proven to be a good buy.
Traction
Grip and Traction. Aren't these the same thing? That is a question that most people ask themselves when shopping for footwear. To some extent, they are because they help you keep your footing. However, the grip is the ability to "grip" the surface in which you are walking on. Traction refers to the ability to keep your feet from sliding out from in under you.
It is important to have both of these factors in a pair of fur boots. Consumers buy this kind of footwear with the intention of wearing it in bad weather elements or on surfaces in which you would need extra help staying upright. One such scenario is ice or snow. The fur boots we rated are for extra warmth so chances are, they will be worn in conditions that require good grip and traction.
When searching for good traction and grip, the sole of your fur boots is what needs to be examined. Looking at the sole of any shoe you will see whether there is a tread pattern or lug pattern. This is the grooves that you see on the bottom of a sole that helps to grip in adverse weather or surfaces. The higher the lug and tread, the more grip and traction you will have. Of course, if you don't like the rugged look, you will not want to buy anything with a super thick sole. There is adequate traction provided from shorter soles. That all comes to a personal preference.
Top 10 Fur Boots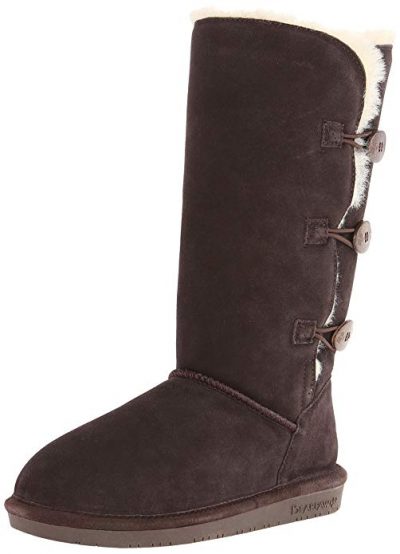 Having been a staple in the footwear business for almost two decades, Bearpaw has been widely received and loved by consumers worldwide. Their styles are ever-contemporary without sacrificing comfort. The Lauren design has a fairly tall shaft that will help insulate the foot as well as the calf when you wear it. It is fully lined with sheepskin so you will have the highest degree of warmth to help you be comfortable on those frigid days.
A generous 16-inch opening is at the top of the shaft of these fur boots. This gives room for anybody who might have a wide calf area as well as bulky clothing you have to wear when trying to stay well-insulating. Using suede in the design is a great idea to generate and maintain body heat. Suede is a natural material; therefore, it stays nice and toasty against the skin.
Bearpaw is a well-known and trusted company. They can be associated with dependability and durability as they are one of the higher producing companies in the industry. The Lauren is a pair of fur boots thick enough to wear on super-cold days but also stylish enough to wear with leggings and jeans for fun fall nights.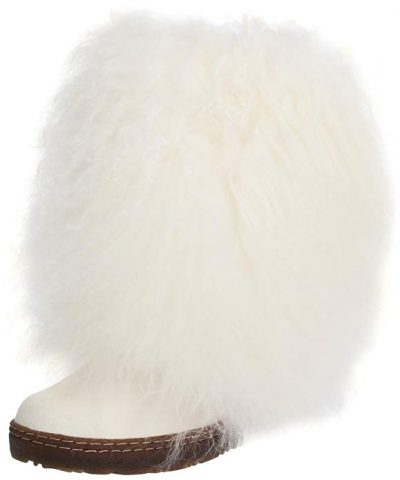 Bearpaw has long been a trusted name for providing quality footwear at fairly affordable prices. You don't have to sacrifice quality to get protection and dependability. The Boetis II is a pair of fur boots that's exotic in its look and is considered very fashionable by everyone that sees it. It is fully lined with sheepskin and comes with a strong rubber sole which will protect the feet while keeping you secure on your feet.
Everyone knows that sheepskin is the ultimate material to use as it retains heat really well without overheating your feet. This pair of fur boots is fully lined with sheepskin wool. It is soft against your skin while performing the task of providing ultimate warmth when you need it. No worries when walking on the slick streets or surfaces when you wear the Boetis II. Thanks to a thickly treaded and strong rubber outsole, you will have great traction and grip when you are faced with slippery floors or ice-covered sidewalks.
While the Boetis II does have a strong name behind it, you won't see that reflected in the price. It will not let you down on protecting your feet from the cold in the chilliest of weather days.

3

. Dr. Martens 2976 Leonore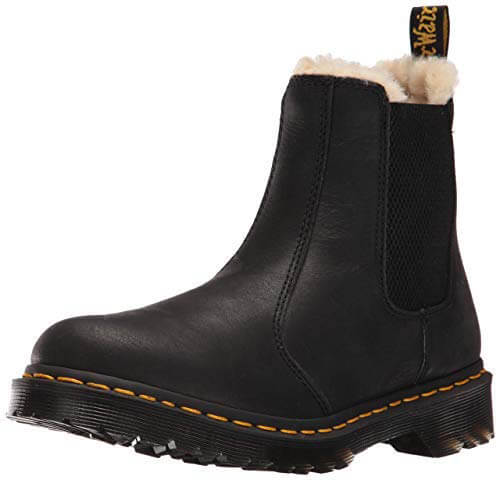 These Chelsea fur boots are probably the most versatile option on this list. Made by a legendary brand such as Dr. Martens, they offer style and insulation in a comfortable package you can count on lasting for a long time. This model is available in two color options, black and brown, and is one of the pairs of footwear listed here that you can easily wear with a smart outfit and not feel out of place at an office.
The materials used in making this pair of fur boots combine genuine leather uppers with a faux white fur lining that will work together to keep your feet warm in cold temperatures. The entire look is completed by practical features such as double elastic gores that make on and off easy, as well as a heel pull tab that is a classic Doc Martens accessory.
The type of construction used in making these fur boots is a Goodyear welt which is not only extremely durable, but also offers comfort through flexibility and water protection. It also means that this pair can be resoled, so once you've worn out the iconic air-cushioned sole, you can give these a new life. The outsole is abrasion, slip and oil resistant, and does well at shock absorption, making these excellent for all day wear. As for price point, these fur boots cost considerably more than average, which is the case with most Dr. Martens boots, so they may not fit everyone's budget. Nonetheless, they're an excellent investment.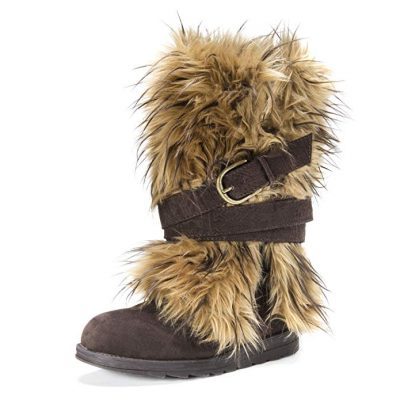 Another well-known name on our list is this pair from Muk Luks. This company was founded almost 50 years ago on the basis of making strong and dependable shoes that keep your feet comfortable and well-insulated. The upper of the Nikki is a polyester suede blend which adds to the durability of these fur boots overall. Muk Luks built a name based on the happiness of millions of their customers around the world.
The opening of the Nikki is a generous 14.25 inches which means it will accommodate a wider calf or bulky clothing when you are trying to survive the cold. The opening makes putting this pair of fur boots on and removing it an easy task. You won't have to worry about light amounts of water and rain affecting these as they have a strong water-resistant upper that will keep your feet dry and comfy when you are out in the adverse weather.
Surprisingly, the Nikki is at a great price point for a pair of fur boots and overall. It is versatile enough to be worn every day and very comfortable. You will enjoy walking in them season after season.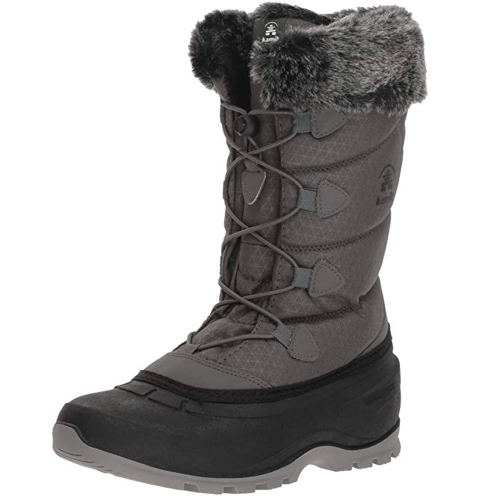 The Kamik Momentum2 fur boots were designed for harsh winter weather, and are ideal for those who need a sturdy pair of footwear that will keep them warm. An updated version of the Kamik Momentum2, this pair sports a slightly sleeker look, and comes in five color choices. The 10 inch shaft is perfect for keeping warm, and thanks to the brand's waterproofing technologies, these will even keep you dry in rain and snow.
The upper of these fur boots is made with a mixture of synthetic materials. The majority of the boot is made with water repellent nylon that traps heat inside, and a faux fur cuff that will prevent raindrops and snow from entering the boot from the top. You'll also benefit from 200g of Thinsulate and a faux shearling lining that are breathable and moisture wicking, while allowing you to wear these boots in temperatures that go as low as -40°F.
These fur boots are also seam sealed to bring you a completely waterproof pair of footwear, and this is ensured through the addition of a rubber outsole and shell. On the inside you'll find a removable EVA footbed that's been treated to repel odors, that will not only cushion, but also offer neutral support. The outsole is made with synthetic rubber, and features a heel counter lug for easy off. As for cost association, these fur boots rank slightly below average compared to the other items on this list, making them a great, affordable investment.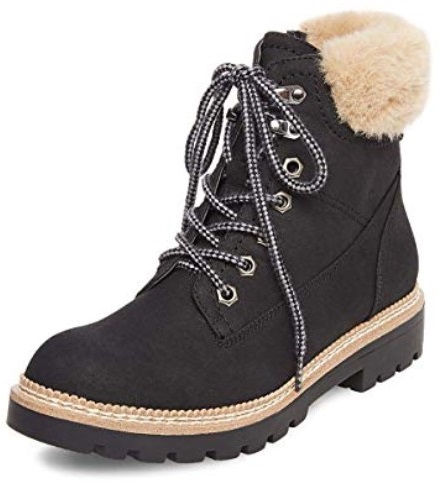 Steve Madden is a designer who combines traditional and refined with youthful and chic. He is not afraid to take risks or to play around with bold and innovative designs. The Alaska boot is very classic at first glance, but when you take a better look, you realize that it has an unusual cuff - one that doesn't go all the way around the opening - which makes it stand out from the other fur boots of its kind.
The Alaska has an upper made from nubuck leather, while the rest of it is made from synthetic materials. It comes with a lace-up system in the front for adjustability, but you can rest assured that you can easily slide in and out of the design thanks to the zipper in the inner side. The lining of the interior is faux-fur, and the outsole comes with deep grooves for superior traction. The heel is about 1.25 inches high.

The Steve Madden Alaska isn't built for harsh winters; rather, it is a choice for light snow, for the city streets, and perhaps an occasional hike down unchallenging trails. This pair of fur boots will keep you sufficiently warm as long as the temperatures don't drop too much, and you can definitely count on it to make you stylish even when you're all bundled up in layers! For mild winters, you can't go wrong with the Alaska!

7

. Columbia Heavenly Omni-Heat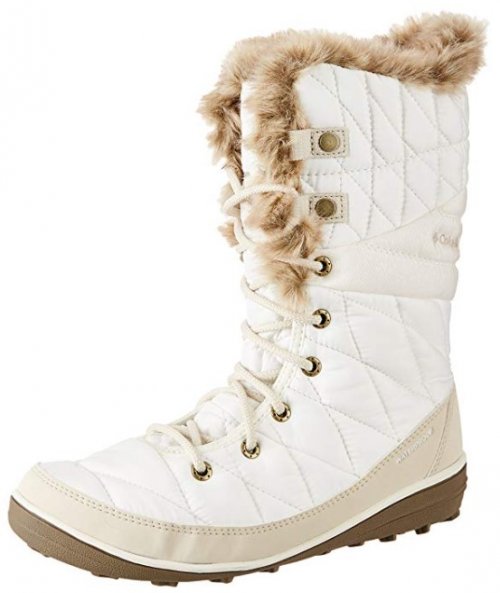 Columbia is a brand that is renowned for its high-quality footwear and outdoor apparel. It infuses its designs with high-tech features that can't be found anywhere else, and which are meant to help you be at your best in extreme conditions. The Heavenly Omni-Heat is just such an option, with its Omni-Heat Reflective material, Omni-Tech construction, and Omni-Grip outsole. It sounds fancy because it is - these fur boots are furnished with all the latest innovations that serve only to make you warm and comfortable!
The Heavenly Omni-Heat has an Omni-Tech waterproof build, one that ensures no moisture gets through to your feet, but that is also breathable and allows air to freely circulate in and out of the design. In terms of warmth preservation, there are 200g of insulation, as well an Omni-Heat Reflective lining. This lining is dotted with silver that reflects body heat and keeps it trapped inside the design. Finally, at the bottom of these fur boots is an outsole made from Omni-Grip non-marking rubber which provides good grip in every environment.

We are hard pressed to find a flaw with the Columbia Heavenly Omni-Heat, and we are sure that you will be, too. It is not a pair of fur boots that you are keen on putting on Instagram, but it will do more than its fair share of protecting you from frigid, icy winters. If you are looking for something sturdy and reliable, then look no further than the Heavenly Omni-Heat!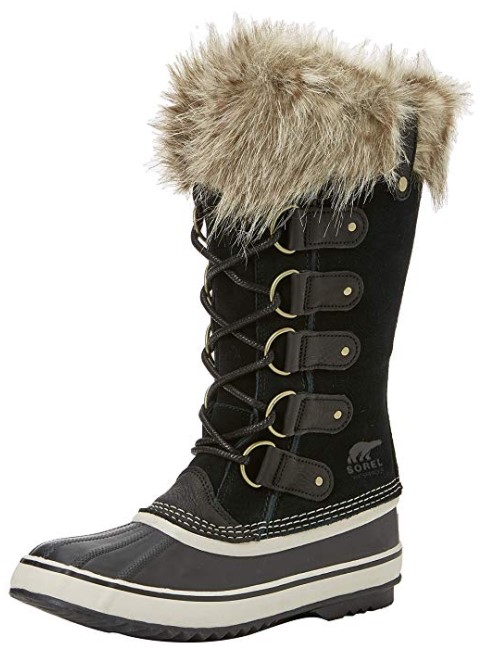 When it comes to winter fur boots, the Joan of Arctic is the boot to rule them all. This option comes from a world-renowned Canadian brand of outdoor gear, Sorel, and it has everything you will ever need out of footwear that's meant to keep you warm, dry and comfy. It has a waterproof premium leather upper with a faux fur cuff that is super soft to the touch. It is fully adjustable thanks to its lace-up system, and it will keep you toasty even in temperatures as low as -25 F!
The Joan of Arctic is made from full-grain leather and suede, with a seam-sealed waterproof construction. It has a 6 mm thick recycled felt boot in the interior, which makes sure that you are well-insulated. This lining is also removable, meaning that you will be able to create more space inside the design if you so desire. The outsole of these fur boots is actually a vulcanized rubber shell that's handcrafted. It has a herringbone pattern on the bottom to keep you slip- and skid-resistant on any type of surface.

While the Sorel Joan of Arctic does look stylish largely thanks to its rich fluffy cuff, it is not a fashion choice by any means. Rather, this is a sturdy, reliable pair of fur boots to wear in extreme conditions, when the winds are chilling and you're expected to make your way through piles of white snow. Truly, there is no design that will keep you safe as well as the Joan of Arctic!

9

. Daily Shoes Arctic Eskimo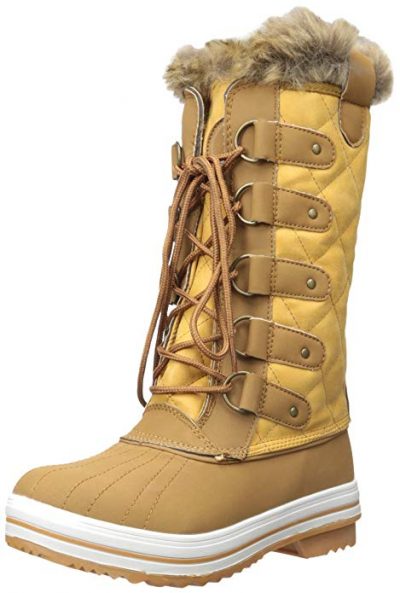 The Daily Shoes Arctic Eskimo is the epitome of fashion and functionality. So many features make this pair of fur boots a top contender for keeping you extremely comfortable. Not only will it keep your feet warm, it will also keep your feet dry thanks to the seals over the bottom. They look rugged without being too strong of a profile. Finally, they have a secure D-link lace-up vamp that makes the adjustment of these a cinch.
Keeping your feet warm is an easy task with a lining that is made from sherpa wool. Not only will it protect your feet from the cold but this material is notoriously known for being soft against the skin and ultra-cushioning. Keeping your feet dry is a top priority when you are looking to remain warm. If they get wet, it is very hard to maintain heat. The quilted upper of these fur boots, partnered with the liner, will keep your feet totally dry.
The Daily Shoes Arctic Eskimo is also durable and strong so you will get plenty of usage from it during the frigid months. Furthermore, it is surprisingly stylish, so even if you are cold, it will help you to look great while keeping warm.



When you come across the name of this brand - Ugg - an entirely different type of design comes to your mind, doesn't it? However, just because a label is famous for one model, doesn't mean it has no other good ones to offer from its collection. And a good one - or dare we say, a great one - is definitely the Adirondack III. In fact, this foldover boot is a bestseller from Ugg, one that performs amazingly even in extreme conditions, equipped with all the latest advanced features the brand has in store.
The Adirondack III is waterproof, thanks to its DryTech construction, and made from premium leather and suede. It has an UGGpure wool lining and a removable insole which protect your feet from moisture and cold. On top of this, there is also 200g of insulation in this pair of fur boots. When it comes to comfort, there is a dual-density EVA midsole which keeps you stable and supported, and a molded rubber outsole with a spider pattern for maximum traction. The Adirondack III will keep you cozy even in temperatures down to -25 F.

Alright, so it might not be the most stylish option out there. The Adirondack III is built for function, not for fashion, though it still looks quite cozy when paired with jeans or thick leggings. Wherever you find yourself - in the mountains, in the city, or in the countryside, these fur boots won't let you down!

Subscribe to our Newsletter