Best Sheepskin Insoles Reviewed For Softness
last updated:
Feb 06, 2019
With the winter season just around the corner, we start thinking of ways to keep warm when we step outside. Perhaps our old winter boots are not as comfortable, or not as warmth-preserving as they once were. Perhaps their insoles got compressed over time and lost their fluffiness, the very essence of what made the boots comfortable in the first place.
Instead of investing in a brand new - potentially expensive - footwear, why not simply replace the insoles? With so many sheepskin inserts on the market today, you are presented with endless possibilities for restoring your old shoes, at only a fraction of the cost. With this guide, we will help you choose the best one for you. Let's dive in!
In a Hurry? The test winner after 6 hrs of research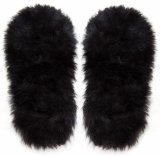 Alaska Leather Super Thick
Why is it better?
Australian Merino Wool
Genuine Leather Backing
Super Thick Super Fluffy
Cut Down Easily
Relieving Pressure Points
In a
Hurry? Editors choice: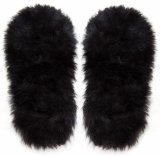 Test Winner: Alaska Leather Super Thick

3
Researched Sources
6302
Reviews Considered
6
Hours Researching
10
Products Evaluated
Insulation
Materials
Support
Compression
Adjustability
By Default
Criteria Used for Evaluation

Insulation
The main purpose of this type of insert is to keep you warm. Sheepskin, lambskin, lambswool, or however you want to call it, works wonders in freezing temperatures. It is no surprise that ancient civilizations inhabiting the coldest, most remote areas of the world relied on wool, among other materials, to keep them nice and cozy even while surrounded by snow and ice.

The reason for this is that wool is an amazing insulator. It has the ability to preserve warmth in the winter, keeping you toasty in your wool jacket or wool socks, but it works the opposite way as well. Don't scoff at the notion of wool sneakers or wool-lined footwear for summer - this material also keeps you cool and dry when the weather turns hot. Wool footwear (and apparel) basically functions the same way the thermos you take to work or school does.

Another neat feature that wool has, in connection to its insulating properties, is that it draws the moisture away from your feet. It is exceptionally moisture-wicking, and it can trap from 30 - 60% of its own weight in moisture. This means that even if your feet get too hot inside the shoe, they will not sweat or develop any bad odors as a result.

With all of this being said, we ranked the designs in our list according to their insulating properties first and foremost. This is largely proportional to the thickness of the wool part of the insert. The thicker it is - the more likely it will be that you won't feel even a twinge of frost on your January walk through town.

Of course, given that the insert covers only one part of your foot - the sole - your overall experience will also depend on the construction of the shoe itself. If it is a solid winter boot that is already well-insulated from all sides, then you have nothing to worry about. However, if you slide your wool inserts into a perforated slipper (say a Crocs Clog), then its insulating abilities won't be as efficient. (Though you will still be warmer than if you were wearing the shoe without the insert.)

Materials
During our research, we have encountered a number of different materials used in the construction of these inserts. While the top part is mostly unchanged - consisting of lambswool or lambskin - the bottom layer varies from one item to the next, and here we will examine them all.

Let's start with the top part first.

Lambswool: In the Insulation section we talked about the benefits of using lambswool as an insulator. Here, we will add a few more properties that this versatile material has. Firstly, it is resistant to flame and static electricity. If you were worried about occasionally getting zapped by your own insert, don't be.
Secondly, the medical profession considers lambswool to be hypoallergenic, meaning that it causes fewer allergic reactions than most other animal hides or products.
And finally, speaking of medicine, special tests at the Royal Melbourne Hospital and the CSIRO Textile and Fibre Technology Leather Research Centre proved that lambswool can help in the treatment and prevention of pressure ulcers. This is why many consumers who suffer from plantar fasciitis find relief when they use lambswool insoles.
Next, we will analyze all of the materials which can be used for the bottom layer of the insert.

Leather: In the case of the Alaska Leather Super Thick and the Ailaka Premium Thick, the bottom of the insert is made from genuine leather. This is a great choice for several reasons. Leather is a breathable material, adding to the overall ventilation properties of the design; it is also durable, and above all - malleable. Leather has the ability to change shape over time, molding to the contours of your foot and providing you with personalized comfort. Without any extra gadgets or shapes, the leather bottom in itself is enough to make you feel super comfortable in a short amount of time.
EVA: EVA, or ethylene vinyl acetate, is a type of foam which is most often used in the construction of running and high-impact sports sneakers. We see inserts which contain EVA in the case of the Abusa Premium Thick and the FootMaster Shearling Insert.
EVA is a shock-absorbing material. It disperses the impact of your heel strike, redirecting it from your joints through the insert instead. This way, you avoid the compound damage to your ankles, knees, and hips, and also get energy return for covering longer distances.
Two of the items on our list, the Ugg inserts, have a dual-density foam as their bottom layer. Dual-density actually means that two types of EVA are used - one high density, and one low, each with its own set of qualities. The high-density EVA disperses the force of the impact and the low-density EVA absorbs it, effectively eliminating its negative effects on the foot and the leg.
Fabric: Fabric is a lightweight, breathable material. It is used as a bottom layer of the Warmie Super Thick Premium insert, and it helps by making the insert light and extremely flexible.
However, fabric is not always the best choice when it comes to shoe inserts. It is not as durable as leather or EVA, and it thins out or gets frayed easily. Moreover, fabric tends to slide around inside the shoe, which no one really wants to experience.
As a last note, we have to mention the Abusa Premium Thick again, because this item contains latex. While there isn't anything inherently wrong with this material, if you are allergic to it, definitely approach this insert with caution.

Support
Walking on flat footbeds, with minimal cushioning and support is not a problem for short distances. Long-term, regardless of our gender, age, and physical fitness, we all need a little more support. Our feet like to be gently cradled and pampered, and good contouring or cushioning that is just the right amount of soft and firm can go a long way.

While these lambswool inserts are not necessarily built for providing support, there are a few which still have this ability. They not only keep your feet warm and cozy, but they also reduce foot fatigue, correct imbalances in gait such as overpronation or supination, and overall greatly improve your walking experience.

At the top of our list, when it comes to support, is the Superfeet Merino Grey. This isn't surprising, given the advanced technology it comes with. We're met with phrases such as a stabilizer cap, a deep heel cup, and shock absorbing materials. All of these ensure that you have a padded, smooth ride and that you can stay on your feet for as long as possible.

Next in line are the Abusa Premium Thick and the Ugg Sheepskin Insole, which both come with their own versions of support. Their backs are specially molded or constructed out of specific materials to keep your arches supported, to provide impact absorption, and to make your feet feel safe and cushioned.

Of course, you are not required to choose a lambswool insert which has a built-in support structure. These are often more expensive, and if you have footwear which has support on its own - such as a molded, cushioned footbed or some other type of padding - then you don't have to worry about this feature too much.

However, if you feel like you would like to strike two birds with one stone, then getting an insert which has both a fluffy, insulating surface and a contoured, supportive underlayer is a very efficient option. That way, you can enjoy both the warmth and the cushioned comfort that your footwear may just be low on.

Compression
Once you purchase your insert, and you confirm that it is the right material, the right thickness, that it fits both your footwear and your feet, that it provides good support and that you can wear it for as long as you want - one more thing to consider is its durability. Of course, nothing lasts forever, and inserts themselves are not the most long-lasting of products, but a good factor to take into account is the compression level.

While footwear can get scuffed, can fall apart at the seams, can have an outsole which gets worn out quickly - inserts, especially thick, fluffy ones, can get compressed.

What we mean by this is that these inserts get squished during regular use, and over time their capability of springing back up to their original form diminishes. They are no longer as thick as they used to be, they may not provide good insulation or comfort anymore, and generally, they lose their purpose.

Once an insert gets compressed so much that it's not useful to you, there is no other option but to throw it away and treat yourself to a new one.

Unfortunately, there is no predictable pattern or a solid guideline that we can offer to make your choice easier. It stands to reason that thicker inserts - those such as the Abusa Premium Thick, and the Footmaster Shearling Insert - get compressed more quickly than those which are thinner, like the Superfeet Merino Grey and the Shoeslulu Magic Absorbent. However, this is not always the case.

When it comes to the Ugg Sheepskin Insole and the Alaska Leather Super Thick, for example, even though these inserts are every bit as fluffy and thick as the ones mentioned above, they suffer from minimal compression during use.

Your best options are: follow our list according to the products' compression ratings, as we took into account not only the thickness and material type of each item, but also their customer reviews and guarantees from their manufacturers, or - you could venture out and take a look on your own. Make sure to read about possible warranties the manufacturer might be providing, as well as accounts of other people who have used the product.

As we mentioned before - nothing lasts forever. Inserts are far less durable than footwear, and so it is reasonable to assume that a thick, fluffy product would lose its shape after several months of frequent use. It is nothing to worry about, as their usually low cost makes it easy to find a suitable replacement in the blink of an eye.

Adjustability
Ordinarily, you might not think there are many things you could adjust on an insert. This isn't a shoe - it doesn't have any laces or straps or buckles or bungee toggle systems. This is just a piece of fabric pressed together with another piece of fabric in the shape of a foot. What is there to adjust anyway?

But what happens when that fabric doesn't fit your shoe? What if it doesn't fit your foot? What if it is too long or too wide, or there is something about it that doesn't work for you?

Well, that's exactly when you want your inserts to be adjustable.

Taking a pair of scissors and cutting out the excess material is incredibly simple. You don't need any special tools or any special knowledge - just a couple of snips and you have one perfectly shaped insert for yourself!

A question arises, however: how will you know which inserts are adjustable and which are not?

Aside from instructions and guidelines which come with the inserts themselves, you could also take a look at how the top and the bottom part of it are joined - if they are sewn together, such as in the case of the Emu Australia Naturally Australian, for example, then it is not advisable to cut the insert, as you will also be cutting off the seams and thus separating the two layers.

However, if they are glued together, or combined by any other method which won't get undone with your tailoring, then you should be free to cut as much as you want!
Expert Interviews & Opinions
Most Important Criteria
(According to our experts opinion)
Experts Opinion
Editors Opinion
Users Opinion
By Default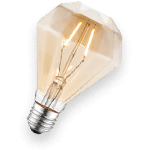 Hairy vs Wooly
Wild sheep were mostly hairy rather than wooly. Sheep were domesticated somewhere between 9 to 11 000 years ago, but selection for woolly sheep hadn't begun until around 6 000 BC. The first woolly products emerged only 2 to 3 000 years later.
Wool Quality
Raw wool is divided into several categories by quality. The highest quality wool comes from the neck and the sides of sheep - it is fine, uniform and very dense. The lowest quality wool is from the hind legs and tail area, which is very strong and coarse, but also dirty and kempy.
Other Factors to Consider

Value
While most products in our guide fall under the 'inexpensive' title, there are a couple of choices from well-known brands which are pricier than others. This isn't anything extreme; nothing that will put a significant dent in your budget, but the value of each item is still something you should take into account.

Think about the price of the product measured up against the benefits it provides, against its functionality and your need for it. Also, consider how long the product will last. In our Adjustability section we talked about how inserts of this type are not necessarily durable, but getting yourself a pair of new ones every few months shouldn't be a big problem, finance-wise.

Bottom Line
The final verdict is that there is a sheepskin insole out there for everyone! Whether you're looking for something thick or thin, with arch support or shock absorption or a heel cup, whether you want to be able to cut it down to fit your shoe or not - you are going to find what you need in our list.

In our Criteria part, we talked about many features an insert should have. These are not rules set in stone, nor something that should hinder you in making your decision. Consider it more like a guideline, here to help you in your search, and to keep you focused on the things that are important as you're looking for that perfect purchase.

After everything that's been said and done, all that is left for you is to choose the right insert for yourself. Take a deep breath, click on that order button, and in a few days enjoy the gentle, fluffy feeling of your feet tucked in lambswool as you take on the world.
Frequently Asked Questions
q:

How do I clean my inserts?

a:

Unfortunately, most inserts aren't suitable for machine washing. In order to clean them, you would have to use warm water, soap that is suitable to use on wool and possibly a comb. Before you attempt any cleaning techniques, however, make sure that you read product guidelines carefully, as the manufacturer might have suggested a good way to clean the insert. It is also inadvisable to submerge the entire product in water, so you would have to be quite careful not to alter the texture of the materials.
q:

Can I wear my inserts with different shoes?

a:

Yes! In fact, that is the glorious thing about inserts - you buy one pair, and you can fit them in all of your favorite shoes! Fluffy coziness all around!
q:

Can I wear my sheepskin inserts with slippers?

a:

Of course you can! We have already mentioned in our guide how you can easily put in a lambswool insert in a Crocs Clog, for example. It will instantly make your feet warm and comfy, and you won't have to part from your fave clogs even in colder weather. Wearing lambswool inserts with slippers is a great option for both indoor and outdoor wear.
q:

I bought a very thick insert, but I want it thinner. Can I shave the excess wool off?

a:

You should best check with the manufacturer, but we don't see any reason why you couldn't! If you feel like your insert is way too fluffy for your liking, you should be able to easily cut the wool to the desired thickness, as you would cut your own bangs, for example.
q:

What is the difference between sheepskin and wool?

a:

There are three words which brands and manufacturers tend to interchange freely when talking about sheep products - sheepskin, fleece and wool. In fact, that is what we did in our guide as well, used some of these different terms while referring to the same thing. However, here are some clear definitions:

Sheepskin is the actual skin/hide of the sheep with the fleece still attached to it.

Fleece is the wooly covering of the sheep, which is quite dense and springy.

Wool is refined fleece, as in spun and manufactured into a material that is then used for clothing or blankets or similar products.

In this guide, we use sheepskin and lambswool to mean the same thing, which is a fluffy covering made from sheep wool.
Subscribe to our Newsletter