Best Slipper Boots Reviewed For Warmth & Comfort
In a Hurry? Editors choice: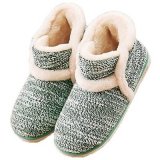 Test Winner: GaraTia Vintage Arctic

It doesn't matter whether it is the dead of winter and temperatures are frigid outside, or if you live with someone that turns the dial on the air-con so low you need to bundle up in the middle of the summer. When your feet are cold and you are inside your house, wearing slipper boots is a great way to stay warm and cozy.


The best slipper boots that we have in this guide will provide insulation, traction on sleek home floors to prevent falls and injuries, as well as protection from germs and bacteria that you might drag in from outside if you don't change your footwear. Get ready to become so many levels of cozy you won't want to leave the house for days on end!
Standout Picks
Criteria Used for Evaluation
Insulation
While this type of footwear can be worn during the summer as well, it is mainly in winter that we require slipper boots, to keep us warm in low temperatures. One of the first criteria we looked at when ranking the products in this guide was their ability to preserve warmth, and keep our feet nice and toasty throughout the wear.

Fortunately, almost all of the options here come with some sort of insulating material. The key aspect is the lining - we have an abundance of choices with a sherpa lining (Yelete Cable Knit), fleece and microfleece lining (Airee Fairee and Acorn Slouch), and faux fur lining (Acorn Faux Chinchilla). All of these trap warmth inside the designs, and make sure that your toes don't get cold as you traipse around your home.

Additionally, if you feel like you need an extra layer of warmth, consider wearing socks with your indoor shoes. This would require some planning in advance, as you would need to purchase a design that has enough space or flexibility to accommodate a sock, not only your foot. This is why most of the options here are stretchy and adjustable, and they can easily welcome both your foot and a thicker sock over it.

Lastly, keep in mind that your footwear shouldn't make you overheated. Sweaty feet lead to the development of bad odors and infections, but a raised core body temperature, in general, can lead to some health issues, especially in people who suffer from heart issues.

When you're wearing your house footwear, make sure that it keeps you warm, but that you're not feeling too hot and that your feet aren't sweating in it!
Comfort
One of the biggest factors for evaluating a footwear design is the level of comfort it provides. The particular style we are talking about here is going to be worn a lot and for long periods, practically any time you are in your home. If it is not comfortable, you won't be wearing it.

What makes a pair of slipper boots comfortable, though? It has to have enough padding, to be flexible and soft, and to rank high on the comfort scale. Putting these slipper boots on your feet should make you feel like you are snuggling up in your favorite blanket.

So let's examine these comfort factors a little more closely.

Lining: Most items you find that are to be worn around the house will more than likely be lined. The liner should be soft against the skin as well as helping to retain heat. Being soft against the skin is important for comfort because no one wants a scratchy material rubbing their feet. It will probably be itchy and can sometimes cause a rash for those people that have sensitive skin.
Flexibility: Can you imagine your favorite pair of high heels? Now imagine wearing those around your house when you are trying to relax and be comfortable. What a nightmare of discomfort! If you examine what makes those types of footwear uncomfortable, you will first conclude that they are not flexible. When you are snuggled up in pajamas or lounging clothes, you will want a product that can bend and move with you. Not just the sole portion either. It is even better if the upper, no matter how tall, moves with your legs as well.
Seams: All of the designs in our list have seams to them, which hold the upper and the sole together. When you're looking for a comfy option to wear inside the house, definitely take a moment to examine its seams. They should be flat, not rounded, and they shouldn't be digging into your skin in any way.
If you feel even a slight discomfort from a weirdly placed seam, now that it will only get worse with time and that it is best to avoid that product altogether.
Traction
Traction is a big headliner for this category of footwear. It stands to reason that wearing only socks around your house can pose a risk of injury. Socks (unless they are gripper socks) will not assist you when you walk around the house in them, as they provide no traction on smooth indoor floors.

This can be especially worrisome for older individuals that are not at graceful on their feet or those that suffer from limited mobility range. The last thing anyone wants to do is to put on a pair of shoes and slip-on their floor at home. They risk major injury in doing so.

The second part of this equation is the flooring. At home, most surfaces are sleek. Such examples are linoleum and tile, among a few others. Socks may as well be a bobsled down a luge slide.

This is why it is very important to examine the level of traction that a pair of slipper boots offers. You will want to find a pair that has good grippers infused into the sole or ones that even have a tread pattern made into them. No one wants to be ice-skating on their floor.

Fortunately, all of the slipper boots on our list have decent traction to them. Some are better at it, with actual lugs that make it near impossible to slip, while others rely on intricate tread patterns to ensure that you properly adhere to the floor.

When you're shopping for this type of indoor footwear, definitely make sure that the outsoles are not fluffy or fuzzy, as they will definitely lead to some unpleasant home accidents.
Durability
The slipper boots we're talking about here are used for indoor wear, which in general is considered an environment that doesn't come with extreme conditions. You're not trudging through mud or snow, there is no excess of water, and you are not expected to brave challenging terrain. This is why slipper designs like these are soft and lightweight and made to be easy to wear rather than protective.

However, in a sense, this also means that indoor footwear is less durable than regular footwear, as it usually lacks hard-wearing materials that go into the construction of regular designs. You can expect these options to last you one season, perhaps two at the most, but sooner or later they will fall apart, and there's nothing much you can do about that.

The first thing that will probably go is a decoration if the design has one. Pom-poms are particularly vulnerable, so if you don't want to be losing these fuzzy accents all over the house, maybe avoid getting a design which has them. Other issues that we've noticed is the thinning of the soles and the compression of the footbeds, which slowly lose their shock-absorbing properties over time.

Nevertheless, if you are interested in a design that is more durable than any other, we have ranked the items on our list according to this quality, to make your choice easier. As we will talk about in the following section - Value - these designs are not expensive, and thus the lack of durability of some choices shouldn't be too much of a problem, in the grand scheme of things.
Value
When we look at the prices of a particular category, we strive to accommodate all types of budgets. With that being said, we choose a high and low price point and select footwear that falls within that range. All of the slipper boots on our list are ranked according to their prices so that it is easier for you to find one which fits into your budget.

That being said, we should mention that, particularly in the case of slipper boots, a higher cost doesn't always mean better quality. This list is comprised only of the best options, those which keep you warm, which make you comfortable and protect you from slipping and last a good while, and all of them will meet these requirements one way or the other, no matter their price points.

In terms of comparing the cost of this type of footwear to others, it stands to reason that indoor designs like these are generally less expensive. That doesn't always have to be the case - as the Acorn Slouch, for example, is as pricey as some sneaker and other shoe styles we've encountered - but overall, you shouldn't have trouble finding a reasonably priced bootie to wear around the house.

Even if there is something wrong with the choice you make - if it is not as comfortable as you'd hoped it would be, if it is not as warmth-preserving or slip-resistant or even visually appealing - you should be able to replace that design with a new one without taking too much out of your bank.

This is why you shouldn't hesitate at all! Simply decide on which item you like the best and go for it! If it ends up disappointing, you have practically nothing to lose!
Top 10 Slipper Boots in 2020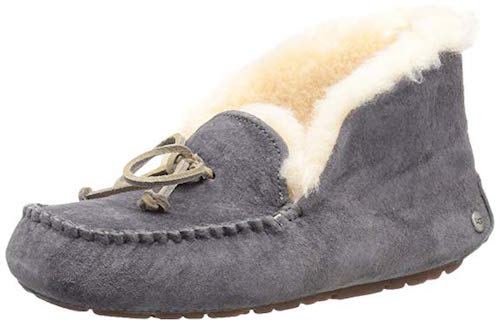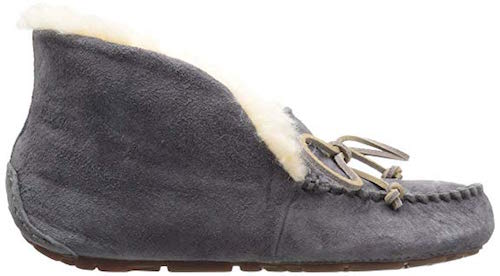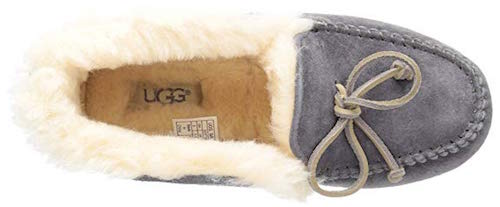 Creating a list of the coziest slipper boots would be practically impossible without adding at least one item made by UGG. This company is renown for their comfy, casual boots that won the hearts of millions around the world. The Alena, however, is a model made specifically for indoor wear (though they have a rubber outsole that would work outdoors as well). With a design that falls somewhere in the category between boots and moccasins, these can be adjusted to fit your needs, and are made with the highest quality materials you'll find in this type of footwear.
The upper of the UGG Alena is made with a Silkee suede material which is water and stain-resistant, keeping you dry even if you decide to wear these outdoors. The moc toe allows for plenty of room in the forefoot, eliminating stitches on the inside of the shoe that might cause rubbing, and the bow at the top of the instep allows you to adjust the fit. You can wear the collar of this model either up or down, depending on how much insulation and warmth you're after.
The lining of the UGG Alena is entirely made with UGGpure wool, which is one of the best choices out there. This natural material is not only great at ensuring insulation, but it's also naturally breathable and moisture-wicking, so you won't have to worry about sweaty feet or bad odors. The footbed is covered in the same wool as well, which gives the Alena an extra layer of cushioning that you'll want to wear absolutely all the time.
The outsole on the UGG Alena is rubber, so you can wear it outdoors as well as indoors, and this will also ensure its durability. As for cost association, it's one of the most expensive items on this list of best boot slippers, but it's a great investment for anyone who is looking for comfort, quality, durability, and an easygoing versatile style.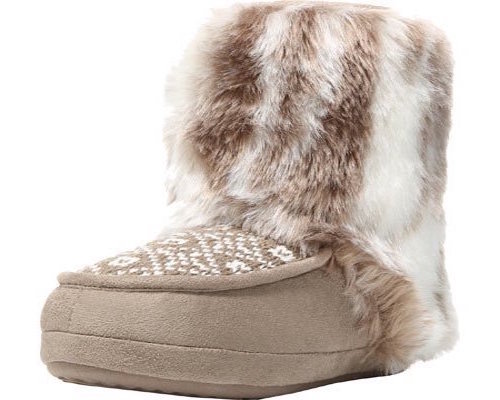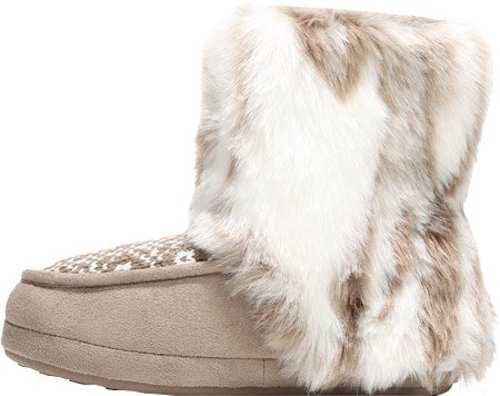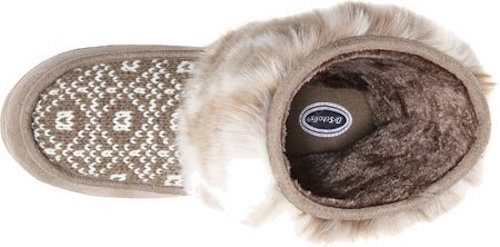 These indoor boots by Dr. Scholl's were designed with the utmost comfort in mind. They are the ideal choice for when you want to spend a cozy night in on a cold winter, or just for everyday wear around the house when you need to make sure your body temperature stays up. Available in two color options, you can purchase the Dr. Scholl's Gigi in either a black or a mushroom-colored version, both of which look great, and feel even better on your feet.
The materials used in this pair of Dr. Scholl's slippers is micro suede combined with a knit material, for a lightweight, soft and breathable wearing experience. Microsuede is a synthetic that's very soft to the touch, and that will mold to your foot without losing elasticity or becoming deteriorated, while the knit material ensures a comfortable and breathable experience over the top of the foot, where it allows moisture and hot air to escape.
The sole of the Dr. Scholl's Gigi is made with rubber with traction nubs for surface grip. This means that these slippers won't wear out as quickly as soft-soled versions and that they will ensure a slip-free wearing experience even on hardwood and tile floors. Another notable feature is the soft lining which will allow you to spend all day wearing these boots, without having to worry about rubbing or irritation.
In terms of cost association, the Dr. Scholl's Gigi is quite affordable, and it makes for a great purchase if you're a fan of this type of cozy, fluffy style. It's a definite winning choice for winter conditions, and you'll find that the rubber sole makes these slipper booties a bit more versatile, so you won't have to change footwear when you're running out to collect your mail or the newspaper.

3

. GaraTia Vintage Arctic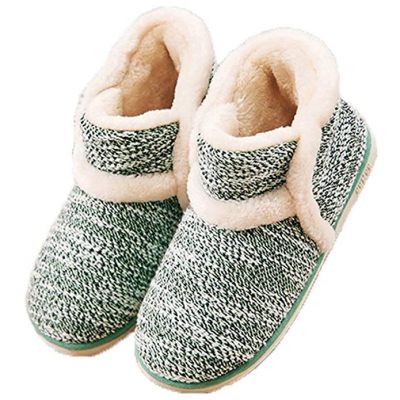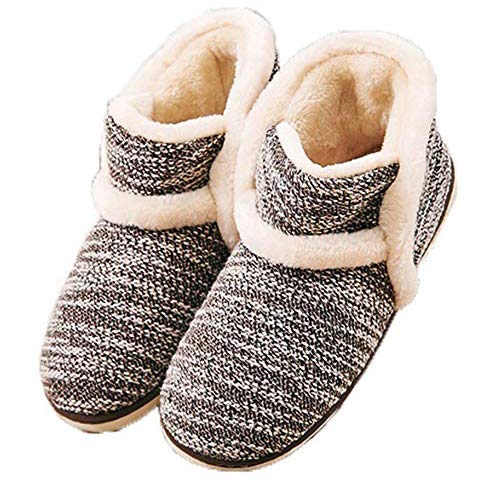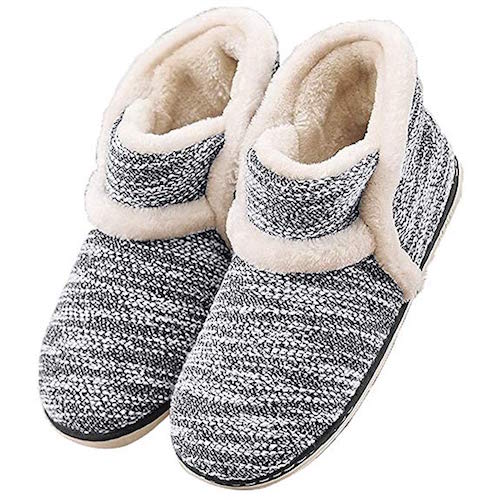 The Vintage Arctic is a solid and durable design. It has many components that will make it stand up to many days inside the house. For starters, it has a low, ankle-cut shaft. That is a nice option for someone that does not prefer the constriction of a knee-high style. The awesome feature of this style is that it has a good amount of giving to the upper.
The wraparound design of this midsole is sturdy and supportive. It envelopes your entire foot to feel cushioned and taken care of. Sometimes slippers have too soft of a sole and you feel unsupported, but this is not the case with this shank design.

Lugs are the pieces on the bottom of the sole that give the item its grip. The lugs on this particular choice are thick without being an eyesore. They also provide a very strong grip so you can easily walk around on any surface without fear of falling.

The Vintage Arctic is very affordable, especially considering that you will be wearing it every day. With the durable sole and cozy upper, you can expect to get plenty of usage from them.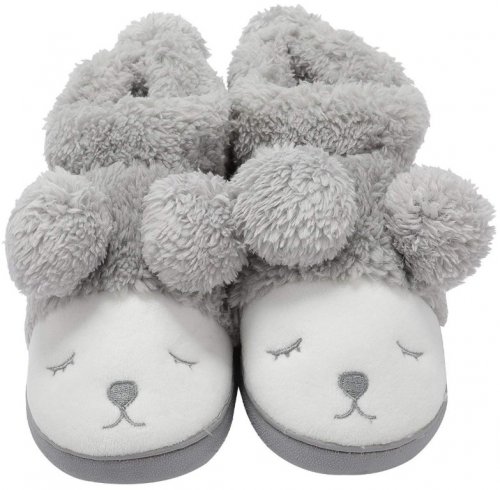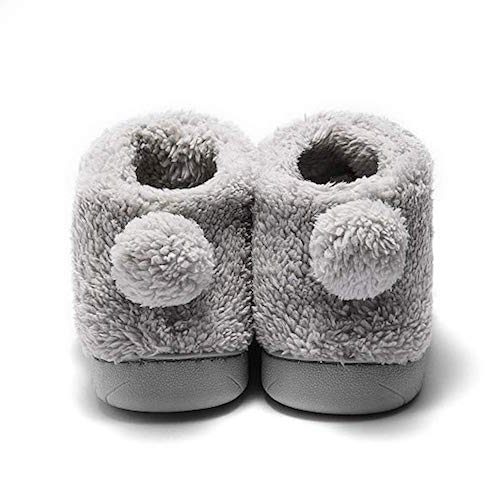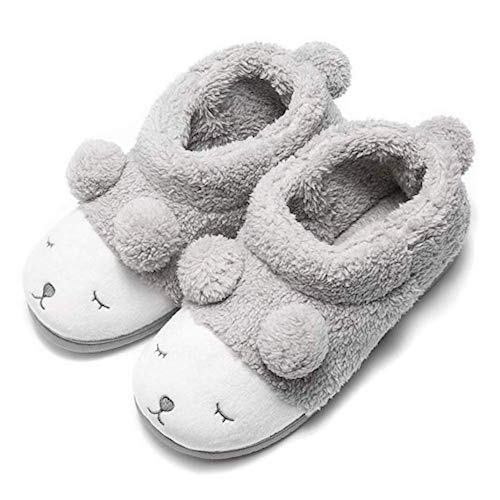 While this might be from a brand you are not too familiar with, the Fleece Plush comes very highly rated for warmth and being extremely comfortable. It has a low-cut design that makes it perfect for individuals that do not want a tall style. Some people feel constricted with tall shafts, so this will allow for supple movement of your feet and legs without anything getting in the way. These are very flexible and can accommodate a wide size of feet and ankles.
The insole is made from memory foam, which will guarantee that your feet will feel pampered immediately when you put your foot inside. Your feet can rest softly after a long day of work or walk as soon as you slip into this design.

The Fleece Plush has a rubber sole that is supportive enough to balance you when you need it but also to not be so stiff that it is no different than wearing a regular sole. It is also an anti-slip option, so it will help you to stay upright on your feet instead of feeling wobbly.

The GaraTia Fleece Plush is one playful design! It comes in a variety of animal shapes, and you can now enjoy wearing bunnies or puppies or sheep or even unicorns on your feet! This lovely option of warm slipper boots will keep you warm and cozy, and bring a smile on your face whenever you look down at your feet. What an amazing deal!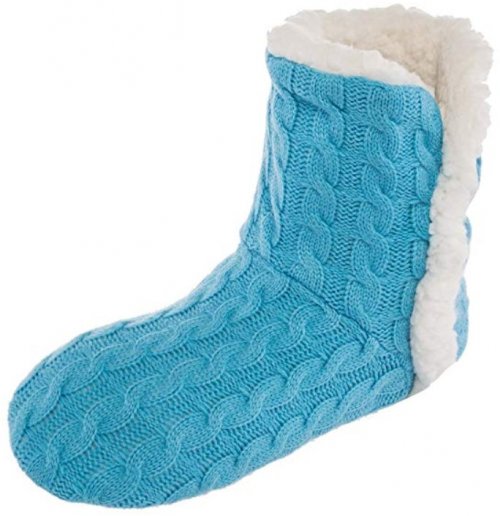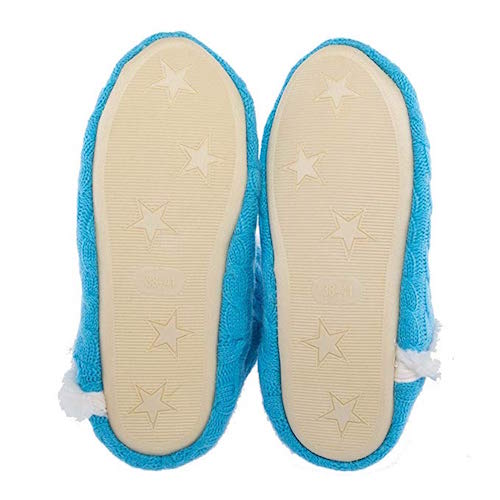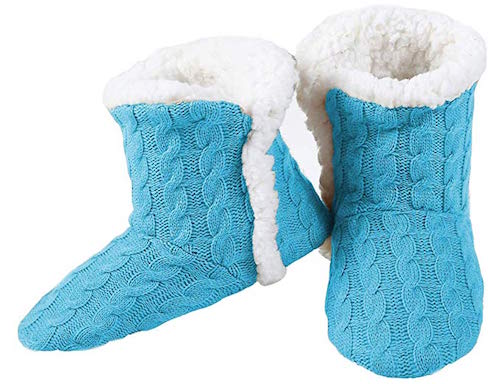 Everyone loves a cable knit style. It has been a staple in our wardrobes for so long. The Yelete Cable Knit is only ankle high, but you might find yourself wishing it were taller since it is extremely comfortable. This is one of the examples of wrapping yourself in a blanket. The sherpa-lined interior only adds to the comfort and softness you will find when you slide your foot into these.
In searching for a design that moves with your feet and legs while providing support, these are top of the list. The soft and flexible sole goes right along with your foot without impeding your step. In fact, it has a nice grip pattern on the sole to help you avoid untimely slips.

If you crave a style that is also adjustable, these have a notched collar area. That will allow you some extra room, albeit minuscule, when you are sliding your foot in. This also gives the collar a bit more flexibility since it is notched.

The cable knit weave of this design is strong and will be super comfortable on your feet. You will be happy to wear them. Also, the sole provides adequate traction so you can walk steadily. Overall, these shoes are a good contender for one of the coziest options on our list of the best boot slippers.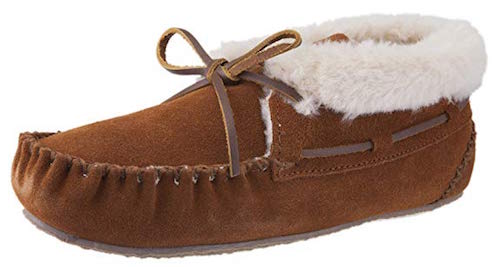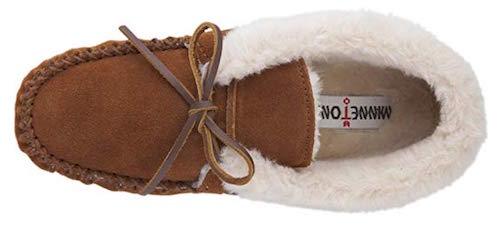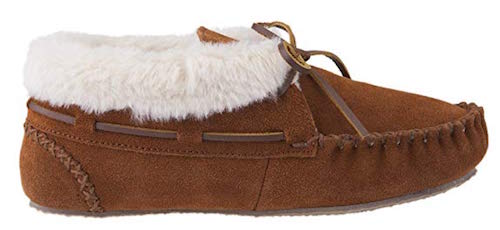 These cozy moccasin booties by Minnetonka are ideal for at-home wear. Made by a reputable manufacturer who uses great materials, the Chrissy is an excellent choice of footwear due to many factors. In terms of style, they come in a variety of upper versions, allowing you to choose one of several color options, as well as to determine the level of protection and insulation you'll be getting. Another notable feature is that it comes in two widths, so even those with wider feet will manage to find the perfect fit.
The upper of the Minnetonka Chrissy is made with natural suede or plaid fabric, which both have their specific advantages. Suede is naturally breathable, durable, and resistant to abrasion, while plaid offers a higher level of breathability, but is softer and will mold more easily to the foot. The fit can be adjusted through the bow at the top of the instep which goes around the entire foot, preventing the booties from slipping off your heel.
The inside of these Minnetonka slippers is lined with a pile which is very warm and soft to the touch. The insole is cushioned for maximum comfort, which means you can easily spend all day in these moccasins, even if you tend to have foot pain. The outsole is a thin rubber which grips all surfaces without constricting your range of movement. It will work for outdoor wear as well, but this type of use will shorten the lifespan of the Minnetonka Chrissy, so it's not recommended.
This pair of moccasins costs around average compared to the other items on this list and is a great choice for those who don't want a full-on boot but still prefer something warmer than regular house slippers.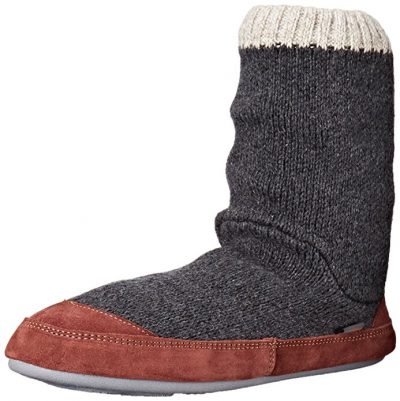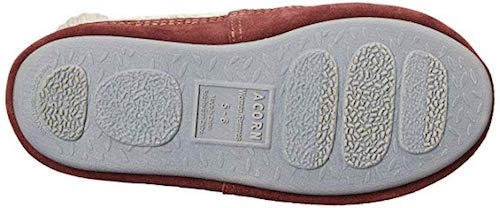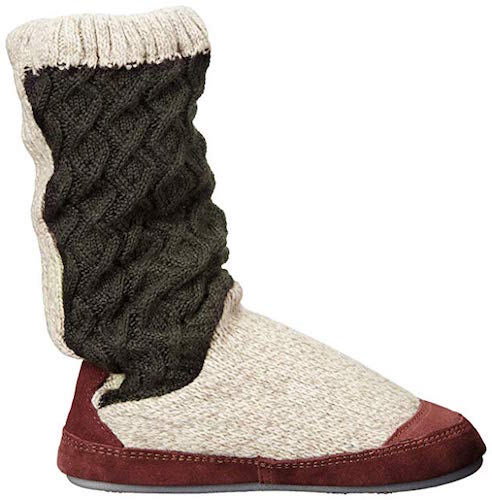 This funky option from Acorn can be described as the styling of an ultra-rugged sock but with the features of house shoes. You will see that this slouchy style will be comfortable to wear and allow you to keep your footing with ease thanks to an ultra-gripping sole. The collar has a nice cupped feature that helps it to stay high on your calf, low on your calf, or somewhere in between such as the "slouchy" name suggests.
Fleece is super soft as a liner. It feels great on your skin and it keeps your feet very warm. Microfleece is a version of regular fleece in that its particles are woven together even smaller to create a softer and more cushioned feel.

This sole is much akin to some well-known canvas shoes. It is very flexible but holds on to enough of its rigidness to give you a confident step. This also makes it more durable as it prevents things from cutting or poking into the footbed.

The Acorn Slouch has a very rugged and classy look. Even if you are just wearing it around the house, you won't have to be worried if someone pops over unexpectedly. These shoes can be the talk of the party as they not only look great, but they feel great too!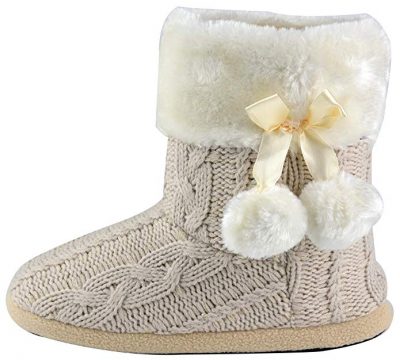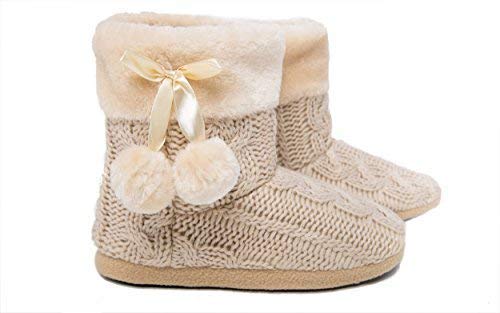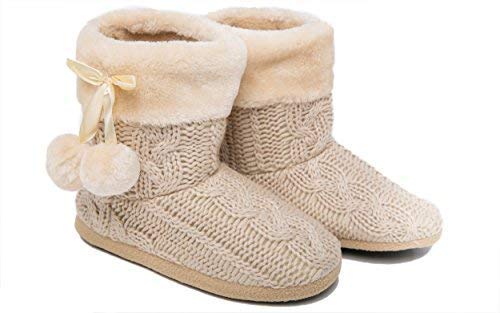 First of all, how adorable is the name of this item? Airee Fairee, doesn't it sound like a character out of a Disney animation? And indeed, there is no better representation of style and cuteness than this design. It has adorable pom poms that hang from the upper, finished off with a bow. The faux fur detail is apparent at the collar. However, inside the product, you will find it is lined with fleece, which adds a level of warmth and softness to the entire interior. The Fairee also has a sophisticated sleek style that makes it not as bulky as some of the others on our list. It is streamlined right to the contour of your feet.
This design comes with a sole that is made from thermoplastic rubber. It is incredibly durable and will keep you from falling with no problems at all. This sole provides just enough grip to keep you secure but not enough to make you feel stuck when you take a step.

It is so easy to just slip your foot in and out of this design. That is one less headache at the end of the day when you are tired and just want to relax. The Airee Fairee has a stretchable collar so you can just pop right into the bootie.

The Airee Fairee has a strong sole and is rather solid. Not only that, but it is rated high for quality, so with proper care you can expect these irresistibly cute booties to be a one-time shopping expenditure.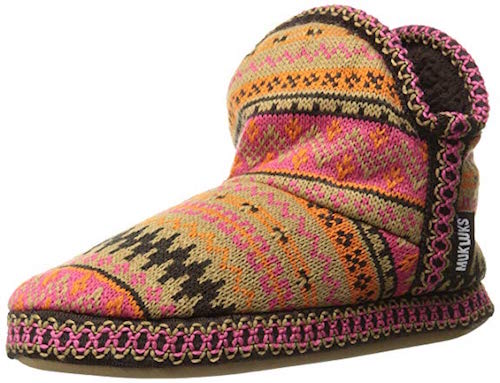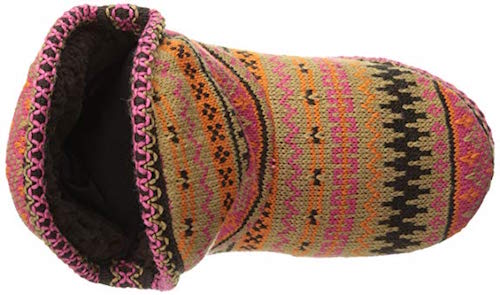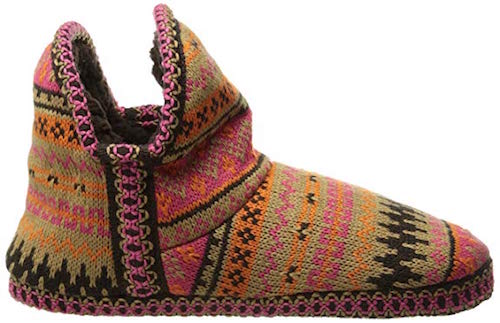 Muk Luks has built an outstanding reputation on its designs and quality of service. Millions of happy customers can't be wrong about them. The Amira design is a very interesting low-cut bootie. Its upper is very flexible and will move with you while cradling your foot as you go about your day around the house.
The sole of the Amira is strong and durable. Unlike some of the other options in the category, these don't just have a rubber sole. They have a rubber sole that has a very nice tread pattern and will bend completely with your feet while properly supporting you.

The opening of this shoe offers a very generous size. You should have no issues sliding your foot and even pants right inside of it. This is because the edges on both sides are cut out to allow for flexibility and movement.

If you are searching for a stylish pair that won't break the bank, then the Muk Luks Amira is a great option. It is a good buy for both someones who will need them every day and for just the occasional wearer who finds themselves needing a cozy break for their feet.

10

. Acorn Faux Chinchilla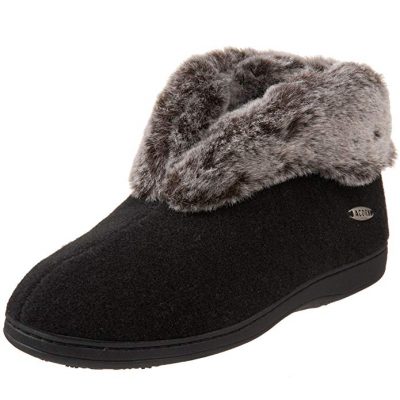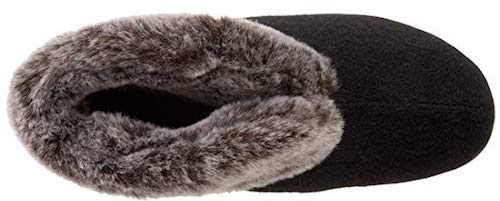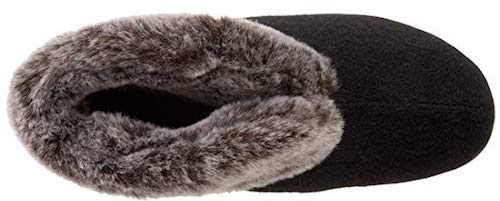 The ultimate mix between comfort and support, the Acorn Faux Chinchilla will give your foot complete wrap-around support making your foot feel swaddled. However, the upper still has enough flexibility to move with your foot and not feel heavy. It has a faux fur lining and a collar cuff that will keep your feet nice and toasty. The fur lining goes throughout the entire inside. Truthfully, this item is an all-season type, so you will have 365 days of comfort and relaxation when you slip them on.
For the ultimate spa-like feel the footbed of the Faux Chinchilla is super lightweight and flexible memory foam. This will protect your foot while it cushions and absorbs impact from the ground.

The rubber sole provides two important aspects. Not only are you going to have great traction with this rubber sole so you won't have to worry about slipping, but you will also have a flexible sole with built-in heel and arch support.

The Acorn Faux Chinchilla is an option that you can wear every day around the house so you will get more than the typical usage from them. Having a strong rubber sole and a fairly supportive upper means that this pair is made to last.

Subscribe to our Newsletter