Best Shoes With Pom Poms Reviewed & Rated
last updated:
Apr 05, 2019
There are countless varieties of shoes out there that are either practical or great looking. But finding a model that stands out can be a bit difficult.
Pom poms are a great addition to any piece of footwear, as they're fun, lively, and are great for summertime events and festivals. In more neutral colors, they add a twist to your regular boots and can transform plain heels into something elegant and unique. No matter how you choose to wear them, they reflect a playfulness that you can wear to parties, casual outings or even to the office and for special occasions. All you have to do is choose the right pair of footwear.
This is the best product on our list that is currently in stock: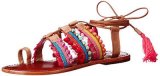 Schutz Patricia
Why is it better?
Cowhide Upper
Leather Outsole
Stacked Heel
Toe Loop
Adjustable Closure
In a
Hurry? Editors choice: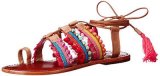 Test Winner: Schutz Patricia

14
Researched Sources
1320
Reviews Considered
13
Hours Researching
18
Products Evaluated
Materials
Fit
Comfort
Durability
Midsole
By Default
Top 10 Shoes With Pom Poms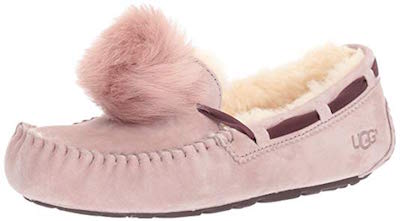 Sheepskin Suede Upper
Wool Lining
Rubber Outsole
Water Resistant
Satin Ribbon Closure
The comfiest pair of footwear on this list, the Dakota Pom Pom moccasin by UGG is an indoor-outdoor solution for anyone in search of the best possible pair of footwear to feel warm and cozy in, while showing off their cutesy style. Made with genuine wool and suede materials, like all other UGG products, it's warm, breathable and cushioned, and one of the best investments in terms of footwear you can make.
The Dakota moccasin is made with genuine sheep fur that's sourced in the USA, Australia, Ireland or the United Kingdom, and has been dyed to achieve one of the four shades you can purchase this shoe in. Considering that the inner portion of the shoe features wool, you can rely on its insulation abilities, as well as its great moisture management properties that'll keep you warm, but always dry.
The suede upper or the Dakota is made with water resistant suede that'll stand up to spills as well as unexpected showers. With a rubber outsole, you will also benefit from great traction in dry and wet conditions, making this an all-round pair of footwear you'll definitely love wearing as often as possible.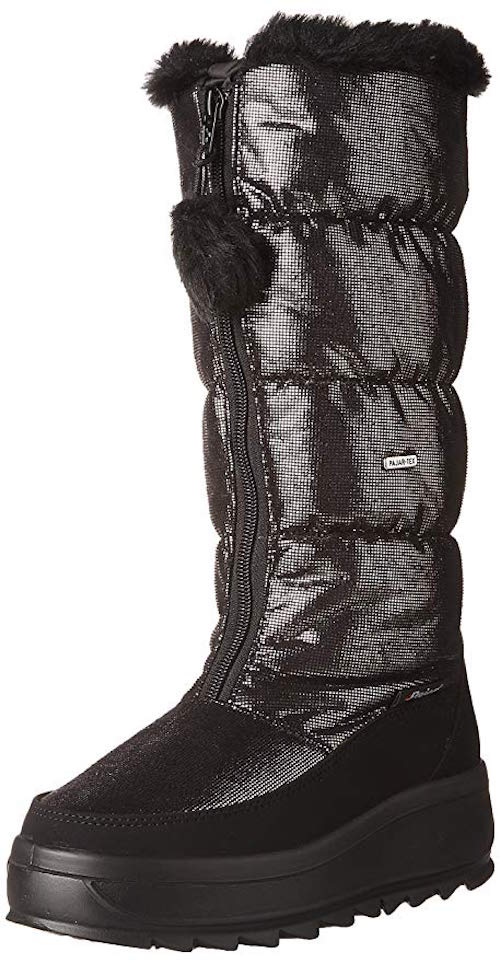 Waterproof
Comfort Molded Footbed
Non-Slip Outsole
Zipper Closure
Faux Fur Pom Pom
If you're after some serious snow equipment that you'd like to include some pom pom embellishments, then the Pajar Toboggan is an excellent option, considering that it was made for cold weather and has a comfort rating down to -13 °F. It's got plenty of comfort and functionality features that make it great for use in snow and on the mountain, and the high shaft covers your legs up to your knees, giving you a warm snow boot that looks amazing.
Seeing that it was made for use in heavy winter conditions, the Toboggan features a chunky rubber outsole which will give you excellent grip in the snow as well as on ice. Furthermore, it's non-slip, so you won't have to worry even when you wear these inside.
The insole on these Pajar boots is comfort molded, and removable, which is quite handy if you require custom orthotics. On the inside, the Toboggan is lined with a wool blend that is both warm and breathable, and has antimicrobial properties which prevent odor and bacteria growth.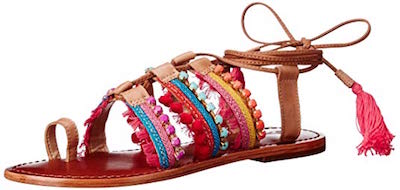 Cowhide Upper
Leather Outsole
Stacked Heel
Toe Loop
Adjustable Closure
High Price
No Arch Support
A flat sandal with colorful embellishments, the Schutz Patricia is a fun summer style that'll definitely get you noticed. Being made by a company that's focused on creating high quality footwear, you can expect the Patricia to feel good on your feet, as well as to last you much longer than similar, cheaply made versions of the same sandal. Featuring an ankle tie closure, it's extremely easy to get the best fit for any foot shape and size, allowing you to tighten where you need better support, and loosen where you prefer a bit more comfort and flexibility.
The upper of the Patricia is made with cowhide leather that has great properties in terms of durability and ease of maintenance, while still giving you all the benefits of a flexible summer sandal. The toe post is a particularly welcome feature, seeing that it provides a high level of stability, while also adding to the overall look of the product.
The material you'll be walking on with the Schutz Patricia is the same leather used for the upper, which ensures a decent amount of protection. A stacked heel adds to the cushioning effect of the shoe, and provides a tiny bit of elevation you'll appreciate if you plan on doing a lot of walking in these sandals.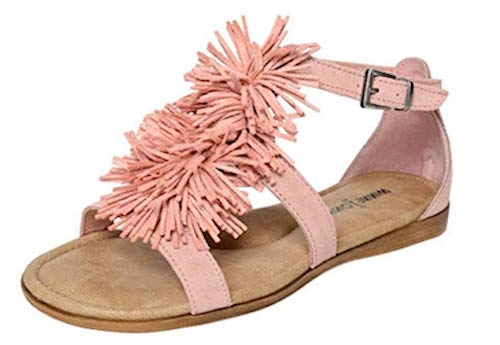 Suede Upper
Rubber Outsole
Buckle Strap Closure
Padded Footbed
Good Arch Support
Not Water Friendly
Suede Requires Careful Treatment
If you are looking for a pair of fun summer sandals that happen to feature stylish pom poms, then the Minnetonka Presley should be your go-to choice. Made with a suede upper and plentiful cushioning under the foot, the Presley is a pair of shoes that'll feel extremely comfortable. The buckle closure allows for some adjustability around the ankle, while the rest of the shoe is open, letting your feet breathe even in high heat.
The upper of the Minnetonka Presley, as well as the line of pom poms it features, are made out of natural suede, a material that is soft to the touch and looks great regardless of color. One of its most important features, however, is the fact that it allows for the shoe to adjust to your foot, giving you the perfect fit after just a few wears.
Minnetonka shoes are known to be soft and comfy, and the Presley is no exception. It features a footbed that is completely padded, with an added part under the arch that offers support and relieves any pain that may come with spending a lot of time standing or walking - this makes these sandals perfect for summer festivals or long walks.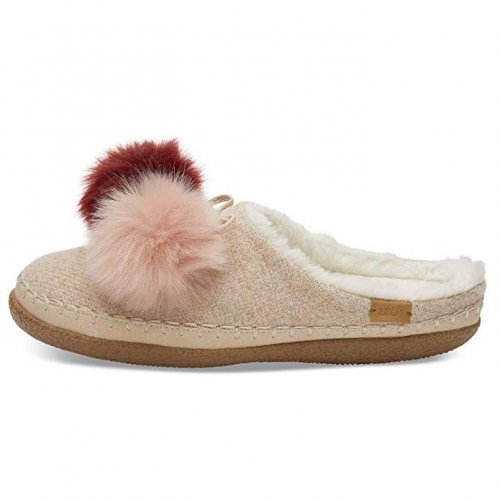 Quilted synthetic or textile upper
Easy slip-on style
Shearling lining
Durable rubber outsole
If you are looking for luxury, softness, comfort and support, look no further than the TOMS Ivy Slip-on. Made of a quilted, synthetic upper and adorned with pompoms for a cute and comfy look, you can wear the Ivy to school, to the mall or even just around the house with your favorite PJs. The easy slip-on and versatile style make these shoes one of our favorite recommendations.
Coupled with the quilted upper is a shearling lining in the insole, to keep you warm, cushioned and protected when walking around. The nylon lining in the footbed helps prevent chaffing and blisters and the textile construction allows for maximum airflow.
The durable, rubber sole of the Ivy is perfect for indoor or outdoor use. No slipping on sidewalks, hardwood floors or even classroom tiles! Comparing the Ivy to similar slip-on shoes, you can't help but be compelled to choose the Ivy due to its adorable pompoms, fluffy and comfy insole and grippy outsole.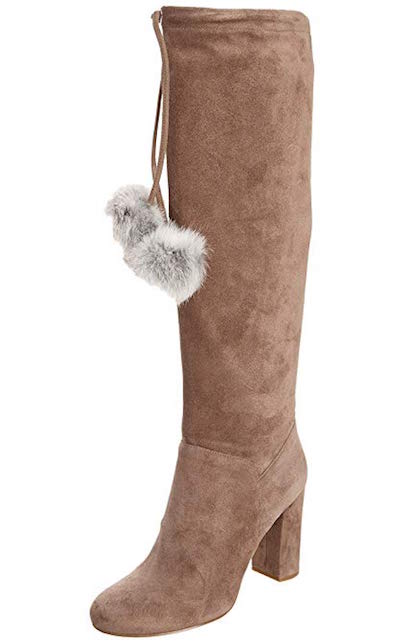 Suede Upper
16 ½ Inch Shaft Height
Tie Closure at Top
Rabbit Fur Pom Pom
Rubber Outsole
Non-vegan
Difficult to Pull On & Off
Nothing beats a great dress boot, which is why the Michael Kors Remi made this list. A simple pull on style in suede, this pair of boots can become the next fashion staple in your winter wardrobe. The 16 ¼ inch shaft provides both ample protection from the cold, as well as a great looking option for a variety of outfits. You'll find that the tan suede is easy to pair with any color, definitely making this a go to piece in your closet.
The pom pom on the Remi is made with pieced and dyed rabbit fur sourced in the United Kingdom. Being luxurious but not over the top, it'll ensure a fun addition to any ensemble, and won't be out of place even in more elegant settings.
The 3 ⅕ inch heel on the Remi is stable enough to give you a comfortable wearing experience for longer periods of time, while still giving you plenty of elevation and a sophisticated look that'll look great both with jeans or dresses. You'll also find that the rubber sole gives a good amount of traction on a number of surfaces, so you won't have to worry about slipping.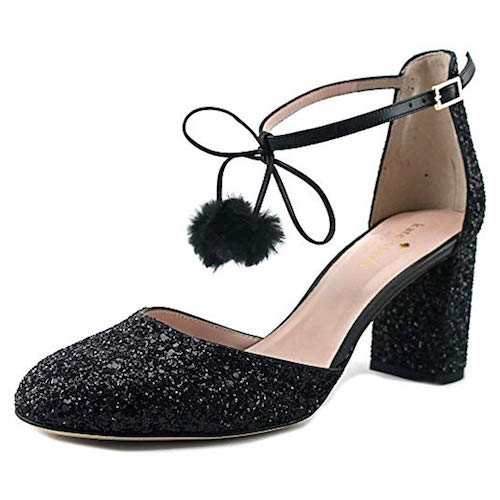 2.75" Heel
Leather Lining
Removable Pom Poms
Covered Heel
Versatile
Expensive
Runs Slightly Narrow
If you're looking for something that combines classic, feminine and fun, then the Kate Spade Abigail is the top choice of heels for you. This heeled Mary Jane works to complete any of your looks, whether you want to wear them with jeans or a dress, to work or a night on the town. They're only available in black glitter, and are selling out fast, so if you want to be the proud owner of some of the most stylish shoes on this list, make sure to hurry up!
You love pom poms, and that's probably why you're here, reading this article. But there are some occasions on which the style is just too much. With the Abigail, you can rest assured that you'll make good use of the heels, seeing that the pom poms can be removed if need be, giving you a more down to earth look that will be appropriate in more serious settings.
The inside of this shoe is made out of leather, so that your feet are only in contact with the softest, most comfortable material. One of the main advantages of leather is its breathability, so you can avoid any discomfort or swelling that often happens when you wear a pair of too-hot shoes.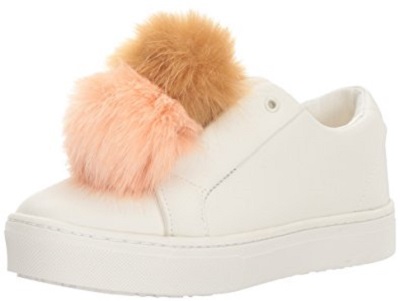 Slip-on
Wide Range of Colors
Leather and Suede
Padded Collar
Faux Fur Pom Pom
Size Runs Large
High Price
In contrast to the other pairs we've mentioned so far, these shoes are more casual and versatile. Since they are sneakers, they are more suitable for spring and autumn weather and can keep your feet comfortable for walking long distances, such as when window shopping or going to outdoor events. Their wide range of color and style selections includes unique colors and styles. Despite having a clean and simple design, the pom poms really make them pop and give them a somewhat modest, and yet eye-catching, look. They are all made of high-quality suede and leather, and the pom poms are of faux fur. The lining and collar also ensure comfort. When ordering, however, keep in mind that countless reviews have stated that this model runs quite large, so be sure to order a size down.
If you choose a pair of these sneakers that are of uniform color such as white or grey, they can be paired with nearly any outfit while still adding a flair to your look with their big pom poms. There are also patterned versions available of these sneakers, such as patchwork, leaf patterns, and gingham print. Color selections even include denim, metallic leather, and black velvet.
With a man-made lining, a padded collar, and a lightly cushioned insole, you're sure to stay comfortable no matter how much walking you end up doing. They are very lightweight and won't weigh you down at all when walking.
9

. Chinese Laundry Posh Sandal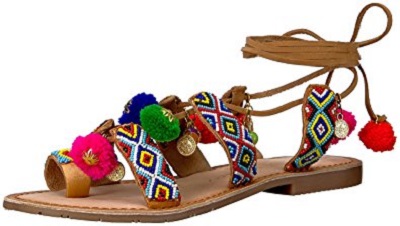 Adjustable
Lots of Detail and Color
Stays Tied
All Leather
Vibrant and Fun
Size Runs Small
Narrow Fit
If you're not looking for winter boots, but rather shoes for summer or spring, then you're in luck. These sandals by Chinese Laundry are perfect for a hot summer's day and for festivals of all kind. Though they have vibrant colors, funky pom poms, and a toe ring to complete the design, the overall look is not only still mature, but will also add a pop of fun to your typical summer outfit. Made of high-quality leather, they will stay durable for years of wear. They are adjustable, and the strings can stay tied for long periods of time, both around the ankles or up the legs. Keep in mind, however, that these sandals run a size small and are somewhat narrow, so they may not fit wide feet.
With all their strings that need to be tied before stepping out of doors, these shoes might seem too complicated at a glance. But on the upside, once everything is tied together they won't fall apart easily, so you won't have to stop to re-tie them while you're busy out and about. The leather thongs are also adjustable.
Who said all shoes had to be simple and boring? With pom poms, colors, and a unique design, these sandals allow you to have fun with your outfits and looks. As eye-catching as they are, they are bound to get you many compliments!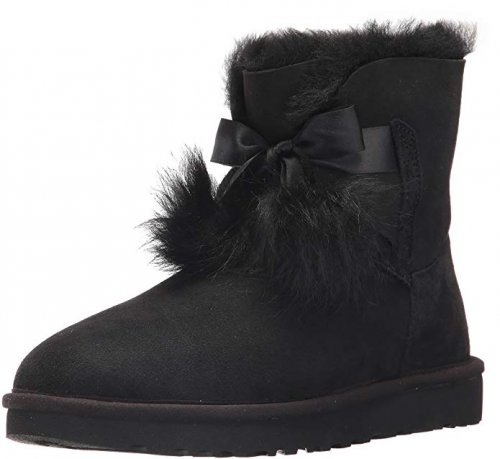 100% Suede
Dyed Sheep Fur
Sheepskin lined
Treadlite outsole
Sheepskin pom pom
Wool insole
UGGs are the epitome of Australian style blended with California cool and the Gita Boot is just the latest example of the company's quality craftsmanship, attention to detail and style. Featuring a 100% suede upper, coupled with a sheepskin-lined insole and adorable pompoms, you'll be wrapped in comfort, luxury and softness all-day long.
UGG has incorporated into the Gita boot some of their best, proprietary technologies that enhance the wearer's comfort while augmenting the boot's performance. Treadlite by UGG is a special type of outsole that enhances not only traction, but also cushioning of the foot, as well, from the elements below the foot, be it snow, ice or plain old concrete. The UGGpure wool insole is crafted from only the best caliber wool and provides unparalleled heat retention, without getting the feet moist or wet.
Finally, the pompoms on the front of the Gita are made from real wool, as well, adding an extra level of quality and refinement that synthetic materials just can't offer. Whether you're wearing them during winter, spring or fall, the Gita boot will keep you comfy, warm and looking good throughout the year.
Criteria Used for Evaluation


Materials
Pom poms can be made either from faux fur or from real fur. Although most that are out there are made of the former, the latter can also be seen in shoes that are more formal and costly. Before weighing the two against each other, we first need to get to know the two different materials.
Faux fur is a synthetic, meaning it is entirely man-made, generally from petroleum, and is created in a laboratory. They often come in vibrant colors as well as neutral ones and is completely customizable to suit a piece of clothing. It is much cheaper than real fur, so it's possible for nearly everybody to own multiple clothing items made out of faux fur. However, it is also not too breathable or warm.
Real fur, on the other hand, is harvested from animals such as fox, rabbit, mink, raccoon, and chinchilla. The animals are killed to have their fur made into clothing or other items. They are much warmer than faux fur and have a luster that can rarely be achieved in synthetic materials.
When it comes to comparing the two types of furs, there is much to consider, as both sides have their pros and cons. The most common argument given for real fur is that it is natural and biodegradable, meaning that after being thrown away, it will break down and decay, becoming once more a part of the earth. Faux fur, on the other hand, is processed by humans and cannot decay, meaning it will go to the landfills and sit there for decades and centuries. Other arguments claim that the animals used, such as coyotes and foxes, are abundant anyhow, and that taking their lives for clothing doesn't make a difference to their population.
From another point of view, faux fur also has their benefits. It may be processed and therefore not as natural, but we must also take into consideration that with growing technology and an increase in the materials available to us, using these materials to create something more beneficial to us is only common sense. Besides, many of the things surrounding us are all made from synthetics, from carpets and shirts to seatbelts, sponges, ropes, and fishnets. It would not make sense to suddenly oppose the use of synthetics in faux fur when we've been using these materials our entire lives.
Others argue that faux fur is the right choice out of ethicality.  They claim that although it may be true that there are enough coyotes and foxes to spare on this earth,  the sheer number of their population does not take into consideration the inhumane process by which they are brought into captivity, treated, and killed for their coat.
Animals in the fur industry are kept in very small cages to keep the costs low, to the point where they only have the room to stand and sit. They are often fed meat that is considered not suitable for human consumption. In addition, they are not protected by any kind of slaughter law, so the methods are often cruel and inhumane. Fur farmers prioritize the quality of the fur they obtain, and will therefore often use methods that cause suffering to the animals and are often skinned alive and half-poisoned, or else electrocuted and suffer a heart attack while still conscious.
Other arguments claim that the amount of energy used to process real fur is as much as twenty times more than that used to produce faux fur and that it is not truly biodegradable thanks to chemicals applied to it to prevent rotting.
As you may tell, there are arguments for both sides and no real answer. At the end of the day, it all depends on how you view the situation and your personal choice after weighing the pros and cons. If you're striving for a more luxurious look and prefer natural materials over man-made, then opt for real fur. But, if you're more concerned with saving yourself some money or would rather stick to your ethics, then stick with faux fur. Ultimately, there are pom pom shoes made out of both kinds of material out there for your choosing.


Fit
Each style of shoe will have a different kind of fit. Some may fit higher up on the calves such as winter boots, and others may be ankle-height, such as sneakers and sandals. Finding a fit that is suitable for you and your conditions will provide you with more comfort and fewer troubles in the long term.
When it comes to boots, the best fit depends on when you will be wearing them. Boots intended for winter should have a taller shaft so that more of the ankles and legs are protected from the cold. Boots with pom poms also often have faux fur as a part of their design, which can make them warmer. When it comes to boots suitable for autumn rather than freezing winter weather, however, it's better to opt for those that are ankle-high or so. This way, your foot will be allowed to breathe and will not be too enclosed.
Sandals, on the other hand, have different requirements. Wearing a pair that is too large will often mean having your toes slipping over the front of the sandal, which is not only uncomfortable but also not a pretty sight to see. In addition, they will force your feet to strain with every step in an effort to keep them from slipping off, which, in the long term, can cause soreness and foot fatigue. Sandals that are too small also have their disadvantages, making it easier to get blisters and other discomforts.
You should pay even more attention to fitting when choosing a pair of flip-flops. It can already be difficult to walk around in flip-flops, but with a size too large, it becomes nearly impossible. Not only will they flap around as you walk, they really cause strain on your feet just like oversized sandals, as your feet will struggle to keep them from falling off with every step.
For stilettos and other heels, the fit may not be as much of a priority depending on the situation. If you don't plan on wearing your heels frequently or know that you won't be walking or standing around much, you might get away with getting a pair with a fit that's only so-so. However, two key things to look for are the heel and the toes. It's important to make sure the back of the shoe does not dig into your heels, as they might in a pair that's too small. Also make sure that the toes are comfortable, and will not feel squished in a closed-toe design, or slide out in an open-toe design, as your foot will naturally slide forward when standing or walking.
In order to make sure that you get the right size shoe, especially when ordering online, we highly recommend you check out the measurements for that specific shoe model. Although most of us know our shoe size, manufacturers will sometimes make shoes that are sized slightly up or down, meaning they are either bigger or smaller than typical shoe sizes. It's also a good idea to check out other customers' reviews, as they can give you an idea of the width and sizing of the shoe as well.


Comfort
Comfort is, of course, a key aspect of any shoe. No matter how well your shoes match your outfit, how trendy you look, how fun the event is going to be - you won't be able to enjoy yourself if you're not comfortable in your own shoes... pun intended.
If you're looking to buy sandals, especially gladiator sandals, make sure all their straps fit comfortably. Most sandals will have adjustable straps, though, so it's easier to stay comfortable.  For boots, a good lining is key for maintaining warmth in cold weather as well as adding extra padding. When it comes to heels, however, you definitely won't receive premium comfort. But even if you don't plan on wearing them too often or for too long, some vital points are a comfortable toe and a comfortable heel as we mentioned above.
If you're shopping online, it's impossible to determine which shoes will be comfortable and suitable for you, since you can't try them on and get a feel for them. Because of this, we highly recommend you check out the reviews of the shoes you're planning on buying. Other customers may point out pros or cons about the padding, straps, or other features of the shoe so that you can get a general idea. But do take their opinions with a grain of salt, as each person has a different foot structure and different preferences. What works for someone else may not work for you, and vice versa.


Durability
When it comes to shoes with pom poms, durability is more than just a hardy sole - it's also whether or not all the pom poms will stay on. There's nothing worse than wearing a pair of shoes for a couple of months or weeks just to have one of the pom poms come off. It throws off the symmetry of the pair of shoes, and now you're forced to choose between perhaps ripping out the other pom pom as well in an effort to balance it out, or shoving them to the back of your closet for good.
Unfortunately, there are no set ways to find out whether or not the pom poms will stay on until they actually come off. However, we suggest once again that you take a peek at customer reviews to see if other customers found the shoe durable so that you can get a general idea.


Midsole
The midsole is designed to provide cushioning and shock absorption to the shoe, nestling the foot in comfort. Whereas running shoes tend to have thick midsoles, flats and thinner shoes not designed for high-impact activities often have thinner midsoles.
The reason for this is simple: you need more shock absorption and vibration dampening during high-intensity movements or activities to maintain comfort and prevent foot injury than you otherwise would with a regular shoe, flat or sandal. Midsoles are often made from EVA (ethyl vinyl acetate), a synthetic plastic also used to make insertable orthotics. A firmer type of EVA for the midsole will make the shoe heavier, but more durable; whereas a softer type of EVA, like those found in running shoes, improve shock absorption, but wear much quicker.
Expert Interviews & Opinions
Most Important Criteria
(According to our experts opinion)
Experts Opinion
Editors Opinion
Users Opinion
By Default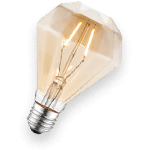 Footwear Fun And Care
Pom poms add an element of fun to any kind of attire, keeping things light, flirty, and can bring a smile to your face. Color adds even more of a summery feel, keeping things light and airy with pom pom adorned sandals.
If your pom pom shoes get dirty, you can always hand wash the pom poms if they are made of a washable textile. Similar to fur, you can fluff them dry with a hair drier, or let them air dry. Suede pom pom material can be wiped down with soap and water, but a shoe protectant is your best bet against stains, weather, and water.
Pom Pom Pairing
Smaller pom poms make on your footwear make for a great accent to the shoe, and sometimes are easy to wear to casual or formal occasions.
Larger pom pom shoes are more statement makers for your ensemble, so pair with something sleek or structured for a bit of contrast.
Other Factors to Consider


Bottom Line
This article looks at the best shoes with pom pom embellishments available for purchase online. From high end designer items to budget options that everyone can afford, you will easily find something that will suit you perfectly - whether it's a pair of snow boots or sandals, high heels or sneakers. And best of all, we've taken the time to only choose items which are of high quality and comfort, and that you'll enjoy wearing for quite some time to come.
Frequently Asked Questions
q:

How do I make sure that the shoes I'm planning to purchase are vegan-friendly?

a:

As the demand for vegan products is rising, more and more companies are coming up with their own lines and models of vegan products. Other sell nothing but products that are vegan. Whether or not the shoe is vegan will all be stated in the description of the shoe on the company's website. If not stated outright, look for the material of the shoe and determine or yourself - anything that is synthetic means that it is man-made, and those with leather, silk, or real fur are not vegan, for instance.
q:

Are shoes with pom poms hard to dry?

a:

Of course, whether or not the shoe itself is quick to dry depends on its material. But the pom poms will often absorb water and can be very hard to dry once wet. They can get very heavy as well with all the water. Because of this, they aren't suitable for wet weather. However, if they do get wet by accident, we recommend you put them out in the sun if it's summer, or on the heater during winter so that they can dry more quickly and be ready to wear sooner.
q:

Can the pom poms be taken off of shoes, or are they attached?

a:

The answer to this question will depend on the model of the shoe and its design. The majority of shoes have pom poms that cannot be taken off unless you truly dislike them and decide to cut them off with scissors. They are attached to the straps or other parts of the shoe. Because of this, it's better to find a pair of shoes with pom poms of the style and color you are satisfied with to save you the frustration of having to figure out how to remove them after purchasing them.
q:

Are pom poms suitable for fancy occasions?

a:

While they may be better suited for casual wear where you want to show off your fun-loving, unique style, there are several models featured on this list which would be completely appropriate on formal occasions such as parties, cocktails or even weddings. How appropriate they are will greatly depend on the rest of your outfit, so if you need to look sophisticated, you should opt for simplicity, with just a dash of fun embellishing.
q:

Are there pom pom shoes for men?

a:

While men's styles with this type of detail are slightly harder to find, you'll be happy to know that a large number of loafers can be bought with decorative tassels. If you're a gentleman looking for this type of shoe, head on over to this page for some stylish recommendations.
Subscribe to our Newsletter