Best Shoes With Pom Poms Reviewed & Rated
In a Hurry? Editors choice: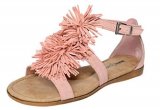 Test Winner: Minnetonka Presley

There are countless varieties of shoes out there that are either
practical
or
great looking
. But finding a model that stands out can be a bit difficult.
Pom poms are a great addition to any piece of footwear, as they're fun, lively, and are great for summertime events and festivals. In more neutral colors, they add a twist to your regular boots and can transform
plain heels
into something elegant and unique. No matter how you choose to wear them, they reflect a playfulness that you can wear to parties, casual outings or even to the office and for special occasions. All you have to do is choose the right pair of footwear.
Standout Picks
Top 10 Shoes With Pom Poms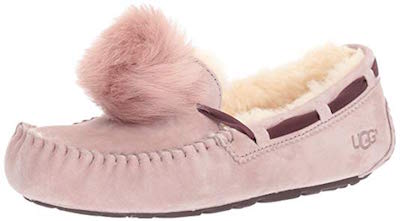 The comfiest pair of footwear on this list, the Dakota Pom Pom moccasin by UGG is an indoor-outdoor solution for anyone in search of the best possible pair of footwear to feel warm and cozy in, while showing off their cutesy style. Made with genuine wool and suede materials, like all other UGG products, it's warm, breathable and cushioned, and one of the best investments in terms of footwear you can make.
The Dakota moccasin is made with genuine sheep fur that's sourced in the USA, Australia, Ireland or the United Kingdom, and has been dyed to achieve one of the four shades you can purchase this shoe in. Considering that the inner portion of the shoe features wool, you can rely on its insulation abilities, as well as its great moisture management properties that'll keep you warm, but always dry.
The suede upper or the Dakota is made with water resistant suede that'll stand up to spills as well as unexpected showers. With a rubber outsole, you will also benefit from great traction in dry and wet conditions, making this an all-round pair of footwear you'll definitely love wearing as often as possible.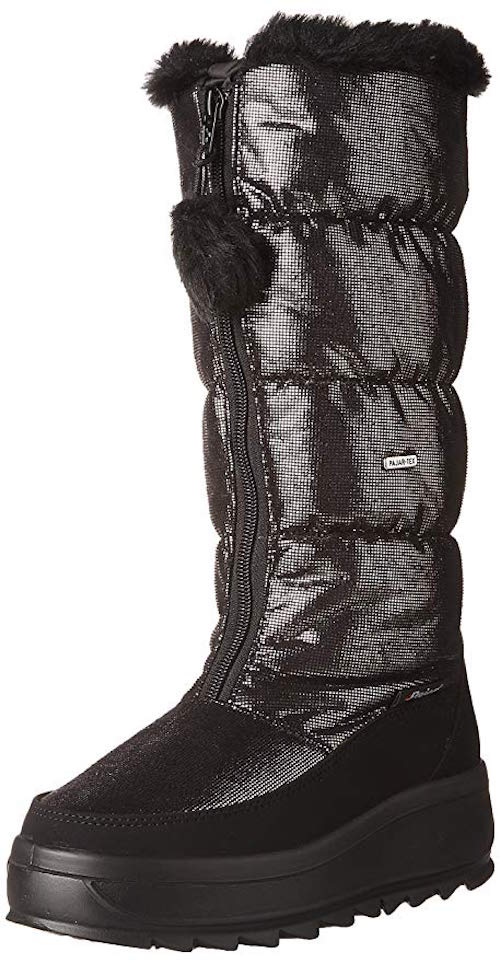 If you're after some serious snow equipment that you'd like to include some pom pom embellishments, then the Pajar Toboggan is an excellent option, considering that it was made for cold weather and has a comfort rating down to -13 °F. It's got plenty of comfort and functionality features that make it great for use in snow and on the mountain, and the high shaft covers your legs up to your knees, giving you a warm snow boot that looks amazing.
Seeing that it was made for use in heavy winter conditions, the Toboggan features a chunky rubber outsole which will give you excellent grip in the snow as well as on ice. Furthermore, it's non-slip, so you won't have to worry even when you wear these inside.
The insole on these Pajar boots is comfort molded, and removable, which is quite handy if you require custom orthotics. On the inside, the Toboggan is lined with a wool blend that is both warm and breathable, and has antimicrobial properties which prevent odor and bacteria growth.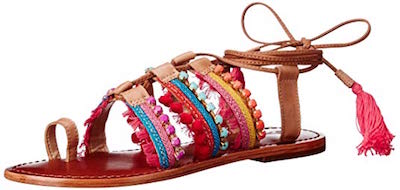 A flat sandal with colorful embellishments, the Schutz Patricia is a fun summer style that'll definitely get you noticed. Being made by a company that's focused on creating high quality footwear, you can expect the Patricia to feel good on your feet, as well as to last you much longer than similar, cheaply made versions of the same sandal. Featuring an ankle tie closure, it's extremely easy to get the best fit for any foot shape and size, allowing you to tighten where you need better support, and loosen where you prefer a bit more comfort and flexibility.
The upper of the Patricia is made with cowhide leather that has great properties in terms of durability and ease of maintenance, while still giving you all the benefits of a flexible summer sandal. The toe post is a particularly welcome feature, seeing that it provides a high level of stability, while also adding to the overall look of the product.
The material you'll be walking on with the Schutz Patricia is the same leather used for the upper, which ensures a decent amount of protection. A stacked heel adds to the cushioning effect of the shoe, and provides a tiny bit of elevation you'll appreciate if you plan on doing a lot of walking in these sandals.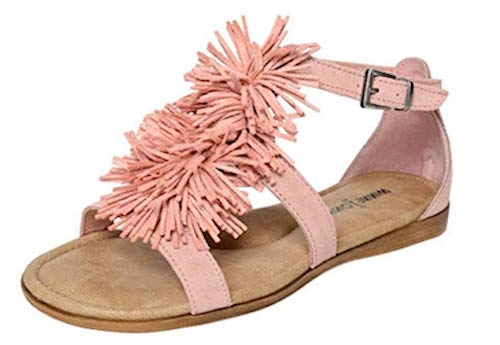 If you are looking for a pair of fun summer sandals that happen to feature stylish pom poms, then the Minnetonka Presley should be your go-to choice. Made with a suede upper and plentiful cushioning under the foot, the Presley is a pair of shoes that'll feel extremely comfortable. The buckle closure allows for some adjustability around the ankle, while the rest of the shoe is open, letting your feet breathe even in high heat.
The upper of the Minnetonka Presley, as well as the line of pom poms it features, are made out of natural suede, a material that is soft to the touch and looks great regardless of color. One of its most important features, however, is the fact that it allows for the shoe to adjust to your foot, giving you the perfect fit after just a few wears.
Minnetonka shoes are known to be soft and comfy, and the Presley is no exception. It features a footbed that is completely padded, with an added part under the arch that offers support and relieves any pain that may come with spending a lot of time standing or walking - this makes these sandals perfect for summer festivals or long walks.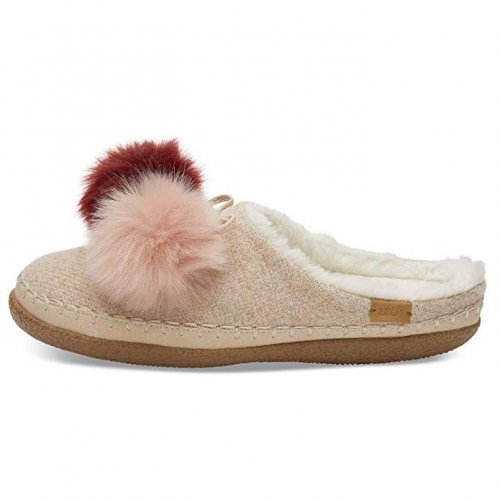 If you are looking for luxury, softness, comfort and support, look no further than the TOMS Ivy Slip-on. Made of a quilted, synthetic upper and adorned with pompoms for a cute and comfy look, you can wear the Ivy to school, to the mall or even just around the house with your favorite PJs. The easy slip-on and versatile style make these shoes one of our favorite recommendations.
Coupled with the quilted upper is a shearling lining in the insole, to keep you warm, cushioned and protected when walking around. The nylon lining in the footbed helps prevent chaffing and blisters and the textile construction allows for maximum airflow.
The durable, rubber sole of the Ivy is perfect for indoor or outdoor use. No slipping on sidewalks, hardwood floors or even classroom tiles! Comparing the Ivy to similar slip-on shoes, you can't help but be compelled to choose the Ivy due to its adorable pompoms, fluffy and comfy insole and grippy outsole.
Subscribe to our Newsletter