Best Gladiator Sandals Reviewed & Rated
In a Hurry? Editors choice: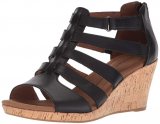 Test Winner: Rockport Briah

Nothing says summer has arrived like slipping into your favorite pair of gladiator sandals. Inspired by the heat and sand of the gladiatorial arena, this type of sandal is the perfect combination of style and
functionality
that's
great for the beach
, hiking,
walking
or work.
The interpretation of this ancient style provides something for everyone - regardless of whether you're after something low, high, slip on, lace up, elegant or
sturdy
. It's a fashion statement that'll definitely
get you noticed
, whether you've paired it with jeans, shorts, a skirt, or a flowy summer dress. Below, you will find the top 10 gladiator sandals available for purchase.
Standout Picks
Criteria Used for Evaluation
Comfort
Sandals are great for summer but if you are planning to wear them for any length of time, you will want a sandal that is secure and supports your feet comfortably. Arch support, adjustable straps to keep the sandal secure, and a properly fitted, cushioning sole are factors you want to consider. In fact, podiatrists suggest that you make comfort a priority when choosing summer footwear.  A thicker sole with a low heel will provide the most shock absorption for your feet. You should look for materials that cushion the feet but also are solid enough to offer good support.
Great Material for Cushion + Shock Absorption:
Leather
Neoprene
Memory Foam
Cork
You want sandals with a contoured arch as they will provide more support to your arches. Arch support is important because when not supported, the arches become strained and can cause other problems, like plantar fasciitis.
Wide Toe Box: This will provide the most comfort to your feet, preventing your toes from crowding and giving your toes lots of room to move.
Orthotic Arch Supports: You will want to find a sandal with a removable footbed. That will leave you room to wear the support and still be ready for summer.
Sandals with Laces: Those that have laces, especially those that rise up the calf, offer great support, but be sure not to lace the sandal too tight.  Your leg and foot should have good, unrestricted circulation.
Fit
When determining the correct fit for a sandal, your heel should be kept at the back to prevent your foot from sliding back and forth. This prevents blisters by preventing your feet from rubbing up against the straps repeatedly. Your feet may swell a little (or more) while you are walking which can change the way your skin and the straps interact. To test the correct placement, you should walk some distance in the shoe and note where your foot is placed and any spots that may be irritated. It is important to note, podiatrists also suggest that sandals should be slightly larger than enclosed shoes, to allow your feet to swell in the humid, warm weather.  
Your feet need to flex as you walk. Your sandals need to be flexible too. A proper fit will include a sandal that flexes where your foot flexes, at the front in line with the ball, while providing stability to the rest of the foot. Even sandals that are molded to a typical foot still need to flex in the forefoot while you are walking. If you have arthritis or other foot problems, you should avoid any sandal that can flex in half from toe to heel.
If you are going to be walking long distances in your sandals, or hiking, you may want to wear socks. It is important to note, wearing socks with sandals will cause extra heat and should be considered in hot climates. In addition, know any sandal will fit differently on a barefoot and one encased in a sock.
Our feet get larger as we age. They do, I know, it's so counterintuitive but it's true. Also, some of us have one foot that is a little larger than the other.  In that case, podiatrists say that you should always fit the larger foot. If you are in doubt, a podiatrist can give you your exact measurements to help ensure a proper fit. Correct measuring will ensure a good fit and should be taken seriously. 
Podiatrists recommend that sandals should match the shape of your foot. The width of your foot should fit onto the sole without spilling over to provide your foot with the right support. The length should also be correct - no toes hanging over the edge and no gaps between the back of your foot and the back of the sandal.  
Outsole
Sandals can be flimsy and hard on your feet. A lack of traction can lead to a fall and a lack of stability can lead to short-term or long-term injuries, pain, and joint problems. It is important, even when eyeing that super sexy gladiator with the laces up to the knees, that you consider how much traction and stability the sandal will offer and the environment you will be wearing them in.
An adjustable strap, with a buckle or Velcro closure, will help to anchor your feet into the correct position on the sandal. This will provide the best stability and support even when the shoe begins to wear. Also look for straps that are wide enough to stop your foot from slipping in the sandal.  Straps that are too thin will not provide sufficient stability. Also, if your sandal has a platform, it should be wide enough to provide solid stability while standing and walking.
Podiatrists say that shoes with rubber soles that provide traction are very good options to prevent accidental injuries.  All shoes should have a textured outsole, as opposed to smooth and flat, as these will provide traction between you and the ground.  Surfaces that are smooth and slippery result too often in sprains and strains in the ankle and knee.
Materials
Feet need to breathe and a good summer sandal will allow for airflow and comfortable, dry feet. It is suggested that you avoid jelly type shoes which cause sweaty feet. Choose a gladiator sandal that will give your feet plenty of air while also providing support and stability.  Canvases are very good, breathable options.
Soft leathers: These will accommodate more swelling than synthetics will.  If you are considering a synthetic sandal, choose one with adjustable straps to accommodate post-walk or end of day foot swelling.
Memory Foam: This type of material is great for cushioning but if it's not thick enough or of poor quality, it may collapse under your weight and lose most of its benefit.  Cork is also a great cushion for your feet if it's well made. Flimsy or cork layers that are too thin will quickly lose their ability to provide comfort.
Also look for secure adjustment mechanisms like velcro, buckles or straps that do not stretch too readily under pressure. Leathers stretch but are usually strong enough not to stretch too easily. Canvases also provide stretch, though a little less than leathers.  In the end, looking for higher quality materials is going to provide you with a longer lasting, better fitting shoe that is healthier for your feet.
Effectiveness
Performance is really important in any footwear. If it does not perform well, then we may feel we have wasted our money on something that seems worthless. This is why we consider performance as being a top factor with other attributes such as comfort, fit, and etc. With that being stated, there are some defining features of performance, in regards to sandals.
With sandals, you should be aware of the environment you will be presenting them in. Are you headed to the beach? Are you walking down the sidewalk or in a mall? Maybe, you are headed to a nightclub. These are measurable places in which you can better determine if the sandal is in the right spot, so to speak.
If you're headed to the beach, then the sandal should not be made of a material that will trap sand or ruin if faced with water. Rubber footbeds are great for a beach surrounding, as they are easy to clean and repel water just as easily. If you are working with a cork footbed, then you might want to consider the mall or a nightclub for those, or some sort of waterproofing.
Also, the bottom (outsole) of the footwear should be able to perform where you will be walking. Does the traction hold up on multiple surface types, such as slick and polished floors, gravel on a sidewalk, and so forth? Rubber outsoles are great at handling slick or wet surfaces; whereas, a plastic bottom might not do so well; albeit, the traction design has a lot to do with this, as well. Herringbone traction patterns are a popular choice for multi-surface types.
Flexibility matters when considering performance, also. If you will be walking all day in your gladiators, then a stiff upper could prove painful, as the very design, generally, means an open environment with straps. The straps, if too thick, can rub blisters; especially, if walking a lot. If you will be sitting around or standing, however, then thick straps may not be an issue.
The main thing to remember is that you only know where you will be. Each pair of footwear is made a little different than another pair. Additionally, that footwear will have places it should be, and places it should never see. As such, it is vitally important to understand your surroundings and where you will be. In this, you will be better prepared for your next purchase.
Top 10 Gladiator Sandals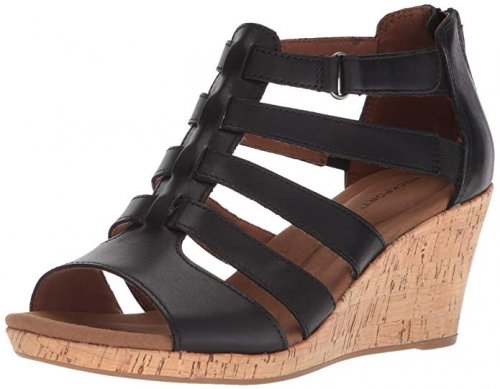 Introducing the newest gladiator-style sandal from Rockport, the Briah. A great combination of comfort and style, it's a great choice for anyone that wears their sandals all-day or all-night. Featuring a leather upper and wedge heel, you can wear it up or down, knowing it will always add a touch of class.
The wedge heel of the Briah is a perfect compromise for those that want a bit of height, but also don't want to wear your feet out as the day goes on. Comfort is key when you're wearing heels, and so is style; why not get both in one pair?
The memory foam insole further adds comfort for the wearer. The textile lining keeps moisture away and enhances your foot health, preventing nasty foot conditions. A true all-in-one wedge heel, grab a pair of Briah's before spring is over!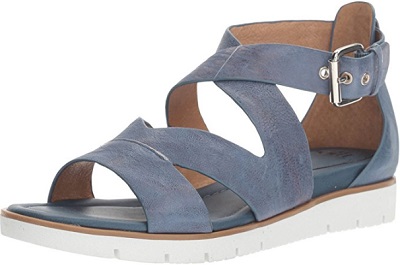 The reviews are in and this pair rates highly in the comfortable, must-have department. These are made with an adjustable, buckle closure and have a leather lining for a secure and comfy fit. Additionally, the cushioned footbed will make you smile, as you place your weight down and feel the support these have. They have a 1.5-inch heel height and 5/8-inch platform height, as well.
You will love the way this footbed feels, as it brings you a wonderful amount of comfort. Cushioned, the footbed is built well and really helps to take the load off, as it were.
With a 1.5-inch heel height, you won't have legs begging you for mercy after only a few blocks of walking. With a low height, this is a great pair for enjoying the day.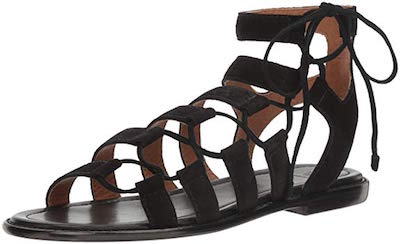 If you're a fan of the finer things in life, you'll definitely enjoy wearing the Frye Blair Ghillie, a Greek-inspired pair of summer footwear made from some of the softest suede you will find. It's one of the rare pairs of gladiators that make use of an asymmetrical design that results in a slightly more elegant look, while still retaining the high level of adjustability and comfort that's expected of this type of footwear.
Frye is a company you can count on if you're after a high quality leather item. The Blair Ghillie is made with Italian suede leather in the upper, and a leather lining that's in contact with your feet. This ensures a comfortable wearing experience that's easy to break in, and is durable enough to provide you with years of wear.
The outsole on the Blair Ghillie is made with leather, making use of two rubber coverings in the forefoot and at the back of the heel for prolonged durability and traction. Leather soles are a great choice as they become just the right amount of flexible as they're broken in, in addition being more breathable than rubber and plastic.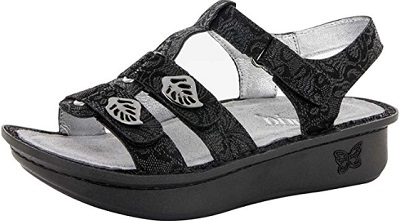 These one-inch platform gladiator footwear are great for summer. They have a removable footbed made from cork, memory foam and a soft suede finish for comfortable, happy foot bottoms. Leather straps with fabric linings ensure the tops of your feet are equally comfortable. A variety of designs and prints to choose from make this shoe suitable for any casual outfit and the rocker sole will have you rolling along in style.
These sandals come with a superbly comfortable footbed of memory foam, cork, and suede. The footbed is removable for easy cleaning of the suede finish or to let them dry out after a day of playing in the surf. Fabric lined straps ensure no sore spots.
All of the shoes in this line are patterned and come with a different strap embellishment for every print, from buttons to leaves to peace signs. From retro and bright to dark and sleek, there is a style choice and color to suit every personality.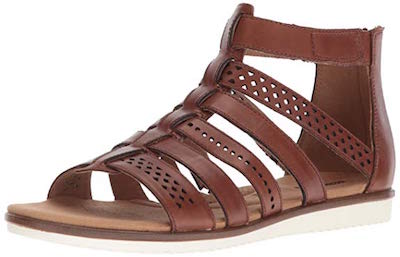 This short summer style is perfect for when you're in a hurry, but still want to look great with a pair of strappy leather flats. Available in three colors, you can choose between a black, tan or metallic version for a style that'll match a number of casual and dressed up outfits. The laser cut details add to the overall look of this shoe, but also to its breathability, allowing fresh air to circulate, even on the hottest of days.
At first glance, you'll notice that the Kele Lotus is quite different than most similar styles in that it takes into consideration that gladiators can be a hassle to put on and off. To solve this problem, it provides the wearer with a simple back entry with a zipper closure, as well as an adjustable top strap that's secured with a hook and loop closure.
The outsole of the Kele Lotus is made with PU, a material that's usually found in athletic and comfort oriented footwear. Aiding it is Clark's Cushion Soft technology that absorbs shock when walking, as well as a soft and supportive OrthoLite footbed that makes all-day wear a pleasant experience.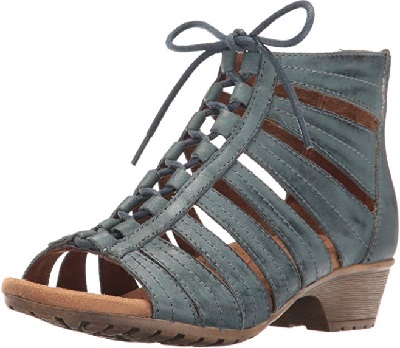 True to the gladiator style, these ankle high, leather footwear Cobb Hill have thick straps and a lace-up that offers peek-a-boo style for your toes without the thong, while providing full coverage for your foot. A rubber outsole provides for durability and comfort when walking on any urban surface. Available in a range of standard colors but also fashionable blue and red standouts.
EVA insoles provide a cushion for your feet while a rubber outsole provides durability and grip on wet or slick surfaces. The leather straps aren't just fashionable, they are durable as well. A rear zipper prevents wear from relacing.
These sandals are true to the gladiator style - low, strappy and laced up to the ankle. The straps are wide to allow your foot to peek through while mid strap stitching adds subtle, arena-ready detail.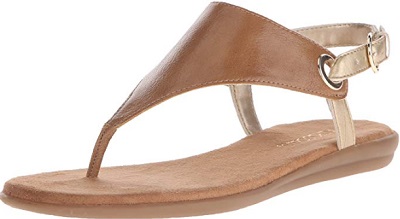 Aerosoles has a reputation for building quality, comfortable shoes that are stylish and all for a reasonable price. This gladiator inspired thong sandal has a double layer of memory foam in the insole, so you can walk for miles. With a choice of styles and colors to choose from, this pair will be just as enjoyable at home or on a beach as they will hiking on that vacation adventure.
Doubled up memory foam insoles, suede lining, and shock-absorbing diamond patterned soles make for very happy feet. The thong style has enough space over the arch for a comfortable fit without being loose.
With a wide variety of styles to choose from, there is a shoe here for every taste and every wardrobe. The open design on these provides for plenty of airflow; keeping you cool on those hot summer days.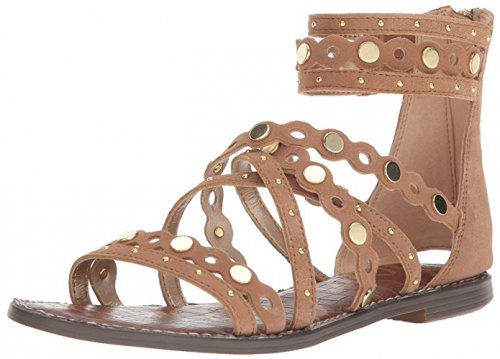 Sam Edelman has done it again, this time taking you to the streets of the Roman Empire with their take on a modern gladiator sandal, the Geren. The leather build of the Geren adds a timeless fashionable quality and enhances the comfort of the wearer when in motion. A stylish heel protector means you'll be supported and safe and won't suffer the same fate as Achilles.
Getting the Geren on and off is easy. The back-zip feature means no squeezing in and out of your new favorite pair of flats. The ankle cuff is adorned with studs to add a goddess feel to the Geren. A new take on a classic, Sam Edelman has brought the past to life.
Finally, rest assured you are supported by a thin, but cushioned, midsole. The Geren has a leather footbed, which is durable and comfortable for all-day wear. Graduate from mortal female to immortal goddess with the Geren by Sam Edelman.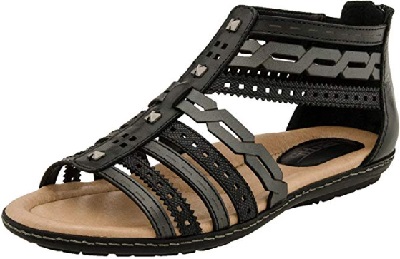 These ankle height, fashionable footwear are designed for comfort without compromising on the aesthetic appeal. The unique straps on this shoe are gladiator meets boho chic. Zippered back for easy slip on and off makes up for the lack of adjustable straps on this shoe. The variety of colors and color mixes in this line will make it easy for everyone to find something they like.
A lot of thought went into the style of this shoe, with their unique boho cuts meets gladiator straps. There are a variety of colors to choose from in the calf leather strapping including funky pairings of color in some styles.
The zipper closure makes it easy to slip in and out of this shoe. Arch support in the insole makes for a comfortable wear all day. The molded insole is also padded with a polyurethane foam cushion.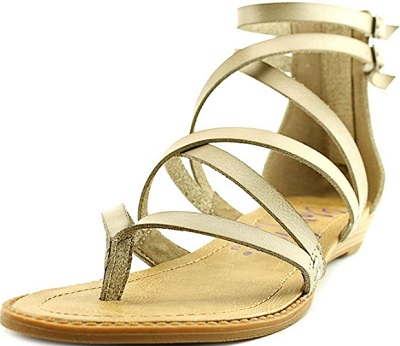 With these ones, we move toward a youthful, casual style that Blowfish has come to be known for. With a zippered back and adjustable straps over the foot and around the ankle, you adjust once to your fit and go. Available in a large variety of colors with a simple and unembellished style, you will find a pair to match any outfit.
These flats are all about a youthful, simple, gladiator-inspired style. The shoes come in a variety of colors from classic black or white to roses, tans, browns, and greys to suit any preference, with a zipper back to make it easy.
The shoes fit true to size. With two adjustable straps, you can adjust the fit over the top of the foot and at the ankle once and then take them on and off with the zipper back. The fit of the straps is relatively snug, preventing slipping.

Subscribe to our Newsletter