Best Sandals for Walking Reviewed & Rated
In a Hurry? Editors choice:
Test Winner: Teva Tirra Athletic

Every step that you take has an impact on your feet, but that impact goes further - through your ankles, knees, hips, and lower back. If your shoes aren't providing the necessary arch and heel support your feet will suffer and lose range of motion, impacting much more than just your feet, but the rest of your body as well. Walking in something as flimsy as a pair of cheap
flip-flops
can have a negative effect on your health and well-being over time. However, this does not have to be the case. There are many manufacturers that provide great support, cushion, and shock absorption for walking. This list of the top 10 walking sandals will help you to find the perfect fit to meet your walking needs.
Standout Picks
Criteria Used for Evaluation
Outsole
When the warmer months come upon us, it doesn't mean that we have to sacrifice the health and well-being of our feet in a bid to stay cooler while walking or engaging in other outdoor activities. Walking sandals are meant to provide all the airy coolness of a sandal with the underfoot protection and tread of a walking shoe or boot.
Depending on the type of terrain you plan to walk on there will be different options for walking sandals to best meet your needs. For example, if you are heading out for a hike on the trails, you will benefit from a sandal with proper underfoot protection, support, and cushion. Whereas if you are planning on walking along wet surfaces, a sandal that offers a good grip on slippery terrain will be the best option.
So, what should you look for if you're walking on trails?
Secure Fit
Cushioned Insole
Protective Outsole
Hook & Loop Closure System
Flexibility
Traction
What about wet surfaces?
Synthetic, Polyester, & Rubber Materials
Secure Fit
Flexibility
Waterproof Lining Materials
And for walking on pavement?
Contoured Footbed
Heel & Arch Support
Cushioned Midsole
EVA Footbed
The sole of a shoe is what comes between your foot and the ground beneath it. There are many different types of shoe soles available which can make choosing the right one a difficult task. Below you will find information on the options available to help you in selecting the most appropriate sole for you.
Lugged: This type of sole is made from rubber and is usually designed for hiking or walking both on and off the trail. A lugged sole offers excellent grip and traction but can be larger and heavier than other types of soles.
Durabrasion Rubber ™: Teva's Durabrasion Rubber™ provides balanced performance and durability without adding bulk or weight to the outsole. It is also waterproof which makes Teva sandals a great choice for walking on the beach or anywhere else with a wet terrain.
Rubber: Rubber is always a safe choice of an outsole for any sandal. Rubber soles provide excellent protection and waterproofing, along with being comfortable and supportive.
Razor Sipped: Razor sipping is the process of adding thin slits to rubber soling which further improves traction and grip on wet or slippery surfaces.
Camp: Camp soling is made from rubber and is usually covered with small dots which give a nice amount of traction while still offering lightweight wear. This type of sole is very flexible and allows for the full range of motion.
Crepe: Crepe soles are made of latex-coagulated rubber and are known for their milky yellow appearance. The texture of the crepe sole is crinkled and slightly sticky and they are generally quite heavy.
Leather: Leather soles are found on dressy walking sandals and offer little in the way of weather-resistance. This type of sole makes a 'clicking' sound when you walk on harder surfaces and is fairly lightweight and airy.
When selecting the type of sole your walking sandals should have, keep in mind that this is the part of the sandal which is going to protect your feet from hazards like, stones, dirt, sticks, and sharp objects, this is why the sole of your sandals is so important. The right kind of outsole will keep your feet safe, happy, and comfortable for many miles of walking and will make your overall walking experience a pleasant one.
Materials
When the weather gets warmer it gets harder to prevent foot odors from occurring. When feet get warm and start to sweat this makes for the perfect bacteria breeding ground and with bacteria, come odors. There are different options for odor control, including items sold separately from your sandals like sprays, deodorizers, and gels, but these can be costly and ineffective. A better option is to purchase a walking sandal that was designed with built-in odor-controlling technologies.
There are several technologies available which are included in the manufacturing of a sandal, but two stand out above the rest;
Cleansport NXT™:
Uses probiotic technology as a natural method of odor control. The process involves the use of beneficial microbes that are bonded to the surface of the shoe fabric that results in natural, non-toxic odor control.
Microban®:
Footwear that has been treated with Microban technologies offers the wearer many benefits, including; sweat prevention, odor and mildew prevention, and the elimination of odor while you wear your shoes and in between washings.
Microban stops odor through the use of antimicrobials that use odor control technology to capture and prevent bacteria from multiplying and creating odors. These treated- materials are subjected to customized experiments to simulate the actual intended use, including; wearability tests, repeated laundering tests, and shower simulators, to ensure product efficiency.
Support
The footbed is the part of the sandal which makes direct contact with your foot. It provides added cushioning and ensures a comfortable fit which is why wearing a pair of sandals with a well-designed footbed is so important to the overall health of our feet.
Another important consideration is the kind of support a walking sandal has to offer. If you are planning on a long walk a sandal with a supportive outsole and footbed is important to prevent fatigue and muscle pain. Below, you will find information on various types of footbed designs and supportive features to look for in a walking sandal.
Shock Pad®: Shock Pads help absorb shock and take the pressure off of your joints, tendons, and muscles. The most crucial part of the foot for shock absorption is the heel, and a proper heel pad will reduce fatigue, aches, pains, and stiff muscles or joints.
Metatomical EVA Footbed:
A metatomical footbed is designed with an insole and last that is anatomically made to provide the best support possible. They are constructed based on the overall shape of the foot and put special emphasis on the first metatarsal joint (big toe).
Anatomic Footbed:
Anatomic walking sandals are made to mimic the effects of walking barefoot only without having to be barefoot. Birkenstocks is the original anatomic sandal and are said to be the most effective at helping wearers overcome plantar fasciitis. Some adjustment time may be required if you have never worn an anatomic style sandal before.
Contoured EVA Footbed:
EVA (Ethyl Vinyl Acetate) is a man-made foam that provides gentle, yet strong support and cushion to both the arch and the heel. EVA is commonly used as cushioning in the midsole of a shoe or sandal and is an excellent cushion material to look for.
Shanks:
Shanks are what helps your sandals keep their shape, as well as, stiffen the outsole to provide a stable platform. The shank is located above the outsole in the center part of the shoe. Shanks can be made from either metal or non-metal materials. Shanks come in a half, three-quarter, and full-lengths, with the full length being the heaviest, which makes them less desirable. There are different materials to choose from, including, metal (steel) and non-metal (composite), common materials used are; steel, fiberglass, nylon, kevlar, and combinations of several materials together. Nylon shanks are a great choice for walking sandals because it is a lightweight and breathable material which offers flexibility and support.
Fit
Walking sandals come with various types of closures and straps that offer secure and comfortable wear. Some of the most common types of closure and straps for sandals are;
Hook & Loop:
Hook & loop closure systems offer the most secure fit thanks to the wearers' ability to customize the level of tightness to their foot. The most well-known hook & loop system is Velcro®, which is widely used on shoes ranging from children's to dance style. Hook & loop closures are excellent for walking sandals because of their versatility and easy on and off wear.
Criss-Cross Straps:
Criss-cross strapping is both stylish and practical, making it a popular choice option for sandals. The downfall to this type of closure is that some wearers' find the straps can tend to rub on their feet causing blisters, this effect can be heightened in warmer weather when a person's feet tend to swell.
Buckles:
Buckle closures are another stylish option that offers the wearer a good level of control and the ability to tighten or loosen their straps to the most comfortable level. The main complaint with this type of closure is that buckles tend to fall off and become lost, rendering the sandal useless because you would be unable to tighten the closure.
Value
When shopping for any type of footwear, you will surely consider the cost, and how much the product is worth. The one trend that appears to be true with sandals is that they're either very cheap, with little to no features, lacking support, traction, and durability, while the models that do offer more in terms of comfortability and protection seem to be much more expensive than you'd expect.
Whether you should go with the first or second category depends on what you will be using your shoes for. If you only need something to wear casually, not too often, you'll be OK with a cheaper model that's pretty, fits, and is comfortable enough. But, if you're heading for a hiking trip, want to walk daily, or have foot health issues that require certain elements, then a higher price should not turn you away.
The list above features plenty of styles, and some are so well made that they'll last you several years during which you'd probably go through ten regular sandals. Keep this in mind - there's a significant difference between price and value, and sometimes a higher initial investment may turn out to be cheaper in the long run.
10 Best Walking Sandals for Women and Men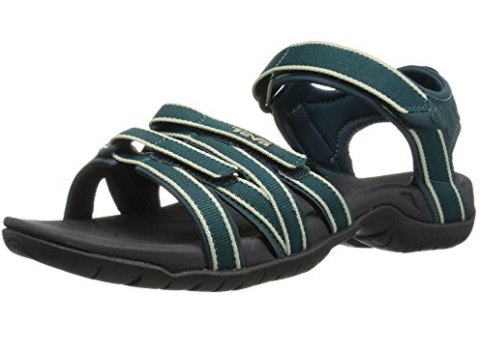 These sandals for walking are the perfect mix of comfort and durability. The contoured EVA footbed provides perfect arch support, while a cushioned Shoc Pad™ absorbs impact at the heel. Designed with an easy hook-and-loop closure which comes on and off in a snap. Made of nylon shank that stabilizes and supports your foot while walking on uneven terrain.
Built-in zinc-based antimicrobial technology which helps to naturally prevent odors from occurring.
EVA is a durable and eco-friendly foam that acts as an excellent shock absorber. EVA is lightweight, durable, and eco-friendly. While these are slightly more expensive than others on this list, they're well worth the cost. The lightweight design and superior contoured EVA footbed ensure total comfort while you walk. This walking sandal is extremely durable and offers great traction no matter what the weather condition. They are without a doubt the best walking sandals for women on the market.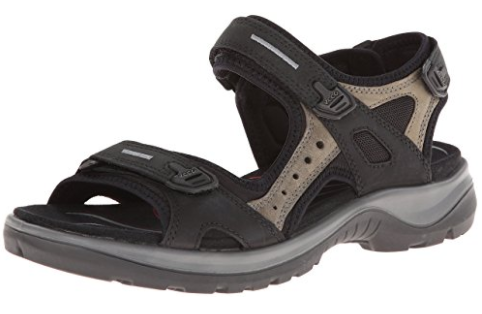 This outdoor lifestyle-inspired walking sandal offers ultimate foot comfort. The Yucatan has excellent traction on any surface and has superb flexibility. Made with stretch-fit lining material and supportive leather, this sandal is the perfect combination of style and performance.
RECEPTOR® technology enhances your walking experience by encouraging your feet to move precisely the way that they should. This alleviates strain and guarantees your feet will be continuously comfy.
This process is the strongest way of attaching the sole to the upper of the sandal. It makes a watertight seal without the need for glue or stitching, resulting in extreme flexibility. This sandal for walking is a bit on the pricey side, but for an outdoor-adventure seeker, there's nothing better. Made to last, these sandals offer superior comfort, flexibility, and multi-functionality. They are designed to enhance your walking experience and that is exactly what they will do! They are simply one of the best sandals for walking long distances!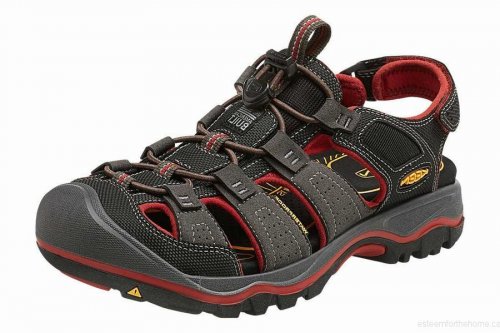 The Rialto H2 walking sandal by Teva, one of the best options for those on the go, recently received an update in terms of comfort and traction, making it an even better choice for anyone who's in need of a high-quality summer shoe. It's got an upper made with nylon webbing which makes it appropriate for wear near water, seeing that it won't retain moisture and will dry fast, while the three-point closure system allows it to be perfectly fitted without a trace of hassle.
The best new feature about the Rialto H2 comfortable walking sandals is the added padding on the back of the heel which is a problematic area for a number of people. Cushioned, it will prevent the strap from rubbing or cutting into the foot, thus helping eliminate blisters and pain that may otherwise hinder your ability to walk that extra mile.
The outsole has also been improved in terms of traction, now giving you an even better grip of all types of surfaces, including wet and highly polished ones. To help with uneven terrain, you'll find that the nylon shank does a great job at stabilizing your steps, without weighing you down like a pair of hiking boots would.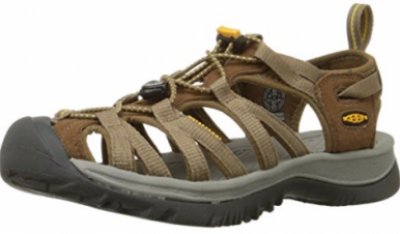 This lightweight performance sandal is perfect for pounding the pavement all day long. Elastic cording ensures a secure fit, while the cushioned footbed provides lasting comfort. Cleansport NXT™ technology offers natural odor control and the machine-washable upper makes cleaning a breeze.
Designed with an internal support system which provides top of the line support for your arches, while cradling your foot's contours to maximize comfort levels.
Beneficial and naturally occurring live microorganisms are bonded to the surface of the fabric to provide natural, non-toxic odor control. This means less likelihood of sweaty feet, as well as a lower chance of Athlete's foot and similar conditions occurring.

5

. Skechers Go Walk Pizazz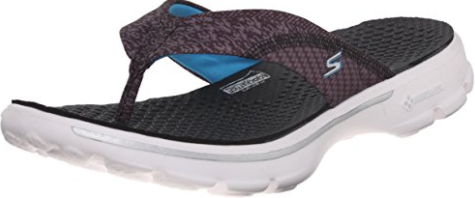 These sporty flip-flops offer a textured footbed and printed straps, making them a casual and stylish choice for a walking sandal. Lightweight and secure fitting, these are perfect for casual strolls and other outdoor activities. Available in a wide range of colors to suit individual preferences.
Great for outdoor sporting activities the rubber sole offers good traction in both wet and dry conditions. Solid designs provide supportive protection while you walk.
Express yourself with these colored sole comfy walking sandals. Available in a wide variety of colors to suit individual tastes. These sandals are a family favorite thanks to their budget-friendly price tag. A good value for the money these sandals won't disappoint.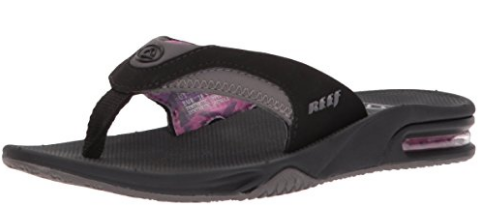 The Reef Fanning Sandal is an athletic sandal inspired by pro surfing champion Mick Fanning. It's water-friendly and is complete with a molded EVA footbed and superior arch support. A full 360-degree airbag is enclosed in the soft poly and they feature a rubber sole and nubuck uppers. A cool feature these comfy flip flops for walking offer is a built-in church key bottle opener built right in the footbed, a handy feature for opening drinks at the beach after a long walk in sun.
The Reef sandal for walking includes a 36-degree airbag which consists of pressurized air inside of a flexible and tough bag. It provides shock-absorption and reduces the pressure from impacting.
EVA is a man-man foam material that is ultra-lightweight and provides an excellent underfoot cushion. One of its advantages is that it will allow the shoe to mold to your feet, supporting you where you need it the most. So if you are in need of the best flip flops for walking long distances these are a perfect choice.




Slightly different from others on this list, the Teva Olowahu flip flop is just as comfortable for walking. Featuring an EVA-foam sole, this model will mold to your foot, supporting it from the arch up, while still providing plenty of forefoot control through the added toe loop. Those who are concerned about making purchases that are environmentally conscious will be happy to hear that this Chaco walking sandal is 100% vegan.
Designed to be anatomically correct the EVA-foam footbed found in most the Olowahu flipflops is a great option for anyone looking for that golden ratio of support and cushioning. EVA is the perfect combination of soft and firm, allowing you to wear the Olowahu Flip Flops for prolonged periods of time, whether you're hiking or just working away.
The Olowahu flip flops feature a mush topsole that cushions and forms to your foot. The .5 inch platform gives you a very small lift without becoming uncomfortable to walk in. The materials make these best Teva sandals for walking easy to clean and are long-lasting to keep you comfortable for years to come.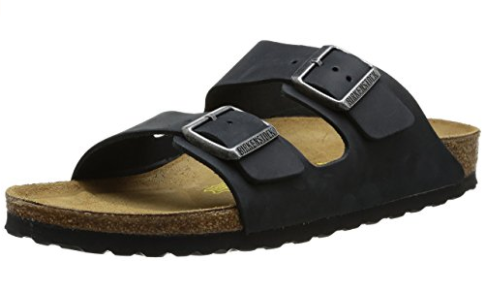 This ever-trendy sandal is perfect for long summertime strolls. The contoured cork footbed conforms to the shape of your foot creating a fully customized fit and complete arch support. A raised toe bar design supports the natural grip of your feet to stimulate exercise and aid circulation. Classic suede lining and a minimalistic look make these a long-time favorite for any occasion.
From the bottom up, this slider is made to promote the health of your feet, by providing you with some of the best arch support you will get in shoes. The EVA outsole is durable, with an added layer of cushioning, the cork is a natural material that comforts and holds your foot in the proper alignment, while the suede lining is soft to the touch and allows a good amount of breathability.
Durable upper material which is similar to leather in appearance but offers soft backing for added comfort and cushioning. If, however, you prefer to go with something natural, you can opt for a genuine leather upper as well, that is surely going to last for years to come. Our experts placed these shoes into the category of best sandals for wide feet.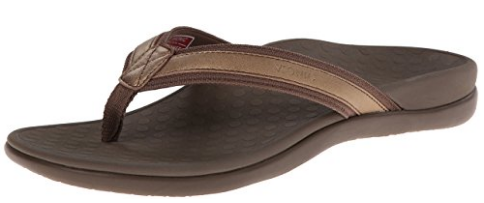 The Vionic Tide 2 walking sandal is made from woven synthetic and leather and features a cushioned EVA midsole and TPR outsole. These flip-flops are proven to alleviate heel pain thanks to their Orthaheel Technology which is biomechanically designed to hug the arch and support the foot comfortably. The Tide 2 is perfect for those suffering from plantar fasciitis, or anyone whose feet tire easily. Their neoprene lined leather upper is perfect for outdoor walking or water activities and their lightweight minimal design makes them fashionable and stylish.
The Tide 2 features built-in Orthaheel technology that is biochemically made to hug the arches and support the heel. These flip-flops will effectively treat heel pain and foot fatigue while looking stylish and trendy.
These Vionics feature an EVA cushioned midsole, Othaheel technology, neoprene padded uppers, and foam-lined straps making them a truly comfortable flip-flop that you can wear for hours on end.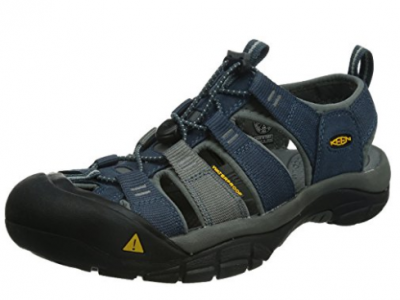 The KEEN Newport H2 sandals for walking combine the airy comfort of a sandal, with the protection of a shoe, as the toes are covered. The razor-siped sole guarantees superior traction making these the perfect sandal for outdoor adventures. Machine washable and made with PFC free materials.
Often used in outdoor clothing, PFC is a chemical pollutant that does not break down once it is released into the environment. KEEN's Newport H2 sandals are made from environmentally friendly, PFC free materials.
Razor-siped soles are designed with lateral slicing that flexes open while walking to firmly grip any surface, providing superior traction on both wet and dry surfaces. The Newport H2 is a high-end sandal with a medium price tag. A fan favorite, these sandals offer superior grip, an airy design, and are multi-functional. Perfect for walking on wet or dry surfaces, the Newport H2 best men's sandals for walking will not disappoint.

Subscribe to our Newsletter