Best Suede Shoes Reviewed
In a Hurry? Editors choice: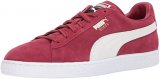 Test Winner: PUMA Suede Classic

Many customers are not too keen on the idea of buying suede shoes simply for fear of ruining them. And while these leathers by nature are going to be something you'll want to take care of to extend their longevity, the cleaning process is not very difficult. Even when taking into account the maintenance required, these designs still make a fantastic causal and even a more formal investment.
Whether you're looking for sneakers, boots,
oxfords
, or even loafers, we've included the best ones in each category to make sure you have plenty of suede shoes to choose from. Let's dive in!
Standout Picks
Criteria Used for Evaluation
Style
When you're choosing a style, consider whether or not you'll be wearing these shoes in a casual or a more formal setting.
All types of footwear – from sneakers, oxfords, and loafers, to others – are included in this list, providing you with as many options to choose from as possible. In doing so, the list contains a nice variety and has options for both men and women.
With that being said, one of the main factors we focused on was that the designs had to be of high quality, or else the entire purpose of the list would be defeated. High quality can mean a lot of things, but in terms of this list, every model we chose was made of good, sturdy materials and was built to last you a long time. Listed below is each type of style, what we looked for, and its purpose.
Sneakers: Among one of the most popular choices for both men and women is the sneaker. Sneakers provide the wearer with fantastic comfort for extended walkability, and a design suitable for casual and semi-casual events. Affordable prices are also a plus if we can find them. One of the sneaker kings in this regard is the PUMA Classic; being quite affordable while also featuring a high-quality suede body that looks fantastic.
Oxfords and Boots (Dress Footwear): Oxfords, as well as boots, have been a staple in the contemporary fashion world for both men and women. Additionally, both of these styles can represent a mix of casual and formal, adding to the overall versatility of each option.
Loafers: Loafers are another versatile type that leans more toward the casual side of things while also having some professional aspects. The loafer itself is classified as a shoe without laces and features a lighter weight as well as slip-on characteristics.
If you're stumped on which style to go for, consider the following factors: where you intend to wear these shoes, what the occasion is, and whether you need to look presentable and polished, or if casual is just fine. There is an option for every situation, so don't hesitate to experiment a little and explore your personal style!
Materials
Apart from suede, look for high-quality materials such as rubber outsoles, leather linings, and foam midsoles and insoles.
This material is the number one material we looked for when composing this list because it had to be of high quality for the design to be good.
The uppers, heels, inner soles, and outer soles are all created using different types of materials, and figuring out the quality of each material can pose quite a conundrum. Generally, finding high-quality materials is pretty straightforward, however. Below are the most common components utilized in footwear and what we look for in each one.
Leather: Leather is a durable, flexible material that is usually used in the uppers or soles of a particular design. Quality leather can be identified as "real leather" rather than its synthetic counterparts. It is durable, breathable, and it has that wonderful ability to mold to the shape of your foot over time, for an irresistible level of comfort.
Polyester Felts: Felts are composed of wool and a mixture of other materials. This mixture is great for increasing the thermal insulation of the design as a whole.
Rubber: Rubber is a tough, elastic substance made usually from latex or a mixture of other synthetic materials. Outer soles are what rubber is primarily utilized in, as the outer sole itself has to be tough and reliable to protect the wearer from debris, as well as to provide traction.
Foam:Foam, as many of you already know, is what's used in the inner sole to provide a cushioned and comfortable foundation for the foot to sit in. Inner soles can be taken a step further with the addition of EVA materials and anti-microbial properties. (Many of which are rarely included in dress footwear.)
Features
Depending on the purpose of your footwear, choose the right type of leather accordingly.
Not all leather is the same and not all leather footwear is made for the same purpose. Different types of leather can be found on different types of footwear, which in turn affects their effectiveness.
Some designs incorporate leather for purely aesthetic value, while others have it for performance purposes. This should be considered, always.
For instance, if you see a hiking boot that is made of
leather, you want to make sure that it is treated with special anti-stain and waterproof agents. This is not a performance leather, and is in a way a sponge for dirt and grime, rendering it unfit for dirt trails; thus, you need to make sure that the design is outfitted with these extra features which keep you protected when you need it the most.
However, a fashion design made of this type of leather is perfectly fine. Keep in mind what you will and will not be doing with your shoes, and you will be sure to steer yourself in the right direction. Know your leather types and what they can be applied for, and you can't do wrong. In the final section of our Criteria part, we outline some common types of leather and leather processing methods used for footwear.
Support
Arch support and contoured footbeds are essential in making the most out of your footwear, comfort-wise.
Whether you're wearing those chic heels, a pair of sleek oxfords or maybe some loafers to go with your suit, it goes without saying that your feet need proper support. Support is essential when it comes to comfort levels of any type of footwear, and without it, it's difficult to stay on your feet for long periods of time.
When we say support, we mean arch support. There are three types of arches in human feet: flat arches, neutral arches, and high arches. Most people have neutral arches, but you may fall into the first or third category and thus will require lower or higher arch support, depending on your type. It would be best if you can get your arch height measured by a professional and then fitted with the proper support.
Why is arch support so important, you ask? The simple reason is - it keeps your foot in a natural position as you walk, keep you from over- or under pronating and staves off foot fatigue. When you have footwear with proper arch support, you can stand and walk for as long as you want to without feeling tired in your feet.
In addition to arch support, bonus support can come in the form of contoured or molded footbeds. These footbeds have hills and valleys that correspond to the shape of the foot sole and are created for the sole purpose of cradling your foot as you walk. Contoured footbeds are a must-have if you intend on covering a lot of mileage in your new shoes.
In case the design that caught your eye doesn't have adequate support - don't panic! You can likely purchase a pair of gel inserts separately and slide them into your new shoes. Supportive inserts are quite popular, and you should have no problems finding the ones that suit you just right.
Durability
Suede needs regular cleaning, but it is one of the most durable footwear materials available today.
It is only natural that when you're buying new footwear that you want it to last for as long as possible. Durability is often high on our list when we're looking for designs that are high in quality. Shoes that we can wear year after year are truly worth every penny we invest in them.
So, how to know whether or not a design is durable?
Well, this depends on a myriad of factors: the quality of the materials the shoe is made of, the quality of its construction, how often you wear the shoes, whether you take good care of them or not.
It is no secret that this material is a durable material - being leather - but that it is also sensitive at the same time. Without pre-treatments, this material is prone to staining and scuffing and will need adequate care to maintain its plush texture. However, this doesn't mean you will have to take hours out of your day to clean and condition your footwear. Once a month of checking to see how they're doing and perhaps giving your shoes some love and care should be more than enough. Your footwear will be grateful and in turn will last for a long, long time.
Other than caring for the material, make sure to look for solid constructions. Seams are more durable than glue, and rubber outsoles, as well as leather linings, add to the overall longevity of a design.
Lastly, don't hold yourself back from wearing your favorite shoes just because you're afraid they will fall apart quicker. Footwear deteriorates even when it's sitting in your wardrobe, and besides, shoes are meant to be worn. The best thing you can do is wear them with confidence, and you will be sure that they paid off in the long run.
10 Best Suede Shoes
1

. Jessica Simpson Orsona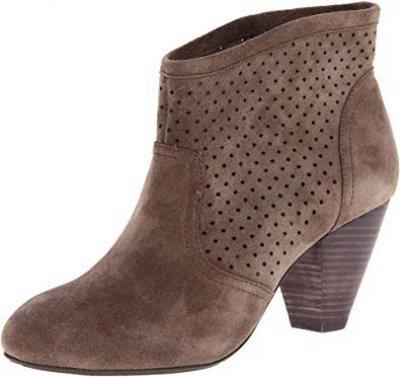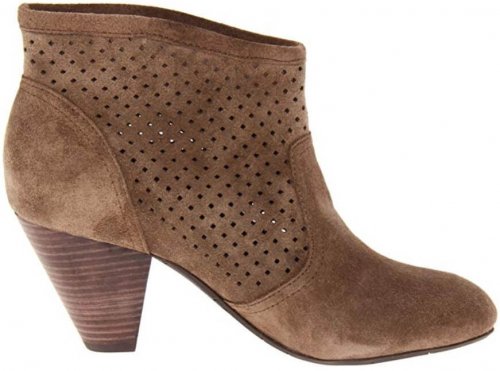 Fall is just around the corner, and the Jessica Simpson Orsona is perfect for when cooler weather starts to make its way here. The Orsona is an ankle bootie, with soft uppers and a stacked heel, as well as perforations for breathability and an added element of style. Great for pairing with mid-length dresses or skirts or leggings, it's a versatile piece to add to your footwear collection. With a few color options in black, tan, and brown, you'll find one for your fall wardrobe for sure.
Who doesn't love the versatility of a great ankle bootie? If you can find the perfect pair, they work with just about any kind of outfit and style. The Orsona keeps the lush, soft look of this material, and combines it with a chunky tapered heel and perforated uppers, making it look great and be functional all in one. With a lower heel of three inches, this ankle bootie makes for a great accessory for all-day wear. Perforations help to keep your feet cooler but also add a bit of warmth around the ankles. The memory foam midsole adds some comfort and cushion to each step, while a rubber sole gives traction.

The Jessica Simpson Orsona is a cute and stylish bootie, perfect for fall or cooler summer evenings. Versatile enough to pair with many different kinds of outfits, it can become a staple in your wardrobe in no time. With classic colors to select from, you can be certain one will suit your closet and style.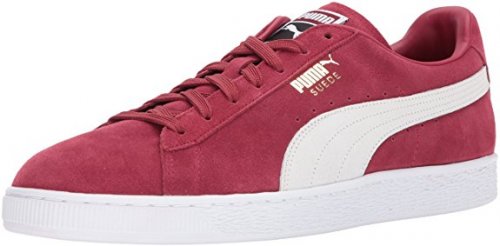 PUMA has always been an excellent choice of a footwear brand, as they provide a mix of both casual and formal designs that look excellent no matter what your personal style is. The PUMA Classic comes in plenty of different sport type colorways that give off a classic vibe and are extremely comfortable.
One of the more attractive features for a select audience may be the fact that the PUMA Classic is tailored towards those with more narrow feet. Of course, that doesn't mean that this sneaker can't be worn by wider feet, it's just a great design since many current models are designed to be in the middle of narrow and wide. The outsole of the Classic is stitched onto the body rather than glued, and the sneakers itself feels premium and has a very nice weight.

PUMA footwear is always worth the price if you like the design itself. With a more than a reasonable price tag, you are guaranteed a high-quality option that provides a classic look that defies the trends for many years.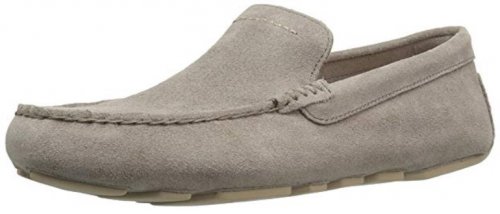 While we're used to the well-known boot designs from this brand, UGG actually produces a wide variety of high-quality footwear, including the Henrick driving loafer. This old-school style is built for the coast, for a road trip with your posh friends and with the wind ruffling up your sun-bleached hair. The best part is that you can wear the design without socks for maximum comfort during hot summer days.
The Henrick sports a traditional Venetian silhouette, and easy slip-on construction. It has the UGG Tasman braid in the back and is outfitted with the enerG comfort system. This technology comes with arch support and a layer of foam for breathability, moisture-wicking and cushioning. There is also an antimicrobial element, protecting your bare feet from sweating or developing any infections in a humid climate. The outsole on the Henrick is made from Treadlite by UGG, meaning that it comes with superior traction and grip on all types of surfaces.

The UGG Henrick may seem like a regular, retro loafer on the outside, but rest assured that all the technologies and advanced features built into it make it a frontrunner when it comes to shoes. It is comfortable, it is breathable, and you can either choose to dress it up with a suit, or dress it down with denim - with the Henrick, you can do it all!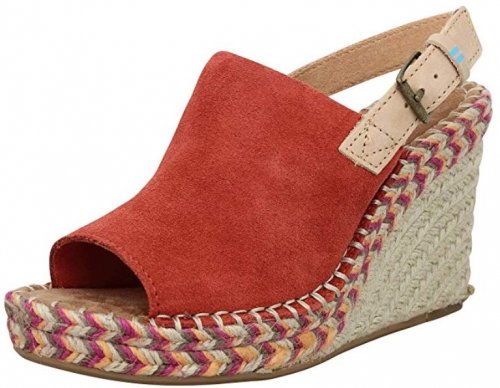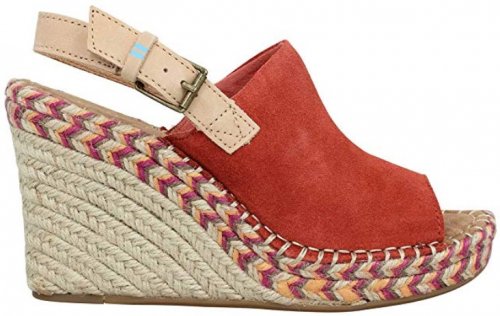 This material is not reserved only for cute ankle booties and suave oxfords. Even casual, cute summer designs can be made from this type of material, as you can see in the gorgeous TOMS Monica! This rope-wrapped wedge is just what you need come warmer weather, when all you want to do is throw on your flowy sundress, strap on a pair of comfy wedges and hit the town with your friends!
The upper of the Monica is, obviously, made from these materials, while there is a backstrap made from the same material and with a buckle that helps you easily adjust the width. Not only is this wedge approximately 3.5 inches high and more than comfortable (and stable!) enough to walk in, but there is also a special comfort technology incorporated in the insole. The OrthoLite X40 is an insole that provides cushioning and energy rebound so you can stay on your feet for as long as you want.
We are in awe of Monica's playful, relaxed style and the outstanding levels of comfort it provides. It comes in several color options, out of which we have singled out this glorious red, and we are sure that you will find a version of this design that fits you just right.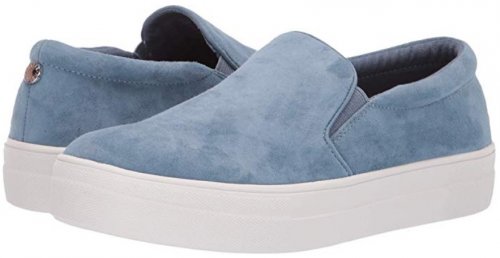 From one of the most popular fashion designers of our time, the man who combines rock and roll aesthetic with his New York roots, comes the Steve Madden Gills slip-on sneaker. This is a brand staple, a bestseller, and with good reason: it is undeniably cool, smooth and minimalist, and its versatile design will quickly become your go-to option no matter where you decide to go.
The Gills have a sleek upper made of high-quality leather, with a padded collar for extra comfort. There are two elastic inserts for a stretchy fit so that a foot of any shape can easily slide in. The lining and the sole of the sneaker are man-made, and the sole is actually a platform, 1.25 inches thick, which provides a boost in height with all the comfort of a flat design.

While not suitable for formal occasions, the Steve Madden Gills will definitely complete all of your casual looks. It goes amazingly well with jeans and shorts and skirts and dresses, and you will love showing off your ankles in all of your favorite outfits!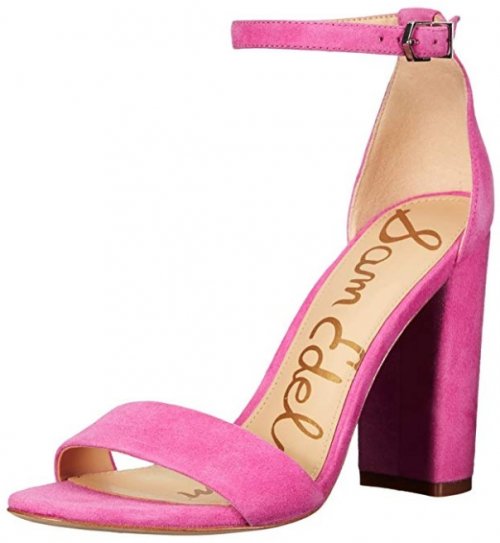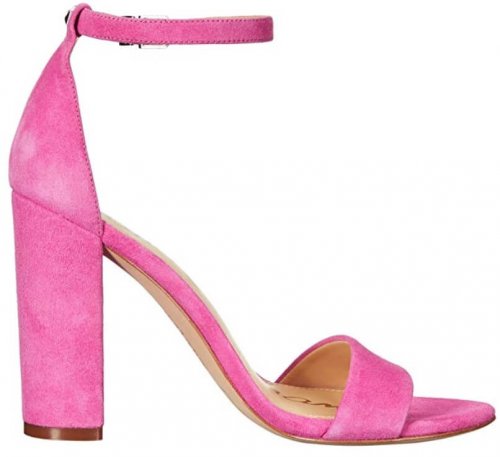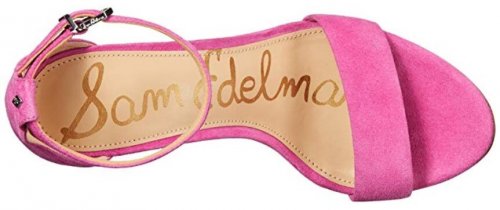 While we would most likely associate the type of material that is the focus of this guide with fall, here we have something decidedly more playful, flirtier and brighter! The Sam Edelman Yaro is a fun, vibrant heel that will make you smile whenever you look down at your feet. Combine it with your favorite sundress, or with that sparkly mini dress, you wanted to take out to the club, and wow everyone with your style!
The Yaro is a simple sandal with a thin strap around the ankle and a wider one across the toes. Thanks to the material used, it will mold to the shape of your foot over time, providing you with personalized comfort. The strap around the ankle is adjustable thanks to the buckle closure, so you can customize the width to your liking. Finally, the heel of the Yaro is 4 inches high. While that may sound daunting, rest assured that it is quite comfortable to walk in due to its thick, blocky shape.

The Sam Edelman Yaro is here to take the fashion world by storm. Or if not the fashion world, then definitely your own wardrobe. You can pair it with a dress or a skirt, and even with cropped pants or boyfriend jeans to strike a perfect balance between laid-back and feminine. There is nothing this sandal can't do!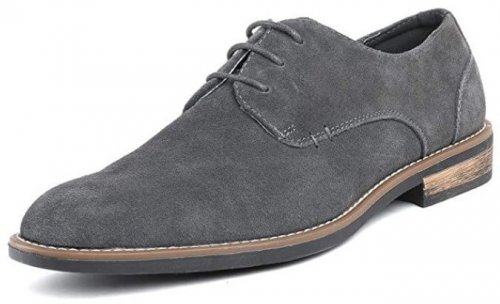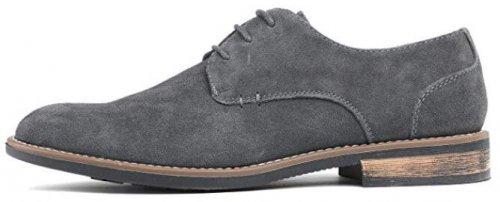 Oxfords are a staple in the fashion world for both men and women due to their fantastic style in addition to the sleek materials used. The Bruno Marc Urban in specific is tried and true, coming in 15+ colors and featuring a stunning design that looks great when paired with any wardrobe.
Wingtip style lace-up designs are very popular among oxfords and for a very good reason. The three eyelets provide a neat and secure hold while giving off a sleek and minimalist aesthetic that looks great in casual settings. Skidding is very common among higher-end footwear due to the rather bulky nature of the outsole itself. A durable and high-quality non-skid outsole can dramatically increase the lifetime of the design by preventing unwanted skidding and wear on the bottom.

The Bruno Marc Urban always stands at a very affordable price tag, making these a great option for formal events where you don't want to spend a lot of money. Bruno Marc is a great company and their footwear is nothing short of fantastic; truly one of the best currently available on the market.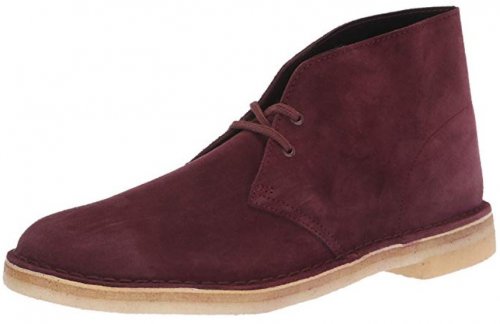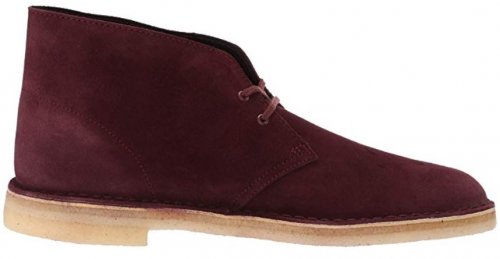 Can you believe that this design is almost 70 years old? Of course, the Desert Boot has been modified and updated over the years, but Nathan Clark - one of the founders of the Clark brand - had first created it in 1950! That just goes to show how timeless and amazingly popular this particular design is. With the Desert Boot, you won't have to worry about style ever again!
This boot is made from genuine materials, with a simple two-eyelet lacing system that allows you to adjust the fit of the shoe however tight or lose you'd like it to be. The inside of the Desert Boot is lined with leather. This not only ensures a gentle feeling but also promotes a healthy foot climate inside the design. The outsole is made with a crepe pattern, meaning that it won't cause you to slip or skid regardless of what surface you find yourself on.
The Desert Boot from Clarks is that design that defies the current fashion trends. Rather, it is always on-trend, and no matter what you pair it up with - be it a pair of slacks or jeans or maybe even shorts - you can be sure that you'll be the best-dressed person in any setting.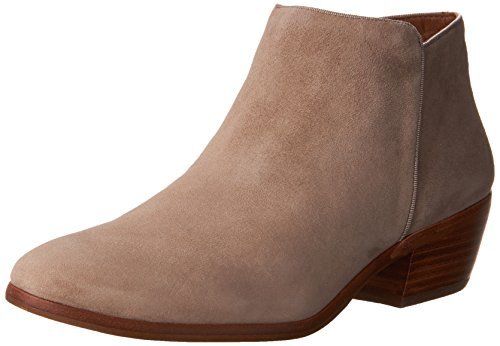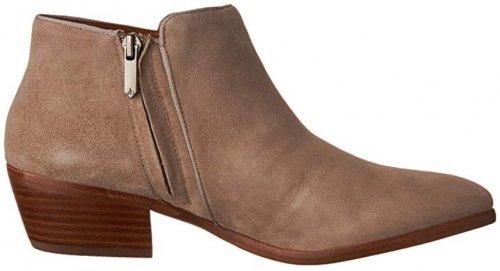 Ankle boots are no stranger to the world of women's fashion, and the Sam Edelman Petty is a great addition to anyone's wardrobe. These feature all man-made materials - aside from the genuine upper, of course - and thermoplastic rubber soles for a high-quality build that's durable and reliable.
The Petty features a comfortable 1.75-inch heel that adds a little height but won't cause too much discomfort for daily wear. You can be sure that you're going to have a comfortable day and won't regret your choice with these booties. Rather than just regular rubber, the Petty boots have thermoplastic rubber on the bottom, a much more durable and reliable version of the regular polymer, making it a great high-quality alternative.

The Petty is fairly priced especially considering the design, value, brand name, and overall quality. If you're looking for a great fall-themed casual/formal design, these are a great option.

10

. Kenneth Cole Desert Sun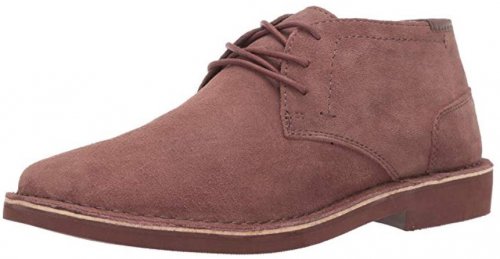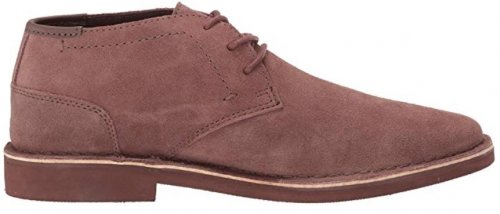 Chukka boots are always a fantastic addition to any wardrobe due to their versatile build that looks great in casual settings as well as formal ones. The Kenneth Cole Desert Sun, in particular, features an urban look and comes in multiple colors to choose from to fit your outfits.
Kenneth Cole footwear is produced and manufactured in the United States, providing the wearer with a reliable outsole and an overall build that's sure to last years. Low cut boots are becoming more and more popular in men's fashion as they look sleek, and provide the wearer with fantastic protection and overall durability.

Considering the all-American high-quality build, the Desert Sun boots aren't that expensive. With plenty of color options to choose from and a sleek looking body, these are a perfect choice for all fashionable settings.

Subscribe to our Newsletter