Best Loafers Reviewed
In a Hurry? Editors choice: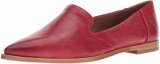 Test Winner: Frye Kenzie Venetian

Across the shoe buying spectrum, the true significance of comfort,
professional sleek style
, and easy to manage shoe-wear is relatable to all. A pair of the great-looking loafers unbeatably finds itself at the top of each of these lists. Quite frankly a pair of these shoes proves itself to be ideal for the business person, the gardener, or those healing from a wide array of injuries especially those affecting the foot, heel, and ankle.
Standout Picks
Criteria Used for Evaluation
Style
We've highlighted some of the highest quality and best-loved out there, and considered a variety of new styles, alongside classic models. But when it comes to choosing a pair, what should you look for? Let's talk a little bit about how to evaluate these shoes, and choose a pair that suits your needs.
When looking for fashion inspiration, you'll see people of varying degrees of style wearing these, with all different ensembles. Some of these individuals may stick with the business look, while others may be wearing their pair with jeans. Here, we'll talk about some essential criteria that you should consider when you're ready to start shopping for a pair.
First, let's start by discussing what they are. Although there are many legends about how they came to be, we find the most compelling and believable tale to be that it originated as an English house shoe, and later underwent a metamorphosis when it became an American trend. As a result, there are several specific styles we'll discuss.
The main characteristics that mark it are:
A low fit beneath the ankle
No laces or fastening mechanism
Little to no heel
Minimal decoration
Sole constructed separately from the shoe
Within the stylistic family, there are several styles, each suited to a different look and occasion.
The Penny Loafer :
The penny is arguably the most versatile style marked by the strip of leather across the vamp (upper front of the shoe). It can be dressed up, or down, and runs the spectrum from a polished casual look to business casual. These can be paired with chinos, jeans, or a tailored short.
The Belgian Loafer:
A lesser-known style of the loafer, the Belgian is constructed by a specific process in which the shoes are sewn inside out. Like the penny, these shoes are ideal to polish off a smart, casual look, such as a button-down or polo shirt.
The Tassel Loafer:
While the simple elegance of this is in part due to the lack of ornamentation, there are two styles with a single embellishment to them; one of those is the tassel. With this style, a decorative tassel is attached to the top vamp of the shoe. This style is designed with a more rounded toe. The tassel is an ideal choice for a dressy casual look, such as paired with a blazer.
The Horsebit Loafer:
The horse bit style is the most formal style here, originally created by Gucci. Although the casual nature of the shoe means they're not suitable for, say, a black-tie event, they'll easily complement dressy and business attire. Make sure the ornamentation of the shoe is subdued and elegant, never gaudy.
Modern twists include canvas slippers, athletic styles, patterned, shearling styles, and even heeled models. Since they are an incredibly versatile shoe, the style is entirely a matter of preference and lifestyle. Choose the one that works the best for you!
If you're going for a classic look, keep a few guidelines in mind. This shoe should be worn with clothes that have a fairly tailored fit. Those intended for more formal purposes should have a low heel, and high vamp, meaning the front of the shoe comes relatively far up the foot.
Materials
The classic loafer is generally made of leather or suede, in a neutral color, with minimal embellishment. However, rules were made to be broken, and now, these shoes come in every variation, and in many different materials.
While leather and suede are classic materials, and always good choices, there are many other choices available. Athletic pairs offer breathability, while materials like canvas and fabric are flexible and casual. In a life full of choices you really just need to consider your surroundings and the type of situation you may find yourself in. There is now a pair of loafers for any and all situations, if these are your favorite type of shoes now is certainly a great time to be a fan.
Leather: Most commonly seen in this style of shoe is the Leather upper. It is known for its durability and classy look. One of the downsides to a Leather upper is the amount of care it takes to keep your shoes in great condition and looking sharp. If you are willing to put in the time you can never go wrong with a genuine Leather Loafer.
Suede: Also quite common in the world of loafers, is a Suede upper. This type usually offers a more casual vibe but can also be dressed up quite easily. The matte finish is very appealing to the eye and the softness is something everyone loves. Caring for Suede is also more tedious than other varieties and should be taken into consideration before purchase.
Athletic: This is a rather broad area when it comes to upper material. Athletic shoe brands offer models made in a variety of synthetic materials. These are popular with those that prefer the look of a loafer. They are usually easy to maintain and don't require much in regards to care. It is important to note, if you work in an industry where things tend to get a bit messy, this can be a great choice for fashionable footwear that will stand up to tough use.
Canvas or Fabric: A canvas upper is going to look much more casual than any referenced so far. Perfect for a day on the beach or a family get together, this upper offers great breathability and flexibility. Caring for these is simple. They do lack durability and won't be appropriate for dressy occasions, however, they can be a great addition to any wardrobe.
The material of the lining of the shoe should also be considered.
Leather: This type of lining is breathable and will stretch a bit to fit your foot.
Memory Foam: Many pairs now are made with memory foam, which also molds to the wearer's foot over time, creating a custom fit.
Microfiber: Moisture-wicking microfiber is sometimes used in shoe lining and can be a great option for those concerned about sweat or odor. Again, assess what you'll be asking of your footwear. If you're more active, for example, breathability might be a top concern.
Overall Fit
These options encompass a vast range of styles and designs. Some are made for walking around the house or enjoying some time in the backyard. Others are a comfortable and professional alternative to traditional dress shoe options. This wide range of styles also involves a wide range of fits.
Overall fit and comfort go hand in hand. After all, all of the cushioning in the world won't make up for a shoe that has a poor fit. Many things can impact the overall fit of a shoe, such as a width, size variations, and even the material.
Width: Shoe size really only tells you the length of the shoe. It doesn't give too much insight into the width. A shoe that is too narrow will be too constrictive to walk in, and a shoe that is too wide will be cumbersome to walk in. This is why some products are available in different width options, in addition to regular sizing. Of course, even shoes without these options are naturally inclined to run either a little wide or a little narrow. A bit more on that below.
Side Variations: When someone says an item runs small or large, that's what we mean by size variations. Unfortunately, there is no fully universal standard when it comes to sizes. A size 8 shoe from one brand may have the same size as a size 9 shoe from another. This can happen even within a brand; one product may run larger or smaller than its companions. When trying to figure out size variations, it can help to read reviews of the shoes you're considering. This will give you an idea of how they run for most people.
Materials: Materials aren't something typically considered when assessing the overall fit of a shoe. But we felt it pertinent to mention it for one major reason; break-in periods. They often come in leather styles, where this is especially relevant. Break-in, when talking about shoes, is specifically defined as "to overcome the stiffness or newness of," according to Merriam-Webster. In practical terms, this is the process in which the shoes better form to the unique shape of your foot.
Comfort
Comfort is a big deal with any kind of shoe. It can sometimes make or break a purchase. If a shoe is uncomfortable or not properly fitted they can cause pain or fatigue, or even exacerbate an injury. So, how you get an idea of the comfort level of a shoe?
Think about your own feet. Are they wide or narrow? Do you have high arches? What about pronation issues? These things will all require specific needs in a shoe and is something you need to be mindful of when considering a shoe.
Of course, the only way to definitively know the fit and comfort level of a shoe is to try them on. Amazon has introduced an option in select countries known as Prime Wardrobe, which allows you to try on select items for seven days free of charge. Alternatively, you can go to a local shoe store and see if they have comparable designs in house. Comfort, however, is relative; what works for one person may not work well for another. It's important to consider your own unique comfort needs.
Support
The cushioning inside of a shoe will play a large role in support, shock absorption, and overall comfort. Different shoes will use different types of cushioning, with memory foam and Ortholite being two of the most common materials.
Properly cushioned shoes will reduce the impact on your feet and legs when you walk, working with the midsole to promote shock absorption and help to prevent fatigue and pain. This is important for both business and casual loafers, especially for situations where you spend a lot of time on your feet.
Cushioning also plays a role in support as well. Those with high arches will have very different support needs from someone with flat feet, and the features of the shoe need to reflect this difference. Support is how well the shoes hold your feet and promote energy return, making each step more comfortable.
When it comes to comfort, nothing is better than a nice cushiony shoe. Ortholite insoles are especially popular for this, as their open-cell design makes for an airy cushioning. Memory foam was the next big thing in mattresses about fifteen years ago, and the technology has since then found its way into shoe insoles around the world. Memory foam, while not as airy as Ortholite, conforms to the unique pressure points on your feet, giving you customized support and cushioning.
Top 10 Best Loafers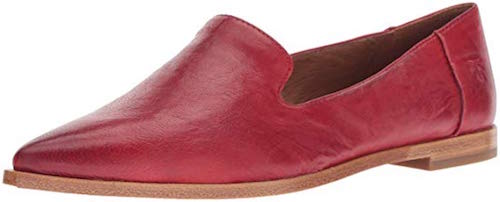 When it comes to footwear, there are some pairs that prove to be a lifelong investment, providing you with the comfort, durability, and aesthetic appeal you will definitely appreciate for years to come. The Kenzie Venetian by Frye is definitely one of those pairs. Inspired by the classic ballerina look, this flat comes in three color choices - black, brown and red, and is the perfect pair to have in your closet for casual and semi-formal get-togethers.
What makes Frye footwear stand out from the rest is the quality of leather they use. The Kenzie is constructed from cuts of Italian leather sourced and tanned in the best tanneries in the world. The simple silhouette with the pointed toe allows for the material to shape to your foot, giving you that perfect broken-in feel after just a couple of wears. You'll find that the leather lining further increases the comfortability, seeing that it allows the foot to breathe and that it doesn't deteriorate like textile or mesh options.
The outsole of the Kenzie is also made with leather, but features rubber portions below the metatarsal and heel area. What this ensures are two things. First and foremost, you won't have to worry about the surfaces you walk on, as rubber is slightly more robust than natural materials. Secondly, it won't have to be re-soled after a few years, nor reserved for completely dry weather as is the case with traditional outsoles. However, be prepared to pay a considerable amount for this model - one of the most expensive on our list, but definitely worth it.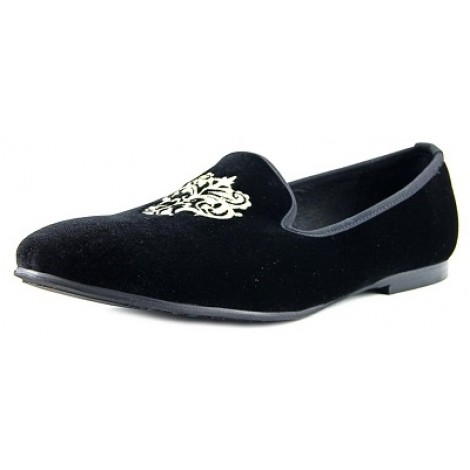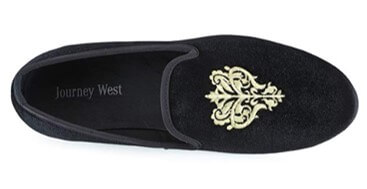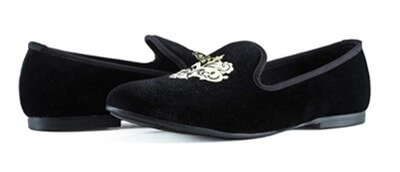 With a product as fit and fly like this one and the unique design and embroidery on the surface, it is hard to pass these by without purchasing. Journey West put a lot of thought into these shoes with a high-quality rubber sole and genuine leather insoles, topped with velvet to slip your foot into. These are fantastic for casual parties, and home life. They are comfy and stylish making them one of the best models available on our list.
Perhaps the most elegant featured loafer on our list, the Journey West Vintage is made out of beautiful red velvety material which leaves you feeling like royalty while slipping these on your feet.
This pair is pressed at the toe with an elegant vintage embroidered design. This is a unique stylistic detail that's difficult to find and definitely sought after by those who want something fit for a royal. These ones are a smart downright good buy, they are in the range of average and for the quality of the material they are produced from, comfortable fit, and beautiful design they are well worth the asking price.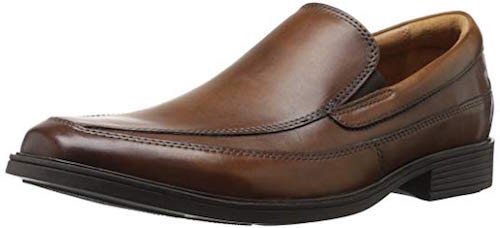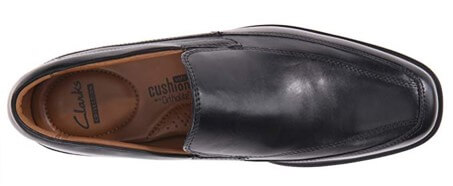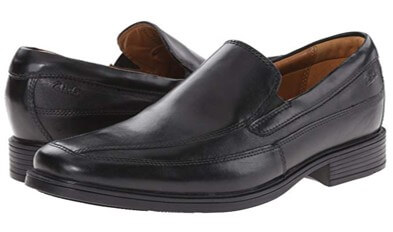 Nothing beats the combination of comfort and sophistication, and the Tilden Free by Clarks gets it just right. This leather model is the ideal pair of footwear for those looking for versatile shoes that can be worn on a number of different occasions, from work to off time, to special occasions. It comes in two color options, black and brown, so you can choose the one that will look best with your suit (or jeans) of choice.
While the upper of the Tilden utilizes leather, most often chosen for its looks and durability, but also for the fact that it's relatively easy to break in and doesn't become easily damaged, it's also important to note that this model uses an elastic gore insert to make on and off easier, as well as a textile lining that aids breathability and in-shoe comfort.
As for the outsole, it's made with TPR which works well on all types of surfaces, and which is soft enough to absorb excess shock when walking. An Ortholite insert aids cushioning through soft sections in the heel area, as well as below the arch that increases support. In terms of price, this is a good investment, especially if you manage to get it on sale when it can be purchased for a cost that's below average.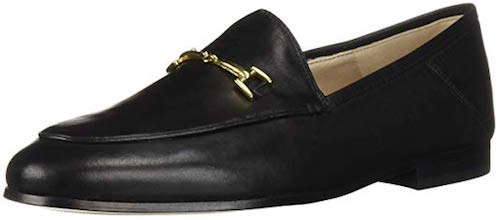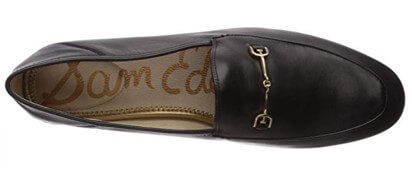 Another bit loafer, the Lorain by Sam Edelman is a solid choice looking for affordable footwear that's made with quality and comfort in mind. It features a classic silhouette that will look great with any pair of slacks (or even a skirt), and in true Sam Edelman fashion, it comes in a huge variety of upper options, from black leather to rose suede, emerald velvet, and even animal prints.
The almond toe on the Loraine is perfect for those who don't do well with narrow toe options, but still want to have that classic, elongated look in their footwear. Coupled with the padded leather insole that cushions the heel area, this is a great choice for all-day wear, whether at work or just a night on the town.
The sole of this shoe is made entirely out of synthetic materials that won't deteriorate when exposed to moisture, and that is considerably more lightweight than natural options. Furthermore, the use of synthetics in this portion of the loafer leads to a lower cost, making this one of the cheaper options on our list, yet no part less comfortable than similar options with much higher prices.

5

. Faranzi Driving Loafer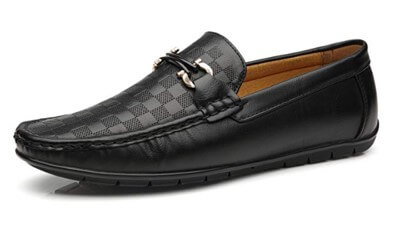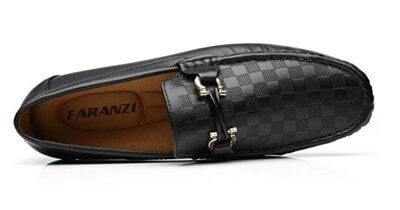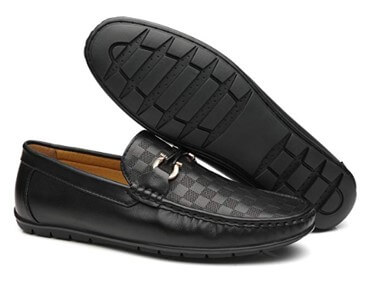 This stylish looking option brings class to the road, and home, and even some business casual attire. With several varieties to dress up your attire, you can choose from a sleek, classic driving loafer look, to some with check patterned uppers and various buckle adornments. It has a breathable upper that will keep feet cool and a deeply grooved sole which helps with traction and grip. Stylish, comfortable, and functional, it's a simple slip-on loafer that shouts sophistication.
The uppers of the Faranzi Driving Loafer are constructed from PU and perforated to help give additional breathability and ventilation inside the shoe. It has PU insole, comfortable on the foot and also perforated to help cool the foot during heated times. The sole of the shoe has a deeply grooved pattern that provides optimal traction and grip but also has flexibility for when driving.
This particular loafer has a number of style options, in basic browns and blacks.
Some styles have a checked pattern upper, while others maintain a classic, clean look. Each, however, has a simple buckle adornment that adds a little sophistication and class to the shoe. Rounded toe allows for a bit more wiggle room in the toes, so you're sure to step comfortably, even when wearing these for extended timeframes.

6

. Skechers Equalizer Mind Game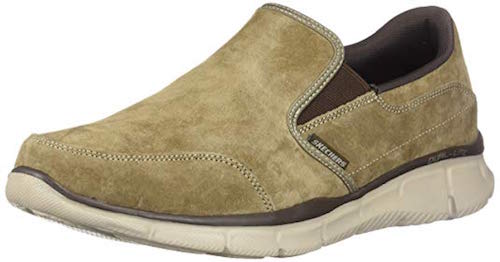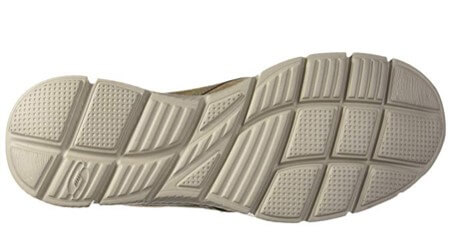 Innovation and comfort are synonymous with the Skecher's name. Their Equalizer Mind Game shoes give you a casual, comfortable, flexible, and versatile model you are sure to fall in love with. A memory foam insole cushions your feet from hard damaging impact and will conform to your foot, giving this pair a customized feel. In addition, the synthetic sole offers advanced flexibility, meaning these will really move with you.
The combination of leather and textile materials used for the upper of this pair gives you a strong and breathable shoe that will move with you. Leather offers great durability, keeping these parts of your collection longer. In addition, the textile pieces give you better airflow which helps to keep your feet cool, dry, and comfortable.
A stiff-soled shoe can be uncomfortable, especially if you work and play long hours. The extremely flexible sole on this shoe will keep your feet feeling better no matter the situation. It will bend and flex with your foot as you move and that can not be said for all options in the world of these shoes. Skechers brand is trusted not only for comfort but for great prices. If you choose this option you won't have to make a big adjustment to your budget. These fall in the more affordable end of our price guide and many will be pleased to add this to your closet.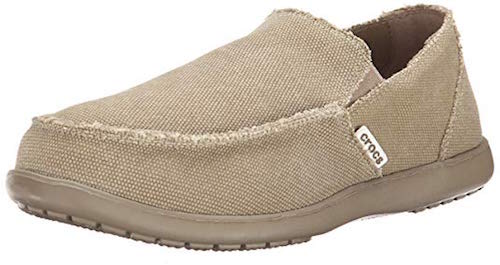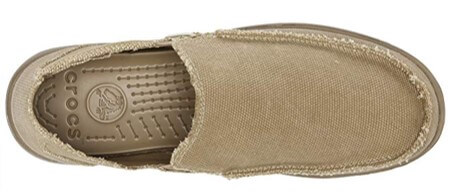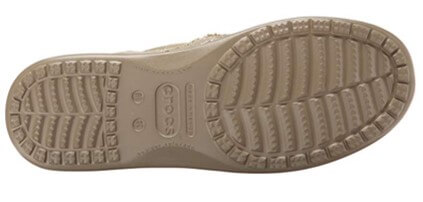 The popular Crocs Santa Cruz model is well known for its incredible value with an affordable price attached to it. Giving high-quality comfort is the main reason these become almost anyone's go-to regardless of the season, with many customers ending up with a variety of colors in their closet. They provide a combination of arch support, and comfort making them the perfect for outings to the beach, daily use around the house, or working in the garden. The massage beads provide the ability to withstand a long workday without having achy feet upon returning home. The canvas material allows for protection against most types of weather from light rain to the rays of the hot summer sunshine!
The most significant and notable features are the contoured comfortable insole bed that is designed to stimulate massage as you walk, this is gentle yet massages all of the right trigger points in your foot offering phenomenal blood stimulation.
Croslite, a unique combination of elements in Crocs shoemaking designed to provide soft feeling, lightweight comfort, arch support, non-marking soles, and odor-resistant shoes. The cost of this pair is considered low to average. it offers phenomenal value for price due to the contoured insoles, Croslite material, and the usage of canvas for the upper. All of which make up the perfect pair of summer footwear.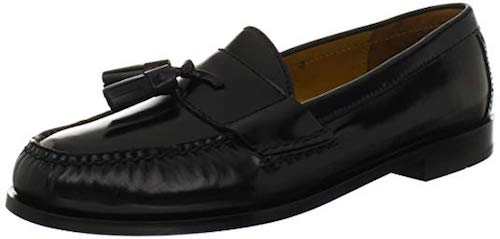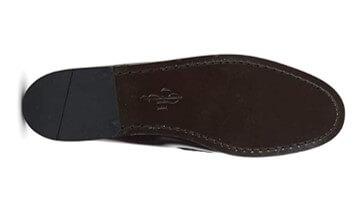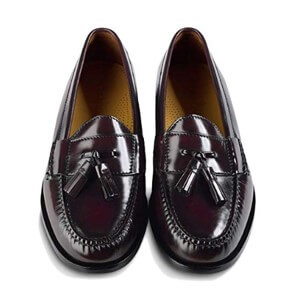 Designed by America's premium luxury brand of nearly 80 years, these are designed for stylish comfort using top quality materials such as handsewn authentic leather. Made with the best materials and a fully leather sock insert you may find these to be comfortable with bare feet, which makes the best pair of summer footwear! Created by a company that offers resoling for their shoes along with keeping designs consistent, wearing this style of shoe for twenty plus years is to be expected. These are hand-antiqued brush off leather, very suitable for anything from casual to formal wear.
Hand antiqued real leather is a statement in itself, for this to occur a company must have employees on hand that polish each shoe coating with color, polish, and care to create a unique shoe each time. This company designed these with dignity and pride.
These shoes run true to size, important for those shopping online. It is not unheard of for a pair of footwear to run small, large or any size in between, so good sizing is what creates the best pair of footwear. The cost of these are high, in turn, the value is also very high. They have been created to be the best, and are durable, classy in design, and made with an authentic approach from a top-notch well-known company. Satisfaction is a guarantee.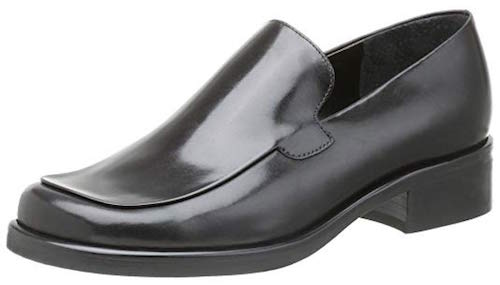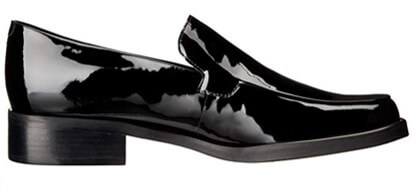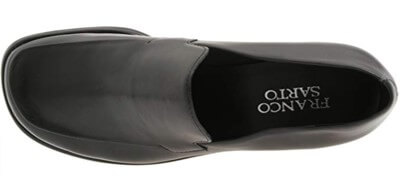 These are comfortable, beautifully designed classically styled shoes created to enhance your daily work performance and mobility during wear. The Franco Sarto Bocca gives you the extra support needed for those important meetings at the office in comfort and style. It will feel as though you are wearing a regular sneaker, but the style proves to be dressier and classier than that. Casual and professional, this is an ideal shoe for business, or daily wear. The best part of all is that the leather is high quality providing that important lasting comfort.
This pair is snug to around the foot, creating a sense of protection and hugging the entire foot, with a roomy toe box that feels as though you are wearing a comfortable sneaker. This allows you the momentum needed to move quickly and efficiently.
The footbed and insole used in these will conform to your feet over time, with a short break-in period of about two weeks. At first, the model may feel extra tight to slip into but trust that over time you will have a shoe that is perfect in the amount of giving and softening needed, but not becoming too lax or stretched out. Typically the cost for a pair of classy Franco Sarto's is affordable and average, while the value is high you know this is a great purchase. The Bocca is considered timeless by many, so you may find yourself in these shoes for up to six years with lasting quality and comfort.

10

. Kenneth Cole Reaction Punchual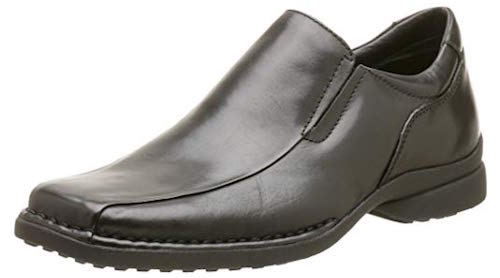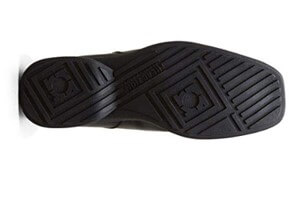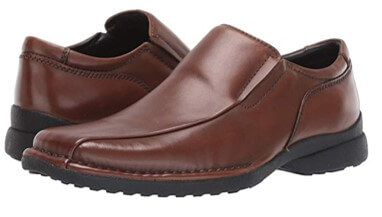 Upon the making of this model, it was kept in mind that a true product is valued by its ability or lack of to slip on or off with ease and comfort. With special features for This purpose, in particular, the Kenneth Cole Reaction Punchual hits a home run for the ease of gliding onto your foot. This model has a nice mix between a vibrant and soft color mixture. Designed with a soft rubber sole that adds a comfortable bounce as you walk, the Punchual is the perfect choice for work and play, making your day as lively as your shoe experience
Those options that can be worn daily throughout any experience are considered a great investment. The soft rubber outsole used with the Punchual provides comfort unlike most other models listed.
Made with dual elastic goring bands and a padded upper collar the Punchual ensures an easy transition from slip on to slip off, as well as room for the foot to move while you walk. The cost of this pair is low with the value being great. The shoe will provide probably the best comfort out of any of them on this list, and is great for casual outings. It is well worth the money for those who are active in their daily life.

Subscribe to our Newsletter