Best Boots for Short Legs Reviewed & Rated
In a Hurry? Editors choice: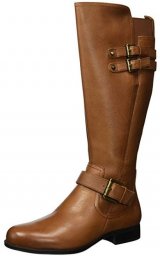 Test Winner: Naturalizer Jessie

Having a long and lean silhouette is a popular fashion trend that is hard to pull off if you're not naturally tall and slim. The good news is that the human eye is easy to trick. All we need is the illusion of a long, lean silhouette because honestly, who doesn't love a good pair of boots? No one should be discouraged from wearing them; their
style and versatility
are nearly unmatched. For any event, mood, size or shape, there's a boot that fits the bill. This even includes those of us with shorter legs. This list covers three of the most popular boot types:
ankle boots,
knee high boots, and
thigh high boots
.
Standout Picks
Criteria Used for Evaluation
Style
While style is often a matter of personal taste, we've checked thousands of online reviews to see what people are saying about each of the products on our list. Some things, such as sleek design, seamless construction and overall weight and shape of the shoe, were common likes or dislikes among buyers of each product.
To evaluate style, we considered everything from the design, color, shape, weight, lines and overall construction of the shoe in question. While no one wants to wear an uncomfortable shoe, they also don't want a comfortable shoe to be ugly on the eyes. We've selected all of those on our top 10 to be not only stylish, but also comfortable, true-to-size, supportive and durable.
The higher the score on the "style" metric, the more fashionable we and the community of buyers we surveyed deemed the product to be. All you have to decide is whether or not you agree, and then click "buy!"
Durability
A quality product is one that will follow you through the years and work the same way it did on the first day you bought the product. In regard to boots, we assessed durability in a few key ways, analyzing the materials, details, construction methods and brands to deliver to you a simple opinion: will this set of boots do the job and do it again and again? Take a look at each area we evaluated:
The Materials
Which type of materials were the product made from? Are they synthetic or natural? How do they smell out of the box? All of these are critical questions we asked when evaluating the materials of the product. A pair of boots made from fabrics that don't retain heat? They didn't make our list!
The Details
Extra buckles, complimentary cases and reinforced fabrics are all good indicators of a manufacturer that is setting you up for long term success with their product. Attention to detail separates the high-quality producers from the cheap ones.
The Brand Name
A reputable brand is a signal of quality and trust. Often, high performers continue to perform and out-endure the competition. While there are always exceptions to the rule, we gave higher marks to manufacturers with solid reputations.
The Construction
You can tell a lot about a pair of boots or shoes by how the zippers behave. Do they pull swiftly and softly, like cutting butter? Or do they jam and snap? What about the sew? If there was threading after a few wears, we considered that a warning sign of a lack of proper construction and durability.
At the end of the day, a durable product gives you the confidence to go out and give it your best, knowing your boots can back you up.
Fit
We all know how hard it can be sometimes to find the perfect pair of shoes that we not only love, but that also fit snugly and comfortably. With so many styles, brands, colors and models, how can one compare hundreds of supposed "size 10s"?
To assess for trueness-to-size, we considered the opinions of thousands of wearers from across the globe to find out the answer to the ultimate question: do these 10s fit like a 10? While some things can give you a hint as to whether they will fit true, small or large; like brand name, shoe type and year of make; we believe that the opinion of buyers cannot be wrong. If they say the shoe doesn't fit the way it's supposed to, then you won't find it in our 10-best list.
You will find that a pair of shoes or boots or sandals that score high on this metric tend to experience a trueness-to-size that was verified by our large community of sampled buyers. Just don't forget to take into account the factors above to also make sure your favorite pair will fit you perfectly.
Outsole
The outsole, or more simply, the sole of the shoe, makes direct contact with the ground and therefore supports the entire foot and body when in motion. Needless to say, a poorly-constructed outsole will lead to discomfort, slipping and foot or other bodily injury. For this reason, many manufacturers use materials that are water-, weather-, heat-, and impact-resistant.
Depending on the type of footwear, one will often see outsoles made from natural or synthetic materials, such as PVC, EVA, rubber and leather. Each of these has their advantages, depending on the shoe's purpose; however, as a general rule, they each are resistant to the aforementioned factors. They are also flexible enough to support a proper foot cycle when in motion, but they are not so flexible that they feel like a pair of socks.
A sole made of the materials above tend to score higher on our product evaluations, as they are not only comfortable, but also support other criteria, such as "support" and "durability".
Upper
The insole is the proverbial foundation of the entire shoe. The sock liner lays on top of the insole, which is then fused to the midsole, and finally the outsole. A firm insole will give good structure to a shoe and increase its stability and durability, but it will also increase the weight of the overall product and be less comfortable.
A softer insole might be more comfortable, but that comes at the expense of stability and durability. We tried to balance these weights when evaluating our products, but each reader and wearer is different, so be aware of this trade-off.
The final word on insoles is that the higher the score the product receives, the firmer it will be; however, it might also mean the insole experiences one of the trade-offs discussed earlier.
Our Favorites



Whatever you do, don't shy away from over-the-knee designs. Here we have the iconic Stuart Weitzman 5050 OTK boot, which is a bestseller from the brand and is easily recognizable by its asymmetrical topline and half-leather, half-stretch construction. It goes well with skinny jeans, leggings, and dresses, and it will make you one fierce, confident fashionista.
The 5050 is made from luxurious nappa leather or suede, depending on which color you prefer, and the entire back of the shaft is crafted from micro stretch material. This material makes sure that the design fits any and all calf sizes so that you don't have to worry whether or not a zipper will go all the way up. The 5050 has a comfy round toe front, a leather insole for a healthy foot climate inside and a rubber outsole which makes sure that you don't lose your balance on any kind of surface.

Given the brand name that comes with this design, it is expected that the 5050 is one expensive option. However, if you feel like you can spare the money, don't hesitate to treat yourself with an OTK silhouette like this one, for a playful, flirty look that will wow everyone around you!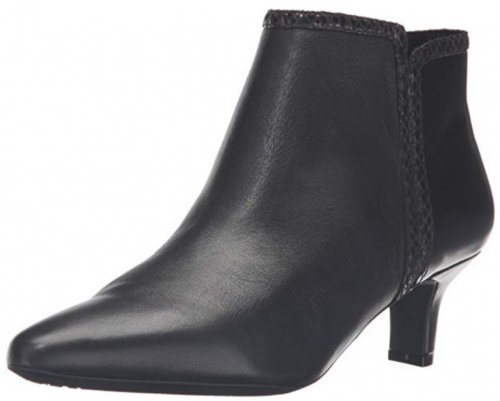 Adding another ankle design to our arsenal, the Rockport Kimly is reminiscent of vintage, Victorian styles, but updated to fit the modern aesthetic. It is a kitten heel option that you can dress up or dress down, and wear to work, to a lunch date with friends, to an important meeting, even to a dinner night out! Outfitted with all the Rockport comfort technologies, the Kimly is truly a design worth considering.
This option is made from either genuine leather or suede, and its Strobel construction ensures that you have plenty of flexibility in the forefoot. There is a textile lining inside and as well as a textile footbed for proper ventilation. The Kimly is equipped with the truTECH system that offers shock absorption and an Ortholite insole that is lightweight, breathable and durable, with cushioning that doesn't compress over time. This insole is also removable, should you require more space inside the design. Finally, the outsole of the Kimly is made of rubber, for durability and slip-resistance.

We are in awe of this cute option. The Rockport Kimly is that go-to design that we wear day in and day out in chilly October weather, and that keeps us perfectly comfortable and stylish as we tackle our obligations. You will have so much fun pairing these with all of your favorite outfits, as there is nothing that the Kimly can't pull off!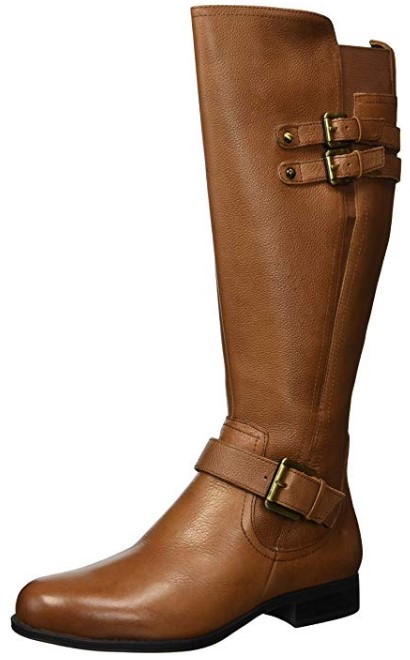 When you're looking for footwear that fits your petite figure, the important thing to remember is that you don't have to limit yourself to ankle designs only. Anything other than mid-calf fits perfectly, and the Naturalizer Jessie is a knee-high option that is perfect for cold, wet weather. It is casual, it is versatile, and it will accompany you wherever you decide to go.
The Jessie is made from pebbled leather and has decorations in the form of wraparound straps and buckles in gold. With its three neutral color choices, you are bound to find one that fits your personal style. What sets the Jessie apart from the other options is the Naturalizer N5 Comfort technology it comes with. This technology includes shock-absorbing cushioning, a breathable lining, a stable heel strike, and a flexible outsole. All of the materials used in the construction of the Jessie are lightweight, so you won't have to worry about them dragging you down.

The Naturalizer Jessie is a great everyday boot choice. You can choose to tuck your jeans into them or wear them over, and they go great with skirts and dresses too! The comfort level on these has to be experienced to be believed, and you will love showing them off to your friends and family.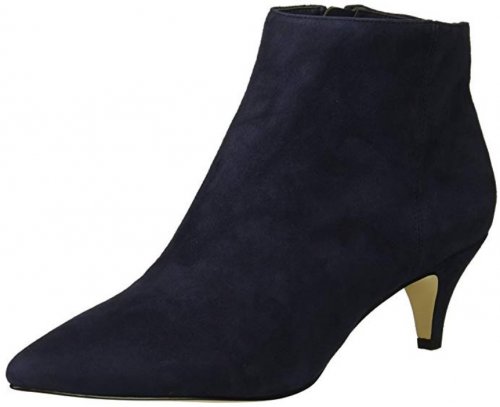 The Sam Edelman Kinzey ticks off a couple of the most important features when we are looking in designs for petite legs - they have a pointy toe which elongates the figure; they have a small heel to elevate height; and they are ankle high, meaning they are perfect for any calf width! The Kinzey is a smooth, simple bootie that you can wear practically anywhere, work or play, and that you can easily pair with all of your favorite outfits.
The Kinzey has an upper made from genuine leather or suede, depending on your color preference. It comes in dozens of color and print options, from classic black and brown to pink and navy, even to fun and snazzy prints. There is a zipper closure in the inner side for an easy way in and out, and the kitten heel is what provides that all-day wearability that we love in our footwear.

The Kinzey isn't outfitted with any special technologies or advanced features. It is an easy choice, one that will quickly become a staple in your wardrobe, and that you won't be able to imagine your autumn days without. Simple, chic and versatile - what more could we possibly want?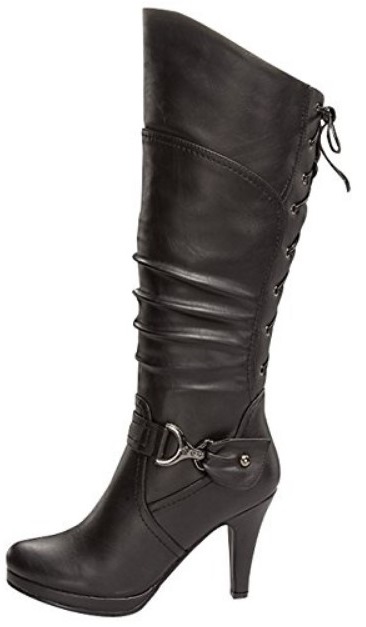 Top Moda is a California-based fashion footwear brand with a knack for cute, leg-lengthening boots. The Top Moda Lace-Up features a round toe, a 3-inch heel for height, and a half-inch platform for comfort. The top of the boot tapers from front to back, adding a pirate-like feeling to the design. A single buckle and strap adorn the ankle.
The Top Moda Lace-Up features full lacing up the back for a more custom fit. The laces are made of the same synthetic material as the boot shaft. For those of us with wide and short legs, the laces allow the Lace-Up to stretch up to 17" in circumference. The heel caps on this option are plastic, which unfortunately leaves them susceptible to breakage. However, Top Moda has foreseen this and so each purchase of these boots comes with a set of replacement heel caps.

While it doesn't come from a well-known brand or is made of premium materials, the Top Moda Lace-Up is definitely a contender in terms of both style and budget. Thanks to its affordable price, you can even get one in several different colors! What luxury!

6

. Cape Robbin Mixed Media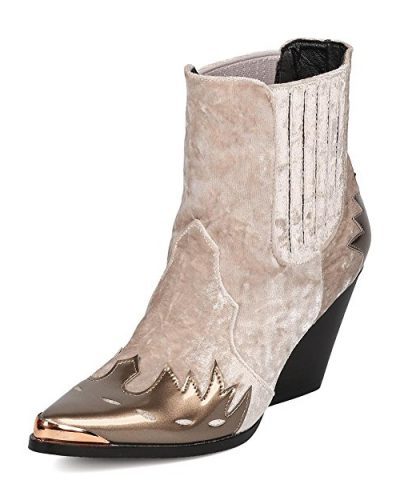 Another California-based fashion footwear brand, Cape Robbin is focused on the confident and the feminine. You'll definitely get a little bit of both with the Mixed Media cowboy boot. These are perfect for any occasion, whether that occasion is a casual country-western concert or a themed 'Barnyard Chic' wedding. Combining a chunky, 3-inch heel and a 0.25-inch platform with a gold-tipped pointy toe, these Cape Robbins beautifully elongate short legs.
Using completely man-made materials, the Cape Robbin Mixed Media still exudes elegance. The upper is made of soft crushed velveteen; the heel, toe, and sole are synthetic. With this design, no pesky zippers are required. Instead, the Mixed Media features a stretchy elastic gore that fits snugly and securely against thicker ankles. Slight padding in the footbed provides just enough cushion for all-day comfort.

Available in black, champagne, and "snake mix", the Cape Robbin Mixed Media looks much more expensive than it actually is. A design of its caliber could easily fall into the price range of some of the higher end brands. Instead, the Mixed Media has such a reasonable price point, there shouldn't be any guilt behind buying every color.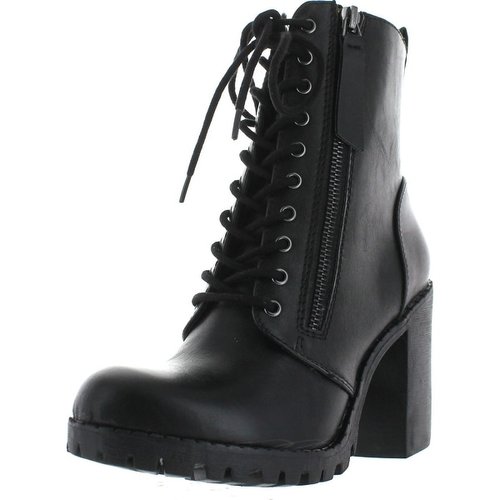 Great for the fall, these shoes will give you a classic style that can be worn anywhere. They are constructed with faux leather, but the material is very durable. There is a lace-up system in addition to an outstep zipper and the insoles are cushioned. The heel is chunky, giving you height and stability and the outsole is ridged for grip and traction. Perfect for a minimalist, day-to-evening look.
On the Malia, there is an outstep zipper to provide you with an easy on and off. For a better fit, a lace-up system is included that you can personally adjust. You'll have a fit that you can customize to give you the comfort and security you desire. A lot of design usually have a thin heel that can give a better aesthetic appeal but that can be hard to walk in. The heels on the Malia are not only high enough to lengthen your legs but also thick enough to give you an easier walk that is stabilized. Such heels can sometimes be more appropriate, depending on the setting.

The Malia is in the mid-price range. These are great, everyday wear designs which can go with so many outfits and can be worn in so many places. However, they are seasonal, so they're best for the fall and winter.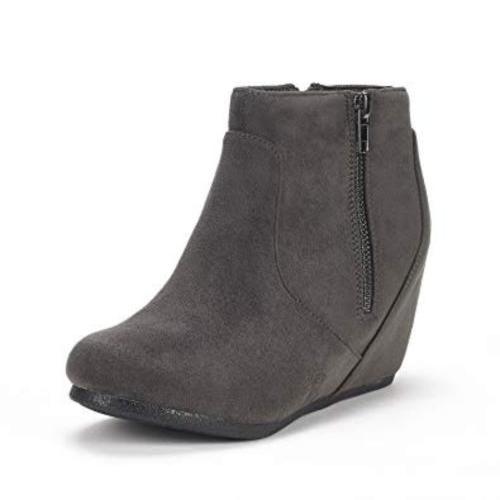 You can have a simple but fashionable style all year round with the Dream Pairs Zoie. There is faux-fur padded lining for comfort and a cushioned insole for support. The heel is a wedge, but it's covered for a more sleeker look. The outsole is a rubber TPR that is constructed for prolonged wear and there is an instep zipper for easy on/off. A toe that is classically round plus the soft suede material gives you a soft, girl-next-door feel.
The heel of the Zoie sits at 2.75 inches and is possibly the lowest on our list. However, it is a covered wedge so it blends in with the rest of the design to give the illusion of a taller heel. You'll still have the look of lengthening without risking super high heels that can cause discomfort or walking issues. The shaft of the Zoie is very short and stops at the ankle. The opening gives you enough breathing and movement room but is still small enough to fit properly and not make the design look like it's heavy on your feet.

The Dream Pairs Zoie is made to be worn all year round but due to the lining, it might be best for fall season and spring season. They match greatly with leggings.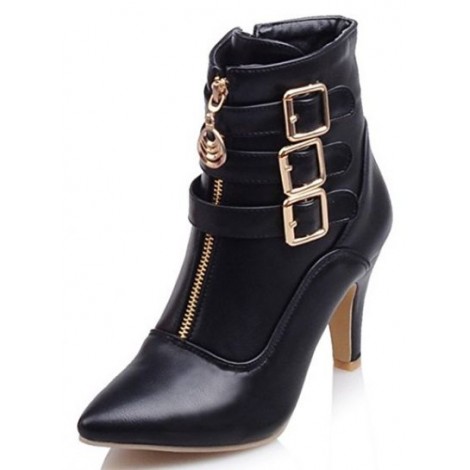 The IDIFU Spliced has the makings of a perfect design for this list: a sleek, silhouette-lengthening pointed toe, plus a 3.1-inch heel for an instant height boost. Dress it formal or keep it casual, the IDIFU Spliced is versatile in its appeal and is available in black, white, and a shocking lipstick red.
The IDIFU Spliced brings pizzazz to any outfit with its elegant gold hardware. This design features a front zipper for easy on-and-off wear and three decorative buckles across the ankle. And how does an anti-skid rubber sole sound? If you answered, 'like a good idea,' you would be correct. The IDIFU Spliced has that. It also has a chunky heel that tapers nearly to a point and no platform. Normally this would spell doom for the comfort of an ankle design, but padding in the footbed compensates for the lack of platform. Additionally, the synthetic upper allows feet to breathe comfortably.

The temptation to buy the IDIFU Spliced in every color is real. If you can't choose and you truly need to, however, go with the red. Black ankle boots are a dime a dozen.

10

. Timberland Amston 6 Inch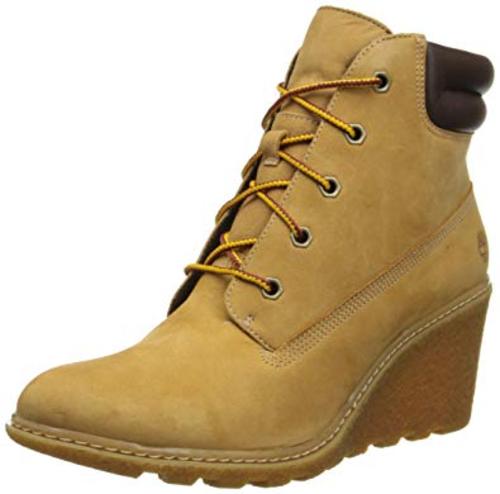 Have the classic Timberland style in an updated silhouette. The construction of the Amston includes nubuck leather, a lugged rubber outsole, and a padded collar. Its wedge heel is textured and sits at 2.75 inches with a footbed that is natural latex. If you're environmentally conscious, this is a perfect choice because there are 100% recyclable plastics and 15% recyclable rubber built-in.
Boots that stop at the ankle have the tendency to lack ankle support. The Amston has a collar that is padded. This padding will give you comfort and support to keep your ankle protected and stabilized. The Amston isn't just for style, because it provides traction support too. The outsole is rubber but has lugs to enhance traction ability. Just like a work boot, you'll be able to walk virtually anywhere in these without fear of slippage or instability.

When you consider the brand and the construction, the higher cost of the Amston 6 Inch is understandable. These are made to last a very long time and can work in all kinds of conditions and environments.

Subscribe to our Newsletter