Best Thigh-High Boots Reviewed
In a Hurry? Editors choice:

Test Winner: Steven Madden Gabbie

I think we can all agree that one of our favorite things is when other women stop us in the mall and tell us they love our shoes and ask us where we got them. Since they are available in many different styles, brands, colors, and materials, the possibilities are truly endless. Wedges, spikes and chunky heels, these
thigh-high boots
are a must-have and truly become an addiction!
Thigh-high boots are a style that can be worn for work, or for evenings out, or even casually! Pair them with a mini skirt, leggings, or long coats for a great fashionable look for fall. It's one item in your closet that won't go out of style for a long time to come. Here are the top 10 thigh-high boots we found after hours of research and evaluation.
Standout Picks
Criteria Used for Evaluation
Materials
No one wants to be having a great time dancing then have to take off their shoes because it's killing their feet. That's why it's extremely important for your new thigh high boots to be comfortable and flexible. What makes this possible? The material they're made from, of course.
Materials That Make the Best Quality Boot
Leather: Shoes made from real leather not only look nice, they're definitely one of the more durable substances. Also, leather is much easier to clean than a lot of other shoes. You also don't need to worry about abrasions on the outside ruining the appearance with how strong it is.
Textile: Different fabrics like polyester and nylon are usually the most common types of materials used to make footwear. This is because they're breathable and comfortable. The names used for these are lycra, rayon, and polypropylene.
Rubber: Another popular material is rubber. Why? Because they absorb impact much better than others do. It's also extremely waterproof.
Suede: Suede is a favorite among many for it's soft, smooth feel. It breathes and looks expensive (which it can be).
Remember, each one will have some sort of downfall that could make or break your decision to purchase a thigh high boot. For example, leather can get intensely hot and sweaty. Textiles aren't usually long-lasting because they have very little water resistance. If you're looking for lightweight, stay away from rubber since it's fairly heavy. The beauty of suede comes with a price since it stains so easy.
Adjustability
An extremely important aspect you need is the ability to adjust your thigh high boots to fit your legs. Not all brands cater to wide calves, so make sure you read descriptions before hitting "Add to Cart". Reviews are a great help too when you're trying to figure out if they'll fit or not.
Laces: For complete adjustability always opt for thigh high boots with laces, since you can loosen and tighten them to your satisfaction. Many of the thigh high boots on this list have drawstrings or completely lace up to cater to all women.
Elastic: A surefire way to get a boot that won't slide down past your knees is to buy ones that have elastic bands built in. With this feature, the fit of your thigh high boots will be comfortably snug.
Zippers: Thigh high boots that have only zippers aren't adjustable but if you're hoping for that edgy look they're what you want for sure. Luckily the companies usually widen the leg shaft as the sizes go up and they're more likely to accommodate wide calves by having separate sizing available.
Fit
One major issue with thigh high boots is many times the ankles are ridiculously narrow, which can mean an uncomfortably tight fit. It can feel like a boa constrictor is wrapped around your legs every step you take if they're tight in the ankles. A few of the over-the-knees on this list have been reviewed as ankle grippers, but the majority were labeled as just "right". Although, vigorous wear can stretch certain materials over time and loosen those too-tight but oh-so-cute boots.
In addition to ankle fit, you want a proper calf fit. Calves vary in sizes and it can be frustrating to find thigh high boots with a proper calf fit. To help alleviate this problem, it's best to understand the measurements of boots and your own leg measurements.
The height of shaft: Boot shafts are measured from the bottom of the boot to the top of the boot. To have a proper shaft, measure from the bottom of your heel to below your kneecap.
The circumference of calf: Thigh high boot calves are measured around the fullest part of the boot leg (usually near/right below the boot leg opening). You can do the same by measuring around the fullest part of your calves (usually the widest part of your calves that sits right below your knees).
The two other measurements are the ankle measurement and the heel measurement. For the most part, those two measurements aren't as important when it comes to fit like the calf and shaft measurement but if you do find them important, just measure the circumference of the ankles and the center side of the boot heels (if possible). If you are concerned about ankle fit, rest assured that ankle measurements of boots are usually balanced with the calf measurement so you will not have to worry about an uneven fit from ankle to calf.
Calf Measurements
Wide calf: 16 inches or more. Wide calf boots usually have functional features such as buckles, laces, or stretchy boot leg materials.
Narrow calf: 13 ¾ inches or less. Narrow calf boots will be slimmer and you can tell just by visuals before you even decide to try any boots on. Also, they'll have fabrications that will instantly form to the narrow calf of the individual.
What about average calves? Judging by the measurements of the wide calf and the narrow calf, it should be understood that average calf measurements fall between the two respective measurements. Usually, boots will be labeled for wide calves or narrow calves and if the boots aren't labeled as either, it's safe to assume that the boots are averaged calf. Of course, it's just better to know your own measurements and find thigh high boots that fit the similar measurements. If you can't try them on before you buy, most product descriptions of sites will have the measurements listed.
Comfort
With any shoe, comfort can be paramount to whether or not they become a favorite pair of yours or just a pretty decoration in your closet. When you consider where you'll be wearing them, and what you'll be doing in them, knowing what to look for to make them the most comfortable can be a huge help.
Toe Shape: For those with wider feet, usually almond or pointed toe footwear can be difficult to wear for longer times. However, sizing up can tend to solve that issue relatively well. A round toe box can sometime run narrow, so checking reviews on that particular pair helps to decide if you can select your normal size, or if you need to size up to accommodate a wider foot.
Cushioning: Having footwear that already has some cushioned insoles or footbed can help with comfort when you're walking or standing for prolonged periods of time. If you select a thigh high boot you simply love for its style, but not comfort, you may want to invest in additional insoles you can insert for extra padding.
Heel Height and Shape: Usually the shorter the heel, the less pressure placed on your toes and forefoot, and more stability you will have. If you option for a higher heel, the most stable usually are those with a chunkier heel than those with stiletto shapes. That said? There are stilettos out there with great cushioning and more room for your toes, which can be quite comfortable as a thigh high boot!
Style
The style can say a lot about your individuality! From functional and everyday wear, to some with embellishments or fringe, your footwear can either be a statement piece to your wardrobe that turns heads, or something suited for work that keeps you warm and makes your look fashionable.
Embellishments: Several design elements fall into this category, including fringe, longer lace up vamps, even sequins or architectural elements. Usually this kind of style can be more of a statement when added to your ensemble, depending on how you pair it.
Texture: From softer suede that reminds us of comfort and perhaps western or boho styles, to leather which holds a pulled-together kind of style, the texture of your thigh high boots can be an important aspect of your style. Mixed textures can give an added boost of fashion sense without being over the top, and can be a great alternative to having an embellishment
Color: Many thigh high boots have different color options to choose from, and this can turn a regular, everyday pair into something of a statement. Depending on your intentions for wear, choosing a bright color versus something basic like blacks or browns, can really make an outfit pop!
10 Best Thigh-High Boots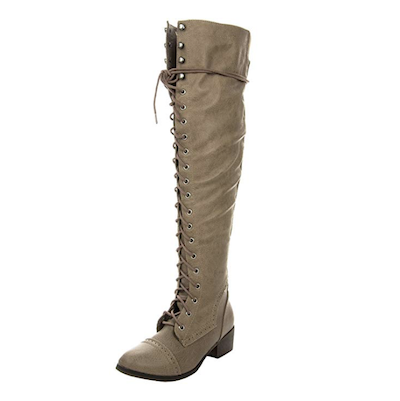 The Alabama-12's are officially labeled a riding boot. They're more for practicality than fashion but are still very stylish as this. Their initial design is similar to the Camila's but hugs the legs tighter with a shorter heel. The toe is rounded rather than tapered, which gives a little more wiggle room. If steampunk is your go-to, Alabama's are going to be your number one choice for this product.
As we all know, the material is very important when it comes to the appeal of shoes. Made out of 100% synthetic material these options are also vegan-friendly. This also means they're more likely to stand up to everyday wear. And with zipper closures, the boot becomes and easy on, easy off access.
A long lace-up closure on this product gives it some adjustability for fit and comfort, and it's style is suitable for both work and play. With hook speed closures toward the top, you'll be firmly strapped into this option for the evening. A great addition to your closet for a bargain price!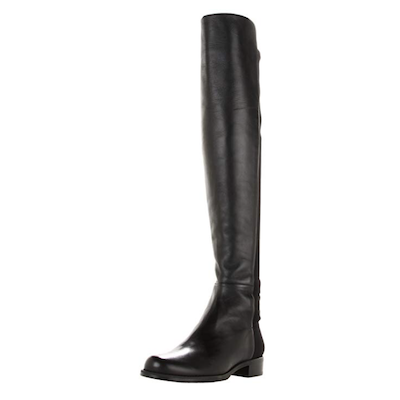 Genuine leather makes a polished, even powerful statement when combined with a simplistic style in a pair like this. Take the plunge with these real imported leather, stylish options from Stuart Weitzman. An ultra-slim fit that flexes with your legs is hard to come by but the '50s are exactly that. Even the insole is genuine leather, which makes them all the better.
A micro stretch panel runs down the length of the back of this product, helping to achieve that "flawless fit", and makes for the ultimate in comfort. No more pulling up your boots when they start to slouch, or feeling too stiff that you won't be able to bend your knees when sitting. 'STUART' signature on the sole runs along with deep grooves, giving the tread the perfect amount of traction. Also being made from a quality rubber they grip the ground and absorb impact, giving ultimate comfort.
 
Even though you may be hesitant to spend a bit more than your comfort budget on a pair, you deserve to splurge on that one that you want. The quality SW achieves, means these will last longer than any other pair you may buy. You could either spend more for one pair that you'll still wear years to come, or buy a new cheaper pair every few months? The choice is up to you!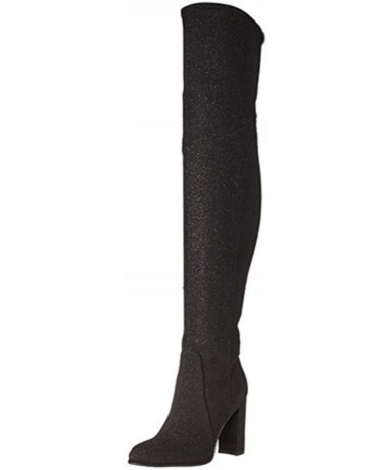 This tall, nearly 4-inch heel thigh high boot from Marc Fisher is stretchy and comfortable for fit, and sure to keep you warmer while looking good in cool weather. The Nella is simplistic in its style, which gives it a slimming capability when paired with short skirts or shirt dresses. An inside zip on the thigh high boot help makes them easy to pull on an off, while a chunkier heel helps give stability when walking about. Great for this fall's fashion trends!
Slouchy boots can be quite stylish, but sometimes, you just want a slim option that stays put and over your knees. The Marc Fisher Nella has a stretchy synthetic and textile upper so they'll stay put. An inside zipper makes these simple to pull on and off, and once zipped up, they hug the calf without being restrictive.
 
This product packs a chunkier heel that hits just under 4-inches, so you'll get a confidence boost in height in the Nella. An almond-shaped toe helps give some room in the toe box area while keeping to the sleeker look and feel of the boot.
Slightly more expensive when compared to others on our list, it's still quite reasonably priced for what you get. The clean, simple design creates a slimming illusion, and Marc Fisher Nella's stretchy textile uppers will help accentuate the calf while helping to keep the boot from falling. The inside zipper makes them easy to pull on, and will have you out the door to work in no time. A great option to consider for your next pair.




The Steve Madden Gorgeous can be summed up in one word: gorgeous. With a 21" shaft and a 3" inch heel, this boot is perfect for anyone that is looking to accentuate or imitate height and leg length. Available in black, gray and taupe, you can easily pair this product with your favorite skirt or sweater dress for a drop-dead gorgeous look.
Steve Madden continues the designer's tradition of creating footwear for the stylish and elegant wearer, looking to flaunt a bit of sex appeal. The delicate bow that wraps the top of the upper allows for an adjustable fit, while also adding a sense of femininity. The faux leather construction of this product is perfect for those not comfortable with genuine leather options.
The rubber and the synthetic outsole are durable and resistant to wear-and-tear, especially in colder climates or cities where salted roads are staples in the winter months. The traction offered by the Gorgeous ensures you can look good and feel secure when strutting down Madison or Wall street.

5

. Naughty Monkey Frilly Fanta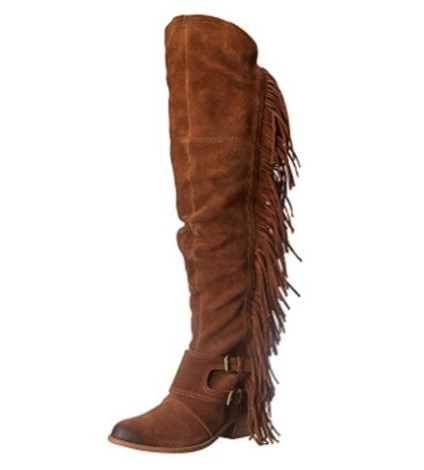 In search of something with some fringe? The Naughty Monkey Frilly Fanta is a soft suede boot, with a small heel and plenty of fringe fun added to it. A dual-buckle embellishment adds an urban flair to the boot, and the instep zipper helps make them a cinch to pull on and off. The wide opening allows for larger calves and thighs, so you know you'll get a great fit. This pair is great for stepping out on the town and showing off some style.
The Frilly Fanta is a choice that boasts of soft suede and waterfalls of fringe. The waterfalls of fun fringe fall on the outstep of the boot, creating movement in the style that will have heads turning. At the toe box and ankle lies a double monk strap buckle, that gives it some urban flair and appeal.
 
The opening of the Frilly Fanta is larger than most other models of these thigh-high boots. At just over 16-inches wide, it allows for larger calves or thighs to fit comfortably within. The inside zipper assists in pulling on and off, making it easy for anyone, no matter their size. The low heel combined with other style elements gives this option a motorcycle boot feel and function, so you can look and feel good riding around town!




A New York original, Steve Madden is known worldwide for his tasteful and seductive style of shoes, sandals, and boots. The Gabbie is no exception, combining perfection proportions and a high shaft with a sturdy low-stack heel. Every woman in America needs a pair of these boots, as their sky-high length can make anyone look like they have lean, long legs.
The Gabbie's upper is made from a textile that closely resembles a suede or faux-suede look, paired with a wider heel that makes them easy and comfortable to walk in. The stitch of the boot gently adds definition and structure to the textile upper. By running up and down the center of the front of the boot, it gives the illusion, or even accentuates the reality, of height and length of the leg, allowing the wearer to feel their best. Pair it with a black skirt and you are off to the races!
A comfortable block chunky heel is at the base of this pair of thigh high boots, giving stability when walking, and comfort for extended periods of wear. It's a pair you won't want to have missing from your closet come fall!

7

. Forever Link Camila-48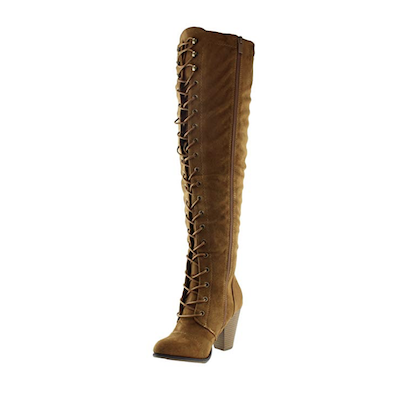 The Camila-48 boots are thigh high boots that lace all the way up, making them one of the only quality pairs of thigh high boots that are customizable to your calf and thigh sizes. Made from quality synthetic leather, they're practically guaranteed to last. With only a 2.5-3" tall heel losing balance will be the least of the wearer's worries. They also feature zippers that run down the sides all the way to the bottom, with a tapered toe for comfortable wear.
Comfort is something the Camila-48's are loved for. We all hate the beautiful shoes that kill our feet. These Forever Link thigh high boots being leather, lace-up and made with quality craftsmanship make them a great choice for someone looking for a bargain.
The texture of the Camila-48 creates a look that is both unique and eye-appealing. A chunky heel at the base helps give stability when walking about town, and their longer lace up, though requiring some effort, heightens the appeal of this thigh high. Both suitable for work and evening events, it's a bargain thigh high boot you won't want to miss out on.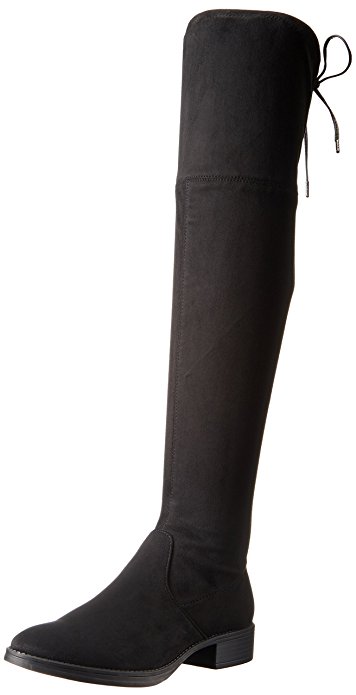 One of the absolute favorites on our list, the Sam Edelman Peyton is another thigh high boot, with a shaft measuring in excess of 23". With unique colors, such as "black microsuede", the Peyton features a synthetic sole for excellent traction, with a rounded toe and modest 1.25" heel. The textile/suede upper is pleasing to the touch and the lines in the stitch accentuate the natural form of the wearer, adding length and height.
What we love most about the Peyton is the details that add a touch of class and style. In addition to the stitch and suede upper, the side zipper adds another dimension to the thigh high boot, while making it easy for the wearer to put on and take off. The tie at the back of the boot not only lets you achieve a fit adjustable to your unique leg shape, but it also lends a further sense of femininity to the thigh high boot, expressed through a delicate bow. The contrast in fabric colors between the highest part of the upper and the rest below it gives a unique contrast and further adds a sense of style and refinement.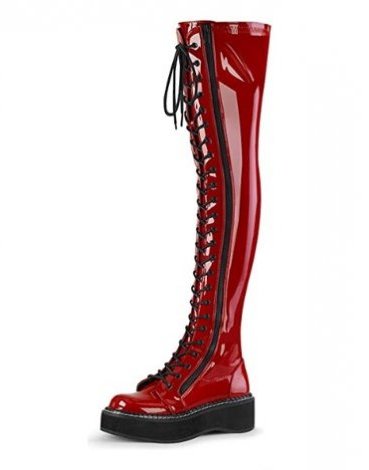 Talk about a show stopper of a thigh high boot! Demonia is a brand that's been making alternative styles of footwear for years, and the Emily-375 is one of those boots that is a perfect statement maker. Not only does this thigh high boot wrap your legs in a synthetic leather, giving it a 'bad to the bone' kind of vibe, it also sits upon a platformed sole adding height to your stature. If anything to describe this thigh high boot, it commands attention!
Platform synthetic soles raise you almost 2 inches off the ground, with a textured pebble base helping to provide traction. Uppers come in a couple different types, ranging from a vegan friendly option of synthetic leather, to a shiny patent leather that is sure to turn heads. More suited for club wear or evenings out downtown, it's definitely not a boot you'd wear to the office, but still loads of fun for evening adventures. You can ramp up the drama even more with a red leather upper, and set the night on fire!
This thigh high boot has a super long lace up vamp, giving it a dramatic yet punky look. Rounded toe allows ample room for your foot, and comfort when standing, walking, or dancing. Inside zip allows for easy access in and out of the thigh high boot, after you find the perfect fit from lacing it up. The Emily-375 is one of those boots that will feel like second skin when wearing it, just what you'd expect from the brand!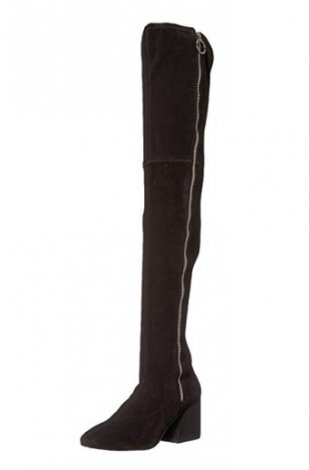 This leggy thigh high boot is one of few that is perfect for pairing with mini skirts or dresses, and could even be worn to the office with leggings or appropriate office attire. It has a posh suede look and feel to the uppers, and for those with thinner legs, won't slip or fall down. Extra room for the calves was designed into this boot, creating a sleek look that's structured and sophisticated. Dolce Vita also thought of comfort when creating the VIX, with a chunky heel and almond toe.
We'd recommend this one for those who have thinner legs, as the boot itself is a bit tapered in the ankle and thigh, with little wiggle room. It's soft suede uppers raise a lengthy 26 inches from the arch, coming well over the knee. It's a design that pairs well with shirt dresses, mini skirts, or even leggings and a shorter top. Without much embellishment, it's also appropriate for work attire.
A chunky heel sits at the base of this thigh high boot, providing plenty of stability as well as a bit of lift. Almond shaped toe gives it a clean look, but also more room for toes, helping add comfort to days when you wear them longer. Boot opening at the top is 15.5 inches around, and the shaft has a long inside zip that runs from arch to the top of the boot for easy access. It's a well crafted and designed boot that can be versatile for work or evening wear!

Subscribe to our Newsletter