Best Fringe Boots & Tasseled Shoes Reviewed & Rated
In a Hurry? Editors choice: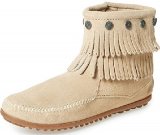 Test Winner: Minnetonka Double-Fringe

Boots can add a great finishing touch to any fall or winter outfit – whether it's skinny jeans and a coat, or leggings and a sweater dress. However, plain boots can get a bit boring, and that's where fringes come in.

Side by side with pom poms, fringes will add a touch of originality your outfit that is sure to render it more eye-catching than before. Depending on their style, they can give off a more boho, laid-back, or western look.

They are a great accent to an otherwise boring outfit, and the right pick can complement just about any kind of clothing. In fact, they can even be worn during the warmer seasons when paired with a skirt or a dress, perfect for summertime events and festivals.
Standout Picks
Criteria Used for Evaluation
Size
Have you ever spent days, maybe even weeks, searching for the right pair of shoes but just can't seem to find them?
There may be some here and there that look as though they might be of your preferences, but upon closer inspection, they're never as perfect as you thought they were. It gets to the point where you think your ideal pair might not even exist… until you finally find them.
The shoes that meet all your expectations, have the look you're going for, are made of high-quality materials and have received nearly perfect reviews from other happy customers…
But two weeks later when you get the package, you realize they're of the wrong size.
There's nothing more frustrating than having the perfect pair of shoes ruined because of its sizing. No matter how high-quality, durable, or comfortable the shoe itself may be, they just won't be suitable for you if you don't have the correct fit. When it comes to boots, sizing is especially important because the shaft of the boot has to be taken into consideration as well as the boot itself.
Manufacturers will more often than not display the measurements of the model. They will list the shaft height, meaning the bottom of the foot to the top of the boot, and the heel height, meaning the center side up to the boot sole. Some may also mention the ankle and calf circumference, which are the narrowest and widest part of the boot, respectively.
To determine whether or not a pair of tall boots will fit you, use a cloth tape measure to measure around the fullest area of your calf. This will determine your calf circumference. If the measurement is more than 16 inches, boots with laces, buckles, or stretchy uppers will likely suit you best and provide you with more comfort.
If your measurements are less than 13 or 14 inches, you can reach for boots with more narrow shafts, such as with zipper closures. Not only will they be more comfortable, they will better hug the shape of your legs and avoid giving your legs a bulky, stocky look.
Ankle boots are easier to deal with. Because they are short, you don't have to worry about whether or not it will fit the calves. However, the ankle circumstance should still be considered. Use a tape measure to measure the circumference of your ankle and compare it with the boot's measurements.
Keep in mind to leave a bit of room for the socks, especially if you plan on wearing them with thick winter socks.
Fit
When it comes to boots, especially casual ones for everyday wear, the heels are important to consider.
Not only can they give off a completely different vibe and add a totally different finishing touch to your outfit, but they also play a part in comfort and practicality.
Ankle-high boots, also called booties, have been around for a long time but have recently been gaining popularity once more. Their biggest advantage is that they can easily be paired with all sorts of outfits, from dresses to leggings to skinny jeans.
In the autumn season, wear them with a pair of thick socks that peak out a bit for a casual yet adorable look. However, something to keep in mind is that booties that are on the shorter side are best for skirts, as taller ones tend to give your legs a stocky appearance.
Tall boots are also stylish, but are a bit harder to pair with and are less versatile. They are most suitable for tights and leggings, but can also be worn with skinny jeans. Also, they may make the legs appear stumpy and short depending on your body type and the design of the boot.
Furthermore, it is harder to find a good fit, as the shaft reaches up to your calf and may even reach your knee. This also renders them less convenient because it will take longer to slip them on and off, especially if they have laces rather than zippers.
But tall boots also have their advantages. During the autumn and winter seasons, you want to be stylish as well as comfortable and cozy. The tall shaft in a taller boot provides you with more warmth and protection for the feet, ankles, and part of the calves, which can't be achieved with ankle-high boots.
In a nutshell: booties are more versatile and convenient, while taller boots provide more warmth. Your perfect pick will depend on what time of year you plan on wearing your fringe boots and what you prioritize.
Materials
The importance of material is also frequently overlooked when it comes to casual footwear.
Often, people will focus only on the appearance of the shoe, completely neglecting the role of its material on durability, comfort, and quality because they only keep the style in mind. But choosing footwear that's made of the right material can spare you from discomfort and also save your money in the long run.
Leather
When it comes to boots, leather is commonly used – and for a good reason. Not only does it look good, but it can also be good for the feet as well. For one, it offers breathability that prevents the accumulation of odor in the shoe.
They are also very tough and durable and are often found in heavy-duty work boots because of this. Through time, leather will also mold itself to the shape of your foot to provide additional comfort and structural support. However, the main downside is that leather shoes are much more expensive compared to synthetic shoes because of their high quality.
Synthetic
More and more boots made of synthetic materials are popping up in these recent years. Synthetic materials refer to materials that are man-made and cannot be found in nature. Some examples are nylon, polyester, spandex, and Kevlar.
In contrast to leather, they have a lightweight feel that can provide more ease when out and about for long periods of time. They can also be made water resistant and breathable to provide maximum comfort. On top of all that, they are completely vegan so that you can wear them guilt-free, knowing you haven't caused harm to the animals or the environment.
One downside, however, is that it's harder to find the perfect fit. Because synthetic materials are less likely to mold to the shape of your foot as with genuine leather, they can feel hard and uncomfortable no matter how often you wear them, causing foot fatigue. However, this can easily be prevented by trying on the shoe before purchasing to make sure that the shape of the shoe suits your foot.
Another downside is that synthetic shoes are often outlived by leather shoes. They are less durable and offer less protection. However, this may not necessarily be a disadvantage, as it also means they are of a lower cost.
If you're looking for a pair of boots just to pair with a particular outfit or only to wear during a particular season, the low price of synthetic boots renders them perfect.
By the time you get bored of them, they might already be worn out and you could simply buy another pair, whereas you may feel guilty for purchasing leather boots and feel obligated to make the best out of them because of the amount of money you spent on them. Knowing the pros and cons of each, you now know how to choose what will best suit your preferences and conditions.
Top 10 Picks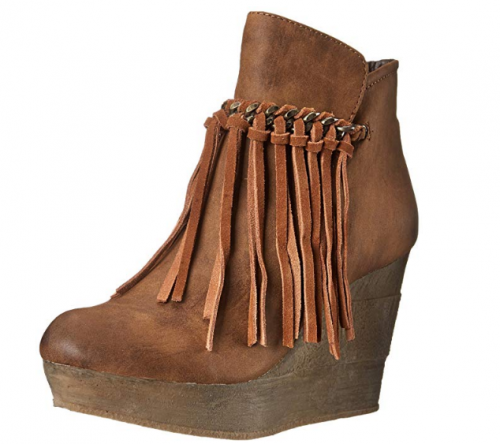 Man-Made materials
Chain Accent
Side Zipper
Padded Insole
Starting off our list with elegance is this pair of wedge booties by Sbicca. This brand is known for their chill style that "encapsulates California living" and gives off a stylish yet casual vibe. This particular pair features an approximately 4-inch heel with a 1-inch platform.
A chain and fringe accent runs across the front of the booties which add a touch of originality to an otherwise plain shoe. Their look renders them perfect when paired with leggings, skinny jeans, or a cute dress if you'd like to dress it up a bit. This combined with their comfort means they are perfect for casual wear during the spring and autumn seasons.
Just keep in mind, however, that they are not the most suitable for wet weather because the sole has no treads and may, therefore, slip easily on wet surfaces.
Comfort
Because the heels of these boots are wedges, they provide more comfort than typical high-heeled shoes. This way, you can have that boost in height without having to sacrifice your comfort. They also have padded insoles which ensure you can walk and stand with ease.
Synthetic
With an upper lining and sole made of synthetic materials, these boots are of lower maintenance that boots made of materials such as leather or suede. In addition to that, they are completely vegan.
Cost and Value
These boots sit near the lower end of our price range compared to the other shoes on our list. Paired with their versatility and comfort, there is no question that they are a great purchase.

2

. Minnetonka Double-Fringe


Casual
Leather
Rubber sole
Side zip means easy on and off
Next up is a pair that is simple, yet can add a great finishing touch to an outfit. There are two layers of fringe material and a whipstitched toe classic to moccasin style shoes. The heel measures around half an inch and renders them suitable for walking for long stretches of time, such as when shopping.
In addition, the side-zip ensures easy on and off, and the rubber sole prevents slipping on wet grounds. Overall, they are a great pick for informal occasions in cold weather like running errands and other everyday things.
Insole
The padded insole helps to cushion your every step, keeping you comfortable as you walk. In addition, its foam material molds to the shape of your feet to better suit its shape and to provide structural support.
Warmth
Not only are these shoes fashionable, they're practical, too. The textile linings ensure your feet stay nice and warmth no matter the weather outside, rendering them ideal for a cold autumn day.
Cost and Value
They may not be the cheapest, but they are definitely an amazing bargain when you take into consideration their features. Comfortable, cozy, and cute - what more could you wish for in a pair of boots?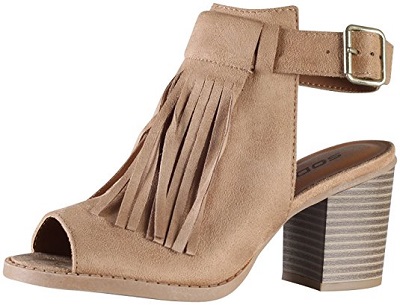 Open heel and toe
Adjustable ankle buckle
Soft material
Tassel fringe front
Unique and fashionable, this next pair can add a perfect finishing touch to an otherwise plain outfit. The fringe material is in the front rather than on the sides, as in most shoes. As well, the heel and the toe are open and provide a more laid-back, fun look.
The heel is supposedly 1.5 inches, but some reviewers have claimed the real height to be slightly higher, so definitely take that into consideration when purchasing your pair. But overall, their great look renders them worth the consideration.
Ankle Strap
The buckle closure isn't just for decoration, though it does add to the look of the bootie. They are adjustable and will ensure that you can have your best fit to stay comfortable no matter where you are.
Material
Despite being made of synthetic material, they have the same softness and high quality feel as materials such as suede. The softness will not only provide great comfort but also mold to the shape of the foot to provide more structural support.
Cost and Value
Considering their unique look and practicality, it's a surprise how reasonably priced these booties are. They are also quite durable, so you'll be able to wear your pair as often as you'd like without worry and renders them an even better bargain.

4

. Not Rated G-Funk Chelsea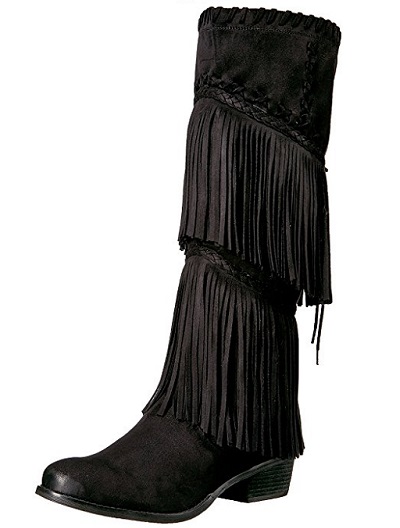 Zip closure
1.75-inch heel
Synthetic
Tall shaft
Inexpensive
Bold and eye-catching, the Chelsea boot is sure to provide not only great style but also warmth. They may be made by Not Rated, but we've rated them sixth on our list for their practicality and looks. They feature two tiers of fringes that run along the boot as well as a stitching design around the top and the back.
The heel measures approximately 1.75 inches and is easy to walk in - while still giving you that satisfying clicking noise with every step. However, one downside is that its synthetic sole does not have any treads, meaning they can slip easily and are not the most suitable for wet or icy grounds.
Warmth
Looks are important, but so is staying warm when it comes to the autumn and winter season. The shaft of these boots are around 16.5 inches from the arch and will allow your feet, ankle, and part of the calves to stay protected from the cold.
Easy to Put On
Though the height of them may make them seem as though they'll be hard to put on, the zip closure renders them the exact opposite. Just step in, zip them up, and you're good to go.
Cost and Value
These boots are decently priced. For those who need something warm for the winter but who don't plan on venturing on icy grounds, they are a great, inexpensive alternative to typical winter boots.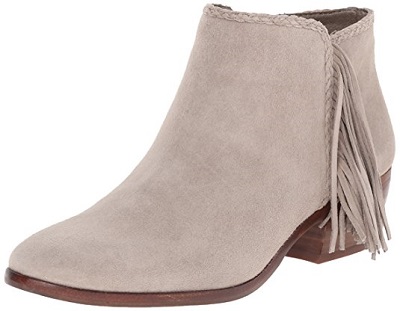 Suede upper
Fringe on the side
Color selection
Low heel
Compared to the other fringe boots by Sam Edelman that we mentioned earlier, these are even more laid-back and casual - but that's not to say they're any less trendy. They feature a very low stacked heel and a fringe on the side, as well as a synthetic sole and a suede upper.
The color options include pink, moss green, cinnamon, putty, and port wine as well as the traditional colors of black and grey. This way, you can choose what best suits your tastes and your outfit. They are perfect when paired with formal attire, but can also be dressed down if you wish.
Material
The upper is made of suede that gives it a rich feel and color. This balances with the simple design of the shoe and adds a touch of elegance to its minimalism.
Low Heel
The heel measures approximately 1.5 inches. It is low enough to be comfortable and to allow you to walk with ease, but still there to add a bit of style.
Cost and Value
Unfortunately, high quality naturally comes with a high price. These boots are pricier than most of the other ones on our list. But keep in mind that these were made of suede, a high-quality material and that as a result, they make a worthy investment for formal or semi-formal occasions.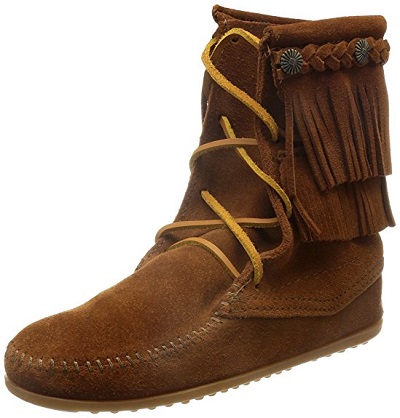 Laces
Rubber sole
Lined with leather
Glove tanned suede upper
If you love the boho trend, then you're sure to love these ankle-high boots by Minnetonka.
The design is western-inspired and gives off a laid-back yet trendy vibe that is sure to add a great finishing touch to any casual outfit. They come in three shades of brown as well as in black and grey.
The laces help them retain a more traditional look, while the rubber sole ensures durability as well as prevents slipping. Combined with their great price and the high quality of their materials, you'll never find a better boho-style boot than these.
Material
The upper is made of genuine glove tanned suede, which gives it a rich look. The rubber sole is flexible and durable so that you don't have to worry about wearing these boots down.
Cozy and Warm
These boots are lined with leather that helps to keep the feet cozy. This way, you're sure to stay warm and protected no matter how cold it may be outside.
Cost and Value
They are quite modestly priced considering their balance of style, practicality, and the high quality of their materials.

7

. J. Adams Bree & Marrow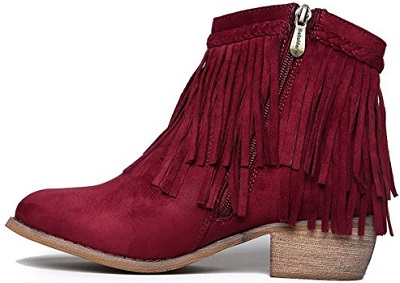 Zip closure
2-inch heel
Color options
Easy to pair with
100% vegan and eco-friendly
Bree and Marrow are two near-identical models of ankle-high fringe booties by the brand J. Adams. Featuring a nice cushioned insole, they provide maximum comfort with every step you take. The sole is made of rubber, which keeps the shoe durable, and the 2-inch heel gives you that lengthening effect on the legs without sacrificing comfort.
In addition, the zip closure renders them easy to slip on and off. They come in many different colors such as wine, taupe, tan, and charcoal, and are all 100% vegan and eco-friendly. Pair them with jeans, shorts, or dresses, and you're sure to get yourself plenty of compliments!
Versatile
The color options are all fairly neutral and can be paired with nearly anything - from jeans to shorts, to dresses. The simplicity of the design also means they can be worn with both bold, patterned outfits and more modest, uniform color outfits.
Vegan and Eco-Friendly
Despite the rich look they give off, which is commonly found in leather and suede shoes, the upper of these boots are made of vegan suede. All other parts of the shoe are synthetic as well, meaning you can wear them without sacrificing the environment for style.
Cost and Value
Though these shoes have a low price, don't assume its quality is low as well. The sturdy rubber outsole ensures durability, meaning that you can wear them often and make the best out of your purchase.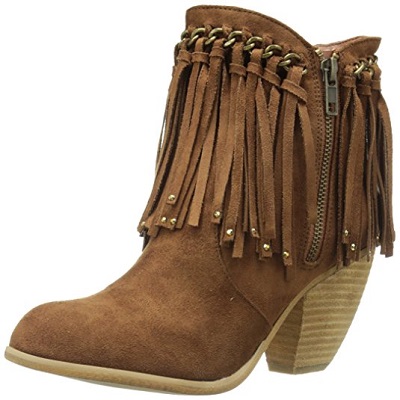 Zipper
Inexpensive
Makes foot appear more narrow
3-inch heel
To end off our list, we have a final pair that is bound to catch your eye - on the rare occasion that none of the previous ones did. What stands out about these boots is the chain to which the fringe is attached and the studs on the end of them, which give them a more modern and chic look.
They have a zipper closure that renders them convenient and quick to slip on. The soles and lining are synthetic, and the shoe itself is made of fabric. Combined with a reasonable price, they are a great purchase for the upcoming autumn season.
Heel
The stacked heel of these boots measure approximately 3 inches. This isn't high enough to cause too much discomfort when walking short distances in everyday life, but still lengthens your legs and adds to your height.
Appearance
Not only do they have a sleek look that can complement any outfit, they fit true to size and have been said to make the foot appear smaller and more narrow. This is a huge benefit for those who have wide feet.
Cost and Value
These boots are very affordable, and on the cheaper side compared to the other shoes on our list. However, keep in mind that some reviewers claim that their durability is questionable, so they may not be suitable for frequent wear.

Subscribe to our Newsletter