Best Rockport Shoes Reviewed & Rated
In a Hurry? Editors choice: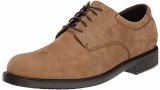 Test Winner: Margin

Rockport shoe brand's story began in 1971, with a father and son and their van. They intended to make both casual and dress shoes which felt like sneakers so that their customers wouldn't have to sacrifice comfort over style and vice versa. Over the next few decades, their business evolved with the introduction of new technologies, constant improvement of their craft, and undeniable satisfaction of their consumers. Rockport shoes itself has several unique technologies to offer, which drastically improve the comfort and support levels of their footwear. You will hardly find footwear which is more cushioned, more stable and more flexible than Rockport shoes, while at the same time being as fashion-forward and as classy as possible.
Standout Picks
Criteria Used for Evaluation
Comfort
There are two things that Rockport shoes values most in its products, and those are comfort and style. When it comes to the former, this brand has dedicated years to developing technologies that improve customer experience, help them feel more supported, more cushioned and better balanced no matter where they go.

And while there are many advanced features to choose from, which we will go into more detail about in our next section, here we have to mention an innovation that is present in almost all of Rockport shoes designs - the backbone of this brand's comfort, if you will.

TruTECH technology is a lightweight comfort system, and its main quality is that it absorbs shock, particularly in the heel area. This means that the pounding of the heel with each step is reduced, and consequently, you are at a lesser risk of developing foot-related medical conditions such as plantar fasciitis.

This Rockport shoe technology comes in a version for women, or for high heeled shoes, and a version for men. Their only difference is that the version for high heels has an extra part in the form of truTECH+, which also provides light rebound at the forefoot. With impact absorption at the heel and that light rebound at the front, heels have never been as comfortable to walk in as with the truTECH and truTECH+ technologies.
Advanced Features
As we already established, Rockport shoes considers comfort and style to be different sides of the same coin, and thus it aims to incorporate all of their construction advances into both contemporary and more classic Rockport shoe designs. Their goal is for their customers to feel just as good in an office meeting as they would at a picnic in a park.

Their dedication to pushing the boundaries of form and function is nothing short of admirable, and we are ready to take a closer look at all the brilliant features they include in their designs.

Total Motion

Total Motion is a veritable system of Rockport shoe features and benefits that you have to experience for yourself to believe that something that comfortable exists. It represents 'smart shoes for smart people', and the entire Total Motion technology can be divided into three key versions:
Total Motion Luxe
Total Motion Luxe includes truTECH, an enzyme treated liner which controls odor and wicks away moisture, as well as a leather footbed for an easy fit and added breathability. It also comes with a full-length stability plate that provides stability in the heel but flexibility in the forefoot.
Women's Total Motion
This version of the Total Motion technology is similar to the Luxe one, with only a couple of key differences: in the case of Women's Total Motion there is no enzyme treated liner included in the construction, and the footbed isn't made out of leather.
However, to compensate for this, the footbed is instead extra cushioned in the heel and especially the forefoot. This is important for Rockport shoe designs which have high heels, because it helps cushion the footsteps and relieves pressure off of the heel, as well as the ankle, the knee and even the hip.
Men's Total Motion
Similarly to the Women's Total Motion, the Men's variant also bears some common features with the Total Motion Luxe, but it also has some new ones, which we haven't encountered before.
Instead of a leather footbed and an enzyme treated liner, Men's Total motion has a special antimicrobial, moisture-wicking EVA one. It adds an extra layer of comfort and absorbs odors, as well as prevents the development of bacterial infections, such as athlete's foot.
Men's Total Motion also comes with added arch support. A long-lasting comfortable foundation is important, especially if you are spending extended periods of time in your Rockport shoes, and Men's Total Motion technology is there to ensure that.
truFLEX

Along with truTECH, there is also truFLEX which provides ultimate flexibility and stability. It also ensures energy rebound thanks to a specially constructed high-density spine. As with all Rockport shoes other technologies, truFLEX is also divided into two categories, based on the designs of women's footwear, or heels, and men's footwear.

Women's truFLEX
Footwear which comes with the Women's version of the truFLEX technology has a leather, retention foam footbed. This is actually a 6mm thick layer of soft, pillowy foam which provides support along the entire length of the foot. The fact that it is leather means that this footbed has that distinct ability to change shape to better fit the contours of the foot, as well as the ability to promote proper airflow in and out of the design.
Women's truFLEX also includes an EVA spine, which absorbs impact. It has the unique ability to stabilize the foot, as well as to transfer momentum forward for a more energized stride.
In this technology we can also find a lightweight rubber outsole, which has special responsive grooves that flex at the forefoot for increased flexibility of the overall construction.
Finally, as it is the case in all other Rockport shoe technology examples, Women's truFLEX also comes with truTECH and truTECH+ systems.
Men's truFLEX
Unlike the above version, Men's truFLEX doesn't have as many features. Though that doesn't mean that this type of technology is any less effective in delivering maximum comfort.
Designs outfitted with Men's truFLEX have a high-density spine which provides stability and energy rebound at toe-off. They also have an Ortholite footbed, which is an entire comfort system in and of itself.
Ortholite footbeds are made out of layers. These ensure that the compression of the footbed is less than 5% over time, which basically means that the cushioning and shock-absorbing effect of this footbed doesn't change. Ortholite is made from PU foam which ensures ultimate breathability, keeping the foot cool inside the design. It also has a moisture-management feature, which moves moisture away from the feet and provides a healthy climate.
Finally, Men's truFLEX comes with a flexible outsole, which is extremely lightweight and promotes natural, balanced movement.
Style
It is undeniable that every design we have seen in this Rockport shoe guide has that aura of timeless class about it. While the brand definitely has diverse designs, they don't exactly follow all the latest fashion trends. Rather, Rockport shoes focuses on options which withstand the test of time, and which will become a permanent staple in your wardrobe.

All of the options from our Rockport shoe list can be easily divided into those which are more casual in design - such as a walking shoe, for example - and those which are dressier, footwear that can be worn with a suit, a preppy resort outfit, or even a tuxedo.

In general, Rockport shoes has a goal of providing you with the most comfortable experience for every aspect of your life. That way their options include rugged outdoor designs, which you can wear if you work outside or enjoy exploring tame hiking trails, shiny, polished loafers which can be worn with cropped pants and without socks to show off your ankles, and fashionable, whimsy oxfords which complement all semi-formal and formal outfits.

Whatever you choose and whichever way you decide to go in terms of aesthetic, you can count on Rockport shoes to deliver maximum comfort with a classic appearance.
Materials
Since footwear construction and the materials it is made of are a large factor when it comes to comfort, you can be sure that Rockport shoes pays special attention to that. All of the footwear in their collections is made out of premium materials, such as smooth leathers, soft suedes and rich textiles.

Their choice of materials is largely based on its properties, and this is why synthetics don't usually come into play. Synthetics, while environmentally-friendly, tend not to last long, or have as good qualities as natural materials.

Leathers, on the other hand, such as full grain and suede, outshine all others in terms of durability, breathability and even flexibility. What is wonderful about natural materials is that they are malleable, and they easily change shape over time. The more you wear a genuine leather design, the more it molds to the form of your foot, providing you with a customized, glove-like fit which you will find hard to resist.
Versatility
There is something inherently satisfying in purchasing a new pair of high quality comfortable Rockport shoes, and knowing that you would be able to wear them practically wherever you want, whenever you want.

While footwear for special occasions is nice, and it makes us feel festive and hollywood-like, at the end of the day it is not very cost-efficient. Designs which we wear only once in a while, or even less frequently than that, take a toll on our budget - there is always that question of whether or not the purchase was really worth it.

However, Rockport shoes strives to provide us with versatile designs, such we can wear in many occasions, and with many different outfits. We felt compelled to rank the items from our list according to the versatility of their style as well, since having that go-to option for both work and play simplifies our lifestyle and saves us precious time that we would otherwise waste on picking out just the right design for the event we're going to.
Our Favorites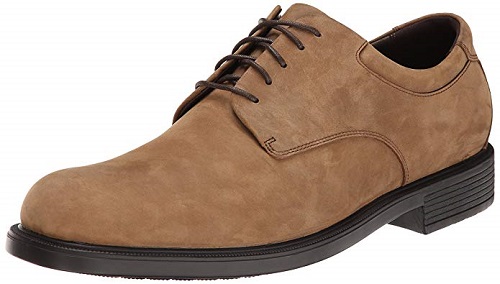 A classic plain toe dress-casual design is a must-have in any wardrobe. The Margin is here to fill in that gap with its timeless silhouette, as well as all the comfort technologies which set the brand apart from others in its category. It comes with a full grain leather upper that is easy to maintain, an antimicrobial lining, an EVA footbed, and a Dual Density polyurethane outsole.
The Dual Density PU outsole helps you stay on your feet for longer, as it provides durable shock absorption. In the Margin, you can literally stand for hours on end before your feet start feeling tired.
 
Since bacteria and fungi like to grow in confined, damp spaces, it is reassuring to know that the Margin prevents this with its antimicrobial lining. You won't have to worry about any nasty odors or itchiness in these wonderfully elegant oxfords.
 
You can choose whether you want to take these to the office for a smart-business look or if you want to wear them over the weekend, to complete a classier leisure outfit. The Margin is made out of high-quality leather materials and sporting features which ensure your utmost comfort, and if you're looking for a simple dress-casual Rockport shoe, then look no further than the Margin!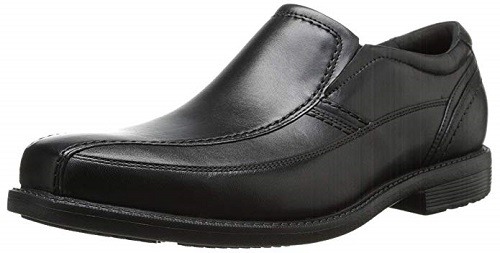 The Leader 2 is here to make you look professional in any setting. This gleaming leather slip-on has a square toe silhouette, an EVA outsole, and truTECH technology which helps cushion the heel. EVA is a material famous for its shock absorbing properties, which is why it is often used for sports footwear. The outsole of this Rockport shoe provides just that - instant impact absorption - but it also helps reduce foot fatigue, making sure that no matter how long you spend on your feet, you're not going to feel even a twinge of pain.
Inside the Leader 2, you can find DEWIX linings, and we can't miss the elastic inserts in the sides for that stretchy fit. DEWIX linings are a special kind of material which reduces foot odors, and at the same time wicks moisture away. You can be sure that in the Leader 2 your feet will stay dry and cool no matter how high the temperatures outside go.
 
The full grain leather upper comes in several color options, and you can always style this refined slip-on with a pair of funky, colorful socks to introduce a little bit of whimsy in your packed work day.
 
This is a great Rockport shoe which goes well in both formal and less formal occasions, and which will keep you comfortable and sweat- and odor-free wherever you go. A great option if it fits your personal tastes!

3

. Total Motion 75mm Pump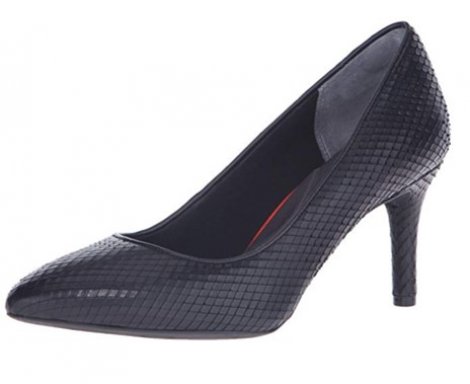 Rockport shoes knows that comfort doesn't have to apply to just flats. They've created the Total Motion 75mm Pump with all the cushion and comfort you'd find in a pair of flats, but dressed up in several colors and patterns in a stylish high heel. Perfect for both work and play, you may soon find more than one pair of these sitting in your footwear collection!
Comfort can be found in several areas of this pretty pump. The footbed is constructed from retention foam, giving support and cushion throughout the day. Midsole plate is designed from thermoplastic PU, as well as the outsole, giving structure and stability to the high heel. With these features backing the Total Motion Pump, you'll be strutting your stuff confidently all day long.
Made from 100% leather, Rockport shoes gave the Total Motion an easy to care for durability to the pump. And, with such amazing colors and patterns to choose from, you can find one (or several) that suit your fashion sense for any occasion. Foam backed lining in the heel helps give the perfect fit, so your heel won't slip during walking. It's a versatile pump, suited for any kind of event or work function!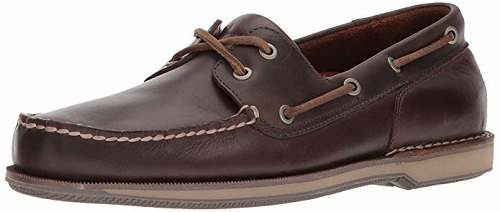 What effortless style! With the Perth loafer, you are ready to spend an entire afternoon lounging on a yacht, with a cocktail in hand as you admire the blue horizons stretching out in front of you. This wonderful Rockport shoe is made out of full grain leather and features an unlined upper which allows you to wear it barefoot. It has a padded collar and tongue for comfort, a rubber outsole for a durable grip on all surfaces, and polyurethane cushioning which wicks moisture and prevents unpleasant odors.
We admit that we are partial to a good loafer. One that is elegant and effortlessly stylish, but also which can be worn without socks. The comfort of simply sliding on a sophisticated design on bare feet is unlike any other, and we hope that you have a chance to experience this luxurious feeling as soon as possible.
 
If you intend to walk on all kinds of different surfaces - from polished hardwood floors to rough asphalt and maybe even on the compact ground - you will be interested to know that the Perth will provide you with the ultimate grip. In this loafer, you don't have to worry about slipping or skidding wherever you decide to go.
 
The Perth is undoubtedly a fashion statement for Rockport shoes, one that speaks of class and confidence, and it is also admirably comfortable at the same time. Throw away the shackles of winter and show off your ankles in the lovely Perth loafer!

5

. We're Rockin' Chranson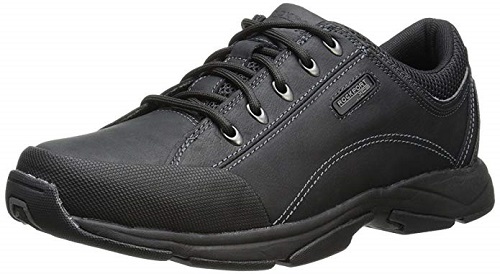 We will take a short moment here to appreciate the originality of this Rockport shoe's name. We're Rockin' Chranson is a ruggedly good-looking walking design, built specifically to allow you to cross as much distance as you want. It has a leather upper and a latex footed with Adiprene technology. The Adiprene system is found at the heel, and its main features are that it absorbs shock and provides energy rebound so that it lessens the compounding effect in your heel.
Furthermore, We're Rockin' Chranson comes with a mesh lining. Mesh is a porous material through which air can properly flow in and out of the design. This means that your feet will keep dry and cool and that there will be no unpleasant odors at the end of the day.
 
This Rockport shoe also has a rubber outsole which provides good grip in both dry and wet conditions and across all kinds of terrain. A classic lace-up closure at the front ensures an adjustable fit of this uniquely named and overall incredibly solid design.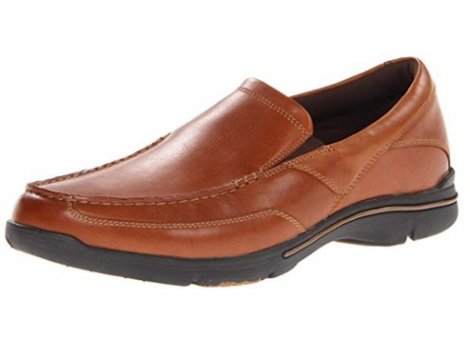 Similar to many of Rockport shoes classic styles, the Eberdon demonstrates a softer side of a slip on shoe crossed with a more formal design. Utilizing 100% leather uppers, it has a smooth soft textured feel to it, and amazing on-foot feel. With a padded collar to help prevent blisters, this pair may be one you choose not to take off at the end of the work day, and head straight to evening events instead!
An EVA and rubber sole at the base of the Eberdon gives cushion to each step, and textured sole gives textured grip to surfaces. Rockport logo runs along the heel, with quality stitching details that accent the lines of the shoe. Mesh lining inside adds an element of breathability, while the padded collar adds additional comfort during wear.
Coming in a few choice colors such as browns and blacks, this slip on provides the ease of wear you'd expect from such a design. Dual goring allows for an adjustable, easy fit, without having your foot pop out of the shoe during walking. It's a solid option if you're in search of a business casual kind of Rockport shoe with comfort that lasts.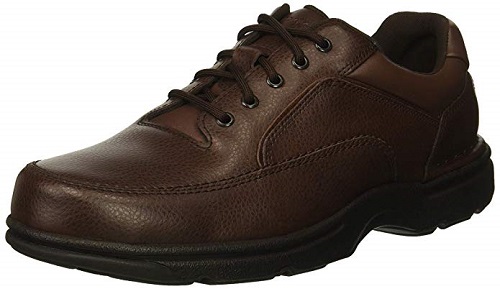 We're continuing the trend of great walking footwear with the Eureka. This Rockport shoe seems like a classic silhouette on the outside, however, it is anything but on the inside. It comes with San Crispino construction, generous collar, and tongue padding, as well as a removable latex footbed. San Crispino is a special method of constructing footwear which ensures a wide base. A solid foundation like this provides stability, which is definitely required if you wish to walk for longer periods of time.
Another type of construction, called Strobel, ensures forefoot flexibility of the Eureka, which is especially important as it means a better liftoff and less pressure put on the ball of your foot. There is a rubber outsole for durability, and to round up this practical, amazingly comfortable option is a mesh lining for breathability and moisture-wicking, as well as an EVA midsole that provides that much-needed impact absorption.
 
The Eureka might not bear any revolutionary technologies as some other walking Rockport shoe designs we've looked at, but its meticulous, sturdy construction definitely makes up for it. If you are someone who loves spending time outside and exploring your surroundings, this design won't let you down!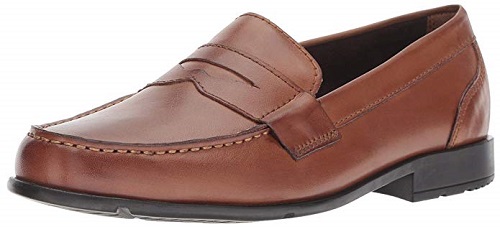 Reserved for only the most dapper of gentlemen, the Classic Loafer Penny is one stylish Rockport shoe. This design has a polyurethane outsole, an easy-to-clean leather upper, and an EVA footbed that will match the contours of your foot as you wear the loafer. The specially constructed PU outsole of the Classic Loafer Penny provides durable shock absorption, meaning that the pressure of your heel strikes evenly spreads throughout the shoe. With this unique feature, the PU outsole minimizes foot fatigue and allows you to keep walking for longer.
The beauty of the Classic Loafer Penny is that it not only looks amazingly dashing, but it is also comfortable to boot. One of the features that ensures this is the spongy EVA footbed which provides a more personalized fit as it conforms to the shape of your foot over time.
 
As with all other Rockport shoe designs in this guide, the Classic Loafer Penny also comes with truTECH technology built right in. Wear this sleek, sophisticated design with socks or even without them - it will be equally comfortable! You can pair it up with a suit for the workplace, or a pair of khaki pants for a leisure dinner with friends. The options are limitless!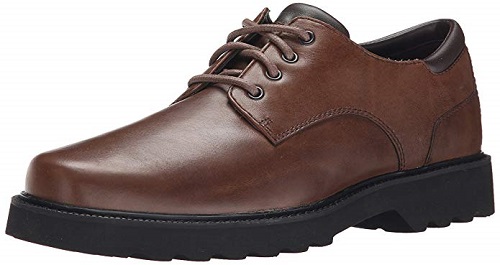 There is a reason why the Northfield oxford is one of the most popular designs by Rockport shoes. It has a classic silhouette, but a rugged exterior, with its leather upper and a thick EVA outsole with deep grooves at the bottom. A special feature is the Hydro Shield waterproof construction, as well as the Polyurethane Kinetic Air Circulator for underfoot cushioning.
The Hydro Shield construction ensures that the leather upper is completely waterproof, meaning that regardless of how wet it gets outside, your socks and your feet will remain dry and warm within this design. Additionally, the PU Kinetic Air Circulator, while a mouthful, provides some amazing benefits in the form of full-length cushioning. It also promotes active air circulation through the Northfield, ensuring a healthy climate for your feet.
 
Of course that the Northfield sports the ever-present truTECH technology as well. Whether you're spending your day at the office or a night out with your friends, this Rockport shoe will support you every step of the way.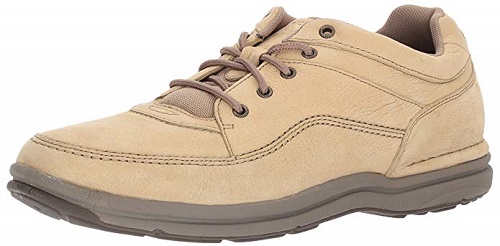 Behold, the ultimate walking shoe! The World Tour Classic is a number one option for a globe-trotter, someone who wishes to explore and learn more about the world around them. It features Rockport shoe's proprietary Walking Platform Construction, an answer to Rockport shoe's quest to provide the absolute best walking experience. It ensures a wide base of support for the heel, as well as forefoot flexibility for an easy step.
While this Rockport shoe as a whole is lightweight, designed to not drag you down as you take up your adventures, there is extra padding in the collar and the tongue. The purpose of this is to reduce any excessive rubbing that may occur and consequently to prevent blisters.
 
The upper of the World Tour Classic is made from full-grain leather that is very easy to clean and which provides a custom, comfortable fit. The rubber sole ensures a good grip and there is breathable, polyurethane cushioning for moisture-absorbing and odor-resistance. The World Tour Classic has all you need out of a great walking shoe, and more!

Subscribe to our Newsletter