Best Chunky Heel Boots Reviewed
last updated
Nov 01, 2019
Let's face it - everyone loves stilettos. Their slim silhouette brings out our grace and makes our stride elegant. But those effects are usually short-lived since their maddening heights and thin construction hurts all of our body, not just our feet. Usually, we wear them for a few hours and resort back to flats and sneakers. Which is why you should give the new rising star a chance - the chunky, block heels!
They give us the same desired height without hurting us. Their width and sturdy construction make it easy to balance ourselves, and it gives us adequate arch support so we can withstand their height! You might think that they're for grandmas and that they provide the same style like stilettos. Well, they don't, and that's the whole point! They make us stand proud, rebellious and bold! Scroll down our list and discover the beauty of chunky boots.
In a Hurry? The test winner after 6 hrs of research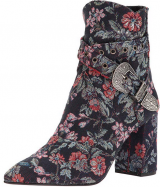 Badgley Mischka Morrisey
Why is it better?
Floral Pattern
Exaggerated Metal Buckle
Super Pointy Toes
Textile Upper
In a
Hurry? Editors choice: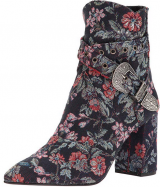 Test Winner: Badgley Mischka Morrisey

3
Researched Sources
230
Reviews Considered
6
Hours Researching
10
Products Evaluated
Comfort
Style
Flexibility
Versatility
Weight
By Default
Top 10 Picks
1

. Badgley Mischka Morrisey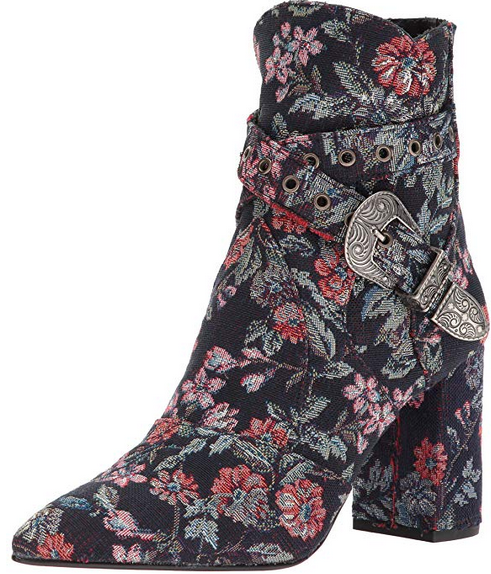 Floral Pattern
Exaggerated Metal Buckle
Super Pointy Toes
Textile Upper
Command attention with the incredibly beautiful Morrisey ankle bootie by your side! These graceful booties are covered with floral details, embroidered into the textile upper. They will be an eternal garden strapped to your feet, accentuating your beauty every step of the way. The black backdrop makes the flowers pop even more, so you'll be giving off graceful vibes far and wide.
The buckle slithers around your ankles, crisscrossing on your arches and anchoring you in. The silver holes and the big decorated buckle stand out from the floral pattern, giving the boot a breath of fresh air. A lightly padded footbed makes it easy to survive the towering heel, while the textile uppers ease your transition into the super pointy toes that make the Morrisey so outstanding.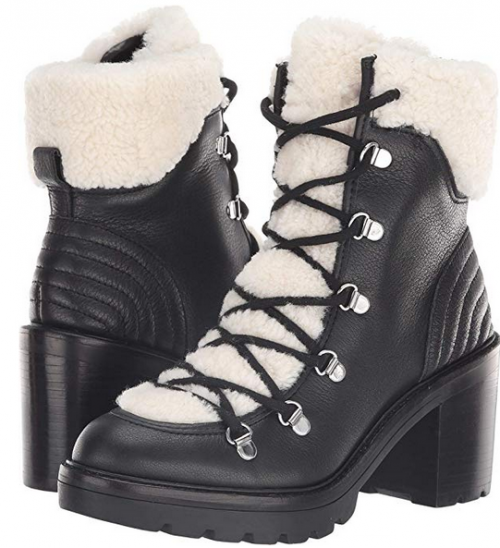 Utilitarian Style
Shearling Details
Lugged Sole
Padded Footbed
If you ever wished you could combine your regular work heels into your more fashion-forward looks, well now is your chance! The Daven is a utilitarian boot refurbished by the trendy details meant to add a rebellious tone to your outfit. The detail that pops the most on these boots is the genuine shearling sprouting from the tongue and topping off the collar of the boot.
The shearling makes these boots ideal for the harshest of weather, making you look like a diva even when a blizzard starts to brew. The lace-up system resembles one we can find on regular work boots. The suede upper is simple, but it plays into the whole sophisticated yet rugged style. The heel counter is decorated with a string of stitching, helping it stay together. The cushioned footbed improves the comfort and helps you look your best as long as you need to. The lugged sole paired with the high block heels let us realize these boots were made for the catwalk!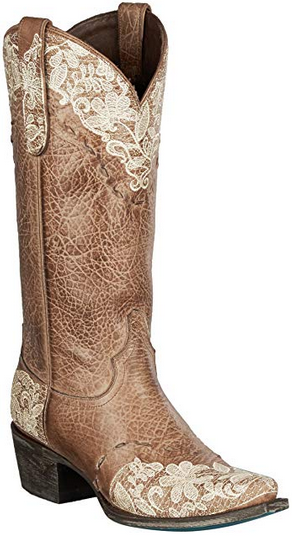 Western Style
Ivory Lace Embellishments
Handcrafted
Distressed Leather Upper
Turquoise Soles
How in love with the Western culture and style are you? If your answer is a lot, then we've got the perfect pair for you! The Jeni is everything we love about the cowboy style. These painstakingly handcrafted boots are made out of the finest quality leather, bringing you a long-lasting and supple upper. The upper has rustic details, and bold, white lace details made to bring out your inner beauty. They follow along with the top, accentuating the toes and the heels.
The buckle details and curved top make them ideal for any cowboy style lover. The insoles are made for comfort and nothing else, giving you the chance to enjoy this pair all day long. The iconic turquoise soles are there to surprise the crowd, and to bring a flash of color when you kick up your stacked heels and ride towards the setting sun!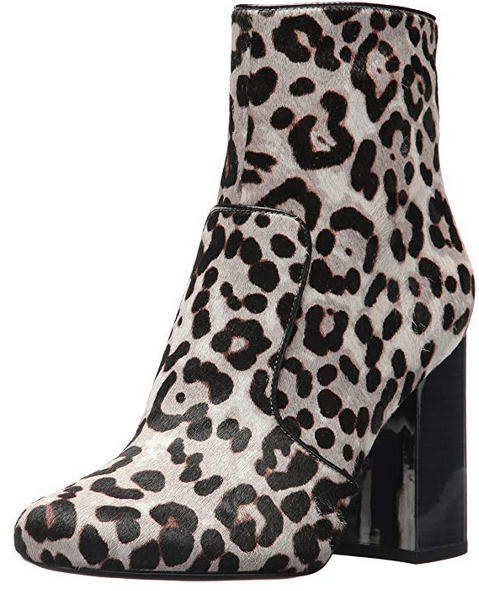 Exciting Leopard Print
Shiny Chunky Heel
Side Zipper Detail
Pointy Toes
The Jilene is made to be a head-turner, and that's just what it will do strapped around your feet! This ankle bootie was made to make you feel wild. The leather upper comes in baby pink, polished black or with a dangerous white leopard print. The zipper on the side makes it easy to go from your old regular self to your exciting daring persona.
The linings inside are leather as well, meaning you will have plenty of comfort and a lot of cool air to chill you down. The shining tall chunky boot is a stark contrast from the calm upper, or it adds to the whole of the hook style, depending on what color you've chosen. The chunky heels paired with the chunky heels make this pair look like it came straight down from the runways onto your feet.
5

. Jeffrey Campbell Cromwell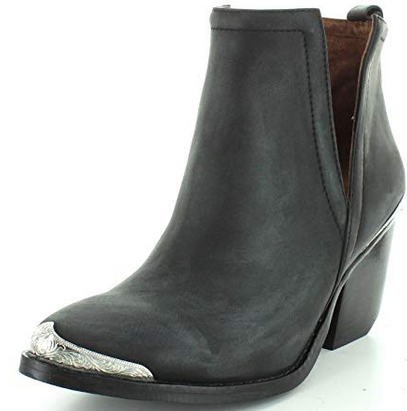 Variety Of Leather Uppers
Pull Tab
Metal Ornaments
Pentagonal Heels
Sharp Side Cutouts
The pointed-toe ankle bootie will make anyone who dares to wear them the star of the show! Their leather upper comes in taupe suede, black polished leather, or suede with snakeskin details to help you look your absolute best. Their sharp lines are accentuated by the lack of zipper or gore - the only opening here, besides the top one, is the sharp descending arrow line shut down near the outsoles. This gives you the opportunity to show off your legs, or to play with your sock styles!
A handy pull tab sits at the heel counter, helping you pull the boots on with ease. The eye-catching metal ornaments are detailed with intertwined vines, shining like headlights in the night. The chunky pentagonal look completes their dramatic look, and offer you much-needed arch and ankle support while balancing you like regular sneakers!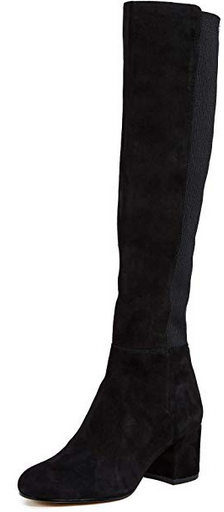 Tall, Slim Silhouette
Stretch Knit
Zipper Detail
Clean, No Details
Goatskin
Tall riding boots will always be in style, and if you missed your chance to have a pair, now's your moment! The elegant Valda is made out of suede or leather, depending on what you prefer. Suede is soft and supple and looks luxurious, but it doesn't do well in water. Leather is sleek and polished, mature, but it's heavy and stiff, so the choice is yours since they are all black.
A handy zipper can be found on the inner side, offering you an easy way in and out, so you don't have to struggle to push your feet in. They have a specific type of knitting over the calves, called stretch knit, which will accommodate almost every shape and size of calf you throw at them. The round toes paired with the chunky heels make this pair a perfectly polished addition to your wardrobe!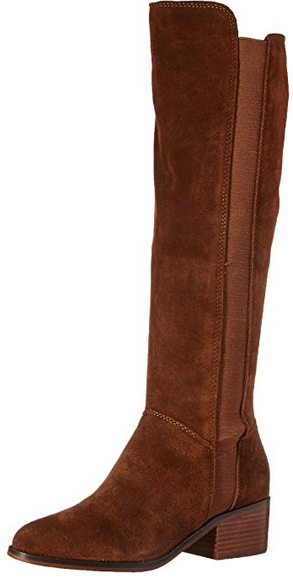 Earthy Colors
Elastic Gore
Flared Front
Man-made Sock Liner
Stacked Short Heel
If you simply can't get enough of riding boots and you feel like you could always expand your collection, then give the Giselle a try! These lovely boots are suede, colored in midnight black or chestnut brown, ready to be paired with everything you throw at them. There is an elastic gore insert running along the sides through the whole length.
The elastic gore makes up for the lack of zipper, so with it, you'd be able to slide in with ease, and you can have the strongest calves in the world, but you'd still fit in. The front of the boot is higher and flared, going along with the Western style. The lining inside is fabric with a manmade sock, that helps comfort your feet as you go on about your day. The block heel is stacked, adding some variation to the otherwise monotonous boot.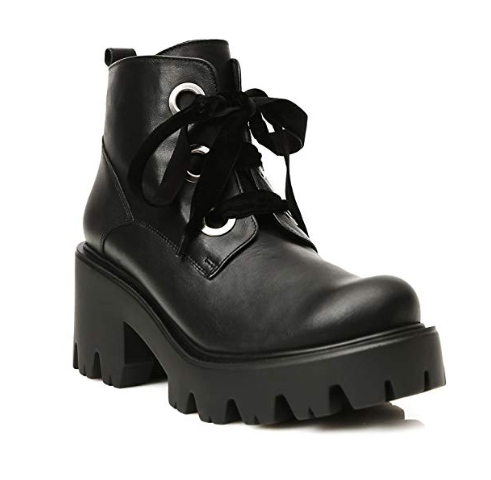 Punk Style
Exaggerated Features
Lace-up System
Chunky Rubber Outsoles
We've heard you're a chunky heel boot lover, and we decided to bring you the chunkiest ankle bootie we could find - the Komo! This super rebellious style is not fit for the faint of heart. They are 100% leather, offering you support and molding to the shape of your feet, offering a great fit every time you go back to them. The handy pull tab makes it super easy to push your feet inside.
The lace up system is a game changer, giving you complete control over the fit, making the boots completely adjustable. The clips on the top make knotting even easier and prevent the laces from slipping away. The super huge rubber outsoles are propped onto the huge heel, all serrated and ribbed to give that perfect punk dramatic look!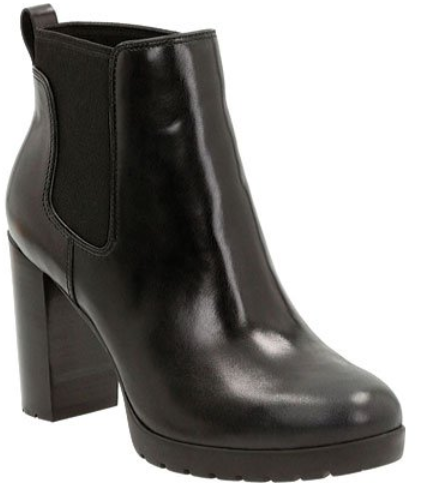 Chukka Boot silhouette
Plastic Panels
Premium Leather Uppers
Comfortable Cushion Plus
Ortholite Footbed
No boot list would be truly complete without the Chukka boots making at least one appearance. The premium leather uppers ensure these boots never fail to deliver fashion-forward looks for a long time. The elastic panels on the sides help the boots have more flex and ease your way into the shoe.
The soft textile linings are gentle to your skin and make the break-in period a bit easier. The footbed is Ortholite, enhanced by the Comfortable Cushion plus innovation from Clarks. Ortholite footbeds are light, breathable, and provide the same level of padding for a really long time. When combined with the Cushion plus technology, they become one of the comfiest boots you will ever own. The stacked chunk heel is what makes these chukka heels different from the rest, and gives the professional look an updated style.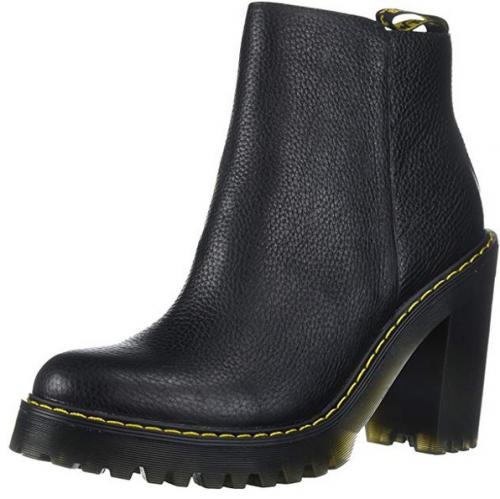 Iconic Yellow Thread
Air-cushioned Soles
Goodyear Welt
Zipper Detail
Lightweight Leather
How could we even make a list of boots without mentioning Dr. Martens at least once? The iconic Doc Marten style is upgraded to a clean, polished look, with the laces removed. The starkly bold black upper is made out of premium leather, providing extreme durability and protection. They might be a bit tough to break in, but the trouble is worth it because the reward would be a high quality long lasting shoe!
The zip on the sides make it up for the lack of laces, and let you put the shoes on without struggling. Doc's still remained true to themselves though and left the bright yellow threads reinforcing the outsoles. If you don't like the bold yellow fabric, you can always choose the Noir boot, which is completely black. The soles are air-cushioned, providing long-lasting comfort and support. They feature a Goodyear welt, one way Dr. Martens made sure that you get a very durable and long lasting pair - once the soles get worn down, just replace them and continue on with the boot!
Criteria Used for Evaluation


Comfort
No one is a stranger to waddling around helplessly while our feet cramp up because of high heels. Whether you like to admit it or not, you've probably felt pain and struggled while walking on them, standing on them or even trying to put them on. But, lucky for us, chunky heels are back in style, and they are much, much nicer towards our feet.
Many medical practitioners agree that chunky heels are much gentler for our feet. The bigger surface means an even weight distribution, and more stability. This is also great news for people who have balance issues, and if they are prone to ankle sprains. But, heels are heels, and they will, without a doubt, cause some level of pain and discomfort. So, what can you do to combat this?
If you really, really want that super high heel, then, by all means, choose one that is supported by a platform. The platform is an extra bit of material, sturdy material, that softens the angle your feet and ankles are positioned at, removing some of the pressure from your joints, muscles, and tissues. When you first try out your heels, walk around in them, for more than a few minutes if you can - you must determine whether the angle suits you or not since it's in your best interest to feel good.
If you still feel discomfort but don't want to give up on the heels, look at the insoles! The insoles are gentle towards our feet, since they are usually made out of materials that work to create a comfy environment, and they usually come equipped with pads and cushions. These cushions are located in places where you are bound to feel the most pressure. The pads absorb some of that pressure and make it easier to survive standing tall in heels. Those pads are usually light, made out of gel and foam, meaning they won't add any additional weight to tire you down. They are also porous and breathe well, so you'll be safe from sweat and bad odors. And, most of the times they are not bulky, so they won't squeeze your arches and cause more discomfort than they're worth!
If you followed all of those instructions, but still feel pain and discomfort, don't worry, there are still a few things left you can do to feel better! One of the first things you can do is to look up at ballerinas, and follow their example - tape your third and fourth finger together. By doing this, you take off a significant amount of pressure from a nerve that is located between the two of those fingers. This lowered amount of pressure will help with the pain you can feel, and with the pressure too.
Then, try and think hard about the way you walk when you have heels on. Do you engage your abs when you walk? Do you walk on your tiptoes, or do you use your whole foot, from heel to toe? If you do all of these things then great, but if not, try! You'll see that you will have a much easier time conquering their height. If your pair is new, then there's one crucial thing you need to do before you actually wear them - break them in!
Grab a super thick pair of socks, pull them on and try your best to squeeze inside the heels. If you can muster it, wear an additional pair. After that, walk around your house as much as you can, and you can even get a hair dryer and apply some heat to stretch them out faster. This way you will make more room for your feet to wiggle and readjust, lowering the amount of pain even more.
If you are someone that has wide feet, please try to avoid pointy toes and narrow constructions! You won't do your feet any good, no matter how great you look in them. On the other hand, if you've got flat arches, avoid heels that are higher than three inches, because they will make you cramp up. Go for a shorter heel or a pair that has a platform. Moleskin might not sound like a solution, but trust us, it is! Just take a piece and stick it on where you feel pressure or pain, or where the boots rub you the wrong way, and you'll feel instant relief.
Make sure you've bought a pair that is your true size, because otherwise you will slide around in the boots, and that will create friction, which will, in turn, create blisters. If you already bought the pair and it's too late to correct that, inserts exist too, and they can help you lower the friction you've got going on in there. Also, there is a product that can help you fight blisters, called an anti-blister stick! You simply put it on where your feet need lubrication, so that the boot doesn't rub or pinch you the wrong way. It's also small, so you can take it with you wherever you want.


Style
If you never liked the way wedges look, but cringe at the idea of walking on a thin stick, then you can rely on the chunky heel trend of today. They are the perfect hybrid of the two, offering the same sleek, slimming elevation stilettos do with the stability and comfort of wedges. They are more mature and solid, but still good looking enough to catch the eye and attention of bystanders. If you worry about the height of your chunky boot, you can rest knowing that you can find every possible height and thickness you could want, so you can work it into your daily or special outfits.
Everyone should have a selection of minimalistic, basic outfits in their closets. These outfits are the ideal solution for the days you want to feel comfy, yet appropriate for every occasion, but still cute and trendy. Yet, there are many people out there that their basic outfits are too basic, and not fun enough to fit into anything else but a trip to the local grocery store. So, one great way to improve your minimalistic look is, you guessed it, by throwing in a pair of chunky heel boots. They are versatile enough to fit in with almost every possible combination, yet they stand out enough to add a breath of fresh air to your ensemble. Crop tops and high waist shorts or pants simply beg for an ankle bootie with chunky heels, giving you that chic city dweller vibe.
Our beloved chunky heels sometimes have the reputation that they are too casual, simply because they are more likely to be combined with outfits that are not so dressy when compared to other heel styles. But, as you might have already guessed it, that certainly isn't the only setting chunky heels can be worked into. You can create a professional look with chunky heels, without sacrificing formality. Fitted midi skirts, tights, and a bright blazer look wonderful when paired with chunky ankle boots. And they work great in professional environments! One more reason they work so well is that they are much comfier than your standard heel, so you won't wobble and drag your feet around the office, risking looking silly and unprofessional.
On the other hand, if you've got an outfit that you feel is a little over the top and way too busy, you can bring the tone down with a pair of chunky heels. Chunky heels are simple, polished and they can certainly work as a neutralizer, but they're not too casual, like sneakers, and they won't downplay on the playfulness of your clothing combination.
Some people worry that chunky boots make their legs look thick and round, instead of long and slim. You can combat this by pairing the boots with a dress or a skirt, to help elongate your legs. Loose, patterned dresses work great here, but they are a bit thin for colder weather. So, you can wear a skirt, tights and a cropped sweater to really nail that slimming look.


Flexibility
You might think that your heels simply need to be flexible around the ball of your foot, but you will be surprised to know that that may simply not be true. Shocking, right? Plenty of us believes that the more flexible a heel is, the more comfortable it will be. We believe this so much that it even became a marketing strategy where salesmen compete whose boots have more elasticity! When you are just a small child, you really do need flexible shoes, especially toddlers who are just learning how to walk.
Or, you can even let your children walk barefoot, since this will be of most help to the development of the foot, and the connections your brain makes between the feet and itself. These are very real reasons toddlers need to have a connection with the ground because the more connected they are, the better the balance and proprioception they will have once they age. A few years ago, the barefoot running craze began, and many people started to throw out their shoes for the chance to run free. This is all great, but you won't have adequate protection nor support, and your feet will start to hurt, leaving you a broken non-functional mess.
Today, a similar thing is happening with heels. Many heel manufacturers are quick to say how limber and soft their heels are, promoting comfort and confidence. When you wear flats, there is a certain amount of dorsiflexion (upward movement) your big toe needs in order for you to walk properly. This requirement equals to about 65 degrees, but when you're propped up on heels, this can go up to 90 degrees!
When your feet constantly remain in this position, it stresses out your big toe and causes joint problems. This is only exacerbated by heels that are way too flexible since you do not have enough support and stability present to evenly distribute the pressure and weight. The best solution for this is to wear chunky heels with platforms since they are the whole package!


Versatility
As we already mentioned, chunky heels are quite versatile, able to fit in almost anywhere. The varying thickness and heights help them blend in, even more, meaning chunky heel boots are your new best versatile winter pair. But, their versatility does not depend only on their heel, it can depend on many factors. One of the things that affect their versatility is their color. Calm colors, like taupe and nudes, can be combined with any outfit you wish, but if your clothes are already neutral, then maybe you'll benefit with a bolder color.
The pattern scattered around the upper also plays a role here. If you've got a clean upper with nothing on it, you've found yourself a versatile pair. But, if you sport a pair that has stripes and floral decor all over it, you've got yourself a statement shoe, and it should be the focal point of your outfit. In other words, it won't be so versatile. Accessories also affect the versatility. A pair that is over-embellished, with a myriad of crystals and studs, or lace and sparkly details surely won't be able to fit with most of your outfits. But a clean, simple chunky boot will manage to work itself into plenty of your style choices!


Weight
When we buy boots, we often think about how heavy the pair will be. Boots are usually made out of leather, a lovely natural material that is also heavy, and if it's combined with wooden details, or used to create a very tall boot, the result can be intimidating. But a heavy shoe shouldn't worry you too much. It's normal we think that a heavy pair can tire us down and make our feet sore, but a pair that is way too light can also be a problem.
A light pair is great - it doesn't tire our feet down, and makes the shoe limber, allowing our foot to move the way it's supposed to. But a pair that has a minimum amount of weight spells trouble, because that usually means that the padding or the construction suffered, resulting in a flimsy pair that does not provide you with enough support and stability. So when you go out to buy chunky heels the next time, keep this in mind, and don't be afraid to go heavy - besides, you'll get used to the weight pretty fast!
Expert Interviews & Opinions
Most Important Criteria
(According to our experts opinion)
Experts Opinion
Editors Opinion
Users Opinion
By Default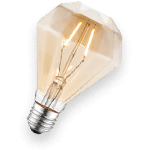 Style Them Right
Chunky heels also love being paired up with jeans. Jeans are usually combined with flats, sneakers, or stilettos, but they work great with chunky heels too. They balance out everything and work great with denim. Chunky boots work great with flared jeans, mom jeans and others that require more balance around the ankles.
Get Creative
You can even wear them with socks if you feel bold! If you do though, the socks sticking out of your boots will be the sole focus of your outfit, so don't wear anything that can conflict with the style!
Other Factors to Consider


Durability
We all love a pair that lasts for a long time, and it's the same with chunky boots. The factors that come into play when it comes to longevity are the same here, and there are plenty of them. One of the more important factors is the material the shoe is made out of. Leather are the hardiest and will last the longest, while textile and faux materials don't hold up that well. Also, the construction is at play as well. If the boot was created using a welt, or even better, a Goodyear welt, you will know then that you have something that will last you for ages to come. Strengthening stitches, reinforced construction and wooden or sturdy heels are all that make a boot last long, and if you want a durable pair then this is what you should look for.


Bottom Line
All of us probably encountered heels at some point in our lives, and have made the decision to either skip them or buy them. The ones who ended up buying them know how much love they can offer us, and how much care they provide. They take care of our health, both physical and mental since no one wants to spend their whole day being frustrated thinking about all that pain going on inside the shoe. We can only hope that our guide has shed some light on these chunky pairs and all the good they bring to the table and that you've decided to give them a chance!
Frequently Asked Questions
q:

Are chunky heels better than stilettos?

a:

When it comes to your health, yes they are. But when it comes to style, that all depends on what you prefer. Chunky heels can make an outfit good just like any other type of heel can, and no one is stopping you from wearing them all the time. If you don't like the bold look though, you are more inclined to believe that stilettos are better, and there's nothing wrong with that. You choose your own fashion sense, and your creative freedom is all you need to enjoy a proper pair of chunky heel boots.
q:

Can I wear chunky heels to an evening event?

a:

We don't see why not! Evening footwear comes in many shapes and sizes, and there are certainly many pairs of boots that have a chunky heel and can be worn to a fancy event. Just be sure you follow the same guidelines as you would with any other shoe for an evening event - the right kind of materials and details will sell them as the best-looking shoe out there, while the wrong combination can ruin your whole look!
q:

Is it easier to walk in chunky heels?

a:

Yes, it is. Compared to stilettos, where you'd walk on nothing but a thin stick, here you would be able to rely on a much wider surface to give you support and to distribute your weight evenly. Stilettos do make us look better, but how much better will you really look once you start to wobble and struggle walking on thin heels? If you've got the whole heel thing down though, you can probably walk in stilettos just as easy as in chunky heels!
q:

What heels are considered chunky?

a:

We all understand what a chunky heel looks like, but where do we draw the line? When can one say that the heel is chunky instead of standard or slim? The standard heel portion of a high heel is around half an inch, while chunky heels have a heel portion that measures around one inch, giving extra width and chunk to the heels, making them chunky and blocky!
q:

Are chunky heels better for my health?

a:

As we already mentioned, chunky heels are much gentler towards our feet and ankles. They provide much better support and ease the pressure from our ankles and arches as we walk since we can rely on a bigger surface. They also give us much-needed arch support, something we would miss in stilettos. But if your chunky heel starts to reach the skies, you will again suffer the consequences. So the only truly healthy heel is a short one with plenty of support!