Best Platform Shoes Reviewed
In a Hurry? Editors choice: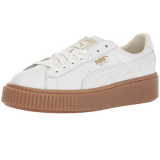 Test Winner: Puma Basket Platform

They say history often repeats itself and platform shoes are no exception. Gaining popularity in the 1970s, these thick-soled shoes were all the rage at the discotheque, with partygoers using them to attract attention to themselves on the dance floor. Glam rock icons, such as David Bowie, further popularized this style and widened their appeal to those outside the
disco culture
. Trending in 2018, these can give a breath of fresh air to a closet littered with
strappy heels
and slide sandals. Check out the best platform shoes available!
Standout Picks
Criteria Used for Evaluation
Heel
These are defined as shoes with a sole anywhere between 1-4 inch in thickness, though it could also be more. This is a pretty broad definition, which means that there are many different types of soles. Each has its perks and drawbacks, and we thought it would be important to compile an overview of the most common soles and their characteristics.
Flat Platforms: As their name says, flat platforms are… flat. Usually found on sandals and sneakers, they are uniform in their thickness from toe to heel, and as a result quite comfortable to walk in.
However, bear in mind that walking for longer periods of time in completely flat soles, including flat platforms, can result in conditions such as plantar fasciitis and flatfoot if the insole of the shoe doesn't have adequate arch support or cushioning.
Platform Heels: Probably the most common type of platforms. Platform heels vary in style and can be sandals, pumps, slingbacks, etc. (more on that in the next section), but they also vary in the type of the heel itself. The general rule is that platform heels are comfortable to wear and cause minimal to no pain because of the raised ball of the foot area, which means there is less pressure on the front of the foot. Some types of platform heels are:
Wedges: The shoe which doesn't have a discernible heel, the wedge is widely thought of as the most comfortable type of high heeled shoes. In it, your foot touches a lot of surface area, which allows for the strain to be taken off the ball of your foot, and they also command a wider footprint, meaning that your arch is well supported.
Chunky Heels: By 'chunky heels', we mean platform heels which have the well-known lift underneath the front, but which also have a boxy, chunky heel in the back. The thickness of the heel allows for a steady step, preventing wobbling and possible stumbling.
Stiletto Heels: The fact that platform stilettos have that added height under the toe area makes them far more comfortable than conventional stilettos.
However, it remains that the heel is thin down to a point, which doesn't provide enough security as you walk. You need the skill to be able to safely walk in these high heels, so make sure you practice at home.
Style
These shoes come in all shapes and sizes, as you saw from our list. There is a shoe out there for every occasion – from the most mundane of tasks, such as picking up kids from soccer practice to the most glamorous of events, as a red carpet would be. With this in mind, we have strived to collect a wide selection of platform shoes, ones that would meet your needs, whatever they are. Here are types of platform shoes:
Sandal: The go-to type of footwear in spring and summer, sandals have always been a favorite. Their design allows the foot to mostly be exposed, which lets it breathe and keeps it cool and dry in hot weather. Furthermore, some foot conditions, such as ingrown toenails or athlete's foot heal quicker if the foot isn't restricted in a tight, damp environment. Different versions of sandals include:
Birkenstock: We felt like the Birkenstock deserved its own category in this section, as it is the original comfort shoe. This sandal isn't particularly trendy or stylish, but it has been orthopedically designed for maximum comfort and support and will last much longer than a mere season or two. Regardless of its simple, utilitarian appearance, the Birkenstock has been a customer-favorite for literal centuries, and its version adds even more stability and shock-absorption while you walk if that's possible.
Slide Sandal: As we have previously mentioned, slide sandals are also making a comeback this season. These types of sandals are backless and open-toed, similar to a mule. Their upper can cover almost the entire foot from ankle to toe, or they can have only one or two narrow straps. Usually, the straps are located across the toes and the lower half of the foot to hold the shoe to the foot. Their name, 'slide sandals,' stems from the fact that this shoe is easy to slide into at a moment's notice. Thick soles add a bit of weight, but also more sophistication to the classic, rubber beach slide sandal.
Casual Heel: These soles are great for a relaxed, everyday type of footwear because their heels can be blocky, chunky, and even uniformed, like in a wedge, for that easy-going, leisure vibe. These in sandals with these kinds of heels are ideal for strolls around beach towns, for a coffee shop date with friends, and even for children playdates at the park. They go well with jeans and shorts and skirts and keep your feet effortlessly stylish while providing good ventilation to boot.
Fancy Heel: There is more than one type of a 'fancy heel sandal' on our list. These are not designed for casual wear but rather aimed at those who attend formal events, who enjoy a glitzy night out at the club and who wish to impress with their footwear. Usually, these types of sandals come with a stiletto heel in the back, and a high platform in the front for that added comfort. Their straps can have a unique pattern, and more often than not they come with a glossy finish – extra polished!
Sneaker: The ultimate casual shoe. What's great about the sneaker is that it is so versatile – originally conceived as a sports shoe, now sneakers can be found in everyone's wardrobe. There are sneakers for the gym, for long-distance walking, fancier sneakers for chic casual outfits, sneakers for making a statement, and even sneakers for semi-formal events, paired with ball gowns or suits. Therefore, it shouldn't come as a surprise that sneakers also come in a higher version. We think the soles bring a certain panache to the classic design of the sneaker, putting a twist on it and elevating its style. These shoes are not suitable for running, that's for sure, but they are undeniably trendy.
Pump: Pumps are the closed-toed, sleek and simple shoes that fit many a woman's need. They can be work-appropriate, fit for an office party, a birthday celebration, and especially for more glamorous, formal events, such as weddings and galas. Granted, pumps may not be the best for the workplace or any situation where it is advisable to look more business-like, but they do draw attention and look nothing short of stunning, even in their more basic, nude forms.
Brand
When we think about some of the hottest and most luxurious brands in the fashion industry, ones like Prada, Gucci, Louis Vuitton, and Jimmy Choo might come to mind. A product is a promise made, but a brand is a promise kept; generation after generation. A brand and its label are a statement of quality, craftsmanship, and service found in each of its products.
When assessing the products on our list for "brand," we took into account the quality of its products, its attention to detail and style, its reputation within the fashion industry, its commitment to customer service and its perceived luxuriousness and exclusiveness, to create an overall score for brand equity. Brand equity can loosely be defined as the pricing power a brand has in the marketplace due to each of the aforementioned factors.
So, while a product that scores high on this list may be gorgeous and exclusive, you can also bet it will much pricier, as well. After all, if everyone could afford it, it wouldn't be exclusive or luxurious, would it? Be prepared to look amazing, but feel the pain at the bank, if a product scores high on this metric!
Fit
We all know how hard it can be sometimes to find the perfect pair of shoes that we not only love, but that also fit snugly and comfortably. With so many styles, brands, colors and models, how can one compare hundreds of supposed "size 6s"?
To assess for trueness-to-size, we considered the opinions of thousands of wearers from across the globe to find out the answer to the ultimate question: do these 6s fit like a 6? While some things can give you a hint as to whether they will fit true, small or large; like brand name, shoe type and year of make; we believe that the opinion of buyers cannot be wrong. If they say the shoe doesn't fit the way it's supposed to, then you won't find it in our 10-best list.
You will find that a pair of shoes or boots or sandals that score high on this metric tend to experience a trueness-to-size that was verified by our large community of sampled buyers. Just don't forget to take into account the factors above to also make sure your favorite pair will fit you perfectly.
Outsole
The outsole, or more simply, the sole of the shoe, makes direct contact with the ground and therefore supports the entire foot and body when in motion. A poorly-constructed outsole will lead to discomfort, slipping and foot or another bodily injury. For this reason, many manufacturers use materials that are water-, weather-, heat-, and impact-resistant.
Depending on the type of footwear, one will often see outsoles made from natural or synthetic materials, such as PVC, EVA, rubber, and leather. Each of these has its advantages, depending on the shoe's purpose; however, as a general rule, they each are resistant to the aforementioned factors. They are also flexible enough to support a proper foot cycle when in motion, but they are not so flexible that they feel like a pair of socks.
A sole made of the materials above tends to score higher on our product evaluations, as they are not only comfortable but also support other criteria, such as "support" and "durability."
Top 10 Picks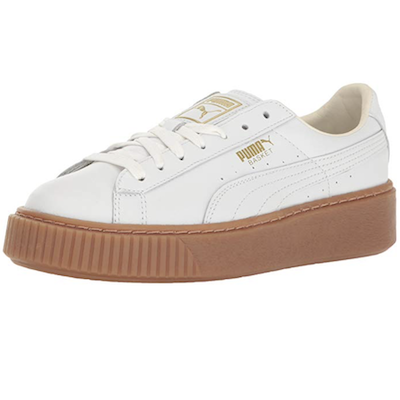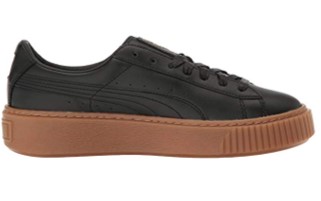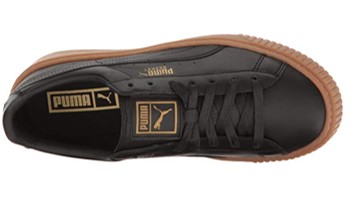 From a global sports brand that successfully fuses athletics, lifestyle, and fashion, we have the Puma Basket. It is a design classic, now with added height thanks to the creeper sole. The upper is metallic, contrasted with white branding and waxed laces. With the iconic lateral Puma Formstrip and feminine flair, these sneakers are all about attitude and making strong fashion statements.
This sole of the Puma Basket adds height to anyone who might wish for those couple of extra inches. However, aside from boosting your height, the chunky sole is also quite durable and wears well over time. The Puma Basket comes with lace closure in the front, which offers adjustability for a snug fit. Not too tight to constrict, but also not too loose so that you accidentally lose your shoe if you're in a hurry!
Despite bearing the name of one of the most popular athletic brands in the world, the Puma Basket is reasonably priced. It is sporty, stylish, will be a comfortable addition to your everyday style, and it won't break your bank. A good deal!

2

. Chinese Laundry Teaser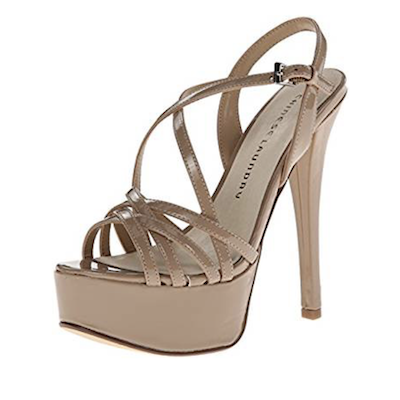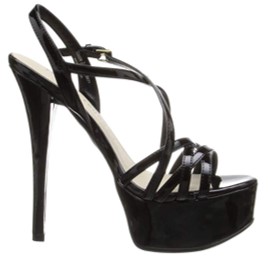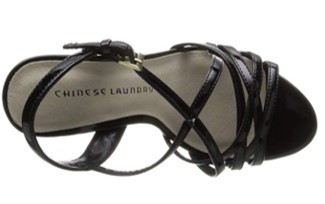 If your jaw dropped to the floor upon seeing these for the first time, don't worry - ours did, too. Chinese Laundry is a fashion-forward footwear brand specializing in stylish daytime looks as well as dressy, innovative evening collections. The Chinese Laundry Teaser is an eye-popping sandal with overlapping straps over the toes, a high-gloss finish and an ankle strap with buckle closure. It is sultry, it is smoldering, and you are sure to wow absolutely everyone in these stunning sandals.
The benefit of the buckle closure on the ankle strap of the Chinese Laundry Teaser is that it enables you to adjust the fit according to your preference. Depending on the size of the ankle, you can go as tight or as loose as you'd like, without any problems!
Thanks to its sensual silhouette, the two-inch, and the 5.75-inch heel, the Chinese Laundry Teaser will make your legs look long and slender. There is a reason these heels have been consistently worn by Miss USA contestants, and now you can too look like a fashion model in them! Chinese Laundry, as a company, aims to deliver style and fashion at an affordable price, and their Teaser sandal is exactly that. You don't have to re-evaluate your entire budget to get your hands on these striking sandals and trust us, they will be worth every cent.

3

. Michael Kors Warren Slide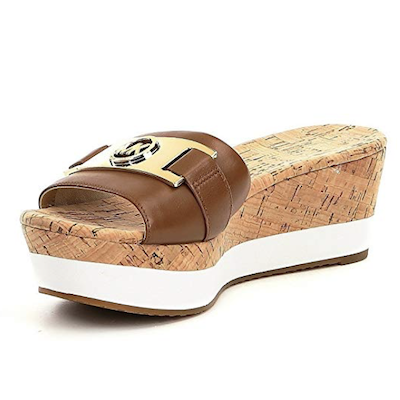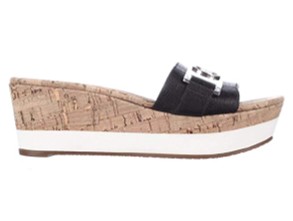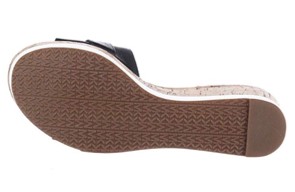 Along with this type of footwear, the slide sandal is also a hit this season, in all its open-toed backless glory. So why not combine the two? From a footwear label that offers chic and comfortable shoes that are always on-trend, we present to you the Michael Kors Slide Sandal. This foot apparel comes with a 1.5-inch, a strap with a gold-tone MK logo-engraved accent and a corked footbed.
Cork is used for insoles because of its elasticity, and ability to control climate and comfort. Cork footbeds are amazing absorbers of perspiration and are especially useful for diabetics, who should avoid stepping on plastic or synthetic materials for medical reasons.
Because of the fact, this is combined with the heel, the Michael Kors Slide Sandal is actually a wedge. A wedge allows for even distribution of weight, making the step more secure, and taking that extra pressure off the front of your foot. Well, we are not surprised that the Michael Kors Slide Sandal is high in cost. With that logo on its strap, it is to be expected. Nevertheless, this sandal is comfortable, will keep your feet cool in warm weather and add a touch of summery sophistication to any outfit. Might just be worth the money!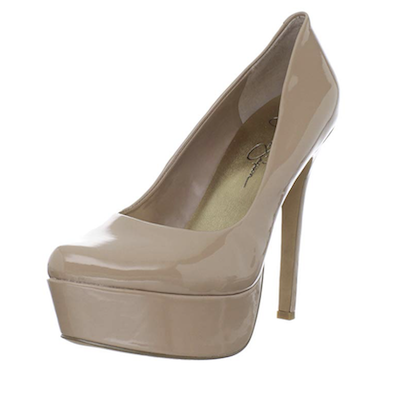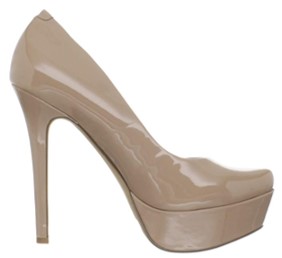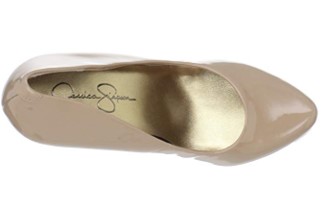 Jessica Simpson is famous for her fun, flirty style, and with her accessories label, she aims to bring this same style to her customers. The Jessica Simpson Waleo is truly a beautiful pump. It is clean, alluring, with a toe design between rounded and pointy, and a sky-high heel. These under the ball of the foot measures approximately 1.5 inches, while the heel itself is 4.75 inches. This footwear isn't a show-stopper; you are sure to make quite an entrance in it!
The upper of the Jessica Simpson Waleo is constructed out of genuine leather, which means that it is not only durable but that it also conforms to the shape of your foot. Thanks to this natural material, the comfort level of these pumps are out of this world.
Speaking of comfort, it is good to know that Jessica Simpson Waleo also features a lightly padded insole. This means that no matter how much you walk in these beauties, you won't feel any pain or discomfort. Given the brand name stamped on the footbed of the Jessica Simpson Waleo and the high-quality genuine materials it is made of, the price of this pump is surprisingly low. Cost-wise, it sits in the mid-range, and if you're into staggering heights and simple and trendy designs, this foot apparel is perfect for you.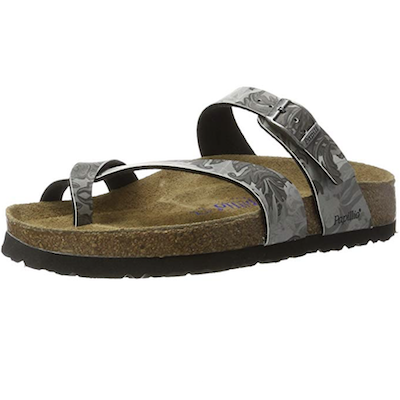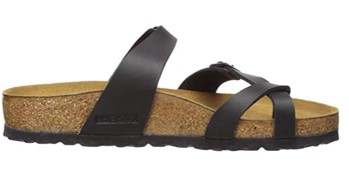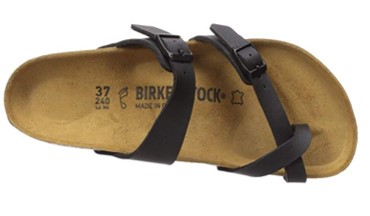 You must have heard about Birkenstock, a German footwear manufacturer that has been selling its unique brand of sandals for over 240 years now. They owe their longevity to the exceptional quality of their footwear, as well as comfort that is hard to compete against. The Birkenstock Mayari is part of the Arizona collection, taken to new heights with the addition of a lightweight EVA midsole. The Birko-Flor upper and the suede lining round out this simple, practical and yet cute sandal.
The upper of the Birkenstock Mayari is made of Birko-Flor, an easy-to-care-for PVC that has been linked with a soft, breathable layer of fleece on the inside. This material is gentle on the skin and comfortable, while also durable at the same time.
EVA (ethylene vinyl acetate) is a high quality, very light, elastic material that provides shock absorption. It smoothes out irregularities in the floor and ensures that your every step is supported and lightly cushioned. Coming from a footwear label with such renown, centuries-old name, it is understandable that the Birkenstock Mayari is expensive. However, for this price, you're getting a sandal constructed solely with your comfort in mind, made out of the highest quality materials. If you're looking for something functional and long-lasting, this is the foot apparel to go for.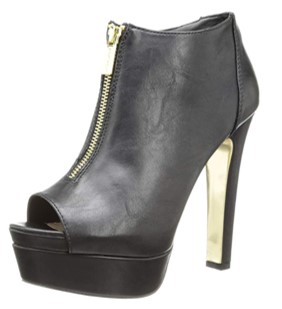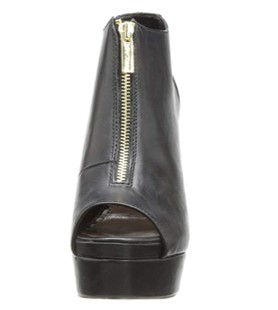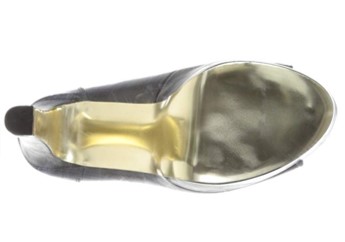 This pair of heels is a non-nonsense, ready-to-kick-butt pair that will empower and bring some heat to the evening! The Boldd from Betsey Johnson was crafted from synthetic uppers, softer than regular leather, but still quite durable, with a subtle gleam of trouble from the zip up front. It screams to be worn with leather jackets, jeans, or leggings for a rocker style that is sexy at the same time. with a being just over an inch, but a whopping 5.5-inch heel, this pair is a must-have for any heel lover that doesn't mess around!
What we love most about this pair, it the zip upfront on the uppers! While it secures the foot inside this ankle bootie, it gives the option to leave a bit of an open-top that's alluring when pulled down slightly. Peep toe openings let you show off pedicured nails, and the softer synthetic upper gives the boot a great on-foot feel. With a total height of 5.5 inches in the heel and a one-inch front, its chunkier stiletto heel and angled toe still make them quite comfortable for walking.
Inside the Boldd is a leather and synthetic lining, and supportive insole to help add comfort to the bootie. Soles are synthetic and gold in color and may require the addition of a traction pad for protection and better grip. This pair is one that should be worn as a statement piece to your ensemble and works best with a rocker fashion style like leather leggings or skirts, or a pair of skinny jeans. It's one any heel lovers will appreciate having in their collection for concert events or hitting the town!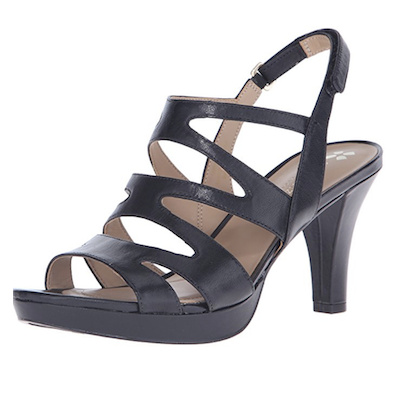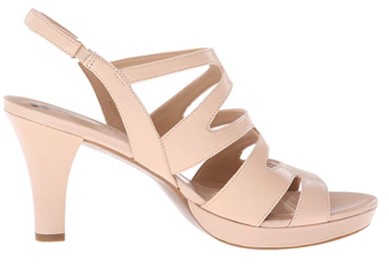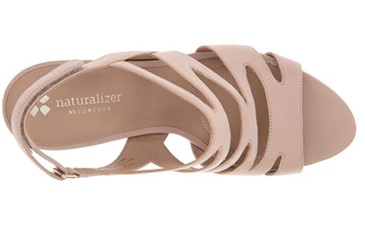 Naturalizer is a label that promises fresh, unpretentious designs that will be a smooth fit with your wardrobe, your life, and your own unique style. The Naturalizer Pressley is an effortless combination of elegance and comfort, a kind of chic that will suit both casual and formal occasions. It is outfitted with N5 Contour technology, has a three-inch heel and three-quarters of an inch. Practical and yet unbelievably comfortable!
This type of contour technology is unique to the Naturalizer brand. It includes extra cushioning for shock absorption, breathable lining, a heel to toe balance for a stable heel strike, flexible soles and lightweight materials which ensure comfort without the added weight.
The straps of the Naturalizer Pressley are not there only to add a bit of a zing to the footwear's appearance. They are carefully spaced out across the forefoot to offer you maximum support and stability as you walk. After we have listed all these dizzying benefits of the Naturalizer Pressley, you might be a bit weary of hearing about its price. Please don't be! This sandal is comfortably in the mid-range, far from expensive, and we honestly don't see a reason why you shouldn't buy it.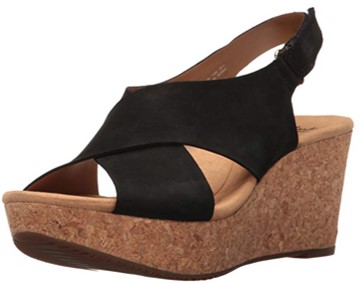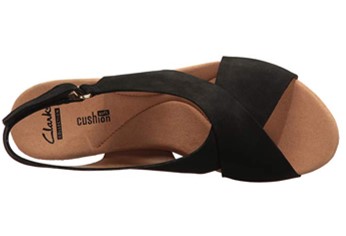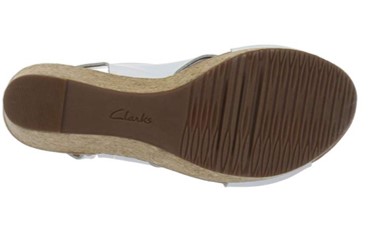 We love a good heel, but these days you can find many more styles that have that boost in height without a stiletto! The Clarks Annadel Eirwyn is a wonderful alternative for a platform shoe, with a cork wedge and leather strappy uppers perfect for summertime. Thicker straps hold the foot securely in place and a hook and loop ankle strap helps with an adjustable fit. With a total lift of about 3 inches, it still has all of Clark's great comfort features to help you feel cushioned when walking or standing. This sandal is perfect for day or evenings and comes in a variety of colors.
Uppers on the Annadel Eirwyn are 100% leather, helping to make this pair durable for wear throughout the warmer seasons. With classic color options like whites, blacks, and greys, you can pair with several pieces in your wardrobe, and for more lively options, pinks and silvers can help brighten up your attire. Straps crisscross across the top of the foot, and wrap around the ankle in a hook and loop closure, allowing for an adjustable fit to keep you comfortable.
Clarks added their comfort technology to help cushion your footfalls and an Ortholite footbed for a plush on-foot feel. The cork outsole provides an additional cushion as well as support and rises just under 3 inches in a wedge-style heel. A modest height of just over an inch helps boost height, while the rubber sole has a grooved pattern to provide traction on slippery surfaces. It's one pair for summertime sure to have you strutting in style!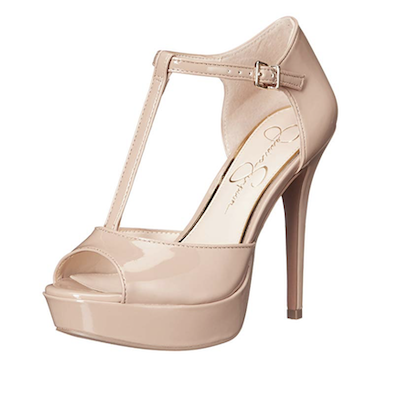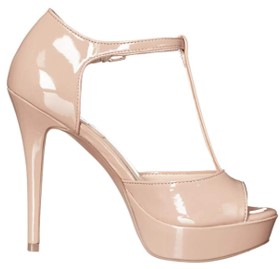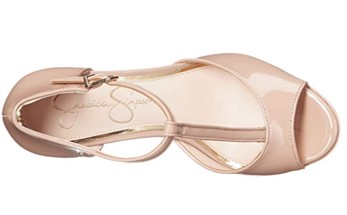 It is safe to say we have yet to find heels that radiate more elegance and sophistication than the Jessica Simpson Bansi. This open toe T-strap vamp sandal is absolutely stunning with its design, a perfect blend of sexy, flirty and yet classy at the same time. The heel measures up to five inches, but thanks to the 1.25-inch under the ball of the foot, walking in these is a breeze.
The T-strap of the Jessica Simpson Bansi allows you to modify the fit of the footwear, so you don't have to worry about accidentally ordering half a size up or down. What's more, the T-strap helps hold your foot in place and doesn't let it slide forward in the shoe.
We guarantee that there are very few high heels out there which are more comfortable than the Jessica Simpson Bansi. In large part thanks to the heel, in this sandal you will be able to walk, dance and prance around as much as you want, without worrying about any cramps or pain! For foot apparel that looks like a million dollars, the Jessica Simpson Bansi is unexpectedly inexpensive. Its middle price puts it in the same range as most of the other footwear on our list, and you can get yourself a pair of these captivating sandals without emptying your wallet.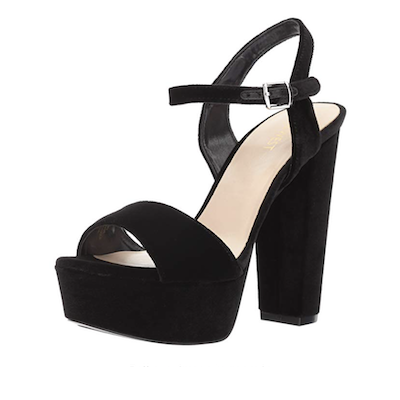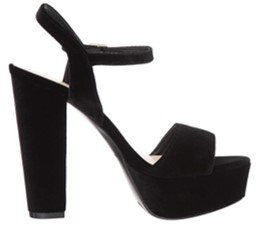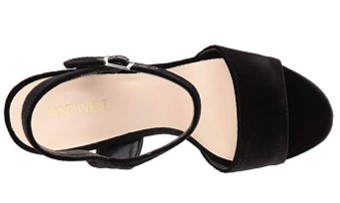 Nine West is all about the runway - this footwear company pinpoints the must-have looks of the season and then translates what is fun, feminine and interesting to its window shops. The Nine West Carnation is a two-piece sandal featuring a two-inch and a five-inch heel. It comes with an ankle strap and a padded footbed and is an exquisite blend of style and comfort.
Because the platform under the ball of the foot is two-inches and the heel height is five-inches - when wearing these staggeringly high heels, you'll actually feel like you're on mere three-inch heels. They're chunky and stable and won't give you any pain as you go about your day.
The padded footbed of the Nine West Carnation brings comfort and reduces any tension in your foot, while the ankle straps have an adjustable buckle, allowing you to tighten the fit or loosen it however much you want! We will be the first to admit that the Nine West Carnation is pricey. Perhaps even too pricey. It is from a well-known footwear brand, as well as comfortable and casually sexy in appearance, but there might be other shoes out there with a similar style and comfort level at a more reasonable price.

Subscribe to our Newsletter