Best Plush Lined Shoes Reviewed
In a Hurry? Editors choice: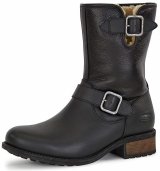 Test Winner: Ugg Chaney

Be it summer or winter, we all enjoy a little softness inside our footwear; that plush, gentle feeling when we walk around, as though we are wrapped in our favorite fuzzy blanket. This not only makes us feel cozy and cute, but the soft material also reduces the chances of developing hot spots,
blisters
, or any other type of skin abrasions. No one can resist the addictively fluffy world of plush lined footwear, and this is exactly why we have put together this guide. If you're craving that all-purpose soft design that you can wear both in and out of the house, you have come to the right place. Scroll down, read about all the cute, plush items we have brought out for you, and pick the one that you love the best! Enjoy!
Standout Picks
Criteria Used for Evaluation
Materials
What exactly is plush, anyway? How did we determine which designs have this type of lining and which don't fall into this category?

Well, the sorting wasn't easy. For the purpose of this guide, we rounded up all the products which have a soft, thick lining that is cozy and fluffy to the touch, but which isn't fur, either genuine or faux. The result is, as you saw for yourself, a number of different material options that can all fall under the category of plush.

First and foremost, there are synthetic materials. You will find these in most of the designs from the list, like in the Pleaser Delight, the Bogs Amanda, the Crocs options and others. Synthetics are a good choice because they are inexpensive, and yet no less comfortable to wear than natural materials. In the case of the Sorel Glacy Explorer, its fleece lining - which is, contrary to popular belief, almost entirely made out of synthetic fibers - has all the benefits of wool, but is infinitely more lightweight.

The downside to synthetics, however, is that they lack breathability, and moisture-wicking, which means that sometimes your feet can get sweaty and maybe even develop bad odors if you're wearing footwear with synthetic lining.

A good alternative to synthetics are natural materials, such as wool. We see this in the Ugg Chaney, the only design in this guide which utilizes a non-synthetic material as its lining.

Wool is a material which has amazing insulating properties - it keeps you cool when it's hot outside, and it keeps you warm when the temperatures drop. More than that, wool is a moisture-wicking material, which means that it drives moisture away from your feet, keeping them sweat- and odor-free.

When it comes to the type of plush in your footwear, you shouldn't worry about it too much. What matters is that the material is comfortable to you and that it gives you that cozy feeling associated with fluff, which is all we're really looking for in this type of footwear.
Comfort
It's hard to imagine a fuzzy lined design which isn't comfortable, isn't it? The coziness is practically guaranteed.

And yet, it's not always the case. Even this type of footwear can be uncomfortable because there are many different factors which go into determining the level of comfort in a design. They can all come together and work perfectly for you, or perhaps one of them, or more, can be wrong, and you'll be left with a design which you can't wear anywhere because it's an absolute killer for your feet.

To avoid that problem, we have a practical list of things you should pay attention to when picking out a comfortable pair of shoes.

Materials
We spoke about the type of materials which make up the plush portion of a design, but now let's talk about the ones which are a significant factor in a design's comfort. You want your shoe to be able to take the form of your foot, to hug it gently and be both supportive and not too constricting.
The ideal option for this are natural materials, such as leather and suede. You can find these in the Sorel Glacy Explorer and the Ugg Chaney. Another choice are lightweight materials which provide a sock-like fit, like in the Toms Classic and the Bobs Skechers Slip-On. What also works is a special type of material that is unique only to one brand, and that is Croslite, which belongs to Crocs. While Croslite is synthetic, it was developed specifically with the satisfaction of the customer in mind, and thus is one of the most comfortable material types in this guide.
Try to avoid synthetic materials which are hard and unyielding, and have the potential of digging into your skin as you walk.
Footbed
One of the most important things in terms of comfort is having a cushioned footbed. Whether it is made of memory foam or some other type of material, padding in the footbed provides impact absorption, meaning that there is less pressure on your heel and joints as you walk. As a consequence, there is a reduced risk of developing medical conditions such as plantar fasciitis.
A footbed can also be molded, or contoured to fit the shape of your sole. This is also a good choice if the contours in the footbed fit the forms of your foot. If not, they can cause discomfort and may prevent you from covering long distances in your footwear. However, if the footbed is the right shape for you, this type of support will reduce foot fatigue, and if it comes with good arch support as well, it can also prevent a condition called flatfoot, or pes planus.
Heel
Finally, because we have one design with quite a bit of a heel to it, we feel the need to address the effect heels have on overall comfort levels.
If you're looking for a heeled design, then look for two things: heels which are three inches or lower in height, and those which are thick, blocky in shape. A lower heel will ease the strain off of the ball of your foot, minimizing pain in the process, and a chunky shape will provide you with stability and a solid foundation for your steps.
Now, we realize that the Pleaser Delight falls into neither of these categories, but it does have a type of a heel which is more comfortable than the rest - a platform heel. A platform means that there is an added height under the front of the foot, which widens the angle between your heel and your toes and makes you feel as though you are wearing heels that are lower than they actually are. It's a pretty neat trick to use when you're dead-set on wowing your surroundings in sky-high stilettos.
Style
Footwear with fuzzy lining is a very broad category. As a result, the styles you can find in our guide are also quite diverse. There are options you can wear both indoors and outdoors, such as the Crocs Freesail, there are classic winter boots like the Cior Snow Boot, the Bogs Amanda, and the Sam Edelman Tilden, and there are also some casual, everyday options for mild weather, such as the Toms Classic and the Bobs Skechers Slip-On. What is probably the most surprising is a heel with a fluffy lining, such as the Pleaser Delight.

Boots are definitely in the lead here, as they are the type of footwear which gives us the most benefits when lined with plush. After all, boots have the purpose of keeping us warm in cold weather, and a great way to do that is to have a wool, a shearling or a fleece interior to keep us cozy and toasty.

The two types of boots we have in our list are the typical, bulky winter options (the Sorel Glacy Explorer, the Crocs AllCast Luxe), and styles which are less chunky and more fashionable, like the Sam Edelman Tilden (though a thing could be said about its chunkiness as well), and the Ugg Chaney.

When it comes casual footwear, not reserved for extreme conditions, then the Toms Classic and the Bobs Skechers Slip-On are the right way to go. These actually sport the exact same style, by the name of Alpargata, and represent a great option to wear when you want something lightweight and cute. These Alpargatas are so easy to wear and lately, they have been all the rage, if fashion blogs are anything to go by.

Finally, if you wish to be the life of the party, there is the Pleaser Delight. It is a heel like no other, and while it is not suitable for all occasions, you won't regret taking it out to a club or a dance party with your friends. Its extremely high heel makes it a bit difficult to walk in, but it also elongates your figure and adds undeniable sex appeal to your look.

Whether or not you should buy a specific style of footwear depends entirely on your personal taste. What is your own style? How does this design fit in with what you have in your wardrobe? Will it look good on you, and will you feel confident in it? Answer these questions, and there is no reason why you won't love the choice you make.
Versatility
As we are known to say on this website, we love a design which can serve multiple purposes. An option you can wear to work or school, to a cocktail party, perhaps even to a casual stroll through the city is a great one, because it saves you the effort of choosing what else to wear, of going home to change your footwear, or to come up with a new design to buy for that specific event.

Versatility is necessary for this modern era when the time is precious and we can't afford to lose it on something as trivial as stressing over what shoes to pick.

This is why we have also ranked the designs in this guide according to their versatility.

At the top, we obviously have those which can be worn on most occasions - with jeans, shorts, even dresses - like the alpargata designs. These are casual, that's true, but they are suitable for almost any situation you find yourself in if the weather is nice.

If the weather is not so nice, then a good alternative is the Ugg Chaney, because it is a boot which also goes well with any outfit combination. You can wear it practically every day as long as it's not too hot outside.

Other designs are a bit more specific in style and are great either for only snowy/rainy conditions or for very special outings or parties. That is not to say that anything is wrong with these choices - only that, if you're looking for something you can wear day in and day out, maybe they're not the best option.

However, one particular design bears mentioning, and that is the Crocs Freesail. While it isn't necessarily stylish, it is the only item in this guide which can be worn both indoors and outdoors. This is a perfect solution if you are looking for those cozy house slippers that you can also take with you outside, without fear of getting cold or uncomfortable on the streets.
Durability
At the very end of our criteria section, we talk about durability, or how long a design can last. This aspect is influenced by many factors, such as what materials the shoe is made of, how it is constructed, how often you wear it, and how hard you are on your footwear in general.

In terms of materials, natural ones are always more durable than synthetics (unless the synthetic is rubber). Leather, suede, wool, and rubber are extremely durable and with the right treatment and conditioning (in the case of leathers), they will hold up well over time. These types of designs might even last you decades.

In contrast, canvas and entirely plush materials are not as long lasting. These materials are thin, getting easily frayed, and showing signs of wear and tear after only a year, or maybe even several months, of regular wear.

There is also a material that is unique in its characteristics that we've mentioned many times before - the Crocs Croslite. It is not a rubber material, nor it is plastic, but the one design made of this, the Crocs Freesail, is one of the most durable items in this guide, second only to the Bogs Amanda.

While it is nice to know how long you can expect a shoe to last, this is not something you should worry too much about. After all, footwear is meant to be worn, not kept in the closet, and sooner or later, it will reach the end of its lifespan. You may tweak this a little, by choosing a design made from genuine natural materials - which costs more, but is also more durable - or you may choose to go the less expensive route and switch your footwear every couple of seasons or so. It is really all up to you and how important the life of a design is to your decision-making process.
Our Favorites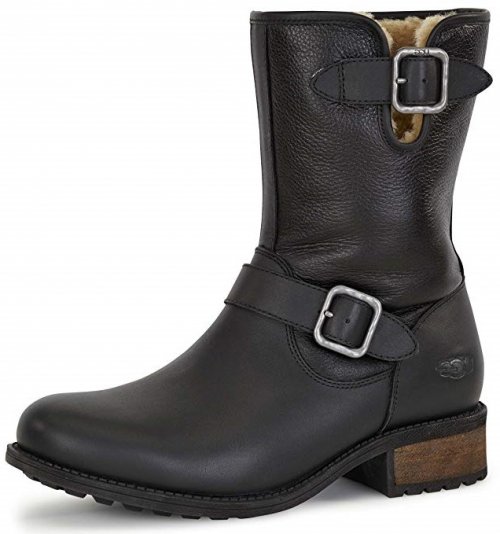 A design from Ugg which is far more stylish than their classic slipper boots, the Chaney is both aesthetically pleasing and functional. It is not a standard winter boot design, but one that is more elegant, a bit edgier, and a lot easier to wear to most casual events in the colder months.
The Chaney boot is made out of genuine water-resistant leather. The fact that it is leather means that it will last for a long time to come, especially with a little care and conditioning. There is a zipper in the inner side for an easy way in and out of the boot, as well as two buckle details for a little bit of punk interest.

The inside of the Chaney is lined with natural wool - that plush effect - for insulation and breathability. This boot comes with a cushioned footbed covered in 7mm curly UggPure. UggPure is actually natural wool that is woven into a durable backing to provide even more soft comfort and warmth preservation.

Finally, at the bottom of this bootie, there is a molded rubber outsole to keep you well-balanced on all types of surfaces.

The Ugg Chaney is definitely a step to the side from the Uggs we're used to, but we don't particularly mind it. It is still comfortable, made out of the finest, most high-quality materials, and it will serve as a fine, fashionable winter boot when the summer dies down.



Crocs Freesail is similar in design to the classic Crocs clog. However, this one is created specifically for women, those who have narrow and slim feet, so that they are not sliding around inside the clog. The Freesail plush version comes with a soft, fuzzy lining that keeps you cozy and warm no matter where you decide to go.
The reason Crocs are so popular is their trademarked Croslite material. The Crocs Freesail is made out of this closed-cell resin material which provides cushioning like foam, but also has antimicrobial properties and prevents the development of bad odors. The Freesail comes with Dual Crocs Comfort, which means that it has deeply cushioned footbeds and supportive Croslite outsoles.

This version of the well-known Crocs silhouette doesn't come with a back strap - you can simply slip on the Freesail whenever you wish, and be on your way! You can wear it both indoors and outdoors, to a walk around the block, down to the grocery store, or even as amazingly comfortable house slippers.

While we're used to stylistically questionable water designs from Crocs, the Freesail is something entirely new. Its comfort is guaranteed by the technology that's built into it, as well as the Croslite material which has to be experienced to be believed. If you are looking for something refreshingly comfortable and casual, the Crocs Freesail is just the right choice for you.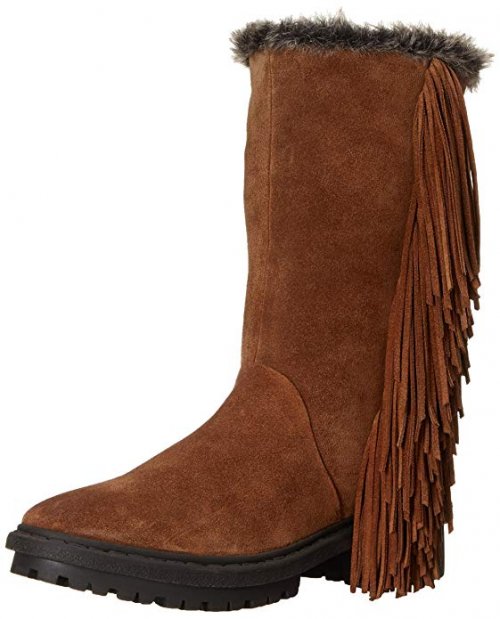 Sam Edelman is a designer who specializes in affordable luxury, in an aesthetic which is both youthful and sophisticated. The Tilden boot is exactly that - made out of high-quality materials, with a playful fringe detail in the side, and a comfort that you will find a hard time saying no to. Chanel your western style with the Sam Edelman Tilden, a boot that is as fashionable as it is functional.
The Tilden is made out of genuine suede, down to the interesting fringe accent which moves as you move. It has a snake-patterned overlay in the back as an unusual contrast, as well as a zipper in the inner side, to make it easier for you to put these on and take them off at the end of the day.

The entire interior of the Tilden is lined with synthetic plush, all the way up to the cuff. This preserves warmth and keeps your feet - and legs - nice and toasty throughout the wear. On the bottom of this boot, there is a lug outsole made from rubber which ensures that you won't slip or skid on any type of surface.

The Sam Edelman Tilden is definitely a youthful design, though that shouldn't stop anyone from getting it! It is adorably fun with its cascading fringe and a hint of a snake pattern in the back, and while it is not built for the most extreme of conditions, in mild, dry winters it will definitely serve its purpose.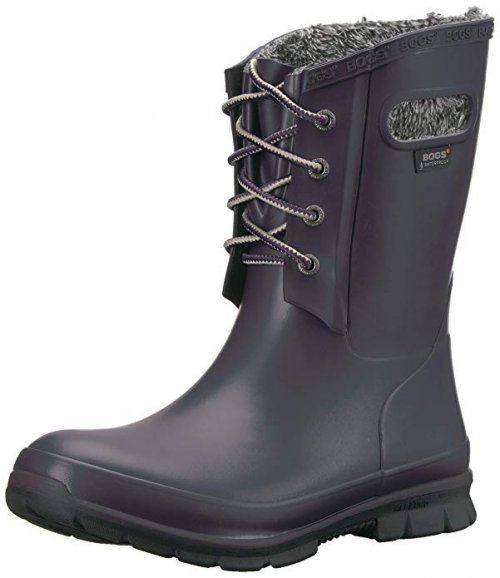 From a brand which specializes in urban and outdoor footwear comes the ultimate winter boot - the Bogs Amanda. It is 100% waterproof, lined with plush for warmth and comfort, and it will be your most faithful companion come winter. In the Amanda, you will not be able to wait to leave the house, no matter how cold it gets outside.
This sturdy boot has an upper completely made from rubber. As we already mentioned, there is soft lining on the inside to keep you comfy, as well as pull-on handles in the shaft to help you get the boots on and off without a problem. The lacing system is perfect for adjusting the opening of the boot, as you can loosen it or tighten it however much you wish.

The Amanda boot is outfitted with an array of Bogs-specific technology. There is the Durafresh system for odor control, the Rebound technology which provides shock absorption and support that outlasts the product itself, the Biogrip outsole for chemical and slip resistance, and finally, there is Neo-tech, which is actually an inner bootie that delivers insulation and comfort.

You can wear the Bogs Amanda without fear that your toes will get chilly in temperatures as low as -13F. This design is truly out of this world - it is comfortable, warmth-preserving, easy to handle, and fully waterproof. We can't think of anything more we could possibly want out of a great winter boot.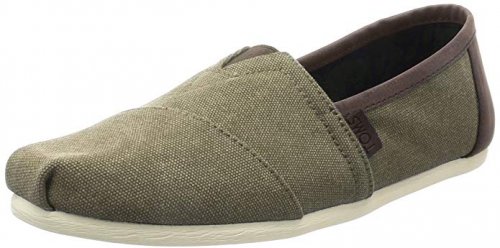 Given that the Toms Classic silhouette can be found in countless versions, from monochrome to cartoon-printed to glow-in-the-dark options, it is no wonder that there is a plush-lined option as well. The Toms Classic is here to meet all of your closed-toe summer needs, and it will do it in effortless style.
This Alpargata flat has an upper made from canvas. Canvas is a lightweight, breathable material which allows air to easily flow in and out of the design, keeping your feet cool and sweat-free in the worst of heats. Additionally, there is an elastic insert at the top of the flat, much like in the Bobs Skechers Slip-On, which stretches out to adjust the fit of the flat to the shape of your foot.

Inside the Toms Classic, there is a molded removable footbed. It is carefully crafted to cradle the contours of your foot, and you will feel properly supported all throughout the day. The fact that it is removable allows you to easily wash the footbed and get rid of any potential bad odors that might develop.

We have talked about the charity aspect of the Bobs collection, and we mentioned how Toms also has a similar one. With every purchased pair of Toms, this brand will donate a new pair of shoes to a child in need. So by getting yourself a pair of these flats, you are not only going to enjoy a cute, light, comfortable pair of shoes, but you will also be helping a kid get a pair of their own! How amazing!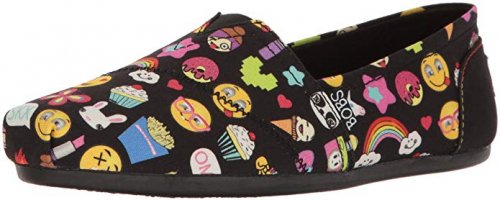 Bobs is a special Skechers collection aimed to help fight animal cruelty. Whenever you purchase a pair of Bobs shoes, this brand will make a donation to help save the lives of dogs and cats. This is very similar in concept to Toms and their charity movement, so it is no surprise that the design of the Bobs Skechers Slip-On is also quite similar to Toms.
In fact, this is what is known as an alpargata design, with stitching accents and a tucked toe pleat front. It is an easy slip-on flat, one that you can wear whenever and wherever you like, made entirely out of plush material, which is why it belongs in this guide. The elastic panel at the top allows for a stretchy fit to accommodate the shape of your foot.

Inside the Bobs Slip-On, there is a memory foam insole for cushioned comfort and shock absorption, as well as an arch pillow to provide much-needed arch support. This is useful for staving off foot fatigue, as well as for preventing medical conditions such as flatfoot. On the bottom of this flat, there is a crepe textured outsole which delivers good traction.

Similarly to the Toms Classic, the Bobs Slip-On can also be found in an array of colors and patterns. It is a lightweight, comfortable design that you can wear day in and day out without feeling even a hint of discomfort. Do a good deed today, and purchase a pair of these cute flats to save a puppy or kitty in need!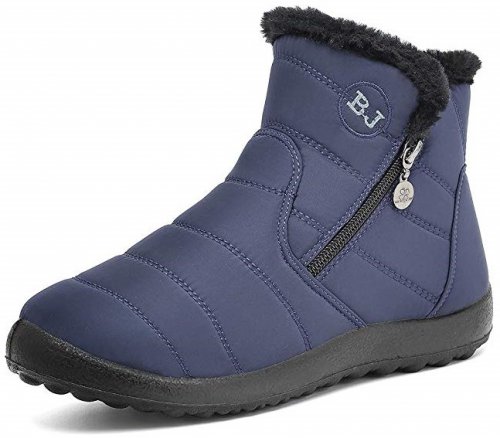 Another snow option in our arsenal - the Cior Snow Boot is that cute bootie that you can take with you on winter vacation. Whether you'll be skiing, sledding, or simply walking, this is an easy, lightweight design to have on your feet at all times. You don't have to worry if your calves will fit inside or not, and it still comes with all the protectiveness of a classic snow boot.
The Cior Snow Boot is made out of oxford fabric, which is soft, breathable, light, and entirely waterproof. It is also very easy to clean with only a damp cloth. There is a zipper design in the side of this boot, which helps you slide it on and slip it off with ease.

The inside of the Cior Snow Boot is completely covered in short, synthetic plush material. When we say completely, we mean both lining and the insole, which will keep you warm all throughout the day. The outsole here is made out of flexible polyurethane that provides slip resistance, and it also has a U-shape toe, which protects your toes from bumps, lacerations, and other collision-type injuries.

It is true that the Cior Snow Boot doesn't come from a well-known footwear manufacturer, and that it is not the most stylish of choices. However, it is an amazingly inexpensive design which will serve the purpose of being a solid, reliable snow boot when you need it the most, and really what more could we ask for?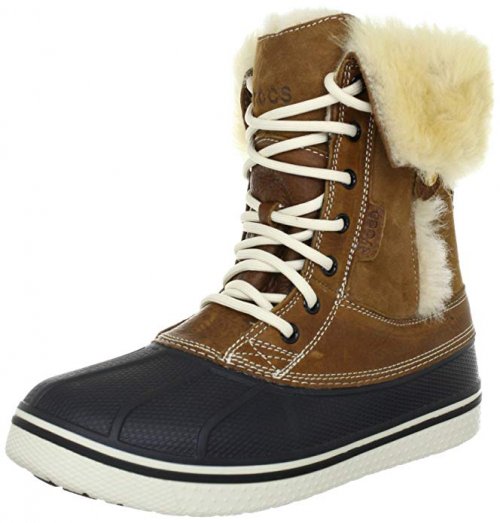 Speaking of unconventional Crocs designs - this is something that you probably didn't see before: a Crocs boot! The Crocs AllCast Luxe is here to keep you warm in the winter, to protect you from the snow, the slush, and the rain, and to make you look surprisingly fashionable at the same time.
This luxury duck boot is made out of genuine suede for that soft finish and tailored comfort, pretreated to be water resistant. There is genuine shearling around the collar, and soft, synthetic shearling as lining, which is exactly what landed this winter wonder design on our list.

Additional waterproofing is done in the form of a seam seal construction, as well as adding a TPR shell all around the boot, for safe trudging through the snow. Inside, the boot is made comfortable thanks to the Dual Crocs Comfort system, the same one which provides cushioned footbeds and that well-known all-day comfort to the Crocs Freesail as well.

Yes, we're aware that Crocs are basically a synonym for summer and splashing in the water, but is it really so hard to imagine a Crocs boot, as well? This design is nothing short of outstanding - it will keep your feet protected from water and moisture, keep them toasty no matter how cold it gets outside, and it's quite a fashionable choice at the same time! A perfect winter option!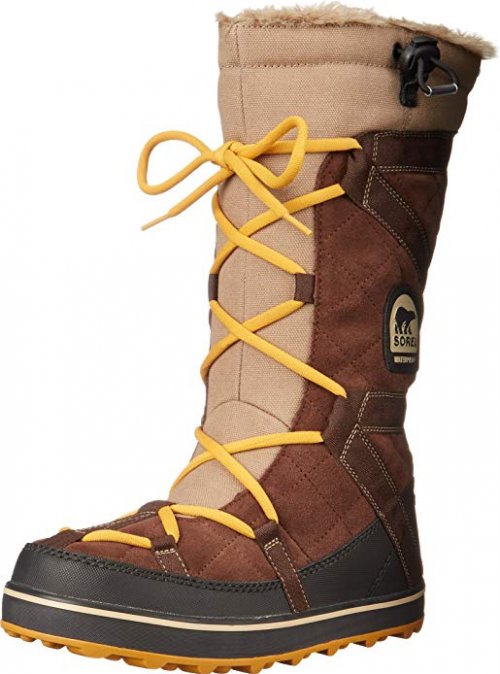 There are very few people who haven't heard about Sorel, the leading manufacturer of outdoor footwear and gear for every type of winter day. The Glacy Explorer is a boot which is a little youthful in design, with sunny yellow laces and a playful take on winter warmth. It is protective, made out of premium materials, and a quite unusual marriage between urban and alpine, we think.
The Glacy Explorer has an upper constructed out of genuine suede and canvas for a touch of breathability. It is entirely waterproof, with a membrane type of construction to keep you warm and dry. Inside, there is a full-fleece lining that gives it that soft, cozy feeling, but which also functions as an insulator.

The footbed of the Glacy Explorer is made from EVA and is fully molded, complete with a heel cup and more-than-welcome arch support. In these glorious boots, you will be able to trudge through snow for as long as you'd like. The outsole is molded rubber, with carefully designed lugs and knobs to provide maximum traction on slippery terrain.

The Sorel Glacy Explorer is not meant to be worn in the harshest of conditions, but it will hold up well against light snow. The colorful touch on the lacing system adds some flair to the design, and if you're looking for a combination of trendy and winter wonderland, then you have come to the right place.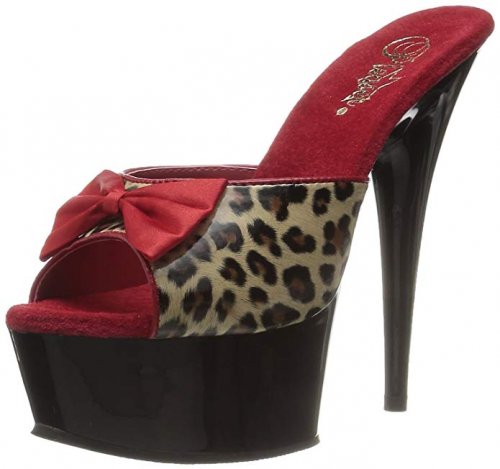 We're stepping away from the bulky winter boots and casually cute flats, into a world that is far more exotic, sexier and downright fearless. Meet the Pleaser Delight, the fanciest, boldest design you will encounter in this guide. It takes both guts and skill to be able to walk in these sensual beauties.
The Pleaser Delight is a peep-toe pump with a synthetic upper with a leopard print on it. It comes with a dainty bow accent at the front for a touch of sweet femininity in that va-va-voom effect. There is a plush footbed lining which makes you feel like you're walking on clouds every time you take a step in these breathtaking heels.

Speaking of heels, the Pleaser Delight comes with a stiletto heel of approximately six inches in height. While that may sound scary, there is a benefit in the form of a two-inch platform in the front. This platform eases the pressure off of the ball of your foot somewhat and makes you feel like you're walking on four-inch heels instead.

We're not going to lie - this pump is not for the weak of heart. It is also not for everyday use. Rather, this gorgeous option is for when you wish to be at your best, when you want all eyes on you and all jaws dropped to the floor. If that happens to be exactly what you're looking for - then, by all means, don't let us hold you back!

Subscribe to our Newsletter