Best Skis Reviewed & Rated For Performance
In a Hurry? Editors choice: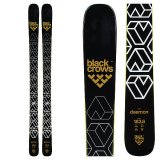 Test Winner: Black Crows Daemon

Skiing is one of the best
wintertime activities
. Not only can you experience the thrill of feeling the wind in your face, but you might also discover an entire community passionate about the same things as you. For those who are intermediate or advanced skiers, there is still always something you can improve or experiment. Overall, skiing is an exciting and
diverse sport
where there is always something new to learn.
Standout Picks
Criteria Used for Evaluation
Brand
They say a product is a promise made, but a brand name is a promise kept. For quality brands to stay relevant for generations, it has to consistently deliver or overdeliver on the performance of its products to survive and thrive.
When you consider athletic apparel brands, such as Lululemon and Nike, or even other industry brands, such as Microsoft, the one thing they all have in common is that their products are so compelling, a consumer continues to buy from them year after year. Whether it's yoga pants, running shoes or Windows, the brand name behind the product is a signal of quality, innovation and satisfied customers.
In our search for the best set of skis, we considered many factors. From speed to responsiveness, performance tends to correlate strongly with brands like the ones that adorn our 10-best list. For this criterion, the higher the score, the better we, and the community of buyers have judged the manufacturer to be. Whether it's great products, innovative features, stylish designs or great value, each brand on our list has something to offer you.
Speed
Although the edges of a ski may seem insignificant, they can affect your performance by a landslide. The radius of the sidecut will determine your ability to turn and pivot: the smaller the sidecut radius, the tighter their turns will be. Similarly, a larger sidecut radius will make larger turns; however, don't assume that the radius size signifies the actual radius of your turns - it's more like the maximum radius the turn could be.
Recently, new technology has been used in skis where the radius of their sidecut changes along the length of the ski. This provides skiers with one turn radius when leaning their weight forward, and another when leaning back.
Another factor is the sharpness of the edges. Those that are smoother and sharper provide more edge control, as they cut more easily into the snow. Ideally, a good pair of skis comes with sharp edges, but these will likely wear out and become dull with time. You can check their sharpness by simply dragging a fingernail across the edges. If the edge can scrape a bit off of your fingernail, that's a good sign. However, if they're too dull, don't assume your skis are ruined and immediately rush to the store. You can sharpen the edges yourself. We explain this in more detail in the FAQ below.
For this criterion, a higher score means the ski likely is sharper with a smaller sidecut, allowing for increased speed.
Responsiveness
As a general rule, stiffer skis are more responsive. This renders them easier to control at high speeds as well as provides better edge hold in hard-packed snow; however, they are also much less forgiving and are prone to mistakes, since they will respond to very small inputs that may be accidental. This is especially likely for beginner skiers who are not yet familiar with skiing. It's also harder to release an edge hold with stiff skis, which makes it harder to recover from a mistake.
If you're a beginner or are planning to ski on inconsistent terrain, it is much better to opt for a softer, more flexible ski. These are less responsive and are also suitable for tricks. Overall, it's crucial to consider stiffness about your skill level so that you can pick a pair of skis that can serve you best.
For this criterion, a ski that scores higher is stiffer and more responsive; however, it is also less suitable for beginners.
Size
Picking the right ski size is no easy task. There are no formulas or magic tricks that will tell you the exact measurements perfect for you, as different factors such as terrain, snow type, and personal preferences all play a part in your decision. However, height and weight are used as a reference and can give you an idea of what to look for. Generally, you want to find a ski that, when upright, comes up somewhere between your chin and the top of your head.
A shorter ski is ideal for beginners. These are easier to turn and to maneuver but provide less stability. In terms of turning, these will allow you to make short, quick turns but won't go very fast, thus rendering them ideal for skiing at a shorter length. As well, if you weigh less than average for your height or prefer a camber profile, a shorter ski might be for you.
On the other hand, skis that are longer are excellent for speed. They won't allow you to turn as quickly but will give you great stability that is perfect for all mountain skiing. They tend to be harder to maneuver and control for beginner and intermediate skiers but could be suitable for more advanced skiers. Also, if you're physically heavier for your given height and prefer rocker, it may be better to opt for the longer skis.
The higher the score on this criterion, the longer the ski is, resulting in increased performance, speed and maneuvering; however, higher scores on this criterion also mean less suitability for new skiers.
Value
Value can be loosely defined as the sum of what you get from a product divided by the amount of money you have to pay to acquire it. In the context of skis, you might consider the factors in our criteria section as part of the sum of what you get. Features like speed, responsiveness, style, durability, and ease-of-use all calculate into the joy you get from your new set of skis. The question is: is what I am about to pay worth what I am about to acquire? That's exactly what this criterion was designed to evaluate.
It's important to remember that value is not the same as cost. A set of skis that cost half the price of the other may, on its face, seem like a better deal; however, if those skis don't perform, or get damaged after a few uses, your cost-per-use is higher than the pricier skis that bring you performance and bliss year after year.
In this criterion, a higher score means that we've judged the skis in question to deliver a higher level of performance, ease-of-use, durability or some other benefit, for a lower long-term cost than a competing product on this list. But don't forget: while we can rank each of these skis in a general way, you are a unique buyer, with different skill levels or preferences than someone else. Our ultimate advice to you to make the best choice: think long and hard about what you're looking for in a ski. Don't buy the most expensive if you don't need to, but don't cheap out and regret your choice, either.
10 Best Skis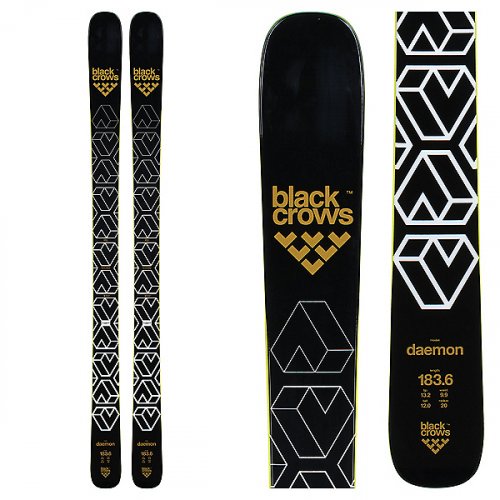 The Black Crows Daemon skis have a full reverse camber that helps you make quick and easy turns when you need them. The Titanal metal layer keeps you stable even at high speeds. Definitely don't overlook this lesser-known brand as you'll find plenty to like in the Deamon skis.
The flex on the Black Crows Daemons is a Progressive Flex. That makes it soft towards the tip and tail while stiffer underfoot. With a poplar wood core and titanal laminate, they are bouncy, light, and agile.
To give you an easy time pivoting and cutting curves, the Daemons have a Full Reverse Camber. You'll be completely set for those gorgeous powder days. For help with bindings, the brand recommends a brake width equal to or up to 15 mm wider than your ski at its widest.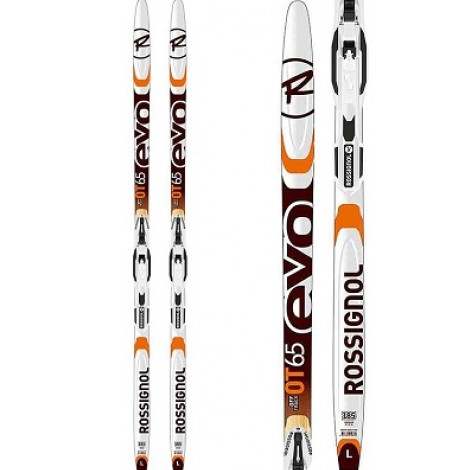 The Rossignol OT 65 IFP are designed for getting into the fresh tracks in the backcountry. You get superior control in variable snow conditions and a model that is narrow enough to travel in established tracks but wide enough to be stable when cutting your own tracks. Made for the experienced backcountry skier, this pair will not disappoint.
The smooth flex and partial metal edges on the OT 65 IFP work together to provide you with great backcountry performance and a confident feel no matter where you are – cutting track across a frozen lake or kick-turning up steep slopes.
They have a wooden core with an air channel to keep them lighter. They have Rossignol's active cap construction as well which means they are designed for more than gliding along a track – they will get you deep into the backcountry in no time.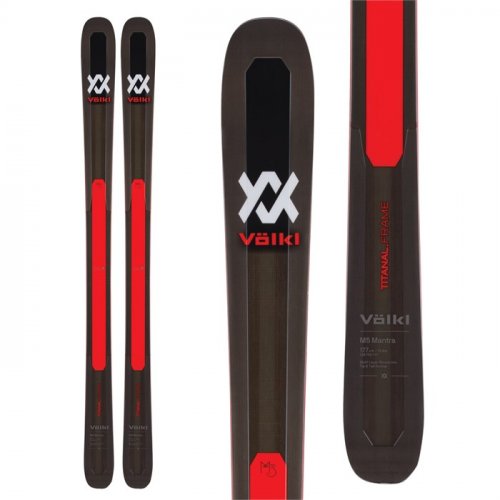 The Völkl Mantra has been around for years and has never failed to disappoint. This updated version has even better features. With a fully rockered profile, these offer excellent float on soft snow ensures smooth turning. A pair of Titanal laminate layers keeps them smooth regardless of speed. Combined with a full sidewall and multi-layer wood core, these all-mountain skis are definitely worth the consideration.
With its full rocker, they have a smooth bend from tip to tail. Combined with its matching sidecut, they offer uninterrupted edge contact that guarantees smooth and stable movement.
The core is composed of two different types of wood of different densities. The denser wood creates improved screw retention while the softer wood allows for resilience and snap.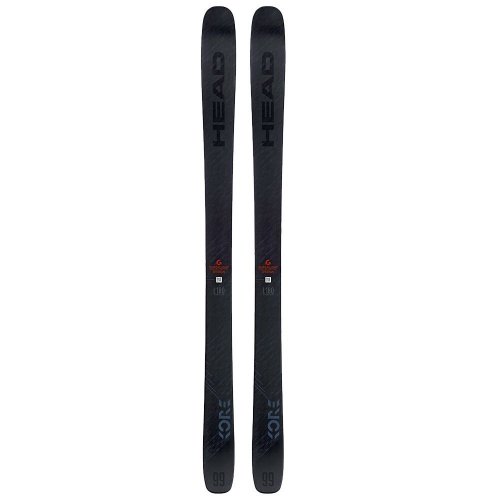 The Kore 99 from HEAD is a lightweight yet stable ski that is snappy yet also precise. The carbon, Graphene, and Koroyd materials come together to give you a powerful ride. Unlike the other Kore models, the 99 has a stiff touch, especially considering its weight.
The HEAD Kore 99 has a great edge grip while on firm snow. Many users notice the snappy energy you receive coming out of turns, and they feel different than skis with made with metal.
With the Kore 99 being a new option, we think it will start to become a popular choice among more experienced skiers. The Kore 99s can be wide enough for powder, but they are also great on firm snow. They are an all-around ski great for those looking for a ski for any condition.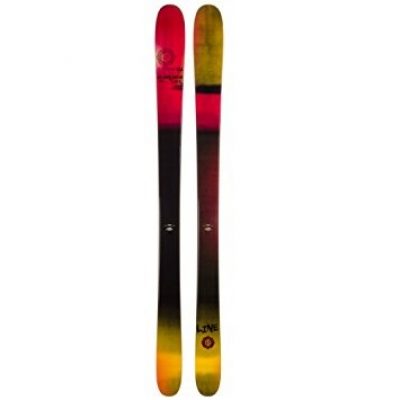 Ideal for classic all-mountain riding, these will maximize your carving performance like no other. Its narrow waist offers quick energy transfer from edge to edge. As well, its twin-tip shape allows for tricks, which renders them suitable for half-pipe skiing as well. However, these don't do very well on inconsistent terrain such as rough snow. We recommend these to intermediate skiers or people who want to experiment a bit but will stay at a moderate speed on consistent, soft snow.
Sliding short radius turns are no problems with the Line Sick Day 95. Its sidecut allows you to slide smoothly and maintain your balance in swift turns.
Though these are best for all mountain skiing, they can perform equally well on groomed runs. Their stability is maintained even at high speed.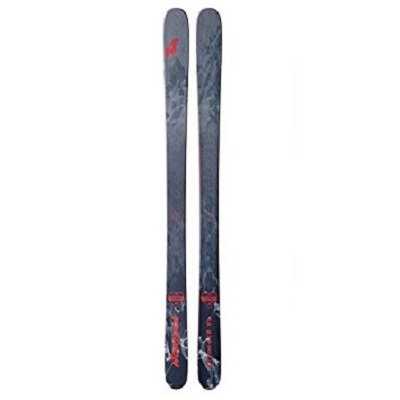 Last but certainly not least, these skis by Nordica close our list with a brilliant design. These are more narrow than its preceding Enforcer skis, but their performance doesn't falter. Featuring a slight tip and tail rocker that contrasts with the camber underfoot, this skiing apparel provides amazing velocity and floatation. They make excellent turns in all types of snow and offer great edge grip. Also, their sidewalls help to dampen hard landings and minimize fatigue in the legs. They may cost more than your average pair, but their great features and high quality renders them a worthy purchase.
They might have minimal tail rocker but are still excellent when turning. They allow you to release your edges with ease and make pivoting turns, in addition to offering more floatation and maneuverability in soft snow.
These skis feature a full ash and polar wooden core with two sheets of metal over their edges, providing excellent power transmission and torsional ability. They also enhance edge grip and makes turn initiation easier than ever.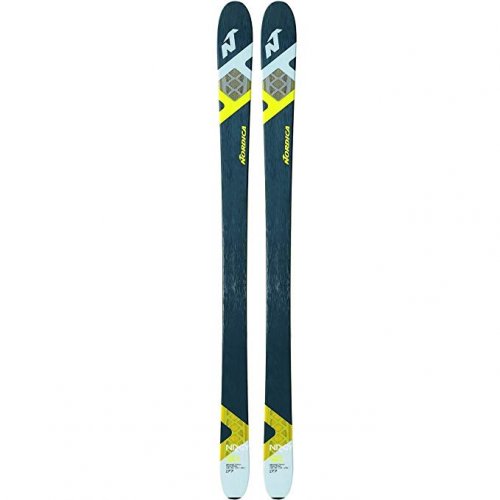 These skis can handle the frontside, hardpack, as well as the deep snow you find between the trees and on virgin mountainsides. The float is excellent in the ski, and there is a camber under your feet for stability. You can get maximum power and speed from this set without the weight.
Nordica has added a titanium layer to this model that provides torsional stiffness for maximum power and stability at higher speeds. Despite the stiffness and length, these are also an incredibly lightweight set of skiing apparel.
The rocker tip in the front adds float and makes turn initiation very easy while the cambered body and tail on the pair add grip and stability for carving through snow at higher speeds.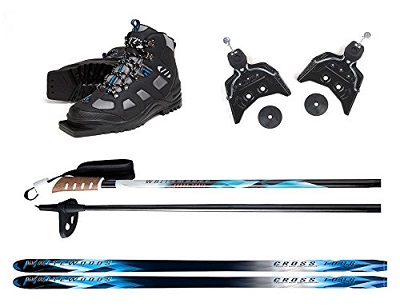 A complete package for smaller skiers – boots, bindings, poles, and skis are all included, which is great for beginners. These are a cross-country touring ski with a laminated wood core and lightweight construction. They are designed for ease of use, and the boots are durable with a removable insole, toe protection and a D ring for gaiters.
Rather than worrying about ski length, binding sizes, boots sizes and the like, the beginning or infrequent skier can order these based on their boot size and weight (skiers should be 120 – 150 pounds). Simply put your boots on, step in and go.
Though they won't get you into the back-country and over rough trails, they will provide a lot of winter fun touring the cross-country trails. Designed to be lightweight and strong, you will enjoy the ease of use of these skis.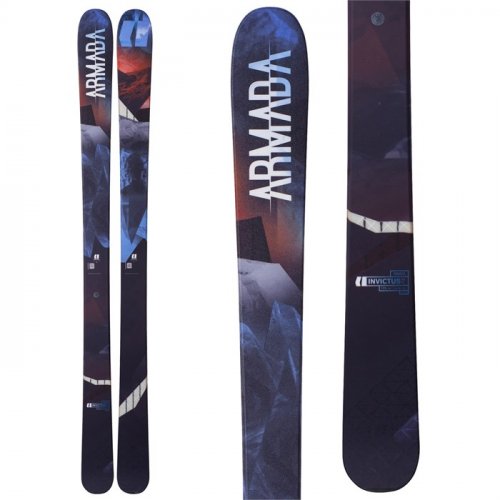 Like the larger Invictus 108 Ti, this scaled down Armada Invictus 99 Ti Skis are designed with one thing in mind: to allow you to hit speeds you never have before. You will be speeding down the slopes faster than you ever thought possible.
The AR Nose Rocker has a traditional sidecut profile with a tip rocker for all mountain skiing. The Power-Lite Core gives you stability, power, and control. With a tip rocker, but no tail rocker, directional skiers will be happy.
The Camp Series Base is Armada's fastest base. The 2.2 Impact Edge is heat treated and built to avoid excess weight but is still durable. You can eat up any kind of condition on the slopes. From hard-pack to powder, you'll be set.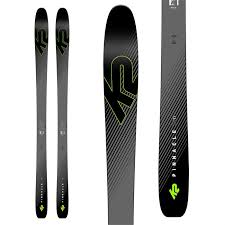 These all-terrain skis are a mixture of fir and Nanolite Konic core material. The All-terrain rocker profile gives you nimble skis that help you get down the hill quickly and lithely. You won't be disappointed with these if you're looking for a pair of skis that will take you from hard-pack to powder and beyond.
The wooden core, sandwiched construction of these makes them both very lightweight and durable for many seasons of downhill winter fun. The tapered tip/tail design shifts the contact points on the snow toward the midsole to help reduce deflection in the tip and ease turn release in the tail.
The Nanolite Konic Core is specific to K2. The Nanolite is in the Freeride Pinnacle collection. That means it's super lightweight, low-density and made from a composite core that helps reduce swing weight.

Subscribe to our Newsletter