Best Pleaser Shoes To Please Every Palette Reviewed & Rated
In a Hurry? Editors choice: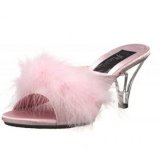 Test Winner: Belle

We can all agree that in a market with hundreds, if not thousands, of different brands and products to pick from, companies need to do something different in efforts to stand out. Last time you walked into a shoe store, were you eyeing that plain pair of sneakers, or were you captured by the
sleek, elegant heel
on display? The choice is obvious, right? Well, there is one brand in particular that has mastered the ability to capture the eyes, hearts , and feet of consumers around the world.
We are talking about Pleaser. This brand has become one of the most infamous manufacturers of footwear, thanks to their
stellar designs
, great materials, and quality innovations. For today's buying guide, we are going to share with you the best from this brand whose style is
so clearly sexy
.
Standout Picks
Criteria Used for Evaluation
Materials
The one thing that consumers should know is that every single product is designed differently! Each brand has a wide selection of materials to pick from and, as responsible consumers, it's important for us to know what materials make up our footwear. This can help us understand whether or not the product is high-quality, comfortable, durable, or a waste of money. In addition to this, knowing the material could answer any future questions, such as how to clean the footwear.
Now, as we said, there is an assortment of material choices, including:
Leather
Plastic
Polyester
Suede
Velvet
Rubber
Canvas
Vinyl
That just a few of the most common choices that manufacturers use. Our goal with today's buying guide was to highlight products that are made from the above materials and the highest grade of them.
Durability
When it comes to evaluating a piece of footwear, the best way to assess the quality is by looking at the three different soles, which we will share with you below. There is the outsole, or the bottom of the shoe, the midsole, or the middle part of the shoe, and the upper, which is the top, forefront of the shoe. Each of these holds a very strong part in the overall durability, comfortability, and stability of the shoe.
Outsole: As we stated above, the outsole is actually the bottom part of the shoe. Typically, manufacturers construct the bottom part of any footwear from rubber as this is known to be the most durable and best for traction purposes. When it came to today's buying guide, we carefully looked at the way each footwear was constructed and whether or not Pleaser infused any special properties into the outsole. What we can conclude is that this brand typically uses the same materials for the majority of their products. So, what you find in one heel is very similar to that in another shoe or pump. Now, this particular area is known to be the glue that holds the whole shoe together. So, if this is made from anything other than quality rubber, chances are, you will want to skip the product.
Midsole: If you ever owned a pair of shoes that were incredibly uncomfortable, chances are, it lacked quality in the midsole region of the shoe, or heel. Now, fortunately, this brand made our research very easy because every one of their shoes is known for their comfort. Typically, this brand infuses some degree of comfort padding or cushioning into their footbeds, making their products easy and fun to wear.
Upper: If there is one part of a shoe where this brand exceeds expectations, it's in the upper. If you look at any of the products above, almost in each case, the upper is designed with the maximum style and fashion – and of course, quality. What we discovered is that this brand really focuses on providing the individual with as much control over their comfort as possible. Whether this means using adjustable straps, back lacing, or an enclosed toe box, they have done it all.
Style
Now, before we begin talking about design and appeal, we want to say one little thing. When purchasing a shoe, the design and the appeal should never be the first reason why you are purchasing it. That's a key indicator that it may be lacking quality somewhere else. However, it is still important to look at the design and appeal because, well, we care about the looks of the footwear.
With that being said, we really tried to share with our readers quite a diverse option of products from this brand, ranging in style, colors, and design. We also know that design and appeal can be quite objective. In other words, what we find stylish or trendy may not be as favorable to someone else. So, with each product, we always looked at the consumer reviews to ensure that we were not the only reviewers that adored the design. I mean, can you really compete with a unicorn horn and colored heel?
Fit
We all know how hard it can be sometimes to find the perfect pair of shoes that we not only love, but that also fit snugly and comfortably. With so many styles, brands, colors and models, how can one compare hundreds of supposed "size 6s"?
To assess for trueness-to-size, we considered the opinions of thousands of wearers from across the globe to find out the answer to the ultimate question: do these 6s fit like a 6? While some things can give you a hint as to whether they will fit true, small or large; like brand name, shoe type and year of make; we believe that the opinion of buyers cannot be wrong. If they say the shoe doesn't fit the way it's supposed to, then you won't find it in our 10-best list.
You will find that products that score high on this metric tend to experience a trueness-to-size that was verified by our large community of sampled buyers. Just don't forget to take into account the factors above to also make sure your favorite pair will fit you perfectly.
Value
If you are tired of purchasing products that are not worth the money, it's time to start doing some more research on the cost and the value. Understanding the correlation between these two concepts can prove incredibly beneficial. Now, it's not too challenging, but it does require a little bit of effort and time.
Before we started today's buying guide, we actually scanned a wealth of different Pleaser shoes. We wanted to know what the average price tag was for a pair of footwear from this brand. Now, to figure this out, we had to find the highest priced footwear and the lowest price footwear. Through doing some simple math, we were able to create an "average" or estimated market value cost for a pair of footwear from Pleaser.
Now, this number was then used as we assessed each product. We would compare how the current product compares to our calculated market costs. From there, we would carefully study the value of the footwear and really assess whether or not the price tag was worth it. With the more footwear that we assessed from the brand, the easier it became to evaluate products based on value and cost.
So, no matter the type of product you are interested in buying, by simply doing some extra research it could prove very beneficial.
Top 10 Picks


When it comes to the Pleaser brand, there are so many different types of footwear; however, there can only be one at the top of the competition. In this, there is where products like the Belle Sandal reside. This product speaks volumes about the brand's dedication to quality, sexy designs. Here is what you can expect from the number one product!
Four Options
For beginners, this manufacturer has made this popular product in four different colors and design. You may choose from white, pink, black, or red, all of which are wildly popular, and sexy. Our favorite part of this design is the cool puffy materials on the top of the upper. This will help you stand-out and empower sexy, confidence.
Satin
What really captured our attention with this product is the way it was designed. Typically, in sandals, manufacturers will use plastic materials. However, in efforts to offer quality, this brand used satin and synthetic materials.
Cost and Value
As far as cost is considered, this item is actually one of the most affordable choices from this brand. Not only is a low-price tag a motivating factor, it really comes down to the sexy design. Consumers boast and proclaim that, as far as fashion and appeal go, this product captures both quite effortlessly. Oh, did we mention it's also very comfortable?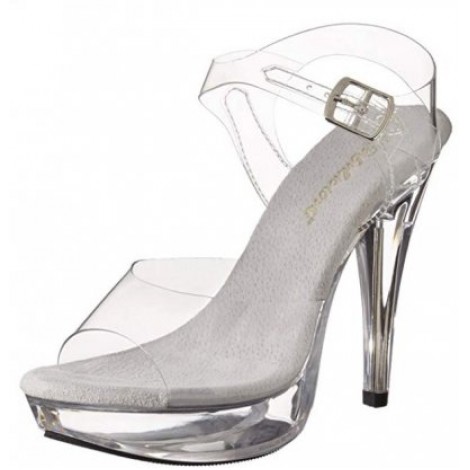 Are you looking for the perfect cocktail footwear for a wedding? Well, look no further than Pleaser. This brand has designed the Cocktail, a clear, elegant, and luxurious product that is considered one of the most popular footwear from this company. With that being said, let's see how this product can spice up your next cocktail hour.
Clear Design
The biggest selling point of this product can be found in its design. If you look at the image above, one of the first things that you will notice is the clear upper. Many previous consumers touted and praised this feature as it gives the individual who is wearing these a unique appeal.
Good Closure
Are you looking for a pair of shoes or heel that offer some adjustable comfort features? Well, this brand designed this shoe with a unique, and stylish, adjustable buckle system on the ankle. This way, consumers can customize their comfort and the fit of the product to their preferences.
Cost and Value
When it comes to cost and value – this item is offered at a quite relative price, in comparison to what this brand sells. Made from quality materials and a few comfortable features, this is a great choice for the consumer that is looking for something a bit less loud in its appeal, but clearer and more elegant.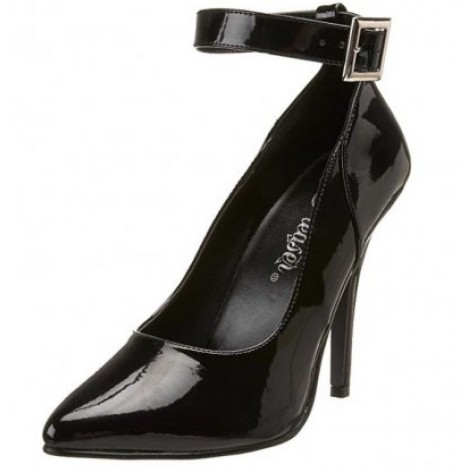 As the name implies, the design of the Pleaser Seduce is designed to capture and seduce the consumer's eyes, heart, and feet. It's sexy 5" heel design is what has consumers all around the world flocking to try these on. If you are looking for footwear for an upcoming date or to impress a loved one, this footwear will, well, seduce them.
Ankle Strap
If you look at the top of this heel, what you will notice is an adjustable buckle. Now, typically, consumers will pass over this feature, not realizing its importance. Thanks to this feature, consumers can truly customize their own fit around their ankle, preventing blisters and other types of discomfort.
True to Size
For the first time on our list today, we have a product that was designed and focused on being a perfect size. The brand markets this as "true-to-size" and, many of those who have tried this, have confirmed this. This is an impressive feature that many people can appreciate.
Cost and Value
Let's talk about cost for just a minute. This product is actually priced quite relative and fairly to a few other footwears offered from this brand. What sets this product aside is its shiny, seductive design. The best part, consumers can choose from a black, white, and vibrant red design, all of which are equally captivating.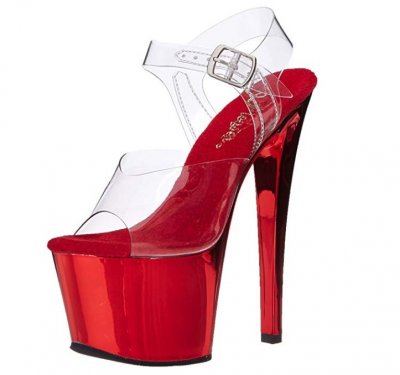 Looking for that special somethin' that'll turn you into a boss bitch while turning heads? Boom goes the dynamite with the Sky heel. This subtle, sexy design is understated enough to wear almost anywhere. Looking to boost your confidence at the office? Pair these with your favorite LBD, and work what you got.
Understated Sex Appeal
Although this may be too risque for some environments, we think the Sky will fly in most offices. It's sexy, but subtly. The modest heel and simple design turn head and make you the center of attention... without compromising your professionalism. There is no better way to be large and in charge than with the right pair of heels; and baby, you found them.
Two Ways To Wear
Not so in love with the black? Fear not, little love, because the Sky comes in two color options. Black is sleek and timeless, but
Cost and Value
For the cost, this object is without a question, worth it! It's one of the more affordable choices, offering one of the best and sexiest designs that we are going to talk about today. If you are a fan of stilettos and seeking some comfort-infused features, this may just be the choice for you.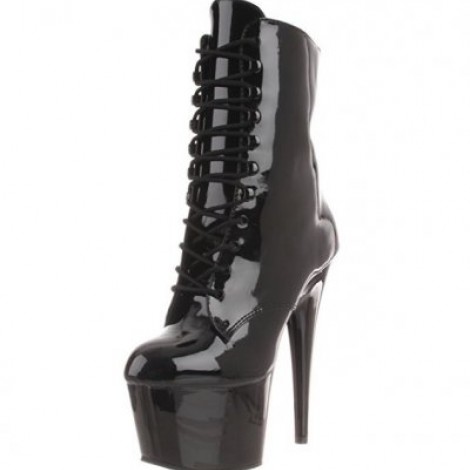 Standing in the middle of the competition, Pleaser offers the Adore boot. This is a sexy and empowering option, offered in different risqué designs. This pair is perfect for the individual looking to spice up their evening attire or head out to a risque gathering of fellow ghouls.
Sex It Up
For us, the biggest selling facet is the way the Adore was designed. You'll find that this stiletto is both sexy and empowering. The heel helps to lengthen your legs and give your butt a boost. Everybody knows that thick is in, and there's no better way to create the illusion of a big booty than a big heel. If you are looking for a sexed-up style, you'll find it here.
The Platform To End All Platforms
We're sure you've noticed how much height is packed into the Adore's platform. While this makes it wearable only to expert users, it's a helluva choice for those who can handle it. Leather and latex lovers will swoon over the overtly risque design. Whether you're living it up in the bedroom or making a statement out on the town, the Adore is the right heel for the job.
Cost and Value
So, most consumers at this point are probably wondering about the price tag for this product, right? Well, to our surprise, this could be considered one of the most affordable products from the brand. When you consider the actual visual appeal that this offers, alongside the quality and comfort, this is a deal you can't pass up!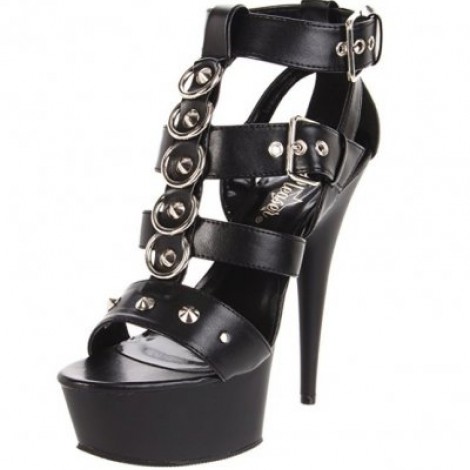 Are you a creepy girl? If you are, you know what we mean. Goth girls who love bats, graveyards, and everything dark will drool over the Delight design. From the studs to the straps, this is a luscious design for the dark-hearted among us. Any mistresses in the house? The savvy Domme will love the boost of confidence and sexy flair this style provides.
Vampy Fashion
This is obviously a design that was intended for those who like to walk on the wild side. Next time you head out to hit the club, these will undoubtedly mark you as a vampy mistress of the night at the least, or a dominant goddess at best. The chains and buckles only add to the gothic aesthetic, sealing this style as the number one choice for goth girls everywhere.
The Little Details
Obviously, there are many design features that have been built into this design. The studs across the T-strap are gorgeous and pack a punch. The rings that accent these studs are a fierce accompaniment, as well. You'll love the understated buckles which aren't loud enough to detract from the rest of the shoe. Pleaser took their sweet, sweet time to design a gorgeous heel to
Cost and Value
This item is priced around the same range of the higher-quality choices from this brand. In other words, it's a bit costlier, but it's not the most expensive on the list today. This can be directly attributed to the quality of the design and its appeal. Additionally, the product is comfortable and durable, which also influences the price point.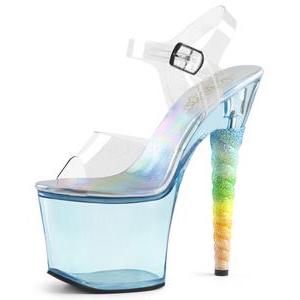 The Pleaser Unicorn will make you feel magical. Between the ombre heel and the sexy, clear design, the Unicorn will make you feel like a bad bitch all around. You know what they say, after all: Keep your heels and standards high. It's true, ladies, and this design covers both. You know what's even better? It's glow in the dark. This is great for all of our exotic dancers, because all eyes will be on you in a dark club.
All Attention On You
We're just drooling over the simple, sexy style that the Unicorn exudes. It's the gorgeous heel to end all heels, and we're here for it. The best feature, though? The feature that's going to sell this the most? It glows in the dark. That's right, ladies. Don't worry about a thing except raking in those tips while you're working a pole because all eyes are going to be on you. No matter how dimly lit the club is, you'll be the star of the show.
Ombre Heel
Ombre is in, and everybody is going nuts for softly blended color combos. Not only does the Unicorn glow in the dark- but it's also fashion-forward as f**k. The pink-to-red gradient is perfect for anybody who wants to step out and show out. Live it up, baby!
Cost and Value
Like a few other products on our list today, this happens to be one of the costlier choices – with good reason. This product offers so much value that we were quite surprised that it was not priced slightly higher – knowing this brand's standards. With that in mind, if you are looking for an outstanding heel that will stand out from the crowd and earn you dozens of compliments, here you go!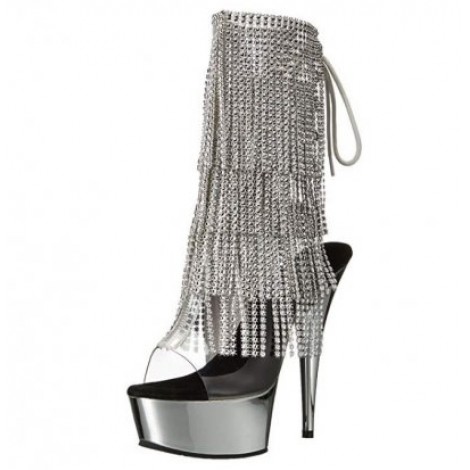 As we start to close down today's buying guide, we could not forget to share with you Del1017 from Pleaser. This is easily one of the most elegant, glamorous, and luxurious looking products that the brand has to offer. If you are looking to stand-out at a New Year's party or simply a night out with your friends, this shoe may just be for you.
A Color For Every Occasion
In efforts to stand-out from competitors, the manufacturer made this item in three different stunning colors. You have the choice between Clear Silver, Fuchsia Chrome, and Red Chrome. Each of these is equally glamorous and worthy of any consumers consideration. These would make a great compliment for any upscale parties, New Year's Eve events, or a fun night out.
Flashy Fringe
We're sure you've noticed the fabulous fringe that is the hallmark of the Del1017. The fountain of fabric beads that hang down around your lower leg is dazzling and absolutely unique to this design. Whether you need to stand out in a crowd or want to seduce your special someone, the Del1017 will get the job done.
Cost and Value
So, if you are curious about the price – we have some news for you. This item is considered one of the more expensive products from this brand. Now, this does make sense if you consider the attention to detail and quality that went into constructing each shoe. In addition to this, the outsole is very durable – making it wearable nearly every day! With that, it's safe to say that the value easily outweighs the costs.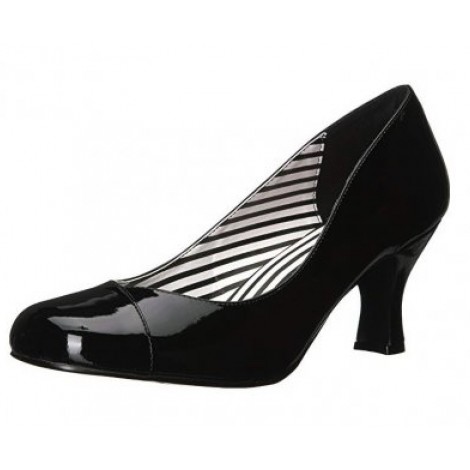 The Jenna Slide Pump from Pleaser is easily one of the most simplistic designs that the brand has to offer. However, consumers and readers should not be deterred from the product because of its simplicity. This is one of the most popular choices from the brand, thanks to its comfortable footbed, durable nature, and great fit. If you are not looking for a stand-out footwear from this brand, but something a bit more laid back and elegant, this is for you.
Simple Pump
For many, the best part about this footwear is its simple design. However, this is not just any regular slide pump. Since this footwear is made from this brand, consumers can anticipate the same quality, comfortability, and durability that all of their other products offer.
Comfortable
The biggest selling point of this product is the fact that it's incredibly comfortable. Consumers have praised the comfort features infused in the footbed of this heel. In fact, people have claimed that you can wear these all day without noticing any discomfort.
Cost and Value
For the cost, this is a decent choice with pretty good value. While it doesn't offer the wild, unique, or stand-out designs like much other footwear from this brand, it's simple, comfortable, and a good choice for the consumer looking for a laidback, subtle heel.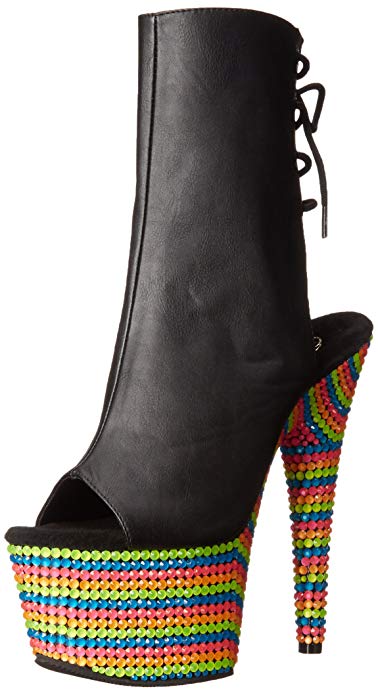 Get your head in the game, and your a** to the dancefloor. The ADO1018RBS Boot will give you a reason to rave through the night. If you love flashy fashion, look no further. This design brings out the best in outrageous designs and is sure to please anybody looking to have a good time.
Rave-licious
If you're hip to PLUR, then these are the perfect pair to rock at a rave. Their stunning, outrageous colors are only enhanced by the height-enhancing platform design. Cage dancers especially will rejoice at the flashy upper. These will make you stand out in a crowd- literally.
Three Different Styles
Aside from the construction of the product, consumers are avid fans of the design and appeal that this particular item provides. It has a unique manmade upper that comes with an open-toe and also a lace-up in the back part of the boot. In addition to this, the bottom part or sole of the shoe is constructed with a unique color beaded pattern, which consumers thoroughly enjoy. Now there are three different styles to pick from, black, blue, and pink, all of which are made from either faux leather or a plastic material.
Cost and Value
For this stylish and trendy option, consumers are looking at quite a relative price tag. In other words, this is priced at the same tag as many of the other options from this brand. What makes this item different is the comfortable footbed and design aspects. If you are looking for a tall heel that's bright and vibrant, this is for you!

Subscribe to our Newsletter