Best Unicorn Shoes To Put Some Magic In Your Day Reviewed
In a Hurry? Editors choice: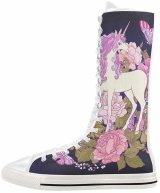 Test Winner: D-Story Punk Boot

In the modern era, the unicorn is a mythical creature with a characteristic horn, and it is a symbol of purity and grace. It is said that its horn can purify poisoned water and heal sickness. In some media representations, for example in
Harry Potter
, unicorn blood is silver in color and can keep a person alive, though for a terrible price. In children's cartoons, these creatures are connected with rainbows and cute colors, as gatekeepers of a utopian world.
While there isn't a shred of proof that unicorns actually exist, they have been ever present in
fantasy worlds
and imaginations of children and adults alike. And because of their status as the bringers of light and innocence, many associate them with happiness and eternal sunshine. It is no wonder that the theme of the unicorn has found its way into all walks of life, fashion included.
Standout Picks
Criteria Used for Evaluation
Upper
By 'upper' in this section, we mean - how good these designs are in showcasing the topic of this guide. How original their fantasy motifs are, and how well they play with it in terms of artistry and visual appeal. After all, our list is about unicorn footwear, and it's only fair that we judge the designs based on their unicorn-ness, no?

This particular aspect can be featured in different ways. Many items here opt for a printed upper, with many, many, many different depictions of the mythical creature. There are stylized drawings, more realistic presentations, smiling creatures, fierce creatures, surrounded by clouds, by rainbows, with a sunset for a backdrop - you name it!

Other than colorful, printed uppers, there is also a different way of bringing the fantasy element to a design, and that is seen in our Ellie Shoes designs. Both the Magic and the Dashing have a different approach to describing this fantasy being, and you can find them in the shape of their heels and the added rainbow-colored mane, in the case of the Magic. These designs are less direct and more abstract, but they definitely get the point across. And they are simply fabulous to wear!

Which design you go for is entirely up to you. As we often say, the ultimate color combination or print choice should be based on your personal preference, as well as on what kind of outfits you plan on wearing with these types of designs. Whichever option catches your eye and appeals to your style, that is definitely the best one! Don't let anyone else tell you otherwise, and listen only to your gut when you're making your final choice.
Style
Since we have a wide variety of different footwear styles in our list, here we will take a moment and explore each of them, in order to help you determine which one is the best choice for you.

Sneakers

We wear our sneakers pretty much everywhere – to see our friends, family, to run errands, when traveling, sightseeing, shopping, taking a walk in the park, at the gym, and even to work, depending on the office's dress code.

The sneaker is truly a ubiquitous design, and in our guide, we have encountered two versions of it:

High Top: High top sneakers are the ones which go over the ankle. They have all the hallmarks of a regular sneaker – the flat rubber soles, the lace-up closures, the comfort, and the sporty design – they're just a little higher than a regular, low top sneaker.
The benefit of a high top is that this type of sneaker offers ankle support. In some sports, such as basketball and weightlifting, ankle support is crucial, as it reduces the risk of sustaining an injury such as a sprained ankle.
Additionally, high top sneakers act like a makeshift bootie – in colder autumn months, especially if they are made of heat-preserving materials such as wool, these can help keep your feet cozy and warm all day long.
Slip-On: Slip-on sneakers are clean and streamlined in design. They have no obvious closures, no laces, no zippers, no buckles or straps. The way in and out of these sneakers is just like their name suggests – you just slip them on and you're on your way!
These are incredibly convenient when one doesn't have time to bother with putting on footwear, or if for some reason they are having difficulties – such as pregnant ladies and the elderly, for example.
Flats

Ballerina flats have been all the rage in the past decade – they are easy to put on, easy to wear, and adorable to look at. They come in a staggering number of designs and patterns and can have all the silhouettes of a classic pump – round toe, pointy toe, almond toe, and even square toe shape.

While flats are comfortable to wear all day long, they do come with their own set of precautions. This footwear style usually doesn't have much in terms of cushioning or arch support, which can lead to some foot-related ailments later on. No arch support can lead to flatfoot, or pes planus, while no cushioning can cause a condition called plantar fasciitis.

This is why it is important to look for these features in a flat – an arch cookie and a padded footbed. If by any means the shoe doesn't have them, that doesn't mean you can't wear it! Just be careful not to spend extended periods of time in it, and let your feet rest once in a while in more supportive footwear.

Flip Flops

Flip flops are the perfect beach footwear. They are lightweight, keeping most of the foot exposed, and more often than not they are waterproof, making them a great option for splashing around by the sea or the pool. These designs should be reserved only for the most casual of situations, as flip-flops aren't considered appropriate footwear for most events.

While comfortable for short-term wear, similarly to ballerina flats they also have the unfortunate quality of being detrimental to foot health in the long run. If you're looking for a flip flop to wear day in and day out, find one which has a contoured footbed. Support in the arch and a cushioned midsole, such as one made out of EVA or memory foam, is ideal for constant use.

Boots

The go-to footwear for inclement weather, your winter boots could be a great way to express your love for fairytales. Depending on their design and the material they are made of, you can easily wear them all day long, while they keep your feet warm and protected from the elements.

If you're expecting a lot of snow or rain in the upcoming months, go for all-rubber, waterproof designs. Up to the knee would be ideal, as boots this high not only protect your feet but your legs as well. If the temperatures are freezing, look for fur, fleece or wool lining.

However, if you are looking for a cute, fashionable bootie to complete your autumn look, then you can go for ones which are ankle high, which have a heel to them, and maybe even an embellishment or two, such as spikes or tassels.
Comfort
When you're chasing a fantasy theme such as this one - especially if it's for a cosplay or a costume party of some sorts - then it's easy to overlook one of the most important aspects, which is comfort. No matter how fantastical a design is, it still needs to be comfortable enough for you to wear it for hours on end, especially if you are looking for an easy, casual option that you can wear every day.

There are several different features that you should pay attention to in terms of comfort, and we will expand on them a bit more in the following list.

Footbed: The footbed of the design is crucial, as it comes in direct contact with your foot sole. It should be firm but cushy, and not too soft. If it has shock-absorbing properties, such as those made from EVA, then even better!
Shock absorption makes sure that the force of of you heel strike doesn't travel up your leg and cause damage to your joints; rather, EVA, and other shock absorbing materials, such as memory foam, evenly distribute this force through the shoe, and thus protect you from pain and long-term joint issues.
Materials: The materials of a design don't only determine its comfort, but also its durability, breathability, flexibility and similar qualities. When it comes to comfort, you want the upper of a design to be supportive, but not stiff. It needs to hug your foot gently, and not cause you any blisters or rub you the wrong way. If you feel even the slightest discomfort when trying on a design for the first time, chances are it will only get worse the longer you wear it, so keep that in mind while you're making a decision.
Fit: We always say that footwear should fit you closely. This means that it shouldn't be so loose that your foot or ankle is sliding around in it, but it should also not be so tight to be cutting off blood flow. Some designs might become more comfortable over time and stretch out more, but this is mostly reserved for options made out of genuine leather, which isn't any of the ones we have on our list here.
Heel: Since the topic of heels and heel comfort is a pretty broad one, we have dedicated an entire section for this, and thus read on to find out how to choose a comfortable heeled design.
Heel
The most elegant, most formal of choices is high-heeled footwear. These are great for almost any occasion where you're required to look presentable – the workplace, where comfortable, closed-toe low heels are the norm; a party, where high heels add a touch of playfulness and flirt; a wedding reception or a prom, which are all about elegance and poise.

Of course, it is a given that high heels are not the most comfortable of styles. People complain about them all the time – the pain in their feet, the cramps, the numbness of their toes. However, we all still wear them because they make us confident, sexy and because they visually elongate our figures.

In order to make the most out of your heels, to feel as comfortable in them as you can, there are three key factors you should look for on your next shopping trip:

Low Height: It stands to reason that the higher the heel is, the more difficult it will be to walk in it. Anything up to three inches in height – think kitten heels – is comfortable enough to wear for the entire day, and probably even into the night as well. Heels over three inches, and especially over four inches in height, will start hurting after only a couple of hours of wearing them.
Chunky Heels: With blocky, chunky heels and wedge-type heels you will have the most stability in your steps. These heels provide a good foundation, and they minimize the unsteady movements of your ankle, reducing the risk of stumbling and falling. In contrast, stiletto heels are too narrow – in them, all of your weight is shifted forward onto the ball of your foot, which can cause you pain.
Cushioning: Even if the heel is high and narrow, you can still have some relief in the form of cushioning in the footbed. This bonus padding provides impact absorption, which in turn lessens the strain on your heel as you walk. If for any reason the shoe you fall in love with doesn't have built-in cushioning, you can always buy extra comfort pads and gel inserts to put inside the heel.
Durability
We all like our footwear to last for as long as possible. After all, since we invested money in it, it is only natural that we want it to serve us well for a long period of time. How durable a design is depends on what it's made of, the type of its construction, how often you wear it and in what conditions, how well you take care of it, and other similar factors.

The main feature here are the materials, as they are the ones which have to be resistant to scuffing, to wear and tear, and which put up with the most abuse over the lifespan of a shoe.

The items on our list are made from a wide variety of materials. There are lightweight options, such as canvas and fabric; there are faux leather ones, like the Cute to the Core Critter; there are spandex options, as well as those made from polyester materials.

In terms of durability, the least durable is canvas, since this a thin material prone to scuffing and fraying. Synthetic leather is not nearly durable as genuine leather, as it becomes flaky relatively soon - these designs will last about a season, a couple at most.

The material which stands out, however, is definitely polyester. It is not as long-lasting as genuine leather, either, but it is pretty durable, and can withstand a lot in terms of wear and tear. Polyester is also incredibly colorfast, meaning that the colors it's dyed with will remain vibrant and saturated for a long time to come, no matter how much you wash your footwear.

It also stands to reason that the options you wear every day will wear out more quickly than the ones you wear only for special occasions. That is a completely natural occurrence, and while it is maybe unfair, it definitely doesn't mean that you should refrain from wearing your new unicorn shoes as much as you want!
Our Favorites
1

. Cute to the Core Critter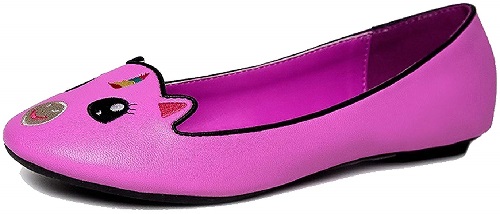 We have yet to see a cuter design than the appropriately named Cute to the Core Critter. This ballet flat comes with an adorable face of a unicorn on the front, with big round eyes and a baby smile. It has a slip-on, round-toe silhouette, a soft lining and a padded insole for extra comfort. The Critter flats are made by hand, meaning that special attention is given to every detail and every stitch, to make sure they are made to perfection. Not only that, but this unique ballet flat is also made out of vegan leather, meaning that it is completely environmentally friendly!
Ballet flats can be quite troublesome in the long run. Their flat soles can lead to foot-related ailments, such as fallen arches and pes planus, and they shouldn't be worn all day every day. However, Cute to the Core Critter has special cushioning in the insole which reduces the risk of these medical conditions, and helps you enjoy these amazing flats for as long as you'd like!

The question of earth-consciousness has become a hot topic lately. We prefer products which aren't made at the expense of our planet, and fortunately, the Critter is a shoe just like that. With its completely synthetic construction, you can be safe that this flat isn't harming the environment in any way!

The Cute to the Core Critter is fashionable and quite irresistible in appearance, made out of eco-friendly materials and with added cushioning to keep you comfortable. Honestly, we are having a hard time finding a fault in this wonderful choice of a design.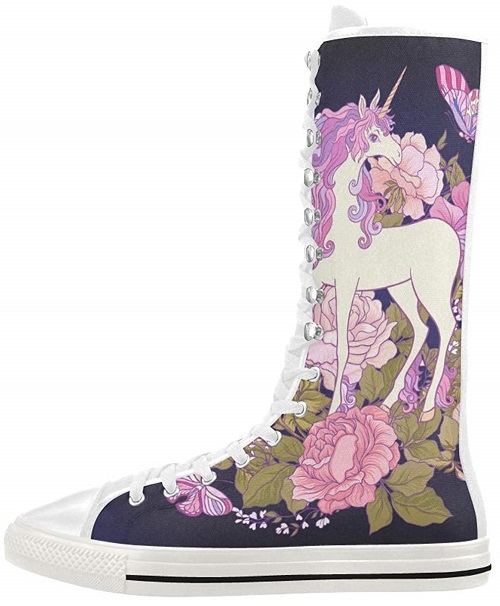 Embrace the contrast of hard and soft, punk and fairytale, with the D-Story Punk Boot, decorated with an ethereal, flowery unicorn scene. This design has a breathable, canvas nylon upper which goes all the way up to mid-calf. It has a lacing system in the front for a customized fit, and its sole is made from slip-resistant rubber. The D-Story Punk Boot will keep you warm in chilly autumn months and will provide that cool, edgy style with a graceful mythical motif.
Canvas is a lightweight, breathable material that is comfortable and gentle on the skin. However, it doesn't last very long and tends to stretch out in time. This is why the D-Story Punk Boot has nylon in its upper as well, to provide strength and durability and help the boot retain its shape as you wear it.

We love the D-Story Punk Boot because it not only keeps your feet warm, but it also protects your legs from the cold. Additionally, if you feel the need to suddenly break into a run or a similar activity, this boot will keep your ankles secure and reduce the risk of sprains and injuries.

The canvas nylon material means that the D-Story Punk Boot isn't waterproof or suitable for inclement weather, but it still holds up well against the cold. This boot will serve you well, and keep you comfortable as the seasons change!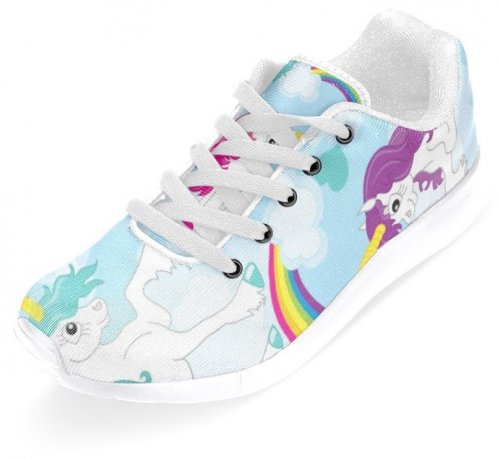 Among these fashion and party options and slip-ons and high-tops and booties, we have a design that is geared more towards an active lifestyle. The Interest Print Sports is what you wear to the gym, or for a power walk around the neighborhood, or even for a jogging session on your favorite running track. It is a trainer that will make you smile with its fantasy theme as you work up a sweat, turning a hard workout into a fun experience!
The Sports has an upper made out of polyester, which is an incredibly durable fiber that also retains color well, meaning that the print on these sneakers won't fade away over time. It has a flywire construction, which is 3D shaped to fit the foot and amazingly lightweight.

What makes the Sports so great for exercise is its EVA sole, which absorbs shock and is resistant to heat, moisture, corrosion and slipping. Furthermore, the entire design is ergonomically shaped to fit the foot and is addictively soft and comfortable.

Of course that you are not required to do any sports in order to wear the Interest Print Sports trainer. It works well as a casual option too, but we love that, should you feel like it, you can easily break into a run in these and not have your feet or joints suffer any damage from it. Staying fit has never been as much fun as it is in the Sports sneaker!

4

. Interest Print High Top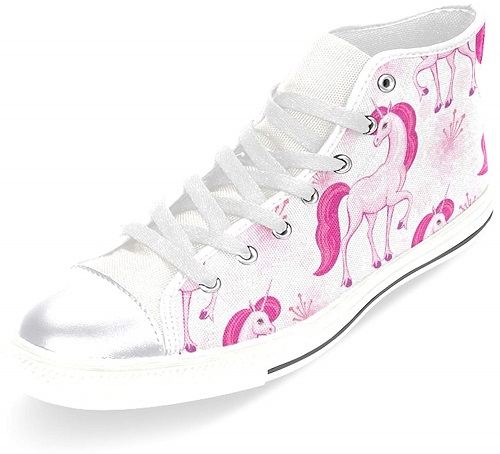 The Interest Print High Top is a design which mimics the cool, iconic silhouette of the Converse Chuck Taylor. It has a full canvas upper, a lace-up closure with metal eyelets for a fully adjustable fit and a rubber outsole which wraps around the sneaker. The toe area is silver for a touch of interest, and the inner lining is soft and abrasion-free. The Interest Print High Top is an everyday choice, one that is lightweight and easy to wear, which goes well with all casual outfits in your wardrobe, and which you can take with you anywhere you wish to go.
As opposed to other pumps, boots and Mary Janes in this guide, the Interest Print High Top is refreshingly casual. It goes well with a pair of boyfriend jeans and a t-shirt, or perhaps with some denim shorts and a crop top. In this sneaker, you will look relaxed and fashionable without much effort on your part.

The Interest Print High Top comes with a fully customizable lace-up closure in the front. Thanks to that, you can adjust the sneaker to be tight enough that your foot feels secure in it, but not so tight that it cuts off your blood flow or restricts your movement in any way.

The Interest Print High Top is a stylish sneaker which brings a smile to anyone's face, and it is flexible, light and comfortable at the same time. You can't go wrong with the Interest Print High Top!

5

. Interest Print Snow Boot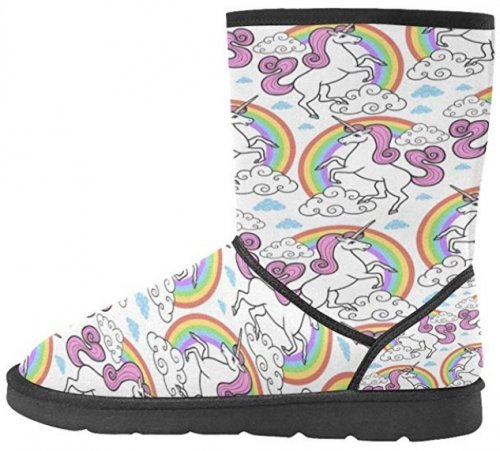 For the winter season, when the temperatures drop and the days turn frigid, there is no reason you shouldn't enjoy your favorite mythical creature on a pair of cozy, heat-preserving snow boots. Interest Print offers a design that is made from a high density spandex material for softness and elasticity, and which can even be folded over to reveal a fluffy lining inside! This boot is what you need to go about your days in cold weather, and you will love every second of wearing it.
The Interest Print Snow Boot has a round toe silhouette that is comfortable for everyone, and an elastic upper which accommodates all foot shapes. The lining is made from a soft synthetic material and there is a 5 mm thick EVA and mesh insole for both impact absorption and breathability. Nothing is stopping you from spending the entire day in these cute boots if you so desire!

The outsole of the Snow Boot is made from a combination of rubber and foam which is resilient enough to endure daily wear and tear. Thanks to this tough outsole, you won't run the risk of slipping or losing your balance on unfavorable terrain any time soon.

There Interest Print Snow Boot is not the most hard-wearing of boots out there, but it will definitely serve its purpose in mild winters. It will keep you warm, protected and cozy throughout the day, and it'll be doing it with a slew of cute unicorns all over the upper! Cuteness galore!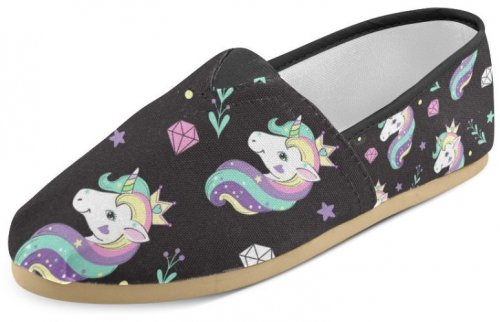 With a classic canvas slip-on silhouette, the Artsadd design introduces us to the world of these mythical creatures in a casual, simple way. This Slip-On is a godsend for warm summers, when you want to be comfy and light on your feet, but you don't want to expose your toes. It has a rubber outsole for slip resistance, and a stretch insert in the vamp for that elastic fit. We can't overlook the pleated square toe either, a design that has become a summer staple over the last few years.
The Artsadd Slip-On is made from a breathable, lightweight canvas material that allows your feet to stay cool and sweat-free no matter where you go. The insole is made from suede, which has a plush softness to it that won't leave you with any blisters or hotspots. There is also cushioning in the footbed, for extra comfort.

The outsole of the Slip-On is made from rubber, a material that will keep you on your feet on any type of surface, and the flat heel makes this design suitable for wearing all day, every day. Even those with a high instep can enjoy this cute option, thanks to the gore panel at the top!

Who can even resist the smiling, colorful face of a unicorn on the upper of these shoes? The Artsadd Slip-On is just what we're looking for in terms of comfortable wearability, and its easy-going style matches all types of outfits, from jeans to shorts to skirts and dresses. Behold! Your new favorite canvas slip-on!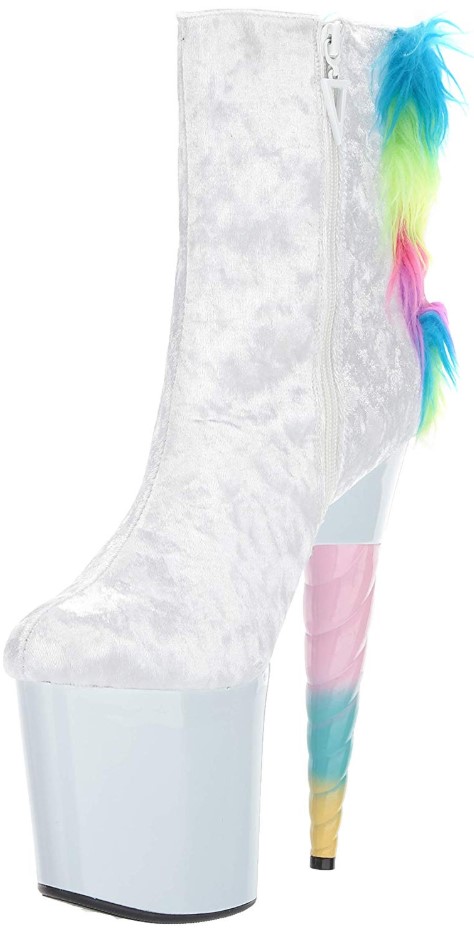 Following the trend of this brand, the Magic bootie is something on a whole different level than most other options on our list. It is a sky-high ankle boot with a unicorn horn heel and a rainbow-colored mane lining the back of the design. The heel is an amazing seven inches in height, but there is a platform in the front, of about 3.5 inches, to make walking easier. This design is made entirely from synthetic materials, meaning that no animal was harmed during its construction.
The plush, white upper of the Magic is soft to the touch and luxurious like velvet. This bootie is not to be taken lightly, as it takes a special kind of confidence and a special kind of skill to wear heels like this. We're absolutely in love with the fantasy touches in this design, which make it both unusual and sensational at the same time.

There is a zipper in the inner side of the Magic, for an easy way in and out of this bootie. The sole is made from non-slip material to make sure you don't stumble and fall, and the platform definitely helps in wearing these beauties for extended periods of time.

The Ellie Shoes Magic, similarly to the other item of the same brand, is not for casual, everyday wear. Rather this is an extravagant choice, reserved for parties, cosplays, Halloween and similar events, where you want to dazzle the crowd and be the center of attention. Don't hold anything back in the Magic bootie!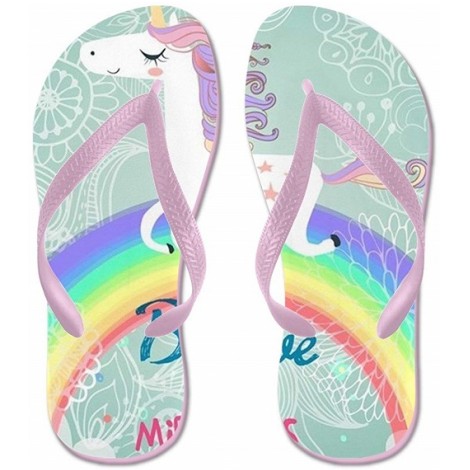 It's time to hit the beach with the Cafe Press Flip Flop! This is a standard flip-flop design, with a foam rubber outsole, a polyester top, and contoured rubber straps. The Cafe Press Flip Flop bears a unicorn print on its footbed so that you can take your favorite fairytale creature with you on your summer vacation as well! These flip-flops are waterproof; they keep most of your foot exposed for that cool, sweat-free experience in hot weather, and they are perfect for the beach or the poolside.
The beauty of having rubber straps is that they are sturdy. No matter what type of activity you perform in the Cafe Press Flip Flop you can be sure that its straps won't snap off so easily. Furthermore, the material itself makes them resistant to stretching, so no matter how much you splash around in these, the straps won't lose their original contoured shape.

There are many reasons why you shouldn't wear confining footwear in the hot summer months. The beauty of the Cafe Press Flip Flop is that it not only helps your feet breathe and keep cool, but it also reduces the risk of developing nasty bacterial and fungi infections, and the itchiness and bad odors which result from that.

The Cafe Press Flip Flop is a regular flip-flop, but one which is comfortable and reliable, and which will keep you company on many a summer trip season after season. For its cost, it is practically a steal!

9

. Irregular Choice Lady Misty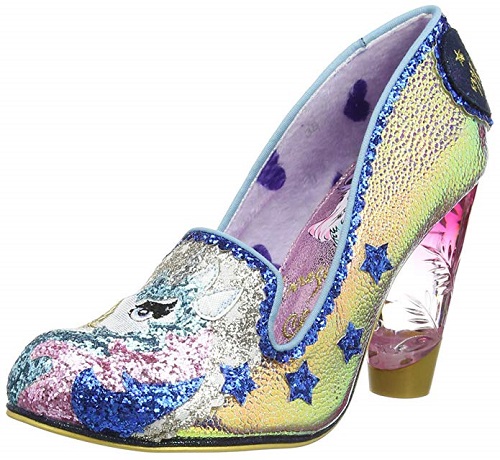 For the fairytale princess in you comes the Irregular Choice Lady Misty! This closed-toe pump is anything but modest, with its fabric upper decorated with a shiny snakeskin pattern, as well as glitter on the front. There is a print of a sassy, winking unicorn, glimmering star accents, and a clear circular heel of four inches in height. The lining of the Lady Misty is soft fabric, while the outsole is slim and synthetic. If you are the one for bold, eccentric styles which won't leave anyone indifferent, then the Irregular choice Lady Misty is perfect for you! Embrace your love for all things sparkly and fantastic!
It may be somewhat uncomfortable to walk in four-inch heels for long periods of time. However, there is a silver lining in the fact that the heel of the Lady Misty is thick and round in shape. It will provide a good base for your steps, and stabilize your ankle for a smooth, secure ride.

The lining of the Lady Misty is made out of fabric which is incredibly soft on the skin. It won't give you any blisters or hot spots. Additionally, the nature of this fabric is that it is very breathable, meaning that your feet won't sweat, and there will be no unpleasant smells.

The Irregular Choice Lady Misty is sparkly and attention-grabbing, and a wonderfully comfortable pump, one that will definitely earn you many compliments no matter where you go!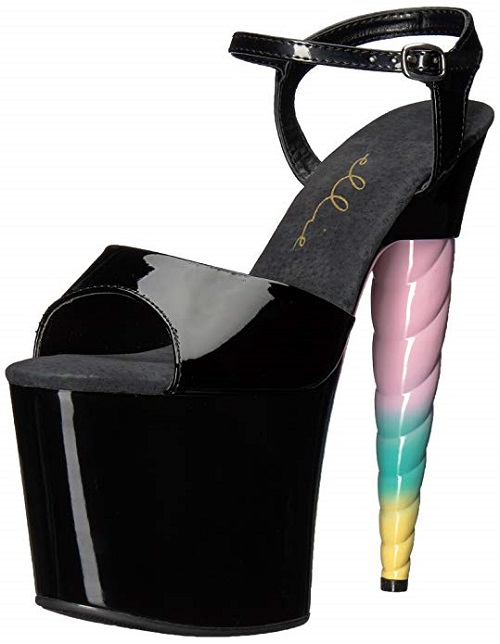 While we will admit that at first glance you may not be able to see the connection to the mythical creature, the Ellie Shoes Dashing platform heel is definitely a show-stopper. This open-toe sandal has a man-made upper and a heel designed as a unicorn horn - complete with rainbow colors - of a whopping seven inches in height! However, walking in these sandals is made easier by the three and a half inch platform in the front. The Dashing also comes with an ankle strap and an adjustable buckle in the side. An attention-grabber if we have ever seen one!
Merely looking at a heel this high gives us heart palpitations. However, there is something to be said for the comfort of a platform heel. Thanks to the elevated front of the shoe, the Dashing sandal is as comfortable to walk in as a three and a half inch heel would be. No pain, no discomfort!

Not only does an ankle strap look dainty and feminine, but it also serves the purpose of keeping your foot in place. With the Ellie Shoes Dashing, you don't have to worry about your foot sliding forward - just fasten the buckle closure securely and you're good to go!

The Ellie Shoes Dashing is a design which isn't for every day, as its height makes it a special-occasion sandal only, but it is still comfortable enough to wear short term. All in all, if this is just the type of a model that you are looking for, then definitely go for it!

Subscribe to our Newsletter