Best Harry Potter Socks for Reppin' Hogwarts Reviewed
In a Hurry? Editors choice: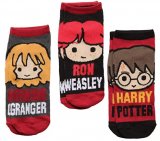 Test Winner: Hypnotic Hats Chibi

It is estimated that over 400 million copies of the popular book series "Harry Potter" have been sold in approximately 68 different languages. With such popularity in the book series, it is no wonder that die-hard Harry Potter fans want to emulate their favorite characters or at least wear clothing that represents their love for the legends. It has been compared to a modern-day Star Wars obsession. Come Halloween, you can see that one of the most popular costumes are Harry Potter related.

So let's start you off the right way: take a look at our list of the most magical Harry Potter socks, and dive into the world of spells and flying brooms!
Standout Picks
Criteria Used for Evaluation
Materials
Choose the right type of fabric for yourself based on each material's characteristics.
The characteristics of what makes a quality sock are primarily dependent on the material. There are a few very common materials that are used in sock production. They are polyester, spandex, cotton, and nylon. Each of these has its pros and cons.
Polyester: This is a human-made synthetic fiber. It is petroleum-based. Polyester is very durable and can outlast most other materials it is stacked up against. It is also more colorfast and can retain the color for extended periods, and is fast-drying. On the other hand, polyester production is terrible for the environment. The material is also not breathable and as soft on the skin as something like cotton.
Cotton: The main characteristic of cotton is its softness. If adequately cared for, cotton will retain the dyes for much longer than any other product (except maybe polyester). This has to do with it being super absorbent. With that being said, cotton is relatively fast-drying, but that is dependent on the amount of water it can hold. Out of all the fabrics used for socks, cotton is the most breathable. The downside of cotton material is that it costs a little bit more than most other fabrics.
Spandex:Spandex is added to products and garments that need to stretch. The spandex used in socks is what holds them high on the leg without them falling down. Spandex has a good stretch to it but only gives so much. Once the spandex is overshot, that is it. There is no way to recoup the original shape.
Nylon: Nylon is a great choice for socks because it is known for its moisture-wicking abilities. That means it efficiently pulls moisture away from the skin. Your feet are one of the sweatiest places on the body. The nylon is great to wick the moisture away from the skin, thus preventing things like athlete's feet and blisters from forming.
Breathability
For a sweat-free experience, go for designs which are both breathable and moisture-wicking.
One might assume that because a sock is a soft texture and made from looser-feeling fabric weave that it will have high breathability. This is simply not true. Some socks are not made to breathe by they letting fresh air in - insulating socks, for example; in this case, breathability defeats the purpose of this type of a design, which is heat retention.
However, if you're not looking for winter socks and are more interested in their fashion aspects, breathability is important in keeping your feet comfortable and odor-free.
To make sure that your feet won't sweat too much in your new socks, choose materials such as wool or synthetics (polyester) which come with moisture-wicking abilities.
While it is true that cotton is a breathable fabric, as we've mentioned in our Materials section, it is also absorbent. Any sweat that might accumulate gets absorbed by the socks and stays close to your skin for long periods. This is not only highly uncomfortable but also promotes the growth of bacteria and the development of bad odors.
This is why, in our search for the best Harry Potter socks, we looked for materials that are breathable but also moisture-wicking, so they keep sweat away from your feet and help you enjoy your day without fear of getting that damp, cold feeling in your footwear.
Size
Based on your personal style and time of the year, decide on which sock height would work for you the best.
There is no correct or perfect sizing when sock-height is considered. One size fits all does not apply here. What works for some that are searching for an ankle height won't work for others that want a true knee-high. Not to mention all the options before, in between and after those two: no show, crew-length, mid-calf etc.
The height of the design depends on your personal preferences, on what time of year you intend to wear your Harry Potter socks in and what type of outfit you're matching it with. For example, knee-highs are perfect for colder weather and for layering underneath a winter skirt or a dress, or peeking above a knee-high boot.
In a similar fashion, no-show designs are great for summer and warmer seasons, when you want your ankles bare and cool. Perhaps you want to wear those new loafers or slip-on sneakers you bought, and you don't want any socks showing above them.
Our list includes socks of many varying heights so that you have plenty to choose from. A tip for putting on knee-highs is to push your foot slow into the sock and let it unravel that way, versus putting your foot in the sock and pulling it up. Doing it the first way will prolong the life of the sock and the elastic used in its top.
Durability
Synthetic materials and nylon add to the durability of a design.
Easy to care for is something that most people search for in every garment they purchase, but especially true for socks. In this crazy, fast-paced life, people don't have time to hand wash and air-dry the items they wear. It's machine wash and machine dry all the way.
This is why we attempted to find designs that were easy to care for and retained their look after washing. Color fading and even color bleeding is a thing that often happens, especially if you wear a pair frequently (and wash it just as frequently). For the best color fastness (the ability to retain color), look for polyester and synthetic materials, as they don't really fade over time.
Another caveat to easy-care instructions is the durability of the sock after it has been washed or while it is washing. You don't want to worry about your socks shrinking or becoming misshaped, thus leaving them unusable. Something that often happens is the elastic band of the socks going weak; as a result, they start slipping down your leg and are never as comfortable as they used to be.
The deciding factor in the durability of a design is, again, the material it's made from. Some are better at withstanding the washing-drying cycles than others. For the longest lifespan, look for polyester and synthetics, like we mentioned with color retaining. Wool, as well, is quite a durable material. (And a great one to wear both for summer and winter, don't be fooled!)
Nylon is something that is added to a design to increase its longevity and wear and tear resistance, so an option with a certain percentage of nylon in it is a wonderful option, too.
While durability is certainly important, it shouldn't be keeping you up at night. At the end of the day, if you find yourself drawn to a design which has great style, is comfortable, and you simply want it, there's no reason not to get it just because it is made from cotton or some other, less durable material. Fortunately, socks don't cost much, and replacing them shouldn't be a problem!
Style
The most important thing is that you love the style you're purchasing.
Style is one of the key factors when it comes to choosing Harry Potter socks. After all, we're shopping for them because of their looks, not necessarily because of their function, right?
And in terms of looks and this fandom, the possibilities are endless.
The colors that you can find are largely based on the colors of Hogwarts and its houses. If a design is sporting a character from a specific house, chances are the color will represent that house with pride. For Hufflepuff this is yellow and black, for Ravenclaw it's silver and blue, for Gryffindor it's gold and red and for Slytherin it is silver and green.
Some exceptions are made for more artistic depictions of the houses (for example, a design which chooses red and cream for Gryffindor), and those which represent characters or items which haven't been sorted into or aren't necessarily connected to any of the four houses. These can include Hedwig, Dobby, Buckbeak, the Deathly Hallows triangle, even simple drawings such as Harry's glasses and scar.
So, how can you choose the best style for yourself?
The answer is easy - go with what you like! If you know your Hogwarts house, definitely don't hesitate to show it off with confidence. Perhaps go for a pair that is reminiscent of socks real Hogwarts students would wear to class, so don't leave out the house crest.
Alternatively, you can go for a more playful, fun Harry Potter representation and opt for a chibi character or Hedwig, or even some famous quotes from the books.
In this case, design options are literally countless, and the only thing that's limiting you is your personal taste (and perhaps your budget).
Our Favorites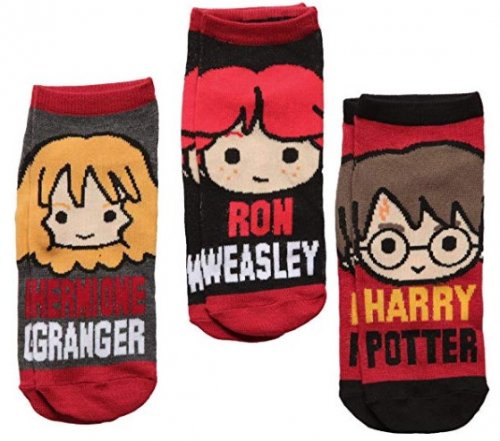 With this pack of socks, you can have your choice of characters. Whether you prefer the main hero Harry, the intelligent, no-nonsense Hermione or the helpful, steadfast Ron, this pack has them all! The patterns are sewn into the sock, so you don't have to worry about the design peeling or wearing down. The Hypnotic Hats socks are made from a soft and durable material. It is woven very thinly to allow for proper airflow.
These socks will come just above the ankle, which makes them visible out of your footwear if you are wearing regular athletic shoes. Ankle socks are a nice choice because they don't trap heat against the legs, making them a perfect choice for all-season wear.
These will be easy to clean; just toss in the washer and forget about them. No one has time to hand-wash socks. The Hypnotic Hats Chibis are an excellent value, as you are getting three pairs. The price at a glance is in the middle of our range. However, when you consider you are getting three pairs, it makes it an even better deal. The socks can be worn year-round, which means you get to enjoy them for as long as you want.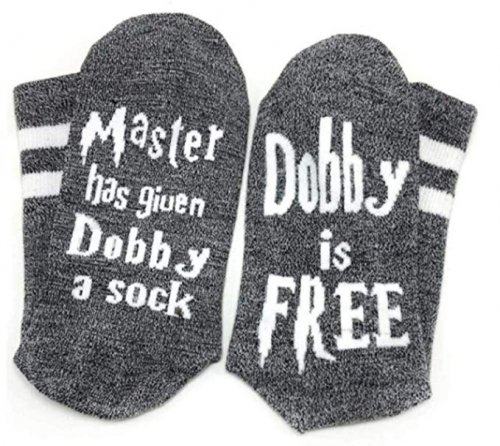 Who doesn't know the by-now iconic line of this loveable, gentle and frightful little house elf? Very similar to another option on our list, these Dobby Is Free socks from Moyel are tube socks that come up higher on your legs if you're looking for more warmth or just added style. The phrases on the bottom of the socks are cute and a great nod to any Harry Potter-and Dobby-lovers out there.
Not many socks have the detail this one does concerning Harry Potter. The cute Dobby sayings on the bottom of your feet are hidden so you could wear these every day, or show them off while you're lounging around with your feet up, showing your HP pride.
These are definitely on the lower end of our price range. They are a great value because you can wear them all year round. They do not immediately lend themselves to being known as Harry Potter so, if you wanted, you could easily wear them for work or otherwise.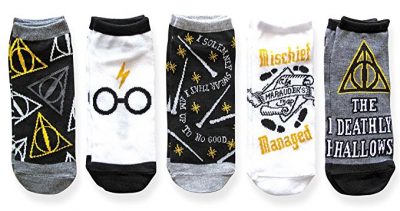 A pack of 5 socks will be sure to give you the variety to pick your favorite design. You can choose from the deathly hallows sign and title to a pair of HP glasses and Harry's famous scar. Furthermore, that many socks in a pack can be worn every day of the week. Whether you are headed to work, school, or just sitting at home, these ankle Harry Potter socks will keep your feet soft and warm. 5 contrasting designs are sure to grab the eyes of everyone around you.
If you are searching for a Harry Potter-themed sock that won't show outside of your regular footwear, these are a good choice. They are ankle height so you can rest easy knowing they won't be seen outside of a sneaker, boot or the like. A blend of polyester, nylon, and spandex means you will have the comfort and flexibility while having a sock that maintains its shape and elasticity. That blend is sure to keep your feet cool as well.
This 5 pack of socks is a great package for an unbeatable price. The quality of the material and the 5 package deal is hard to beat. These socks will give you many days of wear and enjoyment.

4

. Harry Potter Mischief Managed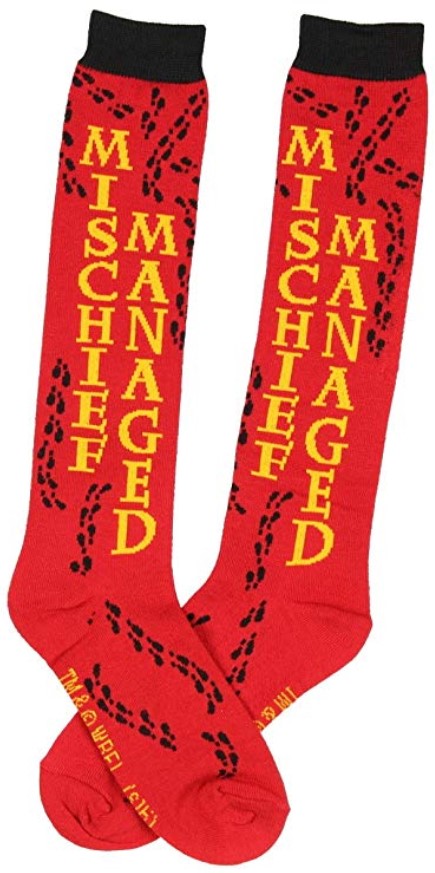 These adorable knee-high socks can only be worn by those who are up to no good. The Harry Potter Mischief Managed knee-high sock has a black top band to help keep them secure and are designed with adventuring footprints throughout. The 'Mischief Managed' logo is written in yellow to contrast the red background. Pair under slacks, or with dresses and skirts as a fun statement piece. Great for anyone who loves getting in a bit of trouble!
Perfect for the cooler weather, the Mischief Managed is knee-high in length, so you'll stay cozy warm exploring the darker parts of the forest in the fall. A 70% Polyester material makes these toasty and soft against the skin. A tighter elastic black band helps hold them up so they won't fall during wear, so you can tiptoe around without fussing to re-adjust this pair.
Red in color, black footprints point out just where mischief is headed, interlacing throughout the sock from foot to knee. Yellow printed 'Mischief Managed' lets people know just exactly what you're up to, so be sure to tread quietly! Great for wearing under trousers or with skirts or dresses, this knee-high sock has a quirky fun design. Who doesn't love a little mischief added to their outfit?
For a knee-high novelty sock, the Harry Potter Mischief Managed is a great pair to purchase for its fun quirky design, and may just give you the urge to get into a bit of trouble. Well priced compared to similar styles and brands, this is the officially licensed version and would be perfect for any Harry Potter fan to add to their collection.

5

. Harry Potter House Crests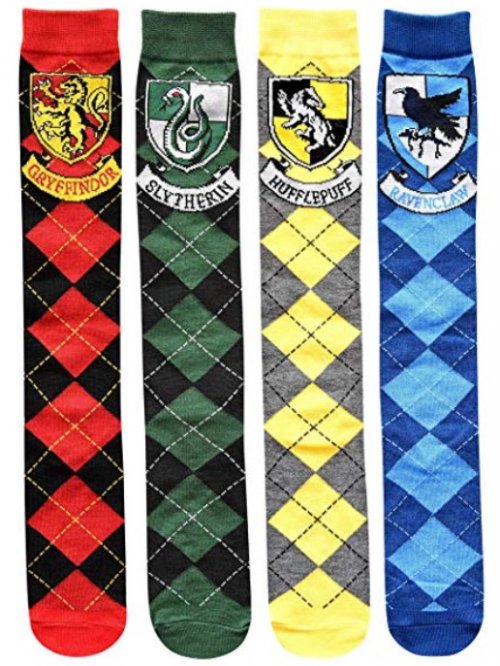 Whether you belong to Slytherin, Gryffindor, Hufflepuff or Ravenclaw, there is an option for you in this four-pack of knee-high socks. Made from quality materials and part of the licensed merchandise line, the House Crests will make any Potterhead happy. House pride is something we all identify with, no matter our age or personal background. Thanks to the tall height of these socks, they're great for colder weather and matching with skirts or dresses.
These are made from 70% polyester, which gives them colorfastness, durability and the ability to not change shape over time. There is 20% nylon for even more wear and tear resistance - seriously, you can easily use these for at least a year or two without any problems. The remaining 10% of material goes on spandex, which allows for stretch and helps the socks stay up on your legs.
Whether you intend to wear a full-on Hogwarts uniform to a Harry Potter event or you just want to sprinkle a little magic into your casual outfit, you can't go wrong with the House Crests. They're classic, iconic and a great conversation starter, as everyone will immediately know which house you belong to!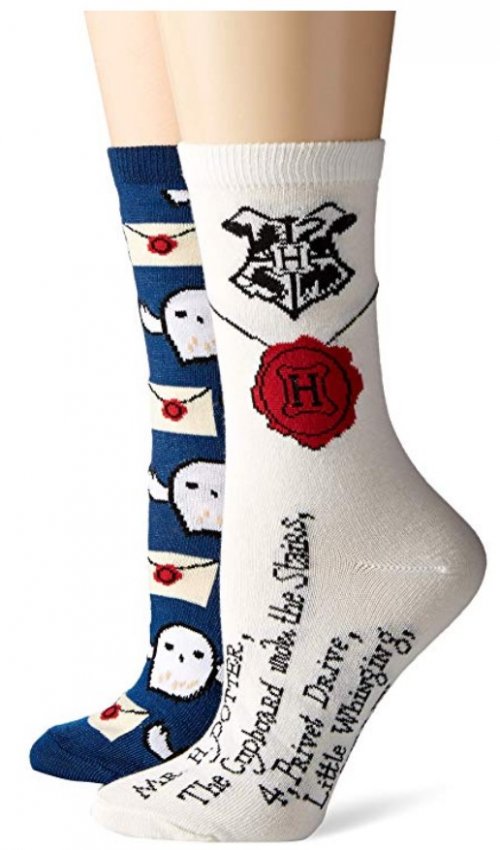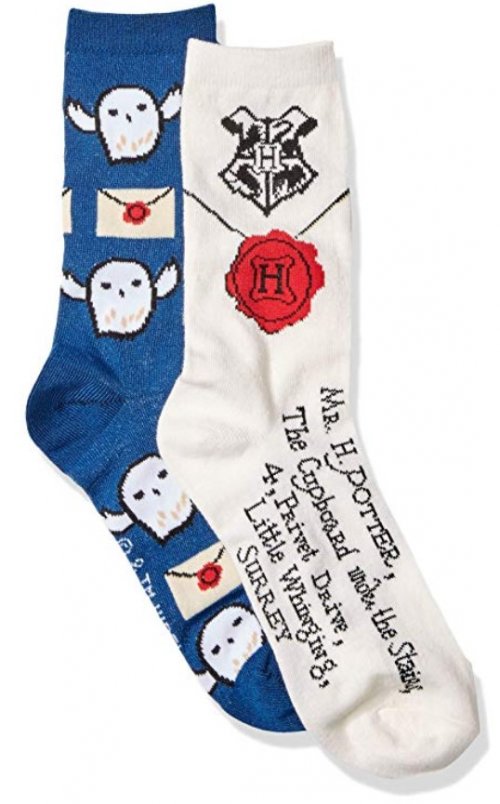 Among all of the Hogwarts houses and human characters from the HP universe, here is a design that is a little different in two ways. First, it doesn't show any humans but instead Harry's beautiful snowy owl Hedwig, and second, the socks are mismatched! If you like a little whimsy in your life, a little fun in your everyday style, then one blue and one off-white sock will be a great addition to your wardrobe!
Has there been a kid who has read the books and then not waited for their letter to Hogwarts on their 11th birthday? We don't think so, either. With these Harry Potter socks, you can now feel like you got your very own acceptance letter, thanks to the post and Hedwig theme on the blue one. The white sock sports Harry Potter's living address - the very specific one, in the cupboard under the stairs - and Hogwarts' seal and crest at the top.
With these soft yet comfortable designs, you will have nothing to worry about. The Hedwig option is unusual in that the socks are vastly different from each other, but it is a pleasure to wear. It even acts as a great gift for Harry Potter fans around the globe! So don't hesitate to treat a loved one today.

7

. Harry Potter Gryffindor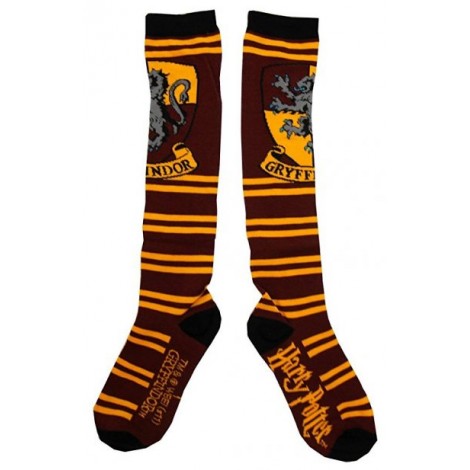 These Harry Potter socks are certainly eye-catching with their bright ruby and gold color scheme. They also have the crest of Hogwart's most famous house, probably, blended directly in with the pattern of the sock. These are knee-high and will look fabulous whether you are wearing them for a costume or for easy nights around the house.
These can go directly into the washer and then the dryer. No fuss and no worrying about how to get them clean when dirty. You will be able to wear them numerous times per week - it's that easy. The Gryffindor design has a nicely blended elastic band at the top. This is what helps hold the sock sky-high to your knees. The elastic also maintains the shape of the overall design.
These are a great value as they could be worn for many occasions, regardless of whether you want to show them off or wear them under pants. They are warm and cozy so you could wear them in cooler months as well.

8

. Harry Potter Expecto Patronum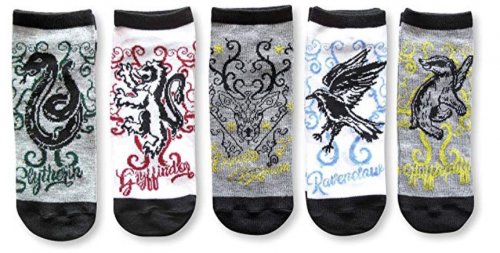 The meaning of patronuses in the Harry Potter world is multifold and layered, and we can't even begin to untangle the importance of knowing the form of yours. The Expecto Patronum collection not only depicts the Hogwarts houses in a unique, artistic way, but it also has one pair which bears the likeness of Harry's patronus, the silver deer we first get to see in the third book of the series. You won't be able to resist these cute low-cut designs which are perfect for warm weather!
The five pairs that you get in this pack are all different: one showcases the Slytherin snake, one the Gryffindor lion, there is the Ravenclaw raven and finally the Hufflepuff badger. The fifth one, as we already mentioned, shows Harry's patronus. All of the designs and drawings are quite artsy and neutral, not necessarily immediately drawing the attention. On top of that, these are cute anklets that you will have a great time wearing in the summer.
If you're not crazy about the loud, cosplay-worthy designs that we have in our list today, perhaps you'll enjoy a more toned-down version these ankle highs represent. They're not screaming Potterhead off the top of their lungs, but they're still HP enough that you will enjoy wearing them as you go about your day.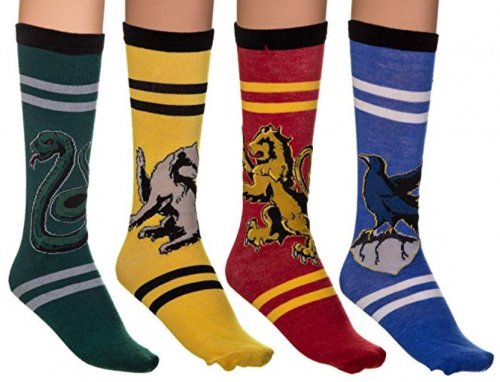 We all have our favorite characters from each of the houses in Hogwarts, whether it be a slippery Slytherin, a loyal Hufflepuff, brave Gryffindor, or lofty Ravenclaw, you'll be able to represent your favorite any given day with the Calhoun Houses knee-high. Bright colors and stripes make the design a classic, and with each of the houses crests at the top, there is no mistaking which is which. Perfect for the cooler weather months, fans across the world can proudly sport their house favorites!
What better way to show your house support than by wearing the house crest? Snakey Slytherin keeps a green and silver striped design, while Ravenclaw proudly shows the black and blue raven with white stripes. Hufflepuff keeps things bright and cheery with yellow and black and their hard-working badger, while Gryffindor's iconic lion is covered in scarlet and gold.
For cooler months, knee-high socks can be a great way to keep warmer, and for Harry Potter fans, these will certainly make rounds throughout the week in your attire. With a bit of spandex for stretch, they're nearly 80% acrylic material which is great for maintaining warmth. Tops of the sock are black with a bit tighter of a fit to help them stay up and in place. Pair with trousers for work, or sport a fun statement when paired with skirts or shorter dresses.
For a pack of four knee-high socks with the iconic house crests, the Calhoun Houses is a smart purchase and would make a perfect gift for any Harry Potter fan. Warm and soft, with bright, colorful stripes and house crest designs, you can proudly show your fandom or house support with these pairs!

10

. Harry Potter Gryffindor Crew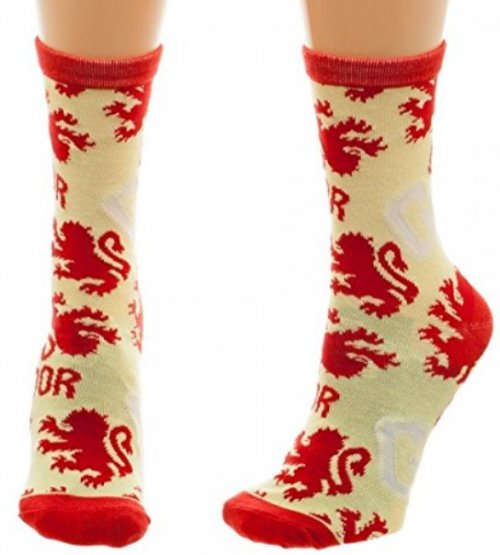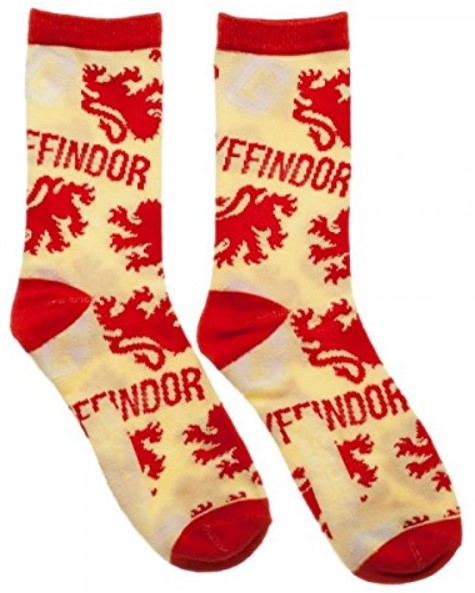 Look completely ready for a cozy day of reading when you wear these crew socks that have the lion crest of Harry Potter's Gryffindor house scattered all over them. They also have the words Gryffindor written on them. The bright red against a cream background looks sharp and gives a pop of color.
While other socks have collars that stretch after repeated use, these have much more life expectancy. The collar is reinforced with an elastic band to help maintain the shape of the sock, while the toe portion of the sock is stronger than the rest of the sock. This helps to not have to the toe rip as easily. The seam across the top is double stitched as well.
This pair of socks is stylish and can be worn frequently. They are a low crew height, which means you won't burn up in the summer months, giving you all-year wear.

Subscribe to our Newsletter