Best Marvel Shoes Reviewed For The Fashion-Forward Comic Nerd
In a Hurry? Editors choice: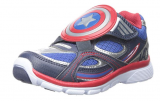 Test Winner: Captain America Light Up

Marvel Entertainment is a subsidiary owned by the Walt Disney Company and is one of the world's top creators of character-based entertainment. With over eight-thousand characters under their name including
Spider-man
, X-Men, Captain America, Iron Man, and the Hulk, to name a few, Marvel has become a household name synonymous with the world of fictional entertainment. With all of the options available it can be tough to choose the ideal pair for yourself or your child which is why we've written this guide to the best pairs available. No matter who your favorite characters are there is a pair available to meet your needs and we've included choices for kids, as well as, adults for an inclusive look at the top designs.
Standout Picks
Criteria Used for Evaluation
Style
While there are options available for adults as well, this kind of footwear is geared mainly towards children. There are tons of different styles available for kids including sneakers, slip-on pairs, athletic types, and sandals, though there are many more than that. Some of the most popular pairs are sneakers and this design makes up for a large part of the Marvel footwear industry. There are styles for every age ranging from toddler all the way through to adult and there are pairs with some of the most popular characters ever created. One of the more common styles for small kids and toddlers is sandals because they're flexible and easy for tiny toes to feel comfortable in. While pairs aimed at older kids and teenagers are usually sneakers and athletic styles. Adults can wear their favorite characters on their footwear to thanks to the many styles available for grownups. The overall style of each pair was taken into consideration while researching for this page because the style is a big aspect when it comes to the intended use and overall enjoyment you get while wearing your footwear.
Features
Closures: The type of closure a shoe has was taken into consideration because it can affect the overall enjoyment of wearing it. There are several types of closure systems commonly found on footwear including zippers, laces, buckles, and hook-and-loop variations. Zippers are more often found on dressy and professional pairs, while laces are commonly found on sneakers and other athletic types. Laces are a good choice because they offer excellent control over how well the shoe fits and let the wearer adjust the tightness to their liking. A zipper, on the other hand, has a more limited control and won't allow much room to adjust the fit. Hook-and-loop closures, most commonly known as Velcro, are a great choice for kids footwear because it's easy to use and gives the wearer complete control. Parents love this kind of closure for its sheer ease of wear and how it stays securely fastened to their child's feet. It also helps your little ones to feel empowered because they too will be able to fasten their own shoes without having to tie laces which can be difficult. Buckle closures are usually found on dressy footwear and pairs designed for girls or ladies. Buckles are easy to handle and allow for good control over the fit of your shoe. The downfall to this style is that a buckle can sometimes unhook or fall off completely which leaves you vulnerable to accidental trips and falls.
Accessories
These pairs are all about the graphics which is exactly why this was a factor taken into consideration while choosing the ones for this list. Some of the biggest brands around have teamed up with Marvel to produce footwear that pays tribute to their characters. Brands like Vans and Disney have released character-inspired looks, and Marvel itself has a line of footwear. Vans is one of the biggest designers of this style of footwear and offers a wide variety to choose from. Their products are made to withstand the tough wear and tear children can put their footwear through and they won't fall apart after a few months of wear. They also offer a comforting structure that is designed to accommodate growing feet. Some of the characters featured on these kinds of footwear are The Hulk, Batman, Spiderman, The Avengers, and Captain America.
One of the most important aspects of the graphics is how well they hold up with regular wear and tear. The last thing you want is to have your imagery fading or cracking because that can ruin the whole appearance of a shoe completely. Be sure to research the brand first and get a feel for whether or not their pairs are well made and if they are prone to fading. You also want to look for bright color schemes that will offset the graphics and images. Children enjoy vibrant things because they're pleasing to the eye and keep their minds entertained which is another reason to pay close attention to the imagery and colors.
Comfort
Width: The width of a shoe should always be taken into consideration because it plays a huge part in how comforting a pair will feel on your feet. If you have a wide structure it's important to choose an option that provides enough room without squishing your feet. If a shoe isn't wide enough it can cause all sorts of problems including rubbing and friction which can lead to painful blisters. Once you develop a blister it can take weeks for your feet to fully heal and can be very uncomfortable in the meantime. On the other hand, if a shoe is too wide it will flop and could potentially slip off while you walk which puts you at a greater risk of tripping and injuring yourself. This is why the width should always be considered when choosing a pair of footwear. A good way to find out how wide a shoe is is by reading the product description for each shoe that you're interested in because you'll be able to get a better understanding of the individual item.
Outsole: The outsole of a shoe is the part that protects the sensitive underside of the foot from the ground beneath it. The arch of the foot is very delicate and needs to be properly supported in order to prevent all kinds of aches and pains including plantar fasciitis, a painful inflammatory condition that affects the connective tissues of the foot. An outsole should be made of rubber, ideally, because rubber is weather-resistant and offers excellent grip on any surface, including wet and slippery ones.
Cushion: The type of cushioning a pair offers is very important because it provides the comfort. A shoe with poor cushioning can cause foot pain and fatigue, especially for growing feet! That's why a pair should offer a supple cushioning that's plush yet still provides a firm structure that will support the arch area of the foot.
Materials
The materials used to construct a shoe are very important and are a big contributing factor to the overall fit and comfort. Breathable materials are always best because they will prevent overheating which leads to sweaty feet and sweaty feet are uncomfortable inside of your shoe. Some of the more breathable choices are leather, mesh, and canvas, along with other fabrics that are lightweight and thin. One of the better materials for an outsole is rubber because it's grippy and weather-resistant, while EVA is an excellent choice for the footbed. EVA is a man-made foam resign material that's ultra light-weight and provides supple cushioning. It's also firm enough to offer the kind of structure and support needed to properly care for the delicate arch area.
10 Best Marvel Shoes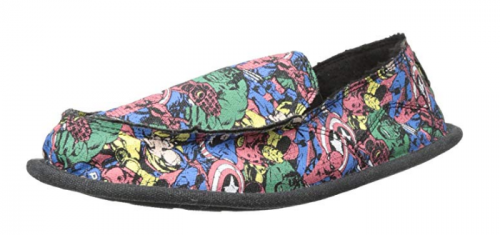 These colorful Marvel-print slip-on moccasins offer a bright delivery of high-quality graphics while their 100% cotton fabric provides a cool breathable environment for your feet. This pair provides the perfect combination of style and comfort thanks to their warm plush Sherpa lining and hot comic character exterior.
Comfort
These slip-on moccasins are made with a soft and warm Sherpa lining material that's plush and feels great up against your skin. They're designed with your comfort in mind and for keeping you feeling your best even after hours of wear. Their dual-purpose design let you wear them indoors or out with a natural no-fuss transition.
Graphics
This cool pair of footwear boasts an impressive upper design that's colorful and features some of the more popular characters. You'll love the inclusion of multiple different classic characters and their bright, lively delivery that highlights their unique presentation.
Cost and value
These moccasins are sized for adults and offer incredible value for the cost. They're relatively inexpensive and provide an incredibly comfortable environment for your feet along with a unique looking design. Their high-quality graphics feature all of your favorite superheroes and are sure to make you reminiscent of your childhood years.

2

. Trimfoot Ultimate Spider-Man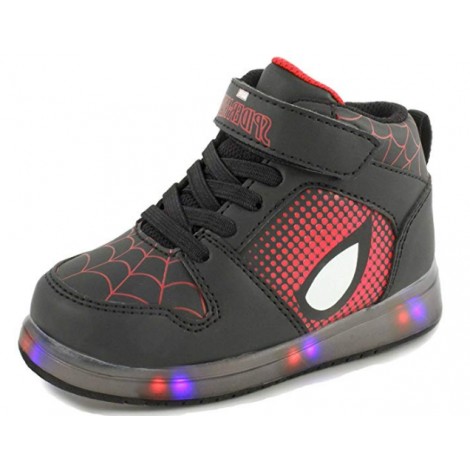 The Ultimate Spiderman sneaker from Trimfoot lights at every step for an awesome design your child will love. Their cool Spiderman graphics and dual-closure fastening system make for safe and easy wearability so you can stop worrying about your child tripping because of their shoes.
Light up
These sneakers offer motion lights that change color with every step. Your child will be fascinated by their cool moving colors and will love how the colors alternate every time they stepped down. This is one cool pair of shoes that will capture the attention of little minds and will keep your child amazed for hours on end.
Dual Closures
This pair of sneakers features both frontal laces as well as a hook and loop closure that allow for complete control over the fit. Forget about flopping footwear while your little one is wearing a pair of these thanks to their adjustable front laces and secure fitting cross-foot hook and loop strap.
Cost and Value
This action-packed sneaker is a bit lower priced than the other light-up pair featured on this page. They offer a great value through their unique design and comforting foot feel, and your children won't be able to get enough of these sneakers that offer moving lights which change with every step.

3

. Marvel Flip Flop Sandals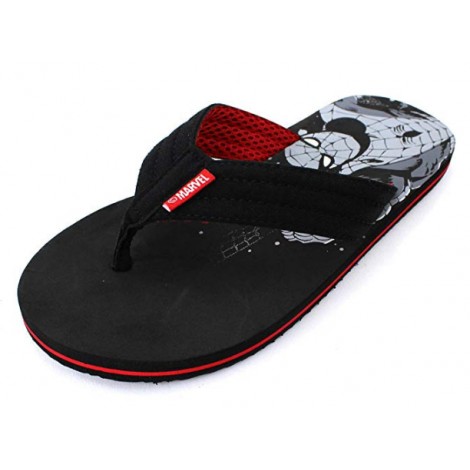 This pair of flip-flops features awesome comic superhero graphics and soft fabric straps for a comforting foot feel. They're sized for teens and adults alike and are available in several different superhero graphics including The Hulk, Thor, Iron Man, Captain America, and Spider-Man.
Wearability
This pair offers a thong-style design that makes them super easy to wear and a breeze to slip on and off. Their soft fabric straps are gentle on your feet and won't rub or cause friction that can lead to blisters. You'll enjoy the lightweight and barely-there design of these casual beach-ready sandals.
Design
These summer flip flop sandals offer vibrant colors and high-quality detail graphics that makes them a hot ticket item. They're available with all your favorite superheroes and offer a sturdy design that is ready to stand up to the tough wear and tear you put them through.
Cost and Value
These flip-flops are low cost and laid back yet offer a super stylish design that's well worth the price. Anyone shopping on a budget will appreciate these sandals that look high end but cost very little. You'll enjoy their comforting foot feel and cooling design that keeps you fresh for hours on end.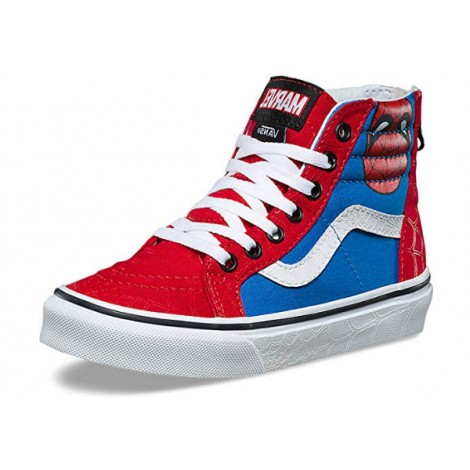 The Vans X Marvel SK8-Hi is a cool looking high-top sneaker that's made with a durable canvas upper and features a back zipper closure and frontal laces for a super secure dual closure system. They sport the Vans logo at the front and Spider-Man detailing on the side, along with vibrant colors and a white statement outsole.
Materials
These sneakers are made with a breathable and lightweight canvas upper that allows for adequate airflow inside of the shoe and around the skin. This prevents overheating which leads to a buildup of sweat and odor-causing bacteria. Their textile overlays are durable and provide long-lasting wear.
Security
These sneakers offer a dual closure system that keeps your child safe and secure. Their rear zipper allows for easy on and off wear, while their front laces provide complete control over how they fit. A non-slip rubber outsole offers excellent stability and grip on any surface, including wet and slippery ones.
Cost and Value
The Vans SK8-Hi is a mid-priced pair that offers excellent style and comfort for the price. They're made with careful details and gorgeous graphics along with being designed to withstand the wear and tear growing children can put on their shoes.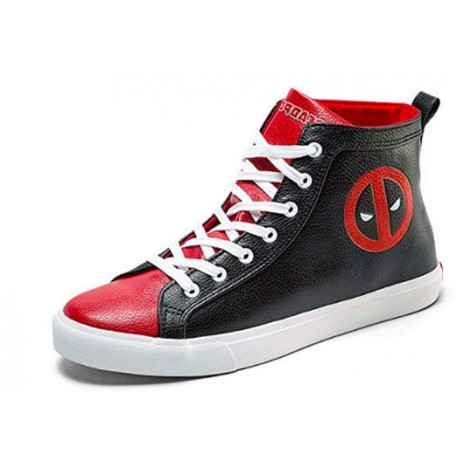 The Deadpool High-Top is designed for adults and boasts a Deadpool mask emblem and a red tongue that offsets their black sides. A statement white outsole and white metal eyelet laces compliment these unique looking sneakers, while their synthetic material lets your feet breathe for a cool and comfy wear.
Care
These high top sneakers are made from synthetic materials that are long lasting and super easy to care for. If they get dirty you can simply wipe them off with a soft cloth dipped in soapy water making these a no-fuss pair to wear.
Materials
Their synthetic upper material is lightweight and allows for adequate air flow around the foot. It's easily wiped off for no-hassle wear, while their vulcanized rubber outsole provides excellent traction on any surface and is made for long lasting durability.
Cost and Value
These hi-tops are at the higher end of the price scale when it comes to the shoes on this list. They do however offer a comforting design and totally cool appearance that's well worth the price. You'll enjoy wearing these sneakers and watching the heads turn as you walk past.

6

. Heelys Split Marvel Universe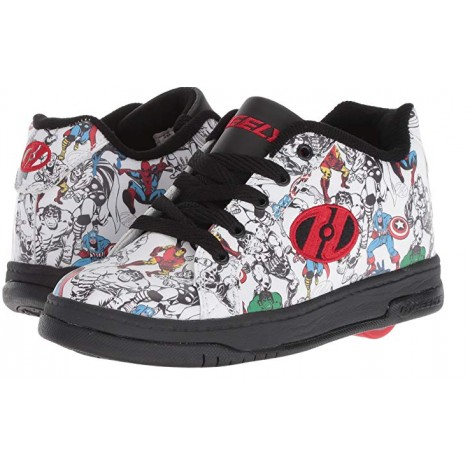 The Heelys Split Marvel Universe is a seriously heroic pair of sneakers! Their low-top design and broad skate-inspired body offer complete comfort for the entire foot, while a synthetic nubuck upper unit allows for proper airflow preventing a buildup of sweat. This pair is vegan-friendly and features high-quality Marvel graphics.
Traditional Laces
This pair has a traditional full lace-up closure system that provides an adjustable fit that puts you in control. Forget about floppy footwear that's too loose or overly tight thanks to this pairs customizable lacing system.
Vegan-Friendly
These sneakers are 100% vegan-friendly so you can feel good about wearing them! For the nature-lover at heart, this is the perfect pair of eco-friendly footwear. This pair is made from synthetic nubuck material that is manmade and does not include any animal products.
Cost and Value
This pair is priced in the mid-range and is a completely affordable option. They're designed with high-quality graphics and a comforting structure that allows for complete customization for the perfect foot feel.



These Crocs clogs feature an impressive graphic design and comfy style that's synonymous with the Crocs name. They offer a secure wear to keep your little ones steady on their feet while providing solid waterproofing and side drainage holes
Croslite Footbed
Croslite Is a unique foam material that has a consistency similar to a combination of plastic and rubber. It is excellent for absorbing the waves of shock which travel through the feet and legs with every step and offers anti-microbial properties to prevent a buildup of odor-causing bacteria.
Safety
A secure-fitting heel strap adds an extra layer of safety to the design of these clogs and makes them ideal for little feet on the move. They're made to keep your kid's safe thanks to their non-slip outsole and foot-hugging structure.
Cost and value
These Crocs clogs are an excellent investment for the health and well-being of your child's feet! Their anti-slip properties keep your little ones safe on their feet while they scamper about so you won't have to worry about accidental slips and falls. Their wrap-around heel strap provides an additional level of safety making these the ideal choice for little ones on the move.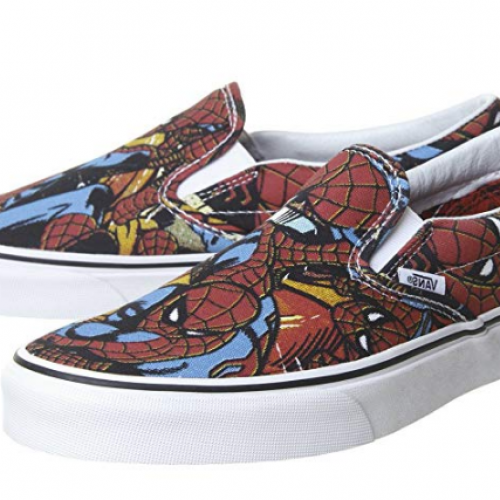 This pair of Vans sneakers offers both a cool Spiderman design and an extra comfortable structure. Their classic Vans slip-on style and signature side logo make these a popular shoe among the younger generation. Hidden elastic stretch goring at the tongue allows for easy on-and-off wearability while their canvas upper is breathable and lightweight to keep your child feeling fresh for hours on end
Rubber outsole
These Vans feature their signature waffle outsole that's designed for enhanced foot-to-ground feel and is non-slip for a secure walking experience. You can forget about accidental slips and falls while wearing a pair of these because of the way their outsole grips to any surface.
Comfort
A padded collar and footbed provide a comfortable and stable experience and work to absorb the waves of shock that travel through the feet and legs with every step. There breathable canvas upper allows for adequate airflow inside of the shoe and around the foot which prevents a buildup of sweat and odor-causing bacteria.
Cost and value
These unisex sneakers are relatively inexpensive and offer a high-quality structure that's worth every cent. Their breathable design and high-end graphics are perfect for growing feet on the go and will surely be a hit at school.

9

. Captain America Light Up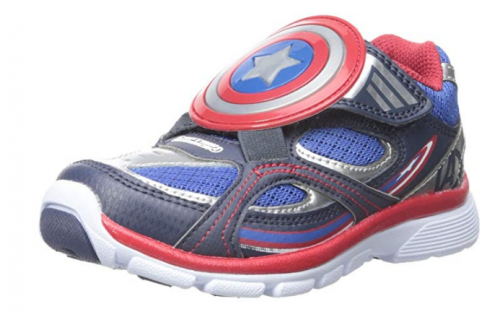 The Captain America light up sneaker from Stride Rite is a cool looking pair that will have your little one lit up with every step. They feature a safe and secure non-slip rubber outsole and offer antimicrobial technology that reduces the chance of odors. This pair is designed after the Captain America team Which is popular among young people and adults alike making them a cool and trendy option.
Light-Up
These sneakers light up with every step that your child takes! Every time your little one steps down their large star graphics front detail will light up for a dazzling effect that will have them mesmerized and will help encourage your child to stay active by promoting an interest in walking.
Antimicrobial Treatment
Antimicrobial treatment built right into the shoe help to control odors by eliminating the odor-causing bacteria. Live microbes attack the bacteria where it starts to effectively prevent the development of unpleasant smells.
Cost and value
While these sneakers are a bit pricier than the options we've seen so far, they are definitely a worthwhile investment that your child will fall in love with. Their cool light-up design and easy hook and loop closures make this an effortless pair that promotes a healthier lifestyle for both yourself and your child.

10

. Avengers Canvas Runner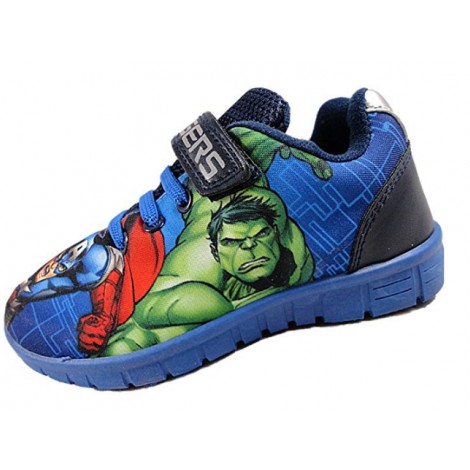 These Avengers sneakers are an officially licensed Marvel product that offers a secure fit and ultra cool design. They feature your Child's favorite characters and make them come alive on their feet with every step. This pair of sneakers is washable for easy care and features hook and loop closures for a secure fit.
Safety
This footwear is made to keep your little one safe thanks to their grippy non-slip outsole that ensures they're steady on their feet even in slippery conditions. You won't have to worry about your children 's shoes slipping off thanks to their dual-closure design that features both no-tie lacing and Velcro front closures.
Multi-Character Design
This pair of sneakers offers a great display of graphics which include some of your favorite characters like The Hulk and Captain America. Their colorful upper set's off the well-designed graphics images for a great overall appearance.
Cost and Value
Anyone who is searching for an inexpensive pair of footwear for their little ones will love these super-cool looking designs. They provide a secure and comforting structure that keeps growing feet on the move for hours while preventing any discomfort and lessening the chance of slips and falls.

Subscribe to our Newsletter