Best Wheel Shoes Reviewed & Rated
last updated
Aug 15, 2019
You've probably seen them all over town: excited, laughing kids who speed down the streets with the wind in their hair, zooming through the crowds and having the time of their lives. It might seem strange at first because they're not wearing rollerblades. In fact, they are wearing shoes with wheels attached at the bottom, which help them glide around without a care in the world.
The original wheel shoes were designed by Heelys, and they made for an excellent way to get around, but also to get children to exercise. Today, they are popular with adults as well, bringing a fun touch to menial everyday tasks.
The list below looks at the highest-rated wheelie shoes currently available for purchase. Furthermore, you'll find a list of criteria you should consider before shopping in order to make the best possible purchase.
In a Hurry? The test winner after 6 hrs of research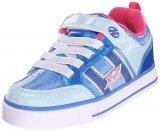 Heelys Bolt Plus X2
Why is it better?
Double Closure System
Vulcanized Rubber Outsole
Motion Activated Lights
Two Wheels
Good for Beginners
In a
Hurry? Editors choice: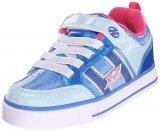 Test Winner: Heelys Bolt Plus X2

4
Researched Sources
1100
Reviews Considered
6
Hours Researching
10
Products Evaluated
Features
Safety Hazards
Materials
Style
Comfort
By Default
Top 10 Sneakers with Wheels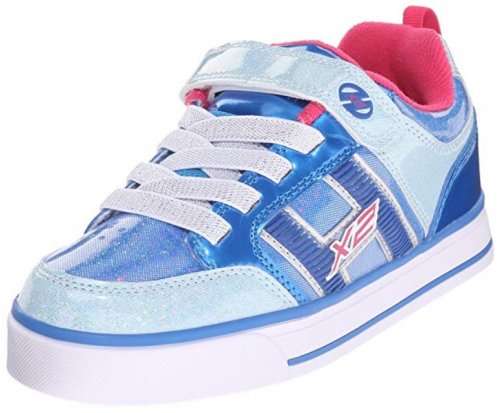 Double Closure System
Vulcanized Rubber Outsole
Motion Activated Lights
Two Wheels
Good for Beginners
Uncomfortable Thick Tongue
Small Fit
The moment the Bolt Plus X2 sneakers with wheels were released, they became an instant bestseller. With its low top silhouette, wide skate body, and show-stopping colorway, it looks like a sneaker from another dimension. It comes with a vulcanized outsole for durability, an elastic lace closure and a power strap across the instep for double security. It also has a light-up feature that is activated by motion.
Read more
The Bolt Plus X2 is unlike any of the other shoes with wheels on this list. It has everything you'd expect a design with wheels to have - a sturdy closure system, a tough outsole, an interesting style, and not only one, but two wheels, lined up one after another! The double closure is especially handy, as the laces help adjust the fit of the sneaker, and the strap across the top locks the foot down even more inside the design. Vulcanized rubber which the outsole is made of means that this sneaker is resistant to slipping, to wear and tear, as well as to chemicals and oils!

This pair of shoes with wheels is one that is perfect for beginner skaters - it has the security, it has the ability to withstand abuse, and the double wheels provide stability which one-wheel options lack. The Heelys Bolt Plus X2 is widely sought-after for a reason, and you definitely won't regret investing your money into this solid choice.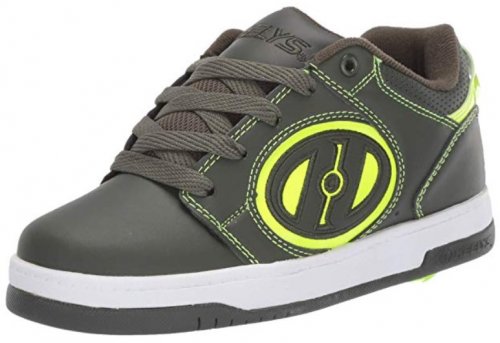 Spacious Round Toe
Smooth Simple Finish
Lace-Up Closure
Reflective Parts
Low Profile Wheels
Requires Learning to Use
Size Runs Small
Bearing the same name as a Star Trek spaceship, the Heelys Voyager is a little cosmic, a little futuristic in its design. This isn't only due to its large, bulky silhouette, but also thanks to the fact that it has reflective parts on its upper, ones that glow in the dark and make it look positively alienesque! This is a unisex choice of shoes with wheels, meaning that you can get it both for a boy or a girl, and they will be equally thrilled with the surprise!
Read more
The Voyager is, as all other Heelys designs, made from synthetic materials. It bears a large logo on the side and eye-catching reflective parts and has a full lace-up closure to ensure your young one's security inside the sneaker. We appreciate the round-toe classic skater silhouette which provides ample space for the toes and the simple and straightforward smooth finish. This pair of wheel shoes comes with faster, low-profile wheels that require some getting used to, as well as ABEC 5 bearings for a smooth ride.

The Heelys Voyager mimics the style of Vans, in that it is a design that would definitely find its place in a skate park. However, seeing as the Voyager comes with wheels of its own, you can be sure that your kid will love every second of speeding through the neighborhood in these cool wheelie shoes!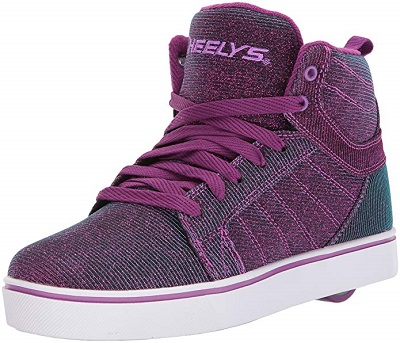 Decent Ankle Support
One Low Profile Wheel
Vulcanized Rubber Outsole
Lace-Up Closure
Fun & Flashy Design
Bulky & Heavy
Wheels Not Retractable
The assortment of designs for the Heelys Uptown is all about glitter, holograms, and polished metallics. This high top sneaker comes with one low profile wheel in the back - non-retractable as with all Heelys - and a lace-up closure at the front. The outsole is made out of vulcanized rubber, and it is thick enough to house the wheel in such a way that the wearer doesn't feel it rolling under the heel. Unlike some other styles of shoes with wheels, the Heelys Uptown is fashionable and eye-catching, and will surely brighten the day of any sparkle-loving child!
Read more
Aside from the fact that high tops look incredibly cool and fashionable, they also serve a purpose. The collar around the ankle protects it from unnecessary movements and reduces the risk of sprains and other injuries - something you will no doubt agree is essential when speeding around in sneakers with wheels. The sole of the Heelys Uptown is made out of vulcanized rubber, which has good strength and resilience - it doesn't deform over time - as well as high resistance against wear and tear and other types of abrasions.

Because of its high-top design, the Uptown is a secure and stable pair of wheeled shoes, and it comes in a variety of flashy uppers that your kid is definitely going to love.



Canvas or Synthetic Upper
Padded Collar and Tongue
Heel Pull Tab
Generous Padding
Herringbone Traction Pattern
Runs Small
Nosy When Walking
This pair of wheel shoes looks a lot like a classic pair of skater sneakers such as Vans, employing the same type of simple aesthetic. It's the perfect pair to purchase if you want something that will work just as well for school or every day when you remove the wheels. There are plenty of color options to choose from, from simple blacks and greys to tones of red and blue that are sure to catch everyone's eye.
Read more
These shoes can be purchased in several material choices. While the standard model uses canvas in the upper, you can also opt for synthetic versions of leather or suede for the performance benefits they offer. Not only will these materials be more insulating (thus more appropriate for colder weather), but they're also more durable and abrasion-resistant than simple canvas.
The collar and tongue of these Heelys are generously padded for a comfortable wearing experience. These wheelie shoes can easily turn into regular sneakers as well, and you'll find that the non-marking rubber outsole does great on most surfaces. Added features include a pull tab at the heel, a classic lacing system, and ABEC 5 bearings. The price of this product ranges from average to cheap, so if you're looking for a great pair of wheeled shoes for yourself or your child, this is definitely a model to consider.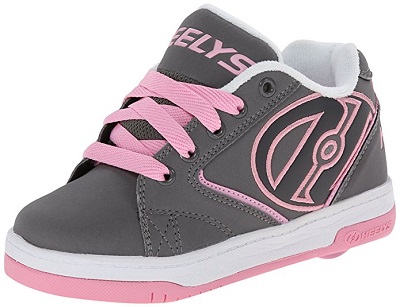 Lightweight Outsole
Smooth Ride
Classic Silhouette
Synthetic Nubuck
Fashionable & Colorful
The Heelys Propel 2.0 is an all-time customer favorite when it comes to shoes with wheels. This is a fashionable, smooth toe classic silhouette shoe with one wheel at the back. It has a lightweight outsole and its upper is made out of synthetic nubuck. Regardless of the color combination, all Heelys Propel 2.0s have an oversized logo with an embroidered outline on the side. The wheel is low profile, and they boast ABEC 5 bearings for the smoothest of rides.
Read more
The Heelys Propel 2.0 has a trendy silhouette that is always in style. It carries that relaxed, laid-back vibe which all kids love, and its multicolor designs are sure to wow everyone. ABEC is a special rating system from the Annular Bearing Engineering Council. The higher the rating, the more precise and smooth the ride is. Since the ratings are 1, 3, 5 and 7, you can tell that the Heelys Propel 2.0 wheel shoes promise a nice and easy glide.

The Heelys Propel 2.0 is popular because of its simple and yet stylish design, and because it offers a steady ride, no muss, no fuss. For the price it comes at it is definitely worth it, especially if you're not looking for any special features and are just interested in a solid, standard pair of wheelie shoes.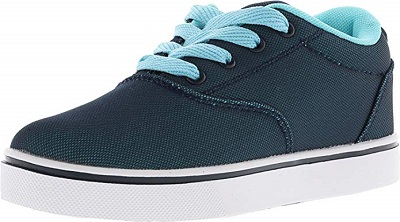 Abrasion-Resistant Brake Pad
Impact Absorbing
Padded Collar & Tongue
Breathable
Simple & Minimalistic
Unreliable Sizing
Not Much Support In The Heel
Now here is something a little more subdued. The Heelys Launch does come with its fair share of leopard prints and fun patterns, but for the most part, this sneaker is somewhat serious in design. Simple, minimalistic, and absolutely school appropriate (without the wheels, of course). The Heelys Launch has a cushioned collar, a lacing system with durable plastic eyelets and a midsole stripe for a pop of color. It also boasts a mesh lining and a wear-and-tear-resistant brake pad. The rubber outsole is constructed with Heelys Ninja Grip Tread for superior grip.
Read more
The design of these sneakers with wheels is specifically meant for children who love spending their time on the skateboard. They can go from walking, running, skateboarding to rolling without changing their footwear. Regardless of what your kid is doing, the Heelys Launch will ensure that they are safe. If they're doing skateboarding tricks, the insoles and striped midsoles are there to absorb high impacts, and if they are rolling downtown, the abrasion-resistant brake pads provide protection and safety.

Sure, the Heelys Launch doesn't come with the glitter and shine of most other models, but it is a comfortable, secure pair of wheeled shoes for a kid who loves skateboarding. Even some adults have tried these on and had an absolute blast rolling around the grocery stores and markets.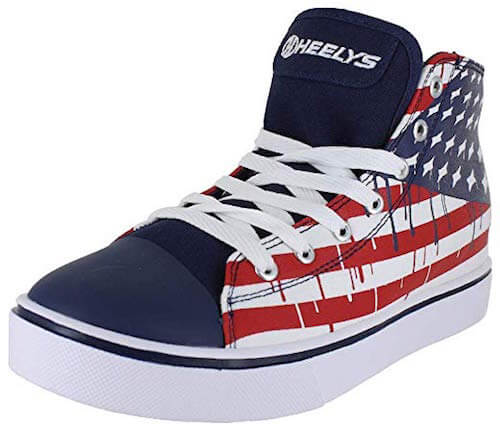 Canvas Upper
Mesh Lining
Padded
Unique Design
Heelys Ninja Grip Tread
Eyelet Durability
Thin Material Upper
If you're a fan of the Converse Chuck Taylor look, you'll definitely want to get these shoes with wheels. Not only do they utilize one of the most iconic silhouettes in footwear, but they also come with an upper that's blue, white and red, and will appeal to any patriot out there. It can be purchased in both children's and adult sizes, so you can pick up a pair for the whole family.
Read more
The canvas upper of the Hustle is one of the more breathable options when it comes to wheel shoes. Not only is canvas naturally breathable, but the mesh lining promotes air flow and moisture management, so you won't have to worry about bad odors or sweaty feet, even when you've been practicing tricks all day. Added comfort is provided by padding in the collar and tongue, as well as the adjustable lacing system.
This model features a Heelys Ninja Grip Tread which combines a herringbone pattern in the front and back with a hexagonal grip pattern in the midfoot section. Additionally, the brake pad is abrasion resistant, so you can count on these being a safe option on all types of floors (though you probably shouldn't go crazy in them in school hallways). The ABEC 1 bearings work great with the flat wheel type. These wheel shoes with wheels do cost slightly more than other models listed in this article, but the great design more than makes up for it.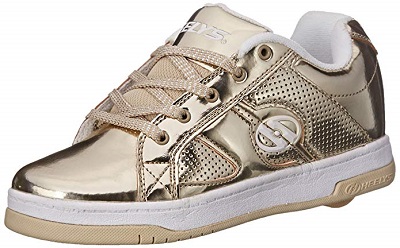 Dual Density Lightweight Outsole
Smooth Toe Silhouette
Chrome/Metallic Color
One Low Profile Wheel
Split Pattern Upper
Needs Breaking In
Creases Easily
The Heelys Split is nothing short of stunning with its extreme-shine metallic color. Whether silver, gold, or blue, it is designed to gleam and impress and we admit that we are a little in love with it. These gorgeous wheelie shoes come with a dual-density lightweight outsole, a smooth classic toe silhouette and a split pattern upper. They have one wheel in the heel, and their chrome or metallic uppers are made of synthetic leather. If your child loves shiny footwear, these Heelys are a perfect choice!
Read more
Heelys has a special formulation for their outsole, which consists of dual density rubber - a material which is twice as durable and twice as sturdy, but which doesn't lose any of its lightweight qualities and is still perfect for rolling around. The Heelys Split is not for the faint of heart. These shoes with wheels reflect light and demand attention, and you can be sure that your kid will get a ton of compliments on them as they glide through the neighborhood in their new kicks.

The Heelys Split is a great option, one which is comfortable and long-lasting, and which will take your child's breath away with its polished chrome design.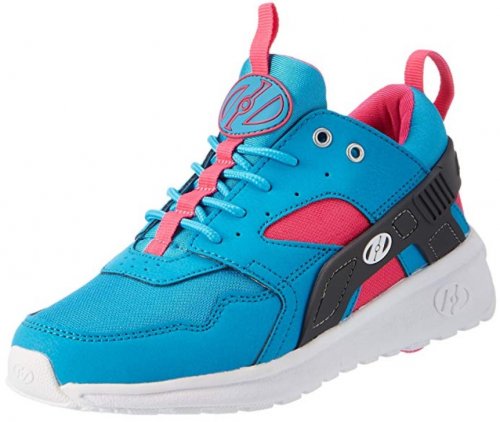 Breathable Mesh Inserts
Lace-Up Closure
Low Profile Wheels
ABEC 5 Bearings
Sporty, Modern Design
Wears Quickly
Moves Too Fast
At first glance, you'd think that this is a pair of shoes with wheels from Nike or Adidas or any other world-famous sportswear brand. However, it comes as a pleasant surprise to learn that this sporty, modern option comes with wheels in the outsole, and is, in fact, a Heelys model! The Force is a sneaker similar to any other, one that comes in a variety of color and pattern combinations - even metallic chrome ones! - but with the added benefit of being constructed for ultimate zooming down the streets!
Read more
The upper of the Force is made from synthetic leather and mesh. The mesh is there to help with breathability, and to provide the necessary airflow so that your kid's feet don't sweat as they take on the sidewalks. The lace-up closure on the front is fully adjustable, which means that you or your child can tighten or loosen the design for perfect security and lockdown. The wheels on the Force are low profile, for faster turns and speedy flybys, and the design is equipped with ABEC 5 bearings.

The Heelys Force is a stylish choice of wheel shoes that every kid wants to have. It is laid-back and athletic, and yet fashionable enough to be worn with both skirts and jeans, shorts and leggings. We're in love with its countless color options, and we know that your young one will fall in love with it, too!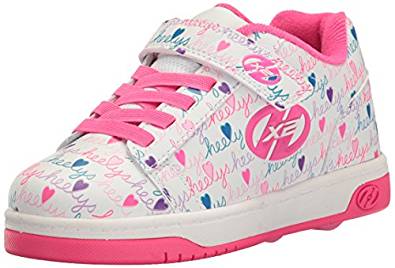 EVA Midsole
Two Wheels
Power Strap
Durable Rubber Outsole
Excellent For Beginners
Aside from being so cute we can barely contain our squeals, the Heelys Dual Up is also a great design for a rolling beginner. It comes with two wheels at the back for added stability and features not only a lace-up closure but also a velcro strap across the top. This lovely pair of wheelie shoes has a durable rubber outsole, a lightweight EVA midsole, and a 3D logo on the side. If your child is new to this world and is maybe a bit hesitant to try, these sneakers are a perfect choice.
Read more
The reason two wheels are useful is that rolling with only one in the back can be a bit tricky to master. The Heelys Dual Up offers more support and stability and reduces the risk of falling, while at the same time encouraging your kid to have confidence in their rolling. There can never be enough support for someone who is just starting out in their skating. The Heelys Dual Up comes not only with a lace-up closure but also with a power strap at the top, which ensures a snug, secure fit.

The Heelys Dual Up is an option with outstanding comfort and security, perfectly designed for a beginner, and we feel like its cost is absolutely worth it for that extra dose of safety when you're just starting to get the hang of using wheelie shoes.
Criteria Used for Evaluation


Features
Wheels – the defining feature of Heelys – can come in different numbers, sizes, and with different qualities.
All wheels are made of high-density PU (polyurethane), which has a myriad of benefits: this material is abrasion resistant, oil resistant, tear resistant and can withstand a wide range of different weather conditions. PU wheels are strong and resilient, and wear well over time, meaning that they will last longer and won't require replacements very often.
Some brands make shoes with retractable wheels – usually outfitted with a button on the shoe itself that you can press to retract or pop out the wheels. Others, such as the original Heelys brand, don't offer the option of retracting the wheels inside the sole. Rather, wheels on Heelys are removable, and if your kid gets tired of rolling around, you can take out the wheels manually and fill in the wheel cavity with a specially designed plug.
Wheel sizes depend on the manufacturer. Some offer only one, standard wheel size, but there are companies which make bigger wheels for more stability and smaller wheels for easier turns and maneuvering.
Lastly, in terms of the number of wheels in the shoe – there are shoes with one wheel and there are shoes with two wheels. Two wheels are recommended for beginners. They provide good balance and are a more stable choice for someone who has never used Heelys before. One-wheeled shoes are designed for older children and those with more experience in wheeling around. These enable the rider to turn easily and to speed up as much as they want.


Safety Hazards
When you know your child will be spending some time gliding around at higher speeds, it is natural that your first concern is their safety. And Heelys manufacturers do recommend wearing protective gear when using shoes with wheels.
But when it comes to the safety and security the shoes themselves provide, there are some we can consider when looking to buy a good pair of wheel shoes.
Closures: Keeping the foot snug and secure inside the shoe is imperative. Most wheelie shoes come with standard lace-up closures which help your child adjust the fit to their liking. The laces should be tight enough for the foot not to slip out of the shoe or otherwise slide around inside it, but not so tight as to cut off circulation or cause any kind of discomfort.
Another type of closure is velcro. Velcro straps are convenient for children who have not yet mastered the skill of tying shoelaces since they are quick and easy to use.
Additionally, some shoes have both velcro and lace closures to double up on the security and ensure that their Heelys are't left behind when your child rolls around the neighborhood.
Grip: You may think that grip is not that important since your kid will be using wheels and not the actual soles of the shoe, but that is not the case. Grip is crucial in preventing slipping during the ride, and to ensure that your child can properly break when they want to. Sneakers with wheels which have a rubber sole with visible grip designs etched into it have a strong grip that will reduce the risk of stumbling or falling.
This might not fall under the category of safety, but it is vital to keep in mind that not all shoes are suitable for tricks that children sometimes perform.
For example, for sliding along curbs and rails, the shoes should have grind plates in their design to help the child execute the trick without any problems or safety risks. If your kid plans to learn all these neat skateboardingstunts, it is best to buy the ones which have all the necessary features for that.


Materials
You'll find that shoes with wheels come in a huge variety, like you'd expect from regular sneakers. This is a great advantage, not only because you can choose what will work best for you, but also because you can opt for different models you'll be able to wear throughout the year.
Canvas: The most commonly used material in wheel shoes has to be canvas. This is a lightweight, flexible material that allows the wearer to move without being hindered. It's also highly breathable and doesn't retain heat, making it an excellent choice for summer wear.
Leather: Though you won't find that many pairs of wheel shoes made with genuine leather, it is an excellent choice for those in need of a more durable pair. Not only is this type of material highly adaptable to the foot, but it also provides a higher level of protection, is more durable, and is easy to keep clean. Furthermore, it doesn't lack in terms of air flow, making for a good all-year choice.
Synthetics: Most shoes with wheels will use synthetic in the upper. This is often the choice manufacturers make to cut costs, especially considering that this type of footwear is aimed at children who tend to grow rapidly. While they may cause excess sweating, synthetic wheelie shoes should hold up nicely against daily wear and tear.
Mesh: Some of the models listed above use mesh in the lining. This is a great material to have in any of your athletic footwear, not just your sneakers with wheels. Because it is perforated and moisture wicking, it will keep the feet dry and cool, which is highly beneficial for overall foot health.


Style
For convenience, and because children rarely require dress shoes, all sneakers with wheels are designed as sneakers.
Sneakers are versatile, go well with any type of outfit, and are comfortable. Depending on the gender of the child, they can be styled either for girls or for boys, in a wide selection of colors, patterns and added decorations, such as tassels, charms, and soles that light up upon impact.
As most sneakers, the ones with wheels also come in low top and high top versions. Low tops are comfortable and offer better mobility, while the high tops are more secure, providing support for the ankle and reducing the risk of sprains or serious injury.
The uppers of these sneakers can be constructed out of canvas or leather, or even suede. Companies usually aim for materials which are breathable, flexible, and durable enough to withstand hours of rolling around, and maybe even a few kicks and tricks children like to perform. The price of the shoe largely depends on the choice of materials.


Comfort
To accommodate both regular use and rolling around on wheels, it is natural that wheeled shoes are constructed a bit differently, and that they offer a level of comfort normal shoes perhaps don't.
In order to ensure that the wearer doesn't feel the wheels during the ride, the soles of wheeled shoes are thicker and padded, to provide comfort over longer periods of time.
In fact, wheel shoes are usually padded on all sides. The added cushioning provides protection against injury in case the wearer falls, and also offers a higher level of stability as well. The padding is particularly useful when kids have to press down on their heels to break.
When it comes to comfort, it is important to mention that wheeled shoes which are made out of canvas materials and with little padding can get uncomfortable pretty quickly. They are better suited for more experienced riders.
Expert Interviews & Opinions
Most Important Criteria
(According to our experts opinion)
Experts Opinion
Editors Opinion
Users Opinion
By Default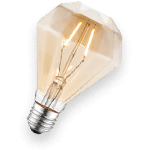 Practicing In Your Wheeled Shoes
Getting used to skating around in your wheeled shoes will take some time and practice. Depending on how many wheels are on your shoes, some are easier to learn on than others. When first experimenting with these fun loving types of footwear, try them out with help, either from another person, or with a guide like a railing.
Caring For Wheels On Shoes
The last thing you want is to pop your wheels out for a spin, and realize they are full of grime and dirt and won't spin properly. To help keep your roll smooth, make sure to care for your wheels time to time. Clean them off with a damp rag and soap to remove all the dirt and grime that can build up over time on the wheel.
Other Factors to Consider


Bottom Line
What a thrilling world of colors, flashing lights and rolling around! This list made us wish we could turn back the clock and take full advantage of this amazing concept. It would have made our trips to school or even to the store so much more fun.

Now, while an important part is that these designs are visually appealing, as well as that they have wheels - there are more factors to consider before making a final decision. These are not all that different from roller skates, which means they come with their own set of precautions.

The stability of the design, the balance it provides and how safe it is for your child to use it, as well as its comfort, are some of the key points you need to think about when buying a pair of shoes with wheels.

Fortunately, in our Criteria section, we have organized all of the information required to buy the best pair for your needs. We thought about the style, the comfort levels, as well as how safe the option is to use. We hope that by the end of this guide you won't have any problems in selecting a snazzy pair of shoes with wheels for your kid!
Frequently Asked Questions
q:

How do I clean my shoes with wheels?

a:

Clean your wheel shoes by using soap and warm water and gently wiping them down with a soft cloth. Absolutely do not use the washing machine, because it may damage the shoes. In case your shoes are squeaky, you can try cleaning them with WD-40 or bearing lubricant to solve the problem.
q:

How does the actual rolling work?

a:

It is easy to learn how to use heelys, especially for children. Most kids learn the basics of skating in these shoes the same day they put them on for the first time.
The first step would be for your child to place their dominant foot in the front, heel down, toes up. The wheel of that front shoe should be engaged.
Then the child can push off with the back foot and lift the toes in the back as well to engage the back wheel. This should be enough for a smooth ride.
When they want to break, they can just lift their toes up on both feet to let their heels touch the ground.
We have to emphasize that, until your child masters the skill of wheeling around, it is best that they wear protective equipment, such as elbow and knee pads, gloves, and a helmet.
q:

Are wheel shoes vegan-friendly?

a:

Not necessarily! While we can't guarantee for all brands, we can say that official Heelys are vegan-friendly. Their uppers are constructed out of synthetic nubuck and canvas, and their adhesives and glues don't contain any animal products. You can find more information about which shoes with wheels are vegan and which aren't on the manufacturers' official web sites.
q:

I'm not sure which size of heelys to get for my kid.

a:

Generally, sneakers with wheels are made a size smaller than regular shoes. If your child is usually a size 1, for example, they would need a size 2. The sizing is a bit different for even younger kids, who usually need two sizes up as the heelys are made even smaller. In order to be absolutely sure of which size to get, it is best to consult an official sizing chart for the heelys that you wish to purchase.
q:

Does my kid need protective gear when they're rolling?

a:

It would be advisable, yes. A helmet, knee and elbow pads are recommended, especially if you have a beginner skater in your midst.