Best Wheel Shoes – 2021 Buying Guide
In a
Hurry? Editors choice: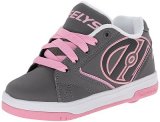 Test Winner: Heelys Propel 2.0

You've probably seen them all over town: excited, laughing kids who speed down the streets with the wind in their hair, zooming through the crowds and having the time of their lives. It might seem strange at first because they're not wearing
rollerblades
. In fact, they are wearing shoes with wheels attached at the bottom, which help them glide around without a care in the world.
The original wheel shoes were designed by Heelys, and they made for an excellent way to get around but also to get children to exercise. Today, they are popular with adults as well, bringing a fun touch to menial everyday tasks.
The list below looks at the best wheel shoes currently available for purchase. Furthermore, you'll find a list of criteria you should consider before shopping in order to make the best possible purchase.
Standout Picks
Criteria Used for Evaluation
Features
Decide on the wheel size, number and whether or not you need them to be retractable.
Wheels – the defining feature of Heelys – can come in different numbers, sizes, and with different qualities.
All wheels are made of high-density PU (polyurethane), which has a myriad of benefits: this material is abrasion-resistant, oil-resistant, tear-resistant and can withstand a wide range of different weather conditions. PU wheels are strong and resilient, and wear well over time, meaning they will last longer and won't require replacements very often.
Some brands make shoes with retractable wheels – usually outfitted with a button on the shoe itself that you can press to retract or pop out the wheels. Others, such as the original Heelys brand, don't offer the option of retracting the wheels inside the sole. Rather, wheels on Heelys are removable, and if your kid gets tired of rolling around, you can take out the wheels manually and fill in the wheel cavity with a specially designed plug.
Wheel sizes depend on the manufacturer. Some offer only one, standard wheel size, but there are companies that make bigger wheels for more stability and smaller wheels for easier turns and manoeuvring.
Lastly, in terms of the number of wheels in the shoe – there are those with one wheel and there are shoes with two wheels.
Two wheels are recommended for beginners. They provide good balance and are a more stable choice for someone who has never used Heelys before. One-wheeled shoes are designed for older children and those with more experience in wheeling around. These enable the rider to turn easily and to speed up as much as they want.
Safety Hazards
Secure closures, good grip, and designs made specifically for performing tricks will keep your young one safe during their ride.
When you know your child will be spending some time gliding around at higher speeds, it is natural that your first concern is their safety. And Heelys manufacturers do recommend wearing protective gear when using this type of footwear.
But when it comes to the safety and security the shoes themselves provide, there are some we can consider when looking to buy a good pair of wheel shoes.
Closures: Keeping the foot snug and secure inside the design is imperative. Most wheelie shoes come with standard lace-up closures which help your child adjust the fit to their liking. The laces should be tight enough for the foot not to slip out of the shoe or slide around inside it, but not so tight as to cut off circulation or cause any kind of discomfort.
Another type of closure is velcro. Velcro straps are convenient for children who have not yet mastered the skill of tying shoelaces since they are quick and easy to use.
Additionally, some shoes have both velcro and lace closures to double up on the security and ensure that their Heelys aren't left behind when your child rolls around the neighbourhood.
Grip: You may think that grip is not that important since your kid will be using wheels and not the actual soles of the shoe, but that is not the case. The grip is crucial in preventing slipping during the ride, and to ensure that your child can properly break when they want to. Sneakers with wheels that have a rubber sole with visible grip designs etched into it have a strong grip that will reduce the risk of stumbling or falling.
This might not fall under the category of safety, but it is vital to keep in mind that not all shoes are suitable for tricks that children sometimes perform.
For example, for sliding along curbs and rails, the shoes with wheels on the bottom should have grind plates in their design to help the child execute the trick without any problems or safety risks. If your kid plans to learn all these neat skateboarding stunts, it is best to buy the footwear that has all the necessary features for that.
Materials
Choose what type of material would suit your child best based on where and how often they will wear these shoes.
You'll find that shoes with wheels come in a huge variety, as you'd expect from regular sneakers. This is a great advantage, not only because you can choose what will work best for you, but also because you can opt for different models you'll be able to wear throughout the year.
Canvas: The most commonly used material in wheel shoes has to be canvas. This is a lightweight, flexible material that allows the wearer to move without being hindered. It's also highly breathable and doesn't retain heat, making it an excellent choice for summer wear.
Leather: Though you won't find that many pairs made with genuine leather, it is an excellent choice for those in need of a more durable option. Not only is this type of material highly adaptable to the foot, but it also provides a higher level of protection, is more durable, and is easy to keep clean. Furthermore, it doesn't lack in terms of airflow, making for a good all-year choice.
Synthetics: Most shoes with wheels will use synthetic in the upper. This is often the choice manufacturers make to cut costs, especially considering that this type of footwear is aimed at children who tend to grow rapidly. While they may cause excess sweating, synthetic wheelie shoes should hold up nicely against daily wear and tear.
Mesh: Some of the models listed above use mesh in the lining. This is a great material to have in any of your athletic footwear, not just your sneakers with wheels. Because it is perforated and moisture-wicking, it will keep the feet dry and cool, which is highly beneficial for overall foot health.
Style
Your kid's personal taste will decide what type of style they're most comfortable wearing on a regular basis.
For convenience, and because children rarely require dress shoes, all sneakers with wheels are designed as sneakers.
Sneakers are versatile, go well with any type of outfit, and are comfortable. Depending on the gender of the child, they can be styled either for girls or for boys, in a wide selection of colors, patterns and added decorations, such as tassels, charms, and soles that light up upon impact.
Like most sneakers, the ones with wheels also come in low top and high top versions. Low tops are comfortable and offer better mobility, while the high tops are more secure, providing support for the ankle and reducing the risk of sprains or serious injury.
The uppers of these sneakers can be constructed out of canvas or leather, or even suede. Companies usually aim for materials that are breathable, flexible, and durable enough to withstand hours of rolling around, and maybe even a few kicks and tricks children like to perform. The price of the shoe largely depends on the choice of materials.
Comfort
Padding on all sides and thick soles increase the comfort levels of a design.
To accommodate both regular use and rolling around on wheels, it is natural that wheeled shoes are constructed a bit differently and that they offer a level of comfort normal shoes perhaps don't.
In order to ensure that the wearer doesn't feel the wheels during the ride, the soles of wheeled shoes are thicker and padded, to provide comfort over longer periods of time.
In fact, wheel shoes are usually padded on all sides. The added cushioning provides protection against injury in case the wearer falls, and also offers a higher level of stability as well. The padding is particularly useful when kids have to press down on their heels to break.
When it comes to comfort, it is important to mention that wheeled shoes which are made out of canvas materials and with little padding can get uncomfortable pretty quickly. They are better suited for more experienced riders.
10 Best Shoes With Wheels in 2020
Subscribe to our Newsletter