Best Girl Sneakers Reviewed & Rated
In a Hurry? Editors choice: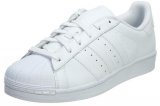 Test Winner: Adidas Superstar

Shopping for shoes for your kid can be an intimidating task. Athletic footwear, sneakers, in particular, can be an overwhelming category, with a huge number of available options, giving you all types of features you never even knew existed. Will your child be more comfortable wearing running shoes, or will they prefer the stability of a basketball shoe? Should you go with a tennis shoe, or maybe opt for something simple, such as a lightweight
canvas slip-on
? Additionally, you want the product you buy to be worth the investment, which means that it should be comfortable, durable and should encourage your daughter to go out and explore.
Standout Picks
Criteria Used for Evaluation
Style
There are several different style sneakers available, and each offers its style and wearability benefits. The most popular and widely available styles are:
Low-top: Low-top athletic shoes are a casual wearing model that is convenient and practical. These are the perfect style for relaxed outings or for hitting the mall with friends. This type of footwear looks best with a pair of skinny jeans and a comfortable t-shirt.
High-top: High tops are a trendy choice and add a grittier street style to any look. These look great with a pair of skinnies and a tucked in solid color tank or t-shirt. They also look great with a skirt or dress, offering a more stylish alternative to regular shoes.
Slip-on: A Slip-on is similar to a low-top only without the lace closures. Slip-ons are always a hit in the warmer months and look great with a pair of shorts and summer tank top.
Sneaker Boots: Sneaker boots sit just below the knee and are ideally paired with shorts or a skirt, but also look stylish with a pair of skinnies. They're also a good option for colder weather, as they provide an added element of warmth.
Comfort
Comfort is a crucial element of a sneaker's performance and is a major deciding factor in the overall happiness of the wearer. There are many elements and features of a shoe which can make a world of difference when it comes to the level of comfort it provides including:
Cushioning
Arch Support
Ankle Support
Airflow
Moisture-control
Footbed
Any pair of footwear needs to have ample cushioning to support the foot and absorb shock from the impact of every step. Without proper cushioning feet and legs become fatigued and achy which can become uncomfortable and affect performance. Growing children especially need to have a supportive pair of footwear that takes the pressure of off their growing bones, limbs, and tendons. The ankle is another area to pay particular attention to, and that should be well-supported and protected from the potential for injury. It's easy to accidentally hurt your ankle while walking, running, or playing sports, which is why a shoe should provide some level of support at the ankle bone, mainly if it will be for athletic activities.
Another contributing factor to the overall comfort of a pair of shoes is how well temperature and moisture build-up is controlled. No one likes the feeling of damp, sweaty feet and it can be especially unpleasant for children who have to sit in class for hours at a time. Ideally, a sneaker will have a footbed which wicks moisture away from the skin, along with ventilation holes or construction using breathable materials. Leather is an excellent material for allowing proper airflow and also draws moisture away from the foot maintaining a cool and dry environment.
There is one more thing you should consider before purchasing, and that is whether your child requires custom orthotics that are used to correct pronation issues or flat feet. If this is the case, you will need to ensure you're buying a product with a removable footbed so that the new insole can be inserted without compromising fit or functionality.
Brand
The brand is not always an essential factor, but with sneakers, there are brands which stand out from the rest. Some of the biggest names in the sneaker business are:
Reebok
Vans
Converse
Adidas
Nike
These names stand behind high-quality products that are tried and true having withstood heavy user testing and have proven staying power making them an excellent place to start looking in your quest to find the ideal pair of sneakers. User reviews and experience is something to be considered because if a large number of people have had either a good or a bad experience chances are that you may have a similar one.
Materials
The materials used to construct a shoe are an essential aspect to consider and will determine the level of satisfaction experienced. Some materials are better suited for wear during specific seasons or types of weather while others won't perform as well under the same conditions.
Fall/Winter:
For colder weather, there are many pairs listed which are winterized and feature climate-appropriate features. Two vital aspects to look for in a shoe for fall or winter is a waterproof upper, or at least water-resistant, and a solid outsole that provides excellent traction. The best material for the top of a sneaker that is going to offer water-resistance is leather, which provides waterproofing and keeps feet warm in cold weather. For the outsole, rubber is the best choice of material due to its water-resistant properties, and it's firm grip even on slippery terrain.
Spring/Summer:
For spring and summer when the weather is warmer, it is vital that a sneaker offers excellent airflow to prevent sweating and odors. Air ventilation holes are a great feature to look for, but an even better option is to look for a shoe that features a mesh upper, the mesh is extremely breathable and is the perfect material for warm weather. When it comes to a fabric upper, canvas is an excellent choice because it allows air to flow through the fibers while also wicking moisture away from the skin.
Safety Hazards
Safety is always the number one priority when it comes to children, and their footwear needs to offer an additional level of protection. An outsole that's slip-resistant is an important aspect and is a must for anyone on the go. Inadequate traction can lead to accidental slips and falls and dramatically increases the risk of injury. As mentioned in the 'Materials' section above, one of the best materials is rubber, it offers a strong grip and is long-lasting so your child's shoes won't wear out too quickly. The main safety aspects to consider when shopping for a new pair of sneakers are:
Grip
Traction
Closure System
Fasteners
Materials
The closure system on a pair of sneakers usually consists of traditional laces. However, it's not uncommon to find sneakers with a hook-and-loop closure. Hook-and-loop closures offer a more customized level of wear and allow for complete control over the tightness of a shoe. Laces, on the other hand, are very customizable too and can easily be tied to the wearers desired fit. The downside to laces is that there is a chance of them coming untied while playing sports or engaging in any physical activities which then poses a risk of tripping and does not keep the shoe safely in place.
10 Best Girl Sneakers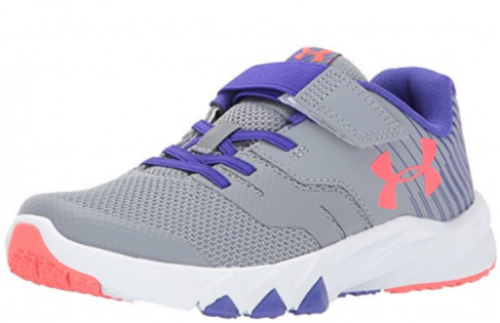 The Under Armour Primed 2 is a pair of performance-oriented running shoes made for those who are looking for a larger amount of cushioning, support, and a lightweight fit. Made with a mesh upper that's breathable, softly hugs the foot, and features overlays for added support, this is the best choice for those girls who are more athletically inclined. You may decide to purchase these sneakers for gym class, or you can go with them to be worn on hard concrete that can take its toll on fragile children's bodies.
Made for running and helping absorb the shock that is generated upon each impact, the Under Armour Primed 2 features a full-length EVA foam midsole that is just the right combination of cushioned and responsive. The outsole is made with non-marking rubber and features outriggers at the forefoot that work to give additional lateral stability, helping prevent any sprains or rolled ankles.
In addition to the breathable mesh upper that allows a good amount of air flow, the Under Armour Primed 2 also features a footbed that's been treated with an antimicrobial process to prevent the appearance of fungus and bacteria that may lead to the development of odors or infections. For a pair of performance running shoes, the Under Armour Primed 2 comes at a surprisingly affordable price. Sure, it'll set you back more than a simple canvas sneaker, but considering that it was made for athletic use, you have to consider the technologies that go into making a running shoe such as this. If your little one likes running around, or needs something cushioned for gym class, then these are highly recommended.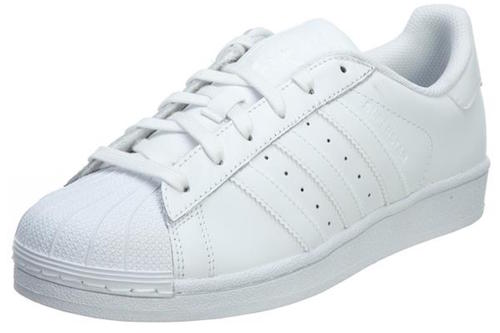 The Adidas Superstar is a classic basketball shoe turned lifestyle sneaker and is one of the trendiest options available for children. Available in all sizes, from toddler to big kid, it's a high-quality leather option made for those who value a simple look and want a touch of luxury. Well-padded, this shoe will provide some of the best comfort features you can get in a girl sneaker and is so durable that your little one is more likely to grow it out than to do any serious damage to it. Another thing that's worth noting is the breathable mesh lining that'll prevent overheating inside the shoe, meaning that your child can run around as much as they want, without you having to worry about stinky feet at the end of the day.
These Adidas sneakers have a rubber outsole that offers excellent traction even on slippery surfaces such as hardwood floors or tile. Furthermore, it's non-marking, which means that it's appropriate to wear in places which require such footwear. Also, a padded heel collar provides additional support and prevents rubbing and chafing around the ankle, while a rubber shell toe protects the delicate front end of the foot.
The Superstar is iconic streetwear attire that boasts an Adidas signature Originals emblem at the top of the tongue and the recognizable Adidas three stripes on both the inner and outer sides. It's available in white, but you can also get it in a number of other color variations. Plus, there's a lace-up and velcro closure option, so you can choose the one that's most appropriate for your little one. This product is reasonably priced and will last for a long time thanks to its durable construction and quality leather uppers. The Superstar is easy to match and provides a good balance between warmth and breathability, so you can rest assured you're getting a high quality, protective style that'll be easy to match with a variety of outfits, and that'll work well on a number of occasions, from casual to those a bit more formal.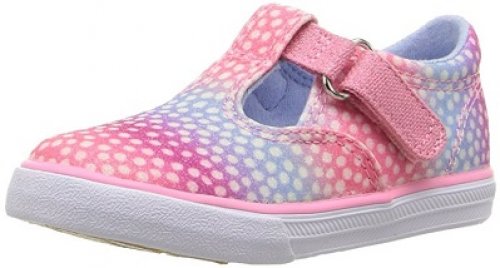 All little girls need a pair of Mary Janes, and what better option is there than the Keds Daphne? This canvas option is the perfect combination of formal and casual and is thus the optimal choice for going from school to the park without having to worry about your little one's footwear. The Daphne comes with a beefed-up platform sole and adorable colorways that are sure to impress.
You can purchase the Daphne in over ten variations, from leather to denim to canvas. All versions feature beautifully colored uppers, that are feminine and fun, but never over the top. Plus, the flower embellishment adds a nice touch, making these a good choice even for formal occasions when your little girl wants to show off her most beautiful dress and shoes.
The Daphne features an adjustable hook and loop closure that is perfect for small kids, but that big ones will prefer to laces as well. Allowing your daughter to put her shoes on by herself, this is the perfect pair of footwear for play dates, days with gym class, etc. The Keds Daphne is the cheapest item on this list, making it an excellent investment for anyone looking for something light and versatile. It can be as simple or as colorful as you wish, and the breathable canvas upper is the perfect choice for summer and spring wear where thicker materials would simply be too warm.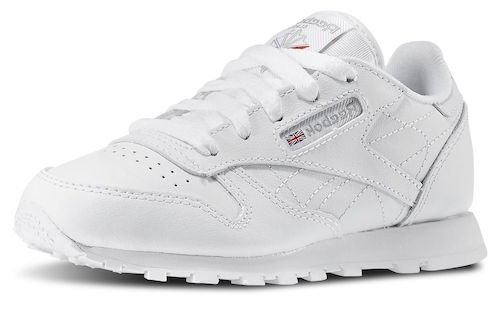 The Reebok Classic has been a favorite for adults and kids alike for decades, and this is mainly owing to its superior comfort levels. A leather athletic shoe that doesn't require a break in period is hard to find, which makes the classic such a unique model on this list. It will provide a good level of durability and protection, without the discomfort that initially comes with similar styles. Additionally, it features plenty of other comfort aspects as well, mainly located in the sole and inner of the shoe.
One of the main disadvantages of a comfortable outsole is usually the fact that it breaks down easily. However, the Reebok Classic solves this problem with a layer of high abrasion rubber on the bottom of the shoe, ensuring that it can stand up to the test of time, as well as to wear on hard concrete.
The cushioning in the Classic is brought to you by a die-cut EVA foam midsole that is combined with a molded PU sockliner in order to provide the best possible combination of shock absorption and arch support. This means that, despite its appearance as a simple lifestyle shoe, the Reebok Classic will work well for physical activity as well. Reebok products hit the sweet spot when it comes to price and quality. The Classic ranks average on our list, but it offers a high level of quality and comfort most foot shapes will greatly benefit from. It's available in a limited number of colors, however, which means that you may not be able to find the look that you're looking for.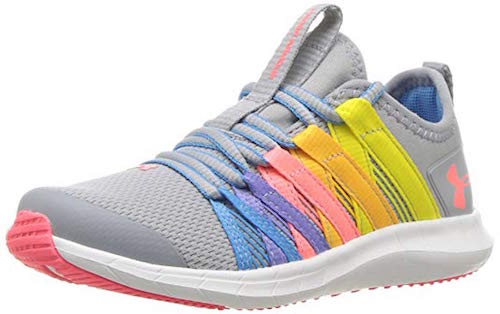 This pair of athletic footwear was designed specifically for children who need a versatile shoe that can easily transition from casual wear - whether at school or at home - to more challenging activities such as playing and running. The lateral support system features colorful laces that make this style appealing to preschoolers and bigger children alike, while the comfort and performance features we've all come to expect from UA make the Infinity an excellent choice.
This shoe is made with a sock-like bootie construction that has several benefits. For one, it offers a fit snug through the stretch materials used in the upper, eliminating any excess material on the inside that could cause rubbing. Secondly, it features a lacing system, but can easily be put on and off without adjustments, which is great for little ones who are still mastering the bunny ears method.
It's a breathable model thanks to a mesh insert at the top of the forefoot, and an external heel counter prevents in-shoe slippage that could result in injury. The inside is made with odor resistant materials to prevent bacterial growth, and underfoot comfort is ensured through an EVA sockliner and a slightly curved EVA foam midsole. Weight is kept at a minimum with strategically placed rubber pods for traction, using non-marking rubber that can be worn both inside and outside.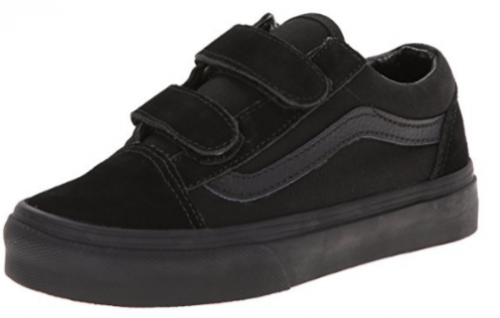 The Vans Old Skool V is a skating shoe made with a durable suede and canvas upper and a rubber slip-resistant outsole made for ultimate surface grip. Available in a variety of sizes - from toddlers to teens, (and even adults), you can get this shoe in a number of color options that are sure to appeal to those girls who prefer to skip the all-pink sneakers. It features a hook and loop closure which makes it easy to put on - regardless of whether your child needs your help, or they've just started dressing themselves.
These Vans skateboarding shoes are super-comfortable and feature a breathable suede and canvas upper that allows for good ventilation preventing sweat and odors. It's a low-rise style with plenty of cushioning in the heel, collar, and tongue, which is the perfect addition for those with sensitive feet, seeing that it will prevent excessive rubbing that may cause blisters and pain.
Complete with the Vans signature waffle outsole, the Old Skool V provides a solid grip on any surface. It'll work great at school, in the home, and at the playground. It will even perform well on wet surfaces, which can come in handy on rainy days. And another thing, seeing that it was made to be used on the rough surface of a skateboard, it will be able to take a beating, which means that it won't easily wear out. The price for the Vans Old Skool V will vary depending on the version you choose, however, all models are budget-friendly, ranking low on this list when it comes to cost. This shoe is an excellent investment thanks to its comfort levels and durability, and the fact that it features a hook and loop closure makes it an appropriate option for all ages.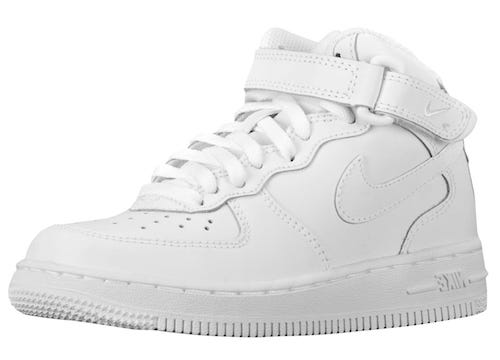 You can't get a more iconic style than that of the Nike Air Force 1 - a dream for all sneakerheads, this is a pair of basketball shoes that has gained epic levels of popularity thanks to its simple and practical design, coupled with a premium make and high level of comfort. Available in three heights - low, mid and high, it's a shoe your little girl can wear during the fall and winter seasons. Available in monochrome white or black leather, as well as a number of other, more colorful options, it's definitely going to become a favorite both for school as well as for free time.
Originally designed in 1982 for basketball players, the Air Force 1 makes use of a Nike Air cushion in the heel area that allows for a great level of shock absorption, making this the ideal pair of footwear for running around, jumping, playing, and general frolicking. The non-marking rubber outsole offers a secure grip on both inside and outside surfaces, so you can rest assured your little one is going to remain slip-free in all weather conditions.
The classic model of the AF1 is made with a premium leather upper that's soft to the touch, breathable, and easily molds to the feet. Nonetheless, you can get this pair of basketball shoes in different upper materials as well, one of our favorites being the suede version which comes in a vast variety of colors, and can even be customized. Nike footwear is anything but cheap, and the Air Force 1 is no exception. On this list, it ranks as the most expensive pair of sneakers, and this is mainly due to its use of high-quality materials, as well as its status as an iconic pair of footwear. If, however, you decide to splurge, then it's sure to provide with a good life span, plenty of comfort, and a great level of protection from the elements.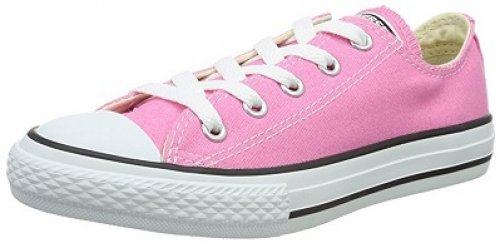 Originally designed as a pair of basketball shoes, the Converse Chuck Taylor has become one of the most popular styles for adults and children alike. It's a canvas shoe available in both a high top and low top version and features a comfortable rubber outsole that works well on a number of surfaces - from playground to classroom, as well as such a large number of color options that you'll be lucky if you can decide on just one.
The standard Converse Chuck Taylor is made with a canvas upper that's perfect for summer, spring and even fall wear. Nonetheless, if you want something a bit more protective and warmer, you can get one of the leather options, including some that are completely waterproof. No matter which version you go with, you can rest assured that your kid will be wearing a pair of shoes that are lightweight, and that will feel good across the tops of their feet.
One of the things that originally made these shoes so famous was the rubber outsole made for slick basketball courts. It's made from hard-wearing rubber that won't easily break down, no matter where your child decides to wear these, and it has the additional benefit of being slip-resistant, giving you an ease of mind that any injury or sprain due to a slip will be easily avoided. This is one of the lowest priced sneakers on the list. When purchasing Converse, you are receiving a shoe that won't easily fall apart and will look good while remaining comfortable. It has the fit of a traditional canvas shoe and the benefits of an athletic sneaker that come in the form of the cushioned rubber outsole. Additionally, you can choose between a low top and high top version, depending on your child's preferences.

9

. Stride Rite Made2Play Phibian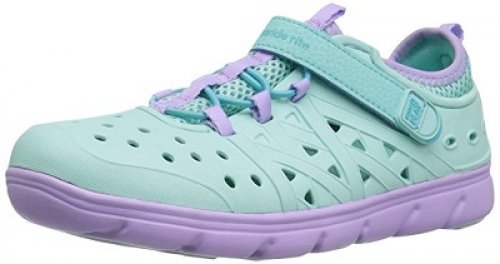 Think of a Croc, but sleeker, better and more secure. The Made2Play Phibian by Stride Rite is an option for those that prefer something appropriate for use near water - whether it's to wear at the beach, pool, garden, or just during warm rainy months. It's an athletic shoe that's great for the playground, seeing that it's incredibly easy to care for (you can just hose it off, and it'll look like new), and best of all, it comes in 25 different colors and is fun and an extremely practical option.
The Phibian is the only pair of footwear on this list which is declared by the manufacturer to be machine washable, a factor that has made it immensely popular among parents. They simply love being able to toss sneakers into the washer. Even if you prefer not to put heavy rubbery objects in washing machines, rest in comfort knowing they can be easily sprayed clean in the shower or outside patio.
Rubber footwear is not the best option when it comes to health. It will often lack in breathability, trapping moisture inside the shoe, allowing for bacterial or fungal overgrowth that can lead to an infection or smelly feet. However, the Phibian is quite different, seeing that it's a perforated shoe with lots of breathability. To top it all off, its treated with an "anti-stink" treatment to prevent the appearance of harmful bacteria in your child's shoes. You may think this sneaker costs a bit too much for a rubber shoe, but you'll find that it still ranks quite low compared to other styles on this list. It's an excellent investment for those living in hotter climates and will be a stylish addition to your child's wardrobe. Plus, with the company's almost 100-year tradition, you can rest assured you're getting a quality product made to last.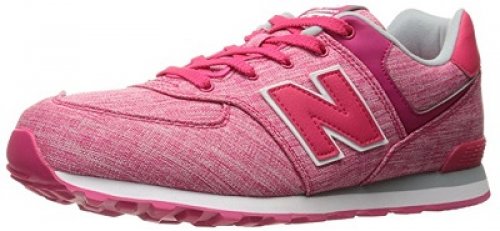 The New Balance 574 is an omnipresent pair of fashion sneakers that are immensely popular among all fashion and comfort conscious men and women. Now, this style is available for your little girl too. Featuring the recognizable logo and silhouette, this sneaker is an amazing addition to your kid's wardrobe, thanks to its simple but functional design. Made with a synthetic and mesh upper, this is a pair of footwear that keeps costs low, while still providing the required breathability, protection, and durability, and owing to its foam sole, it's a comfortable pair of shoes from the first wear until the last.
The New Balance 574 comes in two widths: Standard and Wide, which is a great option for those parents trying to find a solution to chubby or flat feet. Additionally, the closure system comes both in a lace and a hook and loop option, which further accommodates a variety of foot shapes, meaning that the 574 may just be the perfect sneaker for your girl.
Although when it comes to purchasing kid's shoes, you may not be thinking about shock absorption, cushioning and alignment, it is still important to keep in mind that these performance features can greatly impact your child's development and activity levels. The New Balance 574 comes with a rubber outsole that offers good grip of the ground, an EVA foam midsole that absorbs shock and supports the arch, and a heel that is cushioned so that any rubbing is prevented. The New Balance 574 comes at a price that's slightly above average, which means that if you're after this type of performance features, it's going to cost you more than a standard pair of canvas or rubber sneakers. However, if you're looking for something that will work well even through some athletic activity such as running around the playground, these are a good choice that just so happens also to be fashionable.

Subscribe to our Newsletter