Best Sneaker Balls for Fresher Smelling Shoes Reviewed
In a Hurry? Editors choice: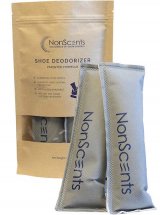 Test Winner: NonScents

Shoe deodorizing just got a whole lot easier! Do you struggle in an effort to keep your sneakers smelling fresh? If so, then you've probably already tried a million different products that promise to keep the stink at bay but end up leaving you walking smelly when the day is done. The problem with
shoe deodorizers
is that they're messy and inconvenient. Powders make a huge mess and end up all over the place, while sprays can leave your socks feeling damp which makes for a pretty uncomfortable day. So where is the happy medium between damp and messy? -The answer lies with a handy little invention known as sneaker balls shoe fresheners!
Standout Picks
Criteria Used for Evaluation
Materials
Gels: Some shoe odor fresheners are filled with a jelly-like substance. Once it's it's exposed to particles in the air it emits a strong fragrance that masks unpleasant smells.
Natural: Naturally derived products are gaining popularity recently in part for their healthier use. Many synthetic deodorizers are made from harsh chemicals that are known to be unhealthy when inhaled for long periods of time. Natural products like baking soda and charcoal, for example, are much healthier choices. These naturally sourced products are relatively inexpensive and pose significantly less risk to your health. They're They're also much better for the environment and our planet as a whole.
Aerosols: This type of deodorizer is available as a spray that emits aerosols into the air which contain scents. These kinds of deodorizers are known to be unhealthy and are not used to make sneaker balls in general.
Crystals: Scented Crystal's are popular choice to deodorize fabrics. Small crystal-like substances are placed inside of an outer shell made from another material, usually a plastic.
Essential Oils: Essential oils emit a powerful fragrance and can effectively be used to eliminate or overpower stink. They come in all sorts of fragrances and offer additional benefits as well. Some oils will help to kill germs and bacteria, while others will soothe your senses.
Effectiveness
How efficiently a shoe deodorizer performs is an extremely important aspect. There are two ways in which they work:
either by emitting their own scent which is strong enough to mask the offensive one; or,
by eliminating the smell altogether without covering it up.
Most of these products work by overpowering the stink with a more pleasant scent which really doesn't address the root cause of the problem. The downfall with this method is that the foul odor may be so strong that it actually overrides the more pleasant scent. The odorless kind of deodorizers is effective at treating the root cause of the problem, though they often lack in fragrance themselves which many users prefer to have. The products on this page were chosen based on user reviews and experiences which demonstrated that these products have a proven level of efficiency. 
Style
There are tons of different fragrances available today. Some of the most popular often smell like rain, flowers, or vanilla. Many of the odorless options still emit a sort of scent that some users don't care for. Though for the most part, fragrance-free means just that.
Take the time to think about whether or not you're wanting to simply cover up the stink or eliminate it all together. Some of the stronger fragrances might be offensive to some users which is why there are odorless products that can just as easily be used in place of the scented ones.
These odorless products actually suck in and trap odor-causing bacteria, germs, and mildew to treat the root cause of the problem. Some products have stronger or weaker scent which will be up to you which you prefer. Weaker scents aren't as effective at covering or masking odors and unpleasant smells will often end up overpowering them altogether.
For individuals who are sensitive to strong fragrances, it might be best to opt for a product that has a more mild smell, or an odorless one. It's also important to consider the environment that you'll be wearing your shoes in. If you're working or visiting an area where there may be people who are smell sensitive it's polite to consider using a more subtle scented item in the days leading up to your visit. This will ensure that no one is bothered by a strong fragrance.
Safety Hazards
These products have the potential for irritating sensitive skin types which is why it's important to research a product thoroughly before purchasing it. Many of the choices on this list are made with the use of hypoallergenic materials that are safe for sensitive skin. Some naturally derived items are a safer choice and are less likely to irritate the skin and cause an allergic reaction.
Before using any new product for the first time it's a good idea to perform a skin test on a small area of your body that won't be easily visible to others. The inner thigh or crease of the elbow are good areas to use for testing. Expose a small area of skin to a material that's come into contact with the deodorizer you're considering using. If after 24 hours you haven't had any adverse reactions, then the chances are good that you won't at all. If you do develop any redness, itchiness, or rashing of the skin, discontinue use immediately and consult your healthcare practitioner before using this product again.
Allergic reactions are no fun at all and can leave you uncomfortable for weeks on end. It's always a good idea to play it safe and try your hardest to prevent having an adverse reaction to any household product. Even if you've never been effected before you can develop sensitivities at any point in your life so you're never too old to check.
Value
You'll find that this type or product will range anywhere from a couple of dollars to 20-30 bucks per pack, depending on the manufacturer and number of pouches included in the package. While most are around the $10 mark, there's definitely significant differences between how they work, and how effective they'll be in certain situations.
First and foremost, to save you from disappointment, you should know that footwear that's become really smelly, that's been affected by mold and mildew, or is simply old, will probably never smell as good as new again. Even more, if you find that there's a likelihood of fungal or bacterial overgrowth inside your footwear, the best thing would be to try to thoroughly clean it, or simply forget about wearing it.
For example, if your work footwear is smelly, and you change into something more comfortable on the way home, you should definitely change socks or even wash your feet before changing shoes, otherwise you risk spreading the odor from one pair of footwear to the other.
But, if the problem isn't too bad, and is mainly the result of moisture build-up, a good pair of sneaker balls or shoe deodorizers could potentially save you from a lot of embarrassment. Your best bet would be to have at least a couple of these products on hand, not just to use in different footwear, but so that you can use one while the other is drying in the sun or airing out. As most charcoal based products need recovery between uses, the best thing to do would be to swap them out weekly for maximum efficiency.
Another thing that may help you with the efficiency, but also with saving some money, would be to get a subscription - some manufacturers offer to send you a package ever 1-6 months, and you'll get a discounted price, as well as a new pair of pouches just when the old one's have started to lose their efficiency.
Top 10 Sneaker Balls Shoe Fresheners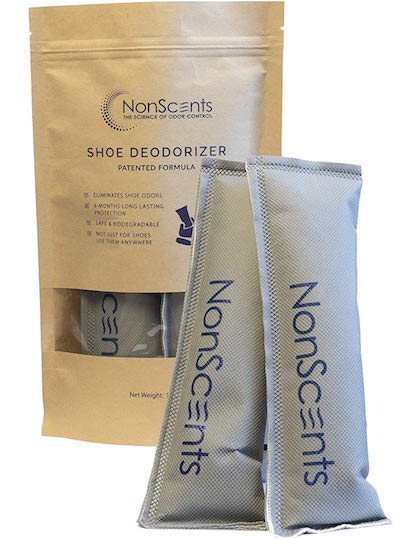 These sneaker balls were actually developed by a group of scientists who were originally studying effective water purifying technologies. Through their research, they found that certain natural materials did better than others, and saw a new way of using them to remove bad odors from a variety of everyday objects, from shoes, to gym bags, to kitty litter boxes.
Zeolite
These pouches are made with zeolite, natural adsorbents most often used commercially to remove bad odors. For this product, they've been coated with an antibacterial treatment that will kill the odor-causing bacteria in your shoes, giving you an effective way to get rid of smells, even as fast as overnight.
Subscription
NonScents is different than the other items on this list because you're offered a monthly subscription - you can choose whether you want a new pack to arrive every month, to every six months, allowing you to have fresh and ready to use products at all times. It also saves you from 5 to 15%!
Cost and Value
The price for most products listed here is relatively the same, so you may find that what offers most value to you will be a product that can solve your specific problem. Some people prefer activated charcoal, while others may find the ingredients in NonScents more effective.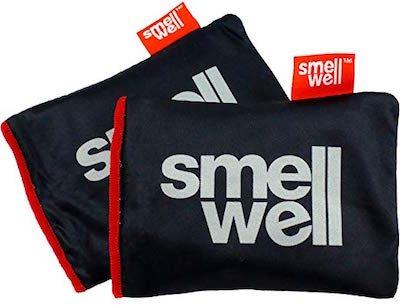 This natural product is not just a deodorizer, but also helps absorb moisture and any type of bad odor that may have taken over your favorite shoes. In addition to footwear, you can use these in your gym bag, locker, car, and even in closets. It's one of the rare products on this list with several color options, from simple black, to camo, to animal prints, which makes it a great gift, or just another way to express your style.
Natural Ingredients
Unlike shoe sprays, these pouches work to absorb moisture and bad odors through the activated Moso bamboo charcoal that makes up their contents. They're 100% natural, won't cause harm to the environment, and are even hypo-allergenic.
Durable
After using these pouches, you should put them in a well-ventilated place, and they'll smell fresh after just a few hours. They'll remain effective for up to 6 months, and can easily be used in a variety of situations, making them a good investment.
Cost and Value
With a price that's average for a pair of these pouches, you get a product that'll last you around six months, which is definitely more than any spray out there. Furthermore, as it's a 100% dry method of removing odors, it won't cause any deterioration of the materials inside your footwear, so that it can last longer.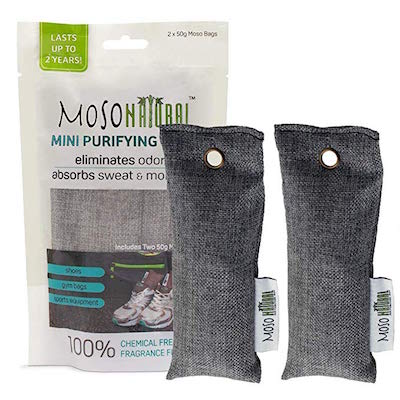 If you prefer no smell at all in your footwear, this product may be the perfect choice for you. Using Moso bamboo charcoal to absorb odor-causing moisture, these bags are ideally shaped to be placed into any type of adult shoe or sneaker. With various pack sizes (2, 4 or 6 pouches), you can get enough of these to place in all your footwear, so you can enjoy the benefits at all times.
Stops Mold and Mildew
Mold and mildew can be a huge problem which could ruin a pair of footwear when it's stored incorrectly. Not only do they have a strong smell, but can even cause fungal infections on your skin. Luckily, storing your shoes with these bags in them can prevent this problem, seeing that the ingredients will absorb the moisture, preventing fungus and bacteria from thriving.
Reusable
All you have to do to keep these fresh is to put them out in the sun to dry about once a month. Following this advice, you'll have a product that'll last around two years, which is quite a good deal, and definitely cheaper than any other product listed here.
Cost and Value
With one of the longest lifespans on this list, and a price that's average per pair, you actually get quite a lot of value out of the Mini Moso Natural. It's a great product for those who prefer odorless shoes, or who want something that's easy to use and won't have to be replaced too often.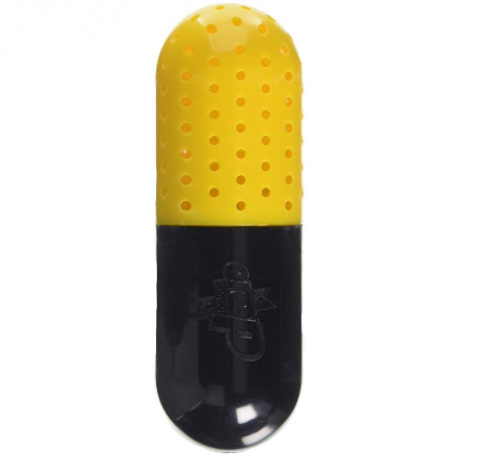 These pill shaped shoe odor balls work in the same way that the rounded ones do. It easily pulls open to allow a calming and subtle fragrance to escape and fill your shoes with freshness. Go ahead and try one of these easy-to-use pill-shaped deodorizers inside your favorite pair and enjoy how delightful they smell.
Microfiber
Microfiber is notoriously effective when it comes to absorbency and durability. This synthetic material is perfect for filtering odors and works to control excess moisture at the same time. This amazing material draws any moisture into it which dries the inside of your shoes for a fresher all day feel. This also prevents sweat from building up because once it does it makes for the ideal breeding ground for odor-causing bacteria.
Subtle Fragrance
This choice of deodorizer is ideal for individuals who prefer a more subtle scent. It's light fragrance gently eliminates odors by masking them with a pleasant yet distant smell that can be enjoyed even by those who are sensitive to smells.
Cost and Value
These pill-shaped sneaker balls work in the same way as a ball-style would. It offers excellent value for its low price, though the scent may be considered too weak for those who prefer an overpowering deodorizer to mask unpleasant smells.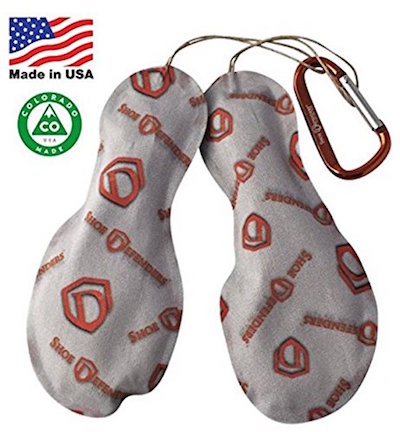 Shoe Defenders is a product that was developed specifically with athletes in mind, and is made in the USA, ensuring that you receive a high quality product that's made with care and attention to detail. Lightweight, small and easy to pack, this is the perfect product to take with you when you travel, and you can rely on them for up to one year, which is much longer than most of the other products listed here.
Essential Oils
These products us natural essential oils that have been proven to kill odor-causing bacteria, and have been used in medicine for ages. Your footwear will have a pleasant smell, that's all natural (and not just a cover-up of stinky sweat).
Moisture Absorption
According to the manufacturer, this is the most moisture absorbing product for your shoes you can get. Not only that, it is even recommended that you add a few drops of water to your smelliest footwear in order to maximize its efficiency.
Cost and Value
Shoe Defenders cost twice as much as most other products on this list, but that's with good cause - they're several times as effective as the most popular items that claim to remove moisture and odors from your shoes. Do note, however, that they won't work overnight on really smelly footwear, so you'll have to leave them in for a couple of days at least.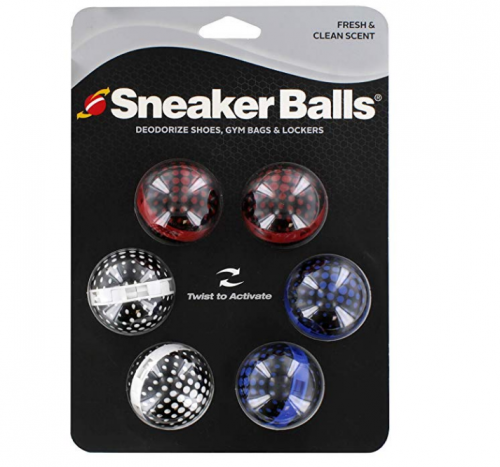 Stink be gone! These Sof Sole Sneaker Balls pack some serious deodorizing power and are ready to kick those smelly shoes to the curb. One-inch wide and 1.5-inches high, these convenient fresheners can easily fit inside of your shoes. They remove foot odors and pesky odor-causing bacteria from your footwear, gym bags, and more so you can make unpleasant scents a thing of the past. Sof Sole Sneaker Balls fit all sizes of shoes and simply twist open to start releasing a pleasant scent that's specifically designed to keep things smelling fresh!
Long-Lasting
Don't think that you're going to have to replace these every month or so! In fact, their fresh scent is noted for lasting up to six whole months! Wow, most other deodorizing products lose their efficiency within the first week, but these powerful little balls keep on trucking.
Easy-To-Use
One size fits all with these sneaker balls! That means that families can easily share one package without having to buy individual sizes which can end up being costly. Men, women, and children can all benefit from this Sof Sole deodorizer that keeps your shoes smelling as fresh as the first time you wore them.
Cost and Value
Considering their incredible staying power and six-month life expectancy, these sneaker and shoe freshener balls are seriously cost effective. No more forking over loads of cash in an effort to blast unpleasant odors thanks to these handy and affordable deodorizers that are ready to send smells packing.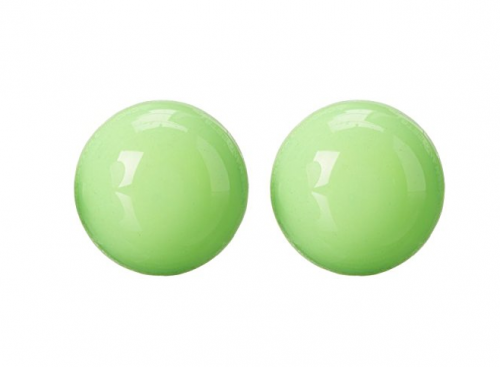 Sof Soles' Gym Sneaker Ball is an effective way to neutralize the unpleasant smells that can linger inside of your sportswear. Let's face it, our feet sweat when we exercise and sweat leads to a build-up of odor-causing bacteria. These powerful odor balls for shoes are specially formulated to control the smelly after effects of your long hours put in at the gym. They're convenient and can easily be used for footwear, gym bags, apparel, and more.
Quick-Twist Use
It doesn't get any easier than this! Simply twist to activate the powerful odor-eliminating sneaker ball that is perfectly sized to fit inside of your shoe. Once you twist them open, these odor balls emit a specially formulated scent that's both fresh and invigorating. When they're not in use simply twist them back the other way to close them and keep all the freshness in for continued long-lasting effectiveness.
Efficiency
These sneaker balls are an efficient odor-eliminating product. They work by removing unpleasant smells and stopping odor-causing bacteria in its tracks. Specially designed to fight powerful odors caused by post-workout sweat, these balls are all you need to keep your gym wear smelling fresh and clean.
Cost and Value
These tiny balls pack a powerful punch when it comes to odor-elimination. These shoe odor balls are very reasonably priced and provide long-lasting freshness for all of your sportswear. These sneaker balls stop odor-causing bacteria before it ruins your favorite pair of footwear and it does so for a next-to-nothing cost.

8

. New Balance Gear Bombs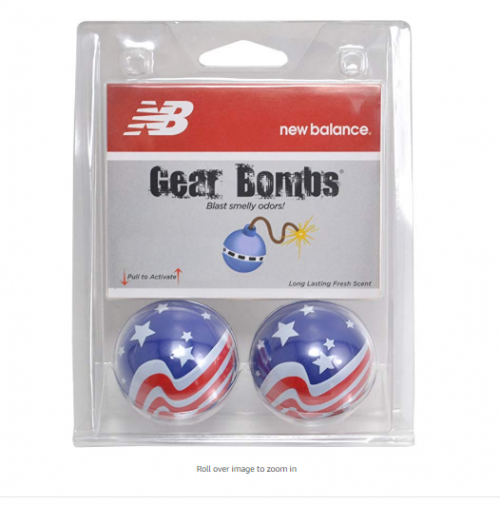 Knock the socks off of foot and shoe odors with a little help from the New Balance Gear Bombs. This powerful weapon in disguise is the perfect match for unpleasant smells that like to take up residence inside of your footwear. They 're made to blast stink and halt it before it effectively ruins your shoes.
Long-Lasting
This product was made to last! After the first use, you can expect them to keep fighting the good fight for several months before they'll need to be replaced. They offer a powerful and pleasant scent that overrides stink to make for an enjoyable experience for your sense of smell.
Attractive Designs
This product isn't an eyesore that's for sure! They come in a multitude of fun and colorful designs that are geared towards the whole family. This bright and eye-catching design helps you to remember that you need to use them because you'll have fun when you catch a glimpse of them out of the side of your eye. Go ahead and collect as many as you can!
Cost and Value
Again, these little spheres are cost-effective and produce strong odor-eliminating results. They don't treat the root cause of the smell but they certainly overpower it in a pleasant fragrance that will entice the nostrils instead of repulsing them.

9

. Foot Matters Odor Fighters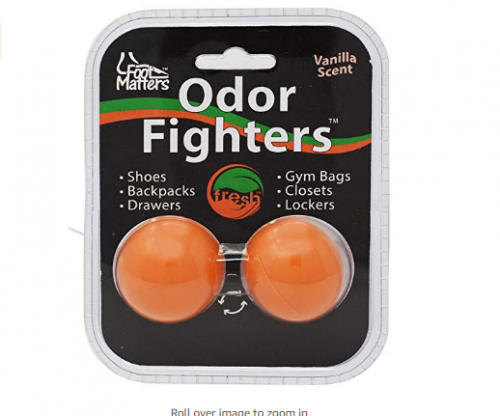 This product is great for keeping not only your shoes but any area clean and fresh. Go ahead and put one of these deodorizers inside of your favorite sneakers or give it a try inside your gym bag, backpack, locker, or even the car. Their no-fuss twist-open operation makes it a breeze to keep your footwear smelling clean and fresh.
Long-Lasting
These shoe odor balls are made to last! Once it's first opened this potent odor-fighter will last for several months before needing to be replaced. Its crisp vanilla scent is ideal for use by both men and women thanks to its neutral undertones that can make any area smell like a summer's meadow.
Multipurpose
These odor-neutralizer sneaker balls aren't just for use in any one place, they can keep just about any area smelling great! Go ahead and keep your favorite footwear nose-friendly, or try using them in your backpack, purse, dresser drawers, or even inside of the car.
Cost and Value
This is a low-cost choice that delivers every time. They don't eliminate the root cause of the foul smell but they certainly mask it awfully well! Their whimsical vanilla fragrance is pleasing to the nostrils and is ideal for use by both men and women alike.



If you're after something that your kids can use, or just want a sneaker deodorizer that looks cool, look no further. The boot bananas are a cute-looking pair of shoe odor inserts you can use in your athletic sneakers, hiking boots, or just your everyday shoes, and they'll do well to help cover up bad odors that are usually the result of moisture and bacterial overgrowth.
Lavender Oil
These pouches contain lavender essential oils that fill your footwear with a pleasant smell instead of the stink you've probably gotten used to. Additionally, lavender has relaxing properties, which is a great feature for athletes.
Bamboo Charcoal
Like the majority of shoe odor fresheners on this list, the Boot Bananas also include activated bamboo charcoal to eliminate odors and wick moisture away from your footwear. It's a simple, but effective method, and will work for most types of footwear.
Cost and Value
These are the most expensive item on this list, and that's mainly because of their funky design. If you're shopping for a child, or just looking for a cool gift, this is definitely a great choice.

Subscribe to our Newsletter