Best Athletes Foot Sprays & Creams Reviewed
last updated:
Apr 02, 2020
Athlete's foot, or tinea pedis, is an irritating and at times painful fungal infection of the foot that causes itching, blisters, and dry, cracked skin. Athlete's foot is a contagion and can be contracted by coming directly in contact with an infected person, or by touching a surface area contaminated with the infectious fungi. If left untreated athlete's foot can spread to the toenails and hands and can become quite painful and disruptive which is why it's so important that you never delay treating any symptoms that may be caused by this infection. Did you know that anyone is at risk of contracting athlete's foot, not just athletes?
In a Hurry? The test winner after 18 hrs of research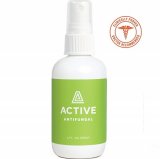 BDLG Active
Why is it better?
TSA-Approved Packaging
Non-Toxic
Fragrance-Free
Hypoallergenic
In a
Hurry? Editors choice: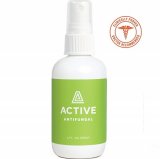 Test Winner: BDLG Active

10
Researched Sources
745
Reviews Considered
18
Hours Researching
14
Products Evaluated
Application
Speed
Ease of Use
Effectiveness
Value
By Default
Top 10 Picks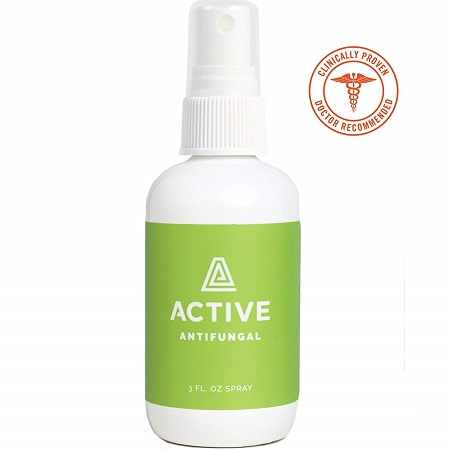 TSA-Approved Packaging
Non-Toxic
Fragrance-Free
Hypoallergenic
Perhaps you're trying to eliminate artificial chemicals from your lifestyle or have sensitive skin that tends to be further irritated by traditional antifungals. The BLDG Active Antifungal Spray uses a compound called Hypochlorous, which is the same compound produced by white blood cells to kill pathogens.
BLDG Active is an athlete-owned medical company that specializes in bringing medical innovations to sports medicine, and have partnered with biotech firms to make this possible. The Active Antifungal Spray is designed without essential oils and irritants, making it ideal for sensitive skin and allergies. It is also non-sensitizing, meaning no uncomfortable stinging sensation when using it.
The TSA has stringent regulations when it comes to carrying liquids onto a plane. They must be of a certain capacity, in a clear plastic bag, etc. The BLDG Active Antifungal Spray is fully TSA-approved, making traveling with it easy. It won't, however, help with the long lines at the checkpoints. Those are just an unfortunate part of life. With a unit price of about $8.32/ounce, this product is a little more on the expensive side. With this investment, though, you are getting the results of biotechnical research coming from a company that wants to make the best products for athletes.
2

. Dr. Blaine's Tineacide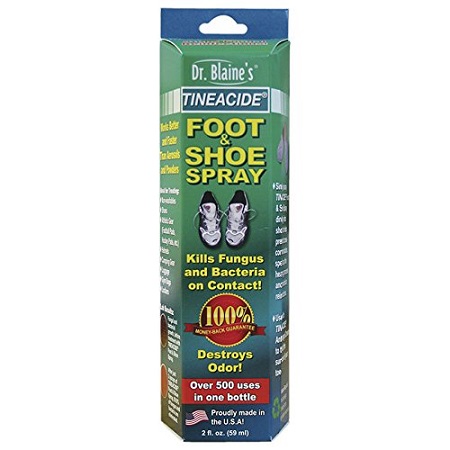 Ideal For Non-Washables
Fast-Acting
Preventative
Reduces Odor
Prevention in addition to treatment is important when it comes to athlete's foot. As it can be spread topically (meaning through physical contact), it's possible to catch it again after treating it aggressively. This is where Dr. Blaine's Tineacide comes in. Not only is it approved to treat athlete's foot, but it also works as a preventative measure.
When it comes to treating athlete's foot and other fungal infections, you also have to treat anything that comes in contact with your feet, such as shoes and socks. This Tineacide spray is ideal for this purpose, so you can spray it both on your feet and in your shoes and socks.
Hot and moist environments are breeding grounds for not only fungal infections, but also odor and smelly feet are the last thing any of us want. Dr. Blaine's Tineacide spray also has odor mitigating properties, so you can kill two birds with one stone and treat your athlete's foot while ensuring that your feet and shoes don't smell unpleasant. Coming in at an average unit price of $5.00/ounce, this spray is slightly above mid-range. While it doesn't come with much product as it's a 2oz container, it works very well on your feet to treat athlete's foot quickly and keep it from happening again.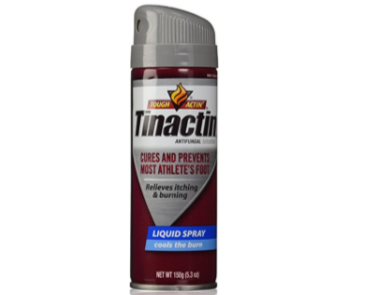 Instantly Cools & Soothes
Fast Symptom Relief
Easy Application
No.1 Recommended Brand
Trusted By Athletes
Tinactin Antifungal is a clinically proven formula which not only cures most cases of athlete's foot but can prevent reoccurrences when used as a daily foot spray. It's a hassle-free and effective product that allows for a no-touch application which lowers the risk of spreading the infection.
Tinnactin relieves the symptoms associated with athlete's foot such as burning, itching, inflammation, scaling, and cracking. It also soothes and cools on contact for instant relief from the irritation and discomfort and is the number one most recommended treatment for athlete's foot by athletes and certified athletic trainers. Tinactin can be used as a daily preventative for the reoccurrence of infection which is ideal for anyone who regularly uses public pools or gyms.
Tinactin Antifungal spray allows for an easy no-touch application thanks to its convenient spray delivery. It doesn't leave any powder residue and can effectively treat infection in hard-to-reach places. For treating an active infection, the spray is applied twice daily for four weeks while for preventative use its used once daily, every day and the active ingredient is Tolnaftate 1%. Tinactin is available for a budget-friendly price, and one bottle lasts for over a month while using twice daily. This a clinically proven treatment and preventative that does it's job and will provide instant relief from symptoms as it cools and soothes on contact.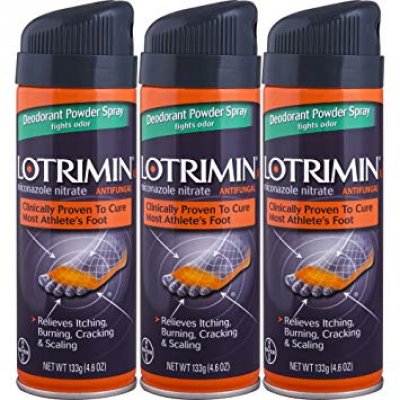 3 Types Of Sprays
Absorbant
Odor Neutralizing
Easy Application
Lotrimin AF offers three variations of sprays: liquid, powder, and deodorant powder, which effectively treat athlete's foot and provide fast relief from the uncomfortable symptoms. It's a convenient treatment and makes it easy to apply medication on hard-to-reach places like between the toes.
Lotrimin provides fast relief from most symptoms including itching, burning, scaling, and cracking. It's clinically proven to be effective at treating athlete's foot, jock itch, and ringworm and uses the active ingredient Miconazole 2%.
Lotrimin is available in three varieties of sprays including powder spray, liquid, and deodorant powder. Powder spray is well suited for individuals with sweaty feet because it offers a similar level of absorbency as a powder treatment only without the mess and deodorant powder sprays are great for neutralizing odors both on the foot and inside of the shoe. Lotrimin is applied twice daily for four weeks to effectively treat the condition. Lotrimin is relatively inexpensive and is priced similarly to many of the other products on the list. It's an effective antifungal that is one of the leading athlete's foot sprays on the market.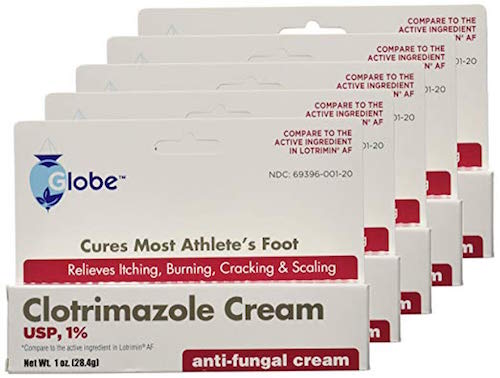 Treats Variety of Infections
Relieves Discomfort
Easy To use
Value Pack
Affordable Price
Cream
Not for Severe Infections
This medicated cream was developed by globe as a solution to common problems such as tinea pedis, tinea cruris (jock itch) as well as tinea corporis (ringworm). Its main active ingredient is clotrimazole USP 1% which is widely used to treat a number of skin infections, and which works well to prevent fungal growth, helping prevent recurring infections.
The way to use this medication is to apply it to the affected area which has previously been cleaned and thoroughly dried. In addition to the affected area, it should also be applied to the surrounding skin, to successfully battle the problem. It can be applied twice a day, or as instructed by your physician.
In addition to treating the cause of your problems, Globe Clotrimazole also helps with discomfort relief, in that it relieves itching, burning, cracking and scaling. It comes in a 1 oz tube pack, and can even be purchased in value packs of 5. As for cost association, this product ranks below average, and thanks to the medically tested ingredients, it represents a good choice for most infections.
6

. Lamisil Prescription Strength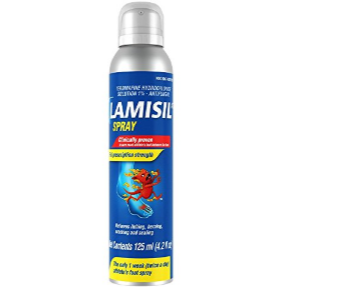 4x Faster
Convenient Application
Works Between Toes
Allieviates All Symptoms
Lamisil claims to treat athlete's foot 4x faster than other leading brands and efficiently relieves the unpleasant symptoms. It utilizes full prescription strength antifungal medication and also treats jock-itch and ringworm infections. It offers a comfortable application and treats most infections within one week when used as directed.
Lamisil provides fast relief from the itching, cracking, scaling, and burning associated with athlete's foot. It also provides effective treatment and relief for jock-itch and ringworm infections and utilizes the active ingredient Terbinafine to treat most cases within seven days.
Lamisil spray formula is easy to apply and is perfect for infections between the toes and other hard-to-reach places. It is applied twice daily for a reduced period of only seven days instead of the usual two weeks. Lamisil is available for a very reasonable price and works 4x faster than other leading brands. It provides fast relief from the unpleasant symptoms of athlete's foot, jock itch, and ringworm, and cures most cases within seven days.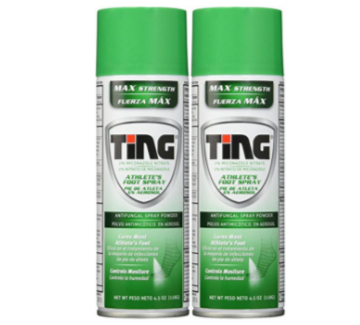 Cures & Prevents
Instant Relief
Easy Application
Absorbant
Relieves Limited Symptoms
Ting uses a potent antifungal agent to effectively treat the majority of athlete's foot or jock-itch infections. It not only cures but also prevents the reoccurrence of infection and instantly relieves the itchy and burning sensations associated with athlete's foot.
Ting is available in a convenient powder spray formula that provides the absorbent properties of powder but with the easy mess-free application of a spray. You can effectively treat hard-to-reach places with ease, and the added absorbency is ideal for people whose feet tend to sweat. Ting is used twice a day and utilizes the active ingredient Miconazole 2%.
Ting provides instant relief from the itching and burning associated with athlete's foot and jock-itch, though there are mixed reviews regarding its relief of scaling or cracking. Ting's powder spray formula is great for users whose feet tend to sweat because it provides the same absorbency as a powdered formulation would. Ting can be used daily as a preventative for the reoccurrence of infection. Ting is relatively low-cost though it is higher priced than some of the other options on the list. It offers instant relief from the irritation and itch associated with athlete's foot and jock-itch infection, while also providing an absorbent powder-like formula with the easy application of a spray.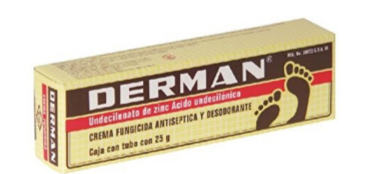 Cures Infection
Eases Symptoms
Effective
Highly Rated
Derman Antifungal is a cream based treatment that works fast to comfort symptoms associated with athlete's foot. It's important to pay close attention to the space between toes and to wear ventilated shoes while using this cream and it should be noted that Derman is not proficient for treating nails.
Derman diminished the unpleasant manifestations that come with athlete's foot including itching, peeling, burning, and cracking. This topical cream will heal most instances of athlete's foot and is a robust antifungal medication.
Derman comes in a cream based formula that is applied directly to the affected area twice daily for four weeks. It's important to finish the entire course of medication to clear the infection entirely and to prevent a reemergence of symptoms. Derman is priced in line with the other products on this list and offers a reliable form of treatment for athlete's foot. It works well to control symptoms and is a cure for most cases.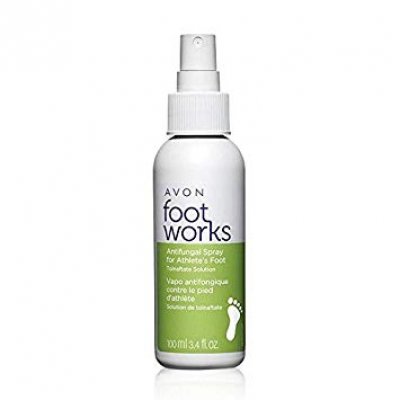 Prevents Odor
1% Tolnaftate
Easy Spray
Dries Quickly
If you're a fan of Avon products, or perhaps are looking for a different over the counter kind of treatment for athlete's foot, consider looking to Avon Foot Works. With an active ingredient of 1% Tolnaftate, it helps to prevent the growth of fungus, and Avon packaged it in a simple spray solution for ease of use.
Sometimes using creams can be a little messy, or individuals may just prefer something that sprays on and dries quickly to help treat athlete's foot or other fungal infections. Avon Foot Works is an easy spray on solution with active ingredients to prevent fungal growth, which dries quickly and applies evenly to affected areas. Just spray twice a day to help treat and you're on your way to clear, soothed feet!
Athlete's foot can tend to cause dry cracked skin and itching, so Avon created their Foot Works spray with soothing aspects to help keep your feet moisturized while being treated to clear up fungal infections. It also helps prevent any odor you may have from the infection, helping to make you feel more confident while you heal. You can continue using it to help prevent any further infections and keep your feet feeling great! Available as a four pack or in singles, Avon Foot Works is a great option to other treatments for its ease of use spray formula, and effective treatment for athlete's foot. Packaged in a 3.4oz bottle, you'll find bargains when you purchase more than one bottle. Perfect for individuals who aren't fond of creams to treat athlete's foot, Avon Foot Works will help prevent fungal infections, and help keep your feet odor free and soft.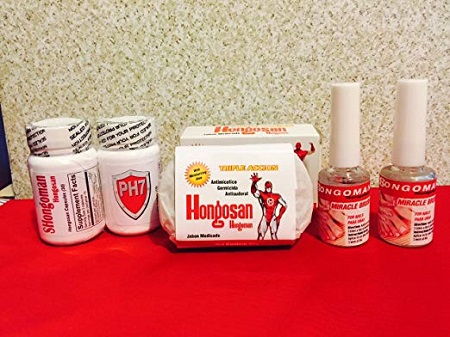 Preventative
Pleasant Smell
Anti-Odor
Fast Acting
Made by the same company as the Hongo Killer spray, and a product commonly advertised on TV, the Hongosan spray is designed for instant relief as well as prevention. Its fast acting formula also works as a preventative measure, to keep athlete's foot from coming back after treatment.
Some topical antifungals have a strong and unpleasant smell, even those that are advertised as odor-reducing products. The Hongosan spray is made with a light and pleasant scent, allowing it to mitigate odors without being overwhelming.
When it comes to athlete's foot, treatment is only one part of it. Given its fungal nature, it can live in things like gym bags and footwear for a surprising amount of time. This is why the Hongosan spray also includes preventative measures, to keep reinfection from happening. We will admit that this is an expensive product. However, it comes not only as a spray but as a full line of treatment products that work well together. So you can use the spray directly on your feet and the powder in your shoes, as an example.
Criteria Used for Evaluation

Application
Certain antifungals are primarily utilized orally, while others come in the form of cream, powder, or sprays. Oral medication is rarely used to treat tinea pedis except for complicated cases where the doctor may prescribe a stronger course of treatment. The following three are the most common for use in treating athlete's foot:
Cream: Creams go on smoothly and tend to penetrate the skin effectively. They are beneficial for those suffering from dry and cracked feet because they add moisture to the area and can be applied all over the foot including the sides. The most commonly found active ingredients in cream formulas are clotrimazole, tolnaftate, and miconazole.
Powder:Powders are suitable for covering a large area of space and are an excellent choice for someone with sweaty feet because it absorbs moisture well and can be sprinkled inside of shoes for ongoing treatment and moisture control. The only problem with this is that it can get very messy when you take off your shoes, and you might find yourself with powder marks on your clothes. The most commonly used ingredient in powders is miconazole.
Spray: Sprays are easy to apply and make little mess, unlike creams or powders, and you never have to touch the affected area while using it. Sprays can also be applied not only to feet but hands and toenails as well, without making a greasy mess of things. The most commonly used ingredients in spray formulas are tolnaftate or terbinafine. Sprays also come in the form of a powder spray which offers similar absorbency as a powder but with less mess. This type of spray is ideal for someone who has sweaty feet but is less advisable for an individual with dry skin.

Speed
The length of treatment varies depending on the pharmaceutical ingredients used and is usually between one and four weeks. Generally, creams and powders can take between two to four weeks to clear the infection, though symptoms typically feel better within three days.
Sprays can tend to work a bit quicker and the length of time using these is usually one to two weeks. Some sprays, such as Lamisil, are also only usually applied once a day while creams and powders are twice daily which may be inconvenient for some.
It's vital that you do not stop using the medication once your symptoms have subsided until you have finished the recommended course. Stopping too soon may not have allowed enough time for the fungus to be fully eradicated and can cause it to reemerge.
Another thing not to do is apply the medication too often, as this can have bad side effects, including skin irritation and deterioration, causing additional problems at the cost of speeding up the healing process.

Ease of Use
Antifungal creams, sprays, and powders work by killing the fungal cells present in the body and preventing them from multiplying further. There are several antifungals which are used to treat fungal infections through various methods of administering which include;
Clotrimazole:
Clotrimazole is available in cream products and is usually used for two to four weeks. It works by killing current fungus and stopping the growth of more.
Miconazole:
Used as a spray, powder, or cream and works by stopping any fungi from growing.
Terbinafine:
Regarded as the most effective of any over-the-counter antifungals, terbinafine is used for one week and heals up to 97% of athlete's foot cases. Terbinafine is found in spray and powdered spray products like Lamisil.
Tolnaftate:
Is available as a cream, powder, or spray and works by using an enzyme that prevents the growth of fungus and inhibits any regrowth.
Natural ingredients are also known to be very beneficial in the treatment of athlete's foot and its symptoms. Some of the most widely used naturally derived substances are:
Tea Tree Oil
Eucalyptus
Neem Oil
Peppermint Oil
Menthol
These essential oils contain natural antifungal agents that protect from the invasive fungi that cause athlete's foot infection. Many of these ingredients are said to more effective than pharmaceuticals and are ideal for a more homeopathic approach to recovery.

Effectiveness
The products featured on this page were carefully chosen based on proven results and effectiveness at eliminating fungal infections fully and completely. Antifungal sprays are the highest rated with up to 97% of users reporting that their infection was fully cleared after one complete treatment cycle. While creams and powders are also highly effective and work similarly as the sprays, they have up to a 95% favorable rating.
If you're shopping for over the counter medication, it is extremely important that you carefully read and follow the instructions on the box. Overall, there are a few universal steps that you should repeat with each use:
Wash the affected area with mild soap and warm water
Dry it with a clean towel
Apply the cream, powder or spray to the affected area and around it
Thoroughly wash your hands and avoid touching other body parts, especially around the nose, mouth and eyes
Allow the product to be absorbed by the skin
Don't wrap the treated area, unless otherwise instructed
Repeat the process only as often as instructed
Another important thing to consider before purchasing is whether you're allergic to any of the active ingredients in the product. If you notice any side effects, contact your doctor immediately.
Finally, if you find that the application of treatment is not helping your condition, or is making it worse, it is recommended that you visit a professional who may need to administer you with a stronger dosage, or who will be able to correctly diagnose your condition.

Value
One of the main areas of concern for anyone with athlete's foot is finding relief for their symptoms. Whether you are experience one or all of the possible symptoms you are going to want fast relief. These symptoms include dry or cracked skin, blisters, a rash, or scaling.
Not all treatments work to alleviate every symptom through the products on this list were carefully chosen, in part, for their effective relief from the majority of them.
You will find that the products listed above vary in price based on a number of factors. In addition to the type of product - spray, cream or powder - the cost is also affected by the type of ingredients. Overall, prescription products will be more expensive, as will natural remedies that use organic ingredients to treat common fungal infections.
If you're after a cost effective way of treating your tinea pedis infection, you can look into products that come in value packs of three or more, as these will often have a lower price than when purchasing a single item. Another thing that might save you money is if you find off-brand products that use the same active ingredients as their more expensive counterparts.
Expert Interviews & Opinions
Most Important Criteria
(According to our experts opinion)
Experts Opinion
Editors Opinion
Users Opinion
By Default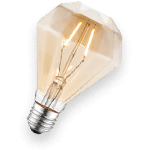 Post Treatment Care
So you've treated your Athlete's Foot, but how to prevent it from coming back?
Make sure to let your shoes air dry to prevent moisture build up or bacterial buildup in your shoes. Change socks frequently, and give your feet continued care with epsom salt soaks.
What If It Doesn't Work?
Sometimes, Athlete's Foot can be more aggressive than over the counter medications can treat. If you've tried treatments already, it's likely time to see a doctor or specialist to help you treat the condition, and get a more concentrated treatment to cure the affected area.
Other Factors to Consider

Bottom Line
If you happen to suffer from athlete's foot, jock itch or ringworm, you know how difficult it can be to deal with the discomfort during your everyday life. Itching, burning, dry skin and sensitivity are just some of the symptoms, and they only get worse when left untreated.
The market today is saturated with over the counter medication that was developed to treat these issues. From sprays to powders to creams, you can choose from a variety of treatments that will bring you relief and stop the infection from spreading. The list above features some of the most effective treatments for the condition, from those with medical grade ingredients such as Clotrimazole, Miconazole, Terbinafine and Tolnaftate, to those that use natural remedies to treat athlete's foot.
Nonetheless, when shopping it is highly recommended that you consult with your doctor, to make sure you are getting the best possible product for your needs.
Frequently Asked Questions
q:

How long will it take to get symptom relief when I start treatment?

a:

Treatment for athlete's foot usually consists of a one to a four-week course of antifungal medication, but symptom relief should be felt within one to three days from the onset of treatment. If the symptoms are not feeling better within seven days, it is recommended to see a doctor, and it's also imperative to continue with therapy for the suggested amount of time because even though the symptoms are gone there may still be a lingering infection that can return if medication is ceased to soon.
q:

Do antifungal sprays make your shoes and feet smell?

a:

The medication itself does not have an overly overpowering smell, though some users report a slight odor similar to that of eucalyptus. Also depending on whether or not you're using natural ingredients such as tea tree oil which does have a distinct odor to it which some people find unpleasant.
q:

Can I purchase antifungal medication without seeing a doctor?

a:

Yes, there are sufficient over-the-counter antifungal medications that treat the infection. The only time a doctor may prescribe medication is for complicated cases which do not resolve with the use of over-the-counter treatments but will always first recommend purchasing something from the drugstore or pharmacy and completing the suggested course of treatment.
q:

How long do I have to use the spray for?

a:

It's important to read the instruction on the package of the product and to follow them carefully. Generally, you will use the product for somewhere between one and four weeks, though your symptoms should feel better within three days.
q:

What are some potential side effects?

a:

Antifungals can occasionally cause mild side effects which don't usually last for very long and are relatively mild, these include: burning, itching, and redness in the area of application. It's important to consider any allergies that you may have and to discuss this with your doctor before starting any treatment for the first time. If you aren't aware of any allergies to the pharmaceutical ingredients of a product, then most people do not experience any serious adverse effects.
Subscribe to our Newsletter