Best Foot Bath Spas and Foot Spa Machines Reviewed
In a Hurry? Editors choice: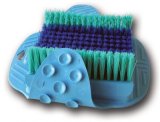 Test Winner: Footmate System

Imagine getting a spa treatment every day. After a long, stressful shift at work, you stumble into your home, tired and hungry, eager to get out of your shoes and off your feet. You don't have to go anywhere; you don't have to pay for anything. All you need to do is take off your socks, dip your aching feet in warm, bubbly water, sit back and relax. A foot spa will do all the work for you, in the comfort of your home, for a fraction of the cost, you will have to cover in a real spa center. So don't waste any more time and find the best foot spa or a foot bath for you!
Standout Picks
Criteria Used for Evaluation
Ease of Use
While most spas can accommodate feet sizes up to men's 13 or 14, it is essential to check the device's capacity before purchase. You should be able to submerge your feet in the tub, so the water comes up to your ankles. If you can't do that without overflowing it is too small for you.
You should also take into account the depth of the basin. Shallow basins may not work for you, especially if you're suffering from leg pain, for which a taller tub would be a better idea.
As far as portability goes, bear in mind that most spas are bulky and difficult to transport, especially when filled with water. If you're expecting to move your foot bath around, or even travel with it, try looking at those that have their mobile carrying units. Or those which are light enough that you can carry yourself, empty or not.
Lastly, you should also think of one more detail, which is where you will store it when it's not in use, and how much space you can allocate for it in your home. Don't forget that spas need a power outlet. You should consider where you'll be using it, where the nearest outlet is, and if the cord is long enough to reach it.
Features
It will only give you a headache if you finally receive your eagerly-awaited spa unit and find out that it's crammed with buttons and dials and instructions which might as well be written in a foreign language. No one wants a confusing machine that they can't even turn on without consulting the manual, so definitely look for a foot spa which is straightforward and simple, intuitive to use.
Programs
There are spas with preset programs, usually 2 to 3, which allow you to customize your bath for whatever you're in the mood for at that moment. The only thing required of you would be to push a button and kick back for a fully personalized experience.
Controls
IWhile admittedly a first world problem, it is annoying when you have just started to unwind when your feet are warm, and the tension has just started to ebb away – when you realize you need to turn on a massaging program. Or a jet system. Or the bubbles. Or do anything that requires you to bend over, fiddle with the controls and lose some of the serenity you've just started to enjoy.
This is where foot spas with toe-touch controls come in handy. You don't need to reach over to do anything – just click the buttons or move the switches with your fingers and problem solved.
You could even go a step further and invest in a foot bath with a remote control. As easy as changing channels on TV, you can adjust the heat level, bubbles, or massage intensity without sacrificing your comfort.
Cleaning
All the stress relief from having your foot spa might as well count for nothing if it is an absolute pain to clean. As a rule, and by way of logic, spas which have a contoured, textured foot basin are more difficult to clean, since there are hidden nooks and corners where fungi and bacteria can proliferate. For easy, no-fuss cleaning, you should choose models with smooth edges and less hidden crevices.
There are also baths with self-draining systems, which make it infinitely easier to drain and store them quickly.
Advanced Features
Heating system
Not all foot spas have the heating option. The most basic ones require you to boil or heat the water yourself before getting a chance to dip your feet in. More advanced models can maintain previously manually heated water at a constant, lukewarm temperature.
But for the least amount of hassle, for uninterrupted relaxation – where you won't have to get up in the middle of your soak to add more hot water – you should consider looking into the more elaborate spas. They can not only heat the water themselves, after you pour in cold or room temperature water, and maintain that level of warmth throughout your enjoyment. Some of them also have varying levels of heat settings. You just splash some water in and switch the spa on, without a moment of concern whether it will get cold before you finish your treatment.
Bubbles
Bubbles are often incorporated into foot baths as a great way to relax muscles. This might be a good choice for you if your feet aren't particularly ticklish, and you enjoy a gentle, tingling massage. You should remember, however, not to use foaming soap in combination with the bubble feature. It may agitate the water and create excess foam.
Jets
For a more intense massage, there is the option of hydro jets, not unlike those you find in a Jacuzzi. They can be rolling or rotating, or over the top of your feet or from the sides or really in any form you can think of and are a welcome addition if you're looking for the additional release of tension.
Vibration and massage
Many foot baths are equipped with special nodes and rollers in the basin to massage the bottoms of your feet. Like everything, these range from pretty simple ones – where you roll your feet back and forth over the massaging nodes – to more automated features, such as vibrating functions. The most advanced ones come in the form of percussion motion and intensity levels, which you can adjust to your liking.
Accessories
We all like bonus gadgets, like children in a toy shop, always looking for interesting things to play with. However, models which come with additional attachments are only as good as how much you'll be using those attachments.
The most common choice is foot spas with a Pedi center. These usually include attachments positioned above the level of water in the basin, such as:
Pumice stone
When superheated lava and water mix and harden, pumice is created. It's the perfect king of an abrasive tool, porous and light, to help remove dry skin.
Brushes: From those with soft bristles for a gentle massage to harder ones for exfoliating the skin and removing calluses, foot bath models can offer an assortment of various brushes for enhancing your spa experience.
Nail clippers
These detachable extras will most likely drive up the price of the gadget. The number of the attachments should never overpower the quality of the machine itself. But if you're looking for a full salon experience, and love to give yourself pedicures regularly, this is the right option for you.
Value
As you can see, choosing a proper spa is no easy feat. Over time and with growing demand these devices have become quite elaborate in design and functionality. It can take a while to sort through all the options. What is important to keep in mind, however, are your own needs, and your budget.
Are you an athlete who requires a foot massager? Are your feet plagued by tough calluses and in dire need of some taking care of? Would you like a pedicure with your soak? Exfoliation? Or just something simple and straightforward, without any added gizmos? There is a right foot bath out there for everyone.
Usually, more features equal to a higher price, but if you feel like you don't need more than the basics, there's no reason you should throw money at high-end, luxury models. So take a deep breath, consider everything you've read just now, go out there and get yourself your own personal spa oasis.
Foot Spa and Foot Bath Reviews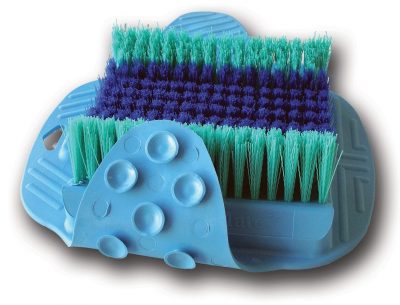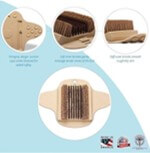 Don't worry, we've noticed - it's not exactly a standard foot spa, is it? Rather, it's more of a foot brush. You may be skeptical, but the Footmate System foot bath has been endorsed by The American College of Foot and Ankle Orthopedics and Medicine. It is especially helpful to those who suffer from diabetes, arthritis, back pain, for tired caregivers and pregnant women - all groups of people who are advised not to use a standard model.
The wide gentle inner brush massages your soles, while the stiff outer bristles smooth your skin and calluses, improving circulation. The bristles are contoured, providing a stimulating massage for the bottom and the sides of your feet. It's the perfect foot bath you've been looking for all this time!
The Footmate System foot spa set is not just about massage and relaxation, it is also about proper foot care. It leaves feet thoroughly cleaned and conditioned, including the often overlooked areas between the toes. While not really a foot bath, at this price, the Footmate System is a steal. If you're a person who has trouble moving around or bending over, who suffers from scratchy, calloused feet and would like to get proper care without coughing up extra cash for foot spa treatments every so often, then this foot brush is definitely for you.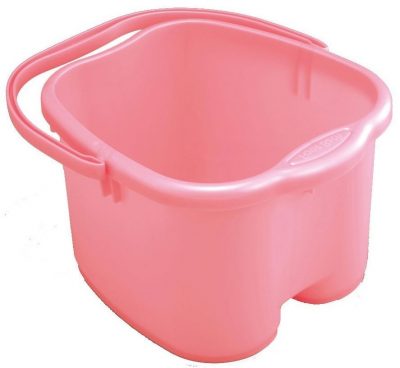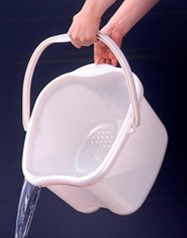 Quite unsurprisingly by its title, this is not a foot spa, in the usual sense anyway. The Inomata Bucket foot soaker is, essentially, a bucket - a plastic basin, available in many colors, that you can fill up with water and soak your feet in for as long as you like. It doesn't get more basic than that, but it is a favorite for people who prefer not to fuss over buttons and dials and too many massaging choices to keep track of.
Given that it has no automatic features or anything that requires power to work, you can use the Inomata Bucket literally any time, anywhere. Just fill it up with hot water, dip your feet in, grab your favorite book or turn on your favorite show, and enjoy a relaxing soak.
One of the benefits of having an uncomplicated device is that you can enhance your experience by using a wide variety of Epsom salts or essential oils available. With the power of the internet, you are sure to discover countless recipes for baths that will soften the skin of your feet, improve your mood and maybe even help you sleep better at night.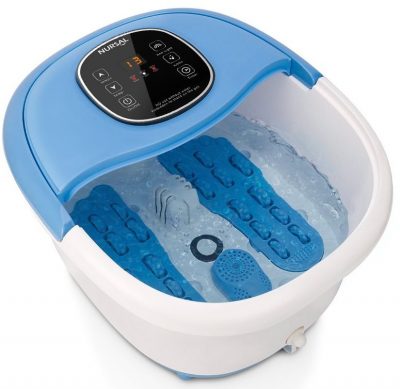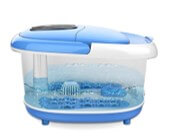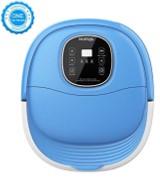 The first thing you will notice in the NURSAL All In One foot spa is its modern, minimalistic appearance. It is easy to use, without any embellishments that will have you scratching your head over the manual. Aside from the heating system, the oxygen bubble therapy, and a LED display, this one has a unique roller design and digital controls for a fully customizable soak.
The NURSAL All In One foot spa comes with a staggering eleven mini rollers at the bottom of its basin. They are not motorized, but you will not be disappointed with the kneading massage they provide. After all, their design is based on the principles of human engineering, and they fit most feet sizes.
When you're playing with heat, it is important that the home foot spa is made of high-quality materials which can withstand such high temperatures. The NURSAL All In One ensures high-temperature resistance, as well as aging resistance and multi-insulation protection. The NURSAL All In One is anything but expensive, falling in the low-to-mid-range of cost. However, this foot spa machine does not come with any additional attachments or functions. While the mini rollers are certainly useful, there may be models out there with more options available at a lower price point.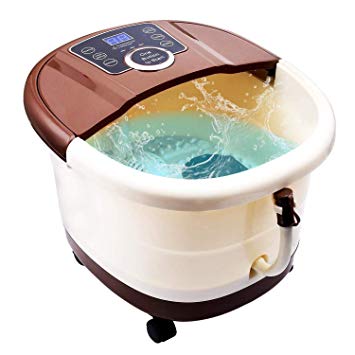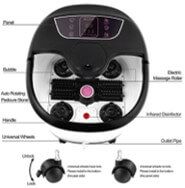 Even though it doesn't say in its name, this is a foot spa and a foot bath, including but not limited to heat therapy, oxygen bubble massage, and adjustable temperature controls. A top control panel allows quick and easy access to all functions. All you need to do is pour in some water, sink into your most comfortable armchair and finally unwind after a long and stressful day.
This quality heating system in this foot spa and foot bath guarantees fast water heating, maintaining a constant temperature throughout use and multi-insulation protection. With it you won't have to worry about playing with water around electrical power - the double overheating protection will make you safe and secure during your own personal foot relaxation.
With this foot bath, you can not only enjoy one temperature level but three. At 95F heating therapy is activated, at 110F your feet will be gently massaged by bubbles, and at 118F you can go for the red light irradiation, which improves your blood circulation and eases muscle tension. As far as the price goes, the Acevivi Foot Spa is firmly in the low range. Is it perfect? No, but it is equipped with all the necessary features for a well-rounded home foot spa oasis, and it will not break your wallet in the process.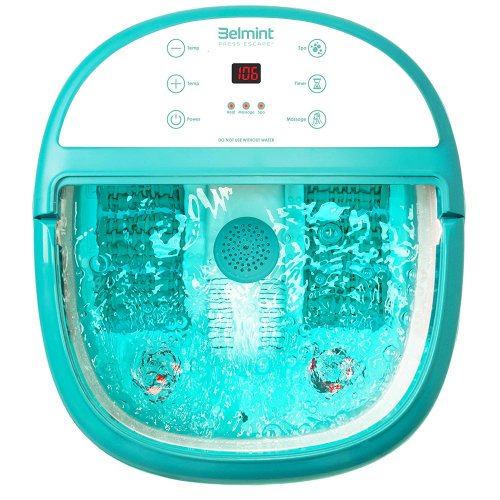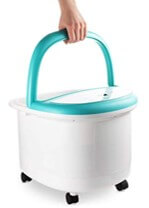 With its extensive massaging options, a digital display with simple functions, a remote control for maximum convenience and a heating system which allows you to adjust water temperature levels from 95F up to 118F, the Belmint Foot Bath certainly - as its name says - has it all. This foot spa machine is equipped with many features but isn't over-complicated to use, and it is bound to meet all your foot bath needs.
When it comes to massage options, if you've thought of it, the Belmint probably has it. Six motorized massage rollers, hot-water waves, vibration massage, precision acupuncture points massage - the Belmint foot bath is here to promote blood circulation, improve metabolism and relieve fatigue.
The Belmint foot spa has four wheels and a removable carrying handle for easy transport and storage. A small hole between the edge of the top cover and the wall of the basin makes draining water a breeze.

6

. Lauer Cosmetics Foot Spa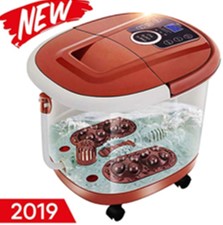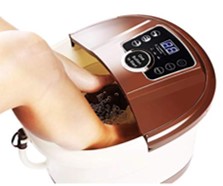 The Lauer Cosmetics Foot Spa has several adjustable options to make it one of the top items around. From adjustable heat settings, massage, vibration, bubble jets, and easy drainage, you can find the perfect setting to help soothe tired or achy feet, and rejuvenate your energy. A self-drainage system allows for easy water disposal, which operates quietly and without fuss. For those looking for an 'all-in-one type option, the Lauer Cosmetic spa is worth a second glace at the details and specs!
This foot spa has several different settings which you can control with ease. From the temperature control with digital display and customizable settings up to a steamy 120F, you'll find the best possible temperature for your needs. Massage aspects of this foot massager come in two different forms. Choose bubble massage for a gentle, blood circulating foot soak, or the rotary massage, which is automatic and will gently roll along the feet to soothe aches and pains from the week.
We love the self-drainage system on the Lauer Cosmetic Foot Spa, since it's easy to use and quiet as well. Simply roll the foot bath to where the hose can reach into a sink or bath, and let it work it's magic. The system itself weighs only 14lbs, and has rollable wheels for ease of maneuvering. It will hold up to 16L of water, so get those feet ready for a treat! In addition, there are infrared lights which can be activated to help kill germs and minimize any build up over time.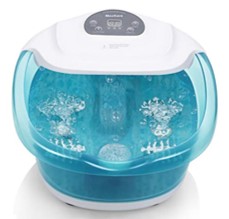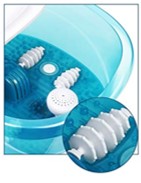 This particular foot spa from MaxKare is simplistic yet completely functional in its design. With a bucket large enough for a size 15 shoe, it has gentler acupoint rollers horizontally along the bottom to help soothe tired feet. These rollers however, are removable should you choose to just simply have a soak after a long day. Adjustable settings include temperature, bubbles, and vibration settings, so you are sure to get the perfect foot soak for your needs. And, the product is FDA certified, so you can rest assured you're getting the quality you'd expect from this foot spa!
The MaxKare can fit up to a size 15 foot, and has individual removable rollers that run horizontally along the base of the basin. These rollers are manual, so you can roll your feet back and forth for a do-it-yourself mechanical massage. These are also removable should you choose to pop them out and simply enjoy a bubble massage soak with vibrations and heat. Digital display along the top of the system allows you to see what temperature the water is set to.
With its heater setting that can go up to 118F, you can find the perfect temperature for your tired feet. There's also a 'foot' pod, that can be filled with salts or other foot soak treatments, for a better overall experience. Once you're finished, simply toss the water out from the basin and allow to let it air dry. It's a friendly budget option for those who are in search of a better foot spa with adjustable settings for temperature and massage.

8

. HoMedics Compact Pro Spa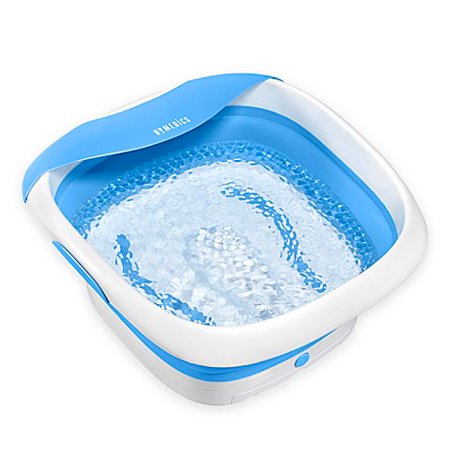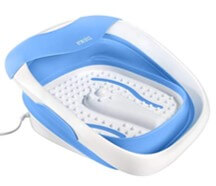 While at a first glance similar - or even identical - to most of its peers, commonly found on the market, the Compact Pro foot spa has a few special characteristics which set it apart from the rest. Most notably the ability to collapse down for easy storage.
The bottom of the surface was created with small raised nodes that can help release pain and tension as you slide your feet back and forth. You can easily plug in the Compact Pro to give you a vibrating massage to your aching feet. Use along with the soothing heat and your feet will be in heaven.
With all the extras it provides, the Compact Pro is not your average foot spa, though you could never tell that by its price. For relatively little money you will be getting the full package, plus the bonus of actually saving on your power bill, as this foot spa machine has a great energy-saving program.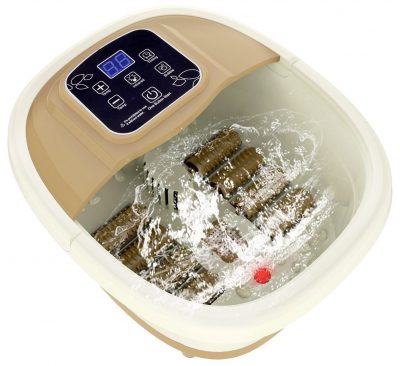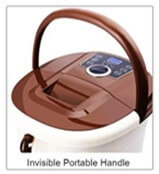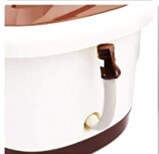 Inspired by ancient Tai Chi masters, the Guisee All In One is a symbol of both luxurious relaxation and traditional oriental medicine. With its acupressure points, it is a balm not only for your feet but for your entire body as well. This foot spa is outfitted with a heating system which keeps the water temperature constant, a self-draining mechanism, and you will be pleasantly surprised by how little noise it produces.
These points are specially designed to concentrate on the areas of your feet which are connected to other parts of your body, smoothing the meridians (according to traditional Chinese medicine) for an easier flow of life-energy, known as qi. They help improve your metabolism and release harmful toxins from your body.
The Guisee All in One foot spa is easy to transport with the four casters at the bottom and a built-in draining system helps you empty it in only a couple of easy steps over your sink. Price-wise, this model is borderline high cost, but not over the top, especially considering everything that it offers. You're not only getting a standard foot spa with all the usual features but also your very own acupuncture station to improve your overall health and well-being.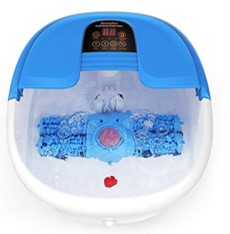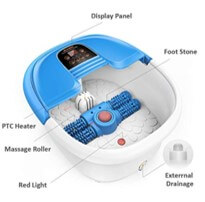 This particular foot spa utilizes an automatic roller with 6 different settings to help massage out the aches and pains in the foot from the day. From bubble massages, to foot stones, it has something perfect for everyone. Settings are available for heat, time, and how long to keep water a certain temperature. It also has an automatic shut off for safety should you forget to switch it off before heading off to bed. FDA certified, it's been stamped with the seal of approval for functionality and safety, so you can feel great about this investment without worry!
The Arealer has several massage settings, including roller functions, a foot stone option, and the popular bubble massage setting found on many foot spas. Pair these functions for an invigorating roller massage to relive pressure points along the foot, with a warm heat setting to rejuvenate your feet. The heat control setting goes up to 118F, and also has a timer to maintain the temperature of the water for up to 60 minutes. It also has capacity for those with larger feet, up to 16 inches of space for your feet to sit comfortably inside.
The bubble massage option on this foot spa is perfect for relaxing after a long day, with the addition of bath salts or soaks. Simply add to the water, and turn the function on while the bath heats to your pre-adjusted temperature for a relaxing massage. The Arealer Massage system is also certified by not just the FDA for quality and safety, but has also been given the stamp of approval by CE and ROSH standards for health and electrical safety measures. It's a great option for consideration for your next investment in a relaxing, rejuvenating foot spa!

Subscribe to our Newsletter