Best Foot Peeling Masks for Dead Skin & Callus Removal
last updated
Feb 06, 2019
Are you frustrated over dry, cracked, or rough feet? Does it seem like no matter what you try you just can't seem to achieve those soft and silky post-pedicure tootsies? If you're tired of forking over a fortune for salon treatments but can't stand having those unsightly cracked and callused feet then consider trying an at-home mask. They're soothing and effective, not to mention, they're totally inexpensive too!
There are a few variations of foot masks including moisturizing, detoxifying, and exfoliating peels. These work, essentially, like a chemical peel for your feet and are an excellent way to deal with those pesky calluses and patches of hard, dry skin. Many of these peels are made from safe ingredients derived from natural botanical sources like fruit and lavender extracts along with ingredients like AHAs (mainly lactic acid or glycolic acid) in order to properly exfoliate.
No matter your concern, there's a mask out there that can help in an easy-to-use and safe way. The great thing about these treatments is that you can use them right in your own home which means no more strangers touching and tickling your toes. They will also save you a fortune on pricey salon treatments, but best of all, your feet will look and feel better than ever!
If you're intrigued by the sound of using a foot mask but aren't sure which one to choose then have a read through our guide to ten of the best options available. Continue reading for a detailed review of each of the ten masks, as well as, an in-depth breakdown of the criteria used to evaluate the best ones. You'll also find answers to some of the most frequently asked questions on the topic to help you in making an informed decision.
In a Hurry? The test winner after 9 hrs of research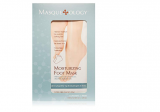 Masqueology Moisturizing
Why is it better?
Coconut Oil
Aloe Vera
Shea Oil
Brightens
In a
Hurry? Editors choice: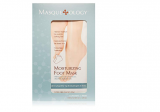 Test Winner: Masqueology Moisturizing

6
Researched Sources
1068
Reviews Considered
9
Hours Researching
10
Products Evaluated
Application
Ease of Use
Effectiveness
Features
Value
By Default
In Depth Review Top 10
Masqueology Moisturizing
Dew Kissed Anti-Aging
Lavinso Silky Soft
Soft Touch Exfoliating
Svasthya Body & Mind Heal All
Voesh Collagen Socks
L'Amour Peeling
Wild Beauty Exfoliating
Baby Foot Exfoliate
Bangbreak Peel Away
Table of contents
Criteria Used for Evaluation
Other Factors to Consider
Frequently Asked Questions
Sources
Top 10 Picks
1

. Masqueology Moisturizing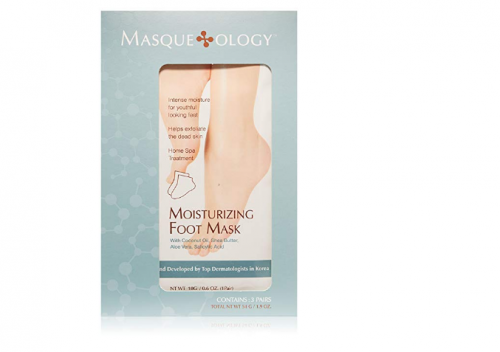 Coconut Oil
Aloe Vera
Shea Oil
Brightens
Masqueology has created a luxurious moisturizing foot mask that utilizes natural ingredients like coconut oil, aloe vera and shea butter to deliver deep moisture to your skin. This mask isn't in exfoliating option but rather focuses on hydrating dry and cracked skin. Dark spots will appear brighter after just one use and dehydrated heels will once again be soft and smooth.
Read more
Go ahead and step into these unique technologically woven fabric booties that help maximize the delivery of these powerfully moisturizing ingredients to the skin and cuticles. This specially woven fabric is made to ensure the vital ingredients stay inside so you get the most out of your treatment. The great thing about this option is it only takes 20 minutes to apply so you can get back to other things that much faster.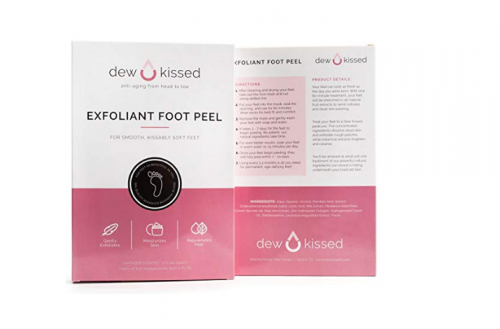 AHAs & Mandelic Acid
Anti-Aging Treatment
Removes Calluses
Heals Dry Skin
May Cause Initial Scaling
Dew Kissed has created an anti-aging treatment for your feet! This product can literally take years of wear and tear off your feet leaving baby soft skin behind. It utilizes concentrated AHAs and almond derived mandelic acid to gently and effectively exfoliate dead skin cells away.
Read more
Complete with anti-bacterial ingredients like tea tree oil, this mask not only revitalizes, but it works to eliminate fungal infections and odors too!. Anyone who is looking for a moisturizing and deeply exfoliating mask will love this one and users everywhere agree it's one of the best. It contains natural fruit extracts that help to brighten your skin making it look years younger.
 
This mask is super easy to use and takes just 60 minutes to reveal younger, healthier, and softer looking skin. Most users report having seen noticeable results within just a few short days of initial treatment making this an excellent option for busy go-getters with little time to spare.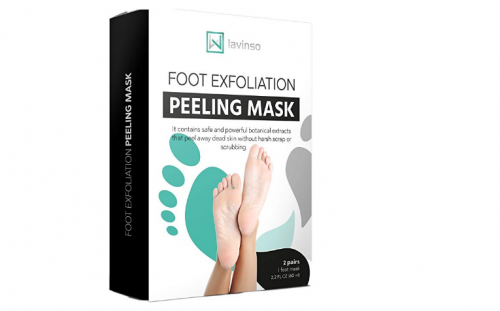 Two Pairs Included
Callus Removing
Dry & Cracked Skin Relief
Naturally Derived Ingredients
Lavinso's Foot Peel Mask Is an effective and easy-to-use option that's perfect for anyone with calluses or hardened skin. It helps to relieve dry and cracked feet by safely peeling away layers of dead skin cells and exposing the soft skin beneath it.
Read more
This mask is made from natural ingredients and botanical extracts that make for a soothing and effective treatment. You'll notice an improvement within four to seven days after the initial treatment when the outer layers of your skin gently fall away revealing the softness underneath, which can take up to two weeks to fully shed.
 
This mask can be left on for 60 to 90 minutes and each package includes two pairs of treatment booties for a more cost-effective option
4

. Soft Touch Exfoliating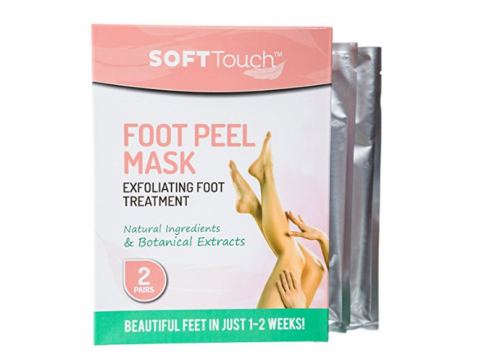 Treats Dry, Callused, & Hardened Skin
Naturally Derived Ingredients
Papaya & Aloe Vera Extract
No Artificial Additives
The Soft Touch Exfoliating Foot Mask is an excellent choice for dry, cracked, and callused skin. This product helps to return your feet to their naturally soft and supple state through the use of plant-based ingredients that are gentle and safe for your skin. There's no artificial additives or chemicals found in this mask that includes naturally sourced ingredients like papaya and aloe vera extract that help to moisturize your feet, while gentle lactic and malic acids help to slough away dead skin cells for deep exfoliation.
Read more
Anyone in search of a hassle-free choice will enjoy this mask from, Soft Touch, that's super easy to use thanks to its slip-on design that's just like putting on a pair of socks. Each pack includes two pairs of treatment booties making this an excellent value, especially since most users reported only having to use one treatment to achieve their desired results. All you need to do is cut open the top of the bootie and place your foot inside, then sit back and relax for the next hour, it's that simple! Full results are usually seen within 1 to 2 weeks of treatment while individuals with severely callused or dry skin may need to repeat the treatment two weeks after the initial.
5

. Svasthya Body & Mind Heal All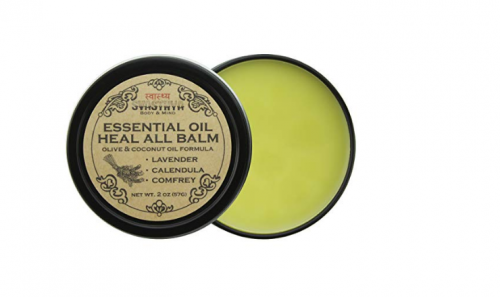 Speeds Healing
Soothes
Cruelty-Free Ingredients
100% Naturally Sourced
This mask is a unique option that provides instant soothing relief for skin that's cracked, dry, and itchy. It won't do much for calluses and is not an exfoliating treatment but its a highly effective moisturizing treatment that offers so many benefits!
Read more
Derived from 100% natural and cruelty-free ingredients, this choice is ideal for the nature lover at heart. It contains just four ingredients: infused extra virgin olive oil, beeswax, coconut oil, and essential oils (lavender and clove). The mask will not only help to hydrate your dry skin but will also speed the healing of any cuts or bruises you might have and can even help to lessen the appearance of scars over time!
 
It's easy-to-use and can simply be rubbed into the affected skin as desired without rinsing. Users are raving about this hidden treasure that delivers groundbreaking results in a completely safe and eco-friendly way.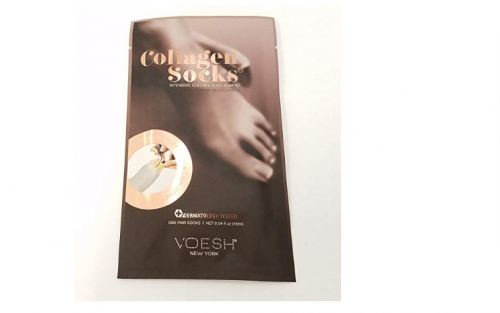 Anti-Aging
Collagen
UV Protection
Moisturizing
This collagen foot treatment is the ultimate mask for anti-aging and restorative foot care. Its made with a dual layer micro thin material that can penetrate deeper to produce better results. This mask helps to protect your tender tootsies from harmful UV rays and can shield them up to 98.9% for complete security.
Read more
Anyone searching for a moisturizing and soothing option will love this one that delivers superior softness while helping to ease calluses. If you're worried about showing signs of aging than this is a great choice because the collagen helps to fill in lines and wrinkles, leaving behind smooth and youthful looking feet.
 
This product is made using marine collagen and argan oil, along with other effective herb extracts that work to deliver a deep level of moisture to dry and dehydrated skin.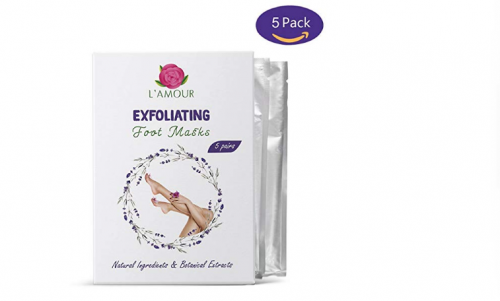 Excellent Results
Smooth & Soft Skin
Eliminates Bacteria
Botanical Extracts
L'Amour Peeling Mask is an effective therapy that results in soft and beautiful feet. It works in just one to two weeks and delivers top-of-the-line treatment for removing dull and dead skin cells, while also working to eliminate bacteria on your feet and between the toes which help to keep your feet fresh and healthy.
Read more
This option is made with naturally derived ingredients and botanical extracts, making it 100% safe for both men and women. It's super easy-to-use and requires no scrubbing whatsoever! Simply slip your feet into the exfoliating socks and wait for 60 minutes before rinsing clean. Each pack includes five pairs of booties that will help to remove stubborn calluses, cracked skin, and dry patches.
 
Users reported achieving their desired results after just one use and rave about the affordable value that this mask offers.
8

. Wild Beauty Exfoliating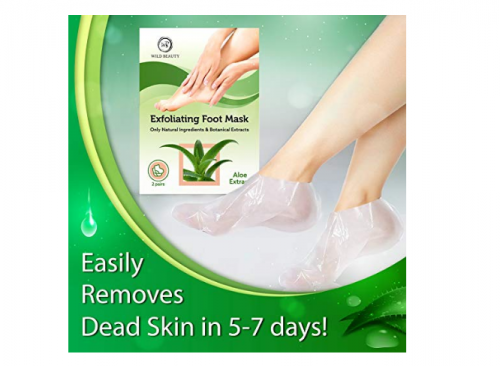 100% Satisfaction Guarantee
Botanical Extracts
Moisturizing
Exfoiliating
Wild Beauty's Exfoliating Foot Peel offers a 100% satisfaction guarantee and delivers on its promise of powerful skin smoothing and moisturizing footcare. It's made from natural botanical extracts making it a safe and robust tool that's safe for both men and women alike. Your feet will be transformed into more soft and healthy looking tootsies within as little as one to two weeks and you'll be amazed by the smoothing and moisturizing properties that this mask delivers.
Read more
This choice couldn't be any easier to use! Simply cut open and slip into the exfoliating booties and safely leave on for up to 90 minutes. Once the time is up, rinse your feet off and enjoy your luscious new skin.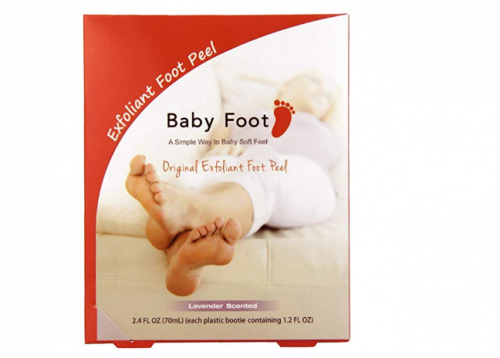 As Seen On TV
Dry, Cracked, Callused Skin
Restorative Therapy
Preventative
The original Baby Foot Exfoliating Mask has become a much-loved treatment among users all over the world. As seen on television, this product is made using seventeen naturally-sourced ingredients and is the perfect option for cracked, dry, and callused skin. Anyone who's in search of a restorative foot therapy mask will benefit from this option that delivers visible results quick and painlessly. Targeted towards women who often wear high heels, this mask not only removes those unsightly calluses, but it helps to prevent new ones from forming, too cool, right?!
Read more
Other miraculous benefits of this mask are odor-control and athletes foot prevention thanks to its naturally-derived ingredients that deliver a strong antibacterial shield against fungal infections and odors. This treatment helps to restore moisture to dry and thirsty skin by delivering highly moisturizing ingredients right where you need them the most.
Though this option is a little more expensive than others on the list it certainly delivers an excellent value that is sure to impress.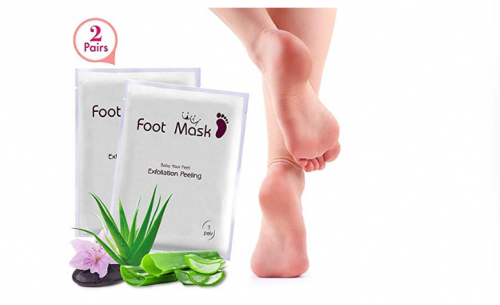 Aloe Vera
Tea Tree Oil
Antibacterial
Moisturizing
May Cause Mild Irritation
Bangbreak's Repair Mask is a safe and effective way to smooth and soften those pesky calluses, cracked heels, and unhealthy cuticles. It gentle repairs and moisturizes dehydrated skin for a new and improved appearance that will leave you feeling like you've just walked out of the salon.
Read more
This mask contains milk and plant-derived extracts including aloe vera which helps to moisturize and sooth. Tea tree oil works to provide effective antibacterial qualities which prevent fungal infections of the foot while also helping to reduce or eliminate odors.
 
This mask is super easy-to-use and comes in the form of one-use booties. Simply apply and leave on for one hour before rinsing clean, that's all there is to it! This product is noted to cause only mild irritation for some users which is why it's recommended to apply a small amount of the treatment to a tiny area of skin first to see if any reaction occurs before using on your entire foot.
Criteria Used for Evaluation


Application
Different kinds of masks will offer different benefits and usually target a specific concern. There are peeling, exfoliating, moisturizing, and detoxifying variations to choose from depending on your particular concerns. If you're unsure of which to choose, start by identifying what it is that you're hoping to achieve by using the mask and then pick an appropriate option.
 
Peeling and exfoliating masks are meant to target hard, dry, and callused skin. This kind usually comes in the form of a single-use bootie or sock which promotes the sloughing of dead skin cells and results in beautifully smooth and supple feet once the application is complete. To use one of these masks, the first step is to clean your feet with warm water and soap which gets rid of any dirt or oil. Then soak your feet in warm water for 10 to 15 minutes to help soften the skin and make it easier for the ingredients to work the magic. Make sure to thoroughly dry the skin so there's no excess moisture when you apply the peel which could dilute the ingredients making it less effective. Cut the single-use booties open, one at a time to lessen the chance accidentally spilling any of the ingredients and slip your feet in before securing them with the adhesive tabs along the top. Once the booties are securely in place you can put an extra pair of socks over top of them to prevent any puncturing of the thin material. Application time is usually one hour but be sure to follow the instructions on the manufacturers' package. When you take them off rub the excess ingredients into your skin before rinsing your feet to prevent any accidental slips as the residue can often be slippery.
 
Detoxifying masks are made from various natural ingredients and are reported to help purify your body by drawing out impurities through the soles of the feet. This kind of mask is usually applied as a thick paste and left on for anywhere from three to ten minutes, but can sometimes be left on overnight. Moisturizing masks are usually applied similarily to detoxifying ones and often come in the form of a thick creamy paste. You simply apply the mixture to your feet and let it dry which usually takes less than ten minutes.


Ease of Use
The products on this list were chosen, in part, for how easy they are to use. No one wants a complicated at-home treatment that's going to end up yielding poor results because it was too difficult to properly apply! Instead, a mask should be an easy-to-follow process that provides a relaxing experience for the user. There should be clear instructions and limited steps required in order to apply and remove the mask, as well as, ensuring complete safety while using and handling the product.
 
Most of these masks are left on for one hour, sometimes 90 minutes, though there are options which are left on for twenty minutes or so, which is why it's very important to follow the instructions. None of these products are designed to be complicated and once you get the hang of using them, you'll find the process quite enjoyable.


Effectiveness
With this kind of product, its effectiveness is a huge weighing factor in deciding which is the best. There are all sorts of products that claim to moisturize or exfoliate but in reality, only turn out to be a disappointment. The options on this list were chosen after careful consideration of countless user reviews and experiences which helped to evaluate the most effective products. In order to be considered effective, the mask needs to live up to its claim and effectively treat the targeted area of concern. There should be a visible improvement after the very first use, though some will take a couple of applications to deliver the maximum results.


Features
Depending on your area of concern, there are different masks which treat different issues. Exfoliating options work by sloughing off dead skin cells and promoting cellular turn over. This kind is best used for dry, callused, cracked, and hardened skin commonly found on the heels and underside of the foot. Moisturizing masks usually offer naturally derived ingredients and are meant to help nourish dry skin. This kind does not usually contain the harsher ingredients found in the exfoliating treatments and usually comes in the form of a thick and luxurious cream-like formula that's left on the skin for a certain amount of time before being rinsed off. Some of the various features to keep an eye out for are naturally-sourced ingredients, fruit extracts, and soothing ingredients like lavender.


Value
No one wants to spend more than they have to when it comes to foot care and you shouldn't! These masks are an inexpensive alternative to salon treatments that cost merely a fraction of the price. A good way to maximize the value you get out of them is to look for options which have multiple applications in one package, which is especially true for the single-use booties. Some of the options come in the form of cream-like consistencies, which tend to offer a better value because they last much longer than the single-use. For the booties, you should try to purchase options which have two applications included, or ones that only need to be used once per month or less in order to work effectively.
Expert Interviews & Opinions
Most Important Criteria
(According to our experts opinion)
Experts Opinion
Editors Opinion
Users Opinion
By Default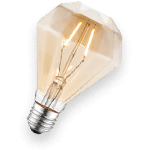 Did You Know...
Every year the human body sheds away approximately 8lbs worth of dead skin cells. You are constantly shedding and growing new cells, and an exfoliant simply helps this natural process along.
Downside to Calluses
While calluses can act as a natural protection against chaffing and irritation, they aren't great to keep around long-term. Easily leading to infections and other issues, calluses should be brought down as much as possible and you should work to prevent them from occuring in the first place by always wearing socks and shoes that fit properly.
Other Factors to Consider


Bottom Line
Foot masks are an effective and generally safe way to bypass pricey salon treatments. Many offer an easy-to-use at-home means of beautifying your feet and yield fast results which are why user love them. Depending on your area of concern, whether it's dry skin, cracking, or calluses, there is an appropriate option available.
 
It's important to purchase the right kind of mask that's going to give you your desired results because not all masks treat every concern. Peeling masks are generally exfoliating by nature and are recommended for callus removal and to treat crack or rough skin. Whereas, moisturizing masks target dry areas but won't help much with calluses.
 
The application process for both is very different which is why you should always carefully read the instructions, even if you've used other similar masks before. When you're dealing with exfoliants like AHAs it's vital that you follow the instructions as closely as possible because if you don't you're increasing the risk of an adverse reaction which can be very uncomfortable.
Frequently Asked Questions
q:

Are AHAs safe to use at home?

a:

AHAs consist of various acids that are commonly used in beauty treatments to both exfoliate and moisturize the skin. The most commonly used are lactic, salicylic, and glycolic acids. These work by helping skin to shed the top layers which consist of dead cells that create those hardened or cracked areas. The concentration level of these ingredients is what dictates whether, or not, the product is safe to use at-home. The Cosmetic Ingredient Review Expert Panel, which regulates and reviews the safety of cosmetic products, has concluded that AHAs are safe to use at home as long as they meet the following standards;
AHA concentration is no more than 10%
Finished product has a pH of 3.5 or higher
Packaging informs the user of sun sensitivity while using any AHA product
q:

What are botanical extracts

a:

They are ingredients which are derived from plants and that offer therapeutic benefits. Botanical extracts are often used for their scent, to improve health, and in cosmetic products like lotions and creams. Botanicals offer an alternative to chemical ingredients and are more environmentally friendly. They also present far less adverse reactions and are generally considered to be healthy than chemically-derived ingredients.
q:

Will I experience any discomfort during or after treatment?

a:

It's always recommended to try a patch test on a small area of skin before using the treatment to make sure that you're not allergic to any of its ingredients. If the outcome doesn't cause you any irritation and you carefully follow the instructions on the label you shouldn't have any discomfort. Never leave the product on for longer than the specified time because this can cause painful effects. Just be sure to read the instructions thoroughly first so you understand exactly how to apply the peel.
 
For moisturizing options, there should never be any discomfort unless you're allergic to one of the ingredients. These masks can be left on as long as one likes, usually, though you should still always try to stick with the instructions.
q:

How long will it take to see visible results?

a:

This depends on the product you've used but usually, results will be seen within the first week for peels and immediately with moisturizing masks. The peels take longer because the result is derived through a shedding process where you're skin literally peels away its outermost layer which is mainly dead skin cell that causes unsightly cracks and calluses. Imagine a snake when it sheds its skin and you'll have a pretty good idea of how you're going to get those soft and supple tootsies.
q:

Is it safe to use a mask while you're pregnant?

a:

It is not recommended to use any peeling mask while pregnant, or even while you're having your period, and especially while you're lactating! This is because the skin is more absorbent during these times due to the hormonal changes that each causes. It could potentially harm you, or your unborn baby, so it's definitely not worth the risk