Best Foot Creams Reviewed & Rated
In a
Hurry? Editors choice: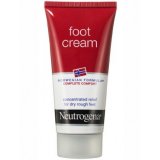 Test Winner: Neutrogena Norwegian

The following article includes the best foot creams available for purchase online.
From everyday moisturizers to those aimed at remedying cracked heels, you'll find all types of creams on our top 10 list. For even more information about best practices
when it comes to foot care
, make sure to read the Criteria for Evaluation section, which will help you make a purchase you are bound to be happy with.
Standout Picks
Criteria Used for Evaluation
Materials
How well a foot cream works largely depends on what it's made of. There are a lot of different ingredients that pharmaceutical companies will use to achieve the best results, and these range from natural and organic ones to those who have been developed by a scientist with the goal of achieving a certain result. Depending on what it is you need, there are several options you might want to choose.
Karanja Oil – this is an oil which is especially beneficial for dry and cracking skin. It is not only a common ingredient in highly moisturizing creams, but you can also find it in shampoos and products made for fighting dandruff.
Neem Oil – if your foot problems include fungal infections such as athlete's foot, you might want to opt for a product that includes Neem Oil. It's an anti-inflammatory oil which is great for fighting off infection.
Shea Butter – if you love soft skin, then it's highly likely that you have tried a product that includes Shea Butter. This is an ingredient that is gotten from the Karite tree, and which is an excellent moisturizer which also has anti-inflammatory properties.
Urea – if you have extremely thick skin on your feet, or suffer from corns and calluses, then you will want to choose a cream which includes Urea. This is a widely used ingredient that is especially successful when used to heal cracked heels.
Coconut Oil – this is a natural product which has become extremely popular in the last few years, which is mainly due to its many beneficial properties. Not only will coconut oil nourish and moisturize the skin of your feet, but it's also got plenty of beneficial healing properties.
Aloe Vera – one of the oldest remedies when it comes to treating inflammation, burns, and pains, Aloe Vera is a great choice if you need relief. If you opt for a cream that includes this ingredient, you can expect to be rid of itching, pain, burning and other uncomfortable symptoms.
Use
There is much more to dry and cracked feet than just aesthetics. Often, cracks in your heels are caused by calluses not allowing for proper skin expansion when walking, but they can also be a consequence of standing for long periods of time, showering with water which is too hot, using harsh hygiene products, etc. It's also important to know that foot skin problems can also be a symptom of psoriasis, diabetes, vitamin deficiency, fungal infections, dermatitis, pregnancy or old age.
uckily, foot issues can be solved with some simple steps which include proper hygiene, moisturizing, and protection (including comfortable and supportive shoes). In order to prevent severe consequences such as loss of feeling in your heels, infection, and others, you can pick out a cream which will remove the symptoms at an early stage.
All creams found on this list will be beneficial to your feet, and won't do any harm, provided that you aren't allergic to some of their ingredients. If, however, you find yourself suffering from a specific symptom and need a remedy, you will easily be able to pick a product and apply it. Make sure to carefully follow the instructions on the label, and consult with your doctor if you have a known condition or notice any side effects.
Effectiveness
Most products on this list will have some fragrance. This can range from sweet flowery perfumes to the smells of their natural ingredients, and even to peppermint and menthol which are used in creams to provide a cooling effect. However, it is possible that you prefer to invest in a product which has no smell.
For those who suffer from olfactory sensitivity, have skin which is prone to irritation from added scents, or just prefer to achieve their signature smell through using perfume instead of a cream, this list also includes some fragrance-free products. Note that such products will generally be more suitable for use on sensitive skin, or for children.
Side Effects
If you have any known allergies, it is important that you steer clear of the products which include ingredients which have shown to be problematic for you in the past. These can range from slight side effects such as an unpleasant smell reaction with certain products to tingling, rashes and severe irritation. Furthermore, you may find that certain ingredients are too harsh for your condition, so you might want to go with something milder.
If you know that you are allergic to a certain ingredient, or have sensitive skin, it's a good idea to go with products which have been labeled as being allergen-free. Before making a purchase, make sure you read the ingredients so that you can be certain you won't experience any discomfort while using the product. If you find that you are having an unwanted reaction to a product, immediately stop using it, and seek the advice of your general physician.
Value
Because this list is slightly different from other lists on our site, we're going to look at the value of the products a little differently. When looking at the value of a foot cream, the initial cost of the product can vary greatly. The effectiveness of a foot cream can also vary greatly and is sometimes different from person to person.
To ensure that we recommend and list the creams with the best value, we looked at how quickly they work, how long lasting they are, the type of cream, and of course, the price.
Make sure to read over our list to see what creams will work best for you to ensure that you're choosing the product that will give you the most value.
10 Best Foot Creams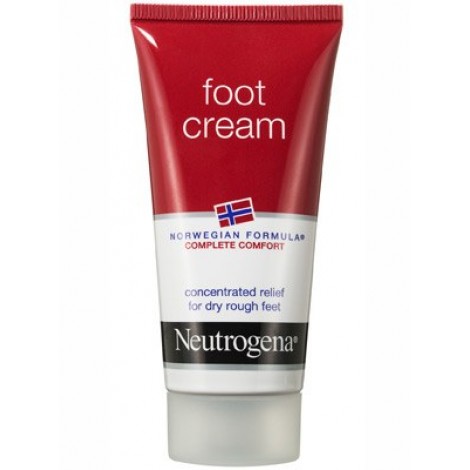 Neutrogena is one of the top-grossing cosmetics brands in the industry. They Produce makeup, skincare and sun protection products which are known for their quality and effectiveness. Additionally, their products work with all skin types. Their foot cream is one of their special catch all products that (should) work for anyone and everyone.
It's possible that you don't always remember to do your nightly routine before bed. This means you need something heavy-duty that's going to last. The Norwegian cream is advertised to moisturize for more than seventeen hours. Forgot to moisturize the night before? No worries, your feet will still be soft and smooth the next day.
Don't let the word glycerin scare you, it's a naturally occurring compound. There's no color and is non-toxic, and is a wonderful lubricant. It's the perfect ingredient for anyone who is sensitive to skincare products. Glycerin draws moisture from your body to slow drying and evaporation while the cream repairs and revives your poor feet.

2

. Gold Bond Triple Action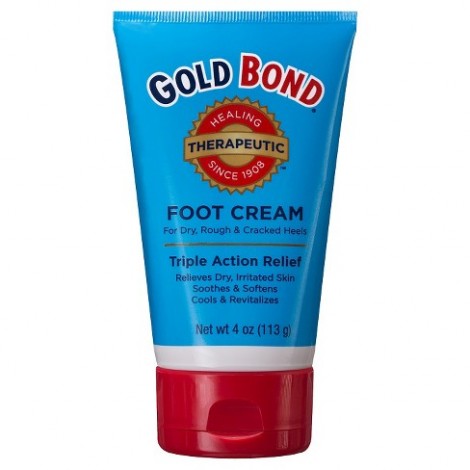 Who doesn't know Gold Bond? If you ask for a recommendation for a good lotion or cream, chances are, you're going to get Gold Bond as a response. And that's perfectly understandable, considering that it's simply a brand that works. Gold Bond has been around since 1908 (long time) and they have healing creams down pat. Their foot cream is just one in their line of products aimed at making your skin softer and more healthy.
It's pretty common for those of us with cracked/dry feet to experience the uncomfortable heat they can emanate. The triple action cream quells the heat and gives immediate comfort to the user. What a relief right? No more hot, red feet just from walking around (and good riddance to the sweat that comes with it).
Many other creams on this list usually have complicated "before use" directions, or have none listed and then they don't work because you "didn't do it right. With, with Gold Bond, you can just put it on whenever if you're feeling dry or rough. No sitting in your bathroom with a pumice stone, file, and exfoliant for results. Just pop open your triple action and you're good to go.

3

. Gold Bond Diabetic Foot Cream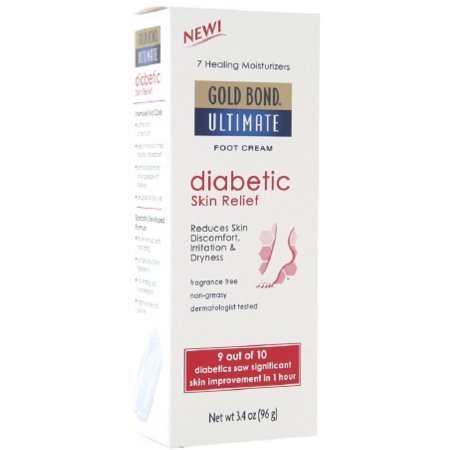 People with diabetes or at risk of developing it often have to take their feet into special consideration. Without proper care, diabetes can cause a wide range of foot-related problems, from neuropathy to a higher risk of infection, to gangrene in extreme cases, which can require amputation. This cream from Gold Bond is specifically made for the unique needs of diabetics, including a wide range of high-quality moisturizers, all in a non-greasy and fragrance-free product.
While fragrances are common in skincare products, they can be irritating for some. Those with sensitive skin or sensory problems related to certain smells will probably want to steer clear of heavily scented products. This cream from Gold Bond is made without the use of fragrances, making it ideal for a wide range of people, whether you have sensitive skin or just don't like how most moisturizers smell.
Shea butter is extracted from the nuts of the African shea tree and has been used in skincare as early as the 14th century. This complex compound melts at body temperature, allowing for easy absorption into the skin. It is also made up of six different fatty acids in various concentrations, which provide moisture to the skin to help repair it and keep it smooth.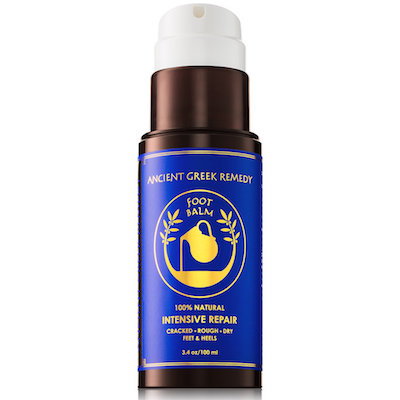 If you prefer to treat your feet to a 100% natural, organic product, then the Ancient Greek Remedy Foot Balm should be your top choice. This is a foot cream made out of five different natural raw oils, all of which have been included for their health benefits. This is also a cream which you can use if you suffer from athlete's foot, seeing that it has anti-inflammatory, anti-fungal and antibacterial properties.
The ingredients in this cream have been carefully chosen to give you a level of moisture which is locked in for the best possible results. This product includes lavender, extra virgin olive, sweet almond and grape seed oil, as well as plant-based Glyceryl Stearate. This means that this is an organic, 100% vegan product that will work wonders for your dry feet.
If you opt for the Ancient Greek Remedy Foot Balm, you can forego all other treatment requirements. You won't have to exfoliate, file away or remove dead skin on your feet. Instead, this cream will do all the work. All you have to do is apply it every night, after your shower and bath.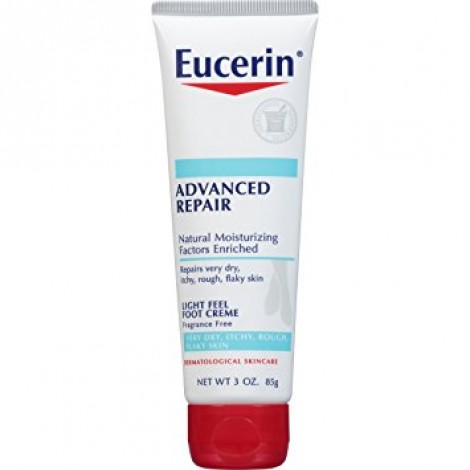 Eucerin is a well-known brand which achieves miracle results when it comes to moisturizing. It's always been recommended by doctors and dermatologists alike because it works so well for different people and problems. The formula in their advanced repair cream is patented and uses alpha hydroxy acids that hydrate the skin like no other.
Many people suffer from olfactory sensitivity, which is why heavily scented creams are out of the question. The Eucerin Advanced cream is fragrance-free for the comfort of all users. You won't have to put up with your hands smelling like a cream after moisturizing each night.
Eucerin has been around for over one hundred years, paving the path for skincare. Nowadays they are recognized and trusted as one of the top brands to give life back to your skin. The formula has been clinically proven to exfoliate and hydrate for smoother feet before the two-week mark of daily use. After a test, 95% of patients saw a noticeable improvement in the timeframe.

6

. O'Keeffe's for Healthy Feet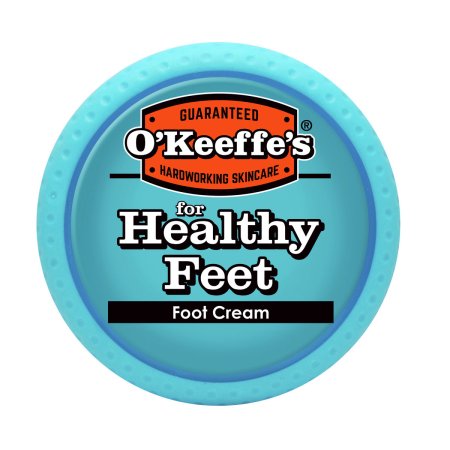 O'Keefe's is a popular brand that everyone swears by. Although better known for their hand lotions, the company actually produces all types of moisturizing products, including those intended to be used on your feet. Their Healthy Feet foot cream is best used after having bathed and exfoliated, right before bedtime. With regular use, this cream will give you incredibly soft skin, which explains why it's such a popular product among those with dry feet.
When it comes to some creams, they provide the moisture you need but won't do much to protect your skin from damage. Healthy Feet is a cream which creates a barrier around the skin to ensure that the moisture you receive from it is durable and nourishing. This also prevents the loss of said moisture, giving you a long-lasting effect.
O'Keeffe's for Healthy Feet cream is made with allantoin, a chemical compound found in the metabolisms of most organisms (animals, plants, bacteria). It 's an extract of the comfrey plant which is well-known for the moisturizing effects it possesses. Furthermore, allantoin can enhance the shedding of dead skin cells, thus preventing cracking.



You really can't go wrong with a brand that's recommended by tattoo artists (if you didn't know, fresh tattoos become extremely dried out and cracked). Curel is popular and well-known for its moisturizing abilities from head to toe. Whether you're just using lotion or a specialized formula, like their foot therapy cream.
Right on the bottle, it says that after 2 nights it completely hydrates and softens your dry feet for the relief you so utterly crave. Perfect for when you have less than a week before summer and your feet are in no way sandal-ready. People will be asking you all season how your feet look and feel so wonderful. Little will they know your secret is a drugstore brand.
The foot therapy cream is a bit different from other creams on the market, as it absorbs almost right away and deeply penetrates the skin cells in your feet. We still recommend wearing some spa socks in order to lock the moisture in. This will give you the best possible results.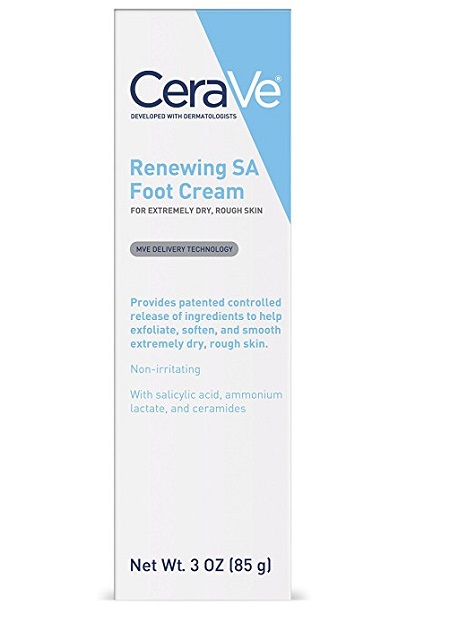 CeraVe is a very popular brand among skincare enthusiasts because of its hypoallergenic properties and a heavy focus on moisture and skin repair. All of their products feature multiple types of ceramides, which are waxy molecules that are in heavy abundance in cell membranes. Reinforcing these membranes is important in dermatology, as it repairs skin and works to prevent further damage.
Hyaluronic acid is sort of a "holy grail" when it comes to moisturizing products. A large part of skincare products sold in East Asia, this chemical is starting to become more prominent in the US. It acts as a sort of natural barrier, allowing the skin to better retain moisture. This helps to repair existing damage and prevent more from occurring.
Salicylic acid is often used in anti-acne products and chemical exfoliators, though it has since found its way into standard moisturizers. Chemical exfoliators are sometimes preferred by those with sensitive skin and don't have the same environmental concerns as the microplastics often used in physical exfoliators. In creams, this is used to gently remove dead skin cells, while the hyaluronic acid acts as a natural moisture barrier for healthy cells.

9

. Soap & Glory Heel Genius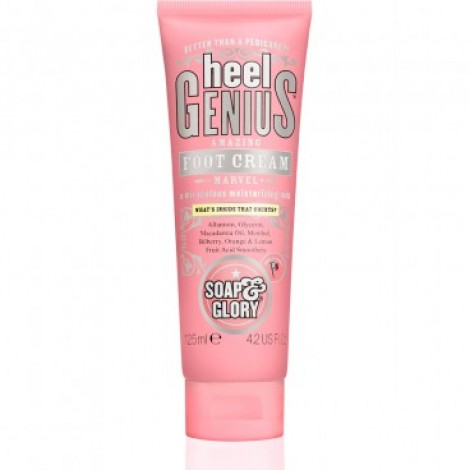 Made by Soap & Glory, Heel Genius cream is one of those "girly" products you would find combing the aisle in Ulta and Sephora. If the cute bottle doesn't have you sold already then the fact that it works wonders on your feet (making them high heel/sandal perfect) will convince you. Massage your tootsies before bed and slip some cotton spa socks on to moisturize overnight, do this nightly and before you know it you'll have lovely and soft feet.
Everywhere you look Heel Genius is claimed to work miracles in one single night., With nightly use, it keeps rough, thirsty skin at bay. Can't believe it? Go ahead and give it a try, you'll wake up in the morning amazed at the difference in your footpads. Although, you can't just use it once and expect your skin to stay this way. Skincare (especially for feet) is needed daily as a part of your routine to keep you healthy and radiant.
Not looking to spend money at a salon every week or so for a pedicure? Soap & Glory claims that their product is better than a pedicure, and the raving reviews have us agreeing with them! We don't just want smooth feet because they're pretty, it's also to keep them happy (when your feet are happy you're happy). Using Heel Genius rejuvenates the skin rather than stripping it off to start over as many pedicures do as well.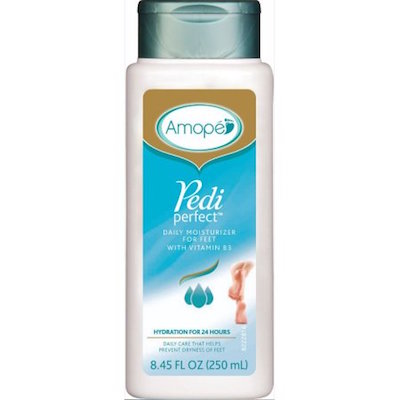 The Amope Pedi Perfect foot moisturizer is a product which works wonders, especially if used with their electric file specially made for treating cracked heel skin. With a formula that doesn't leave a greasy residue, this foot cream will keep you moisturized for up to 24h, which makes it the perfect product for those who don't like to be bothered with complicated and lengthy beauty rituals.
This cream includes vitamins B and E which are known to be beneficial for skin health. Vitamin B is known to help skin retain moisture, keeping it more flexible, while vitamin E has antioxidant properties which prevent the aging process that naturally occurs in the skin. Adding these two ingredients to your foot care routine is bound to have great results.
This is a cream which you will only have to apply once a day, thanks to it allowing for 24-hour hydration. If you suffer from cracked heels, this is especially important. Furthermore, you can also use this cream on the rest of your legs, as it will be beneficial in keeping it soft and supple.

Subscribe to our Newsletter