Best Shoes for Diabetics Reviewed & Rated for Comfort
In a
Hurry? Editors choice: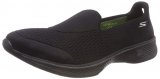 Test Winner: Skechers Go Walk 4 Pursuit

People with diabetes are more susceptible to foot problems. This health affliction can lead to nerve damage that affects a person's ability to grasp the exact moment when their feet are injured. Consequently, diabetes elevates the risks of getting serious wounds and ulcers on the feet, which may also become serious enough to lead to amputation. Furthermore, diabetes also impacts the ability of the body to heal. This is because the feet receive less blood and oxygen, therefore it takes more time to recover from even a minor skin irritation. A diabetic foot is also more prone to swelling or edema. Thankfully, many such diabetes-related foot problems and foot injuries can be avoided if you wear a good pair of shoes for diabetics. To help you make the right selection, we have compiled a list of the ten best diabetic shoes available in the market.
Standout Picks
Criteria Used for Evaluation
Comfort
The number one factor that we have kept in mind for evaluating the shoes on the list is the comfort. Comfort is an important factor that is a prerequisite for any kind of shoe; however, for diabetic shoes, this feature becomes even more important. The ideal pair of shoes for a person afflicted with diabetes should be able to cater to various needs, including skin sensitivity and numb toes.
It is normal to take three or four times wearing a shoe to break it in and even a slightly tight shoe stretches gradually over time. However, a diabetic patient cannot always afford to indulge in the luxury of breaking in their shoes. This is because their feet lack the sensitivity to understand that their footwear is too tight until blisters gradually appear. Therefore, a good pair of shoes for diabetics is one that gives the foot comfort and ample room for movement, right from the beginning. The sizing, material, and design of the shoe also add to its comfort level. It is important to note that if your shoes are just slightly too tight there are some great shoe stretchers on the market that may give you the added space you need.
A comfortable pair of shoes meant for diabetic feet is also one that has an overall good fit. The shoe should not be too large as then your feet will not be able to keep their balance, nor should the shoe be so closely fit that there is no room to wiggle your toes or facilitate natural movement.
Breathability
The material of a diabetic shoe can make or break the pair in being listed as an appropriate shoe. Shoes that are too hot can cause extra moisture. This can lead to skin breakdown and major trouble if you are suffering from diabetes. Let's take a look at the best material for this type of shoe:
--Flexible Soft Mesh
--Perforated Leather
--Suede
--Soft Synthetic Leather
--Canvas
--Textiles with some stretch
Keep in mind heavy shoes add heat so Boots can be a problem. You want to make sure the shoe is comfortable, flexible, and offer some sort of added breathability systems. Keeping your feet cool and dry is essential to anyone when it comes to overall foot health. Dry feet are less susceptible to blisters, sores from raw rubbed areas, and fungal or bacterial growth. When you have diabetes that becomes one of the key factors to keeping your feet in optimal condition.
Shoes crafted from a hard material such as plastic do not let the foot breathe and can gradually make the foot susceptible to injuries. Shoes made from cheap and hard materials can cause the skin of the foot to blister or chafe. Good diabetic shoes, like the ones we have named, will not give you these problems.
Compatibility
A good pair of diabetic shoes is recognized for its ability to accommodate orthotics or insoles. This is because many people with medical conditions may have their own personalized orthotics, consequently finding the insoles that come with certain shoes uncomfortable.
This is specifically important if a person wears custom-made or doctor recommended orthotics based on their sensitivity level and made after a detailed foot and ankle evaluation. Some of these insoles can also have ergonomic or gel ridges to facilitate natural movements and motion. Orthotics also help in stabilizing the foot and controlling the joints' motion to cater to a lack of feeling due to numbness of the toes or feet. Therefore, any shoe you pick should be able to adapt to your orthotics.
The depth of shoes also plays a major role in ranking it as a suitable pair of footwear for people with diabetes. The ideal shoes for diabetics should have a depth that is 1/4 to 1/2 inch more than regular shoes. The additional space is crucial for accommodating foot changes like hammer toes and calluses. Furthermore, shoes with more depth are also good for easily accommodating inserts and orthotics. In addition to all of this, a deeper shoe also offers more stability. In case, you are confused about the exact depth suitable for your feet, do consult your doctor.
Stability
If you have diabetes then you need shoes that help you keep stable when on your feet by giving sufficient support. Shoes that provide more stability will keep you safe, which is extremely important to a diabetic person's injuries take more time to heal, or in some cases do not heal that well. A good stable diabetic shoe has a supportive upper portion and a well-cushioned heel. In addition, the medial post of the shoe can prevent an excess of outward and inward motions.
Knowing your feet and your problem areas are key to making sure you buy shoes with the correct support. You may overpronate, which means the ankle rolls inward and the arch flattens, this will require some arch support when looking at stability. Different foot issues require different attention for support, diabetic shoes are made to support your feet. If you suffer from ankle issues you may want to look at a shoe that offers a higher top for added support.
No matter your situation allowing your toes to move in your shoes is very important. Our toes naturally splay and grip to help with balance and maneuvering while walking. When you are diabetic allowing your toes to move becomes even more critical. Squished toes can lead to ingrown toenails, infection, blisters, and painful areas that may open and become a serious problem. If you wear a normal width, it may be advantageous to purchase your shoes in a wide width to add room in the toe box. You need to be careful because you don't want to sacrifice the fit of the diabetic footwear.
Outsole
When looking for the perfect pair of shoes when you have Diabetes can be frustrating. There are so many factors to consider, and adjustability is one that is necessary. The type of closure plays a large role in adjustability. Here are the best types to look for.
Long Strap and Buckle
Stretch Laces
Velcro Straps
When your feet start to swell it can happen very quickly. Having the ability to adjust the fit of your shoe in a hurry can be important. Pressure points can become a problem and anyone that has dealt with this in the past will agree. Changing the fit of your shoe as soon as you feel any swelling start is imperative.
A shoe meant for a diabetic person should be able to save their foot from getting hurt due to the impact caused by hard foot-to-ground strikes. Therefore, a favorable feature of diabetic shoes is an outsole that absorbs shock easily and effectively.
Best Diabetic Footwear Reviewed
1

. Skechers Go Walk 4 Pursuit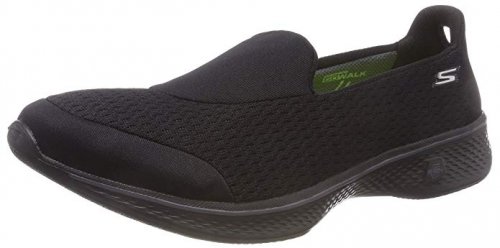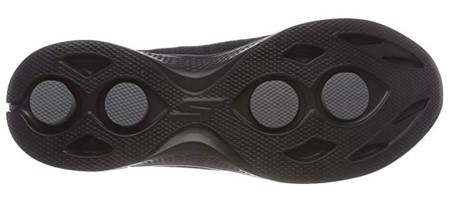 The Skechers Performance Go Walk is the ultimate in performance and comfort for people with diabetes. The diabetes shoes provide a natural stride that actually responds and interacts aptly to a myriad type of surfaces. Your foot will be saved from getting stressed by uneven grounds in this ideal diabetic footwear. The 1.5-inch high heel and rubber sole keeps the foot nicely protected.
This diabetic footwear is immensely flexible, which is good for accommodating the swollen foot of a diabetic person. The rubber sole offers three layers of protection to withstand any type of surface or weather. The foot apparel features a memory foam cushion that is a good shock absorber for a diabetic foot. This diabetic footwear also uses Resalyte cushioning in a slip on construction that makes the shoe even more comfortable.
These mid-range diabetic shoes are reasonably priced for the multiple features that they offer. The GOimpulse sensors will give your foot responsive feedback and you can walk anywhere in these shoes.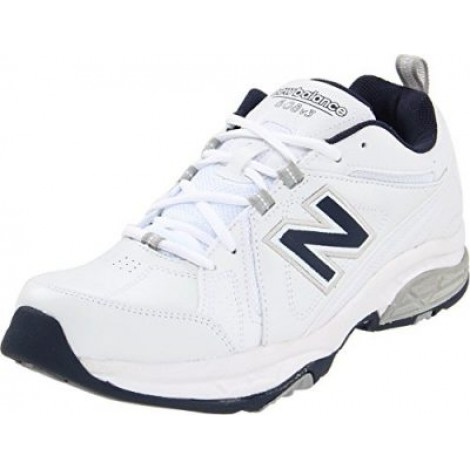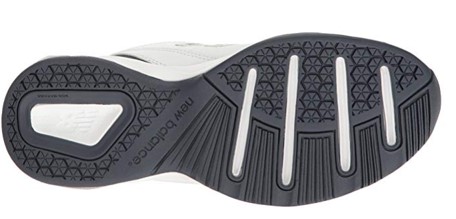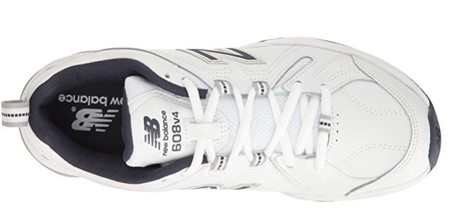 This flexible pair of can rise to any occasion, making it a suitable diabetic shoe. The dynamic MX608V4 cross-trainer from New Balance provides the performance and versatility a diabetic foot requires. This footwear comes with a shock minimizing absorb heel that protects the foot from hard impacts on striking the ground. The flexible midsole and an outsole that's non-marking for surfaces are additional preferable characteristics for this pair of sneakers
This footwear is a versatile cross-trainer that is good for preventing a diabetic foot from swelling or feeling uncomfortable. The wearer can also participate in sports activities without having to worry about hurting their feet due to inadequate footwear.
The footwear has a dual-density collar that includes a firmer density foam for support as well as a softer density foam against the foot ideal for cushioning. All in all, the features make these diabetic sneakers rock from the ground up. New Balance MX608V4 is a mid-range pair of diabetic foot apparel that will help your feet from hurting or swelling. The cross trainers will help you manage high impact moves efficiently, without adversely affecting your feet. leading to pain. This is a good reason enough to buy this pair.

3

. Propet Life Walker Strap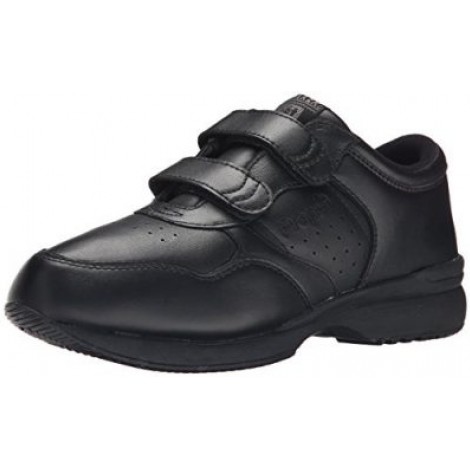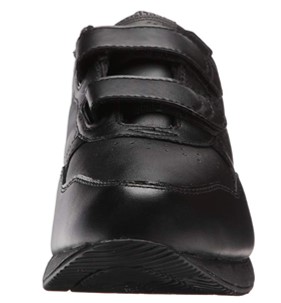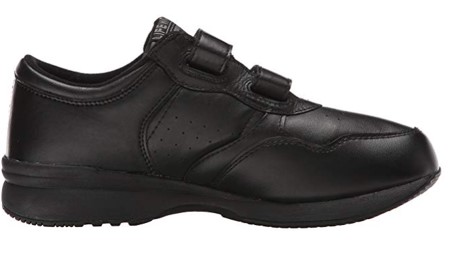 The Propet Life Walker is the perfect solution for people afflicted with diabetes. This footwear is Medicare-approved and good for wide feet as well. They are also ideal for providing excellent support to the ankles. The Rocker feature helps in propelling the wearer forward without the tension of getting foot stress. The midsole of the diabetes shoes provides extra arch support.
The perforated durable leather upper used in the footwear effectively helps in promoting air circulation. The shoe's deep-cut grip rubber-treaded sole is effective in absorbing shock which ensures safety over multiple surfaces.
This sturdy foot apparel provides good cushioning and complete protection. The fully padded lining and footbed of the shoes for diabetics will help you feel good with every step. The straps with hook-and-loop fastenings make it convenient to easily wear and remove the footwear.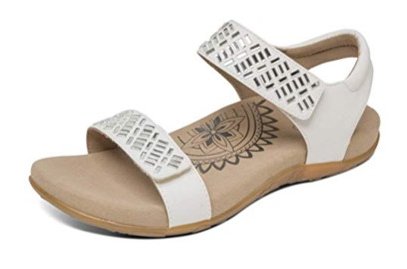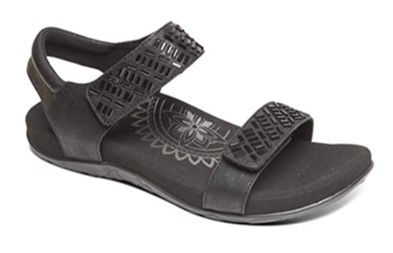 This stylish sandal is a great option for diabetics who are looking for quality support, fit, and fashion. As a brand a little committed to foot health, Aetrex has been around for over 50 years producing custom orthotics and footwear. With the help of 3D foot scanning and printing technology, they've developed some of the most supportive and anatomically correct footwear and orthotics. The Marcy is an option for summertime wear, with a strappy design, and all the cushion, support and comfort you'd expect from a quality brand pair of diabetic footwear.
Aetrex has built its customized Orthotic System into the Marcy as with other models and lines of their footwear, which promotes support in all the right places resulting in a better fit and feel. The arches are supported, helping to relieve pressure and pain. A thick footbed constructed from plush memory foam provides the ultimate ride and on-foot feel. A padded heel also adds to the cushioning, and alleviation of pain.
Uppers on the Marcy go across the forefoot, and around the ankle using a dual hook and loop closure. These create incredible adjustability for fit on the sandal, for days when your feet may swell or you require the extra room. Synthetic materials make these straps durable for wear, and easy to clean with the simple swipe of a damp cloth. Added silver sparkle across the bands gives it a little flair for a fashion, making them suitable for both casual or even some formal occasions.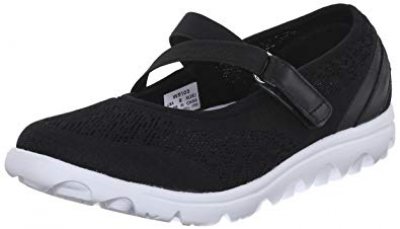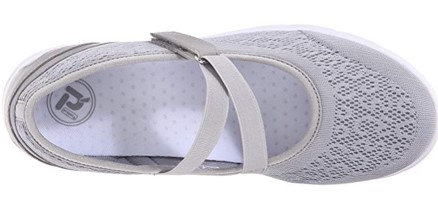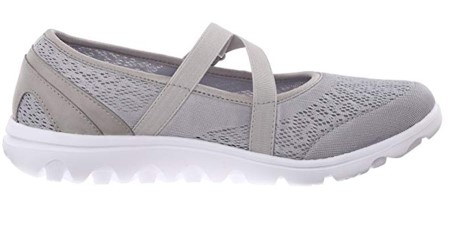 Propet is a namesake when it comes to making quality comfort diabetic shoes for medical conditions or sensitive feet. The TravelActiv Mary Jane helps keep some stylish option for footwear as opposed to wearing slippers due to swelling or pain. It's perfect for work, getting out of the house for a walk, and will keep your feet comfortable and supported. AMPA approved, the TravelActiv Mary Jane may just win your heart!
This adorable little foot apparel consists of a rubber, sturdy sole, cushioned and plush for each step you take. Its perforated uppers are designed to help keep ventilation and breathability, so feet won't swell from heat or activity standing or walking. An adjustable strappy and stretchy hook and loop closure allows for the perfect fit, important when dealing with diabetes and potential medical foot issues such as swelling.
Within the TravelActiv Mary Jane is a removable footbed, so should you choose to have insoles or custom orthotics for individual support, it's an easy exchange. The outsole of these diabetic shoes is made to be lightweight and flexible, reducing foot fatigue during wear. And, with the number of color options available, you're sure to find a favorite!

6

. Skechers Afterburn Strike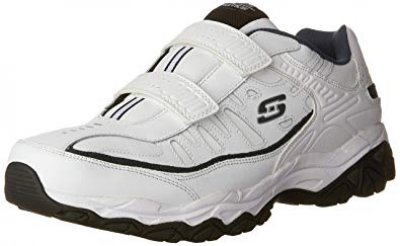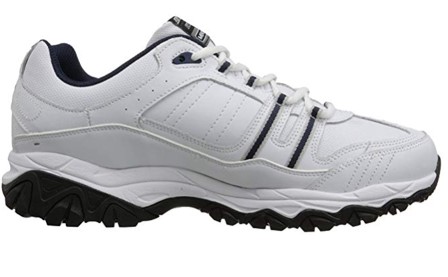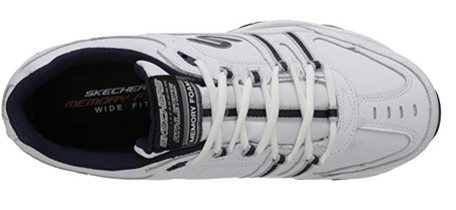 One of the best ways to take care of your body is through exercise, and walking can be a great start! Skechers Afterburn M. Fit Strike will help you power through your morning walks, with adjustable closure, plenty of cushioned support, and a thick stable sole. With a few great options for color choices, you can step out in comfort to exercise!
Edema can sometimes be an issue in lower extremities of those with Diabetes, and it helps to have footwear that can adjust to meet the fit of your feet on any given day. The Afterburn M. Fit Strike has a dual-strap Velcro, hook and loop closure, that allows you to manipulate the feel and fit of your sneakers. It's an ideal method for keeping comfort when your feet have more swelling on some days than usual, and won't prevent you from getting out there and doing your thing!
Along with the adjustable fit closure, the Afterburn M. Fit Strike has a lugged outsole, thick and cushioned for each step, and can be worn on the street, or on the trail. A padded tongue and collar allow for cushioning to prevent blistering, and its leather and textile uppers help maintain diabetic shoes shape and durability, as well as add breathability. With either white or black options to choose from, both can be suitable for many wardrobe colors and fashion styles.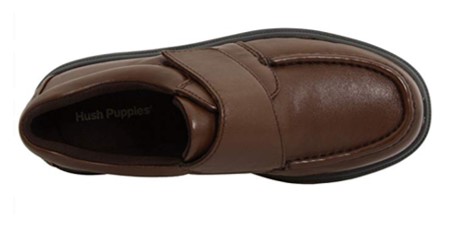 This moccasin styled footwear is exceptionally lightweight and comfortable. With a Velcro hook and loop closure, they are easy to put on and easy to take off. In addition, they offer a removable insole, which leaves room for your custom insert. They are also great at absorbing shock and distributing it evenly to ensure you don't feel the impact from heavy foot striking. Hush Puppies are known for superior comfort and design, and these are the perfect example.
The use of Zero G Technology keeps this footwear lighter than most. It removes the heavy insoles that most shoes use. It also makes the outsole exceptionally lighter than most diabetic shoes in this category. Keep it light and keep yourself moving longer and easier when you try a pair of Hush Puppies Gil's.
EVA foam comprises the footbed of these shoes, helping to absorb shock and create a comfortable in-shoe feel. However, when you need to use your own orthotic insert you will be able to easily remove the manufacturer's insole and replace it with your own. In these diabetic shoes, it is very important considering it is a bit shorter than some others we have included.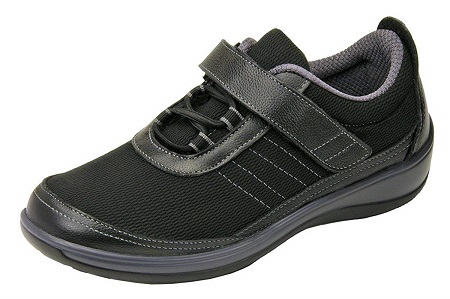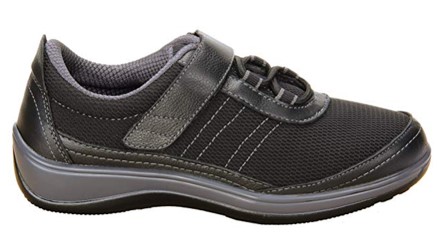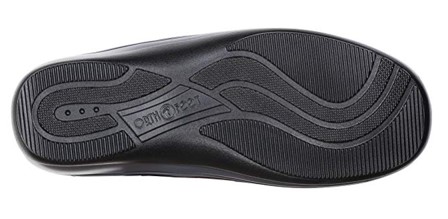 OrthoFeet is a brand that specifically caters to those with foot problems, and as such, they know a thing or two about the unique needs that diabetics require when it comes to proper footwear. The Breeze is a lightweight walking diabetic footwear that packs a punch, sporting a premium orthotic insole and a wide toe section. Sizes range from a US 5-12, including half sizes and a breadth of additional width options.
While traditional laces are the most common closure type for shoes, OrthoFeet opted for a hook-and-loop velcro strap for the Breeze. This makes putting them on and taking them off a simple process and eliminates the possibility of tripping over untied laces. A Velcro strap also allows for better customization of fit, allowing you to loosen and tighten the shoe according to your needs.
Nobody likes sweaty feet. Not only are they uncomfortable, but they can also result in unpleasant odor or irritation. In some cases, this can even lead to fungal infections such as athlete's foot. The OrthoFeet Breeze is designed with a lightweight textile upper that allows for breathability, while the additional depth promotes air circulation within the diabetic shoe, as well as promoting an ideal fit.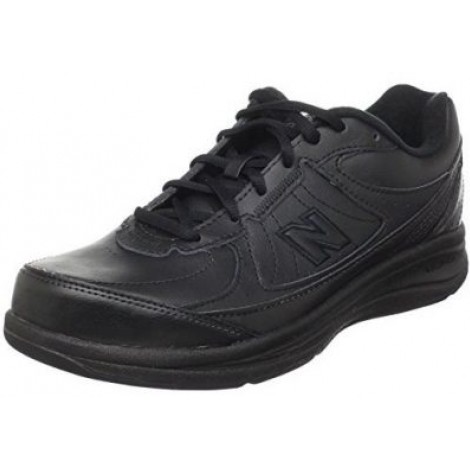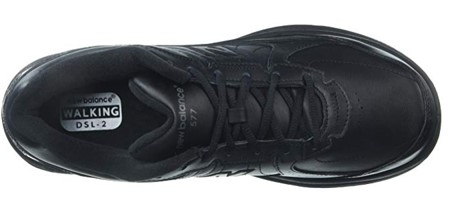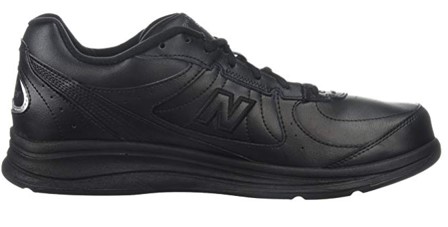 The New Balance MW577 has a synthetic support overlay and leather layer that adds comfort while walking, making it good diabetic foot apparel in general. This footwear has reflective detailing that helps in enhancing visibility that makes it ideal for evening and nightwear. The rubber outsole of the shoe gives it a long life that makes it good for even the roughest use.
This footwear provides a winning combination of stability and comfort. They can be worn daily for long walks over various surfaces like mud, concrete, trails, grass, and other uneven grounds. The leather used in the New Balance MW577 is quite soft. The inside is well padded so break-in time is almost non-existent. The footwear feels comfortable from the very first time you step into it.
These diabetic shoes are ideally priced for the support, cushion, and flexibility that they offer. Consequently, your feet will be safe from the toll of diabetes' adverse effects, making it a good pair to invest in.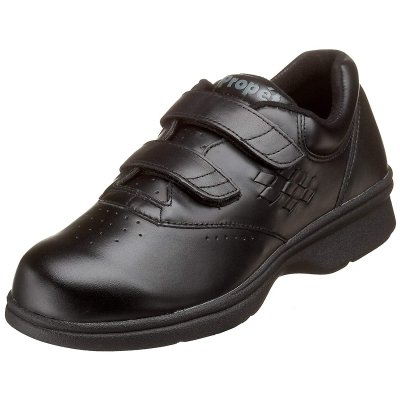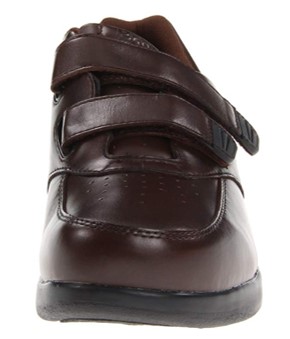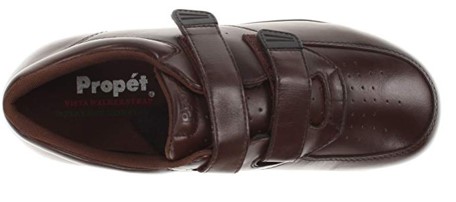 Another of Propet's amazingly comfortable diabetic sneakers, great for getting out there to get some exercise, or just to wear while at work. The Vista Strap is a dual strap closure which makes them easily adjustable to adapt to the width of your foot. Comfortable cushioning can be found in key stress points, so you'll feel less restricted and cushioned throughout wear.
The Propet Vista Strap diabetic sneakers have a PU unit sole to help provide traction, cushion, and durability throughout the lifespan of the sneaker. A firm heel counter helps keep you stable with a removable footbed should you prefer custom orthotics or over the counter insoles. Full-grain leather uppers combined with a mesh lining help keep a breathable element to the sneaker, so you can walk your way to a better you!
The Propet Vista Strap is approved by the AMPA, so you can rest assured you have the backing of podiatrists that recommend the support features and design of the Vista Strap. It's also Medicare-approved with an A5500 code, so should you need reimbursement, check that your health care can cover these for diabetes. Available in several neutral color choices, you are certain to find a pair that you can wear with your wardrobe!

Subscribe to our Newsletter