Best Memory Foam Shoes & Memory Foam Sneakers Reviewed
In a Hurry? Editors choice: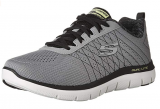 Test Winner: Skechers Sport Flex Advantage 2.0

Memory foam shoes are a fairly new technology that took the world by storm due to its ability to mold to the shape of the foot and alleviate key pressure points. Those who have jobs that require standing for hours seek out items with this comforting construction. All in all, comfort is the top priority for a wide assortment of individuals and memory foam is not going anywhere anytime soon. And for the ones seeking something different, with an excellent touch over the style, in this list, you will be able something that will match your style perfectly. Unless, of course, we are walking somewhere with the comfort and confidence this material provides.
Standout Picks
Criteria Used for Evaluation
Comfort
Imagine walking all-day without pain and fatigue. Picking up kids, buying groceries maybe even getting a mid-day power walk in all being done without feet becoming tired. The body will feel energized when fitted with proper footwear. The use of this plush material in shoes is a more recent revelation. This material has been used in pillows and mattresses because it provides superior comfort due to weight distribution and plush feel. This translates well for a comforting experience that is weightless and supportive. The most well-cushioned and contoured attire will be alleviating. It's so important that the cushioning holds it's structure and doesn't go flat when wearing for hours.
When looking for a comfortable product, style doesn't always come to mind. This list features many varied items. When looking for comfort there is no need to rule out stylish options. Today's landscape has changed drastically. In the modern world, people want items that look good but feel even better. Many companies have answered this call to action by consumers and it can only be assumed that in the future the marriage of style and comfort will become closely bonded. You can be sure that these best shoes with memory foam are quite comfortable.
Shock Absorption
Many of these items have a sneaker-like feel even if worn as after-work or relaxing attire. Memory foam provides arch support and distributes weight evenly. During running it's important to have materials that help with shock absorption and distribute the runner's weight evenly, especially on man-made surfaces, such as, concrete. This helps to protect joints even during everyday routine walking and exercising as well.
Flexibility
There are a lot of recent studies that are pointing to the benefits of soft soled shoes for everyday wear. The flexible thinner sole will allow the foot to actually feel more. This happens because the foot's nerves are more activated allowing more signaling to the brain. This kind of bottom allows a more natural walking experience as well. This may not be the best choice for those who experience chronic foot pain and need extra support. This kind of shoe may not have enough shock absorption to protect joints when walking or running on concrete or hard surfaces. That being said a flexible shoe has many more benefits for a healthier stride. This is because flexible footwear offers a more natural walking motion.
Breathability
Memory foam tends to actually trap heat. This is one of the only drawbacks of this material. Any item, especially when used for exercise should have the ability to cool feet and release any trapped heat. Features like breathable mesh or the usage of linen and cotton will ensure the foot is cooled when the foot becomes overheated. These will be considered when evaluating how well a product will easily cool feet.
And, when in doubt for summertime heat, sandals which have memory foam are a smart option. Many sandals now come with a memory foam or padded footbed to help keep you comfortable during the day, even when walking for longer time periods. If you do want to look for a sandal option, many hiking brand footwear, like Keen, Sanuk, or Merrell, will have this kind of sandal.
Stability
Those who are looking for a shoe fitted with such a plush interior will be looking for stability as well. The construction of the product will be important when determining stability. Those who have ailments or high arches may need a supportive shoe to ensure a balanced walking experience. The bottom of the construction will not be the only factor considered. The ankle should feel firm as well. These features come together to create the best foam shoes that offer comfort and ease for hours of walking or being on foot.
If looking for formal shoes, high heels with a thicker heel, or chunky heel, can provide more stability and support than a typical stiletto heel can. Flats usually are best for those walking most of the day, however, whether they be casual boat shoes, or dressier flats or oxfords.
10 Best Memory Foam Shoes Reviews in 2020
1

. Skechers Sport Flex Advantage 2.0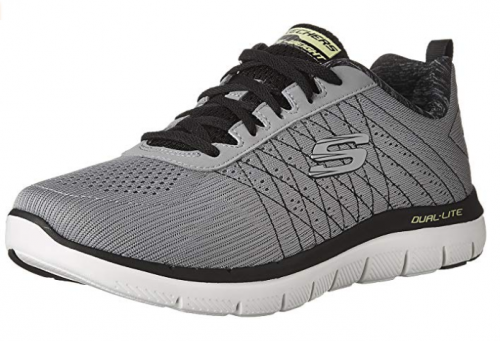 This company grew from just one shoe for men only to over 3,000 styles available for everyone. This is an impressive accomplishment. The more interesting aspect is the heart of this company. Skechers not only is working to make their facilities greener, but they also support initiatives associated with Bob's charity and donate shoes to children in need. They also donate money Bob's for dogs to support animal rescue efforts. Although they are so charitable already this company has their own foundation as well to help support families in need. They offer nutritional guidance, job training programs, and even scholarship programs. Now, that's a company we'd love to support!
Exercising vigorously is invigorating for active individuals whether they are just starting out or have made this a solid lifestyle choice. Feet can get sweaty during long exercises and even during fast walking. Wearing best memory foam trainers that cools the entire foot is an appreciated feature. The top of the shoe is structured with mesh to allow the flow of air in and out of this product. The insole is very soft and actually allows air to flow through it as well. They provide all-around ventilation when fitness routines become intense. If there has ever been a time when footwear felt stiff during daily activities it can be an uncomfortable experience.

If an item does not have enough flex pivoting quickly can become impossible. This product is very beneficial for moving with speed and agility. The bottom is created to be very flexible and light on the foot. They still offer support and shock absorption for more energetic endeavors. No matter what level of fitness this is a design that keeps feet cool and in a comfortable position. These shoes with memory foam also allow the foot to easily shift positions and keep sweat from becoming unbearable. The soft shoe lining, padded tongue, and collar offer extra cushioning for those who want comfortable adaptable activewear.

2

. Skechers Glides Docklands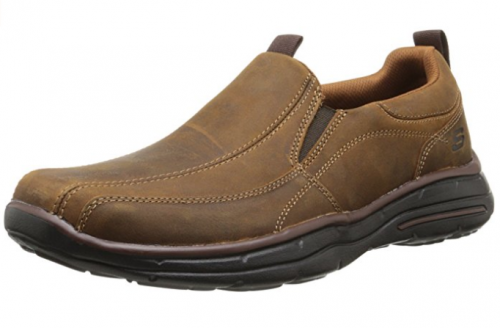 This company has a very humble beginning conceived in 1992 with only one style available. They have grown to offer over 3,000 designs to fit every lifestyle. They have recently been involved in various charitable works and responsible sustainable practices. Loafers were first created in 1936 as part of Bass Weejun's collection and became wildly popular for men and women. This particular design was created with a rugged appeal that is sturdy for all-day wearability.
Comfort attire should not be difficult to slip on or off of feet. These kinds of items should offer an alleviating approach to leisure wear. This will make donning attire like this easy like Sunday morning. There is not only a pull tab at the heal but also in the front of the shaft opening making this very easy to get into and take off. This product also features elastic side goring to stretch to the size on the foot as it slides in and out. This is an item that allows optimal comfort and ease making this a fast favorite for relaxing with friends and family. There is a precise science to creating an item that is alleviating for overworked feet. Working hard all week is stressful for anyone. This is why it's so important to find time on weekends and after work to unwind.

Since feet are the foundation of the body is they feel relaxed and balanced the rest of the body will easily follow suit. The exterior of this item is made from supple oiled leather which has been given a distressed look for rugged appeal. Leather is a great choice because it will mold to the foot. Oiled leather will not only mold to the foot but is supple, water resistant and gives more than regular leather. This item was created for extra wiggle room and a very soft interior. This product is also very light in weight and flexible for natural walking. All these aspects come together almost as artwork to create a superior relaxed fitting experience. When days and weeks can feel longer than normal and difficult to navigate it's essential to take time for much needed R&R.

This helps to rejuvenate the mind and body after an action-packed work week. This item was specifically constructed for a laid-back appeal that offers relief. The interior exhibits a feathery sensation that is comforting for tired feet. This item is flexible in the areas that bend the most frequently. This is an excellent find for those who was a superior relaxing experience.

3

. Skechers Sport Loving Life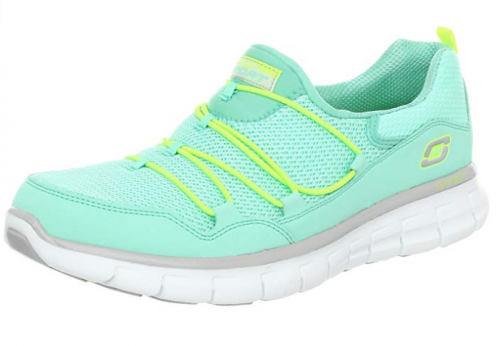 Skechers is the recipient of many awards and is a world-renowned company. They are known for having easy affordable stylish items for every walk of life. They also have a legacy of philanthropic endeavors. This pair of best memory foam sneakers was created for the person who is on the go. They will keep the foot comforted during even the most demanding days. The fit is nothing short of incredible and stretches effortlessly to surround the foot for effortless walking. This is offered in colors that will pop for a stylish shoe that won't fail when it's most important.
Imagine grabbing groceries and when you foot pivots that brand new footwear slips off. Now you and all your groceries are sprawled out on the street. It takes dynamic accurate architecture to create a no-tie product that is form-fitting. The laces used in this item are made from bungee which stretches but is also very strong. The exterior was made to stretch to the individual shape of the foot. This creates a firm fit that stays in place because who has time to readjust their footwear every couple of minutes. This item is geared to be more bendable with each step is so desirable.

These kinds of designs allow the foot to bend at the ball for a more natural stride will walking. The Loving Life is a very light feeling on the foot and the bottom was made to bend with the body's natural flex. This will definitely be easy for power walking or just running around completing daily tasks. Security is an important aspect of any item that is slip-on. This will determine if an item is viable for purchase or should be decidedly placed as a no-go. This will not knock your sock off or leave them slipping down your shoe rather. This product was created with a flexible yet firm appeal in all aspects. They can be worn with confidence because they happen to offer a very plush interior and traction that keeps the foot sturdy. These are without a doubt one of the best memory foam running shoes.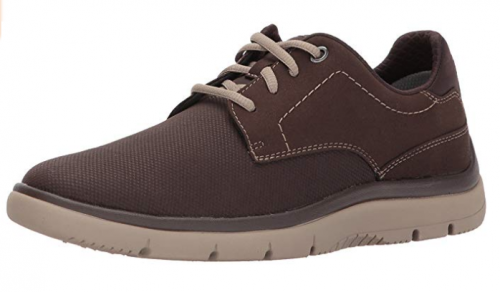 This company has a long-standing tradition of excellence in construction. They have been around since 1825 and since the 1860's when William Clark became the head of the company he believed in deeply the dignity of all human beings. They support multiple charities and allow employees globally to propose local charities and good causes to receive funds from their charitable give programme. Since it's inception this has been a brand that cares for not only the feet but lives of others. This brand offers footwear the boasts a classic aesthetic and cutting-edge technologies. This item is casual yet elegantly designed with beautiful stitch detailing, a rounded toe and traditional lace-up system.
Any time of year feet can become hot and oppressed due to constant rubbing of socks, shoewear, and feet. This will create a lot of heat inside the shoe and without proper ventilation, feet can become sweaty and uncomfortable. This is why the textile exterior of this item and textile interior will feel very alleviating, while, allowing air to flow in and out of footgear. If a product is heavy on the foot it will cause feet to feel stressed. If an item is constructed in a way to feel weightless like this particular product long days will be a breeze. Ankles will roll when shoewear isn't designed in a way to support the foot.

If an item allows the heel to constantly slip out and doesn't offer security it can be a huge detriment to the wearer. Ill-fitting items could cause injury. This product offers secure lacing to keep the foot in place. The bottom of the shoe offers flex in areas that naturally bend while walking. The bottom is fitted with a non-marking outsole that offers further grip and stability for a confident stride. The interior is plush and molds to the natural shape of the wearer's extremities. This brand has a history of reliable items that offer cutting-edge technology with classic designs. This particular item will become a fast favorite for casual Friday and weekend activities. This company strives to give a balanced approach to today's outerwear landscape. Offering customers comfort, elegance and sturdiness.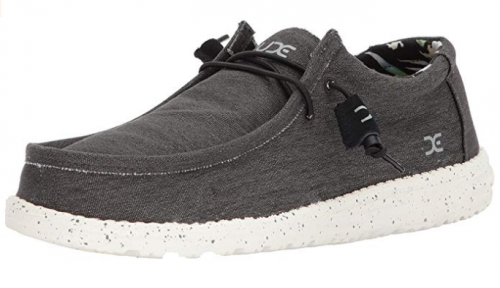 Some of the finest crafted apparel have been known to come out of Italy. Footwear may not always be the most comfortable but the craftsmanship is superior. Hey Dude was created to marry the concepts of comfort and style. This company has been around for only 10 years but has managed to sell over 2 million pairs and gain a cult-like following. People swear by the cozy sensation this leisure-wear provides.
This company makes leisure wear that can go incognito. Many office settings allow business casual attire and in those circumstances, a stylish loafer is preferred. Casual, but not too casual. This is a best seller because of the versatility. They are created to mold not only to the bottom of the foot but stretch to the width as well. This gives the foot a perfect fit that is lasting. The toe area was given enough room to allow full circulation. The heel area is a little deeper than most to offer full coverage that doesn't slip with each step.

The interior is lined with an exceptionally plush oxford cotton. The Wally L is a very light 5.5 ounces, which makes them barely noticeable. These slip on easily for quick donning. Y'know, just in case you're relaxing with your feet in the open and the boss walks in the door. You can have them back on in a flash, with everybody none the wiser! The fabric and other materials used to construct this item were chosen to keep feet unburdened. They are fantastic for those who want style but not at the cost of heaviness that can make feet drag at the end of the day.

6

. Aerosoles Silver Spoon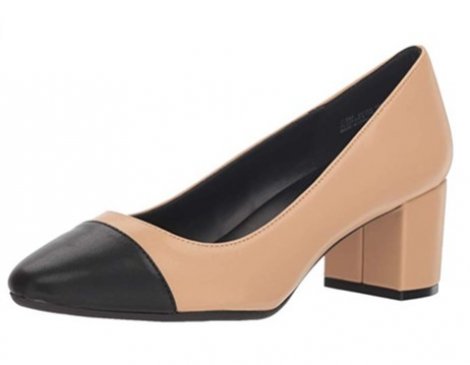 Aerosoles is no stranger to comfort, and the brand keeps true to design with the Silver Spoon. This pump has a modest chunky heel for stability and easy all day wear. Contrasting colored toe and uppers give it a sophisticated look, and trendy style. Packed full of Aerosoles patented technology, you'll be able to go to the office, and straight to evening events without skipping a beat!
Synthetic Diamond Flex soles are at the base of the Silver Spoon, providing grip and traction. The chunkier heel adds a bit of lift, but also more stability that typical high heels or stilettos may provide. Rounded toe allows for good fit, and memory foam footbed keeps your steps light, cushioned and soft.
Uppers are 100% synthetic, making this a vegan friendly option! Heel rest typical of Aerosoles brand help keep you from slipping inside the shoe, and help with proper fit and feel. Available in a contrasting tan/black or solid colors, you'll find one that suits your wardrobe and style for certain!

7

. Fila Memory Workshift-M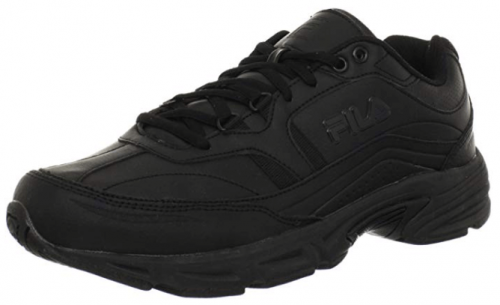 We aren't seeing Fila as much as we used to back in the 90's, but we assure you, they are still around. The brand started to put more focus on "comfort" shoes like the Memory Foam Workshift-M.
If you're looking for a pair of shoes for work, which you are going to be wearing while standing for long periods of time throughout the day, then these are a great option. They are made for that very reason, from the long lasting comfort of the memory foam, to the durable upper construction.
The upper is made largely of leather, which will definitely aid in additional durability over time. The one drawback to the full leather upper, however, is it does sacrifice some of the breathability otherwise found in shoes with a mesh or synthetic upper. But if it's durability that is more important to you, then these have it. These aren't the coolest looking shoes, but the function wins over fashion here.

8

. Skechers Gratis-Going Places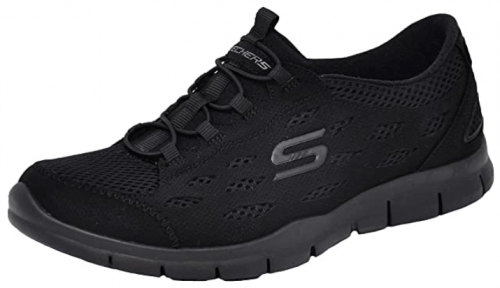 Skechers does comfortable shoes pretty well. Their Gratis-Going Places is a solid option for work if you don't need to have protective toes or a spill resistant upper material. These are sneakers, but with an insole made from memory foam to help add to the comfort after longer periods of wear, like a long shift on your feet at work.
The upper is mostly constructed of mesh layers, which helps noticeably with allowing decent air flow to your feet. This really makes a huge difference when you have them on all day, and especially so during the warmer summer months. The sole is super flexible, which also makes these great for walking distances.
These are super lightweight, partly due to the mesh upper, which also adds to the length of time you can wear without fatigue. The upper does have an overlay that helps to add a bit more durability to high wear areas.

9

. Adidas Cloudfoam Advantage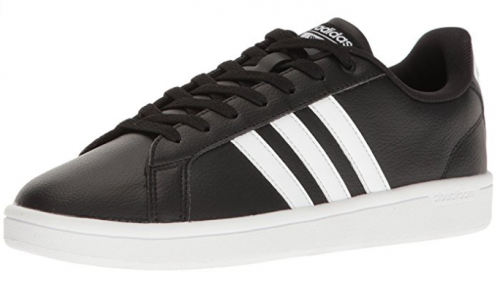 Adidas was created in Germany and has been expanded to a global company. The mission has always been to create sportswear that is truly an expression of excellence. They employ 57,000 people and truly serve the world. This company chooses to be responsible and sustainable implementing initiatives in the areas of; human rights, lessening pollution, alleviating energy consumption, and managing waste. This particular product is designed as cushioned leisure wear that offers a satisfying wearing experience to the customer.
Adidas has been known to be worn with matching tracksuits and stylish denim. This brand not only serves as quality sportswear but trendy street-wear. This item is perfect for those days when a more urban look is desired to conquer the concrete jungle near you. The low top cut is cushioned around the ankle for comfort. The shoe itself is very durable using leather on the exterior for easy cleaning. When crafting memorable footwear has everything to do with creating an experience that is supremely satisfying.

No global brand will be able to survive without a topnotch product. This is where the magic happens. This item was specifically designed to give the wearer a cloud-like feel when out and about. The interior is padded not only under the foot but around the ankle and tongue as well. This surrounds the foot in cushioned comfort for a style that doesn't skimp on ensuring fatigue-free walking. The bottom of this item has sturdy traction for walking that is stable and easy. This is an elevated classic look from a worldwide company. The cloud-foam line is known for keeping feet feeling alleviated.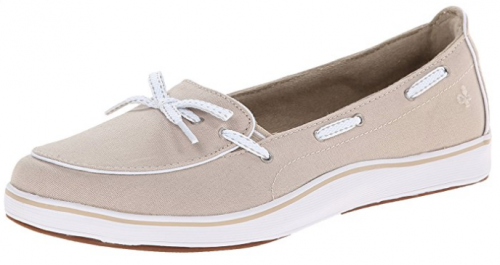 Classic shoes don't always mean a comfortable fit. Life is busy and when your feet begin to hurt it can make a long day downright stressful. Grasshoppers is a brand that focuses on individuality, authenticity, and confidence. Their products are designed with a classic aesthetic and made for comfort. This boating inspired design is really classy and can be paired with many easy wearing outfits. There is no need to have sore tired feet at the end of the day. Why not look good and feel good as well.
Boating shoes are typically worn without socks. This item is boating inspired and, in alignment with that tradition, they were made to be worn with or without socks. It's up to the user's discretion which aesthetic they prefer. When wearing a shoe without socks it's important to wear an item that can control sweating and odor. The interior uses a material that wicks away moisture and allows for air flow. This material also is treated to possess antimicrobial properties. This thoughtful addition ensures a cool comfortable fit even when worn with or without socks. Think these classic boat-inspired flats will have you walking on water? As if! Try walking on clouds, instead!

This item has been fitted with padding in strategic areas for maximum comfort. This is best for those who want to ensure their feet feel assuage after action-packed days. The insole is removable for easy washing and is cushioned to keep its shape and not become flat over time. The arch is lightly supported and the insole is contoured for an anatomically correct structured product. The jersey material is very soft against the skin as well. This product offers a very light cooling feel. This item can also be worn with or without socks and the foot will stay fresh. This is achieved by an interior that is antimicrobial and the inside is cushioned. This also allows air to flow around the foot for ease of use. The extra padding on the tongue and collar create a very comfortable feel.

Subscribe to our Newsletter