Best Aerosoles Shoes Reviewed & Rated
In a Hurry? Editors choice: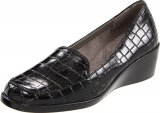 Test Winner: Final Exam

With a hashtag that is only theirs, #FashionThatFeelsGood, Aerosole shoes effectively describe their entire design philosophy - fashion and function are not mutually exclusive, and it is, in fact, possible to have shoes which are stylish, comfortable and high in quality at the same time. Aerosole shoes doesn't force you to choose between looking good and feeling good, and we can't help but admire that. In an effort to ease your way into this Aeroworld, we come to you with this list of top ten designs which you will absolutely love. Sit back, relax, and find your new favorite pair of shoes today!
Standout Picks
Criteria Used for Evaluation
Comfort
As we mentioned in our introduction, Aerosole shoes value comfort first and foremost. It is in their interest that their customer is able to spend an entire day on their feet without getting tired, without discomfort or pain in any part of their body.

This is why Aerosole shoes goes out of its way to develop only the best comfort systems for their footwear. While there are many advanced features in Aerosole shoes, which we will talk about in a later section, there is also the concept of Core Comfort - a basic sort of comfort technology that every shoe is outfitted with. A foundation which other comfort features are built upon.

Core Comfort comes with a memory foam footbed for cushioned softness, which is also removable, providing you with a flexibility and the ability to customize the inside of the design to your liking in your Aerosole shoes.

Aside from that, Core Comfort also has a special heel cradle feature which ensures your stability. It helps reduce overpronation or supination of your foot - rolling inward or outward - as you walk, and helps you maintain a well-balanced gait.

There is also the feature of diamond flex outsoles. These have a special diamond pattern on the bottom for that slip and skid resistance on your Aerosole shoes. No matter what surface you find yourself on, whether it is sleek and polished or hard and rough, you will remain on your feet at all times without fear of losing your footing, falling and injuring yourself.

The diamond flex outsoles in Aerosole shoes also have a bonus quality of absorbing impact. As you walk, your heel pounds the ground, sending little shockwaves upwards into your ankle, your knee and your hip. Over time, this pounding accumulates and starts causing damage to your muscles and joints. It can even lead to some medical ailments, such as plantar fasciitis.

In order to prevent this, and to ensure that your feet don't feel tired regardless of how much you spend traipsing around, the diamond flex outsole absorbs the shock from your heel strike and evenly distributes it across the rest of the Aerosole shoe, reducing the strain put on your legs.
Style
From flirty strappy sandals, to modest, professional heels, to sporty slip-ons and refined loafers - Aerosole shoes were not kidding when they declared that one of their main goals was to have a footwear style for every occasion. You can indeed find an Aerosole shoe which fits your personal tastes no matter what they are, since this brand goes above and beyond to deliver on the fashion front.

In this Aerosole shoe guide, we have encountered any number of casual and less casual styles, and so that is how we are going to sort them in this section, in order to briefly touch upon the pros and cons of each, and when it would be best to wear them.

Casual

Everyday footwear is, unsurprisingly, meant for every day. These are the styles that we wear on our days off, when we're leisurely strolling around the neighborhood, when we're enjoying a picnic date with our family or when we're just getting to know a foreign city and all the wonders that it holds. Aerosole shoes has several of these styles and options available.

Casual styles are always a safe option because they are comfortable. They either come with flat soles or very low heels which are usually wedge in design, meaning that they can be worn the entire day without any problems. Their uppers are also constructed out of soft materials such as textile, leather or mesh, which don't confine us or restrict our movement in any way. The materials stretch out over time and accommodate the shape of our feet, amping up that comfort factor.

It is entirely up to you whether or not you will go for a sneaker such as the Traveler, one which is perfect for a sporty look, or maybe a sandal like the Conchlusion, if you are in need of something to brave the heat of the summer. As long as it is an event where you're not required to dress up, you can't go wrong with a casual Aersole shoe.

Professional and Fancy

So, what to choose if the dress code calls for business-casual, semi-formal, or even formal? Well, the answer depends on your style and preferences, but your best bet would be to not go for sneakers (an exception could be made for dress sneakers, in the case of business-casual), slippers, and definitely not for flip flops. Fortunately, Aerosole shoes has you covered!

In fact, most workplaces have strict rules against open toes and heels which are higher than three inches in their offices, which limits your options quite a bit. You would do well to familiarize yourself with your company's dress code, if it has one.

When it comes to business, loafers are a great choice, since they are elegant and polished and add a bit of a flair to a look. Stick to dark and neutral colors in your Aerosole shoes, such as black, navy blue, tan and nude, and definitely avoid over-the-top embellishments like bows and ribbons, sparkles and dangly charms. You want to look confident and to be taken seriously, which is hard to do if your shoes reflect light in all the colors of the rainbow.

However, formal events themselves are not so strict when it comes to style, and Aerosole shoes can step up in this style area as well. High heels are preferable for the ladies (though a flat has been known to sneak by every once in a while), and open toes are allowed, especially if is a garden party or an outdoor wedding. The amount of accents and decorations is up to you and to how comfortable you are with being the center of attention in any event.
In any occasion however, you're sure to find an Aerosole shoe here on the list that will suit your needs!
Advanced Features
While we did break down the Core Comfort system of Aerosoles shoes, we also mentioned that there are some other, additional technologies that can go into individual designs. These can't be found in every item on our list - some aren't featured at all - but if you are curious about all of what Aerosole shoes has to offer, then find a minute to read through this section in which we talk about what else there is to be experienced.

Stitch 'N Turn

Stitch 'N Turn technology is focused on shoe flexibility. Rather, Aerosole shoes with this system are so flexible that they twist and move with your feet regardless of what you're doing. You can easily run and jump and twirl and dance in Stitch 'N Turn footwear, as your soles will be supporting you all throughout.

Moreover, thanks to this unprecedented flexibility, Aerosole shoes with this technology require no break-in periods. We can only be grateful for this, as we have wasted far too much time of our lives walking around the house in a new pair of shoes which we have yet to wear outside, hoping that they'd stretch out and loosen up enough so we can enjoy our Aerosole shoes without any blisters or pain.

Heel Rest

An Aerosole shoe technology which we mentioned a few times in our list, Heel Rest is definitely a life saver when it comes to high heeled shoes. Namely, the main problem of high heels is that they put unnecessary pressure on the front of your foot, which can lead to your toes turning numb or even worse conditions, such as bunions.

With the Heel Rest system this is not a problem, as the construction of the Aerosole shoe aims to distribute your weight away from the ball of your foot and back towards the feel. This not only improves the shoe's comfort levels, but also helps you stay on your feet for longer, and reduces foot fatigue when at the end of the day you come home and decide to relieve your feet of the high heel strain.

Extra Calf

We've all been there - trying on one tall boot after another, falling deeper and deeper in our pit of despair and certainty that we will never find a design to fit our wide calves. The zipper doesn't go all the way up, the elastic panels don't stretch far enough, and we can definitely forget about those damned pull-on designs.

Fortunately, Aerosole shoes has a solution - the Extra Calf technology! This system comes with an extra zipper of two inches in width which ensures that you will be able to fit in all of their tall boot designs. This dramatically improves the comfort and wearability of this brand's boots, and if you find yourself wondering if you'll ever find that perfect boot design for you - don't hesitate to turn to Aerosole shoes!
Versatility
One thing that we love about a good pair of Aerosole shoes is that they can be versatile - worn in many situations and for many different types of events. There is nothing more disheartening than a design which is meant for only one, special occasion, after which it loses its purpose and collects dust in our wardrobe until it is time to bring it out again somewhere down the line.

This is why we have used the opportunity to also rank the items from our Aerosole shoe list according to their versatility, or rather their ability to match casual outfits as well as smart casual ones, and perhaps even semi-formal looks. The higher the score of the design is, the better it fits with an array of different styles.
Heel
Finally, as there is quite a number of high heeled shoes in our Aerosole shoe guide, we felt compelled to also include a category for that in our criteria.

The reason for this is simple - not everyone likes walking in heels, as they are largely considered the most uncomfortable footwear type. Heels elevate the back of our foot, putting it in an unnatural position and shifting our weight forward. As a result, the front of our foot starts throbbing - the higher the heel is, the sooner the pain comes - and we can't expect to spend much time walking about.

The trick to heels is to choose the right type, one which will stave off the hurt for as long as possible. Go for thick, chunky heels, blocky in shape. Wedges and platform heels - those which have extra height underneath the ball of the foot - are also good options. Try to stay away from stilettos, as well as heels which are over four inches in height, as your feet won't last longer than a couple of hours in those. Luckily, Aerosole shoes has several variety of heel types you can select from!
Our Favorites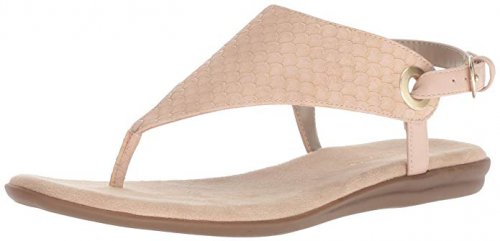 If you are looking for a flip-flop which you can wear all day every day, that one design which keeps your toes wiggling and yet still looks stylish, then the Conchlusion is the perfect choice for you! It's an Aerosole shoe style that will keep you cool and collected on the hottest of days.
This is not a standard flip-flop silhouette, as it comes with a man-made upper that covers your instep, but still leaves most of your foot exposed. Just in case you are worried that this material might stick to your skin and cause any chaffing - don't be! There is enough room between the upper and your foot to allow air to easily pass through and let your feet enjoy the breeze.
 
The Conchlusion comes with that well-known Aerosoles Core Comfort that involves a memory foam footbed, a suede sock insole, and a diamond flex outsole. All of these ensure that you will be able to wear this Aerosole shoe on long hikes by the beach or on all-day trips exploring new cities and that in the end, your feet won't feel tired at all.
 
There are no complicated lacings or unreliable zippers - simply adjust the buckle closure on the ankle strap to how tight you'd like it to be. After that, you can slip on the Conchlusion whenever you want to and be on your way in the blink of an eye! Reach for these trendy sandals that will become your new favorite summer Aerosole shoe!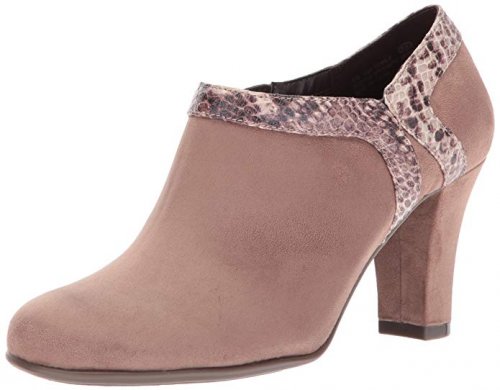 There is no better way to start your workday than with the Day Strole! This low-cut ankle bootie is absolutely fabulous in design, with a soft textile upper and snake patterned lines to add some flirtiness to your outfit. It comes with a heel of almost three inches in height, making it comfortable to wear from day to night.
Not only that, but the Day Strole is also outfitted with the Heel Rest technology, patented by Aerosole shoes. This comfort system provides you with the ultimate stability and support as you enjoy your high heels, not least because of the cushioned memory foam footbed and the specially designed heel area which cradles your foot and ensures that your every step is confident and steady.
 
The Day Strole has a zipper closure in the side for that easy way in and out of the design, as well as a rubber sole on the bottom, to ensure that you are safe from slipping and skidding on any type of ground.
 
We are absolutely in love with this adorable Aerosole shoe! It will effortlessly complete your fashion-forward style, while at the same time making you feel comfortable and pain-free no matter how long you spend in it. What a treat for your feet!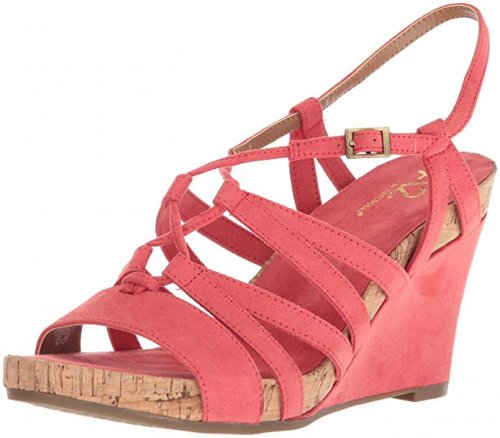 Summer has never been as fun and as playful as in the Poppy Plush! We have to take a moment here and admire the vibrant coral pink of this wedge sandal, which will bring a much-needed splash of color to your sunny days. Of course, if that is not your style, there is also a black and a light tan version to fit your aesthetic.
The Poppy Plush has a strappy upper made out of textile. It seems as though it might have a lacing system, but in fact, its closure lies in the buckle at the ankle strap, which you can adjust to however loose or tight you'd like it to be.
 
The wedge heel of the Poppy Plush is almost four inches in height. However, it still comfortable, thanks to the cushioned memory foam footbed, and a slight platform in the front. The wedge design is there to make you feel supported as well, since it evenly distributes your weight along the shoe and eases pressure off of the ball of your foot.
 
The Poppy Plush is one feminine spin on a classic gladiator trend, bound to make you happy as you enjoy your long summer days in the city or by the beach. It is fashionable, comfortable Aerosole shoe and will complement all of your outfits!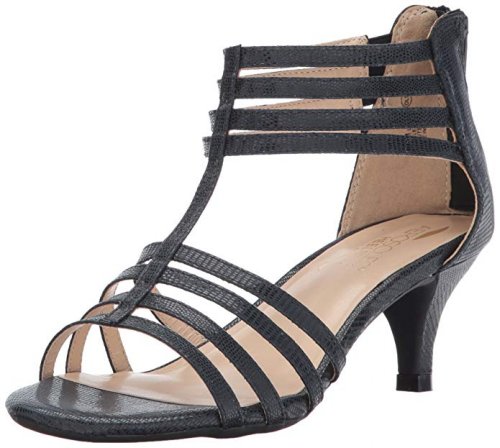 The Limeade is here to ensure that you have an absolute blast of a time on your next night out! This sophisticated, sexy sandal is the ultimate showstopper with its numerous parallel straps that wrap around your foot. It will leave your toes uncovered and happy, while still ensuring that your foot stays in place inside the design and that it doesn't slide forward.
The heel of the Limeade is barely two inches in height, meaning that you will be ready to dance the entire night away! And of course that, as all Aerosole heels, this sandal also comes with the Heel Rest technology, providing you with the ultimate stability and support.
 
A zipper in the back allows you to slip in and out of it without wasting much time in your day, and overall, we can't think of a more convenient, more comfortable Aerosole shoe that is still this stylish!
 
You will fall in love not only with the flirty aesthetic of the Limeade but also with how unbelievably cushioned and steady it is while you walk. As far as heels go, it doesn't get much better than the Limeade!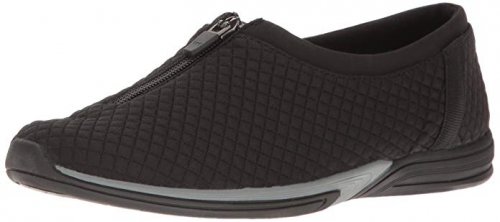 Add a new meaning to the word athleisure with the Traveler flat! Thanks to the zipper at the front, which is a focal point of this design, you will have a never-before-seen way of getting in and out of the shoe, and it will ensure that your foot doesn't slip out of it no matter what the circumstances.
This sporty Aerosole shoe is cushioned top to bottom for that cloud-like feeling as you walk, and the soft fabric upper stretches to accommodate your foot on the first wear. No break-in time needed! The Traveler is also gloriously lightweight, in that you won't even be able to feel this flat as you take on the challenges of your day.
 
The one-inch wedge heel at the back as well as the mini cap toe in the front ensure your stability and support, and the synthetic sole provides you with a good grip.
 
Wear the Traveler on your shopping trips, sightseeing adventures and even to the gym to truly experience everything that this amazingly comfortable Aerosole shoe has to offer!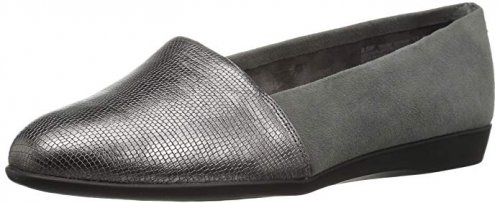 The master of professional, office designs, Aerosole shoes introduces another option which you can easily wear both to work and to a lunch date with your family and friends. The Trend Setter is a loafer made out of genuine leather, placing it at the forefront in terms of comfort and durability. This shoe maintains a healthy foot climate inside, providing you with a sweat- and bacteria-free environment.
Not only that, but the Trend Setter also comes with a slip-on silhouette and a sliver of a heel for that on-the-go comfort. As with other Aerosole shoes, there is a Core Comfort feature, which makes you wonder why you took so long to buy these classic loafers in the first place.
 
A flexible bottom sole moves along with your foot as you walk, providing you with a good balance and ensuring a healthy gait. The Trend Setter comes in a variety of color combinations and options, all of which are office-space-approved, and which will add that necessary breath of cool refinement to all of your work outfits.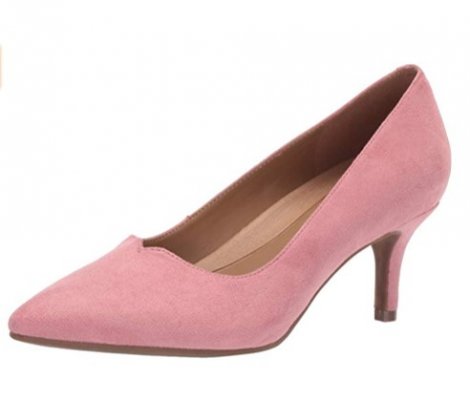 This cute simple little pump packs a punch in comfort, typical of what you'd expect from Aerosole shoes! With several color options available, you can select one that suits your wardrobe sufficiently. With a bit of fashion design demonstrated in the sweetheart toe that finishes to a point, this pump is versatile for both work, formal, or casual settings. A must have for your footwear collection!
A small kitten heel gives the Anagram a bit of lift, and synthetic soles allow for some traction and stability. Sweetheart toe finishes to a point for some simplistic style elements, making it a little more sophisticated than the average pump. A variety of color options from nudes to darker hues and pink are available to pair with several different wardrobes.
Memory foam pads each step in the Anagram, while a breathable insole helps keep you dry and comfortable. The footbed is removable should you choose to do so. Perfect for any kind of event, it's sure to become a staple pair of Aerosole shoes in your collection!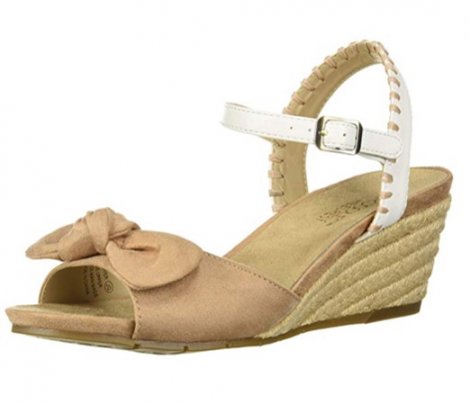 This fun, sassy little wedge from Aerosole shoes adds some variety to style and summer footwear. Rope wrapped wedge gives the Cake Over Wedge an espadrille style. A faux leather lining creates a luxe on-foot feel, while rubber sole provides traction even on slippery surfaces. This sandal is ideal for casual settings, or date night during the summer.
Typical of many styles of Aerosole shoes, Heel Rest Technology provides comfort and cushion for each step you take in the Cake Over Wedge. A heel and ankle strap with buckle closure allow for an adjustable fit, and open heel keeps walking comfortable and prevents any irritations or blisters.
Open toe design keeps this sandal even more breathable, and the suede upper has a larger bow embellishment for an additional element of style. Combining comfort, lightweight design, and espadrille style, this wedge is ideal for summertime casual events.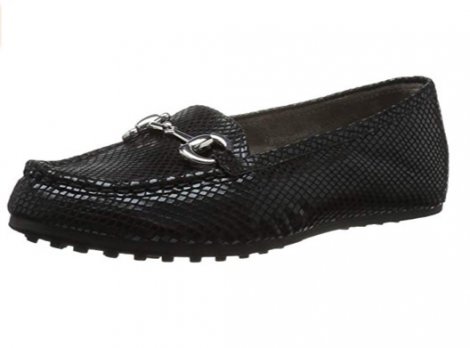 If you're unfamiliar with driving loafers, typically this kind of shoe has a flexible forefoot, and maximal traction. It allows the wearer to have a great connection to the car pedals during driving or racing. The Drive Through Loafer not only keeps to the historical style of a driving loafer, but also has some fun style elements to make if fashionable for wear to the office or out on the town.
For driving, this Aerosole shoe has a flexible forefoot and hidden heel lift, allowing a solid connection to the car for performance. Memory foam footbed gives it a great on-foot feel, and a high density foam makes the insole cushioned and comfortable. Synthetic sole gives adequate grip and traction to prevent slips.
Uppers are made from fabrics, and come in a variety of patterns and colors, such as snakeskin, browns, greys, and whites. Silver or gold bit hardware adorns the top of the shoe, linking side to side and adding to the style of the shoe. Perfect for several kinds of occasions, it's ideal for those who don't mind a long drive home after a lively evening!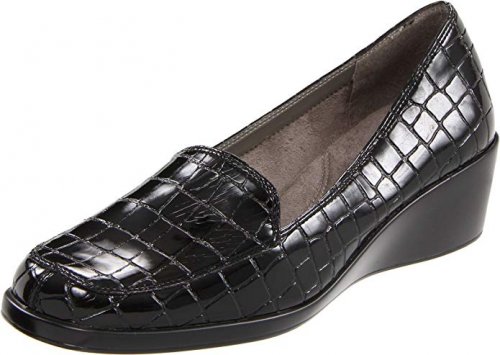 Despite its slightly ominous name, the Final Exam is one fantastic Aerosole shoe. It may not be in keeping with the current fashion trends, but if you are looking for something that is more comfort than style, then you have definitely come to the right place. The Final Exam has an upper constructed out of man-made leather, with an impressive croc pattern to add a touch of elegance, and a wedge heel of about one and a half inches in height.
When it comes to comfort, there is no doubt that the Final Exam is top of the line. The heel style ensures that you are stable and confident in your steps, while at the same time relieving pain in your joints, as well as the lower back. This loafer comes with a cushioned footbed and excellent sole support.
 
You can wear this versatile Aerosole shoe with jeans and slacks without fearing that you will look matronly in any way. It is easy to wear and easy to love, and you will become addicted to how good your feet feel even after an entire day of walking around in the Final Exam.

Subscribe to our Newsletter