Best Flats Reviewed & Rated (Comfortable and Stylish)
In a Hurry? Editors choice: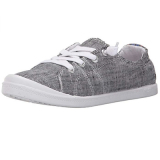 Test Winner: Roxy Rory

From shorts for the beach to summer dresses to fall jeans, you can find flats that go with almost any outfit. The right flats can even be found for semi-formal or formal occasions. Among the most versatile type of shoes, they can be more comfortable than almost anything with a heel. But like high heels, they aren't always great for your feet. Many flats can cause foot pain because they lack arch support, they may be far too flexible to provide any support to the foot and the soles generally aren't cushioned or shock-absorbing. To ensure you get a pair that not only looks good but also provides good support and cushioning, we've prepared this list of the 10 best flat shoes available for purchase.
Standout Picks
Criteria Used for Evaluation
Materials
Many people have no idea that the sole consists of three (usually) separate parts of a shoe. The insole, midsole, and outsole all perform different functions but work together to create a comfortable, shock-absorbing, protective, and durable shoe. The sole, so to speak, is the soul of any footwear. Let's start at the bottom and work our way up:
The Outsole
The outsole of a shoe is the part that makes contact with the ground. In a flat, it really may be the only part of the sole (in a true moccasin, many flip-flops, or some espadrilles, for example). It performs several functions.
Durability:  A good sole will stand up to the surface it is used on, whether that is hardwood flooring, carpeting, concrete, pavement, sand or dirt. Rubber is a great choice for durability and so is hardened leather.
Traction: Important in an outsole is how well it grips the ground beneath you. Rubber has great traction, leather is slippery, EVA has good traction but wears quickly, and plastics can be slippery or not depending on the pattern that is molded into them.
The Midsole
Much like the outsole, a midsole (which rarely exists in a flat but sometimes does) is multi-functional in most shoes:
Cushion:  Midsoles are almost always made of EVA foam compressed to different degrees to provide some cushion for your feet.
Shock Absorption:  The great thing about EVA foam is that it can take a shock and absorb it instead of passing it through to your heels and forefoot. Other shock-absorbing materials include polyurethane and synthetic rubbers. Leather is a poor shock absorber as is most plastic.
The Insole
In a flat shoe, the most important part of the sole is usually the insole. Since there is little space between your feet and the hard ground, the insole is where you will find the comfort and support for your feet in most flats. Insoles can be made from a very large variety of material and what you choose will really be a preference that is your very own:
Memory Foam: Compresses to shape to your feet while also 'bouncing back' to provide cushioning. The thicker the memory foam, the more molding effect is achieved.
Cork:  Shock-absorbing and pliable, it will mold to your feet. It does not bounce back well and over time it will permanently take on the shape of your foot.
Latex: A soft, pliable material that can mold to the shape of your foot and can take a great deal of compression without breaking. Latex is usually used as a top layer of an insole to protect the softer material underneath from damage and because it is easy to clean with a damp cloth.
EVA:  A high performance, compressible foam that can be molded to the shape of a foot to make a very comfortable, though odor-absorbing insole. It can be easily cleaned with a little warm water and soap in a damp cloth.
Fabric: Cotton, hemp rope, and other fibers are often used to create an insole material for flat shoes. These are the least comfortable but very durable materials. They are used rarely now because they absorb odor and are more difficult to clean. They also offer little in the way of shock absorption or cushion.
Support
Arch support is the mythical unicorn of the flat world. Few flats will offer much in the way of arch support, so these are usually not going to be comfortable or healthy for people with high arches or people who have moderate to severe overpronation (flattening of the feet near or through the arches). However, some in our selection offers arch support or have a removable footbed or insole so that you can wear a flat with your custom insole or an orthotic.
Other than arch support there are many ways a flat can support your feet and prevent damage. Look for some of these features:
Heelcap: The heelcap (the material that wraps behind the heel) should curve in without irritating the back of the heel and without allowing your foot to slip out. Soft elastic material or an internal stitch style may accomplish this but either way, the heel cap needs to move with you and not you with it.
Topline: The topline on a flat should also stay with your foot and not sag outward. Look for quality material and stitching in the topline like thicker suedes and leathers, fabric that is stitched well but still flexible and synthetics that shape to hug your feet rather than pull away.
Sole: The sole of a flat will be flexible to allow your foot to move (which is why flats are not the greatest for many with flat feet). However, it should still be rigid enough to stay with the foot and offer some support with each step. If it is too flexible, your foot will have to not only do all the work but try to compensate to hold the shoe in place, which is frankly exhausting.
Heel: If the flat has a small heel in back it should be designed to absorb shock and not place a pressure point below the heel. Avoid heels that are made of hard, rigid materials like plastics and go for a heel that is firm and durable but provides some shock absorption like rubbers and leathers.
Upper
If you have a good sole and good support, the only remaining question for comfortable feet will be the upper. A good quality upper will perform several functions for you:
Breathing: Your feet need to breathe almost as much as your lungs do. Skin, including the skin on your feet, needs air circulation and temperature control to be comfortable and healthy. Feet that do not breathe properly can develop microbial infections, itch from moisture, yeast infection, fungal infections, and other issues that you just don't want to happen. An excellent upper is made of a material that lets air in, lets it back out again as you step and does not overheat the feet.
Moisture in/moisture out: A good upper will deal with moisture inside from sweat and moisture outside from the elements. Leather is fantastic for this purpose and so are most canvases and mesh. Leather has a wicking effect to take moisture away from your feet and it's solid enough to keep the rain out. Mesh and canvas let air in to dry your feet and they also let rain in, but they dry quickly to deal with it. Plastics are good at preventing rain from coming in, but they also keep moisture on your foot and may even overheat the foot causing them to become sweatier.
Protection: Your upper keeps your toes safe from stubs and dirt and debris that may collect on a foot exposed to the elements. A good flat will provide some protection from these issues though not perfect protection because they just don't come in a steel-toe.
Style: You are looking for a flat for comfort and ease, but you also want style. If it looks like a few rags tied to the bottom of your foot you may fit in an episode of Survivor or a Bear Grylls program but not so much for the beach, touring the town or work. The best flat will have a versatile style that you can wear through three seasons in almost any situation. Most of the shoes on our list come in a variety of colors and patterns and there are a variety of styles so there really is something there for everyone.
Style
Flat shoes are a hugely varied category and are the best way to go for those who are interested in remaining comfortable but prefer to stay away from athletic styles. Made both for men and women, as well as in unisex versions, there's a number of styles that can be considered flats, all of which have their unique advantages.
Ballet Flats: Inspired by soft ballet shoes, these are quintessentially elegant and simple, and are the perfect option for everyday wear. They come in a huge variety of prints, as well as small variations in design (including some with bows and embellishments), but are overall a must-have for anyone who wants something no-fuss but stylish.
Moccasins: Traditionally made from a single piece of leather or suede, moccasins have come a long way, but have retained their laid back style and absolute comfort. Today, they come in numerous variations, from those more fashion-forward to styles mainly focused on home wear and plushy comfort.
Mary Janes: Reinvented time and over again, Mary Jane is a classic that can look girly or elegant, depending on how it has been designed. What always remains the same is the supportive strap over the instep which makes this a stable yet elegant choice for everyday or formal wear.
Boat Shoes: A staple of summer style, boat shoes can be worn casually, as well as with a linen suit. What they always achieve is a look of sophistication and elegance, all while keeping you comfortable and safe from slips on wet surfaces.
Lace Up: From Oxfords to chukkas, almost all lace-ups are inspired by menswear, and are widely popular among those looking for a stylish addition to their wardrobe. Go with a sensible lace-up in black or brown, or with something colorful or shiny - you won't go wrong, and you'll appreciate the comfort and support.
Loafers: Having made a comeback in recent years, loafers are seeing much more use than just for formal occasions with a suit. You can now choose from numerous colors and styles, from sensible black to flashy velvet, to the always in vogue animal print.
Value
The most difficult part of ensuring a good purchase is determining whether a certain item is worth the investment. While we may often be tempted to think that a cheap pair of shoes will be a way to save some money, there's more than just a price that should be considered.
Before committing to a certain model, ensure that you've looked at the quality of materials used, as well as the craftsmanship. More often than not, models are made in ways that cut costs for the manufacturers, with poor quality control and subpar materials that may look good, but lack in durability. Before purchasing, check the gluing and stitching, and look at the overall design of the shoe. If it looks flimsy and as though it won't last more than a few years, your money will be better invested elsewhere.
Another thing to consider is the fit and comfort - yes, you may have found the perfect shoes on sale, but don't buy them just because they're cheap. Don't size up or down and think that you'll get away with it, that the model will stretch or that you'll power through - this type of thinking usually ends with blisters and a model that can't be replaced so it sits in the back of your closet until you bring yourself to throwing it away.
Instead, be prepared to pay a bit more, where necessary, and get something that both looks and feels great. If you're feeling good in your footwear, you'll be more likely to use it regularly, making the investment a good one as you'll get your money's worth out of it.
Finally, you should try to do some research before you make your purchase (especially when shopping online). Taking a few minutes to read through the customer reviews can let you know whether there are any sizing issues you should be aware of, or if a particular model has any downsides in terms of durability, craftsmanship or design flaws. It won't take long, but it'll be worth it in the long run.
Top 10 Flats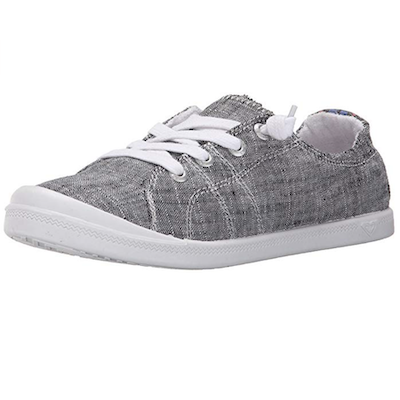 If you're looking for the perfect flat lace-up, then the Roxy Rory Shoe is a great choice. It comes in black, gray, or white. It has a Flexible TPR injected outsole and an insole with a memory foam padding for a great fit. The Rory is the perfect go-to casual shoe for a backyard bbq or night at the movies.
Thermoplastic rubbers are great material you can recycle and offer a cushion and durability for the shoe. Not only does it mean the shoe is much more environmentally friendly, but it's also able to stabilize your foot during any activity and keep you comfortable. A memory foam insole means every time you put the shoe on; it will conform to your foot's shape and size. A shoe that fits like a glove continues to be comfortable. Sliding these shoes on and knowing they're going to fit correctly from the beginning is a good feeling.
Roxy is a well-known name and has a reputation for making quality clothing for the adventurous type. With the Rory, you get a well made and comfortable shoe that's at a middle price range on this list. It's a great buy for a great shoe.

2

. Rockport Cobb Hill Parker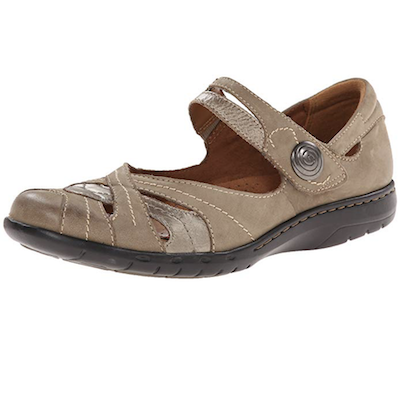 Rockport makes good quality, comfortable shoes with their own unique style. The Cobb Hill Parker is a comfortable leather flat with interesting detailing in the upper, easy on and off, and a good measure of shock absorption. The flat is great for work or for walking around town for long hours. The Mary Jane style flat will suit most outfits and will quickly become your favorites, comfort go-to.
EVA is ethylene vinyl acetate and is a cushioning, shock-absorbing material that was originally used in athletic shoes but is now used in most styles of shoes for its comfort. The Cobb Hill Parker in this footbed will provide you with sneaker-like comfort in a Mary Jane style shoe. The strap on the Cobb Hill Parker features stretch gore and an adjustable hook and loop closure so that they are easy to get on and off. Adjust the strap to your fit and slide the foot in comfort. Stretch gore also helps the shoe move with you, so the strap doesn't dig in.
This Rockport falls into the mid-range for the shoes on this list of best flats. For the money, you are getting a stylish Mary Jane style flat that is quite sensible. It is comfortable, shock-absorbing, lightweight, and easy. It is also built to last, increasing the return on your money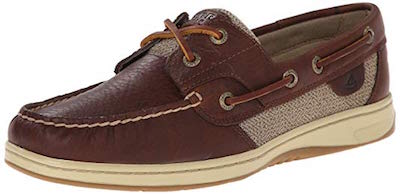 Iconic, and with good reason, the Sperry bluefish is one of our top choices for holidays and summer wear. It's a style that immediately brings to mind long walks by the beach, afternoons spent sailing, or walking around Europe, taking in the sights. But what makes it such a great choice is not the classic look, but rather the amount of thought that went into the design - making this one of the most practical pairs of footwear you will ever own.
The upper of the Bluefish is made with genuine leather and comes in several color choices. But, what distinguishes it from similar styles is the fact that it's water and stain-resistant, and features generous padding in the tongue area, making it a great choice even for barefoot wear. A 360° lacing system ensures the perfect fit. The Bluefish features a molded EVA midsole for all-day comfort and cushioning, as well as a non-marking, wave-siped rubber outsole that'll keep your footing secure even on wet surfaces. A memory foam footbed will contour your foot perfectly, making you want to wear these for any and all occasions.
Average in cost, the Bluefish is one of the most valuable pairs of best flat shoes featured on this list. It's a great summer option, and comes in a huge variety of styles - from classic to modern - giving you the opportunity to show off your personal aesthetics.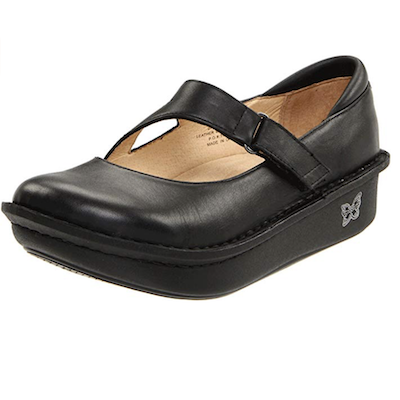 This is a unique rocker bottom flat that is ultra-comfortable and comes in a dizzying array of colors and patterns. It's designed for work-all-day comfort and the rocker bottom is great for those who may have to stabilize their midfoot because of a medical condition. These shoes will look great, feel great all day long.
The rocker bottom on this flat is designed to guide your foot through a normal step and improved gait when you have a condition that requires stabilization of the midfoot. But it's great corrective stride for anyone else as well. The printed leather upper is very stylish and available in a lot of patterns and colors. More importantly, it's breathable, leaving you will cool dry feet as you work all day.
This shoe is in the lower-range prices, relative to the others on our list. For the reasonable price, you get a solid, fantastically comfortable work shoe that will leave you on your feet for hour after hour.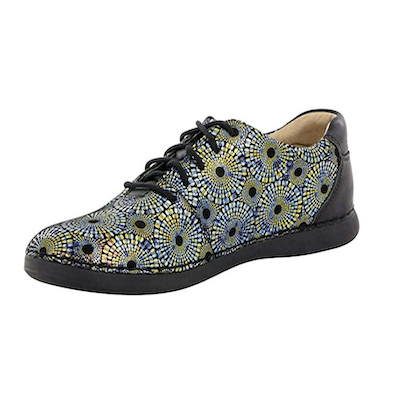 The Alegria line of shoes is known for their comfort and producing a variety of styles and colors for every type of shoe they make. The Essence is no different. It is a very light and airy flat shoe with perforated leather upper and breathable mesh inside. Every feature in this flat sneaker is designed for your comfort. Work all day, play all day and still have lots of energy for your evening.
This Nappa leather sneaker is made to breathe. The leather has perforated details to allow air in and out, keeping your feet cool and dry. The lining is also a light mesh that will allow your feet to breathe. Great if you have sweaty feet! The footbed in the Essence is made of memory foam and polyurethane in an anatomically correct shape that will also conform to the shape of your feet for that perfect fit. The footbed is removable if you wish to wear a custom insole or orthotic.
The Alegria Essence is on the lower end of the price range. For the value, you are getting a very comfortable flat shoe that will allow your feet to breathe. On top of that, the rubber outsole will provide good traction and grip, is slip-resistant and non-marking. A great shoe for working all day or get out there and play!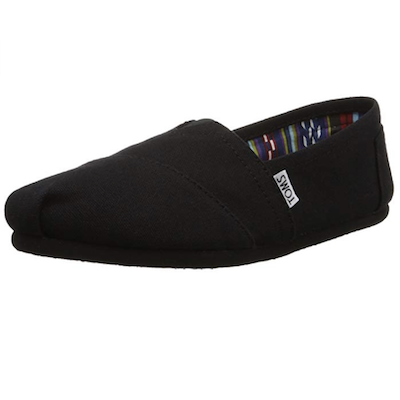 Toms Shoes was founded by Blake Mycoskie in 2006 after he was inspired by traditional Argentine shoes called alpargata. While in Argentina, he was also touched by the poverty and health problems of the country. He set out to reinvent the alpargata to make it work for the U.S. market and for children in need. Toms Shoes donates a pair of shoes to a child who needs it for every shoe that is purchased. It's a simple, stylish and comfortable way to help improve the lives of people who need it most. In the first year, the company donated 10,000 pairs of shoes.
Toms shoes, including the Classic, have suede insoles and cushioning for soft comfort for your feet. It also features a latex arch support insert so your foot will avoid pronation (flattening toward the arches). These canvas flats have a rubber outsole that leaves the flat flexible while providing durability and resistance to wear on hard surfaces.
These are very reasonably priced shoes for quality and durability. Breathable canvas, durable rubber, cushioning and arch support will leave you very happy with these flats. Bonus that for a reasonable price, you are also giving a pair of shoes to a kid who needs them.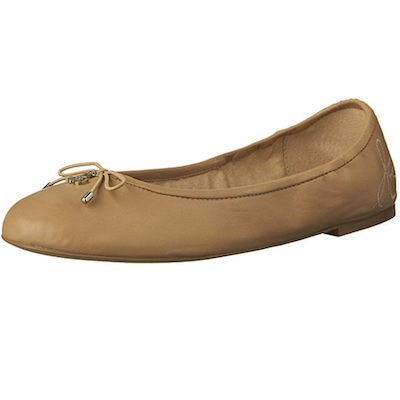 A flat you can wear with your business clothes, that cute summer dress, or anything else you like. This ballet flat is very flexible and super slim, as a ballet flat should be. It has a synthetic sole that is made from calf leather for softness inside and a sleek look outside. It comes in a variety of colors and prints to choose from - something for everything in your closet.
The upper in this little ballerina flat is made from soft calf leather that is dyed in a variety of colors and patterns so you're sure to find one (or three) that you like. The leather makes for a very soft interior for your feet. The synthetic sole on this flat is only ¼" but that is enough to provide the shoe with structure will keeping its appearance as a ballet flat.
These Sam Edelson ballet flats are in the mid-range for prices on our list. You get a very versatile little flat with a lot of style choices for the price, along with a little extra padding in the heel.

8

. Minnetonka Thunderbird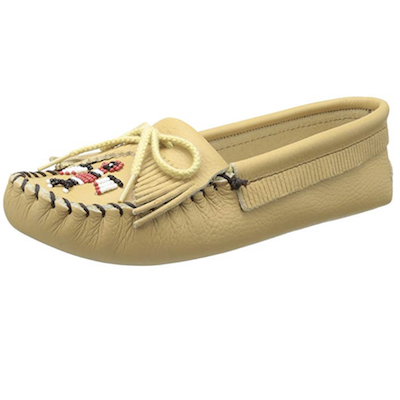 For 72 years, Minnetonka has been known for its moccasins and other quality products that reflect a free-natured, relaxed, American style. This leather or suede beaded moccasin reflects this reputation. It features a graduated fringe in kiltie over the midfoot and super soft, comfortable materials throughout.
With the Softsole, you get a choice of soft suede or smooth, comfortable leather upper with a suede or leather sole. There are no more luxurious materials for shoes. This moccasin will envelop your feet in softness and for an extra measure of comfort, it has a padded cushion insole.
The Thunderbird Softsole is in the lower range of flat shoes on our list. For a reasonable price, you get classic aboriginal American design, in a soft, comfortable moccasin.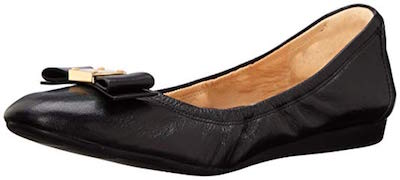 The perfect combination of casual and dressy, the Tali Bow ballet flat by Cole Haan is a great choice for everyday comfortable footwear that's easy to pair with both dresses, skirts, and trousers. It's easy to dress up or down, depending on where you're headed, and it offers plenty of features that make it a great choice for work, or days when you're expected to walk more than usual. Available in black or nude, it's one of those pairs everyone should have in their closet.
With soft leather used in the construction in the Tali, it's a comfortable and durable pair of footwear. The upper is smooth and soft, easy to break in and highly breathable, while the lining and footbed are also made with leather - being soft to the touch. In addition to featuring Cole Haan's signature, Grand. OS cushioning system, the Tali Bow is a great choice for those after a lightweight and flexible pair of summer and spring shoes. The leather sock lining is fully padded, while the rubber outsole further increases the level of shock absorption, making these an amazing choice.
Though the initial cost of the Tali Bow is higher than most other models on this list, it's an investment that's worth it in the long run. Regardless of whether you opt for the black or nude, you'll find yourself reaching for these flats almost daily, and you'll wear them happily on a variety of occasions where you want to look your best, but prefer to stay away from painful heels.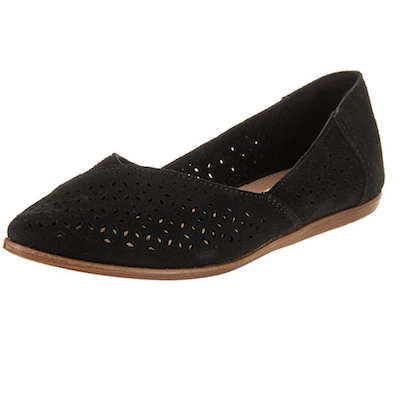 The second Toms flat on our list, this is a pointed-toe shoe that comes in a variety of colors, upper material, and styles. Each features an antimicrobial liner and rubber outsole for traction. With every purchase of a Toms shoe, the company gives a new pair of shoes to a needy child.
The rubber sole on this cute little flat is thicker than on most flats and will provide for a durable shoe that also has good traction on most surfaces. In addition, they are durable and will help you with a variety of surfaces. You have a choice of chambray or suede in the upper for this shoe, in a variety of colors and styles that include dying cuts and patterned suede detailing. With so many choices, you are sure to find the one that suits you
These shoes are in the mid-range of prices for the shoes on our list and they are worth the money, The feature a thick, padded insole for a flat, along with the wide style choices, comfortable materials in the build, antimicrobial lining and a rubber sole. This shoe will suit casual and business casual wear.

Subscribe to our Newsletter