Best Black Shoes Reviewed & Rated
In a Hurry? Editors choice: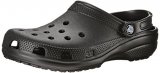 Test Winner: Crocs Classic Clog

A great pair of
high-quality black shoes
is an essential item in any versatile closet. Basic black is always in fashion and is always a classic wardrobe staple. Everyone needs at least one pair of basic black shoes to complement their apparel. They are chic and often go with a wide variety of clothing and accessories as black is a
neutral color
that can be paired with many other colors. Stop for a moment and think about your favorite outfits and the shoes you may consider wearing. Even if your initial thoughts did not include this color, it is likely that a pair of black footwear would complete several of the outfits that came to mind. Depending on the occasion, you may need
black dress shoes
or a pair of plain black sandals. Fortunately, they can be found in every size, shape, and style.
Standout Picks
Criteria Used for Evaluation
Comfort
Footbed
The footbed or insole is the part of the shoe where the foot rests on. Insoles are often made with specific structural elements and unique layers that offer better fit, support, and comfort. The materials used to construct the footbed include;
EVA (ethylene vinyl acetate): EVA is a man-made foam material that absorbs shock and adds extra comfort. EVA can be compression molded to fit desired shapes and sizes and can be crafted from both recycled materials or mixed with other materials, including cork.
Naturally Occurring Materials: Natural materials often used for footbeds include; latex, rubber bamboo, rope, cork, and leather. These materials offer a lot of benefits like comfort, breathability, and durability, but some wearers avoid them because they are not vegan materials.
Outsole
The outsole is the part of the shoe that makes contact with the ground and protects your feet from hazards. The outsole is also the part of the shoe that will prevent slips, guard against water, and allow you to walk on specific types of terrain.
One of the most popular choices for outsoles is, Vibram®. Vibram outsoles are long-lasting and can be found in all different styles of shoes, in-particular, hiking shoes. Vibram outsoles offer excellent grip and prevent any accidental slips or falls and are a registered trademark of Vibram S.P.A.
Upper
The upper is the whole part of the shoe that covers your foot. The upper may be stitched or molded with the sole to make one whole unit. Upper units are made from a variety of materials, both natural and synthetics. Leather is a popular choice for the uppers' material because it is breathable and help maintain a consistent temperature. Synthetic materials cost less than animal skins and are widely used in all types of shoes today. Synthetics provide waterproofing and durability which makes them a good consideration.
Heel
The heel can mean either is the back area of a shoe, or the solid part that holds the heel cup The most common heights for a shoes' heel to be are:
8/8 (1-inch)
16/8 (2-inch)
24/8 (3-inch)
There are also an array of unique heel structures and styles, including:
Stacked Heel: A heel consisting of horizontal lines, giving the appearance that the heel is made up of stacked layers of leather.
Negative Heel: A favorite choice for comfortable footwear, this is a type of footbed with a lowered heel area that is designed to encourage more natural foot placement.
Sculpted Heel: A type of high heel that's made from high-impact plastic and is molded in one piece.
Wedge Heel: A chunky heel that extends from the back of the shoe to the ball of the shoe.
Materials
Airflow
Breathability and airflow are a principal consideration when selecting a pair of shoes. Black shoes, in particular, need to have adequate ventilation because dark colors have a tendency to trap heat and make for a warmer wear than a shoe of lighter color.
The materials used to construct a shoe can make a big difference in how well feet can breathe. Certain materials are better for airflow than others, materials like:
Leather
Mesh
Polyester
Synthetics
Moisture Control
Controlling moisture and eliminating sweaty feet will make for a comfortable wear and will help prevent odors from occurring. When selecting a pair of black shoes it is a good idea to look for ones with either built-in air ventilation holes or moisture wicking properties. Moisture wicking is a process that pulls moisture away from the foot and wicks it towards the outer surface where it can evaporate easier.
If you have your heart set on a pair of shoes that don't wick moisture you can try one of these long-standing tricks to help eliminate moisture and sweat; sprinkle talcum(baby) powder in your shoe, or use a deodorizing powder from the store and dust it in your shoes.
Use
Business/Dress
Dress shoes are worn for formal or smart casual gatherings and could be described as the opposite of an athletic shoe. Dress shoes are the typical attire for dancing, on special occasions, and for attending a more formal party.
Traditionally, dress shoes, particularly men's, will be made entirely from leather which exudes elegance and style. Though rubber can commonly be used to form the outsole which would offer a more durable and less slippery shoe but can also detract from the shoe's prestige. Black is the perfect shade of dress shoes because it matches with practically every color and offers an air of professionalism.
Casual/Athletic
Casual and athletic shoes always look good in black. Dark colored footwear gives an illusion that the wearers feet are smaller than they actually are and black tends to match with any outfit.
For athletic shoes, black is a popular choice, in part because it tends to conceal dirt and mud better than light colored shoes and this is often a problem athlete's face.
Summer/Slip-On
Summer shoes don't have to be light colored to look good while keeping you cool and comfortable. People have a tendency to perceive black shoes as being too warm to wear in the summer but that's just not true.
If you are planning to wear dark footwear in warm weather opt for a pair that is made of light and breathable materials such as canvas, and mesh.
Style
While style is often a matter of personal taste, we've checked thousands of online reviews to see what people are saying about each of the products on our list. Some things, such as sleek design, seamless construction and overall weight and shape of the shoe, were common likes or dislikes among buyers of each product.
To evaluate style, we considered everything from the design, color, shape, weight, lines and overall construction of the shoe in question. While no one wants to wear an uncomfortable shoe, they also don't want a comfortable shoe to be ugly on the eyes. We've selected all of those on our top 10 to be not only stylish but also comfortable, true-to-size, supportive and durable.
The higher the score on the "style" metric, the more fashionable we and the community of buyers we surveyed deemed the product to be.
10 Best Black Shoes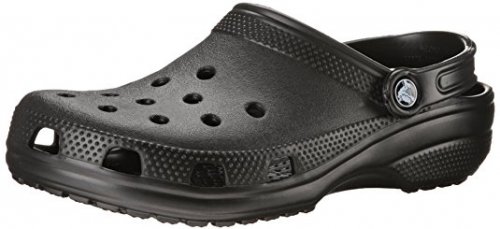 The Classic Clog from Crocs is a staple for many wardrobes as it is a multi-purpose shoe that can be worn in many casual settings. From a day at the lake to a day at the park, the Classic Clog is a great fit because it is waterproof and sturdy. With such versatility, many people find they want to buy a Croc in every color.
The Crocs Classic Clog is a highly versatile shoe that is good for water sports, hikers, and others in the market for a functional shoe.
This shoe is designed with multiple ports in the side of the shoe to allow air and water to flow through. This design is perfect for those who may enjoy an active lifestyle.

2

. Adidas Cloudfoam Ultimate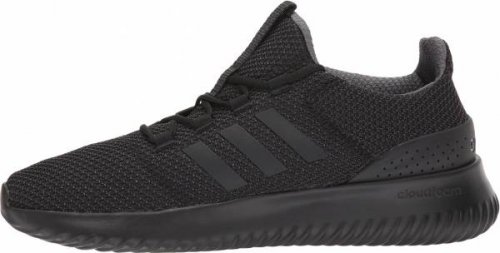 Cloudfoam Ultimate tennis shoe is available in an all black lace-up style for athletic training or casual wear. These tennis shoes are a reliable shoe in a classic style that lasts from year to year. These shoes are an excellent, stylish option that fit your feet and budget well.
As the name implies, clouds give a sense of weightlessness and eases pressure. The memory foam that comprises the insole of the shoe is Adidas's patented Cloud Foam, provides the perfect pressure relieving memory foam that also has the ability to provide support using an EVA compound that gives the best level of support to those with high arches. The knit upper gives this shoe a great ability to breathe.
The knit mesh design can be found throughout the entire Adidas Cloud Foam line. Although the Cloud Foam Ultimate is designed to be a lifestyle shoe and not perfect for any particular sport or activity, airflow and breathability is still an important feature that can make a difference in the usability of the shoe. As many who wear this comfortable shoe report everyday wear, the cool factor of the breathability is one of the main reasons many enjoy this shoe. The mesh upper of the shoe gives great airflow that can really be felt.

3

. Easy Spirit Traveltime Clog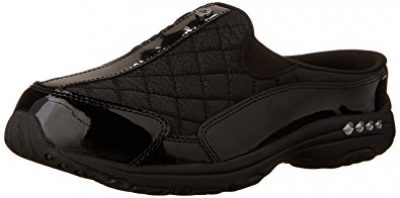 The Easy Spirit Traveltime Clog is a great choice for those interested in a shoe that provides great arch support and durability. This clog is designed for walking and standing for long periods of time. The shoe is available in several colors and widths for a wide range of options. The Traveltime Clog is so comfortable that you will want to wear them everywhere you go.
The padded and removable insole is a great feature because the insole can be washed. The padding absorbs shock and provides a cushioned step.
The Easy Spirit Traveltime Clog is designed with a durable rubber outsole for added grip and traction which makes this shoe a great choice for those who are concerned about slipping.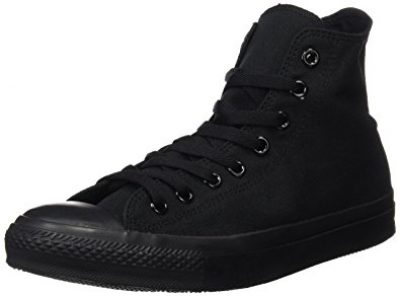 The Converse Chuck Taylor is a classic shoe that has withstood the test of time. This iconic shoe is a gender neutral option for those looking for a casual black shoe that is good for walking or for accessorizing a cute outfit. Gentlemen may prefer to wear these with jeans or shorts. Ladies will find that the Chuck Taylor's are a nice addition to shorts, skirts, jeans, and casual dresses.
While the Converse Chuck Taylor may be worn with or without socks, the unlined and cushioned insole means socks are not necessary unless you will be doing a lot of walking.
The Converse Chuck Taylor shoe is a classic style that features a rubber toe box, contrast sidewall trim, and side air vent holes to improve breathability. The Converse Chuck Taylor is an iconic style that has been around for years and will continue to be a popular choice for casual shoes for years to come.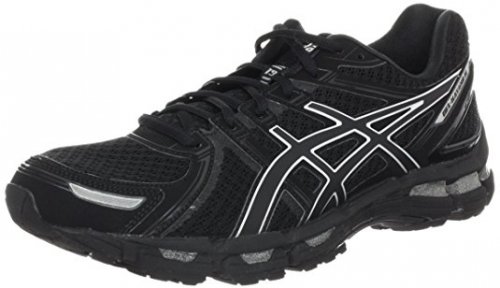 The Asics Gel-Kayano 24 tennis shoes are a great choice that can be used for activities including running and cross training. Carefully engineered, the Asics Gel-Kayano meet the needs of those in the market for black shoes.
The rearfoot and forefoot gel cushioning systems are designed to absorb the impact when you land on the balls of your feet as well as when your heel hits the ground.
The Gel-Kayano 24 features memory foam around the collar that mold to your heel to create a custom fit which reduces heel slippage and improves the fit of the shoe.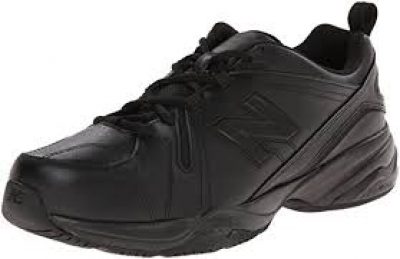 Looking for a blackout style sneaker to keep you training hard in and outside the gym? New Balance's MX608v4 give a solid athletic sneaker a mean clean look with total black coloring from uppers to sole and logo. With internal shank to help provide support and stability, traction sole with a 10mm drop, and Abzorb heel technology, you'll be sure to crush old personal bests and step up to the next goal.
Not only does the MX608v4 have a thick rubber sole to help absorb impact, but it's also incorporated an EVA injection molded midsole and footbed for cushioned comfort. The Abzorb heel is a proprietary technology with foam-based polymer that helps absorb shock, especially in the heel, and help prevent pain. Leather uppers help keep this shoe flexible but durable for long wear.
The New Balance MX608v4 although an athletic sneaker, can be worn with many casual style outfits as well as giving solid performance in the gym or for outdoor athletics. It's blackout style from sole to logo to uppers keeps it looking sleek and clean, and in the gym, they give a little bit of aggressive prowess to your workout. Careful on the court though, as these soles tend to leave scuff marks on the floor!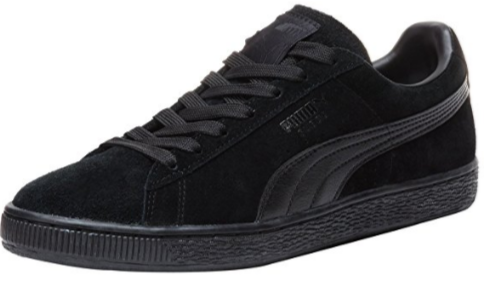 The PUMA Classic Suede is the most popular of all PUMA shoes with good reason. This classic shoe is loaded with comfort and street style. A special rubber outsole makes sure your feet are firmly on the ground while a padded collar adds extra cushion. Built-in perforations provide extra breathability and allow air to flow freely around your toes and feet, while a trendy suede upper keeps you looking on-pointe.
PUMAs' Classic Suede is the most popular and well-known of all PUMA shoes making these a long-standing pair of footwear that never seem to go out of style. Look effortlessly cool in these all-black consumer favorites.
A lightweight and breathable shoe, the PUMA Classic Suede will keep your feet feeling great. A padded collar adds additional cushion while built-in perforations allow your feet to breath. The Classic's super comfy suede upper and special, maximum grip rubber outsole, will have you coming back for more.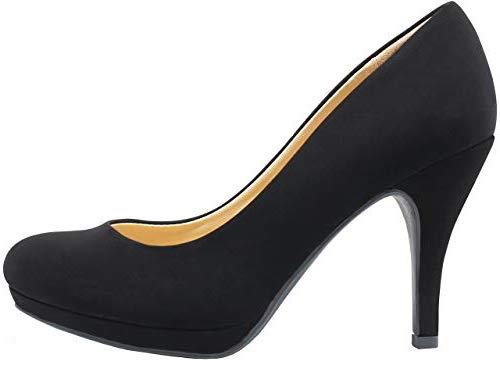 The classic styling of the Marco Republic Rome heels makes them a great option for nights out or during work. With a memory foam insole and a comfortable 4" heel, you'll have no problem wearing these for long periods of time.
The 4-inch heel on the Rome's gives just enough height to accentuate the calves and legs without feeling uncomfortable of off balance. The rounded toe keeps them classic and suitable for either work or nights out.
The textured outsole gives you non-skid traction to keep you on your feet in any conditions while the memory foam insole keeps your feet comfortable and cushioned all day. Add in the synthetic materials that don't use any animal products and these vegan-friendly shoes are a win for everyone.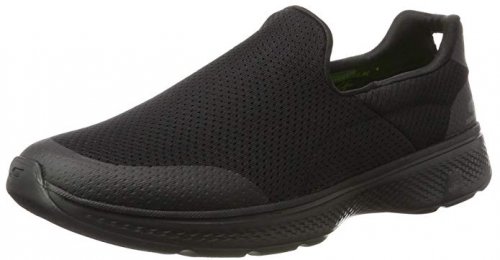 The Skechers Performance Go Walk 4 are unique shoes engineered with advanced technology that provide sensory feedback to the brain. Other elements of the shoe are created with proprietary elements as well that promote a natural stride which prevents back and foot pain. The slip-on style offers a quick option for sliding into a comfortable shoes.
One of the most important features of the Skechers Performance Go Walk 4 are the Goimpulse sensors that move together and independently to provide sensory feedback to the brain which helps to promote a natural stride.
This proprietary design consists of an injection-molded compound that allows memory retention to help absorb impact. The memory retention also creates a custom fit that molds to the foot.

10

. Bruno Marc Hutchingson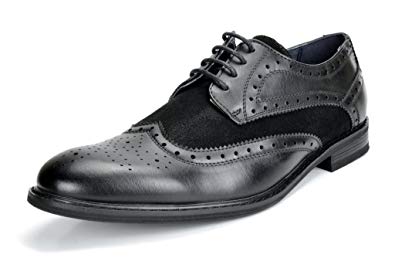 For a formal pair of oxford style shoes, Bruno Marc Hutchingson gives the basic classic oxford an upgrade. Wingtip toe gives an added sophistication and décor to the basic black look, and brogueing adds some design element as well as function to keep you cooler. A more formal style of dress shoe, it's best suited to business functions or formal occasions and gatherings, even weddings! A perfect option for a bit of classic style with individual flair.
Most oxford style footwear consists of a closed lace system which pulls the vamps together leaving a little gap. It gives a very formal look to the shoe, keeping clean and classy in the forefront of design. The Oxford Wingtip ups this classic styling with patters of perforations called brogues, that not only add some design flair, but function to help cool the foot as well. Wingtip toes make this pair fancy for dancing, or wherever you want to make an impression.
Faux leather constructs the uppers, giving the shoe a sleek somewhat shiny look and appeal. A wooden heel gives a confident height, and hidden eyelets typical of oxford style footwear keep the uppers looking clean and sleek. And, as a little added bonus, the soles of these shoes have a brogue pattern etched into the bottom so you can step in style leaving your mark!

Subscribe to our Newsletter