Best Pin Up Shoes Rated For Vintage Enthusiasts
In a Hurry? Editors choice: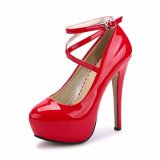 Test Winner: Ochenta Platforms

From adorable,
slightly naughty
shots of girls at play on the sands of sunny beaches to the painting of film stars on the nose of a WWII Bomber to Betty Boop look-alike ladies on calendars, leggy babes have been gracing the pages of magazines and the walls of dormitories and auto mechanic garages. It's a standard throughout the western world and a tradition most perfectly represented by Bettie Page. Scantily clad but never naked, these babes were smart enough to understand the power of great thighs and just the right pair of pumps. Flirty skirts, lingerie and
short shorts
, plenty of cleavage and a bare midriff aren't the important part of the picture. It's the footwear. Super high heels or Mary Jane flats, a calendar girl always knew just how to turn the calf exactly right for excitement.
Standout Picks
Criteria Used for Evaluation
Accuracy
If you're building a collection of this style of footwear, you should be aware that there are authentic reproductions available as well as retro fashion styles. Retro styling is usually made to look very much like the originals with lesser materials so you can enjoy having a pair without spending too much. They don't last as long as the more expensive brands but they can be fun for the big parties, a night out and, especially, for the photo ops. Authenticity might be important if you're competing or using the footwear in a professional performance of any kind but if you're just spicing up your personal style it's entirely up to you to decide which type best fits your look. It's more important for you to be comfortable in your footwear both physically and emotionally than anything else. If you have a fear of falling on your face then it is better to opt for lower heels or flats. If you love to dance make sure your heels and toes won't be rubbed raw or it won't matter how good you look, you won't have a good time. If you just want to sit on the bar and dangle your legs, your options are wide open. Just make sure it's okay to sit on the bar!
By authenticity we don't necessarily mean the actual footwear made in the 40s and 50s, we mean reproductions of the original using the same coloration and cut, a design the perfectly replicates the details and hardware, down to the nails. This is truly impressive craftsmanship for which you will pay a high price. They are likely to outlast anything else you can find but only because you will not find them as fashion friendly. It's surprising just how much colors and fabrications have changed over time and as much fun as the reproductions are, they probably won't go with everything in your wardrobe. Details also date the look and freeze it in time which makes a precious reminder of days gone by, but sometimes an old snap style isn't as good as a newer hook for closures. We've also come a long way with arch support and width that accommodates more feet than just the long and narrow supermodel foot shape. Podiatrists recognize our tendency to pronate or supinate when walking which can be exaggerated by old-fashioned footwear. Newer models are made to encourage, and sometimes coerce, a neutral position while walking.
Retro is a little different from reproduction in that it suggests, very strongly these original styles, the ones you might find on the feet of calendar girls or even Shirley Temple. They turn up in collections over and over again because they are sexy and fun but each time they are given a bit of a twist to fit modern sensibilities. Hardware changes and colors are made to fit with a more modern wardrobe. The catwalk of the 60s sported Mary Janes by Mary Quant, with a flat tap for a little girl look on Twiggy. The MJ straps continued to show up in high fashion collections in patent leather from Yves Saint Laurent and Dior with low heels. Courtney Love gave the 60s a sexy twist and top designers Narciso Rodriguez, Marc Jacobs, Manolo Blahnik and Jimmy Choo have given us their take on a Mary Jane. With bling or metallic finishes, faux leather and suede or denim and printed fabrics, this style is amazingly versatile. Similarly, the stiletto is easily transformed from the original bad girl style into a sweet and flirty model with polka dots and bows. Likewise platform sandals with wonderful colors and hardware that gives them a modern finish. Lace or ribbon straps bring something new to flirty sneakers and just about any type of T-Strap design will adapt to delicate metal chains, or plastic, or rope fabrications. Shiny, dull, polka dot prints and lace, they all accomplish the same suggestion of sex and innocence that makes this calendar girl footwear.
Comfort
"Comfort" and "heels" are two words that don't always go well together. After all, the shape of heels means your feet have to be in an unnatural position, so they're inherently uncomfortable. While this discomfort can't always be avoided, there are things you can look out for to minimize the amount of discomfort you encounter with them.
Height: Sky-high heels are a signature pin-up icon. Their overall appearance is aesthetically pleasing, and according to some, they make your legs look longer and more slender. However, high heels can be daunting for those who aren't familiar with them, and styles with thin heels can pose problems when it comes to balance. Consider your own needs and don't be afraid to Get something a little on the shorter side. Your feet will thank you.
Size: This should be a given honestly. If a certain pair of shoes aren't available in your size or run overly small or large, this is going to have a negative impact on comfort. You also need to consider the width of a shoe. It's a good idea to look at consumer interviews, so you can get a real-world idea of how the shoes fit, Or if the sizes run a certain way.
Shape: WhIle pointed toe sections are popular and have a very retro feel to them, they're also not the most comfortable since they tend to squish your toes. These sort of shoes don't fare well for those with wider feet, so if this is a concern for you it's best to look for something with a more rounded toe.
Style
It all started when Camilla Clifford, the most popular of the Gibson Girls, posed for photos that showed off her fabulous figure in modest lingerie. An actress, she really knew how to play up the hot body with a sense of innocence. The girl who made it stick was probably cartoon flapper, Betty Boop. Style after popular actress Clara Bow, Boop's curvy figure was an exaggerated version of a sexy imp but, when paired with huge innocent eyes, she was enormously appealing throughout the 30s. The flapper look she popularized is grounded squarely in the 1920s but Hedy Lamarr and Betty Grable stepped into the role as real-life depictions of the perfect calendar girl in the 40s. Lili St. Cyr, Joi Lansing and Jayne Mansfield all made their mark in the field but it was Bettie Page that makes us think of the quintessential naughty sweet girl on a calendar. It's a tradition that carries on to this day in fashion and fun play. Dita Von Teese is, perhaps the most current representative of the style.
In short shorts and a crop top or beachwear and lingerie, these girls could make waitressing look sexy but things often went much further. Patent leather boots, whips and chains and garter belts with black stockings were on the naughtiest end of the spectrum but even the 'torture' scenarios looked like good fun with willing participants and it was always ladies only. Current fashions owe a lot to this style which can make a strong statement about the empowerment of the feminine. 'Owning it' ala Madonna, and wielding your own whip, even if it's a prop or a feather, makes you master of your own sexuality and allows you to determine just how sexy or sweet you choose to be. In flats or stilettos, Mary Janes or kitten heels, let your imagination be your guide. You can show the toes and hide the lace because no one has to know what you're wearing underneath or you can put it all right out there with flirty short skirts and T-strap sandals. It's a time-honored tradition that puts you in charge.
Value
We talk about value with every product we consider, as it is one of the most important things about a product. We look at what the shoe in question offers, as well as the price and how it compares to similar shoes on the market. It's a good idea to look at reviews for every product you consider,t his way you can get a general idea of how the shoes can benefit you. Value is subjective however, we give you the information you need to make the decision, but whether or not something is good value depends on what you consider to be important.
Versatility
Whatever you wear, be it pants, skirts or lingerie, whatever the length, this look is all about the leg. And the leg is all about the footwear. Like a diamond in the perfect setting, even a glimpse of calf or ankle can be incredibly inviting if presented with just the right surroundings. Everyone knows that a stiletto adds length to the legs and pops out even the flabbiest calf muscle. Thighs never look so good as when those quads are engaged for balancing the rest of your body atop a towering pair of platforms. Really, that's exercise! But even a flat can be flattering if you wear it with the right attitude and that comes from confidence. It never hurts to have a look in the mirror and make sure you're making the statement you want with those Mary Janes. It can also give you a little lift to see just how great you look with a bit of a chunky heel to give those arches a lift. Even if you've never been happy with the shape of your legs you can always find footwear that gives you the look you want. Sometimes it helps to add stockings for even a bit more flash or control. Patterned or shiny, they can add some shape or change the size of your calves and ankles, even your thighs. They can also help remove any concern about the color of your skin, bruises, blemishes, and scars.
You've got lots of options for the calendar girl look. It fits any style for any occasion if you know how to work it. Sneakers will do the trick if you're doing an outdoor, beachy or teen styling. Oxfords are fine and there are plenty of flats that have T-straps and Mary Jane styles, even loafers will work but they're more convincing with a rounded toe so you might have to hunt that down. Wedding wear is always a treat in this fashion vein because the options are limitless and there an amazing number of fancy footwear manufacturers who embrace the lacy, sweet and sexy styles that make these more of a confection than plain old walking wear. Parties or a night out demand comfort that invites dancing and standing around looking fabulous. There aren't a lot of rules in this game, but there are lots and lots of options and some suggestions. Tried and true are the Mary Janes, with or without heels, ankle or T-strap, it's a style that says innocent but tends very easily toward the naughty with just the right details. The particular footwear originated in a 1902 Buster Brown comic strip. It's even named after the cartoon character who wore them.
So when we say tried and true, it's very nearly the original. On the other end of the spectrum, it's tricky to make a chunky, thick-soled flat work with the calendar girl look but if you're determined it's certainly worth a try. Add ankle socks with a bit of lace around the cuff and a thick ribbon lacing and you're very likely to pull it off. Flip flops are fair game with the right nail polish, sandals absolutely but we would caution against socks with completely flat sandals with little foot covering. They are meant to show skin and are likely to disappoint if it's covered by a sock. Also, taking into consideration the amount of layering and the number of colors on your footwear. Ankle socks are fine but they play better in pure white with a bit of trim or a color that offers a complement to the real star: your footwear.
Top 10 Picks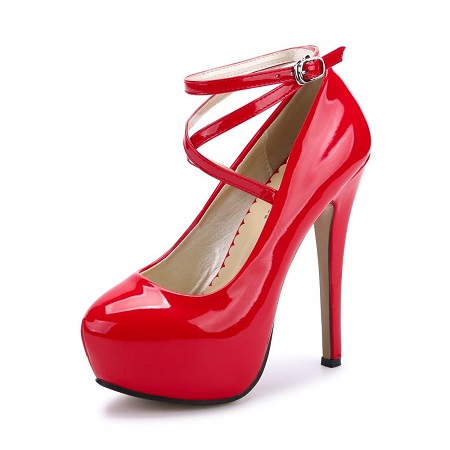 These hidden platform pumps offer a simple style, but they will add that special touch to any outfit. The 5.5" heel will elongate your legs and give you a sleek silhouette, while the fourteen (yes, fourteen) different color options mean you can pair these with anything.
Wide Range Of Colors
Isn't it great when shoes come in a wide variety of color options? The Ochenta platforms are available in an impressive fourteen colors, ranging from classic black to cherry red and sky blue. This means that you'll be able to find a design that goes with anything in your wardrobe.
Buckle Closure
While a good portion of the shoes on this list are slip-on designs, we like the buckle closure on the Ochenta. It allows for a more customizable fit, and the ankle straps add a little extra appeal. Buckle closures also ensure a secure fit, which is important when you're dealing with 5.5" heels.
Cost and Value
Coming in at under $50, these pumps are surprisingly inexpensive! This along with the wide range of colors and sizes make them a very versatile shoe, while the buckle strap keeps them comfortable and secure even with long-term wear.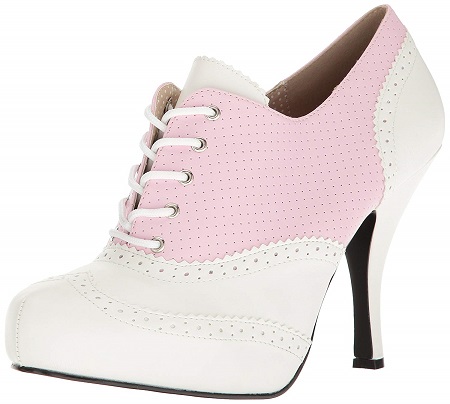 This platform pump from Pleaser Pinup is probably one of the cutest shoes on this list. The two-tone style with contrasting toe section is the epitome of retro cuteness, while the 4" heel and hidden platform give these shoes some extra sex appeal.
Synthetic Outsole
Heels have a smaller surface area on the outsole than other shoes, meaning that traction can sometimes be limited. However, these pumps feature a fully synthetic outsole, promoting traction and helping to prevent embarrassing and painful spills.
Hidden Platform
The 4" heel adds height and sex appeal, while the hidden platform inside of the shoe adds comfort and stability. The 3/4" platform means your feet don't have to strain as much on such a high heel, making them more comfortable, especially for all-day wear.
Cost and Value
Okay, these shoes are cute, but they're also a little more on the expensive side. However, they feature an iconic style that looks straight out of a 1950's fashion spread and are versatile enough to be pair with more casual wear if you see fit.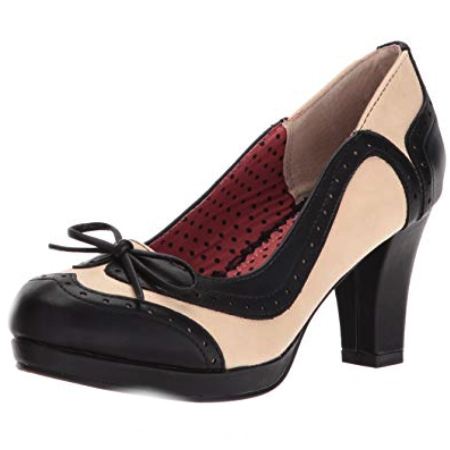 A paean to the original poster girl, gracing the pages of every slightly naughty magazine and calendar in the 50's, Bettie Page inspired footwear is never out of style. Walkable, wearable and worthy of the name in a dozen different designs. New construction with more vivid colors and stronger materials, every girl can go for 'the look' that gets the looks.
Pose Worthy Pumps
A classic cut, two-tone oxford, spectator pump with a ½" platform and a 3" heel. In blush with a perforated black layer for contrast. Lovely polka dot fabric lining.
Camera Ready
There's a playful ocelot print on the outsole so you look as good going away as you do walking in. Great with skirts or retro fashion suits and dresses.
Cost and Value
Very versatile style, this is just right footwear for anything in your wardrobe suggesting a style from the 1920s through the 50s. The mildly chunky heel and two-tone coloration give it the pumps an old-fashioned look with modern comfort and durability. Incredibly well-priced, these are great for everyday as well vintage dress. That's a lot of looks in one pair of pumps.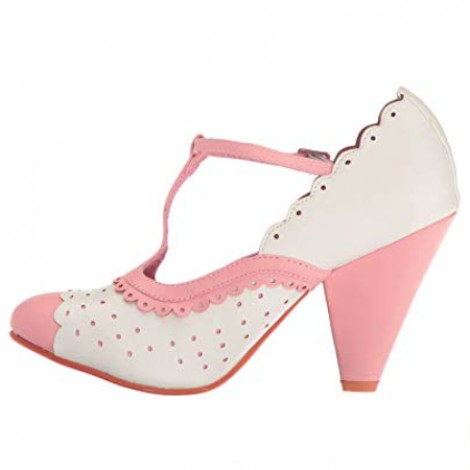 Think gems and glamour, a little lingerie and maybe a whip to go with your Patent Leather pumps. Bettie Page is all about the fun of flirtation and the big tease. And what's wrong with a little naughty fun if you're wearing comfortable footwear that makes you happy. Bettie Page brings out your bad girl in a really good way.
Fancy Fun
A definite dress up style from the Bettie Page collection, this Spectator pump is closer to the 40s style, WWII girl-painted-on-the-nose-of-your-plane look. Scalloped detailing around the heel and vamp layers are nearly confectionary.
Details galore
A classic pump with a lot of fun frills. There's a really fat tapered heel without a platform ala the authentic Mary Jane style. Layers of faux leather are detailed with punctured patterning.
Cost and Value
There are some really cute fabric linings inside including flowers and polka dots with lace lining the footbeds, just like frilly underwear. In Pink and White, Black and White, or Red an White. The t-strap has an adjustable buckled ankle closure. And the sole sports the classic Bettie Page ocelot print with tread. This one is a little pricier than the rest but it really pushes the look into special costume terrain. If it's Dress Up you're looking for this is the one.

5

. Cambridge Select Round Toe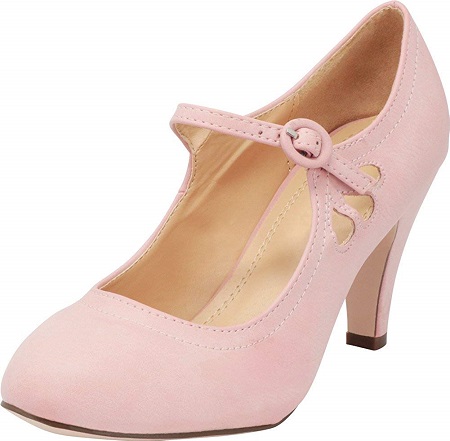 These mid-height Mary Janes from Cambridge Select are just the shoes for hanging out at the local diner with some friends. A 3.25" inch stacked heel gives a little extra height without compromising comfort or balance, while the impressive range of colors makes it easy to find your perfect pair.
Slip-On Design
Similar to most shoes on this list, these heels feature an easy slip-on design. This is less of a hassle than buckles, and easier to implement than zippers and other closure types. It allows them to be put on and taken off with ease.
3.25" Stacked Heel
Heels are nice. Having your feet hurt from wearing uncomfortable shoes isn't as nice. That's why these shoes use a modest 3.25" heel that will give you extra height and bring attention to your legs without being impossible to wear or walk around in.
Cost and Value
These are a great option if you're on a budget, as all size and color options cost under $50 at the time of this writing. In fact, with all of these impressive colors, you might end up buying more than one pair.

6

. Hot Chocolate Chocolaticas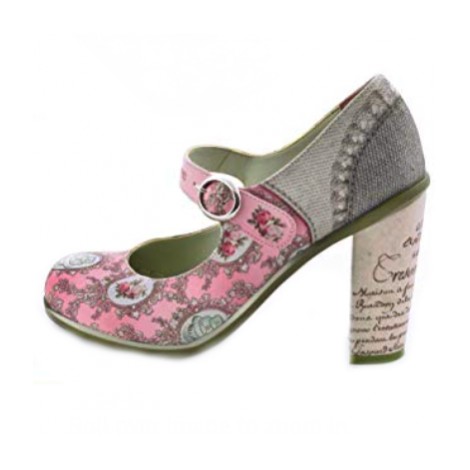 A totally new voice in design from Venezuela, Hot Chocolate Design has been turning out yummy treats since 2004. This brand that brings together art and clothing, accessories and home products. With a totally different sense of taste and an aversion toward the standard norms, the Hot Chocolate clothing line could be considered wearable art.
Sweet and Sexy
A chunky heel at nearly 4" with a wonderfully colorful toe box and a fully covered heel in blue jean print. The Marie Antoinette has a classic Mary Jane strap but also includes a set of removable spats that laces up ala the French queen's style. Snap closure under the arch.
Creative Construction
Fabric upper with flower print and closed toe with fully cushioned fabric, inner sole for super comfort. The rubber sole has unusual decoration stamps and there are tiny pictures on the toes in wonderfully wild colors and variety.
Cost and Value
Just a little spicy, this Hot Chocolate is as tasty as the name implies. A totally unique bit of fun to indulge your sweet tooth without any calories. There are green and pink minty colors, stripes, or variations of grays but the line has a wildly inventive selection. Vintage inspired colors and prints paired with glamour girl styling. Two different looks for the very reasonable price of one with the Marie-Antoinette which can go naughty or nice by applying the lace up vamp. A really nice price.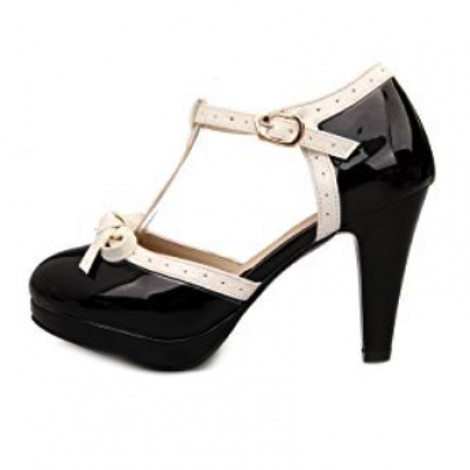 Mostly made in China for less expensive construction, this label does a good job of creating modern and reproduction vintage looks and the T-Strap Platform is no less spectacular for its country of origin. This is a bold unique design that reminds us of days gone by rather than copying the classic. Great fun for dressing up or adding flair to modern looks.
Extra Special Detailing
Man made Patent Leather with a rubber sole, a 3" heel and a ½" platform. The t-strap has a perforated pattern which is echoed on the leather trim around the upper opening.
Wow Factor
A fairly large leather-like bow graces the toe. The buckle hides an a hook closure so it's easier to adjust and close than a real buckle. Nice thick, tapered heels and rounded toes.
Cost and Value
A very inexpensive platform, design to remind, not mimic the vintage style, these flashy t-straps come in Black, Pink and Red with White trim or White with Pink trim. A great bargain if you're looking for a fun, good looking shoe that works in any era. Great for skirts and dresses but they could even dress up a any pair of jeans, too.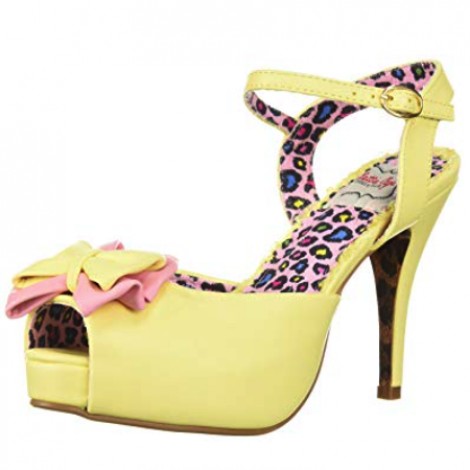 Bettie Page signature styling and details bring you the best of the 50s glamour girl styles. A few tweaks here and there bring this brand into the modern world with adorable details that were never part of the originals but bring to mind simpler, sweeter sexy days in fashion. Seductive and naughty these styles will get you the attention you want.
Long-legged Look
An adorable vixen-heeled sandal with flirty details, the platform is 1" with a tall heel. Sandal straps around heel and ankle with buckle closure. Inner lining is a brightly patterned fabric.
Cute and Clever
A bit of lacy lining runs along the sides of the arch adding yet another bit of sweetness to the sexy cut. Ocelot print on the synthetic sole is a great touch.
Cost and Value
A hot pair of sandals no matter how you look at them, the Vixen is a style that brings back the days of Calendar Girls and Betty Page cuteness but there's nothing old-fashioned about this footwear. Pastel yellow with a yellow and pink bow or pastel pink with a pastel pink and green bow. Wear them with skirts, shorts or your favorite pair of jeans. A great price.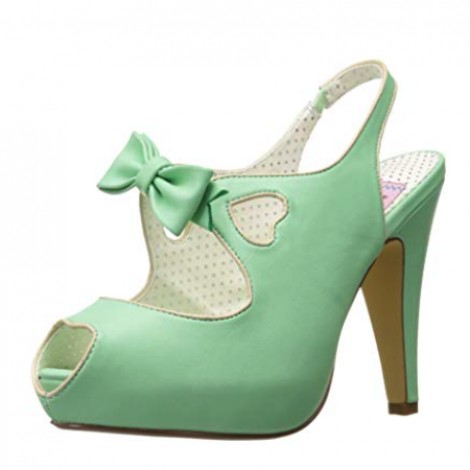 Cute and sexy isn't enough, even footwear from the 40s and 50s can be as comfortable as any modern pump, stiletto or flat. The Couture line is made to be worn all day and out into the night for fun and fantasy. Get your Bettie Page on and have fun til the sun goes down and comes back up again.
Sweet sophistication
A slingback with high sides a tiny vamp these heels are tall but not too dangerous. A Mary Jane strap across the ankle has a darling bow on in the middle.
High and Proud
Open toed, with an elastic stretch on heel strap for easy adjustment there's a 1" hidden platform and a 4 ½" heel so you are approximately 5 ½" off the floor.
Cost and Value
A gorgeous vintage style heel with a lot of adorable details. These are as sweet as their minty fresh colors in light green or pink. Lovely patterned lining on the inside and faux suede upper with a man made sole. A nice price for a pretty unique design that recalls the best of a more romantic age.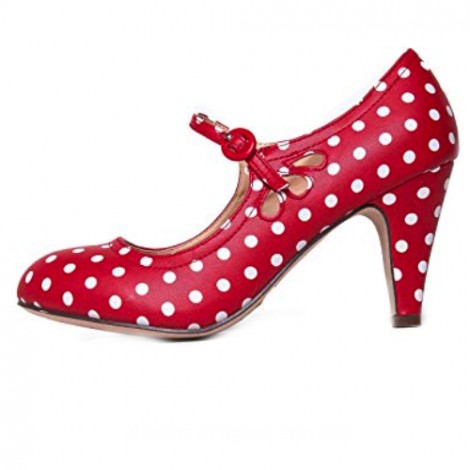 ZooShoo culture is fun and carefree for those who never stopped dressing up in whatever suits your fancy. Embracing the wild world of fashion for anyone, there are no limits and no demands for a single style identity. They bring you unique, impossible to find styles to feed your individual fashion passion. If it makes you happy, wear it with enthusiasm and share it with joy.
Tasty Details
A really nice pair of Mary Janes with a pretty and simple design and comfy padded insoles. Great detail in the scalloped, tear drop cutouts near the outer ankle strap and thoughtfully designed fabric-covered buckle closure.
All Day, All Night Fun
Beautifully rounded, closed toes with no vamp for a leg-lengthening look. Cushioned footbed and wrapped 3" kitten heels. Perfect for dancing, walking or hanging around and listening to the band.
Cost and Value
Comfortable and stylish, these ZooShoo Mary Janes come in a huge variety of colors like black or red with white polka dots; a flashy rose gold, light gold or silver metallic; silver glitter; lavender, taupe, tan, nude, red, rose pink, white, lemon, sea green, navy, and blue denim. So affordable you treat yourself to two or more!

Subscribe to our Newsletter