Best Rhinestone Shoes Reviewed & Rated
In a Hurry? Editors choice: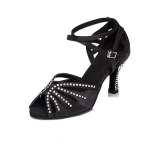 Test Winner: TTdancewear Performance

Are you a diva in disguise? How about a Rhinestone Cowboy? If you are looking for a pair of shoes that will make you sparkle and feel glamorous, then a pair of Rhinestone shoes is exactly what you need! Rhinestones are like simulated diamonds that were originally made from rock crystals, but since the 19th century have been made from crystal glass or acrylic polymers. Rhinestones have long been a part of
fashion culture
around the world and are still a pillar of individual expression.
Standout Picks
Criteria Used for Evaluation
Comfort
The comfort of a shoe is a vital aspect in determining whether or not you will be satisfied with wearing it. Uncomfortable or poorly fitted shoes can lead to all sort of problems including sore and fatigued feet, muscle aches, stiff lower back, hip pain, blisters, and more. The best way to prevent these kinds of painful conditions is to wear shoes that provide enough support and cushioning to absorb the shocks that travel through the legs and feet with every step. It's best to look for a shoe that has a cushioned footbed and added arch support, as well as a solid outsole that will prevent you from falling on slippery surfaces.
Another important part of your overall comfort is having cool dry feet throughout the long hours of the day. A material that pulls moisture away from the foot and pushes towards the outside is highly recommended, an excellent material for wicking moisture is leather. Preventing sweaty feet is the best way to combat shoe and foot odors because the bacteria which thrive in moist environments are what's responsible for odors in the first place.
To prevent a buildup of sweat and odor purchase a shoe that provides adequate airflow to the foot. Aspects like ventilation holes, an open-concept design, and breathable materials, will make the world of difference when it comes to your overall happiness and will provide a more enjoyable environment for your feet to ride in.
Brand
The biggest name in crystal rhinestones, by far, is Swarovski. Famous for their stunning collection of rhinestones that are precision-cut utilizing sand, quartz, and various minerals. Perhaps the most sought after Swarovski rhinestone is the Xilion Rose Flat Back which is also available in an Enhanced Rose edition that features a smaller mid-table and higher profile.
The second biggest name in rhinestones is Preciosa, a manufacturer that creates beautiful sparkles and has an amazing depth to the shine of their stones. Preciosa tends to favor red, pink, and purple tones, whereas Swarovski leans more towards blues and greens. In terms of pricing, both brands retail for nearly the same price-point. There are also many smaller manufacturers who rely mostly on platforms, such as eBay or Amazon, to run their business and who produce a lesser-quality of stone. These options are going to be cheaper than the bigger names, but will definitely skimp on quality.
Color
Rhinestones come in many shapes and sizes with the clear crystal and crystal Arora being the most popular rhinestones on the market. The Arora color is applied to the exterior of a clear rhinestone using a specific metallic chemical coating process. Arora colored stones have a similar appearance to that of a diamond in the play of colors that it creates, though Arora has a metallic sheen, which diamonds do not.
Though Arora is the most popular color, it's certainly not the only option available. Rhinestones range in color from black diamond to ruby red and encompass every color imaginable in between. Many manufacturers include variations of the Arora overtop of another color.
Style
There are three types of rhinestones used for apparel and footwear: flat back, hotfix, and sew on. Each has its own distinctive uses and features, as well as, the method for attaching them to a material. See below for a more detailed description of each of the three types.
Flat Back Rhinestones
Flatback stones come in one of two ways, foiled or un-foiled. The foiled flatback is the most popular for its ease of application. A flatback can be applied to almost anything and requires only a small amount of glue to attach.
Hotfix Rhinestones
Hotfix stones are the same as the foiled flatback with the exception of having an adhesive pre-applied to the backside. The hotfix options require the use of heat or steam to adhere, making them less convenient than the flatback.
Sew On
These crystals are almost identical to the flatback with the inclusion of a hole at each side. They can be sewn into shoes and clothes easily and are much less work if you're going to be removing them at some point. The downside to this type of crystal is that they tend to fall off or become loose much easier than the other styles.
Ride
With rhinestones available in every color, shape, and style it can be a task deciding which pair of shoes you're going to buy. First off, before deciding which rhinestones you're looking for, try deciding which style of shoes are going to best meet your needs. Once you've decided on the style of footwear, then move on to thinking about the stones. Some of the most popular styles of shoes with rhinestones available are:
Flats: Flats are one of the most popular styles of footwear to adorn with rhinestone accents and range from full-coverage to a few scattered stones that form a pattern. Rhinestones are often used to outline an image or logo and often form shapes and designs themselves. Rhinestone flats are perfect for a professional gathering or for a night out with friends and add a glimmer of excitement to almost any outfit.
Sneakers: Blinged-out sneakers are popular in the hip-hop community and are symbolic of being wealthy. They're also popular among young adults and are often worn by high school students. Women are also a target group for sneakers with rhinestones because of their sparkling effect when worn in the sunlight.
Heels: High-heels with rhinestones are popular with celebrities and are a favorite on the red carpet. These shoes offer the perfect look for a night at the lounge or for a dressy occasion like a wedding or prom dance. Rhinestone heels often have stones only on the heel, but can also be fully jeweled for added flash.
Sandals: Sandals are another common choice of footwear to adorn with rhinestones and are particularly loved by women and girls. You'll often find rhinestones along straps and heels or along the edges of small designs and logos.
10 Best Rhinestone Shoes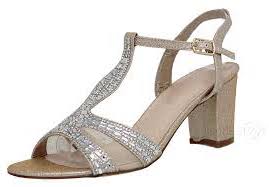 This chic t-strap slingback sandal is lightly padded for a comfortable wear and has a 2.5-inch heel for an easy walking experience. There are seven colors to choose from including black, navy, pewter, red, nude, rose gold, and white.
These sandals have a gorgeous t-strap slingback design and feature rhinestone accents along the straps. They have a low 2.5-inch rise and statement outsole that makes these a sleek sandal for summertime wear.
A lightly padded footbed makes for a comfortable wear and their medium width makes these sandals a great fit for most foot types. Designed with walking comfort in mind these sandals will keep your feet happy all day long.

2

. Jessica Simpson Energee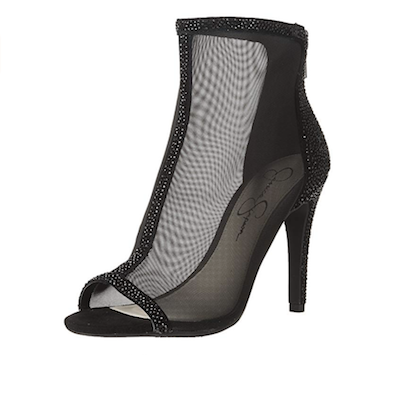 The Energee is from the Jessica Simpsons signature clothing line and is a fun playful pair of rhinestone heels. These sexy shoes feature hotfix rhinestone details and a memory midsole for added comfort, along with a peep-toe design that's flirty and is perfect for nights out or for any kind of dressy occasions.
The Energee boasts a back nylon zipper for easy on and off wear and a secure fit. It's made from textile materials that are breathable and lightweight, along with a synthetic sole that prevents slips or falls. The rhinestone detailing is made with hotfix stones that won't fall off even with regular wear.
A memory midsole contours to the shape of your foot cradling it and providing a cushioned fit that your feet will love. Their open concept design is breathable and keeps feet cool and dry preventing odors from occurring. These Jessica Simpson shoes are a total bargain and offer great features for their price-point. Walk in complete comfort and gorgeous style thanks to the Energees' trendy design that offers excellent comfort enhancing benefits.

3

. TTdancewear Performance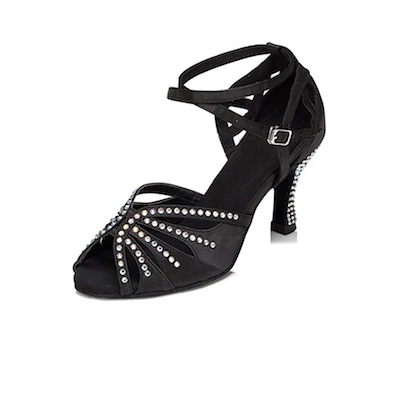 TTdancewear is a successful dance shoe manufacturer who has been in the industry for nearly a decade. They make high-quality dance-inspired footwear like the Performance which features attractive rhinestone detailing and is available in both 2.5 and 3-inch heel heights.
The Performance by TTdancewear is a low-to-mid-rise pair of strappy sandals that are available in seven colors: red, black, nude, gold, silver, and tan. For every color option, you can also choose between two heel heights, 2.5-inch or 3-inch.
These sparkling ballroom dance shoes feature a suede sole and a ballroom quick-release buckle closure system for easy on and off wearability. They're a super flexible and ultra-lightweight pair of shoes with eye-catching rhinestone detailing.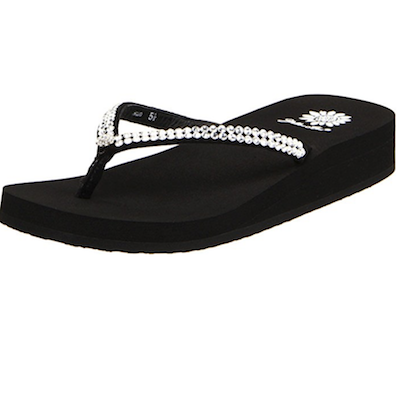 The Jello by Yellow Box is available in 13 colors including three variations of black, red, teal, pink, multi, white, blue, and smoke. It's a super-cute and oh-so-comfortable summer sandal that dazzles thanks to rhinestone accenting.
The Jello is made in the USA and has an anti-slip synthetic outsole. Their low-rise 1/4-inch platform makes for easy walking and they're made from high-quality leather materials. These Yellow Box thongs have a memory foam footbed for additional comfort and support, along with a flexible rubber outsole that allows for unrestricted movements. Their casual slip-on thong design is great for casual days spent poolside and their sparkling rhinestone upper makes these sandals great for transitioning from the beach to your favorite evening hotspot.
The Jello is a very budget-friendly pair of thongs that offer incredible comfort and support exactly where you need it. Their laid-back design and stunning crystal accents make these a must-have pair of rhinestone shoes.

5

. Meeshine Wedding Flats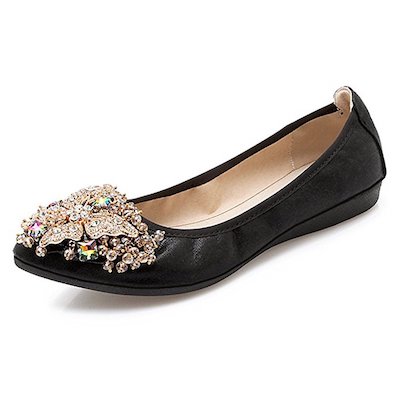 These bridal inspired flats by Meeshine aren't just for weddings but are the ideal pair of comfortable slip-on shoes for any occasion from shopping to a casual beach-side saunter. Their stunning floral toe design is made from rhinestones that glisten in the sunlight and are a great choice for pairing with jeans or an above-the-knee skirt.
This is an easy-wearing slip-on-and-go design. Its lightweight and flexible design allow for a natural range of motion, while their Pu leather upper material pulls moisture away from the foot preventing sweat and odors.
These Meeshine flats are super-stylish and feature floral rhinestone decorations and a foldable build which means you can carry them in your purse with ease, talk about convenient! The perfect pair of flats for many occasions, the Meeshine Wedding is great for the office, parties, dinner, and just about any other event you can think of.

6

. Blue by Betsy Johnson Gina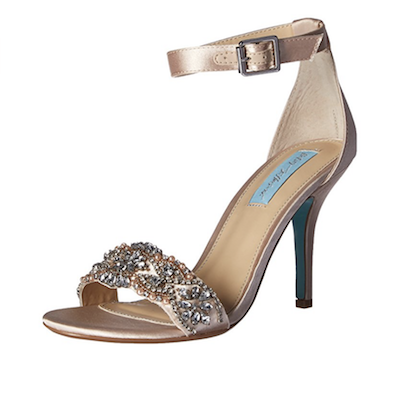 The Gina from Blue by Betsy Johnson is an ultra-lux pair of heels that are guaranteed to be the center of attention at any gathering. They're available in seven colors: champagne, silver, ivory satin, black floral, ivory, red satin, and black satin, so you're sure to be able to match them with any outfit.
The Gina has stunning jewel embellishments and a medium to high heel height of 3.5-inches along with a low platform for easier walking despite the higher heel. This is an eye-catching pair of heels that are perfect for social or professional occasions and are great for any dressy event.
These embellished heels are super shiny and made from textile materials that allow for adequate airflow and keep feet cool preventing sweat and odors. Their synthetic sole is slip-resistant preventing accidental falls. These are another reasonably priced pair of heels that are sure to add character to any outfit. They're rhinestone embellishments sparkle in any lighting and are perfect for occasions that require a dressier look.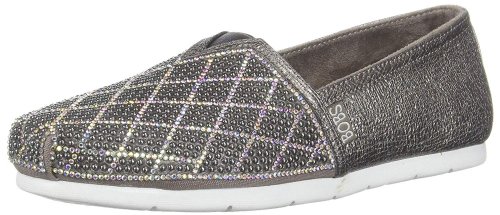 On first look, you'll notice that the Skechers BOBS appear quite similar to a pair of Toms, so you know they most likely pack the same kind of comfortable construction! One of the best things about this canvas slip-on is that with each purchase of BOBS, proceeds will go to help save the lives of cats and dogs through the philanthropic organization, Best Friends Animal Society. Packed with Skechers known-for cushioning technology and foam, you'll be quite please slipping these on to take your pup for a stroll!
As a slip-on style of footwear, the Skechers BOBS is similar to a simplistic loafer, made from comfortable canvas uppers. Roomy and flexible, canvas wraps the entire foot and has flexible goring inserted for a great fit. Canvas is layered in its construction, helping to make the shoe integrity more durable and last for longer. With a vast array of color options to choose, you can find a pair perfect for your style and wardrobe.
To help make this flat canvas shoe casually comfortable, Skechers has given it a memory foam footbed for soft cushioned steps, and a quarter inch heel for some shock absorption. Insole incorporates an arch pillow to give support and structure, while low-profile midsole helps to provide additional shock-absorption when out and about on your feet. Great for lounging around, walking the dog, or just casual evenings with friends!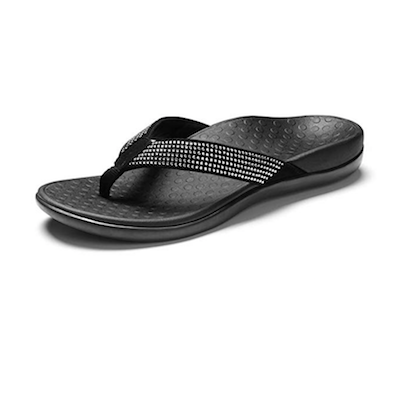 The Tide by Vionic is one comfy pair of sandals that features beautiful rhinestone details and a slip-on thong design. These sandals are available in eight colors: black, blush, champagne, navy, black/black, blue, fuchsia, and dark brown, so you'll have no problem pairing them with your favorite summer clothes.
Complete with an EVA midsole that absorbs shock and a genuine leather upper, the Wave is a comfortable-wearing sandal. Its toe post is made from soft woven materials and the strap is foam-lined for additional comfort. The Wave has a long-lasting TPR outsole with a wave-patterned tread for superior grip on any surface. Their leather upper keeps moisture at bay and allows for perfect airflow around your foot.
While the Vionic Wave costs a bit more than some shoes on the list, it's well worth the price. These sandals are made for comfort and are super-stylish in design. You won't have to worry about looking your best while wearing a pair of these rhinestone embellished slip-on thongs.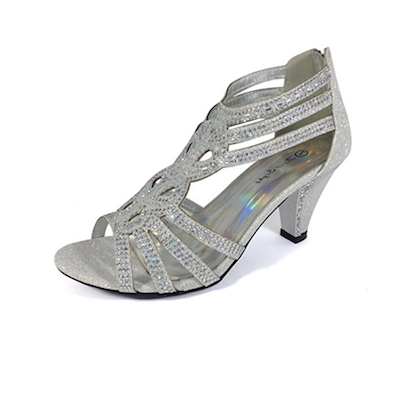 The Kinmi25 by Enzo Romeo is a gorgeous open-toe gladiator sandal that's perfect for special occasions like weddings, parties, and even prom night. These cute strappy sandals feature rhinestone accents all along the upper and length of the heel for a dazzling sparkle effect you're sure to love.
The Kinmi25 is made using high-quality rhinestones that add an amazing sparkle to these flashy sandals. They have a low platform height of only 1/4-inch and a medium heel that is 2.75-inches high which makes for easier walking. These shoes are perfect for dressy celebrations or special occasions like New Years, Christmas, or prom.
These Enzo Romeos' are made from synthetic materials that are breathable and prevent sweaty feet which cause rubbing and odors. The rhinestones are high-quality and exude a brilliant sparkle and deep light refraction. These shoes are reasonably priced and offer great value. They're comfortable, dazzling, and made from quality materials that set the Kinmi a step above the rest.

10

. Skechers Street Double Up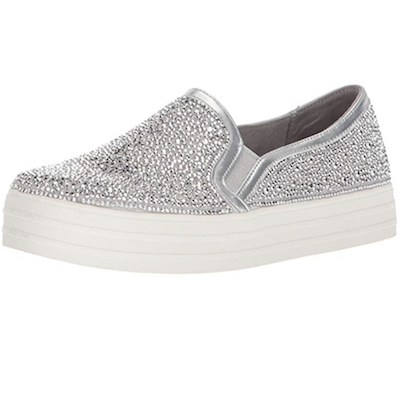 The Street Double-up is a shiny metallic shoe that features a distressed microfiber upper made from faux-suede and has a classic slip-on design. Its beaded upper unit boasts rhinestone accents that are eye-catching and sure to turn heads when you walk past.
The Street Double-up features dual-sided elastic panels for easy slip-on wear. It has an air-cooled memory foam insole that's comfort cushioned and a vulcanized midsole with a flexible high-traction rubber outsole.
It's also is available in five colors: rhinestone white, silver/white, rhinestone black, black/black, and charcoal, each with its unique rhinestone pattern. Stitching accents run along the body and a Skechers logo label along the heel panel. This pair offers an extremely good value for its price-point and is completely budget-friendly. Walk comfortably and in-style while wearing a pair of Street Double-ups.

Subscribe to our Newsletter