Best Pole Dancing & Stripper Shoes Reviewed
In a Hurry? Editors choice: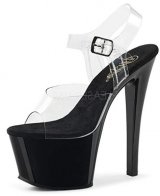 Test Winner: Pleaser Sky 308

Once considered taboo, pole dancing has become mass-marketed as a hobby, an exercise routine, and a competitive art form. Whether it's to get in shape (studies claim one hour of pole dancing can burn up to 350 calories!) or simply for personal enjoyment, we have you covered for the best shoes to wear while pole dancing. During an average performance, the dancer uses almost every muscle in their body to achieve the poses, stretches and forms typical of the art. If you want to shape up virtually every part of your body, this could be the best and most fun exercise you could do.

So take a look at our list of top ten pole dancing shoes! They are sexy, glittery, sky-high, and they will make you feel like an absolute queen. Enjoy!
Standout Picks
Criteria Used for Evaluation
Heel
Even though they seem way too high, thanks to platforms in the front, these heels are actually quite comfortable.
Stripper heels are known to be super-duper tall. The average shortest heel is no less than 5 inches, making these quite different from your ordinary pump.
A tall heel has several aesthetic benefits, including:
making the wearer appear taller
defining the calf muscles
elongating the line of the legs
adjusting one's posture to look more sultry
But even more, wearing high heels while doing intricate dance moves that require strength and control (all while looking easy and feminine) can bring attention to the demands of such dancing. Not only does a great pair of platforms look amazing, but it'll also bring attention to the dancer's agility and abilities, something that's especially important in competitions.
If you are just starting out in the world of pole dancing and all these heels seem intimidating - don't fret! In this section, we will explain just why these sky-high heels are more comfortable than you think.
The secret is the platform underneath the front of the foot. A platform raises the ball of your foot as the heel raises your heel, and as a consequence, you don't feel such a big difference between these two areas. While you will be on quite a tall height, your feet won't strain or feel as much pressure as they usually would if there were no platform underneath.
So choose a pair of pole dancing shoes that you're most comfortable with, and don't forget that practice makes perfect!
Support
Choose footwear that is secure, has a grippy upper, and is lightweight at the same time.
As with performing any physical activity, it is crucial that your shoes are supportive when you're dancing as well. Flimsy footwear (especially when it features a high heel) can be dangerous and lead to numerous career-ending injuries, so taking the time to choose the best model is more than worth it.
It is important to make sure your pole dancing shoes stay on your feet. This is not to say you cannot wear footwear that doesn't have buckles or straps,  but you will have to be extra careful when dancing. These extra layers of security are also a good idea because the shoes are a key point to your stability. If you are wearing footwear you are not secure in, you might have issues with dancing.
The buckles and straps also allow the design to be adjustable and accommodate many different feet shapes. Most models featured on this list have been chosen because, in addition to looking the part, they have the required qualities that would make them appropriate for physical exercise, first and foremost in terms of support in the upper.
Another thing to consider is the upper material. You will want to choose a grippy upper, as you'll have to cling to the pole using your shoes as well. The larger the surface, the better your grip, but sandals that expose a lot of skin can be a good choice as well. There are several materials that you can shop for, but our top choices would be:
Furthermore, consider the weight of the footwear you're wearing, which will largely depend on the materials used. Try to purchase footwear that's lightweight, as it won't cause as much fatigue as clunkier options, and will allow you to do more than just a single dance per night. This is especially important for professionals, as well as those taking more advanced classes, where rationing their energy output can be crucial for improvement.
Style
There are no rules when it comes to style - pick the footwear that you like the best.
Let's face it. Footwear like pole dancing shoes is best judged for its overall design. Stripper and pole dancer designs are expected to be not "feet-friendly", and the feature people look at when they search for pole dancer shoes is the attractiveness of the style.
There is a vast number of styles available, and you can choose the one that suits your personal preferences best, or go with several pairs that you'll be using on different occasions. Some even wear their every day platform footwear to pole dancing classes, so you can always do that as well. However, if you're planning on performing or competing, you may want to look into something a bit more eye-catching.
Glow-In-The-Dark: What a thrill to dance in a dark studio or club with blacklights. What's better than wearing glow-in-the-dark footwear? Stripper shoes that have special treatments that make them glow while dancing. Not only do they grab attention, but they also look good swirling around the pole.
Sequins: Sequins are another way to make the footwear stand out. The sequins will sparkle when the lights hit them. They will draw attention to the dancer on the pole; which for strippers is a great thing and means more tips.
Clear: See-through, vinyl footwear can be a great option for more than just one reason. First and foremost, it's a sexy design that shows off your feet while allowing you to benefit from a high heel and platform. Secondly, it provides a larger grip area on the pole, making you less fatigued as you show off your best moves.
Comfort
Find out everything that makes this type of footwear comfortable, including but not limited to: cushioning, material type and heel shape.
Although you can't expect a pair of high heels (especially stilettos with a platform) to be the most comfortable footwear in your closet, a well designed and well-fitting shoe can do wonders for your dancing skills.
When shopping, make sure that you invest in a pair that's the correct size and width, that doesn't cause any discomfort or rubbing that may take your mind off your performance/workout, and that won't distract you. Choose models that can be broken in to fit you perfectly, allowing you to place your focus entirely on your routine and looking amazing.
Another thing to consider is the type of heel that's featured on the shoe. While stilettos may look great, they're less stable than stacked heels, and some people may not be used to walking in them. If you're just starting out, opt for something more stable, and work your way up to those 6-inch heels. You'll not only build up your strength and balance in the process but will feel more comfortable once you've reached your goal.
Other factors to take into consideration are insoles and padding. Ideally, your new pole dancing shoes will feature a padded footbed and comfortable (soft to the touch) straps, but that's not always the case. Improve the fit by adding a pair of shock-absorbing insoles and your feet will thank you at the end of your class - you'll feel less fatigue and won't be as stiff in the forefoot area.
Last but not least, consider the materials that are used for making your heels. Though synthetics are cheap and easy to clean, they are more likely to trap in moisture (especially as you'll be doing some difficult exercises), which can lead to bad odors and bacterial overgrowth. Practice proper foot hygiene, and make sure your footwear is always dried thoroughly between wears. This will make them last longer and feel less gross the next time you have to put them on.
Fit
The fit shouldn't be too tight or too loose. Balance is key.
Lastly, the fit of the design is key in keeping you comfortable in the long run. The fit is what will decide whether your performance was successful, or whether you were having difficulty executing specific moves because your footwear was either too tight or too loose.
When it comes to fit, balance is key.
Your footwear shouldn't be too tight as this will leave indents and markings on your skin that will itch and possibly hurt. Your toes shouldn't feel cramped or pinched, and there should absolutely be no blisters. If you find that your pole dancing shoes haven't gotten looser even after wearing them for a few days, then it's best to return them since they will likely not be comfortable enough for you.
Similarly, loose footwear can be a hazard. If your foot is sliding around inside the shoe or if it doesn't have the support it needs so you can perform at the best of your ability, it is only a matter of time before you take a fall or otherwise injure yourself. There should be no space between the upper and your skin, and your foot should correspond to the footbed perfectly.
It would be great if you could find a design that is adjustable, as we mentioned in our Support section. Adjustability will allow you to customize the fit to your liking, so that you feel comfortable, look fabulous and wow everyone with your stunning performance!
Our Favorites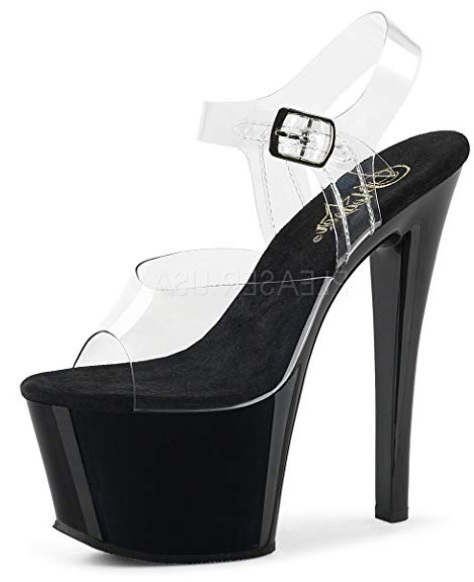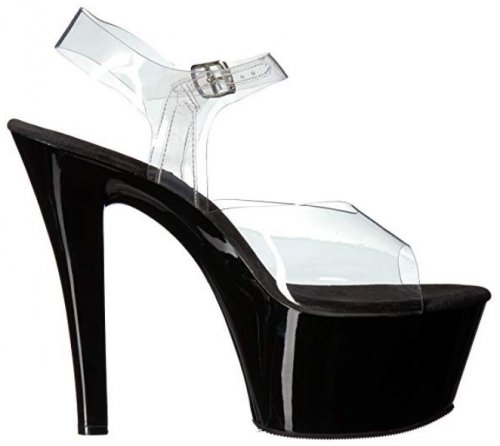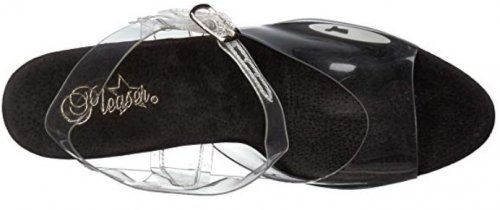 Pleaser is a must-have brand name in the dancing world. Their designs are known and adored for their comfort and durability. The Sky 308 are gorgeous and look great even in the dark. These are made from a synthetic material which adds to their toughness and longevity. You will be stepping (and dancing) in style when you wear these around the pole.
Give the illusion of no shoe when you wear these pumps. The clear vinyl uppers are sexy and show off your feet and your movements. An added bonus is if you have tattoos or do henna tattoos on your feet. The adjustable strap is an advantage because it allows you to tighten or loosen the fit as you need. The ankle strap adds security so it keeps your foot nicely in the pump and makes you feel stable when wearing it.
Being from a well-known brand in this industry, the Pleaser Sky 308, unfortunately, does have a high price tag. With that being said, they do have a trusted name. Dancers value their footwear because they know that Pleaser is the top brand to have in the industry.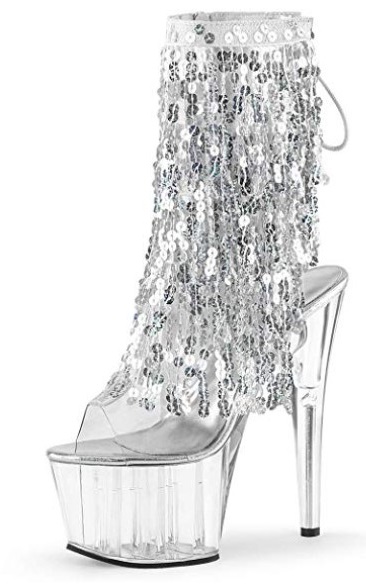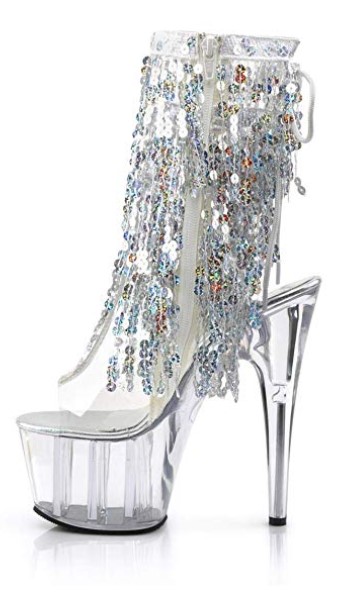 Sequins abound on this other version of Pleaser shoes. Pleaser is a top-selling brand of shoes for strippers and pole dancers. They have a great reputation for quality, comfort, and durability. Pair that with their incredible styles such as these dangling sequins that adorn the calf, you have an awesome design. You will look killer doing your moves around the pole wearing the Adore 1017.
Have the ultimate grip protection when you wear the Pleaser Adore 1017. The rubber sole helps grip the stage when you are seductively moving around the pole. You can adjust the tightness of the fit with a simple but tough string that ties around the calf to hold the fringe up. It is adjustable for many sizes calves so it fits almost every calf width.
Not surprisingly, the Adore 1017 is in the higher price range of our category. However, you will have a design that is from a trusted and high ranking brand. These are beautiful and as with all Pleaser shoes, will last quite a while.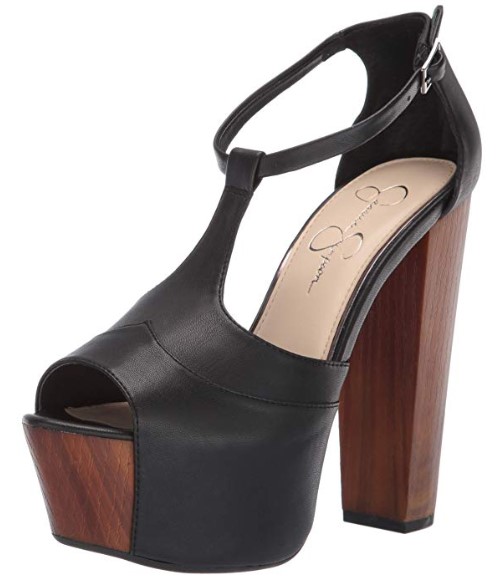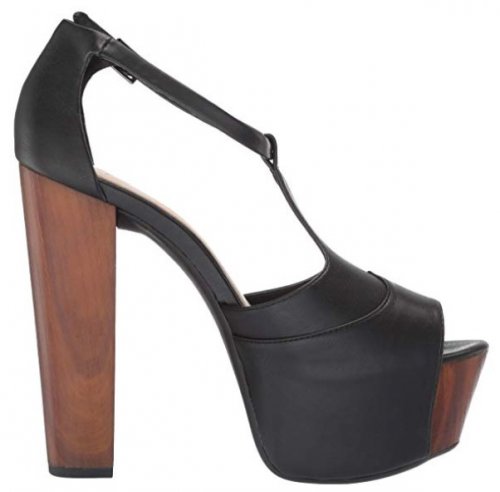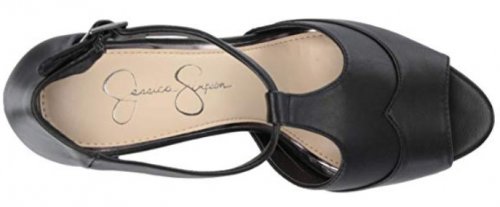 Jessica Simpson is famous for her fun, flirty style, her love of all things feminine and vivacious. This is why her footwear is some of the best for pole dancing. The Dany is a staggeringly high pump made from genuine leather and with a faux wood heel. It may not be too eye-catching at first glance, but its comfort levels are out of this world, thanks to the memory foam midsole it's sporting. The T-strap secures your foot inside and makes sure you don't slip or slide while dancing.
The Dany may seem like a clunky design, but it is actually amazingly light in weight. Its heel only looks like it's made from wood, when in fact it is just the coloring. The ankle strap is adjustable due to a metal buckle closure, and the memory foam midsole will make you feel comfortable and absorb shock at the same time. The outsole of the Dany is made from rubber and has a pattern to it which prevents you from slipping or skidding on sleek flooring.
This pump comes in several different color options, out of which the black and the leopard print are probably the most interesting for pole dancing. It is high but stable, chic but secure, and it isn't often that you find a design like this with memory foam in the midsole. You should definitely take the opportunity to try it out ASAP!

4

. Pleaser Funtasma Juliet 209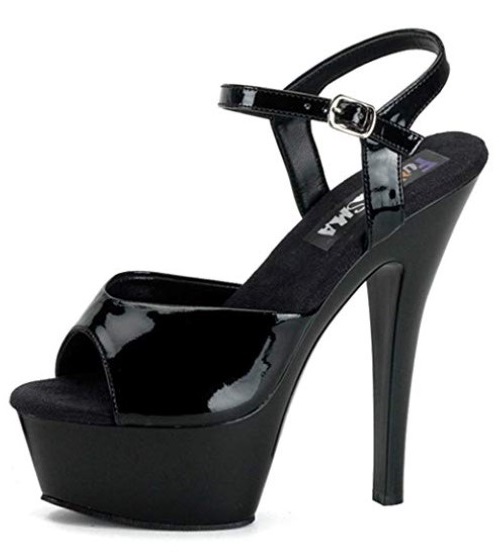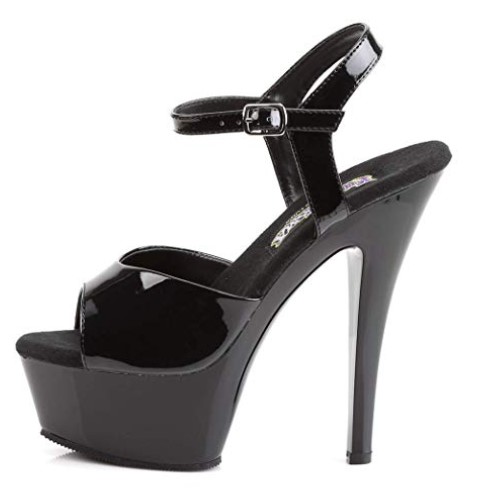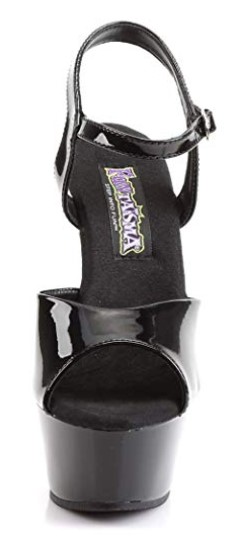 Sexiness exudes from the Juliet 209 from Funtasma. It has everything you could want in a pair of pole dancing shoes: the peep-toe cutout, the adjustable ankle, and the tall, tall heel. It is reviewed nicely for comfort and stability. The integrated platform helps with the stability as it decreases the over-arch effect of really tall heels. The Juliet is an eye-catching design that will look great while you are dancing.
The gorgeous patent leather of this shoe will look great on your feet. There is something to be said about high gloss footwear. They will look even slicker as the lights hit the uppers. The ankle strap is adjustable so that it will accommodate many different sizes and shapes of feet. You have to have pumps that are secure on your feet in order to dance your best.
These shoes are at the lower end of our price range, which is nice for consumers. They won't break the bank and you can get them in multiple colors. They should be durable enough to last for quite some time and definitely through many dance routines.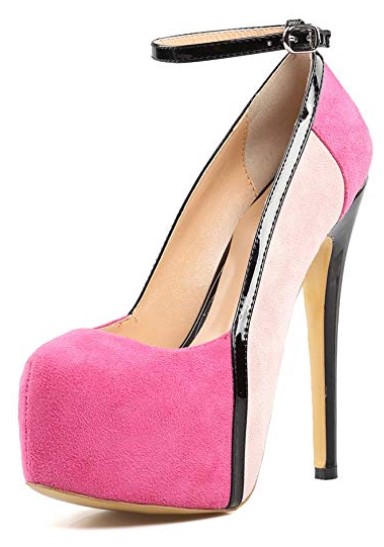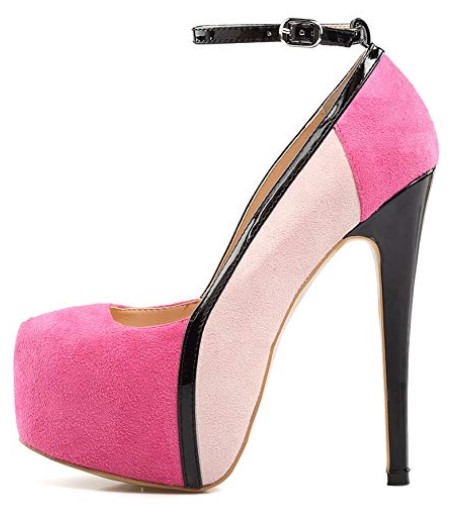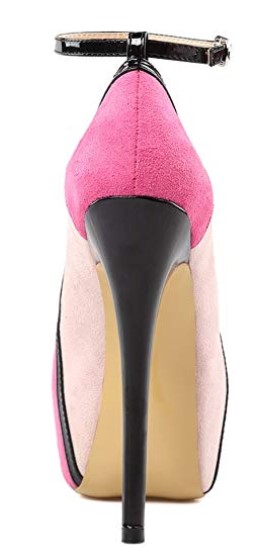 While maybe not from a brand you know so much about, Amy Q makes a gorgeous design with a metal stiletto heel here. Just start looking at it and you won't be able to take your eyes off the intricacies. It has a closed-toe silhouette as well as an adjustable strap. However, the thing that makes it stand out against the others is the spikey metal heel.
While heels are not usually thought of as comfortable, these are more so than others. They have a nice and thickly padded insole that can cushion your foot all night long. The handcrafted stitching keeps the quality control at its prime. You can rest assured that the seams won't be popping out and leaving you shoeless after a few short wears.
The Amy Q rides a fine line between elegant and nearly business-like and drop-dead gorgeous. It is a bit more conventional than other choices in our list in that it has a closed-toe design, but you can be sure that its color will draw all the attention to you. This pump from Amy Q is comfy thanks to its platform heel and you will love showing off your assets in these amazingly pink heels!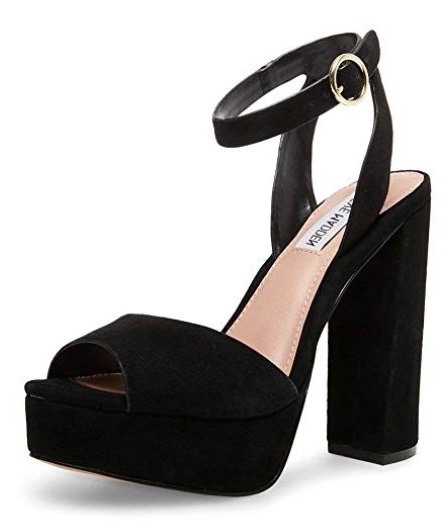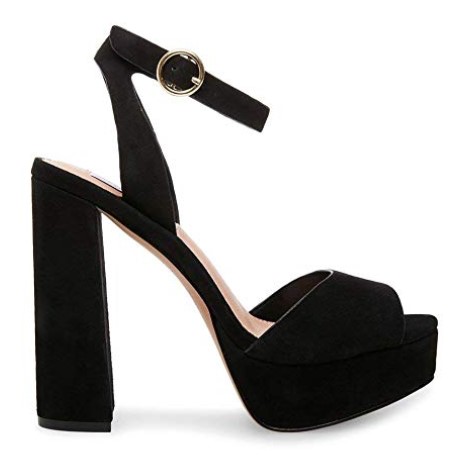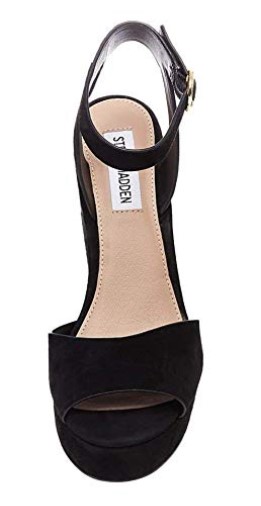 Steve Madden is a designer who always challenges the conventional, who puts his own twist on the well-known classic silhouettes. The Madeline is a '70s inspired design with a blog heel and a platform underneath the front that will have you looking cool and irresistible at the same time. It is definitely a statement piece, made from genuine suede or leather, depending on which color you choose. With such high-quality materials, you can bet that the Madeline will last for quite some time!
The reason genuine leathers have an advantage over their synthetic counterparts is the fact that they are breathable, malleable and they promote a healthy environment for your feet. Thanks to the adjustable ankle strap on the Madeline, you can easily slide into this pump no matter what the thickness of your ankle is. There is a peep toe in the front to add a bit of flair to it, and you know that the blocky heel will be stable enough to support you through your every move.
The Madeline from Steve Madden is a terrific choice not only because of its sexy retro vibe and high-quality build but also because it is versatile! You can wear these heels to your next pole dancing class, but also to a fun lunch out with your friends, or even a date night with your significant other! There is nothing you can't do in the lovely Madeline.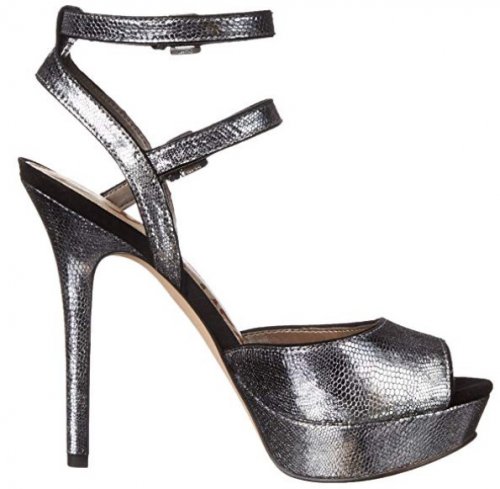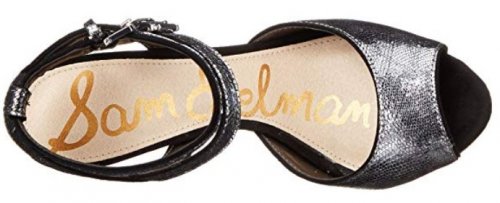 A factor that is quite important for pole dancing shoes is their color. It needs to be sensational, to draw the eye and make everyone's jaw drop when they see you. The Nadine from Sam Edelman has an advantage in that it comes in a variety of metallic and glittery versions for you to choose from. It is a heel slightly lower than usual (4.75 inches), making it a bit more comfortable to strut in, and yet it is wonderfully secure with its two straps around the ankle.
The Nadine has a peep-toe front and a platform underneath the ball of the foot of about 1.25 inches, which means that walking in these is an absolute breeze. They are easy to adjust thanks to the buckle closures on the straps, and the metallic color will do wonders for your performance, especially when you spin around the pole. The Nadine is made from entirely synthetic materials, so it won't be difficult to keep clean or maintain.
Sam Edelman puts emphasis on chic comfort and loves to combine luxury with that classic, down-to-earth aesthetic; the Nadine is a prime example of that. These pumps are great to wear to a pole dancing class, but also to the club, or even a formal event if you pair them with a gown and some classic jewelry. Make the most out of this metallic color and you will be the best-dressed person on any occasion!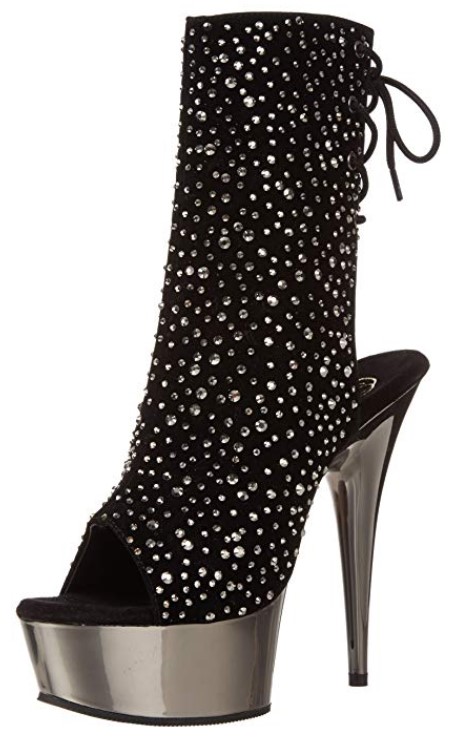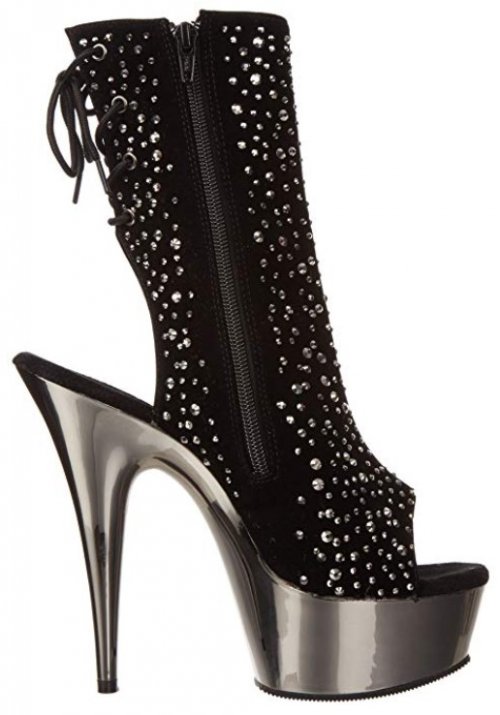 How could you not fall in love with the Pleaser Delight 1018 at first glance and really every glance after that? These are an adorable rhinestone motif designed stripper shoes. There is a lace-up that accents the back of your leg and is ever so sexy down the leg from a calf strap. Furthermore, the platform itself is a metallic gradient. Not to mention, they will match any color outfit you have to wear.
When you hit the stage and the blacklights come on, your feet will shine, literally. These have technology that reacts in the blacklight to make them glow. You will no doubt have everyone wanting to watch your flexible moves around the pole.
Not surprisingly, these are in the higher part of the price range, as the price tag represents a company that is widely known for their pole dancing shoes. They are the Mercedes of this type of design. They do have a reputation for durability so even though their cost is higher, they will last a long time.

9

. Daily Shoes Extreme Peep Toe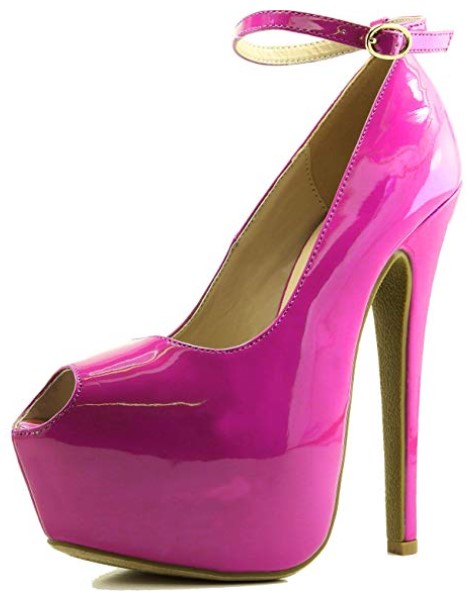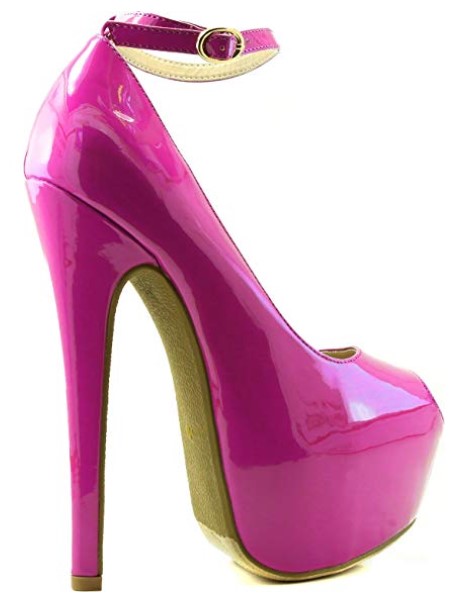 Dress to impress with these gorgeous shoes from Daily Shoes. They are sky-high but that is not what gets all the attention. The tiny diamond-like adornments make these shoes sparkle whether you are on a pole or not. They have a peep toe design that lets you show off your pedicure too. Finally, they are relatively comfortable as they have a padded footbed.
An adjustable ankle strap helps secure the design to your foot. You won't want it to come flying off during a dance or to be too loose; when you land you could lose your balance. No animals were harmed in the making of these shoes. The fake leather is a vegan material that is made to replace genuine leather hide that is used. It adds durability to the design.
The Extreme Peep Toe is at a lower price point than almost any other option on the list. Daily Shoes is a company known for classy and gorgeous designs, regardless of whether you wear them for pole dancing or for a date night.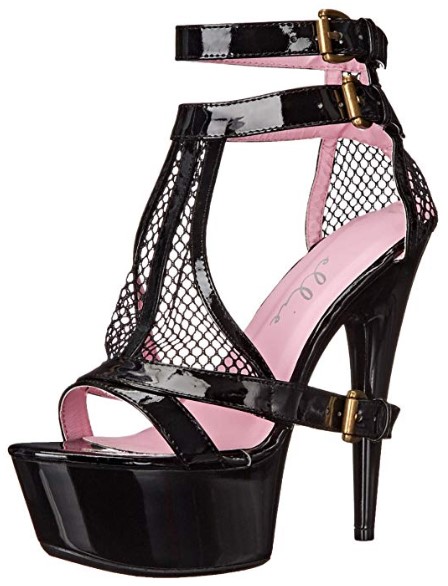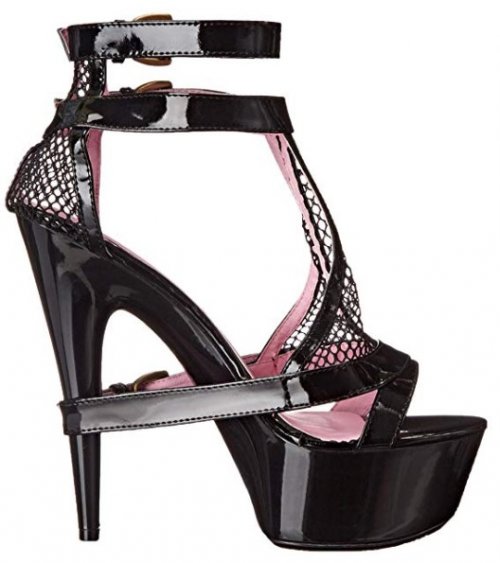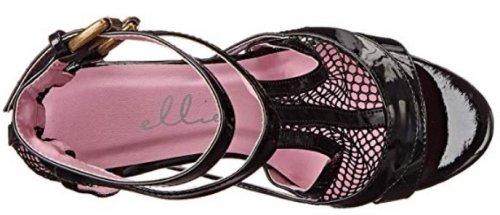 Ellie Shoes is a brand that has a flair for the unexpected, for the dramatic and almost costume-like designs. The 609 Levi is certainly dramatic in its appearance. It is a pair of pole dancing shoes that are a little edgy, a little tough in style, and which will infuse your look with undeniable sex appeal. It features a double strap closure at the ankle, net inserts for increased breathability and interest, and a stacked heel of about 5.5 inches! You will definitely stun the crowds in the 609 Levi.
This rebellious option is made from a combination of synthetic leather with a patent finish and textile fabrics. The two straps around the ankle allow you to easily adjust the width to what fits you so that you're sure you won't slip or slide inside the design. The net details at the instep and the heel provide a better grip around the pole.
There is also a decorative strap around the heel which adds that rock and roll vibe we love so much on the 609 Levi. The heel is stiletto in shape and there is a 2-inch platform that makes it easier to move around in.
If you're into that va-va-voom vibe and looking for something that will rough up your outfit and be both sexy and daring at the same time, you've definitely found it. The Ellie Shoes 609 Levi will keep the crowds entertained while you perform all of your most demanding poses and look cool while doing it.

Subscribe to our Newsletter