Best Sparkly Shoes Reviewed & Rated for Brilliance
In a Hurry? Editors choice: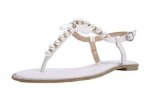 Test Winner: SheSole Flat White

There are seemingly infinite styles of shoes. We've got heels, sneakers, boots, flats, sandals, flip-flops… just about anything for any and all occasions you can think of.

But sometimes, we still need a bit more to spice up our look – we find that plain heels just don't have the glam we're looking for, or that what used to be our favorite pair of boots now looks quite dull and boring… That's when sparkly shoes come in.
Standout Picks
Criteria Used for Evaluation
Materials
Sure, sparkly shoes are great. They can be fun or glamorous depending on their look and can add a touch of personality to your outfit, no matter if the occasion is formal or informal.
You'll want a pair that stays sparkly no matter how for long or how often you wear them. There's nothing more annoying than having the perfect sparkly accessories just to see them gradually become duller through time.
You'll also want a pair that has a clean, bright sparkle, and that can be seen even in dimmer lights. This is especially important for indoor events like parties or graduations, where you'll want to be able to show off your look regardless of the lack of bright lighting.
No matter what it is, it all comes down to what's been used to create that sparkle to begin with.
Sequins
Sequins have a chic and modest look. In fact, the earliest use of gold sequins was as early as 2500BC, but they are still in style today because of the simple way they can upgrade your look.
They can often be seen on clothing and can also be used to embellish footwear. The wide range of colors and shape in which they are offered means each sequined shoe will have a different and unique look.
To backtrack a bit, sequins are disk-shaped beads that are intended for decoration. They are most often made from plastic and have a hole in their center through which they are sewn onto clothing, footwear, and accessories.
They tend to stay on more than glitter because they are sewn on rather than stuck with glue. However, the downside is that they will not create a smooth surface, and if the shoe is scuffed too often, some of the sequins might get caught and torn off.
Another downside is that once a sequin falls off, it will leave a gap in the shoe that is unattractive.
Glitter
Glitter is often used in arts and crafts and makeup, but can also be seen in clothing and footwear. First invented in 1934 by accident, it is made by applying color to a copolymer sheet which is then covered by a reflective material such as aluminum foil. The material is cut up into a uniform size that can be as small as 0.002 inches squared.
When it comes to clothing and footwear, the finer the glitter, the more even and bright its sparkle will be. When put under light, it creates the gorgeous and expensive-looking sparkle that is most desirable.
However, if very fine glitter rubs off, it is much harder to get it off of you. It will stick to everything because of the static electricity between their small particles and all other surfaces, meaning you might be seeing traces of it for days and even weeks.
Glitter that is less fine doesn't have as beautiful of a sparkle. They might not be as bright, and they might not sparkle a lot unless under bright light.
They might be a bit easier to get rid of if they come off, but they'll take you more or less the same amount of work as with fine glitter, and because of this we recommend shoes embellished with the latter rather than the former.
When it comes to whether or not the glitter will come off at all, that's an issue that can't fully be solved. There is no trick to knowing how well the glitter will stay on a pair of shoes when you're checking them out at the store.
However, it's a good idea to scroll through customer reviews of the shoes to see if any previous customers have had problems with the glitter coming off. If many of them have, you can expect it to happen to your pair as well – and if not, well, you're lucky.
Rhinestones
For most of the sparkly shoes out there as well as on our list, rhinestones are used to give them that finishing touch of glamour. They are often used in clothing and accessories, bracelets, and more.
But first of all, what even are rhinestones? Rhinestones are man-made imitations of gemstones that are usually made from glass crustal or from polymers like acrylic. Their biggest pro is, of course, that they are much less expensive than real gemstones.
They come in all types of colors such as white, ruby red, or emerald green. Their sizes also vary from ss1 to ss75. The smaller size possible is that of a pinhead and is usually used in nail art. Larger rhinestones are used in clothing, footwear, and accessories and can reach around 18mm in size.
For use with clothing and footwear, there are three types of rhinestones used. The first one is flat back rhinestones, which stays true to their name and have a flat back. This means they can easily be applied to nearly anything with a small amount of glue and have a better chance of staying on.
Hotfix rhinestones have glue on the back which is activated when it comes into contact with heat. They are usually of small size, have a quick application, and renders the item dry cleanable. The third type is sew-on rhinestones.
They are nearly identical to the flat back rhinestones, but they have a hole on either side so that they can easily be sewn onto clothes or footwear. They are the least convenient type because they will fall off or come loose much more easily compared to the other types of rhinestones.
Size
As much as the appearance of the shoe matters, so does the size and fit. It doesn't matter how high-quality a pair of shoes is – if you've got the wrong size, they won't serve you well.
In the short term, you might just feel like ill-fitting shoes cause discomfort such as squished toes or blisters. But in the long term, they can actually have serious consequences on your body, affecting your bones and joints.
For instance, bone spurs, hammertoes, and bunions can all be caused by the wrong size shoe. When it comes to heels, you also have a higher risk of spraining the ankles.
Thankfully, all this can be avoided by choosing the right size. It may seem simple, but because many shoes don't run true to size, meaning they are slightly larger or smaller than their size states, studies have shown that as many as three-quarters of people wear the wrong size shoe.
To find your perfect fit, you'll first need to measure your own foot with a tape measure. Keep in mind that the foot must be completely flat on the ground, and to measure from the longest toe to the very back of the heel.
Then look for sizing charts on the website of the company that manufactured your shoe. Compared your measurements with those on the chart to determine what would be your perfect size.
If you end up being between two sizes, or if one foot is slightly longer than the other (it's more common than you think!), it is advised to pick the larger size. This way, you get enough room and there is less risk of uncomfortable friction inside the shoe.
In addition, the feet will often swell during the afternoon, especially when wearing heels or standing for long periods of time. Because of this, you'll need extra room to accommodate the swelling.
As always, also check the product descriptions and/or customer reviews to see if the shoe runs true to size, or if they run small or large. This can help you ensure you've got the right size for you.
Top 10 Picks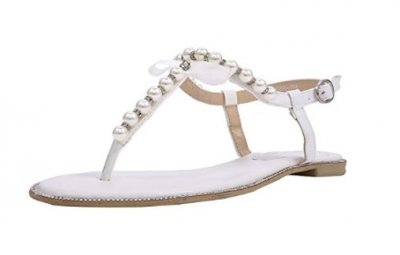 Great for Weddings
Pearl and Bow Detailing
Cushioned Footbed
Adjustable Straps
Who said sandals had to be boring? Though they have a simple design, the pearls and bows on these sandals give them a truly unique look. Their pure white color and sparkly pearls make them ideal for weddings.
The cushioned footbed that it features offers long-term comfort and renders them suitable for all-day events and occasions. The adjustable ankle strap ensures a good fit while the lightweight materials of the shoe reduce the risk for foot fatigue.
In addition, they are great when paired with other pearl accessories such as a pearl necklace or earrings. Just keep in mind that they have a narrow fit just like our previous pick, so make sure to order a size up when purchasing.
Adjustable Straps
Though the straps add to the look, they're also there for practicality. The ankle buckle is adjustable so that you can find a fit that works best for you without stressing out over sizing charts prior to purchasing.
Simple Yet Eye-Catching
At a glance, they may just look like white sandals. But the pearls, crystals, and bow detailing really embellish it, creating a clean yet glamorous look that is perfect for more formal occasions in hot weather, such as a wedding on the beach.
Cost and Value
Sitting around the middle of our price range, we think they're a great bargain. And the hundreds of positive reviews they've received tells us that we're not alone.

2

. UGG Classic Short Sparkles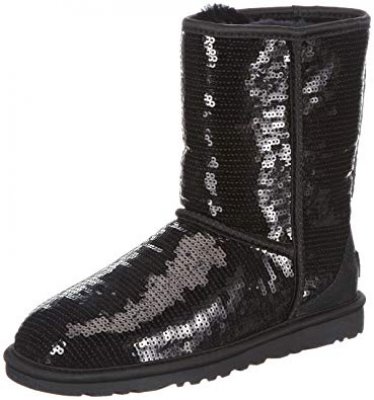 Sequined
Mid-Calf Boot
Sheepskin Lining
Rubber Sole
Warmly insulated
We all are familiar with the classic boot UGGs became popular for, but did you know that the UGG Classic Short comes with some sparkle?
If you're a fan of the soft feel and warmth of UGG boots, but want a little bling in your step, then check out the sparkle this pair turns heads with. Packed with all the cozy lining and soft cushioned foam insole we have come to love from UGG, it also keeps a sequined upper to give sparkle and shine to your next cooler evening event.
Sequin Shine
The UGG Classic Short Sparkles is a black sequined boot that is 8 inches from the arch, coming just about mid-calf. Sequins make this shimmer even though it's dark in color and can be paired with anything to dress up a casual outfit in cooler weather.
Inside you'll find a soft sheepskin lining, giving a great foot feel to the boot as well as warmth. Great for holiday parties, a night out, or just wearing around town!
Comfort and Cushioning
With cooler weather approaching, the UGG Classic Short Sparkles is a solid option for a warmer pair of boots as well. Sheepskin lining gives some soft insulation and a great foot feel to the boot, while plush foam insole keeps your steps light and padded.
At the base lies great grip and traction in the rubber sole, so you can keep confidence even when surfaces are slippery.
Cost and Value
Similar to many of UGG brand footwear, the Classic Short Sparkles is slightly more expensive that the regular boot version, but a great investment if you're in the market for some sparkle and shine on your UGGs.
Great sequin shine and sparkle let you stand out in this pair of boots and gives a festive look to the regular casual styling of UGG boots. Pair with leggings jeans, or festive tights for a great holiday look!

3

. Blue by Betsey Johnson Elsa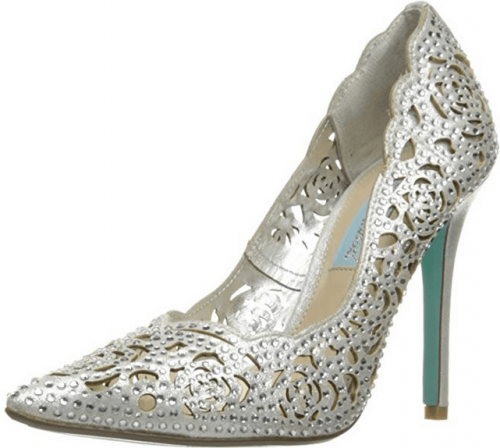 Rhinestone Embellishment
Cutout Design
Pointed Toe
Blue Sole and Heel
Not only does the Blue by Betsey Johnson Elsa have metallic fabric hues to keep some vibrancy about these pumps…it's cutout design also uses some embellished sparkles all throughout the uppers, giving you bling on top of metallic colors.
Silver, black, and gold options have a cut out lace upper with scalloped trip, and a modest heel just under 4-inches. Blue soles reflect the namesake of this pump, and it will have light catching your footfalls along the dancefloor!
Rhinestone Sparkle
All throughout the textile and synthetic uppers of the Blue by Betsey Johnson Elsa are small evenly spaced rhinestone embellishments, which catch the light with each and every step.
Its unique design uses a patterned cutout, giving it an elegant form for weddings, black tie events, or any other formal occasion that comes to mind. Perfect to pair with structured dresses and skirts, it also has a pointed toe to add to its outstanding appeal.
Blue Sole
As its name imparts, the Elsa has a baby blue sole and heel. If you're a fan of the color, best to get some sticky grips for the sole to give traction instead of scuffing up the bottom!
Four-inch heel makes this modest enough for a comfortable wear for longer events, while still giving it a classy look for a pump. Unique in its design, it's sure to wow onlookers!
Cost and Value
For a pair of designer name pumps, Blue by Betsey Johnson Elsa is a great pair of sparkly pumps to invest in. Perfect as wedding shoes, or formal event footwear, it's rhinestone embellishments provide light catching sparkle, while cut out uppers give a elegance to the pump.
Baby blue sole makes it unique and one of a kind, and a great addition to your collection of heels!

4

. Badgley Mischka Jewel Conroy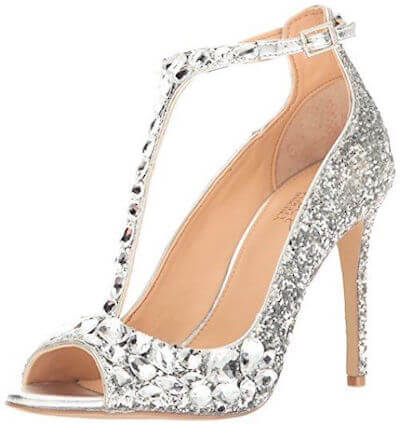 Fabric
Rhinestone Embellishment
T-Strap Sandal
Textured Sole
Designer Name
An iconic footwear brand from Sex in the City, Badgley Mischka has long been making quality and stylish footwear, and the Jewel Conroy brings bling, straps, and sparkle together all in one modest height stiletto.
Not only do uppers use a sparkle throughout, larger rhinestones embellish the toe box, creating a sensational light catching aspect to them. Peep toe with a T-strap and ankle closure, it makes for a sexy heel you can pair with a number of outfits to ramp up the fire!
Sparkle and Glitter
Leather uppers on the Jewel Conroy are covered with glittering metallic fabric, making them sparkle. Add to this, the larger rhinestone toe embellishments, and this pump will catch the light enough to dazzle onlookers, or push the boundaries on a statement making ensemble.
Imagine pairing these with jeans to add as a statement piece or pairing with a solid color structured dress for evening wear.
Comfortable Design
The Jewel Conroy is designed as a T-strap sandal, with ankle buckle closure and peep toe. A 3.5-inch heel makes this pump easier to walk in, and wear for longer timeframes, and you'll feel secure with ankle strap keeping you in place.
Extra padding lies in the footbed for additional comfort during wear, and a textured pattern sole helps provide traction on smooth surfaces.
Cost and Value
Slightly more expensive than some other brands of high heels, the Badgley Mischka Jewel Conroy is a great statement piece of footwear to add to your collection.
Its designer name styling with plenty of sparkle and bling resound throughout the design of the shoe, and T-strap closure make them secure for everyday walking about. Great to pair with jeans, or formal dresses for an evening out on the town!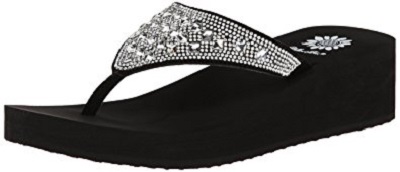 Rolled Toe Post
Suede Upper
Wedge Heel Provides Stability
Intricate Rhinestone Design
Sleek, modern, and casual, the Birder platform wedge sandals add a twist to the typical flip-flops that render them like no other. Featuring a triangular strap topped with faux crystals, they will sparkle and gleam under the light, which gives them an expensive yet laid-back look.
Their suede material provides more comfort than would typical plastic flip-flops so that you can wear them with ease. Paired with a maxi dress, shorts, and fishnets, or boyfriend jeans, they're sure to add a unique touch to your outfit.
Stability
The platform is around 3/4 inches tall while the heel is around 1 3/4 inches tall. Because it is a wedge heel, you will be able to keep your full balance and stay stable on your feet.
Material
The upper is made of suede, which results in minimum friction and discomfort. The faux round and stud crystals give them a nice sparkle while the rolled toe post results in less discomfort when walking compared to certain plastic flip-flops.
Cost and Value
Though they may seem like the simplest pair of shoes on our list, they're definitely not the cheapest. However, it's important to take their high-quality materials and intricate rhinestone design into consideration - there may be two-dollar flip-flops out there, but none with as great a look at these ones.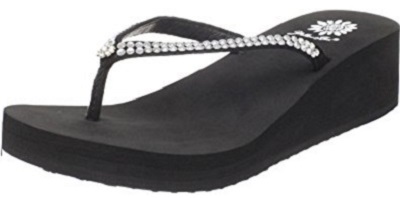 1 3/4 Inch Heel
Made of Genuine Leather
Memory Foam Provides Cushioning
Lightweight
Though similar to our previous pick by the same brand, these flip-flops offer a more simple and low-key look than the other and have a different construction. The classic flip-flops strap is studded with fake crystals that give them a bit of a bling.
The leather upper ensures high quality, while the memory foam in the sole provides extra comfort when walking or standing. In addition, you'll stand a bit taller with their wedge heel. But with all these great features, the downside is that certain reviewers claim their quality is inconsistent, meaning some of these shoes are manufactured better than others of the same model.
Leather
The upper is made of genuine leather. Not only does this provide comfort and prevent uncomfortable friction that would usually take place with plastic flip-flops, they also render the flop-flops more durable.
Heel
The wedge heel measures around 1 3/4 inches tall and is very stable. For those who are short and would like a bit of boost in height, these flip-flops are ideal.
Cost and Value
These are quite pricey for flip-flops, but if you really like their look, it's definitely worth the purchase. But as previously mentioned, the quality may be inconsistent so you might want to cross your fingers while clicking that 'order' button.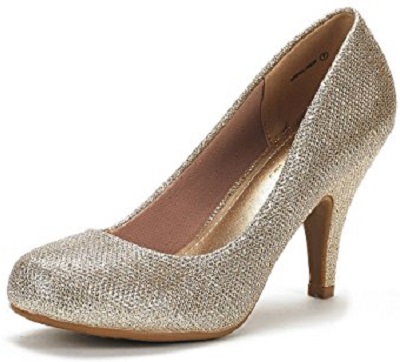 Simple Design
Slip-on
Synthetic and Vegan
Low Heel Provides Comfort
Looking for something more chic and formal? We've got you covered with these two models by Dream Pairs. The design of Arpel and Berry are similar, but what differs is that Berry includes a strap and a flower design while Arpel does not.
Though their colors also differ, they both include glitter options in silver, blue, gold, and red. Their slip-on design renders them convenient and minimalist. The only downside is that they have quite a narrow fit, so if your feet are on the wider side, these might not be comfortable for you.
Low Heel
The heel of these shoes measures around 3 1/2 inches. This renders them suitable for those who dislike wearing heels but have no option for a particular occasion - they provide comfort and minimize foot fatigue usually caused by taller heels.
Vegan-Friendly
Made entirely out of synthetic materials, they are all man-made without the use of animal products. With a pair of these, you can look good at no sacrifice.
Cost and Value
Though they sit toward the top end of our price range, they are still reasonably priced. Plus, their simple look means they can be paired with nearly everything, from summer dresses to wedding gowns to ripped jeans, meaning you can make the best out of your pair.

8

. Helens Heart Bling Boots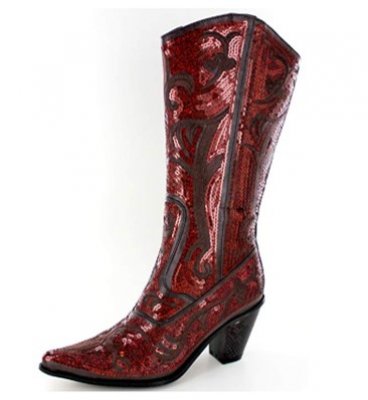 Western Inspired
Sequined
Rubber Sole
Color Variety
Inside Zipper
Ever want to get outside your comfort zone in your footwear? Consider a pair of sparkly sequined cowboy boots to ramp up the drama in your closet!
Helens Heart Bling Boots come in a variety of color choices, all with sequin sparkle throughout the leather uppers of the boot. Easy to wear, a side zipper makes them a cinch to get on and off, as you won't have to pull this pair on!
Western Inspired
Not all sparkly shoes need to be pumps, and a closet isn't complete without a pair of cowboy boots. Synthetic and textile uppers are smothered with sequin sparkle, that create a unique pattern in contrast to the textile of the boot.
A pointed toe remains reflective of classic cowboy boot design, while easy access is seen with the inside zipper, making them easy to get on and off.
Unique Style
The heel on the Helens Heart Bling Boot is just over 3-inches high, giving a confident boost in height for a cowboy boot. Soles are rubber, and provide excellent traction, and the boot itself can be worn for weddings, proms, format events or even beauty pageants.
With color options ranging from typical bronze and black, through to purples, pinks and blues, you're sure to find one to make your eyes sparkle with love!
Cost and Value
When compared to other cowboy boots, the Helens Heart Bling Boot is less expensive than most, and averagely priced to some other sparkly options here on our list.
Inside zip makes these convenient to wear, and sequin design adds a texture and sparkle to the boot for formal events such as weddings or pageants. These are a great option if you're looking for both bling, and a boot option for making your closet shine!

Subscribe to our Newsletter