Best Metallic Heels Reviewed & Rated
In a Hurry? Editors choice: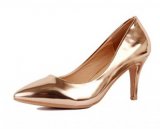 Test Winner: Guilty Shoes Classic

There comes a time when all of us want to try something new, something different, and maybe completely out of character for us. We take up skydiving lessons, book a trip to an exotic country, or enroll at the nearest
kickboxing
studio. However, if you're unwilling to go to these extremes, there's a much simpler – and much more fashionable – way of reinventing yourself: metallic shoes.
Standout Picks
Criteria Used for Evaluation
Color
As we have mentioned before, the name 'metallic color' is a very broad term. Rather, it refers to the shine, the metal-like gloss of the surface, which reflects light and gives it that futuristic feel. Under that shine, you can have any solid color you'd like and still call it a metallic color. They come in countless different varieties, and yet they all fall under the same category.
Real Metals
We have those metallic colors which are reminiscent of real metals – gold, silver, bronze, pewter… It is important here to point out that there is a difference between say, metallic gold and sparkly gold or glimmery gold. When we say metallic, we mean the color which would easily make us believe that the shoe in question is made out of the metal it is supposed to represent.
These metal-esque colors go well with everything. Just like nude shoes, they fit well into any color combination and elevate it to a new, glamorous level.
Solid Colors
Underneath the metallic shine, there could be a wide range of different colors – most commonly blues, reds, greens, purples. They are metallic colors because of the gloss, but they are also actually colors, which means that when you are planning your outfits around them, be mindful of how they will fit in the overall look.
Comfort
It is a given that when we're wearing heels, our main goal is to wear them for as long as possible, regardless of the occasion. Whether you're at work, out with your friends, or at an important formal event, taking off your heels under the table for a brief reprieve from the pain, or even carrying an extra pair of flats around to change your footwear is unnecessary, unseemly, and frankly, too much effort.
As with any other type of shoe, cushioning is equally – if not more – important in heels. Added padding to the footbed means a world of difference when you're expected to spend hours standing or walking in your high heels. Cushioning absorbs impact from your every step and offers much-needed support to your foot, which is already in an unnatural position due to the high heel.
With cushioning you should also look for arch support, though this is admittedly rare to find in high heels. Without proper arch support, you run the risk of developing the condition of fallen arches, or flatfoot (pes planus), which has a myriad of negative consequences on your health.
However, if you feel like you have found the perfect heels for you and they don't have any type of cushioning, don't despair! There are gel inserts and insoles you can buy separately for this purpose, to increase the comfort levels of your shoe and to enjoy them for longer!
Heel
There is science behind the fact that some heel types are more comfortable than others.
Stiletto heels, for example, are widely considered the most uncomfortable type of heels, because all of the pressure is narrowed down to one, sharp point in the heel.
As a result, your weight is unevenly distributed across the shoe, mainly towards the front and the ball of your foot. Not only that, staggeringly high stiletto heels can be quite unsteady, and you could easily stumble, sprain your ankle or otherwise injure yourself.
To avoid these problems, as well as numbness in your toes and tension in your feet, go for chunkier, more solid heels and wedges. These types of heels provide a wider base, make your weight spread evenly over the surface of the shoe, and they add exceptional stability to your step.
Stability
It is a universal rule that, the higher the heel is, the more it will hurt. Sadly, there is no way around it. Heels of about two inches in height are called kitten heels, and they are as comfortable as if you're walking on flat soles. You can expect to last the entire day – and night, if the occasion calls for it – in them. The same goes for three-inch heels, which are known as classic heels. These heights are easy to walk in, and are business appropriate, making them the most popular types of heels for workplaces.
Four-inch heels and higher, however, are where the pain starts. No matter the materials the shoe is made of, no matter how much cushioning it offers or how solid its arch support is, after a couple of hours, you will start feeling pain and discomfort. However, high heels are aesthetically pleasing and visually elongate your legs and make your entire silhouette look slimmer and, sometimes, they are just worth the suffering.
Style
In our list of metallic heels and pumps, we have strived to include a variety of shoes. But when we carefully consider but it, there are only two large style categories high heels can be sorted into – sandals and pumps. For many occasions either one of these is suitable, and you don't have to give the choice too much thought.
But there are instances where one or the other doesn't work, and we are here to point them out to you.
Weather: Arguably the most important factor when it comes to choosing sandals or pumps. If the event you are attending is indoors, then either should be okay – though you would be smart to think about what type of shoes you will wear to and from the event, especially if the weather isn't favorable. However, if you are spending time outside, please consider the temperature, and if the weather conditions are wet or dry.
For spring and summer, sandals are the obvious choice. In them, the foot is mostly exposed, and they keep it dry and cool and help it breathe. Not only that, but sandals also have health benefits, in that they prevent your feet from sweating too much and reduce the risk of certain infections, such as athlete's foot.
For autumn and winter, pumps are more preferable, as they enclose your foot and protect it from the elements while keeping it warm at the same time.
Setting: There are occasions where open toes are considered inappropriate. Some workplaces, for example, and professional events consider sandals distasteful, no matter how pretty your toes may be or how much money you have spent on a pedicure. It is just the etiquette, and in such cases, pumps are always the better choice.
10 Best Metallic Shoes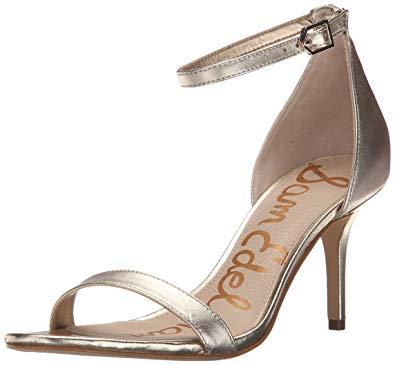 The Patti is one of Sam Edelman's most colorful, sophisticated, and classic looking sandal. With narrow toe and ankle straps, and a closed heel cup, its elegant appeal comes from the simplicity of the design. Pair with any piece in your wardrobe for an instantly classic feel with an added sexiness. The Patti comes in some great colors, most importantly for this list, a great metallic shade.
Sometimes the best footwear is those you can pair with just about anything in your closet, and make you feel and look confident and classy. The Patti is a must have as a staple in your closet for its design. With narrow toe and ankle straps, it's elegant without covering the natural shape of your foot. A stiletto heel will give swagger to your step, and closed heel will help keep you from slipping out of the sandal.
The Patti adds flair and fun to your ensemble through its colorful options, as well as different textures available. Choose soft suede for a luxe look, or patent leather for some attention-grabbing shine. Hot pink and bright reds, to metallic silver, and even more subdued neutral color options will pair with whatever your need may be. A great staple to have in your footwear arsenal! Moderately priced for the brand, the Patti is one of the go-to pieces to add to your collection, due to is sophisticated simplicity in design, and various color and texture options. Delicate ankle and toe straps accentuate the natural foot shape, while bold colors can dress up any outfit. A great investment to consider if you're in the market for a sandal.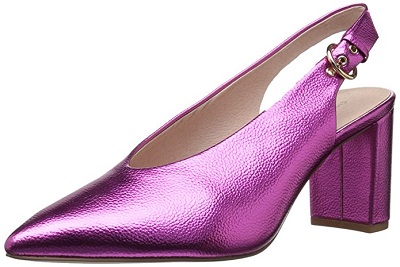 Chinese Laundry is a fashion-forward footwear label catering to the young women's market. They create stylish daytime looks in innovative fabrics and evening collections in dressy metallics and iridescence. And the Chinese Laundry Obvi is certainly metallic and iridescent. You will not be able to take your eyes off of this ultra-pointed toe pump with a plunging topline, a buckled slingback, and a thick, three-inch heel. It is gorgeous, it is unapologetically metallic, and if you're the type of person who's not afraid of showing off their style - it is a must-have!
The slingback strap on the Chinese Laundry Obvi is there to secure your foot and make sure it doesn't slip out. It also has a buckle closure, which allows you to adjust the fit of the shoe however you'd like. The striking metallic color, the unusual silhouette, the sharply pointed toe! Have you ever seen anything cooler and yet still somehow so retro than the Chinese Laundry Obvi? We are absolutely in love with the entire design of this shoe.
Chinese Laundry as a company has a goal to provide stylish footwear at an affordable price, and their Obvi pump is definitely affordable. It is not a shoe for the faint of heart, unsuited for business-like settings due to its vibrant color, but if you're dying to have it, you will be happy to know that it won't break your bank.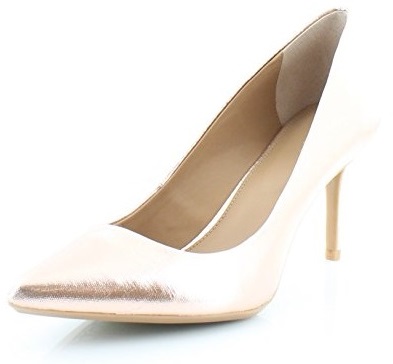 Every wardrobe needs a staple pump in it. While the Calvin Klein Gayle is clean and timeless in design, its Rose Quartz metallic color makes it pop, earning you many compliments, whichever event you happen to be attending. From a design company known as "the supreme master of minimalism", this pointed toe pump is easy to wear with its three-inch sculpted heel and gel pods for comfort. It is perfect for that day-to-night look, and you won't be able to imagine a better metallic pump for yourself!
Walking in high heels can be difficult even to the most experienced of us. However, the Calvin Klein Gayle has a classic heel of three inches, making it the perfect height to spend all day in them. Sitting, standing, dancing - all of this is a breeze in this pump!
To ensure that all-day comfort, the Calvin Klein Gayle is outfitted with gel pods in the front of the shoe, to take some pressure off the ball of your foot. Thanks to this, you won't feel even a twinge of discomfort as you show off these beauties.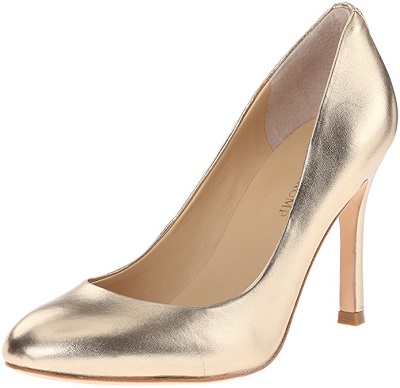 Ivanka Trump's collections reflect her own personal aesthetic, featuring clean, polished and feminine styles. Not surprising, then, that the Ivanka Trump Janie is refreshingly sleek and simple in design. It is a perfect pump - sexy, refined and with a slender heel, and in this impressive gold metallic color it makes a posh statement. It is a great addition to any party or evening wear outfit with its round-shaped toe, slip-on design, and a lightly cushioned leather footbed for added comfort.
The benefit of having a natural material such as leather on the footbed of the shoe is that leather is soft, and changes shape over time. It conforms to the contours of your foot, ensuring that you will hardly find a more comfortable heel than the Ivanka Trump Janie.
While pointed toe shoes often cause cramps and numbness, as well as the unwanted visual effect of toe cleavage, all of this isn't a problem with a rounded toe pump. The Ivanka Trump Janie won't pinch your toes, and you will be able to comfortably wiggle them at any time!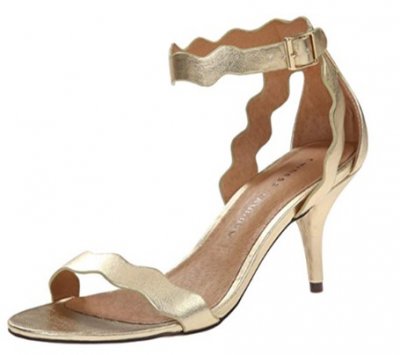 If you want a bit more subtle of a show for your next pair of metallic heels, Chinese Laundry's Rubie may just be the perfect pair for you. A subtle, yet flirty look and feel to it, strappy design showcases the natural arch and shape of the foot without the skyscraper heel. Scalloped straps across the toes and ankle give it the perfect elevation of sophistication for either business, date night, or other more formal gatherings.
With both options for gold or silver metallic colors, the Rubie by Chinese Laundry won't blind you with shine, but instead, woo you with hints of luxury. The strappy design showcases metallic hues across the toes and ankles, and have scalloped edges for extra appeal and movement. Comfortable, airy, and light, they make a great option for business, summer evenings, or even more formal occasions.
The Rubie is a smaller heel, with a 2.5-inch boost in height to keep them comfortable for walking, standing or dancing. This kitten heel helps feet feel less tired and sore, but a lightly padded footbed also contributes to some cushioned comfort. The ankle strap is adjustable, so you'll find the right fit for you to keep you secure without feeling restricted. Synthetic soles provide ample traction on any kind of surface so you can step in confidence when wearing this pair of heels.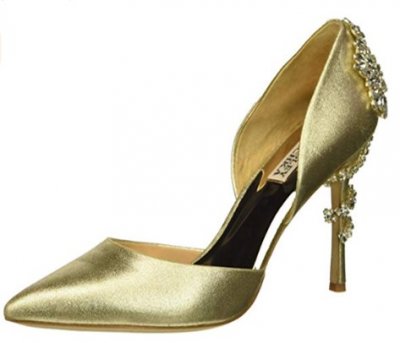 Talk about a 'wow' factor! The Badgley Mischka Vogue not only makes a golden metallic showstopping entrance, but its embellished rhinestone heel takes it over the top in design. This heel was made for attention, and perfect to pair with simple ensembles where it can be the star of your evening attire. If you dare, pair these with a skinny jean for a night out and get ready for loads of compliments!
The Vogue reflects Badgley Mischka's style for something new and daring and stays in the 2018 trend for heels that have an architectural or different look about them. Reminiscent of old Hollywood days and Great Gatsby-like styling, the Vogue's heel sports a large cluster of rhinestones on the heel which wraps down and around the stiletto-like a vine. Like beautiful bling of elegance craving to wrap around your heart, this heel will have you falling in love when you slip them on.
The Badgley Mischka Vogue has an antique gold metallic hue to the suede uppers, giving it subtle shine that can pair with just about anything. Cushioned insoles make these suited for walking or standing, and a modest heel keeps the wearable for longer periods without arch pain. Leather soles can be a bit slippery, so be sure to wear them in properly, or grab a pair of non-slip pads for traction.

7

. Blue by Betsey Johnson Elsa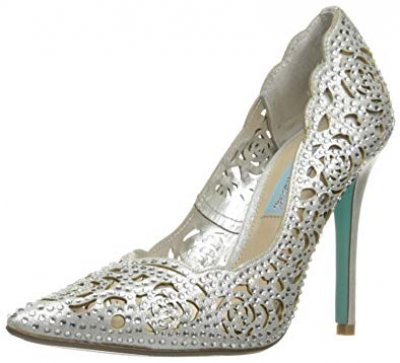 If you aren't yet familiar with Blue by Betsey Johnson, consider the Elsa your introduction to the baby blue sole shoes in this line of the designer. The Elsa is an elegantly crafted high heel, with unique patterned cutout reflecting a lace-inspired concept, making it sophisticated for events that need a bit of formality. Silver and gold hues give that metallic quality for an additional pop of attention. Great for weddings, formal parties, or girls night out.
Textile uppers create the metallic hue and shine of the Elsa, giving them lightweight and comfortable foot feel during wear. Adorned with rhinestones spaced throughout the pump and interlaced with lace inspired cut out design, they'll catch the light and the attention of those around you. A scalloped heel and toe edge the pump to flatter the foot shape, while a pointed toe provides classic style appeal.
The Blue by Betsey Johnson Elsa has a modest heel of just under 4 inches, which makes these a great pair for weddings or formal events, but not for longer durations of wearing or walking. Namesake baby blue heel and soles make them ideal for a pair of wedding pumps, but if you don't want the blue scuffed, invest in some non-slip grip pads for the sole!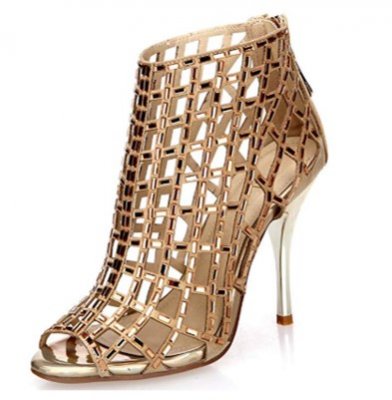 This sassy little cut out boot brings all the edge and shine to its design! The Littleboutique Cutout is more of a bootie style heel, which captures the foot in a shiny metallic cage of brilliance. Peep-toe with cage design, uppers will dazzle with same color mirrored accents that run through the entirety of the bootie. Back zipper closure creates easy in and out access, and the heel stands at 4-inches, perfect for evening wear!
One of the hit trends in 2018, this metallic bootie sports a caged structure that covers the foot in dripping golds, gunmetal, silver, or black, which accentuates the shape of the foot and give a unique look. Mirrored accents of the same hue reflect the light with each step and run the entirety of the bootie. Wrap your feet in the Littleboutique Cutout for a dazzling night out on the town!
At the base of the Littleboutique Cutout is a rubber sole, providing traction and grip when dancing or walking. Peep-toe completes the cage look, keeping it open and airy, while a zipper back closure helps make them easy to get on and off after a night of dancing. Four-inch heel height gives ample confidence in your steps so you can focus on lighting up the town with glitz and glam!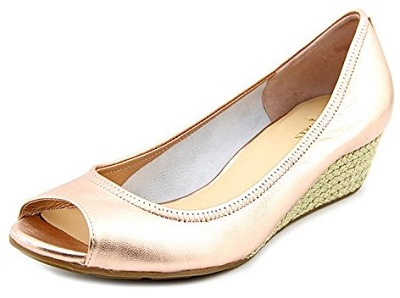 Cole Haan is a company with a long history behind it - a whole 80 years of being one of America's premier luxury brands! Their shoes are a symbol of artisan quality and impeccable craftsmanship and this is quite evident in the Cole Haan Tali. It is a peep-toe pump with a wedge heel of borderline insignificant 1.5 inches, and even a platform of 0.25 inches, which makes it effortlessly easy to walk in. What is most striking, however, is that the Tali also comes with Nike Air Technology, due to Nike having been the owner of Cole Haan in the past.
Nike Air is a revolutionary technology in the field of footwear comfort, where cushioning is provided by air pockets located in the midsole. These air units absorb shock with your every step and bounce right back, ready to take on the next impact. Truly like walking on air!
The benefits of a wedge heel are countless. The stability of this heel is unparalleled, but also any numbness or pain in your foot is practically non-existent, as your weight is evenly distributed in the shoe.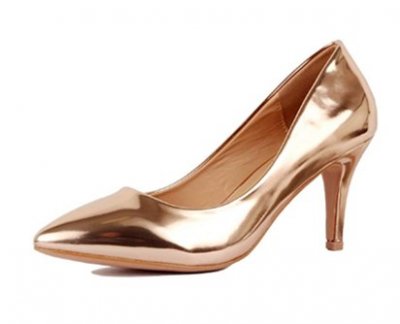 Speaking of an everyday pair of go-to heels, Guilty Shoes Classic metallic pumps are the perfect option for business, casual, wherever and whenever! With options for silver or gold metallic uppers, they'll add a bit of brassy sass to your outfit. A modest 2.5-inch heel makes them extremely wearable for all day work dress or evening events, and with the easy to clean synthetic uppers, you won't need to worry about any difficulties cleaning these off should they get dirty!
The Guilty Shoes Classic does just that and keeps the style of this pump sweet, simple, and to the point. Its 2.5-inch heel makes them easy to walk around in, for running to your next business meeting or picking up the kids at daycare, they keep you stable and balanced for a high heel pump. Lightweight in its design, they'll keep you going during the day, without your feet complaining!
Available in either gold or silver, the Guilty Shoes Classic metallic pump will give your usual style an upgrade, and simpler pieces in your wardrobe some attention-getting style. Perfect for weekend wear with jeans, or at the office with slacks, dresses or skirts, the pointed toe is great for peeking out under flowing fabrics or slacks. It's the perfect go-to pair of pumps for any occasion.

Subscribe to our Newsletter