Best Red Shoes Reviewed & Rated
In a Hurry? Editors choice: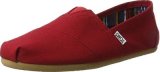 Test Winner: TOMS Classics

The color red emulates happiness and love, it's
romantic and thrilling
, and just seeing it can make your heart beat faster. It elicits
boldness and confidence
, it stands for courage, and throughout history was the color of the privileged.
With all of this, it is easy to see why shoe designers like the color red. We searched through hundreds of shoes to bring you the top 10 list. You'll find a wide variety of styles, including sneakers,
boots
and pumps, giving you the chance to choose the pair (or pairs) that'll add that pop of color to your next fabulous outfit.
Standout Picks
Criteria Used for Evaluation
Color
When you are looking for a bright red shoe, no dull colors will do! The fun thing about wearing candy apple red is that it is vibrant and lively. Choosing a red shoe means looking for an eye-catching shade. You can still purchase a muted color but that takes away from the fun of bright red. Red garment dye undergoes multiple stages of processing to reach its peak boldness. Inside a production factory, yarn that does not meet the color guidelines the manufacturer seeks gets sent back to be dyed again. On the other hand, it is tossed with the other products slated to be damaged out.
Another aspect to consider when purchasing a very bold and bright color such as red is the colorfast holding ability. Unfortunately, red is known for not being washable in hot water. However, when caring for your shoes you should never wash them in a washing machine. Spot cleaning is best. Therefore, you have complete control over the cleaning process. Never submit a red shoe to harsh chemicals or hot water. You will definitely damage the color and vibrancy of it. It is best to check the care guidelines of your particular shoe before attempting to clean them. You want them to last as long as possible so it is best to follow their guidelines.
There are many shades of red to choose from in shoes. If you are searching for the exact red to match an outfit, it might take a very close examination of the colors. Reds that don't exactly match, clash very loudly. It is better to purchase a red shoe that is many shades off from the outfit than to try and match it closely.
Blush - There are many variances of red that range that fall in the soft and subtle category. Blushes would be considered one of these variations. These might almost have a pink hue to them because they are so soft. For example, pink strawberry. It has just the slightest pink-red hue. Blush tones have a gorgeous color. Additionally, this shade has just enough red to keep it in the category of red but sits very close to the line of pink.
Brick - In terms of hue undertones that affect the overall appearance of a color, red is notably known to have orange undertones as well. Similarly, red brick is a good example. Traditional brick colors have rusty red-orange appeal. The orange underlayment gives those types of shoes fiery angle. The orange softens the boldness of red while still giving it flare
Wine - Next, you can find reds that range in the purple-red range. Colors that typically spring to mind are wine and merlot. The deep wine color evokes a sense of calmness and relaxation versus some of its counterpart colors. The muted purple tones down the wildness of bright fire engine red.
Candy Apple - Then there is this. The candy apple red beauty of all things red. It is the height of the bright. Glossy and pure red. Candy apple or maybe fire engine red draws out the maven in everyone.
Comfort
As with any shoe, comfort is the number one thing to look for especially more than the looks. Furthermore, the comfort rating of this category had to be done differently than other categories. The reason is the shoes in this category, while all red, are many varying styles. The way comfort is judged concerning an athletic shoe will be different than the comfort used to judge a high heel. However, we looked at similar characteristics in the shoes based on their style.
Breathability - Shoes that do not breathe are not comfortable. Your foot gets trapped in there. It makes your foot hot and sweaty. Your feet are one exit point for heat trapped inside your body. If the heat is escaping but only into shoes that trap the heat inside, you will be very uncomfortable overall. In order for your foot to feel cool and your body to be comfortable, shoes need to be breathable. As well, they should be made from materials that promote high air flow in the shoe and around the foot. For athletic shoes, you will be most comfortable in a shoe with a mesh upper. However, a high heel shoe will not be made of that. Another factor of purchasing a shoe with high breathability is it reduces the moisture build-up inside the shoe. Shoes are known to be breeding grounds for germs and bacteria. Without proper airflow and your shoes drying between wear, your shoe can be harboring very harmful fungus. Furthermore, this fungus can lead to athlete's feet and growth on the nail and skin. Lastly, shoes will not last as long if they are not dried between wearing times. The bacteria that grows will cause unavoidable odors and the quality of the shoe will diminish. In order to preserve the overall integrity of the shoe, it is important to keep the shoe dry. This is done by allocating enough time for the shoe to dry before wearing; as well as getting a shoe that promotes airflow while wearing. Some of the shoes on our list are very open and therefore will not have as much problem drying as some of the others. For example, the Crocs Clog. Buyers of this shoe are able to clean and dry the shoe within minutes. However, the Hunter rain boots, while made for moisture resistance on the outside, might be harder to dry on the inside.
Flexibility - For a shoe to be comfortable it needs to move with your foot. In essence, the shoes need to be flexible. Some shoes will have a more rigid bottom which is to be expected from something like a high heel. On the other hand, athletic shoes or flip-flops should be fairly flexible. Ultimately, the flexibility of a shoe comes down to the sole. Most shoes have an outer sole, which is the portion you walk on; an inner sole, which is the portion inside the outer sole; finally, the footbed, which is the part that your foot rests against when inside the shoe. Generally speaking, the outer sole is made from rubber. This will be almost all of the shoes in production. However, there are cases where the rubber is not used and that is for shoes with special functions. The rubber on most soles will have a traction or tread pattern. This is what assists with stability and security when walking. Once the tread wears down on a shoe, your chance of slipping on certain surfaces is higher. It is very important to pay attention to the treadwear on a pair of shoes. Of the shoes on our list, the high heels will not offer as much traction as the rain boots, for example. The sole affects the flexibility in that a rubber or soft sole will offer a lot more flex than a sole that is made of a tougher material. The inner sole of a shoe it what the composure and integrity of the shoe come from. Some shoes, such as athletic shoes, have a shank that is made into the inner sole. That is where the support of a shoe originates. Also, the inner sole is a great place to have added support. Things such as memory foam and reinforcements would be good here. The inner sole also contributes to the flexibility of a shoe because it depends on how rigid or soft a shoe designer makes the inner sole.
Padding - Another item that affects the comfort of a shoe is the padding. The padding can be known as the footbed. The footbed of a shoe is the portion that your foot rests upon when wearing the shoe. Accordingly, most shoes will have majorly padded footbeds. For example, they will have a very plush feel when you press against it. Further, some shoes have a footbed and then a removable insole which adds to the padding level. On the contrary, some shoes will not have any padding, most due to designers preferences. High heel shoes are becoming increasingly more padded to the most extent possible. However, they do not offer the cloudlike feel as your favorite gel flip-flops.
Material - With a list so large we came across numerous materials being used in these shoes. The material affects the comfortableness of a shoe immensely. If you are searching for a lightweight and breathable shoe, chances are you will not buy the rainboot to serve those needs. Rain boots do not breath well and are made to protect the foot. Therefore, they are not lightweight and flimsy. In terms, of athletic shoes, they are usually made with a mesh or mesh composite material. This is largely due to the need for flex and breathability in those shoes. Moreover, you might find some sneakers that are made of canvas. Canvas is another highly breathable fabric. Canvas also dries quickly when the shoe gets wet. Many other types of materials can be used in the design and implementation of a shoe. Choosing the right material to match your needs will determine whether you wear the shoe or not. If you do not like how a shoe feels or fits, chances are they will be tossed into your closet; only to be seen when it is closet clean out day for the donation box.
Style
For this buyer's guide, we were faced with choosing the best red shoes. That is a wide topic. Therefore, we are able to bring you a wide selection of styles to choose from. In everyday life, we are faced with what type of shoes to wear. There are flats, flip-flops, dress casual, formal dressy, boots, sneakers, and more. In addition, each of those categories has their own sub-categories from which we can choose to wear.
It was a daunting task to examine hundreds of different styles of red shoes to narrow down to only 10. In our list, we included flats, clogs, hi-top sneakers, athletic sneakers, high heel/dress, and rain boots.
Flats - Flats are a great all-around choice. They can be dressed up for work or professional situations. Also, flats can be more casual with jeans and a nice shirt. This type of shoe is a great encompassing choice that will go with many outfits. It can also be a style of shoe that is worn for many different occasions. Flats are also forgiving on your foot when compared to something like high heels; however, they can still be worn for the same occasions. They pair well with dresses, shorts, jeans, and leggings.
Clogs - Clogs make a fabulous choice as a shoe for almost anybody. They are making a name for themselves in the workplace as well. Many shoe designers took notes on the demand and are making these shoes in fun styles and patterns. Clogs are good in many different weather elements as well. You can even wear them with socks to keep your feet warm on cold days. These shoes are versatile in the situations you can wear them. To add, they will bode well with jeans, shorts, and other casual clothing. Conversely, they are not considered shoes for fancier events such as a wedding.
Sneakers - While always a favorite shoe, sneakers are still thought of as casual. Some daredevils might sneak and wear them to work when not allowed, but with the right style you could possibly pull them off for more dressy situations. There are places for athletic shoes versus the limitations on a nicer sneaker. The plus side of sneakers, they are comfortable! You can wear them for miles a day. As well, they are great for so many occasions and places. Of course, they provide a great traction on many surfaces too. Finally, sneakers are a good choice for almost any climate and weather condition.
High Heels - Some women love them and some women hate them. Regardless, high heel shoes are just about as interesting as the architecture in your favorite big city. The designs and the intricacies that go into the production of high heels is a labor of love. Definitely not on the most comfortable list, but women still buy them in the droves every day. High heels have found their way into outfits with jeans, shorts, leggings, dresses, and more. They are a staple in the dress outfit and won't be going anywhere anytime soon.
Rain Boots - Last we have the rain boot. It is a wonderful shoe for everyone to have. They also make a good alternative to snow. The rain boot is a versatile shoe that can be worn at the hint of rain. Some people prefer them for their warmth and protection they provide. Many people opt to wear rain boots to do household chores, such as mowing the grass. The boots form a nice barrier up the leg.
Value
One of the first thing anyone will look at when purchasing a new pair of footwear is the price tag. While everyone's budget may differ, it's only natural that we want to get the most out of our investment. Not only does this mean a beautiful shoe that we'll enjoy wearing as often as possible, but also a high quality make that'll ensure that we actually can do so.
The models listed above all have different price points, meaning that anyone can find one that they'll be able to afford, but what will have most value to one person will not to the other. For the best possible purchase, there are several factors you will want to consider:
Versatility - the way a pair of shoes is designed will often determine whether it'll be appropriate to wear on various occasions. While a pair of red pumps may look to die for, there will be a limited number of places you'll be able to wear these. A pair of sneakers or comfortable Oxfords, on the other hand, may see more use on a day to day basis.
Durability - nothing's worse than working hard to earn your money, than spending it on low quality items. Not only do we want to purchase footwear that we know won't fall apart after just a couple of uses, but some may even be shopping for pieces they'll be able to wear for years to come. If it's that kind of durability you're looking for, a higher initial price tag should pay off, as long as you take good care of your kicks.
Brand - one of the things that'll influence the price tag the most is the brand. If you go with a model that's made by a recognizable name in the industry, you can expect to pay more than for a model by a less popular maker. This does not have to mean that there'll be a significant difference in the quality of the products - all it means is that you'll be paying a little (or a lot) extra for the logo or name on the bottom of the sole.
Top 10 Red Shoes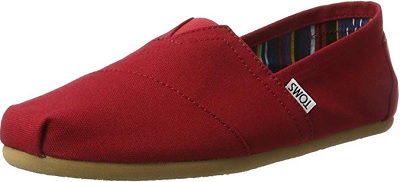 Based off of a vision of people helping people, Toms shoes was born. The idea was to help children in underdeveloped nations with proper footwear. Born in 2006, TOMS revolutionized the footwear business. Not only with their business model but with their wonderful foot apparel. The Tom's Classic pairs simple with comfort. These are some of the most lightweight shoes you will ever put on your feet. They are made of a canvas upper so the comfort goes from the sole all the way through the footwear design.
Rubber Sole
You don't think at first glance this model would have a very supportive sole. Contrary to appearances, the soles of the Classics are highly supportive and adaptive. As well, they are rubber which means the traction they provide is very good. Suitable for most worrisome surfaces.
Canvas Upper
The upper is a strong but flexible canvas material. It gives the footwear the ability to stretch a little bit to accommodate feet that swell during the day. Also, they have elastic stretch points right at the tongue to give more stretch to the canvas upper.
Cost and Value
Only a few products in the category came in the same price range as these ones. It is an even better value because they are the number one choice. These feet apparel are at a very affordable price. They should be available to anyone even on a budget. They are not even considered a splurge. Also, Tom's brand is widely known for dependable and long-lasting footwear.



A valued and well-trusted brand of boots is Hunter. They are the industry leader in quality products. You will instantly be recognized for wearing the Hunter brand. Not only are these fabulous rain boots, they are stylish enough to wear with jeans, leggings, shorts, etc. Some people opt for wearing them to do yard work as they protect the feet and legs. The boots are warm and very comfortable. The flexible shaft is only slightly restrictive on the leg.
Fuller Waterproof
What is the point of a rain boot if your feet get wet because the water soaks in the material? Not with the Hunter brand of rain boots. Your feet and legs will stay completely dry inside a pair of these boots.
Textile Lining
The lining of the boot serves 2 purposes. First, it is soft and comfortable against the leg. It also adds to the flexibility of the boot Secondly, the lining adds another layer of protection from the water. Just in case some water somehow seeped into the boot, the lining provides one last layer to help your skin be protected.
Cost and Value
These rain boots are a little bit pricier than most of the other footwear on our list. However, they are an incredible boot. Being backed by a fabulous brand that is known for their superb boots. These rain boots will protect your legs while keeping your feet dry. You can use them for so many different practical things. Furthermore, people have gotten to the point of wearing them as a fashion item. They are durable and will last so even though the cost is higher, they are a great value.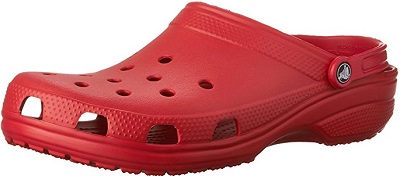 Originally, Crocs were not considered high fashion footwear. However, the past 2 decades, Crocs have become widely sought after for their comfort and versatility. While the company has ventured into many styles, the Crocs Classic is still iconic. You would be hard-pressed to find a softer and supportive footwear. Oddly, enough they were not known for their support but time has shown they are great for people with feet and leg problems. With many advanced design features, it is easy to see why people are flocking to Crocs.
Roomy
The Classic style definitely accommodates even the widest of feet. The footwear is overly roomy in the length and the width. With that being said, the style of Crocs Classis is not a good choice for someone with overly narrow feet.
Crosslite Foam
The patented Crosslite foam means you can stand all day and not feel tired. The support and cushion of the Crosslite foam are unmatched. The foot apparel cradle the foot in just the correct way to help alleviate pain in the joints.
Cost and Value
These Crocs are at an incredible value. They almost were the lowest priced in the category. They are widely known for their durability. They are even easy to wash and clean. Finally, the float! So if you lose yours on lake day or at the waterpark, you can keep an eye on the surface. The buoyancy will turn them back up in no time.

4

. Converse Chuck Taylor All Star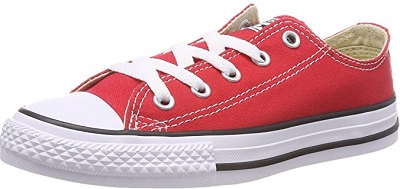 These are wonderful toddler and kid's footwear. They are made with a vulcanized rubber outsole, so your child will gain better overall traction. The lace-up feature allows you to secure them for support and security; not to mention, it helps to set off the aesthetic visual pleasure of this footwear. In addition, they are lightweight and have decent breathability.
Canvas Upper
The upper is made to be both lightweight and breathable. This means your child will feel more comfortable on those days which may be a little more warmer than usual.
Vulcanized, Rubber Outsole
When kids are young, tripping and slipping seems to be the norm. With the vulcanized rubber outsole, however, your child will have a stickier grip; assuring they are more sure-footed than ever before.
Cost and Value
These run midrange when compared with others on this list, but they are, also, child's footwear. This means they may be a bit expensive for fast-growing feet. With that being stated, however, these are well built and are durable; meaning they will last.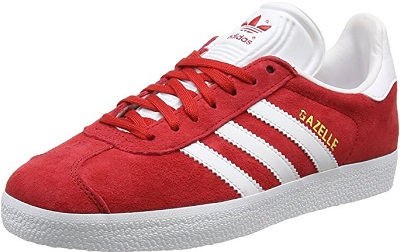 This casual footwear is great for daily activity. It has a non-marking outsole made of rubber, 3-stripe overlay system, and is made with a pigskin leather upper. Additionally, the lace-up design provides a more secure fit, while the flexible midsole is low-profile. The size does run narrow, so if you have narrow feet, these may perfect for you.
Leather Upper
The leather upper is made of pigskin. Although not for those searching for vegan-friendly footwear, this upper does remain durable and will last for those who do enjoy leather.
Non-marking, Rubber Outsole
When you go to the mall or a friend's house, it can become quite embarrassing to mark up a floor. With this pair, however, you do not have to worry about such things, as they are non-marking.
Cost and Value
This pair is a bit expensive but is, also, made with the high-quality materials. As such, they are worth the investment; especially, when considering their durability and longevity factors.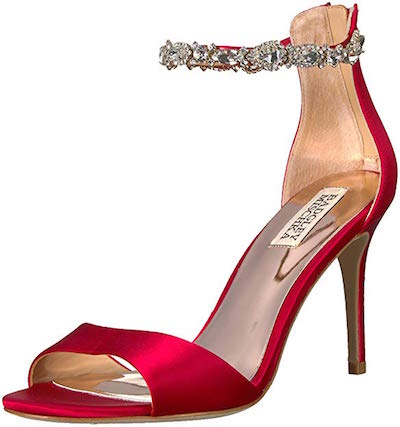 An evening foot apparel embellished to make your outfit stand out, the Sindy by Badgley Mischka is a great choice for formal occasions or nights out on the town when you want to dress up your favorite pair of skinny jeans. Available in several colors, it's the red satin that will definitely draw most attention (and compliments) making you stand out in a crowd without going over the top for one second.
Zipper Closure
What differentiates the Sindy from most other models on this list is the back entry and zipper closure which makes putting these on a breeze. It also eliminates the need to adjust the ankle strap, that will adjust to the size of your ankles through a small elastic addition instead.
Luxurious
Not only is the Sindy made with a shiny satin upper, a golden lining and a stunning 3.5 inch heel, but it's also embellished with beautiful crystals that are the perfect amount of bling. You'll definitely feel like Cinderella in these peep toe sandals.
Cost and Value
The Badgley Mischka Sindy boasts quite a steep price, but that's to be expected of a pair of designer sandals made to ooze opulence and class. The leather sole makes them comfortable for longer periods of wear, and the embellished ankle strap and back zipper definitely add up to a stylish look.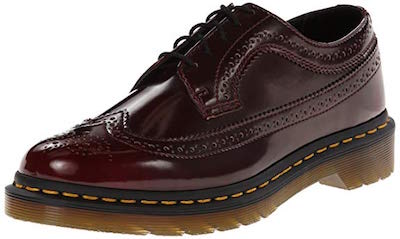 Timeless style, comfort and durability are just some of the things that come to mind when Dr. Martens footwear is mentioned. Their iconic work boot is always in vogue, especially as every year, a number of new colorways are released, but this time, it's the 3989 that makes our list. A recreation of one of the brand's earliest models, it's handcrafted in their factory in Northamptonshire, using a striking shade of oxblood that'll definitely get you noticed.
Goodyear Welt
The finest construction you can wish for in a pair of footwear is what you get with the 3989 Vintage. Made with the Goodyear welt, the upper and the sole are stitched together, then heat sealed, resulting in an almost indestructible foot apparel that'll even stand up to less than perfect weather.
AirWair Sole
Dr. Martens footwear is well known for being comfortable, even with prolonged use, mostly thanks to the rubber compound that ensures your steps are both cushioned and supported. Even more, it's highly slip-resistant, and will even stand up to the test of abrasion, oil, and fats.
Cost and Value
This is a quality pair of footwear, and you can expect to pay a fair price for a handcrafted Oxford such as this. Not only are they made in England, but they're also constructed from a harder, more durable leather upper than the regular pair of 1460s, which means these are likely to last you a lifetime.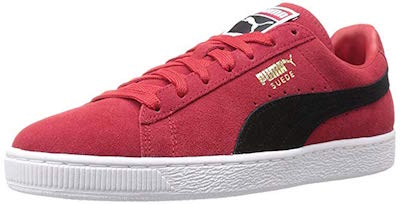 PUMA has been a style icon for many decades. Their foot apparel brings cool designs and ultimate comfort. They have appealed to many types of people from rockers, to skaters, to your everyday person. The suede attribute has been synonymous with PUMA for many years. The suede upper features suede tooling. The reinforced footbed cushions the foot so it feels like walking on a cloud. The foot apparel is very breathable so you won't need to worry about your foot getting hot.
Padded Collar and Tongue
One area that offers strong support is the collar. It cradles the ankle all the way around to make your foot feel secure. Also, the tongue is padded absorb the pressure from the laces against the top of your foot.
Rubber Sole
The rubber sole that the PUMA shoe offers help resisting slips and falls. It keeps you feeling secure and stable underfoot while walking on most terrains and floors. Also, the rubber cushions the foot upon impact to absorb the shock before it enters your foot. This makes it a great everyday choice of footwear.
Cost and Value
This model is a little bit higher priced than some of the others in the category. However, it is still in the middle of our price range which makes it affordable for most budgets. The highlights of the footwear make it a good choice for everyday wear. Therefore, you can get plenty of usage out of the foot apparel. You also are purchasing a shoe from PUMA which is known for their quality and lasting products.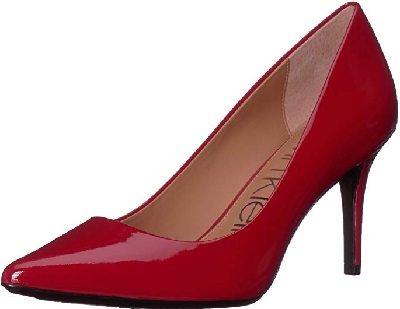 A name for the modern times that is known for beauty and all things fashion is Calvin Klein. Any fashion show of the year will feature Calvin Klein and his designs. Here we have the Gayle Pump which is a simple but bold red pump. Sophisticated styling makes this 3" pump an absolute requirement in every woman's closet. The comfort of this footwear is highly considered as it has a very cushioned footbed. Finally, the sole has great traction which makes you feel secure underfoot when wearing the Calvin Klein Gayle.
Gel footpad
Anyone that has ever worn heels knows how uncomfortable they can be after so many hours. Calvin Klein raised the bar with these pumps. A highly cushioned footbed cradles the foot as well as it can as the sole of a pump is not flexible like an athletic type footwear.
Rubber sole
Traction on high heels is limited to a heel point and the ball of the foot grip. You will want a piece of footwear that can absorb the impact from your entire body weight on these small areas. A non-slip grip sole is incorporated into the bottom to assist you with walking.
Cost and value
This footwear comes in the middle of our price range. That is a great value for the brand and the footwear you are getting. Calvin Klein is a prominent brand that has been on the scene for decades. He has built his brand to be dependable and of the highest quality in the fashion industry. When you purchase them, you can rest assured that you will be getting a strong pair of foot apparel that you can count on. They can be worn every day and you will get plenty of usage from them.

10

. Dansko Professional Mule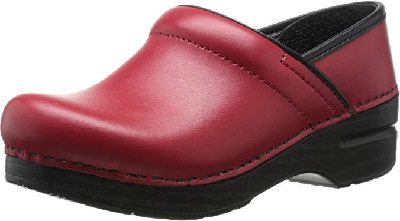 Dansko has been a favorite shoe for medical professionals for decades. Their footwear is known to support feet for many long hours of standing on end. The comfort, stability, and support reputation has since spread to others. The Professional Mule has many attributes that make it a great choice for foot apparel. The sole has great traction, it is easy to clean, and it is foot apparel that can be worn in all weather elements, even with socks.
Leather
The upper being made of leather means the footwear is going to retain its shape adding to the life of it. As well, it is easy to clean and will resist stains. Lastly, it protects the feet from the weather elements in style.
Wide Heel Strike
Upon landing in this shoe you will notice a wider platform for your heel to strike. This creates a sense of balance and security underfoot. Pair that with the slip-resistant grip and you will see why so many people love the Dansko clog for protection on all floor types, wet or dry.
Cost and Value
The Dansko Mule is one of the higher priced footwear in the category. However, it lends itself to structure and long-lasting durability. As well, it is a great choice for all weather and seasons. You will get to wear them every day should you so choose. Lastly, they can serve as a dressier shoe which makes them a good choice for more events that you could wear them to. Dansko has built a solid reputation in the medical field and all around for being high-quality and dependable. That is exactly what you will be getting that when you purchase them.

Subscribe to our Newsletter