Best Hunter Boots Reviewed & Rated for Quality
last updated:
May 04, 2020
Whether you are a veteran consumer of Hunter boots or not – we can say, owning and wearing a pair of these boots, with their logo proudly displayed, is an experience in of itself. Today, we sought to share with you the absolute best that Hunter has to offer. Each product that you read about was thoroughly researched and analyzed to ensure its quality, effectiveness, and legitimacy. Below, you will find our top 10 picks for boots made and designed to be one of the most functional items you will ever own.
This is the best product on our list that is currently in stock: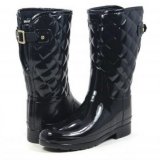 Original Refined Short Quilted
Why is it better?
Tough Rubber Materials
Pull-on System
Comfortable Footbed
Fashionable and Stylish
In a
Hurry? Editors choice: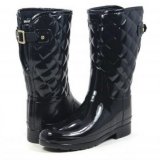 Test Winner: Original Refined Short Quilted

13
Researched Sources
1397
Reviews Considered
10
Hours Researching
12
Products Evaluated
Style
Outsole
Materials
Upper
Value
By Default
Top 10 Hunter Boots Reviewed in 2020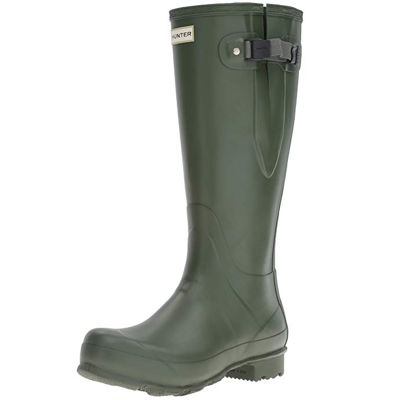 Natural Rubber
Improved Flexibility
Durable
Waterproof Strap
Improved Traction
Slightly Pricey
Limited Color Options
Improving on the original design in terms of flexibility and durability, the Norris Field is the latest update to the boot that made Hunter so famous. Intended for heavy-weight use in trying conditions, it's the perfect companion to those muddy highland walks, for doing all your farm chores, or just commuting to the office.
New Rubber Compound
The new rubber compound was developed to be more flexible and resilient than that used in the originals. It's been tested with a verified flex test where half a million movements were made in all types of conditions to ensure it wouldn't start to deteriorate.
Stronger Heel
The heel area has been updated as well, making it less likely to degrade and start to leek. The adjustable strap is now waterproof, while an even grippier outsole tread pattern has been added for challenging terrain.
Cost and Value
Slightly above average in terms of cost, you should choose this model over the original if you know you need something slightly more heavy duty. It comes in 4 classic color options, and with the right care, can last you for years to come.
2

. Original Refined Short Quilted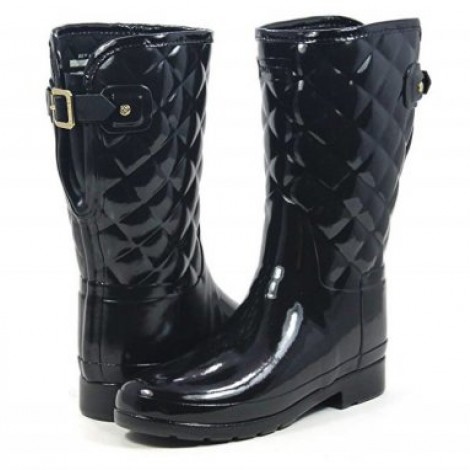 Tough Rubber Materials
Pull-on System
Comfortable Footbed
Fashionable and Stylish
If there was a product from this brand we could not wait to share with you, it was this one. The Hunter Original Refined Short Quilted Black Gloss Boots are truly stunning and defy any odds. When it comes to fashion and style, this product clearly takes the medal. If you are looking to get some compliments and compliment your wardrobe, this product will do that, and more!
Pull-On Feature
Have you ever bought a pair of boots that were difficult to put on? Chances are, you can think of hundreds – as most products are designed that way! This one though is not. Here, all you need to do is pull on the boot, thanks to the easy pull-on straps, which are found on the back of the actual product. This makes it easy to slip-in and slip-out after use.
Durable and Tough
Do you need footwear that is durable, tough, and won't break after a few miles in the rain, right? Well, this brand, and product, in particular, will surprise you with how durable it really is. Made from quality rubber material – it will fend off scratches and protect your feet on the roughest of terrains.
Cost and Value
While most of the products from this brand can be considered a bit costly, this item is worth every single dollar. It's designed to withstand the weather elements, including rain and snow, and is incredibly comfortable. On top of this, it boasts the best and most fashionable design so that consumers can wear this with just about any rainy day or snowy day outfit.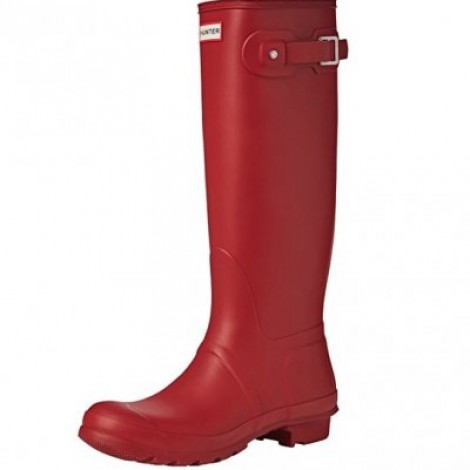 19 Different Choices
Handcrafted
100% Waterproof
Quality Rubber Materials
When it comes to the pinnacle of this brand, there is no better product to start with than the Hunter Original Tall Rain Boot. This item boasts the absolute best innovations and features than any other product on our buying guide today. With over 19 different color choices, you can't go wrong with this item. Let's explore some product features.
100% Waterproof
What really makes this product the best of the best is the fact that the entire boot is 100% waterproof. In other words, whether you are outside in the middle of a snowstorm or rainstorm, they will create a barrier around your feet, preventing any wetness from getting in, or out.
19 Different Colors
If you are looking for a product that comes with a wealth of options and choices, this is the product for you. With over 19 different colors, consumers can truly pick whatever color is their favorite. The best part, the quality remains the same across the board. Whether you pick red, pink, yellow, silver, or even black – you know it's the same quality.
Cost and Value
When it comes to comparing this product to the best of boots on our list today, this item can be considered one of the most expensive options from this brand. Now, this can be attributed to the fact that this is the flagship model of the company. However, this is incredibly comfortable and valuable, worthy of any consumers consideration.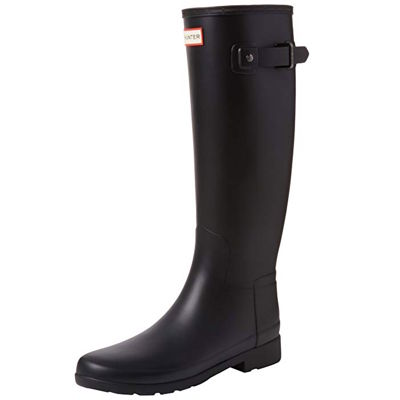 Tonal Logo
Supportive Footbed
Slim Cut
Polyester Lining
Lightweight
Unsuitable for High Arches
Slight Durability Issues
Though it offers the same benefits as your all-time favorite rain boots, the Refined Tall model is a more beautifully cut version that won't look as bulky, looking chicer and, well, refined. This slim fit boot is perfect for matching with skirts and dresses on spring days when you expect a lot of rain, or just with a pair of skinny jeans on a fall day out.
Lightweight
In addition to looking sleeker, this model is made with fewer rubber layers, making it lighter and easier to walk in for prolonged periods of time. This makes it the perfect pair to wear to work or school on soggy mornings.
Tonal Logo
A new logo was introduced for this model, made in the same colors that the rest of your boot will be in. This makes it very subtle, and slightly more elegant than the original.
Cost and Value
With a price that's above average, this is an investment piece you'll probably wear for occasions where you don't want to appear totally casual, but still need the functionality of a reliable Wellington boot.
5

. Original Lightweight Moc-Toe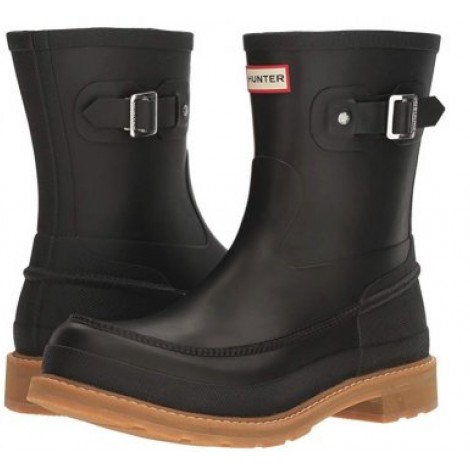 Made of Rubber
100% Waterproof
Cushioning
Pull-on Features
Expensive
No Color Choices
Thus far, we have explored an assortment of different footwear from the Hunter brand. We have yet to share with you a lightweight boot that can offer the same, if not better, benefits than some of the heavier-duty choices. This is why we are excited to share with you the Original Lightweight Moc-Toe Rain Boot as one of the best Hunter rain boots.
Waterproof Features
What we really enjoyed with this one is the fact that it's 100% waterproof. Thanks to the natural rubber materials used in the construction process, it will act as a natural barrier between your foot and any wetness.
Easy to Clean
After evaluating a wealth of different footwear, we were surprised to find out that this one was the easiest to clean. All consumers will need to do is simply use a towel or a damp cloth and almost any mud, dirt, stains, or wear and tear seamlessly wipes away. In the toughest cases, consumers can use the brand's cleaning products to really make a difference.
Cost and Value
If you are interested in purchasing footwear from this brand, chances are, you are already aware that most products are considered a bit more costly than other brands on the market. This particular product does follow suit when it comes to costs; however, it really pushes the envelope as far as value.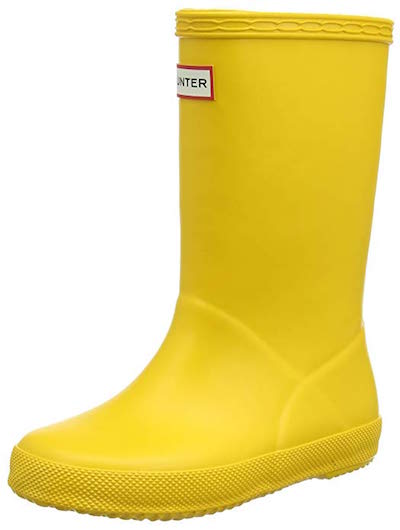 Tractioned Outsole
Numerous Color Options
Easy On/Off
True To Size
Beware of Counterfeit Products
Made specifically for little tykes who love splashing around in puddles, and who don't care if it's too soggy outside for playing at the park, the First Classic is definitely a boot you'll be glad you've purchased. Not only is it cute and comfy, but it's also one of those key pieces of footwear every child will need. Although ideal for spring and fall, they can also be used on summer days when you just don't want the little one to be wearing wet socks for the whole day.
Traction
Kids, especially toddlers are fearless, which means that they won't be taking it slow just because a tile floor is wet and slippery. This is where a good, grippy outsole comes in, making sure that your child is safe from slips and falls. Less crying and more fun is definitely something you'll appreciate.
Easy On
With a 10.5 inch boot opening, you won't have to spend precious time trying to force these on your little one's feet. Plus, they'll easily fit their pants into the boots, so that they don't get wet from jumping in all those puddles.
Cost and Value
These are definitely more expensive than your regular drugstore pair of rubber boots, and not all parents are ready to shell out as much on something their children may only wear a few times. But, if you know you'll be getting a lot of use out of them, why not choose a reliable and stylish product for your kid?


Five Different Colors
Made of Rubber
Quick Dry Technology
Sponge Cushion
The Hunter brand is known throughout the world to offer a wealth of different high-quality boots and footwear. With that, the Hunter Original Short is arguably one of the only items on our list that could possibly compete with the number one product on our list today. The reason being, this model offers relative features and value – but has a unique interior that might just be what you are looking for.
Quick Dry Technology
One of the most notable features of this item is the fact that the interior is actually constructed with something known as Quick Dry technology. Simply, this technology is designed to help prevent the build-up of any moisture or water on the interior, creating a cool and dry environment.
Cushioning
Another impressive feature is the fact that the footbed comes with a sponge cushioning to help provide the owner with maximum comfort. On top of this, this cushioning is also very durable so that consumers can be assured their comfort for many walking miles.
Cost and Value
So, how much does this product go for? Well, in truth, it's one of the most expensive options – even more costly than the first product on our list. The reason being, this item definitely offers additional features that are lacking from the aforementioned product. If you don't care about the assortment of colors and are happy with traditional colors from the brand, this is the choice for you!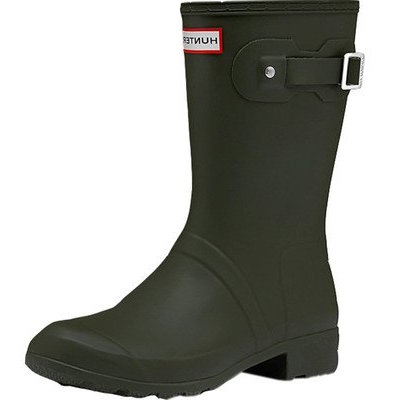 Packable
Handcrafted
Natural Rubber
Lightweight
Several Color Options
Do you need something that'll easily fit into your suitcase for your next trip abroad? The Tour Short was developed exactly for that purpose. This classic looking model is the perfect choice for those on the go. Whether you decide to buy it for your commute, for travel, or just as something that won't take up too much space in your closet, you'll definitely love it!
Reinforced Toe
The toe of the Tour Short is reinforced in order to prevent any deterioration, making it a good choice for those with more demanding tasks on their hands - especially for nature walks where you may find hidden obstacles along the way.
Handcrafted
Like all other styles made by this brand, the Tour Short is also handcrafted, making it a great investment for those who can't be bothered with design flaws and poor quality control.
Cost and Value
Slightly below average in terms of cost, the Tour Short is probably the perfect piece to invest in, if you don't really need the height of the Tall boot, and want something you won't have to worry about on your travels, commute, or at home. It'll easily fit into any bag, or even a locker at the gym, which is why it's become a fan-favorite.
9

. USA Original Rubber Lace-Up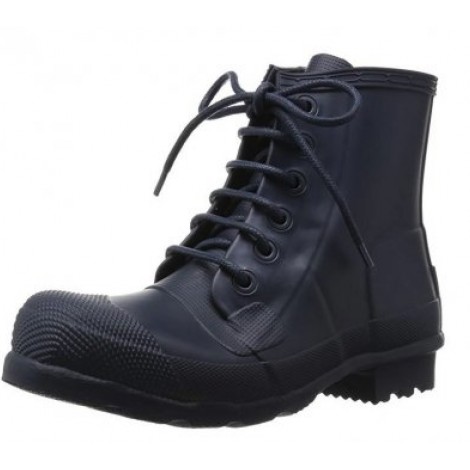 Heavy-duty
Chunky Comfortable Sole
Waterproof
Handcrafted
As we start to reach the last product on our list, we can't forget to share with you, the Hunter Boot Original Lace-Up. This is easily the toughest, strongest, and most durable option on the list. If you need some footwear to withstand wear and tear and any weather element, this is the product for you!
Chunky Sole
Let's take a minute and talk about some true value. This item is made with a chunky sole, which can be seen if you look at the picture above. Now, why does this matter? Since it's chunky, it's actually more durable, comfortable, and provides the consumer with more stability than other common footwear. In addition to this, the outsole is also made of natural rubber – boasting durability and longevity.
Waterproof Design
Have you ever owned a pair of shoes that you thought were waterproof? So, you head outside in rain storm and your boots become a puddle of water? Well, this item will surprise you with how waterproof it really is. The entire design is waterproof so that your feet are protected and will remain dry during its full use.
Cost and Value
Before we really explore the cost of this product, it's important to really consider the wealth of value that this item offers. This model is incredibly powerful, made of natural rubber materials, and can protect a consumer's foot from just about anything. With that, this item is quite fairly priced, even though it can be considered expensive.
10

. Chelsea Black Rain Boot


Made of Rubber
Very Durable
Lined with Textile
Waterproof
Another great product from the Hunter brand that is receiving a wealth of praise from consumers is the Chelsea Black Rain Boot. This particular item is a blend of style, tradition, and quality materials. So, if you are looking for an affordable pair of footwear from this brand, this might just be the choice for you.
Durable
If you are in the market for something durable, stop your research here. We were really impressed by the way the outsole and upper was designed in this particular model. The outsole features tough and strong rubber materials and the upper follows suit, and even includes elastic and nylon material for added comfort and control.
Great Materials
Let's take a minute and talk about how this product was constructed. In the industry, manufacturers have the ability to choose from many different materials. This brand decided to use high-quality and resistance rubber, alongside elastic gussets and even nylon materials. In this, it allowed the company to create an incredible product.
Cost and Value
As we said before, this product is actually a decent and affordable choice for consumers. While it does not boast the same features or designs as the first few products on our list, it's still incredibly valuable and useful for many consumers. This is a great everyday choice for those that live in colder or wetter climates that need some extra protection on their feet.
Criteria Used for Evaluation

Style
When you hear the word boot, what do you think of? Just a standard piece of footwear, right? Well, the truth is, there are so many different varieties that you might be overwhelmed! Are you ready for this? There are types like the following:
Hiking
Rain
Duck
Service
Moc Toe
Cowboy
Chukka
Chelsea
Again, this is a mere short list, and often the most common types that consumers might recognize. With that being said, when we were picking out products for today's buying guide, we actually did look at the style and type of the boot. We wanted to feature a diverse set of choices for our readers – while also highlighting the flagship models from the brand.
When picking out your product, be sure to figure out what style and design match your needs and preferences. This can significantly help fasten the entire decision process.

Outsole
If you are new to shopping for a quality pair of shoes, we are about to teach you about the three most important aspects of a shoe. The first that we are going to share is all about the outsole. The outsole is the bottom part of any footwear. Typically, this part of the shoe is playing a significant role in the durability and stability of the actual footwear. So, if you have ever owned a pair of shoes that broke quickly, chances are, the outsole was designed poorly. For the purpose of this buying guide, it was essential and vital that we knew precisely what the outsole was made out of and what benefits it offered consumers.
Given the reputation of the brand, we anticipated that every single product would be infused with the absolute best rubber materials and traction properties – let alone waterproof. This remained true for nearly all products as the company used natural rubber in all of their products – and ensured that the outsole could withstand daily wear and tear. Just the outsole alone, all products from this brand exceed any expectations.
Midsole
The next portion of the shoe that we would like to teach is called the midsole. As the name implies, this actually represents the interior and middle part of the shoe. If you guessed it, this part of any footwear is responsible for the comfort of the owner. Any products that have ever lacked comfort or support lacked a proper midsole. Now, this is something that we needed to closely pay attention to with this brand.
The reason being, there was an assortment of products that did not come with a cushioned or padded footbed or midsole. In this, many consumers who had tried those boots or shoes complained about comfort. In this, it became evident that the best products from this brand are those that come with the added cushioning or even, in some cases, the EVA foam. We can say that each product that we shared with you today most certainly comes with a comfortable midsole as each has been touted as one of the best the industry has seen.

Materials
If you look at many different shoes or boots from the Hunter brand, you will notice that they are all made of rubber. Now, this is quite intentional. Back in 1856 when the company was founded, that's right 162 years ago, the founders partnered with Charles Goodyear, who happens to be working directly with India-made rubber. At the time, the company was called: Norris & Co. until they changed the name to North Britain Rubber Company. The NBRC became incredibly popular and effective at creating durable footwear that the military and army utilized NBRC to mass-produce quality boots for the soldiers. Today, Hunter utilizes the same technology, rubber, and innovations, which is why this brand is still atop the market.
But, in addition to rubber, there are a few more materials you'll find in these products, especially if you take a look at the lining.
Polyester: Most commonly used on the inside of the boots, this synthetic material is a good choice because of its durability, as well as the fact that it's quick to dry, meaning that you won't have to invest extra in boot dryers that would help make these an option a few days in a row. It will, however, trap heat, making you sweat, and may need some cleaning from time to time to prevent bacterial overgrowth that causes bad smells.
Textile: More commonly used in the models that are for hot weather use, this will feel better than polyester if in direct contact with the skin, but will also absorb more moisture, making it more difficult to dry.
Fleece: While not usually found in the boots, you can purchase specifically made socks that are made with fleece, and are meant to provide you with some added insulation for cold weather use.
Wool: Again, only found in their boot socks, wool is perhaps the best investment you can make in addition to your boots. It's a natural material that's highly breathable but provides plenty of insulation as well. Because it's removable, you can easily wash and dry it, which may lead to a more comfortable wearing experience.

Upper
The last feature that we are going to talk about is something called the upper. This is the exterior part of the shoe, typically referenced as the forefront up to the tongue/laces. This area contributes to the overall fit, comfort, and control when walking or running. As you might imagine, this portion plays a critical role in the construction of the shoe. If you have ever tried a pair of shoes on that did not fit well, chances are the upper was designed too narrow, wide, or poorly in general.
With that being said, since we were looking at boots from this brand, we needed to carefully look at the upper to ensure that none were incredibly narrow or wide. We also wanted to make sure that none were made from weaker materials or lacked the capacity to withstand scratches, abrasions, or daily wear and tear. As many consumers have proclaimed, there is nothing quite like wearing a pair of Hunter footwear – they are just that good.
Value
Let's be honest for a minute, if you are in the market for a pair of Hunter footwear, you already know that you are going to be paying top dollar for their products. The reality is, they are not the cheapest ones on the market. With that being said, since this buying guide was focused on reviewing an assortment of footwear from one particular brand, we did take into consideration the differences in the price tags.
The reason being, if there is a quality boot that offers the same features as a more expensive one, we want to ensure that we share that with you. So, as we performed our research and picked out products, we carefully noted how much the product was and compared its value to others from the brand. Using this tool, we can say that these 10 footwear choices are the absolute best from the brand in style, value, and price.
Design and Appeal
When it came to evaluating different products from this brand, aside from the many physicals aspects of the product – there is one thing that consumers prefer the most: the design and appeal. We understand that, when picking out footwear, you want to purchase something that appeals to your eyes. With that being said, for this buying guide, we really wanted to feature products from Hunter that were not only well-designed but also featured in a few different styles or colors. In this, we also understand that design and appeal can be quite objective. What we mean is, what one consumer finds appealing may not be the same to another. So, we took to the consumer reviews to ensure that many different types of consumers touted the design and appeal.
Expert Interviews & Opinions
Most Important Criteria
(According to our experts opinion)
Experts Opinion
Editors Opinion
Users Opinion
By Default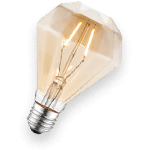 Boots For Any Occasion
Hunter is known for making boots for any occasion, that keep you protected, warm, and functioning. From simple rain boots for spring storms and showers to insulated protection from the bitter cold, you'll find one perfect for your needs.
Think about how you'll plan to use your new boots, whether it be an insulated boot for hunting or snow, or a pair of wellingtons to brave the puddled streets.
Rubber Care
Rubber can be quite easy to clean, with just a quick wipe with water, soap, and a soft rage, your boots are back to clean! However, rubber can also degrade if left near heat sources like heat vents or radiators, so store them someplace dry and cool.
Other Factors to Consider

Bottom Line
You'll definitely make the right choice of footwear if you go with a pair of Hunters. Regardless of whether you live in a rural area where muck can be found in abundance, or if you're an urban dweller who needs something for those soggy spring and fall commutes, you'll easily find the perfect pair. With a huge variety of choices, including tall and short boots, Chelseas, garden clogs, and even high-performance footwear made for professionals, Hunter is always a solid choice.
All of their products are made by hand, using high-quality rubber (that they've spent over 150 years perfecting), and are constantly updated in terms of design to give you the most comfortable and versatile footwear options.
Before shelling out over a $150, however, there are a few things you may want to consider:
Do you need a waterproof boot?
Do you need footwear with laces?
Do you prefer wide or narrow boots?
How important are colors and designs to you?
Are you looking to spend above or below a certain amount of money?
Once you've answered all of these questions, you'll have a pretty good idea of which model of most popular hunter boots listed above will work best for you.
Frequently Asked Questions
q:

Does Hunter have a return policy?

a:

Yes. The brand itself does have a return policy; however, there are many different facets to their policy. In this, it's highly advised to become familiar with their policy should you receive a faulty product.
q:

Do Hunter boots fit true to size?

a:

Any products from this brand will fit differently than your standard styles of footwear. This is why we encourage consumers to purchase a pair, not based on your pre-determined size, but the sizing chart offered by Hunter. Failure to do so can result in a smaller/narrow boot or the opposite. In addition to this, be sure to check with previous consumers in their reviews regarding their personal experiences with the footwear. This is a great gauge as to what you can anticipate.
q:

How do you clean a pair?

a:

This depends entirely on the type you choose to purchase. What we mean is, since there are so many different styles – all made from different materials, it's important to read the tag on the actual product. There, the brand will teach you precisely how to clean the boot, and with what type of chemicals (if any). Typically, since most of the products are made from a special rubber, you may only need to use a soft towel with warm water.
q:

Can you polish Hunter boots to remain shiny?

a:

Yes! If you purchase a pair of shiny Hunter Boot and, after a few months, the shine is starting to dull – the company actually sells a special polish that you can purchase. We highly advise using the company's polish rather than purchasing a third-party as the material and ingredient composition may be different. Any footwear from this brand is carefully designed and constructed and you don't want to use chemicals that can harm the integrity of the boot.
q:

Are they good for winter?

a:

Unless you live somewhere very warm, these won't provide you with the insulation required for low temperatures. You may be able to stretch using them into late fall by inserting some wool or fleece socks (you can purchase them from the brand itself), but overall, these are more focused on water protection than insulation.
Subscribe to our Newsletter