Best Kickboxing Shoes Reviewed & Rated
last updated:
Mar 29, 2020
When it comes to footwear, professionals will almost always train and fight barefoot, but beginners may not have the necessary technique and sense of security to do so. Furthermore, those with previous injuries may require a higher level of protection, which is why a good pair of shoes is important to find. Below is a list of the 10 best models for this martial art available for purchase online.
In a Hurry? The test winner after 12 hrs of research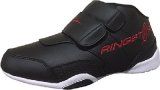 Ringstar Fight Pro
Why is it better?
Forms and Sparring
Fastening Structure
Lightweight
Durable
Flex Grooves
In a
Hurry? Editors choice: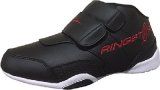 Test Winner: Ringstar Fight Pro

13
Researched Sources
1460
Reviews Considered
12
Hours Researching
13
Products Evaluated
Outsole
Protection
Materials
Support
Midsole
By Default
Top 10 Kickboxing Shoes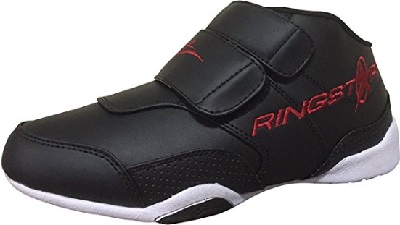 Forms and Sparring
Fastening Structure
Lightweight
Durable
Flex Grooves
When you're just starting out in fighting, your body isn't conditioned for impact or the proper balance; and in kickboxing, there's a lot of kicking involved which means you need to keep your feet in all the right places. Ringstar developed a pair of sparring shoes that will support your ankles and prevent your feet sliding around the smooth gym floor. What's better? The patented technology used in the making absorbs impact like you wouldn't believe. Just remember they're made for indoor training, so don't wear them outside if you want to keep the bottoms intact.
Keeping you protected from impact without weighing you down, the Fight Pro's are made from high-quality, closed-cell foam for superior absorbing power. Three layers are used for ultimate padding that's still lightweight. Ringstar's R3 technology is patented and guaranteed to disperse force and keep injuries at bay; something that is needed by beginners who don't know the correct form yet and may, otherwise, hurt themselves, just by training without a sparring partner. You can stop flinching every time you lunge and kick with these on your feet.
Shoelaces can be your greatest enemy: too tight/too loose, come undone, fray and break. It would be pretty embarrassing if in the middle of a fight you tripped over your laces (face to mat equals K.O.) or your shoe flew off into the opponent's face. With the Fight Pro's you don't need to deal with the hassle and fear. Furthermore, the Velcro system in place keeps your shoes secure and prevents any shameful events from happening in the ring. In other words, you can focus on your kickboxing instead of your shoes.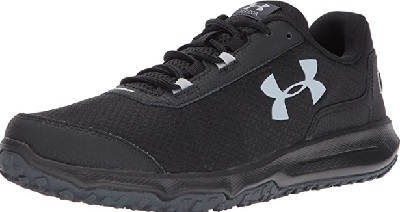 Textile and Synthetic Upper
Rubber Outsole
Die-cut, Full-length EVA Sockliner
EVA Midsole
High-abrasion Traction
Another pair great for training, this is footwear that breathes nicely. Made of a textile and synthetic upper, you will experience less fatigue because they are lightweight. These are more for practice sessions and less about the ring; a great addition to your wardrobe collection, especially if adding a pair to your rotation.
The traction is great but may be a bit much for the actual ring. As such, these should be used as a means for practice sessions where floors might, otherwise, be too slick with other shoes.
The cushioned midsole provides decent comfortability levels. Furthermore, you can concentrate more on that next 'perfect' move, per se; and less about aching and tiring feet.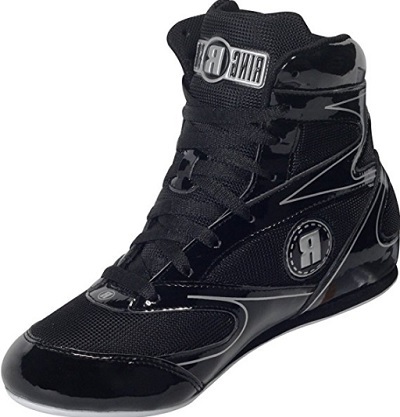 Breathable, Nylon Mesh Upper
Non-slip
Rubber Outsole
Patent Leather Vinyl Finish
High Top
Improve performance and speed with these, as they are lightweight and are sports-specific. These are built to give you greater mobility while providing ankle support. Simply, the tighter the laces, the more ankle support you will gain, as these are designed with this in mind. A patent leather nylon finish gives a professional, yet contemporary aesthetic appeal to them. And the non-slip, rubber outsole is an ideal choice when evaluating ring performance.
The outsole is non-slip and made of rubber; thereby, allowing you to plant firmly before that next devastating punch or kick. This is a must-have safety feature and something to consider before your next purchase.
With your body in full-blown workout mode, you will need a pair which can cool those feet down; albeit, they may still be on fire with a winning kick in place. This upper allows your feet to breathe, as you work out the bag, a sparring partner, or competitor.
4

. Otomix Ninja Warrior Stingray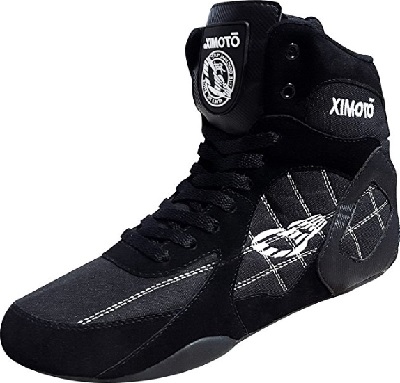 Polyester Upper
Rubber Outsole
Wide Toe Box
Ankle Support
Lace-up
A wraparound outsole on the forefoot area helps to add stability while planting your feet for that next kick or transitioning to a hand strike. Forefoot and heel overlays add extra support to the upper, without compromising the importance of maneuverability. The outsole is thin, yet it grips well. This, in turn, helps you to feel the floor; an important feature for those guided by multiple-move transitions.
The toe box is great for those having wide feet or need splay when setting up for a power kick. The toe box is roomy; yet, the overall upper design helps to ensure minimal foot movement within the shoe.
These are perfect for those in need of better ankle support. In fact, this is a great idea for those moments in which the inevitable turned ankle may occur, as these can provide a bit of support for quicker healing.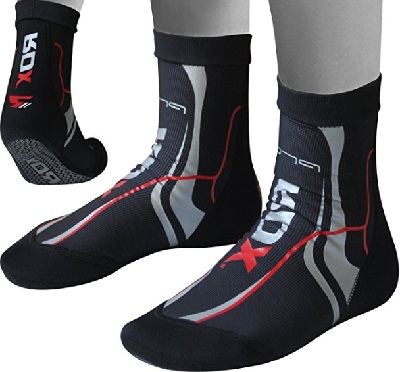 All-in-One Support
Arch Support
Sweat-absorbing
Non-slip
Enhanced Fit
If you like the ankle brace's idea but want something that grips the floor and compresses like a sock, then we suggest the RDX Neoprene socks. The spandex socks are like a cross between the foot grips and ankle braces on this list. They give anatomical support while providing the non-slip factor, as well; meaning you get the best of both worlds. It's almost as if wearing a second skin that's been engineered in the future.
Blood flow is kind of a big deal; since, without it, your body parts would die. When you're being active it's pretty important for the blood in your feet to get back to the heart as quickly as it can, since your heart is pumping overtime to keep your muscles oxygenated. Compression socks, like the RDX Neoprene's, will assist in promoting the blood flow from your feet.
Do you remember in Greek mythology, Achilles' one weakness was his heel? Without the proper support, you can severely damage your tendons, especially wearing improper fitting braces and socks. RDX made their socks out of a monofilament made from elastane and lycra for that 'just right' fit to keep you going. If you damage your Achilles tendon, you won't be able to train for 8 to 12 weeks if you have to wear a cast/boot. Or if it's extremely severe and surgery is needed, then it will be around 4 to 6 months. So, better to be safe than sorry and get these compression socks.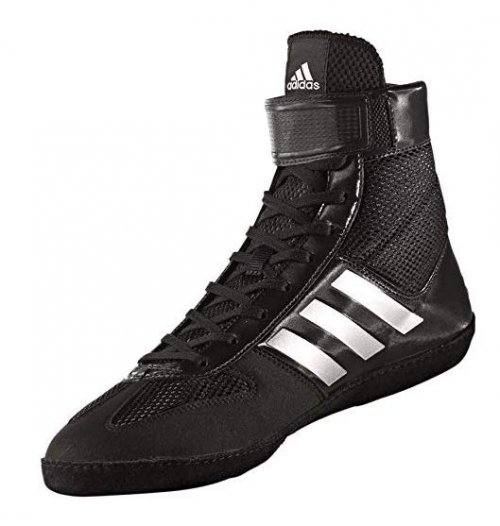 Mesh Upper
Rubber sole
Extremely Breathable
Flexible TPU
Leather Outsole
EVA Midsole
Ah, kickboxing. After a long day at the office or 2 hours spent in traffic, nothing is more stress-relieving than kicking a consenting adult around the ring for an hour or two, especially if he's the guy that cut your off on the on-ramp of the freeway! But all jokes aside, kickboxing is not fun if you don't have a pair of shoes that can go the distance and make sure you end up the winner when the bell sounds. That's where the Combat Speed.5 from Adidas comes in. With a breathable mesh upper, rubber sole and sleek design, you'll find yourself eager to get into the ring, if only to show off your new shoes.
The Combat Speed.5 is the latest iteration of Adidas' Combat Speed line, designed for kickboxers and wrestlers in mind. The upper is made of breathable mesh, meaning your feet won't get hot and sweaty, and the sole is rubber for great grip and traction. Weighing around 2lbs, it's light enough to be nimble but heavy enough to transfer power with each kick.
Available in cool colors, such as Core Red and Royal White, you'll look good and feel good when landing that perfect blow. At a mid-price point, these are available to most kickboxers on a budget. Go get in the ring and be confident the Combat Speed.5 are there to help you get the point.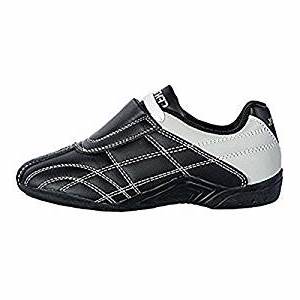 Synthetic Leather
Rubber Outsoles
Pivot Points
Breathable
Another pair that is readily available and frequently used is the Lightfoot's, by Century. They even have a black with pink accent pair for those women that like throwing it in a guy's face when they've been beaten by a girl, as it were. Creatively designed with aesthetic and functionality in mind, these are great for anyone and everyone.
Being made from synthetic leather, the Lightfoot's shoes are great for using in kickboxing, since they will bend and flex with your feet while you pivot and spin. The leather is, also, ridiculously durable and so lightweight it's scary; no worries about your shoes falling apart after a few sessions.
Anyone that exercises frequently knows the importance of a rubber outsole for traction and grip. Without this feature, one leg kick can send you falling back on your rear end, and no one likes a bruised tailbone. Added bonus, the enhanced pivot points in between grips ensure your fancy footwork stays fancy. Therefore, you can keep perfect form with every kick, spin, and takedown.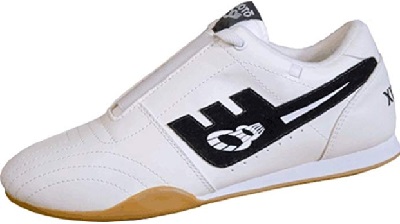 Stingray® Outsole
Single Top Lace
Thin and Flexible
Rubber Outsole
Synthetic Upper
A great practice session tool, the Otomix Original Lite is a revamped version of the original shoe made over 25 years ago. These can work as a daily rotation or as your go-to pair for workouts. It is both thin and flexible which provides great fluidity in motion and, also, helps you 'feel' the floor, as it were.
These are made for mixed martial arts; a great tool for kickboxing practice sessions. Made to be thin and flexible, there is decent maneuverability, as well as, good overall flexibility.
This is an outsole which wraps the foot, in order to provide maximum balance and support for kicking power. It is an ideal solution for any kickboxer.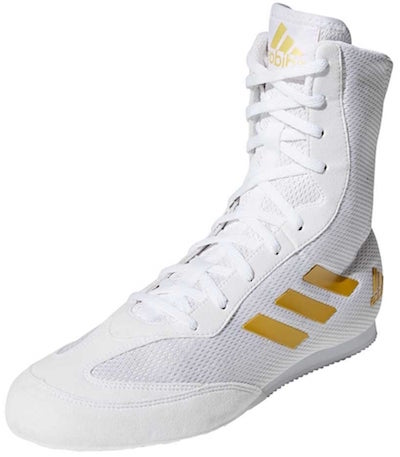 Mesh Upper
Durable Overlays
Lace Up Closure
Gum Rubber Outsole
Synthetic Lining
Lacks Cushioning
More Geared Towards Boxing
Made for the ring, the Box Hog Plus by adidas is a pair of footwear focused on boxing and providing the traction needed for the textile floor. It's a higher style than most on this list, which adds to ankle stability, and could be the best choice for those who have had previous injuries, or prefer a bit more protection in this area of the foot. The traditional lacing system allows you to find the best fit for you, while fit adjustments can be made easily, especially handy if you're participating in long training sessions.
The upper of the Box Hog Plus is made with breathable and flexible mesh that's one of the most lightweight materials found in athletic footwear, that'll allow moisture to escape and fresh air to enter your shoes, preventing odor development. For durability, synthetic overlays have been placed over the toe, preventing tears in this area.
The outsole on the Box Hog Plus is made with gum rubber, a natural material that'll do really well in terms of gripping the surface underfoot, regardless of what type of floor you'll be practicing on.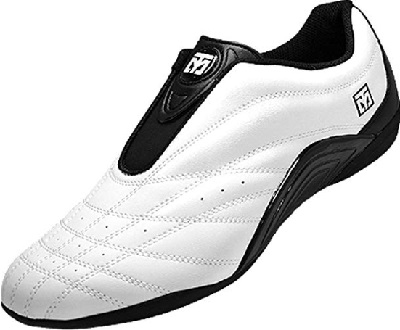 Lightweight
High Durability
Back Stay
Synthetic Leather
240g Avg. Weight for Pair
Tight Fit
Can Stick on Mats
Kickboxing is a form of MMA (Mixed Martial Arts) and Mooto gear sells high-performance equipment for MMA. Almost anything sold by them will work with kickboxing training and their TKD shoes are no different. They're lightweight, flexible, and perfect for the minimalist in you; that is if you think the Ringstar Fight Pro's are too flashy. On the outside they look like regular shoes but don't be fooled, they're made for kicking and balance.
If you want to get rid of the laces and Velcro, altogether, and still avoid potential embarrassment, go with the Mooto's. Their design is made for snugly fitting your feet to ensure you can stay on your feet during training and fighting. Mooto knows that safety is #1 and kept that in mind when building their competition shoes. The tongue is made from a spandex textile to stretch and fit perfectly in place once on. These shoes are called Wings for a reason: because when you put them on, you feel like you can fly.
Have you noticed that kickboxers are constantly on their toes and hopping around but when you try, you lose balance? These TKD shoes have a 30-degree angle at the forefoot for increased balance to make bopping around easier. Your buddies might call you Twinkle Toes at first, but once they see you in action, they'll be asking for a gym reference and where you got your shoes from.
Criteria Used for Evaluation


Outsole
Purchasing footwear for this contact sport requires a bit more research than running or basketball where you have a wide selection of products, and you can choose the model that fits and works for you best. Kickboxing can be taught in local boxing clubs, martial arts schools, but there are also classes offered at regular gyms, so the flooring may differ greatly. There's a number of people who even prefer to do it barefoot, as this reduces weight (and thus fatigue), and lowers the risk of injuring your sparring partner.
But, if you'll be working out at a gym, you'll definitely need some sort of footwear. The outsole on said shoes needs to provide you with adequate grip in order to allow you to do all the moves without losing your footing and risking injury.
The best way to go is rubber, preferably non-marking, that won't damage the floors and leave marks. You won't need a thick outsole, as it would only weigh you down, and the best thing to go with is a minimal drop so that your natural balance is not impacted.


Protection
There are several ways in which kickboxing, whether done as cardio exercise, or in full contact combat mode, can be hard on the body. Not only does it require precision, strength and flexibility, but it also includes a lot of bouncing, jumping and movement in all directions. Your designated shoes need to allow for all of this, but still ensure optimal protection. There are several ways in which this protection will be ensured.
Ankle Protection - First and foremost, if you have any preexisting conditions such as ankle injuries, you might want to train in shoes to provide your ankle with a higher level of stability. If the muscles in this area are not strong enough, a higher shaft may help with preventing sprains and twists, while still allowing you to keep your stamina at a high level.
Cushioning - As kickboxing involves a lot of bouncing on the balls of your feet, you may want to consider a layer of shock absorbing material underfoot that'll disperse the impact generated on every landing. Ideally, the cushioning will be located under the ball of the foot (unlike most running shoes where it's concentrated on the heel). This can also help with reducing fatigue, both in the muscles as well as in the joints and back.
Lateral Stability - moving side to side requires footwear different from that made for forward movement, so a pair of footwear that hugs the midfoot and ensures a snug fit is crucial. When shopping, ensure your selected model isn't too wide, as this will allow the feet to move inside the shoe, leading to unwanted injury risk.


Materials
As most sports, kickboxing requires footwear that combines durability and protection, while remaining as lightweight as possible. Unlike in running footwear, you don't need too much of a midsole, or a thick outsole to protect you from pavement and pebbles, so this makes it a bit easier to make your choice, but there are other factors that can influence weight as well.
The upper in these shoes will often be made with leather, which is a great material in terms of comfortability and durability. Its downside, however is reflected in the fact that it can often weigh a lot, and may lack breathability. Synthetic is a more lightweight alternative, but it will often lock moisture in, leading to bad odors, as well as moisture retention that may cause foot health problems.
A great way to combine the durability of these materials with lightweight breathability is to look for breathable mesh inserts that'll allow hot air and sweat to escape the shoe, while still allowing you to be protected in key areas. Shoes made entirely out of mesh, however, can be expected to last shorter, as it's a thin material that doesn't stand up to wear and tear.
In terms of durability, how you treat your footwear can greatly contribute to a happy wearing experience. It's important that you properly maintain, clean and dry your shoes after every wear, especially if you don't wear sock with it. Air your sneakers our after every use and clean the insoles every couple of months to prevent bacterial and fungal overgrowth.


Support
Last but not least, you may want to consider the type of support that's offered by the model you chose. If you're planning on joining a cardio class, you're most likely to train in regular sneakers, which will often allow for custom insoles and personalized levels of support that are required by those with low arches, flat feet, as well as pronation issues.
If possible, go with a model that has a removable insole, which will allow you to insert your own orthotics. A good amount of arch support can correct overpronation, which, in turn, properly aligns your feet and prevents shock from negatively influencing your ankles, knees, hips and back. Additionally, this will make cleaning your footwear easier, giving you the option of changing the insoles every three months, as is recommended by podiatrists.
Other areas to look for support include heel, which, just like in any other activity, needs to be securely locked into place, preventing unwanted movement that might cause an achilles injury, or blistering.
Furthermore, a secure closure can greatly contribute to how a pair of shoes perform, and always ensure that your laces are tied well and tucked away. You may opt for a hook and loop closure, which is great for quick adjustments, but be prepared for a lower level of durability. A great alternative can be elastic laces that can be cheaply bought both online as well as in brick and mortar stores.


Midsole
The midsole is designed to provide cushioning and shock absorption to the shoe, nestling the foot in comfort. Whereas running shoes tend to have thick midsoles, flats and thinner shoes not designed for high-impact activities often have thinner midsoles.
The reason for this is simple: you need more shock absorption and vibration dampening during high-intensity movements or activities to maintain comfort and prevent foot injury than you otherwise would with a regular shoe, flat or sandal. Midsoles are often made from EVA (ethyl vinyl acetate), a synthetic plastic also used to make insertable orthotics. A firmer type of EVA for the midsole will make the shoe heavier, but more durable; whereas a softer type of EVA, like those found in running shoes, improve shock absorption, but wear much quicker.
Podiatrists tend to prefer firmer midsoles for those suffering with orthopedic conditions, such as plantar fasciitis. A higher score on the "midsole" criteria means that the midsole is of a firmer nature. Whether or not this is beneficial for you depends on your foot type and orthopedic issues!
Expert Interviews & Opinions
Most Important Criteria
(According to our experts opinion)
Experts Opinion
Editors Opinion
Users Opinion
By Default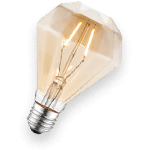 New To Kickboxing?
There are plenty of ways to get started in the sport, many of which involve taking a few lessons at the local gym. Your desired level of competition can dictate what kind of classes you take, whether it be just for fitness, or for the final goal of competing in a ring.
First and foremost though, make sure you get the proper instruction on kicks, stances, and hitting the bag if you plan to make the sport a passion!
Barefoot Kickboxing
Your footwear is to protect you from cuts, scrapes, even broken toes during training times, especially if you're more advanced with the sport. While not always a recommended thing to do, sometimes it's good to feel contact barefoot with the bag or ground.
If you plan on going barefoot, just remember to less the power with which you kick, so you can avoid accidental injuries, bruises, or worse!
Other Factors to Consider


Bottom Line
So, now you have an array of choices to get your footgear from. There's no shame in not being ready to fight without some kind of protection on your feet; safety is always the number one priority at the gym. Keep yourself protected and comfortable with any of the items reviewed here without sacrificing that barefoot advantage.
Frequently Asked Questions
q:

How do you clean shin guards?

a:

If you want to prevent any kind of smell in your shin guards, it is recommended to wash right after you get home from the gym. Otherwise, they're more likely to absorb your sweat and emanate the odor later, once it's dried into the fibers.

Wipe down the exterior with some disinfectant wipes, use a dry cloth towel to get the sweat off of the interior, and either let air dry or use the cool setting on a hairdryer.
You want to get all the moisture accumulated off of your shin guards before it sets into the padding. It's, also, a good idea to never leave them in your gym bag overnight because they can absorb moisture that's collected in there and become musty.
q:

Why do most fighters go barefoot?

a:

The simplest answer is that no one wants to be rolling around on dirty mats from people's shoes. The more complex answer would be that wearing shoes or anything on your feet can prevent the development of your muscles and affect your performance. Without shoes, you have more control of yourself and can feel whether you're doing things right or not by the grip you have on the mat. Footwear can be more of a hindrance than a help.
q:

Can I still train if I have past injuries?

a:

Of course, you can. That's exactly why there are braces and supports. That way, you can train and participate in kickboxing without worry that you will re-injure yourself in the same place. Don't let anything get in the way of being healthy and exercising. Kickboxing is a great way to stay in shape and can be done safely.
q:

What's the difference between kickboxing and cardio kickboxing?

a:

Cardio kickboxing is more like an aerobic workout, rather than regular kickboxing which is a contact sport. If you're looking to just get in shape, people recommend cardio because it focuses more on the fitness aspect. Now, if you want to actually learn how to fight, then go with regular kickboxing, because it focuses on form and properly teaches how to kick, strike, and block.