Best Beginner Running Shoes Reviewed & Rated
In a Hurry? Editors choice: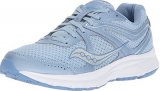 Test Winner: Saucony Cohesion 11

If you are thinking about taking up running, or have just begun, you may be overwhelmed by the abundance of gear you have to choose from. It is a great way to get and stay in shape, but you need to make sure you have the right gear for it. Running shoes utilize a number of specialized shoe technologies from cushioning to support to traction and fit. These technologies protect you and encourage you to keep going, as they reduce foot fatigue by absorbing shock and supporting each and every step you take.
Athletic gear can be quite expensive, but that should not be a turn-off for you. A
good pair of running shoes
truly are worth the investment. The list below features the ten best models for beginners looking to get their first pair. So, read on our reviews of the 10 best running shoes for beginners.
Standout Picks
Criteria Used for Evaluation
Support
Support is a very important feature in running shoes. Pronation problems can increase your risk of injury and supportive features in running shoes can reduce that risk. If you over or underpronate or hyper or hyposupinate, then you especially need to find a pair of running shoes that will help correct your gait and promote healthy pronation and supination.
Pronation
Pronation is a natural phenomenon that occurs when you walk. When you take a step, generally your heel strikes the ground first and then rolls forward to your toes, which you then use to push off the ground to propel yourself forward. Pronation is the inward rolling of your foot during that natural forward motion. However, some people pronate too much or too little. The best way to determine which, if either, of these you do is to inspect the bottoms of the shoes you use the most often. If there is excessive wearing on the inner sides of your shoes, you likely overpronate. However, some people have the opposite problem: they underpronate. This would result in excessive wear on the outer sides of your shoes.
Supination
Underpronation can also be referred to as hypersupination. Supination is the natural outward rolling of your foot after you push off the ground and bring your foot back around to strike the ground again. If someone underpronates, it means that there isn't enough inward rolling and too much outward rolling. This results in added pressure on your feet, ankles, legs, and even your back! Similarly, when someone overpronates, it means the opposite: there is too much inward rolling and not enough outward rolling to compensate for that. This is referred to as hyposupination.
Now, just because you have normal pronation and supination doesn't mean that you don't need support. Shoes form a protective barrier between your vulnerable feet and the outside world. They provide protection against painful rocks, prickly thorns, and hot concrete. Furthermore, when you are running, your risk of tripping, stumbling, slipping, and falling increases, because you're moving much more quickly than if you were walking. Support helps to stabilize your step to reduce your risk of fall-related injuries.
If you are going to be running in an environment that has flat terrain where the ground isn't slippery and you don't have pronation or supination problems, then you don't need nearly as much support as if you were going to be running on a hiking trail or in the woods somewhere. However, even if you don't have pronation or supination problems, you still need support.
Supportive Features in Shoes
Shoe manufacturers realize that the burden is on them to provide their consumers with shoes that provide enough support to help protect their consumers from fall-related injuries. As such, considerable progress has been made in the shoe industry in terms of supportive features built into running shoes. These supportive features can be found in the upper, the heel, the arch, the insole, the midsole, and the outsole sections of the shoe. Not every running shoe is the same! Always check the support features of your prospective running shoes to confirm that they offer the support where you need it and don't provide support in areas that you don't need it in! Supportive features that support areas of your foot that don't need to be supported can result in injury and discomfort, too.
Arch Support Features
If you have weak arches or have pronation problems, then you need a pair of running shoes that offer arch support. Arch support features include midfoot saddles, midfoot thermoplastic polyurethane shanks, and foam wedges. Some running shoes even come with customizable arch support features that you can adjust for your specific needs! Arch support features can be found in the sole, which consists of the insole, midsole, and outsole regions of the shoe.
Heel Support Features
If you have heel pain or pronation problems, then you may also need heel support features. Heel support features include thermoplastic heel rings with foam centers, foam wedges, air pockets built into the heel, heel cups, and TPU shanks. As with arch support features, heel support features can be found in the sole from insole to outsole.
Insole
The insole, also known as the sockliner or insert, is the footbed of the shoe and the only part of the sole that touches your foot directly. Insoles are most commonly associated with cushioning, but insoles can also provide support. Some manufacturers use specialized foam insoles that provide regions of support. The firmness and thickness of the insole can affect how supportive the insole material is for your feet. If you need a lot of support, look for firm insoles that still offer the shock-absorbing benefits of cushioning. If you were Goldilocks, would you want to wear these running shoes? Are the insoles too soft, too hard, or just right?
Midsole
Midsoles are the monarchs of cushioning and support. Wedged between the insole and the outsole, the midsole is the location that commonly provides the most support in a running shoe. Foam wedges, heel rings, shanks, and the like are almost always located in the midsole region of the shoe. Many support features are found in the midsole region because support features are usually hard and possibly painful if you expose your foot directly to it. The insole cushions your foot to protect it from the firm, supportive materials in the midsole. As the outsole is exposed to the environment the most and experiences the most wear over time, it is usually not the location that has the most supportive features built-in. Placing supportive features in the midsole location increases their longevity and effectiveness as a result.
Even though the midsole has a layer of cushioning between it and your foot, it provides effective support that you can feel without discomfort if the support is located in an area that needs support. Every manufacturer of running shoes uses some form of midsole support technology and each has its benefits, so do some research before you invest in a specific shoe to confirm that it has the support features you need in the amounts that you need.
Outsole
The outsole is supportive by default in running shoes because outsole materials are generally rubber or synthetic, which provides both cushioning and firm support without sacrificing flexibility. Supportive outsole features can include firm treads in high-impact locations and firm air pockets to elevate regions of your foot and provide support. If you are looking for a running shoe, never invest in a running shoe with a fabric, leather, or crepe outsole, because fabric and crepe are not supportive enough for running and leather does not provide the traction you need even though it is firm enough in terms of support.
Upper Support Features
The upper can be supportive, too. However, you don't want to go all out with the support and create an inflexible cage for your foot. Too much support can be a problem, too! The best upper support features are strategically placed to reduce your risk of rolling a foot or ankle, usually in the form of supportive overlays made from leather or synthetic materials. Some uppers in running shoes are entirely made with leather or firm synthetic materials, but unless there is some form of ventilation and cushioning built into the upper, this can become hot and uncomfortable quickly. Too much firmness in the upper can result in shock-related injuries.
Vamp Height
How high the running shoe climbs up your ankle also matters. Excessively low vamps, such as those found in ballet flats and dress shoes, provide very little ankle support. Excessively high vamps, such as those found in hiking boots and dress boots, can provide too much support, which reduces your running performance. Wearing dress shoes or hiking boots on a run is also uncomfortable in general because these shoes are not designed for running and provide either too much or too little support in all areas, not just the ankle.
Shock Absorption
Shock-absorption is essential to reducing your risk of shock-related injuries. Cushioning is used to reduce and absorb the shock and force generated by running. The best running shoes provide ample cushioning to absorb and disperse shock effectively without compromising on support and flexibility. Cushioning in a running shoe can be found in the upper, insole, midsole, and outsole regions of the shoe. It can take the form of a gel cushion, air pockets, padding, and foams, including high-density, multilayered foams.
Shock, Force, and Motion: The Impact of Impact on Your Foot
Think back to a time when you were running. Imagine going through the motions associated with running right now. You push against the ground with your forefoot and propel yourself forward. Your foot supinates and rolls outward as you bring it back around heel-first for the heelstrike. Your heel connects with the ground and your foot rolls inward just a bit as it rolls forward. The process repeats as long as you are running.
Now, imagine two cars traveling at a high speed slamming into each other headfirst. What happens to cars? The drivers? The fronts of the cars get crushed and the drivers are jarred inside their vehicles. The drivers develop pain and discomfort from injuries they sustained in the accident.
Sir Isaac Newton discovered three laws of motion, but the third one is the most relevant to running. Newton's third law of motion states that every action has an equal and opposite reaction. The two cars barrelling towards each other slammed into each other with equal and opposite force, which halts their progress and causes damage to both cars. The equal and opposite force generated by the ground as you run allows you to propel yourself forward, but that's not all it does.
Energy is required to run. Energy can neither be created nor destroyed according to the law of conservation of energy. The energy you use to run gets transformed from one form to another during the process of running. There are byproducts of this transformation of energy. These byproducts include sound, force, and shock. When you run, your feet make noise, but this doesn't release all of the energy generated by the impact between your foot and the ground. Force is generated each time you go to take another running step, which is met in kind by an equal amount of force pushing back on your foot by the ground. That force transforms into shock, which is the jolting of your foot, ankle, leg, hip, and back resulting from the hard impact between your foot and the ground, just like how the two drivers were jolted during their car accident. The shock generated from each running footstrike can also cause injuries, just like the shock generated by a car accident. This is why it is important to have the best shock-absorbing running shoes.
Insoles - Most commonly, the best running shoes for beginners use foam insoles or footbeds. Foam insoles are responsive, soft, and great at absorbing shock to reduce the impact of running on the rest of your body. Some companies use gel insoles for shock-absorption, which are also effective, but not as commonplace.
Midsoles - The midsole is the Most Valuable Player of the shoe technology team. It provides support, flexibility, and cushioning! Midsole cushioning units can come in full-foot lengths or be localized. The localized midsole units are placed in the forefoot or heel areas, but sometimes midsole cushioning units are also placed in the arch of the shoe to support the arch and absorb shock.
Outsoles - Ironically, the outsole absorbs more shock than the insole usually does. The outsole is your foot's first layer of protection against the outside world. Good running shoes almost always have a rubber or other synthetic outsole, because it provides good traction and excellent shock absorption.
Padding - When you're running, you need padding around the collar and in the upper of the shoe, including the tongue, because the padding will reduce painful rubbing so you won't develop blisters or other injuries due to rubbing against a hard surface. The padding also protects your foot from some minor impacts, so be sure to consider the padding in the shoe before you invest!
Outsole
When you're running, you absolutely need to have good traction. A good outsole in a running shoe has patterns and grooves in it that allow water to escape from beneath your shoe. For example, a shoe with grooves that end before the edge of the outsole would trap water beneath it and, like a car, you can hydroplane, fall, and get hurt. So, you want the grooves to make it to the very edge of the outsole so the water has somewhere to go.
Some outsoles have lugs, which are grooves in the shoe designed specifically to grip the ground whereas others have reverse lugs, which are protrusions in the outsole. Both lugs and reverse lugs promote traction and grip. The more lugs and/or reverse lugs the shoe has, the more effective the traction will be, but outsoles with fewer and larger lugs will also be effective.
Ultimately the only running shoe outsoles you should avoid are narrow, incredibly small lugs or nearly flat outsoles. These shoes offer very little by means of traction and grip, so you'd be more likely to slip and fall. You should also avoid any running shoe that has an outsole made of leather or crepe. These materials do not offer good traction and usually, don't absorb enough shock to be effective in a running shoe.
Flexibility
Flexibility is another important safety feature to consider when you are looking for your first running shoes. Shoes that are too rigid and don't bend and flex naturally with your foot can result in injury due to poor shock absorption, which jars the foot, ankle, leg, and back.
It should be noted that any of the previously mentioned criteria is good only in moderation in that it doesn't negate the effects of the others by drowning out the effect. You can have too much of a good thing, even in running shoes.
Flexibility can be fostered in a running shoe in a few ways. The upper, insole, midsole, and outsole can all be designed in ways that would foster flexibility without sacrificing support, cushioning, and traction.
Upper Design - Some running shoes have uppers that are completely firm leather or synthetic materials, but the best running shoes have mesh uppers, specifically mesh uppers with supportive overlays. A mesh upper is like a net for your foot with very tiny holes so that it can protect your foot. You can compress and stretch out a net to make it the size and shape that you need it to take and the same goes for a mesh upper in a shoe. Mesh uppers can be made of textile or synthetic materials that are stretchy and breathable. These uppers don't bind your foot in one position and allow your foot to move naturally by giving just enough without compromising the fit.
Padding - Padding doesn't actually make a shoe more flexible. It does just the opposite. Too much padding in the upper of the shoe can make it more inflexible and that can be just as bad as having an inflexible unpadded upper. It would absorb shock, but it would reduce your foot motion, which could result in injury on a run. So make sure that the shoe isn't too padded when you're shopping for the best running shoe for you.
Insole and Midsole - Insoles and midsoles are primarily cushioning and supporting units in the shoe, but they also contribute to flexibility. Look for shoes with soles that bend and flex easily and for shoes that utilize insole and midsole technologies that offer flexibility as a benefit. Many shoe manufacturers have specialized technologies they use in insoles and midsoles to promote flexibility, which is usually detailed in the description on the site you are purchasing them from. If you're in a shoe store shopping for shoes, you can usually look at the shoe and the box to identify specific shoe technologies that are used in it. For example, New Balance's ABZORB cushioning is labeled as "ABZORB" directly on the shoe.
Outsole - You want an outsole that is firm enough to support you but flexible enough to bend with your foot as you pronate and supinate naturally. Solid rubber outsoles offer some flexibility, but flex grooves and multi-section outsoles offer more, so look for good beginner running shoes with these features built-in. Remember that an inflexible outsole is just as dangerous as not wearing shoes at all because flexibility helps divert and disperse shock to prevent painful jarring of your feet, legs, and back.
Breathability
No one wants to run with wet, hot feet. It's uncomfortable and unhealthy for your feet to be enclosed in a damp, hot space for prolonged periods of time. Damp, warm, closed spaces are prime locations for the development of foot fungi and to promote bacterial growth. Fungi and bacteria also produce foul odors, which are unpleasant. Temperature management features in a running shoe can reduce and combat the development of fungi and bacteria in your shoes. Shoe manufacturers manage temperatures in shoes in a number of creative ways.
Breathable Mesh Uppers - Mesh uppers allow air to pass through freely through the entire shoe. These are the most effective for keeping your feet cool and dry.
Ventilating Perforations - If you prefer or need a sturdier, more supportive shoe, then shoes that are made with firm materials like leather or synthetic leather can be adjusted to allow for better temperature management. Ventilating perforations in the firm upper allow air to pass through, which keeps your feet cool and prevents blisters because it also keeps them dry.
Moisture-Wicking Materials - Moisture-wicking materials repel moisture and move it away from the surface it's on. In this case, the moisture-wicking materials in a great running shoe could be built into the upper or in the insole. These materials pull moisture away from your foot and towards the edges of the shoe where the breathability features allow air to pull the moisture out of the shoe.
10 Best Running Shoes for Beginners in 2020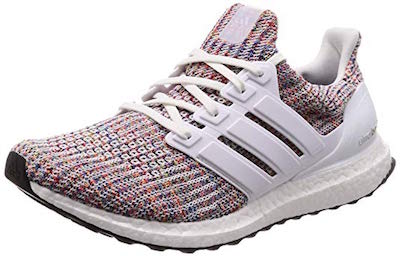 This is a flagship running sneaker by a leading brand, so you can expect to receive the absolute best if you decide to make an investment in good running shoes for beginners. Recently released, the Ultraboost is one of Adidas' most cushioned sneakers made for neutral runners who need a daily driver for road conditions. Compared to last year's model, this one features more PrimeKnit in the upper for an improved fit, as well as a midsole with considerably more energy return that you're bound to love, especially if you plan on going for long runs.
The upper of the Ultraboost comprises of ¾ of their premium PrimeKnit material that will perfectly conform to your foot, and allow maximum flexibility so that you can go about your running session without any constraints. Being made to be soft and flexible, it'll cause less irritation than traditional textile and mesh, and is suitable even for barefoot wear. An external midfoot cage will help securely lace the model up for a fit that won't allow for movement, thus lowering the likelihood of blistering or rubbing.
The outsole of the Ultraboost is made to resemble a web, with a high number of sections that all adapt to the runner's foot, providing one of the best grips of the surface underfoot. Combined with the Boost cushioning that features over 3k blown TPU pellets, you get one of the best energy returns in the market, as well as super-soft cushioning you'll definitely appreciate, regardless of whether you strike with the heel, midfoot, or lean towards the balls of the feet.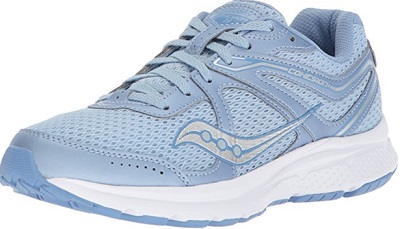 Made for all day, everyday running in all kinds of environments. The Cohesion 11 brings you high-tech features that are made for your hardest workouts with active fashion style that can be worn on your most casual days. Looking for your next favorite running shoe? This pair surpasses all of your expectations.
This awesome technology using filaments constructed with Hytrel to help center the heel of your foot during impact. While other beginners running shoes use the most basic systems of cushioning, the Cohesion 11 uses a system that provides superb cushioning and stability.
The outsoles are constructed with rubber and are made with durability in mind. Very responsive, you'll have protection from any abrasions and slips. Also, it helps with any shocks from impacts and to give you a good bounce back.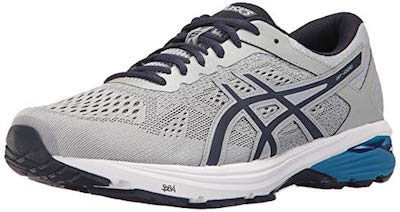 If you're ready to go from beginner to advanced, Asics running shoes 1000 6 provides multiple amazing features to help the transition. The Guidance Trusstic System with Guidance Line enhances gait and structure, the I.G.S. (Impact Guidance System) improves the heel to toe transition, and the Rearfoot GEL Cushioning System attenuates shock absorption. With all those systems in place, you'll have an easy and supportive experience leveling up your run to greatness.
A lot of sockliners are built-in but this sockliner is removable for easy cleaning. The ComforDry construction provides you with a moisture-wicking material. Your feet will be cool, dry, and healthy from sweat based bacteria.
An enhanced version of the traditional EVA midsole, SpEVA is a combination of EVA and rubber. You'll have an increase in rebound, responsiveness, and bounce plus any breakdown of the materials is greatly reduced.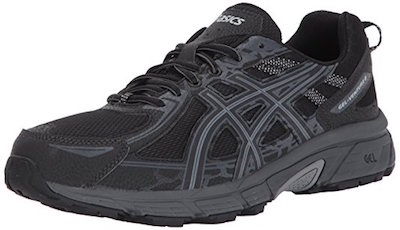 The Asics GEL-Venture 6 is an excellent all-around running shoe. It features a gel cushion in the heel for added comfort. The Venture 6 is a versatile shoe, equally suited for pavement or trail running. The outsole has special lugs designed to promote traction and ASICS uses their patented AHAR technology to increase the durability of your shoe.
The Asics Gel Venture is the most comfortable shoe in this review of the best shoes for beginning runners, without a doubt. It comes with a gel cushion for the rear of your foot which makes the heel strike barely noticeable.
The Venture 6 looks stylish, plain and simple. It has a great design and beautiful lines to compliment the great fit. Add to that a wide selection of color combinations, and you have a shoe that's built to be noticed.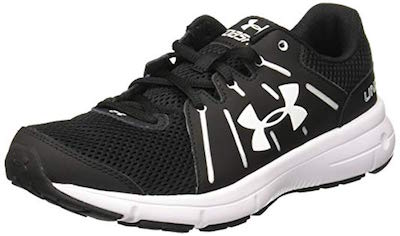 The Under Armour Dash 2 is an impressive looking sneaker. Under Armour products have a look that makes them stand out in a crowd. At 9.45 oz, this is one of the lighter shoes in this review. It comes with soft padding on the tongue and collar and with a full-foot EVA footbed and midsole unit for added comfort.
To improve the traction of this entry level running shoes, Under Armour uses thermoplastic polyurethane cleats in the outsole. These sturdy cleats give your feet extra grip so you won't slip and fall.
The mesh upper on this shoe allows air to flow in and out freely. This mesh is teamed with supportive synthetic overlays to provide you with a safe, dry step.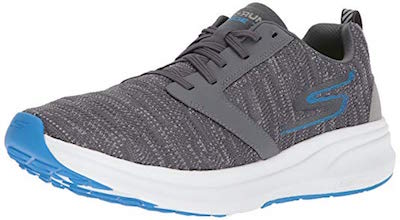 Skechers athletic footwear is a great choice for any enthusiast who is starting out, seeing that it provides the perfect balance between affordable price and great tech that's meant to feel and perform just like any other model that'd cost twice or more the price. The GoRun Ride 7 is their latest edition of running gear, made for those who want something lightweight yet cushioned, with an upper that will even work well for casual everyday wear.
The upper of the GoRun Ride 7 is made with a two-tone knit fabric that's nearly seamless and will perfectly hug your feet while still providing a good amount of flexibility and breathability. 3D printed overlays ensure a heightened level of support and stability, while a traditional lace system gives you that locked-in feels that will keep these securely on your foot. Additional features include a lightly padded collar, a pull tab for easy on and off, as well as reflective details for night time runs.
Made for neutral runners, the GoRun Ride 7 is perfect for those with a medium arch who do not need any added stability features. The FLIGHT GEN midsole is in charge of providing you with shock absorption, and it is focused on maximum protection while maintaining excellent responsiveness. A Midfoot Strike Zone is also integrated into the midsole, encouraging runners to strike with the midfoot that results in a quicker pace and less weight on the heel.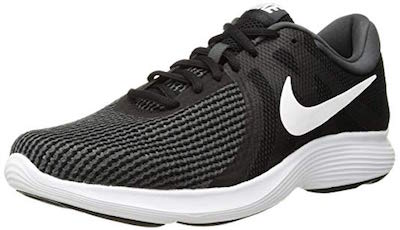 Simple in its construction, the Revolution 4 Nike running shoes for beginners has a responsive but comfortable structure. The mesh upper is single-layer for breathability and the vamp underlays plus toe-tip underlays give structure and support. There are molded pods on the outsole for traction on multiple surfaces and the outsole itself is rubber for durability. The midsole gives cushioning that is lightweight but still responsive.
The rubber outsole has pods that are molded to give you multi-surface traction for different kinds of running conditions. When an impact is made, the pods flatten to absorb the impact and shock but during toe-lift, the pods spring back with a piston-like effect to provide responsiveness.
Multiple-layer mesh in the upper can give better fit and lock but can generate excessive heat and sweat. With a single-layer mesh, you have greater breathability and flexibility but your foot stability will still be in place with the shoe's other stabilizing features. These are our favorite pair in the list of the best women's running shoes for beginners on the market today and for a good reason.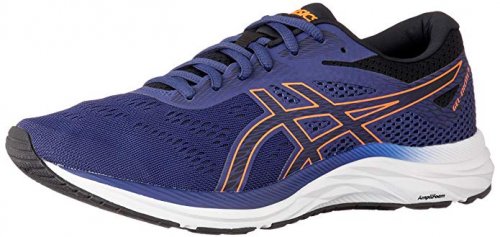 The Gel Excite 6 by ASICS is the latest edition of the Gel-Excite line and is a great shoe for anyone that is just starting to run. The breathable fabric mesh upper is perfect for keeping your feet cool and dry when hitting the pavement. The comfort of the 6 cannot be understated and we highly recommend this runner to anyone with foot or joint issues.
With a rubber sole for extra traction and grip, the synthetic make of the outsole means this shoe can last you up to two years, depending on how often you run. A cushioned midsole is engineered to keep its shape, even at softer densities. Considering the midsole is usually the first thing to wear on a running shoe, this is a great feature.
In addition, ASICS licensed Ortholite technology to wick away moisture and give you a great run without smelly and wet feet. With cool colors like Indigo Blue or Steel Grey, the Gel-Excite is as functional as it is stylish and this is why this model is one of the best running shoes for beginners.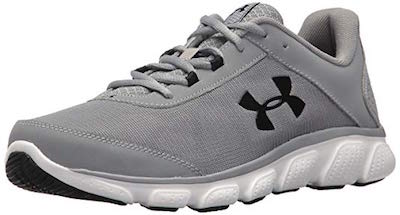 Affordable for the first time runner, the Assert 7 has an EVA sockliner that is soft with a comfortable step-in ability. The leather overlays are durable and stable and help to lock-in your midfoot and the mesh upper provides breathability. The midsole is Micro G for additional comfort the rubber outsole is lightweight but high impact absorbent.
This is the padded foam mesh your feet stands on in the shoes and the Assert 7 sockliner is constructed with EVA (ethylene vinyl acetate). EVA is durable and lightweight and provides great cushioning.
Positioned between the upper and the outsole, the midsole provides comfort, cushioning, fit and support. With the Micro G, you have a lightweight midsole that keeps your feet closer to the ground to give you better lateral stability.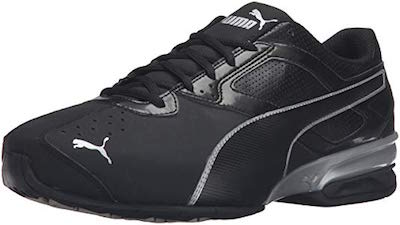 When I think of the brand Puma, I think of soccer cleats. But Puma makes all sorts of athletic shoes, and the Puma Tazon 6 FM is an excellent all-around athletic shoe. It is advertised as a running shoe, and it can certainly fill that need, but I consider it to be more of a cross-training shoe.
The Tazon 6 FM is the best starter running shoes if you like to run, but also need shoes for the gym or the occasional pickup basketball game. It provides the support needed for any physical activity and has durability to withstand wear and tear from cross-training.
The EVA Heel Pod in the Tazon 6 FM absorbs and disperses shock, which reduces foot and leg fatigue and it reduces the occurrence of the foot, leg, and back pain. So if you are also looking for one of the best running shoes

Subscribe to our Newsletter