10 Best Soccer Cleats Reviewed & Rated
In a Hurry? Editors choice: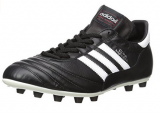 Test Winner: Adidas Copa Mundial

Soccer is one of the most popular sports worldwide, with some sources estimating that over 3.5 billion people are fans of the game. As a game which can be played anywhere and by almost anyone, it is a great way to burn calories and have fun, seeing that it combines aerobic exercise with competitiveness and team spirit.

Whether you're an aspiring professional or someone who likes to get together with friends and have a casual game during the weekends, you are sure to require a good pair of soccer cleats. This is why we have put together this very convenient and hopefully helpful list of top ten soccer cleats currently on the market.

Sit back, kick your feet up, and enjoy!
Standout Picks
Criteria Used for Evaluation
Flexibility
The more flexible and lighter the shoe is, the easier it will be to run around and control the ball.
When running is involved, it is extremely important for your sports shoe to have some flexibility to it. Running around on a soccer field for a long period of time with a stiff shoe will not allow you to perform to the best of your ability.
The natural motion of running involves the forefoot flexing, thus this is where soccer players need flexibility the most. When running, we obtain the impulse from the forefoot flex and reduce shock with the heel. If there's no flexibility present, the running motion would be obstructed.
In soccer, flexibility plays a role in dribbling, striking, and maneuvering in general. While the kicking shoe might not need to be flexible at the time of striking, the support foot does. Before striking the ball, the body assumes an inclined position that relies on the support leg, and if the shoe does not flex properly, it's much harder to assume the kicking position.
There are a few main components that are majorly related to flexibility: torsion, materials in the construction of the design, and the outsole.
Torsion: The torsion relies on the ankle support. It is an aspect of flexibility that allows you to rotate instead of flex, which is necessary when players want to change direction while running at high speed. Their ability to turn around or change directions will rely on the ankle support and flexibility of the upper.
Materials: Fabrics have a big role in the flexibility of a soccer cleat. Stiff, hard materials won't allow the shoe to flex along with the foot in the running motion. The materials of the upper should be thin and flexible. Bulky fabrics don't have good flexibility; they'll often dislocate the frame when trying to bend. Stick to soft leathers and other breathable materials that allow for adequate airflow.
Outsole: An outsole can optimize flexibility just as much as it can hinder it. A flexible upper alone cannot develop sufficient flexibility, but in combination with a flexible outsole, results are maximized. The materials of the outsole play a role in flexibility, but the design itself becomes an element as well.
The weight and flexibility go hand in hand because the more lightweight the shoe, the more flexible it will be overall. Sports footwear for all intents and purposes has quickly embraced weightless designs, due to the reduced effort required from athletes to perform motions.
It's not only easier for players to run with lightweight footwear, but also easier to control the ball. By incorporating lighter, thinner materials to the build, players have access to superior ball sensitivity, which has a huge impact when it comes to running while in control of the ball.
Bulky footwear, on the other hand, requires greater effort to move around. This effort will not necessarily tire out the athlete, but it will be reflected in their performance. Their motor skills aren't adapted to heavy cleats, thus potentially making them an obstacle. Soccer cleats with a minimalist approach offer a barefoot experience which prevents the player from feeling dragged down.
Shock Absorption
Shock-absorption is paramount in improving your performance and protecting your feet and joints from pain and damage.
All players know the importance of an impact-absorbing cleat. Shock absorption is a particularly important element in firm ground soccer cleats because they're harder than artificial fields, and the impact in shoes is much more forceful.
Firm-ground cleats should be equipped with superior impact-absorbing technologies and materials. Jogging footwear that lacks shock absorption generates heel pain usually around the first 60 minutes. Compare that to soccer players who run intensely for 90 minutes; without proper shock absorption and cushioning, you will quickly experience pain and discomfort.
A lack of shock absorption does not only become uncomfortable, but it can become quite painful at a certain point. In some cases, the pain might even extend to the next day in the form of heel soreness which can cause you to miss out on future games, or worse, create long-term damage to your feet. Cleats that properly reduce impact make running much easier and painless.
The absorption lies in the soles (the insole, midsole, and outsole).
Outsole: The outsole is the first element to make contact with the field's surface, so it receives the full impact of each heel strike, which moves upwards in a vertical way. The outsole is usually not made to absorb impact due to the combination of the specific design and the outsole materials.
Midsole: Generally equipped with adequate materials to deal with the impact, the midsole plays the biggest role in the process of shock absorption. Some midsoles even use the same energy to impulse the next toe-off if performed fast enough. Depending on the amount of support and shock absorption needed, the midsole can range from quite thin to fairly thick.
Insole: The insole is the last element standing between the foot and the field. While the midsole should absorb shock efficiently, it would still cause damage if the foot was in direct contact with it. Not all cleats have a shock-absorbing insole, however, it does make a large difference in performance. The insole takes care of maintaining comfort during every impact; if it is lacking in quality, you risk the possibility of experiencing discomfort while you run.
Materials: There are multiple factors that are taken into consideration when manufacturing footwear for this sport. The most effective shock absorbers are unquestionably rubber derivatives and polyurethane. They are what most outsoles and midsoles of professional soccer cleats are made of. However, incorporated technologies might feature different materials, such as foam.
As for the insole, Ethylene Vinyl Acetate (EVA) is the material with the best shock-absorbing qualities. Despite its lightness, it's a very tough compound when it comes to impact, and it also possesses anti-vibrating qualities and resilience.
Cushioning: At first sight, you may assume the amount of cushioning in a design only has to do with comfort, however, it also takes part in absorbing shock. An EVA insole, for example, delivers cushioning and impact absorption at the same time. Cushioning technologies such as air cushions and gel cushions have proven to be very efficient as well.
Features
The construction of the shoe is key when it comes to controlling the ball and kicking with precision.
Amongst all the other things a pair of cleats can do, they also help you remain in control of a soccer ball. Soccer shoes can improve control just as much as they can reduce it, therefore the best cleats deliver a considerable amount of ball grip through many of their elements.
Features such as external textures and patterns increase the quality of the contact between the ball and the upper, and although they may seem just for show and looks, these patterns make a huge difference in ball handling and dribbling. You can tell the biggest difference while running, as that is when it is hardest to control the ball.
Getting a good grip on the ball is crucial, but it's also important to get a feel for the ball as well. Which is where the idea of minimalist footwear comes in, as they fit like a second skin and have little to no cushioning or barrier between your foot and the ball.
The top part of a cleat should consist of a combination of premium fabrics and specific texturing. These fabrics must contain both grip and lightweight properties to deliver greater ball touch and control. The grip is provided by special textures and patterns on the shoe's higher portion, which usually comes in the form of dots, diamonds or shapes made of the same material, but with a wrinkled texture.
The hardest point of ball control is undoubtedly running. As previously mentioned; bulky materials obstruct the foot's range of motion, which is why it's important for the upper build to feature lightweight materials.
Both the midsole and the outsole take part in ball control. The midsoles usually have lateral panels that contribute to lateral ball control. Not every motion in soccer is directed forward; in fact, lateral control is critical in a wide variety of circumstances, including running control and dribbling.
As for the outsole, some football cleats feature underfoot design for ball control. This design includes a measured space and distribution of the studs. Though not all cleats feature this design, shoes that do make quite a difference.
One of the most important things to players in a soccer game is scoring. While soccer cleats can't aim for you, or score the goals alone, they can determine the result of a strike. Multiple factors can determine whether the ball ends in the net or against the post.
The upper is mostly the element that determines the quality of the ball rotation after a strike. If the technique is good, an upper build with the right features can make an enormous difference. However, there's much more behind curves and accuracy than just fabrics, such as the weight of the cleat and the control over the ball.
The materials that make up the upper have an influence over the amount of friction between the ball and the shoe. This friction is what's responsible for the curve that the ball will have. Though it ultimately depends on the striking technique, these materials can mean the small difference between getting that goal – or missing.
Some soccer footwear includes patterns around the most common striking areas to optimize each kick. These patterns make adding spin to the ball much easier and more secure. Leathers are great materials to keep control of the amount of spin and accuracy. The idea of the upper is not to give more or less spin; it's to maintain the one you aim to give.
A shoe's weight is another influencing factor in accuracy. By delivering a minimalist build, soccer shoes allow players to kick as if they were barefoot, meaning the lighter the shoe, the more accurate the shots. By accurate we mean the ball will go where you aim. A bulky shoe might add more force to the kick than what is really necessary, whereas thinner builds barely add any additional power or rotation to strikes.
How the cleat fits affects both curve and accuracy; a slim, tight shoe will prevent any internal movements, delivering a solid and precise strike. On the other hand, you can't expect much from footwear that is not fitted well and allows your foot to move around.
Durability
This type of footwear is notorious for not lasting long, but a high-quality pair of cleats should last you through at least one season.
It goes without saying that your soccer cleats will take quite a beating during their lifetime. It doesn't matter if you're a recreational player, or perhaps a semi-professional or a professional one; this type of footwear faces nothing but mud, grass, hard impacts and sometimes even blood during its wear. This all affects its longevity, and it is only natural that these shoes deteriorate faster than your average, everyday footwear.
There are several things that come into play here. Since taking it easy in your soccer footwear is not an option - after all, you want to get that ball and you want to score that goal - then choosing a design which is made from quality materials and with a quality construction is the next best thing.
Look for genuine leathers, if you can. They are more expensive, but they are far more durable than synthetics, which tend to flake and crease with time. Avoid mesh, canvas or any other form of textile (however, an exception could be made for special knit materials); these are lightweight and breathable, that's true, but they are also thin and will fall apart sooner rather than later.
Before you commit to your purchase, make sure that there are no obvious flaws in the design. The shoe needs to be properly glued or sewn shut in all the right places, and no seams should be sticking out, either outward or in.
If you are playing a game - or training - anywhere from three to seven times a week in the same pair of cleats that are well-made - you can expect them to last three to four months (one season). Two seasons, at best.
Overall, all of the designs we included in our list are quite durable. However, naturally, some are more durable than others. If this criterion is important to you, make sure to sort our list according to it, and to choose off the top for the most durable options!
Value
Just because a design is made by a popular brand name, doesn't mean it's the only good option out there.
When we talk about the value of a design, it is not only its price point that we're thinking of. The cost is a big factor in whether or not something is worth buying or having, but it is not the only one. Features like wearability, functionality, and durability are also important when it comes to value.
Because ultimately, we all want our footwear to be as high quality as possible for its given price range, don't we? If we're buying a budget pair of soccer cleats, then we want them to be solid for the amount of money we're paying. If we're buying a high-end pair, then we want it to go above and beyond.
Which brings us to our key aspect here: branding. In our list, we have incorporated a lot of the big brand names like Nike and Adidas. This isn't because they're popular, but because they truly do produce some of the highest quality footwear available for sports of all kinds, including soccer. After all, they had to gain their reputation somehow.
But if you're a beginner, or if you're a recreational player, and are not interested in spending so much money on a pair of shoes that will likely have to be replaced come next season, that's okay, too. Buying from other brands doesn't have to mean you're settling for lower quality; there are plenty of names out there who offer good products at an affordable price.
However, if you're interested in which items on our list give you the best bang for your buck, definitely don't hesitate to sort them according to Value. You'll find the best designs in their price range right at the top!
Our Favorites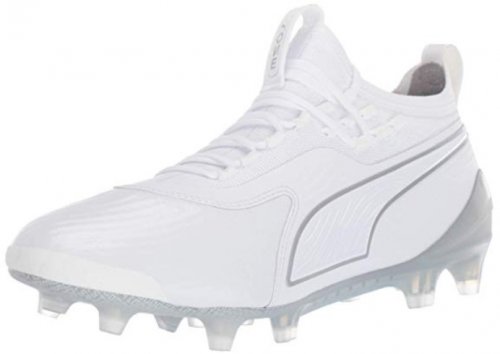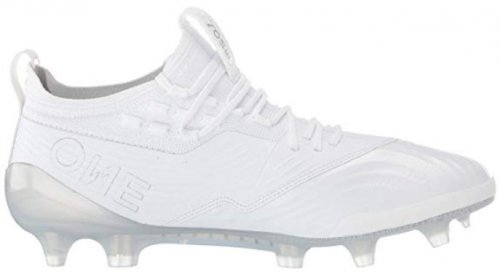 For a moment we're taking a break from Nike and Adidas, and venturing into the territory of their business rival, PUMA. With the One 19.1, the brand released a model that is every bit as hardcore as all the others on this list, if not more so. Its key features are the special evo-KNIT sock with the FUSEFIT system, as well as a RAPIDSPRINT outsole that will give you expert-level fit and response.
The One 19.1 has an upper made from microfiber if you can believe it. The evo-KNIT sock we mentioned and the FUSEFIT technology offer a fit like no other, and this design moves along with your foot for extra comfort. There is a pull tab on the back for easy entry and an external heel counter for a secure lockdown. The RAPIDSPRINT outsole is exceptionally lightweight so that it doesn't drag you down, and it also provides you with all the responsive traction you need to stay steady on your feet as you gain control of the ball.
PUMA truly went above and beyond with their One 19.1 model. It is not only outstanding in terms of technologies and features, but it also comes in stylish color-blocking patterns that will make you stand out in the field. If you're tired of the same old designs over and over again, try something new with PUMA.

2

. Nike Tiempo Legend VII Academy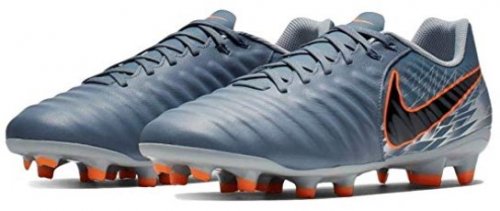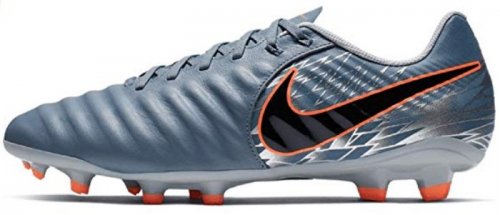 The Tiempo Legend VII Academy boasts "natural command", as the brand itself declares. This particular option is made from natural materials - calf leather - and as such, it stands above the rest in terms of comfort, quality, and durability. It has an EVA sockliner and is meant for firm ground, more specifically fields with short grass and slightly wet terrain.
The calf leather upper means that the Tiempo Legend VII Academy is a premium choice. Leather has the wonderful ability to take the shape of the foot over time for tailored comfort, and with a little bit of care, it also lasts much longer than synthetic materials. The EVA foam in this design provides low-profile cushioning and support that you will need when you're running from one end of the field to the other.
Unlike some other Nike options, the Tiempo Legend VII Academy is not about those fancy technologies or long-named systems. Rather, as Nike itself said, it is about "natural command", giving you the best materials and construction possible so you can win that game for your team.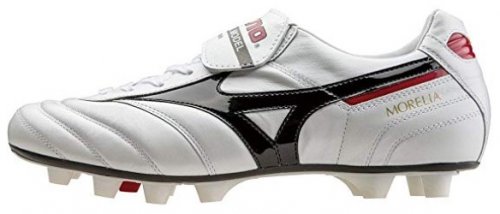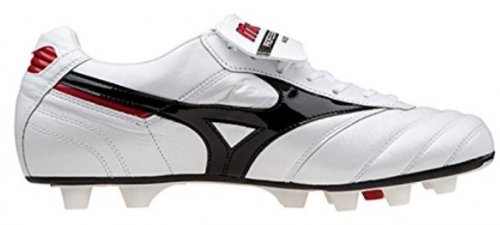 For those looking for a traditional soccer boot made with the highest quality materials and attention to fine detail, the Mizuno Morelia II is a dream come true. These are made with carefully selected kangaroo leather that has been cut thin for a lightweight and flexible wearing experience. Excellent ball control is achieved by using different directional stitching that gives plenty of grip where needed.
In addition to its flexible and soft upper, the Morelia II also features a sole plate that was designed to allow for maximum flexibility of the foot during all running and kicking movement. Paired with 13 studs that have been strategically placed to reduce pressure, this is a pair of shoes suitable even for the most demanding players.
Being made with the greatest care, this pair will last you for several seasons to come. Made in Japan, it ensures outstanding quality control that will give you peace of mind that your cleats are just as ready for any game as you are.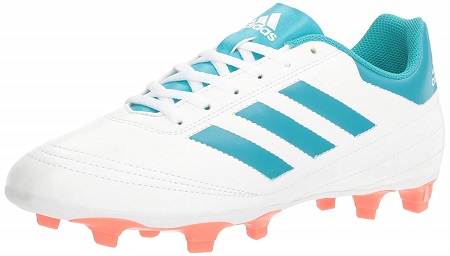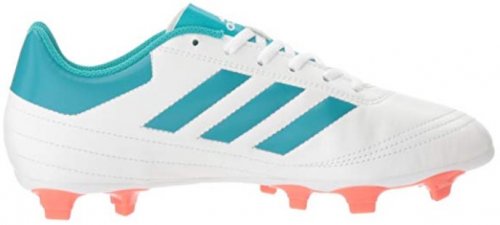 Sporting a bright color scheme and super aggressive traction, the Adidas Goletto VI is the perfect firm ground cleat for those on a budget. The upper is made of a lightweight yet durable synthetic leather and features the signature three-line design that Adidas is known for. Sizes range from a US 7.5-11, including half sizes.
Durability is important for an athletic shoe, even those on the less expensive end of the price spectrum. A durable design is going to last you far longer and will be better equipped to handle the sort of abuse that comes naturally with soccer. The Goletto VI is made using synthetic leather that is very lightweight while providing the durability you need.
Soccer cleats require aggressive traction in order to give you the most stable footing on the grass. There are two kinds of traction patterns, and the Goletto VI features a pattern that is best suited for firm ground (dry natural grass). The lugs on these cleats are designed to grip the ground strongly, giving you the most stable footing possible. This along with the lightweight upper allows you to move quickly, something that is necessary with soccer.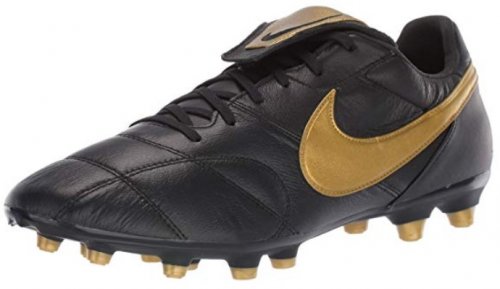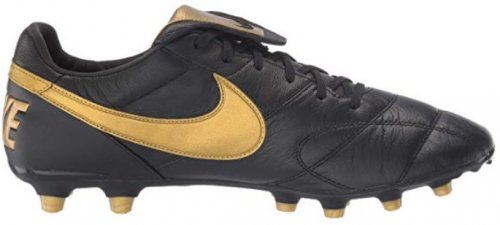 The Nike Premier II is a design that brings it back to basics. It is a classic cleat silhouette made from kangaroo leather, and it ups the game with a slightly wider lacing system and conical studs. On top of that, you will love the color combination options of this cleat, as it reminds us of the classic looks that players used to wear in all our favorite games of the past.
The Premier II is made from kangaroo leather, meaning that it provides touch and ball-feel that many other material options can't. The wider lacing system ensures that feet of most widths and shapes effortlessly fit into this design. In terms of cushioning, there is a lightweight insole, and a TPU plate that is full-length provides both a longer lifespan to the shoe and stability on the terrain.
The studs of the Nike Premier II are conical in shape, meaning that they dig in quite nicely and ensure you have a smooth ride. With their constant traction and the overall well-rounded design of this cleat, you will have nothing to worry about on the field. Your only job would be to focus on the ball and make sure that you score a win for your team.

6

. Adidas Nemeziz Messi 19.3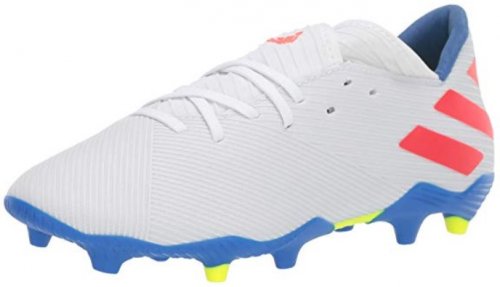 In association with one of the greatest soccer players of all time, Lionel Messi, Adidas has put out their Nemeziz Messi collection and absolutely blew the minds of the soccer community as a whole. The 19.3 is the latest model in the line, and it features a specially designed agility upper that helps you change directions quickly while on the field, while also giving you maximum feel of the ball at any point in the game.
The Nemeziz Messi 19.3 is anatomically shaped to provide you with the best fit possible, and the upper is made from coated mesh, meaning that it provides you with breathability while also being pretty durable at the same time. The insole is cushioned for a touch of shock absorption, and the outsole is made from TPU. This TPU outsole features studs that are configured for maximum agility, providing you with great traction but great energy return as well.
The Nemeziz Messi 19.3 doesn't come with as many high-tech features as you would expect from the brand. However, that is precisely its beauty - it is not about the fancy technologies or advanced science; in these cleats, it comes down to pure, undiluted skill, and that is exactly what you're going to demonstrate in your next game.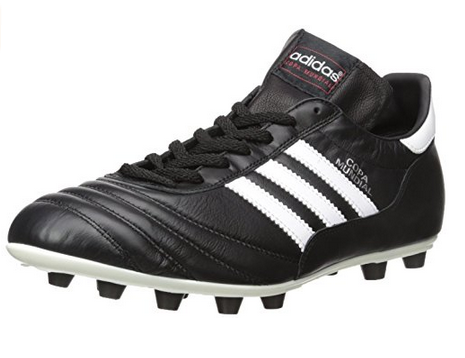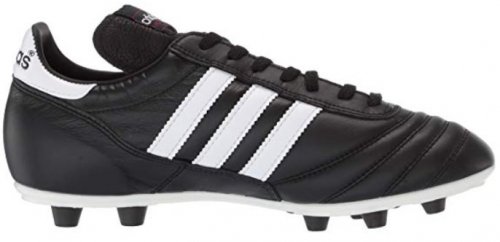 The Copa Mundial features a finely crafted leather upper which was made to give you unparalleled comfort and to significantly enhance the control you have over the ball. With a double-density outsole, the Copa Mundial offers a long-lasting performance on the firm field. The combination of an EVA insole and synthetic lining provide an extra dose of comfort and adequate fit. This model performs specifically on firm-ground, in both wet and dry conditions.
The outsole of this design comes with twice as much the normal density. Thanks to this, durability is considerably extended. This feature allows players to get a greater grasp of the field and a much more stable platform. The EVA insole is a specialist in shock absorption. Keeping comfort and protection at the top, this insole prevents both internal slipping and impact damage. This material is also resistant to sweat and bad odors.
This Adidas model may be considered a costly shoe, but that is to be expected from performance footwear made classic over the years. While it might not be affordable to everyone, you won't lack any aspect of soccer performance while wearing this pair.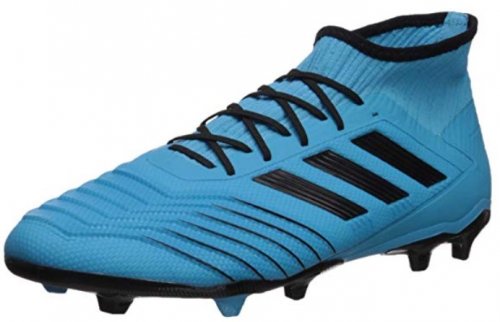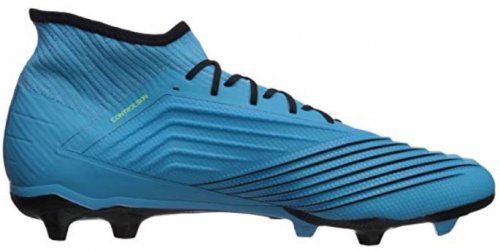 The latest edition of the Predator is meant to shut your competition up and make them stare in awe as you lead the ball and score goal after goal. It is made from Adidas' Primemesh material for the upper, a combination of their revolutionary Primeknit and mesh for a perfect fit and maximum ventilation. Everything about the Predator 19.2 speaks of power and control, and you will have no problems kicking the ball where you want it to go.
The upper of the Predator 19.2 has Controlskin coating over the Primemesh material, as well as a stretchy collar that gives you a better transition of movement from your foot to the leg and a better lockdown feel. The closure is lace for superior adjustability, and there are special textures on the forefoot. These textures allow you to grip the ball and shoot it with precision. The outsole of the Predator 19.2 is made from TPU and is, of course, designed for firm ground.
This sleek, impressive design comes with hybrid studs, and it will give you the accuracy you need in the field. The Adidas Predator 19.2 is a player favorite across the globe for all the right reasons, and it's time you discover them for yourself.

9

. Under Armour Magnetico Select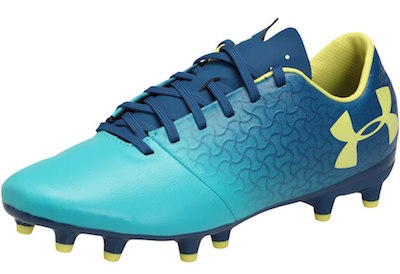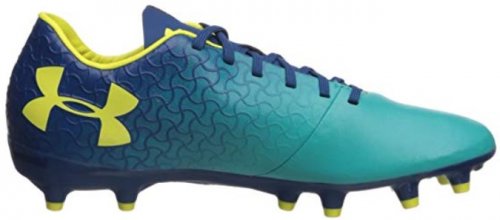 The Magnetico Select by Under Armour has been developed to bring the upper of the shoe closer to your foot in order to give you the best possible flexibility and responsiveness when it comes to directing the ball. It's a pair made with high-quality synthetic materials developed for use in professional-grade sports equipment, which means that these cleats will be both durable and will give the best possible performance on the field.
Using a combination of variously shaped studs, Under Armour made these to give you the best possible traction during a wide variety of movements that are all part of the game. Bladed and round conical studs will enable you both to run fast and to stop and change direction at high speeds.
Using a sockliner with antimicrobial technology, the Magnetico Select ensures that you have a comfortable feeling underfoot with the right amount of airflow. This level of breathability will prevent the overgrowth of bacteria in your shoes that otherwise lead to unpleasant smells.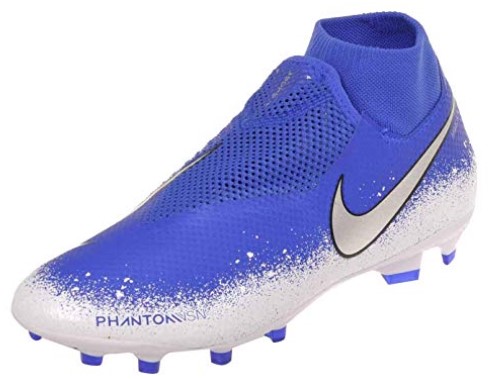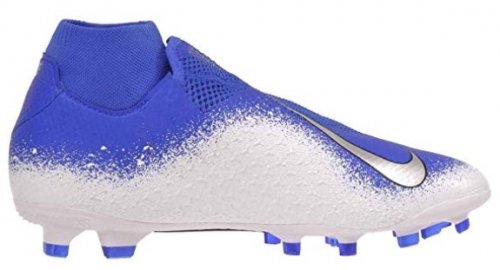 The Nike Phantom VSN, or Vision as it's known, is one mean design that does not mess around. This sleek, precise construction is built for ferocity and fast play. It has an inner sleeve, or a bootie, that hugs your foot just right, and is protected by an external layer of Flyknit. On top of that, The Vision features a handful of other Nike technologies that we've come to know and love from the brand.
The sleeve that comes up to your ankle is made from Quad-Fit mesh, meaning that it gives you a gentle feeling and breathability. The Flyknit upper features texturing that is specifically molded to give you a better ball feel, and the Dynamic Fit collar seamlessly connects your ankle to your foot. There is also a Ghost Lace system that helps you adjust the fit of the Phantom VSN to your liking, but that can be hidden away for a clean surface to strike the ball with.
The plate of the Vision is designed to perform on firm ground, and it features 14 cleats to provide you with as much power and stability as possible. The Vision is packed with innovative Nike technologies, and if you are looking for a design which stands out from the rest in terms of performance and fit, this one is definitely it.

Subscribe to our Newsletter