Best Softball Cleats Reviewed & Tested for Performance
last updated:
Sep 22, 2019
Softball is a fantastic past time and for many, a competitive sport that is played by kids and grown-ups all over America. Fast-pitch or slow pitch, there's a game going on somewhere right now. Some players are wearing runners, football cleats, rugby cleats or even soccer cleats to play the game. But you know better – the wrong softball cleats are like trying to pitch while wearing a catcher's mitt. You know that all softball cleats are not the same and that running bases in running shoes can end in an ugly injury. You are off to a great start.
Below we've comprised the best softball cleats around right now. Some have been designed with baseball in mind, but will work just perfectly for softball as well! Read through, find a pair you love, and get out there on the field!
This is the best product on our list that is currently in stock: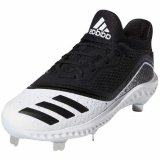 Adidas Icon V Bounce
Why is it better?
Mesh Upper
TPU Overlays
Special Fit Features
Bounce Cushioning
Stealtrax TPU Plate
In a
Hurry? Editors choice: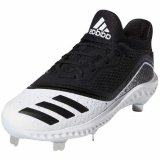 Test Winner: Adidas Icon V Bounce

18
Researched Sources
1267
Reviews Considered
17
Hours Researching
20
Products Evaluated
Use
Comfort
Features
Support
Value
By Default
10 Best Softball Cleats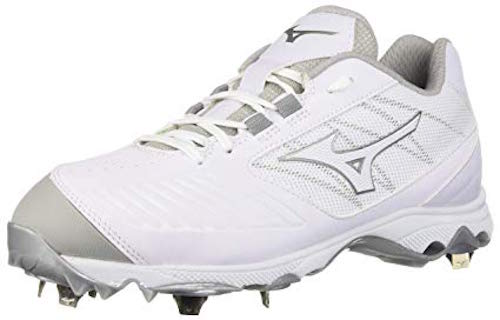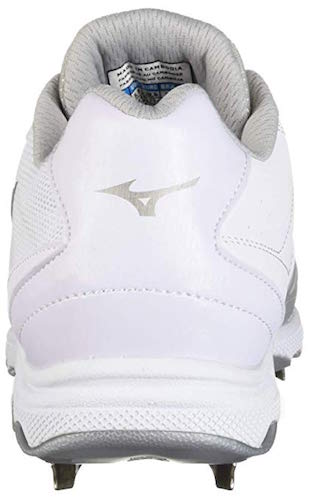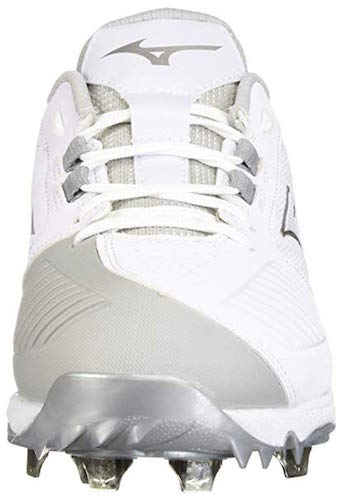 Breathable Upper
9-spike Design
Parallel Outsole Wave
Protective Toe Guard
Full-length Midsole
Sole Picks Up Dirt
Confusing Size Chart
A continuation of Mizuno's successful softball line, the 9-spike Advanced Sweep 4 is a metal cleat with an incredibly low weight engineered for maximum performance. It's available in a range of sizes from 6 to 12 and can be purchased in a variety of color options that are great for those who want to show off, as well as those limited by team colors.
The comfort of the Sweep 4 is mainly provided by the full-length midsole. What this ensures is excellent shock-absorption for long practices, ensuring that the feet don't get too tired or beat up. This model features a Parallel Outsole Wave, a technological solution that increases impact protection without creating bulk or adding weight. It also makes it easier to maintain stability, especially when hitting and throwing, all while protecting the ankles.
The outsole of the Sweep 4 is made with a lightweight 9-spike design, featuring 2 spikes in the heel area, and 7 in the forefoot for ultimate grip. The upper combines protective and breathable materials for the best possible in-shoe feel, as well as for a high level of moisture management, while the toe enjoys some added protection thanks to the innovative toe guard.
The cost association of the Mizuno Advanced Sweep 4 is around average, making it a great investment for most athletes. It offers a good deal of innovative features, all while maintaining a comfortable and durable design made for serious training sessions.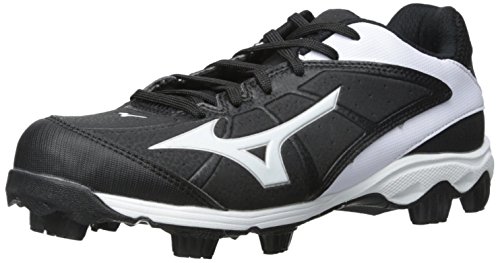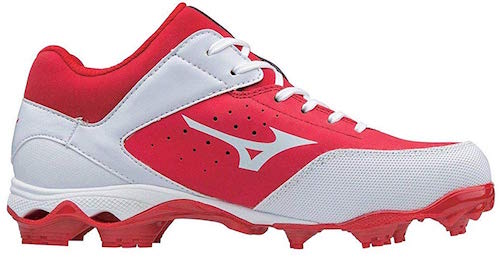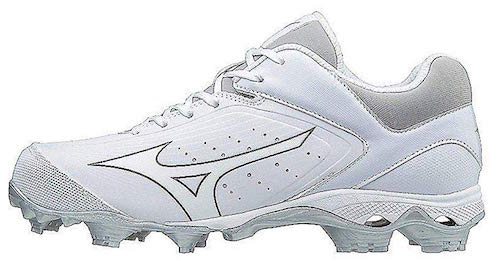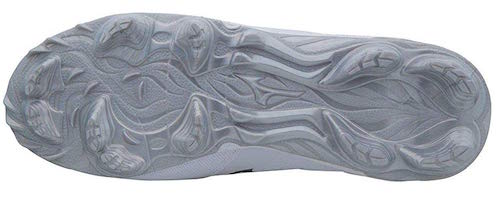 Synthetic Upper
Rubber Studs
Nine-Spike Design
Full-Length Midsole
Durable Outsole
This is a fastpitch softball cleat with rubber studs from Mizuno, who has made athletic gear for more than 100 years. This softball cleat is endorsed by Jennie Finch as well. It is designed for comfort and durability no matter the field type. You'll be able to perform at your best through all innings in this shoe.
The full-length midsole offers maximum comfort for long hours of play or practice. Your feet take a pounding running all of those bases and these softball shoes will let you do that comfortably.
Rubberized studs are durable and softer than metal studs on cleats. They're also permitted by all leagues and programs, leaving you worry-free. A solid pair of softball shoes to consider for your next purchase!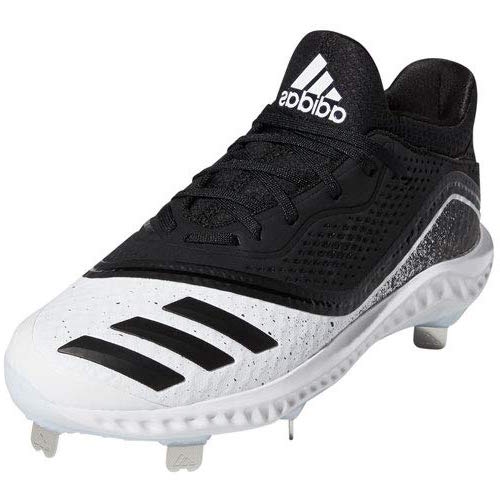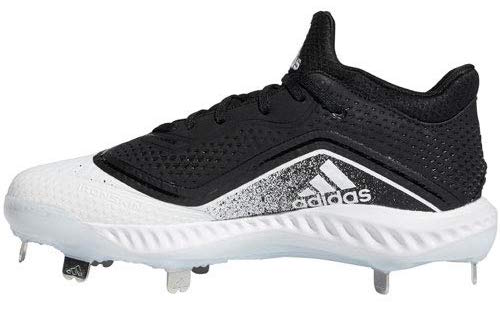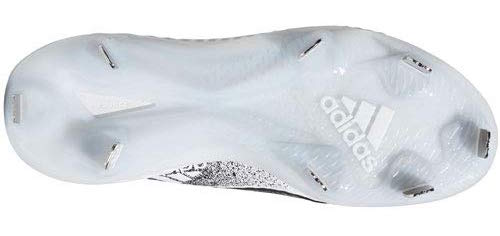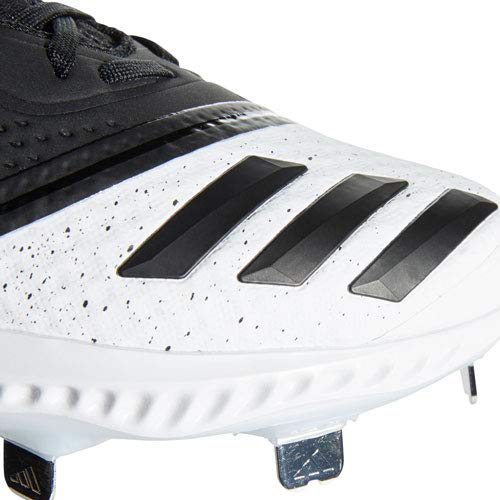 Mesh Upper
TPU Overlays
Special Fit Features
Bounce Cushioning
Stealtrax TPU Plate
This softball cleat by Adidas was inspired by athletic streetwear, focusing on providing wearers with the highest level of comfort achievable. It's a great choice for any position, and it comes in both women's and men's versions, as well as a wide range of sizing options allowing anyone to get the ideal fit. It boasts a simple design, typical of Adidas, and can be purchased in several classic color options combining white with colorful upper accents.
The upper of the Icon V Bounce is made with mesh. What this ensures is the ultimate fit that's highly breathable, moisture-wicking and most importantly, lightweight. TPU overlays are added to provide stability and the lacing system allows for a good amount of fit adjustment, ensuring maximum lock-in. A special feature is an elastic band around the ankle which allows for easy entry, without compromising in-game stability. Additionally, the toe area features an Ironskin overlay which was specially developed to prevent abrasion in high-wear areas.
The midsole of the Icon V uses Bounce cushioning, a highly responsive type of foam often used in the brand's running models. It protects the musculoskeletal system from shock and impact, without slowing players down. The Stealtrax TPU plate ensures amazing traction and stability and is even comparable to metal spikes.
The cost association of the Adidas Icon V Bounce is average, making it an excellent alternative to the highest rated models on this list. It is an overall great investment with a good amount of innovative and performance-enhancing features.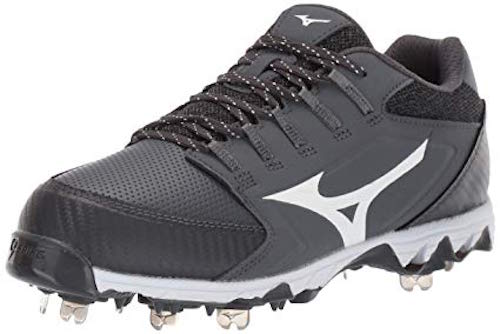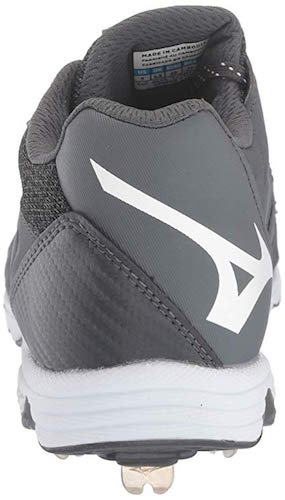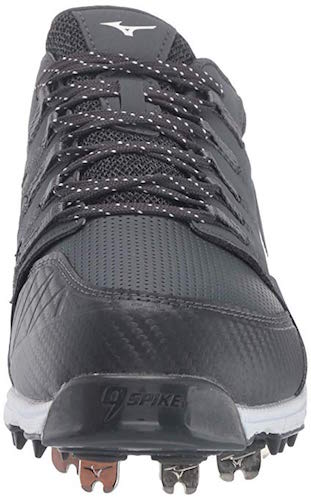 Full-length Midsole
9-spike Design
Generously Padded
Perforated Toe
Lightweight Construction
The latest edition of the Mizuno Swift line was gender engineered to provide the best possible fit for women's feet. This 9-spike cleat is a bestselling product, which comes as no surprise considering the high levels of comfort it provides. It is offered in an even wider range of sizes than most other items listed and can be purchased in six different color options for a personalized feel.
The upper of the Swift 6 is made with a durable leather-like material that is the perfect choice for those hard on their footwear. Although it will need a bit of breaking in, there's plenty of padding in the collar and tongue to ensure a happy wearing experience. Notably, the toe area features perforations, which increases breathability. The lacing system allows the shoe to wrap u from the arch to the instep, ensuring a locked-in feel with plenty of midfoot support.
Like other Mizuno models, this one also features a full-length midsole, as well as a Parallel Wave Plate for maximum shock absorption and stability. The spike system is designed so to provide 3 metal spikes in the heel and six in the toe area, allowing athletes to get a sure footing in any position.
The cost association of this product is lower than other models listed, but it does not sacrifice in terms of quality or performance, making it an excellent choice for most players. It's also rated as the number one Fastpitch shoe, which testifies to its high quality.
5

. Under Armour Leadoff Mid RM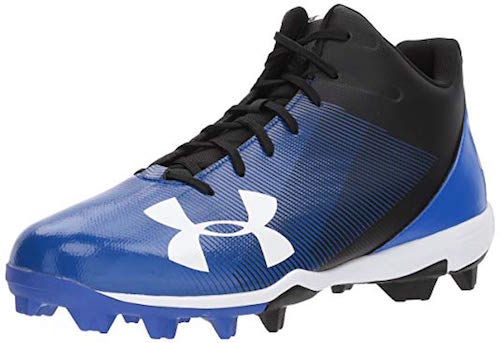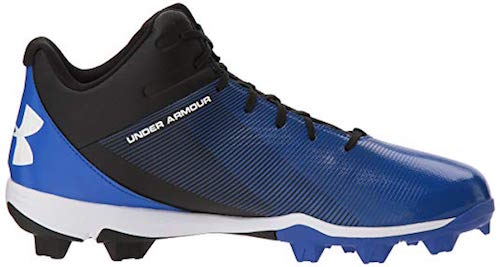 Synthetic Upper
Mesh Tongue
EVA Midsole
18-spike Design
Rubber Molded Spikes
Eyelet Durability
Runs Narrow
These mid-rise shoes are great for those looking for a bit more ankle protection or stability. If you're a fan of UA's baseball and softball styles, this model is definitely a great investment. It is available in men's sizes up to 15 and can be purchased in three color options including black, blue and white.
The upper of the Leadoff Mid is made with a synthetic material that has one important advantage over competing products. It provides exceptional comfort from the first wear, requiring minimal break-in time, and allowing for a good amount of fit adjustment through the traditional lacing system. The tongue is made with mesh, ensuring excellent breathability, as well as some padding to ensure wearing comfort.
The sole of the Leadoff combines an EVA midsole for shock-absorption with a rubber-molded spike plate that provides great grip without putting too much pressure on the underside of the foot. The 18-spike design provides the best traction you can get, and works well on varied surfaces, including less than ideal weather conditions.
In terms of cost association, the Under Armour Leadoff Mid RM ranks below average, making for one of the cheaper models listed, which is why it's such a popular choice, especially among parents shopping for their children.
6

. New Balance Fresh Foam Velo1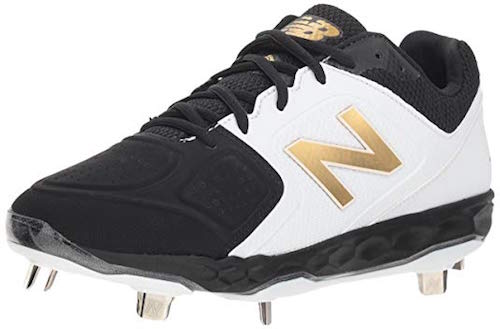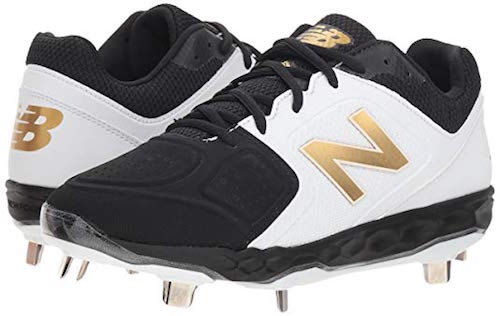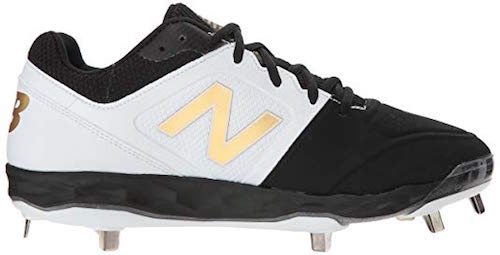 Synthetic Upper
Updated Spike Plate
Fresh Foam Midsole
Lace Cage
Width Selection
Slightly Expensive
Spike Durability
The New Balance Fresh Foam Velo1 is a performance-driven cleat made for players who train and play at elite levels. Featuring a simple design that is to be expected from a brand such as New Balance, this model comes in a simple white version, along with some gold details that are sure to impress. One of its biggest benefits is the variety of sizes available, it can be purchased in sizes 5 to 13 and it's even available in normal and wide widths for those who require a bit more toe space.
The upper of the Fresh Foam Velo 1 is made with a synthetic upper. The toe area is perforated to make temperature regulation and moisture control a prominent feature of the design, while the inner is lined with mesh which is one of the best options for any sportswear choice. The lacing system allows the laces to be tucked in, preventing accidents, as well as providing a cleaner look.
In terms of comfort and performance technology, there are two notable aspects of the Velo1. First and foremost, there's the Fresh Foam midsole which is shock-absorbing and highly flexible. On the other hand, the updated spike plate combines flexibility in the toe and stability in the heel for the best wearing experience possible.
The cost of the New Balance Fresh Foam Velo1 is slightly higher than most products listed, but it's one of the rare softball shoes that comes in two widths ensuring a proper fit even for those who need additional toe space.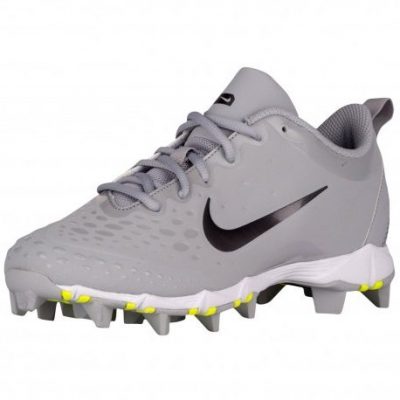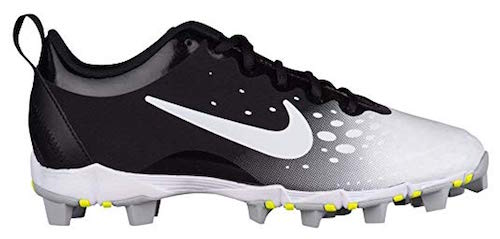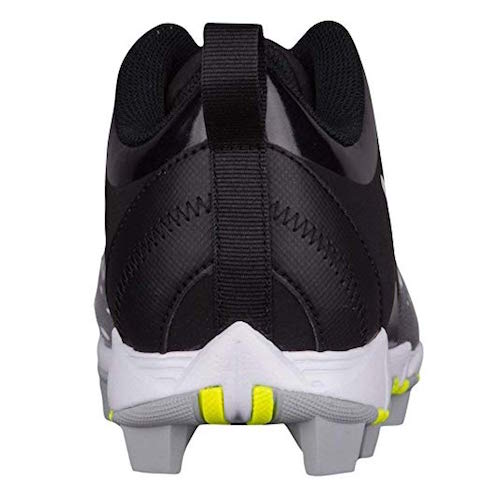 Low-Top Design
Lightweight Build
Cushioned Midsole
Durable Upper
This low top pair of softball shoes is incredibly durable and allows you a great deal of movement. You'll sail through the diamond in this should which offers enhanced traction as well, or sail through the outfield to catch that ball before it becomes a home run. Either way, you're a winner.
The solid rubber outsole on the Hyperdiamond 2 offers up enhanced traction so you can accelerate faster and move with greater stability. These are a game changer kind of softball cleat.
The low top nature of these softball shoes allows your ankle greater natural movement, making it much easier to turn at the bases or line up to catch the ball. Greater traction means greater performance.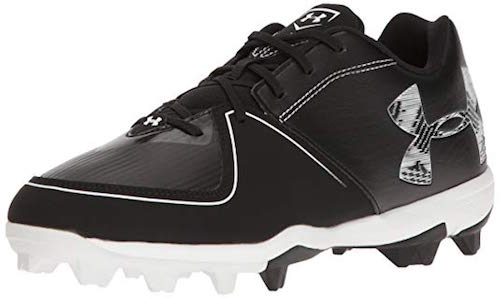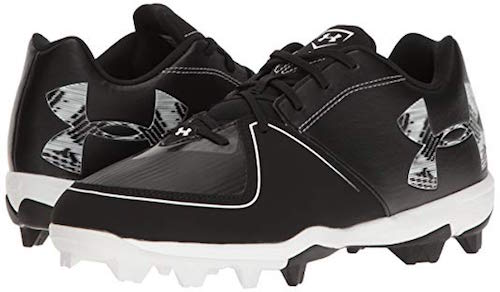 Synthetic Upper
Mesh Breathability
Rubber Spikes
EVA Midsole
Double Overlay Toe
The first thing that you'll notice about Under Armour's Glyde RM is that it's one of the rare models listed that can be purchased in children's sizes as well. This is an affordable option by Under Armour, made for individuals who don't require professional-level performance but who still appreciate a good quality product. The Glyde RM comes in just two color options, an all-white and a black version.
The upper of the Glyde RM is made with synthetics which achieves two important things. Firstly, it will keep costs down to a minimum and secondly, it provides easy maintenance and long-term durability. Mesh is added in key areas to encourage airflow, while the synthetic reinforcements ensure foot stability from heel to toe.
The cushioning system in the Under Armour Glyde RM uses EVA foam, a popular choice in all sports due to its low weight and high shock-absorbing qualities. It provides comfort through dispersing the pressure from the cleats, so you shouldn't feel discomfort even when standing on slightly harder surfaces. The spikes on this model are molded with rubber, providing solid traction through the four heel and six forefoot spike units.
As already mentioned the cost association of the Under Armour Glyde RM is quite low, making for one of the cheapest models on this list. It's an excellent investment for anyone, from those looking for affordable options to those who are only starting out and don't want to spend a fortune.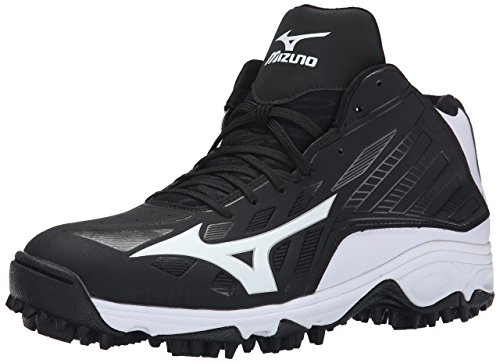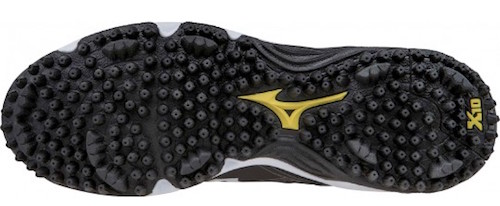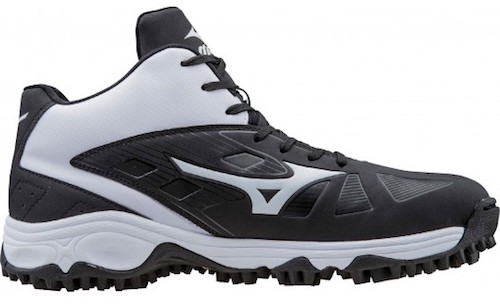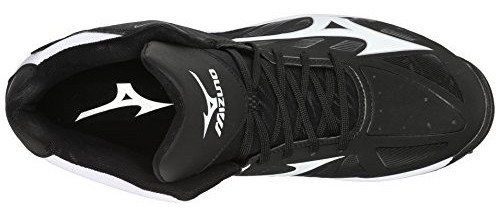 ProFlex Forefoot
Full-Length Midsole
Aggressive Stud Design
Lightweight Upper
Padded Tongue & Collar
Built with Mizuno's relatively new, already famous nine spike design; this softball cleat is great for any field surface with its aggressive traction. This is a very comfortable softball cleat that is suitable for fastpitch or slow pitch.
The outsole on the Erupt 3 features Mizuno's ProFlex design which allows greater forefoot flexibility for control. As the name suggests, this allows for more eruptive power and acceleration for your very best performance.
This outsole of this softball cleat features Mizuno's nine spike design. The studs are GroundGrip designed for aggressive traction and control no matter the field. The cost association of this model is quite affordable, so users looking for a quality pair of softball shoes that don't break the bank tend to go for this style.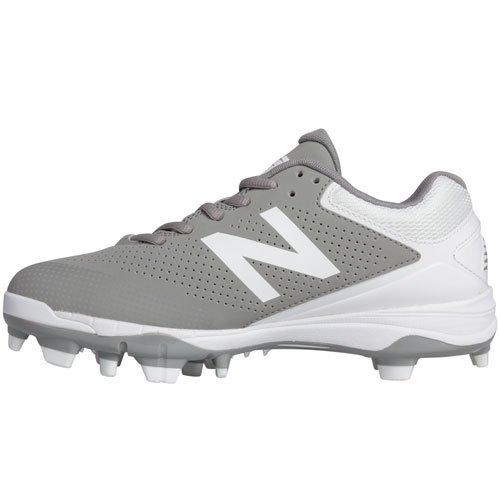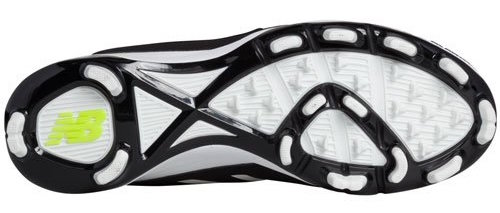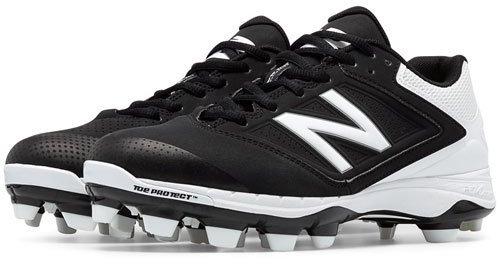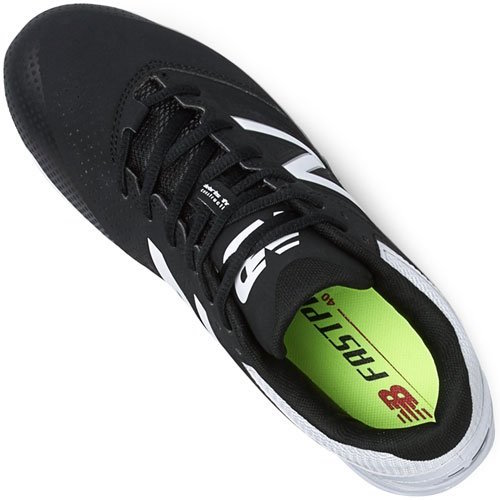 Toe Protection
Mesh & Synthetic Upper
REVlite Midsole
Lightweight Construction
These New Balance softball shoes are suitable for either slow pitch or fastpitch. Made for pitchers, but suitable for other players as well, these make use of the brand's best technologies in order to bring an experience that's lightweight, durable and comfortable. They're widely available and quite affordable, making them a good choice for those looking for their first pair of cleats.
New Balance has given this softball cleat Toe-Protect rubber compound that reinforces the toe area and protects the shoe not only from the abrasion of toe drag but the elements as well.
These softball shoes are built with New Balance's innovative REVlite midsole. The material provides premium durability and responsiveness in a shoe that is ultra-lightweight. In addition to being shock-absorbing and responsive, these are also affordable, making for an overall complete package for most users.
Criteria Used for Evaluation

Use
In considering a pair of new cleats, you should consider a set that is optimized for the position that you play. Different players have different requirements during play, and so their priorities will differ as well:
Pitchers- pitchers should choose a softball cleat with a reinforced toe because most pitchers' have toe drag that would otherwise wear the cleat out faster. Pitchers also should consider a low-top option of softball shoes to maximize their ankle movement. They will also need a shoe that will provide sufficient support and traction to run bases when it's their turn at bat, those these features take a lower priority over ankle movement and toe reinforcement.
Infielders- Metal cleats pick up less grass and dirt than molded cleats so these are good for infielders.
Outfielders- Because metal cleats pick up less debris than others, these are also great for outfielders. Metal cleats also make it easier for outfielders to sprint to reach the ball.
Catchers- Catchers need the comfort to squat behind home plate and also the support and traction to speed around the bases when their team is at bat.

Comfort
Softball shoes are not always the most comfortable footwear, but they should never be so uncomfortable as to cause damage or injury to your feet and ankles. Players have been known to wear multiple pairs of socks to deal with the discomfort that thin soles and cleats can cause.
Comfort features in a good softball cleat include:
Insole- Many models contain an insole, usually made from EVA that will provide some degree of comfort and protection from the pressure of the cleats. If you require a custom insole or orthotic, you should look for a pair of softball cleats with a removable insole or that has sufficient room to use your insert.
Midsole- Most softball shoes have a midsole that is made from EVA or other compressible foam that offers both comforts for the player, protection from the cleats and responsiveness to compression while running. Read the reviews for the cleats you are considering to ensure you find a pair that has a strong midsole that is resistant to collapse.
Upper- Padded tongues, padded collars, mesh or other breathable material and a form-fitting (snug not too tight) upper all provide comfort to the foot and help provide support and protection. Preferably your new cleats will have all of these features and still fit well and be lightweight. Never sacrifice safety and comfort for lighter weight though. It's worth having a slightly heavier cleat to protect your feet.
Cut- If you have a prior or recurrent injury in the ankle or foot, you will probably be more comfortable in a high-cut softball cleat that supports your ankle. Otherwise, a lower cut will provide you greater flexibility and natural movement.

Features
Before you settle on any pair of cleats, you should be aware of your league's rules. Many softball leagues (especially amateur and slow pitch), pitches and schools prohibit the use of metal cleats for safety reasons. Especially for children. Some pitches do not allow metal cleats for safety or full molded cleats because they tear up training pitches. However some high school, college and professional leagues allow for metal cleats.
The benefits of each cleat type are listed below.
Metal Cleats- These are full, permanent metal spikes around the outsole of the shoe. Metal cleats provide the best traction on the field. They are thinner than other cleat types, so they penetrate the ground easier. These are often prohibited for safety reasons, and in some places, because of the damage they can do to the field.
Molded Cleats- These are permanent studs that are shorter than metal cleats and are usually made of rubber or hard plastic studs. The plastic stud variety is lighter than rubberized or metal cleats. There are also usually more studs on the outsole than on cleats with metal spikes. This means they are more comfortable and they make a great shoe for beginners to more advanced players.
Training Cleats- These are cleats that are designed for off-field practice. They are smaller than regular cleats and more comfortable. They do have more traction than regular shoes or sneakers and won't tear into or damage the turf in training fields and facilities. These shoes can also be better for playing on wet or muddy fields because they will pick up much less debris and won't sink as easily.
Interchangable -Some cleats have interchangeable spikes which allow you to change the studs/spikes as needed depending on the field, league requirements or location requirements. This can be the best of all worlds.

Style
When shopping for this type of product, you will want to look at the style that is provided by the manufacturer. In addition to aesthetic appeal, the style of your new cleat can significantly influence your performance, so you'll want to make the best possible choice.
Design aspects such as material use, lacing system placement, added features and foot coverage usually determine upper support, ankle stability, as well as comfort while wearing, so making the right choice plays an important part. It's also a good idea to take into consideration your foot shape, as some people with a high instep or wider toe need additional space that is only provided by certain manufacturers.
On the whole, there are two key aspects to consider in terms of style before making a purchase:
Low-top or High-top? Low-top cleats may allow a player to run faster and are less restrictive. High-tops offer increased ankle support. If you have a prior injury, high-tops are probably a good option to help prevent re-injury.
Color choice - Many softball shoes are offered in a variety of colors that you can match to your team uniform. Some teams may even require that you purchase a softball cleat of a specific color. Also, darker colors show less dirt and scuffing than lighter colors, if they have a concern about showing wear.

Durability
Softball cleats need to be able to endure a lot of stress and strain. During the life of a cleat, it will be subjected to mud, rain, sweat, blood, and possibly even snow. As soon as the elements of a cleat start deteriorating, performance becomes heavily affected. As you can imagine, durability and performance are parameters that go hand-in-hand.
The durability of all kinds of shoes is mostly related to the material they're built with; as well as, the manufacturing quality. Softball models are pretty much the same. Deterioration in your cleats can determine how well you play. It also determines your potential risk of injury.
Each element degrades individually, but it's equally important to understand the shoe degrades as a whole. This means every element should be in a similar state as the rest of them. If one element degrades much faster than the rest of the shoe, it will lose its quality and the potential usage the rest of the elements may still have.
Generally, the piece that degrades the fastest is the sole. This is no surprise, as it's the part of the shoe that handles the most tension. Softball shoes are designed to provide comfort and protection to the foot. Put them under harsh conditions, however, and they're not so good, anymore.
Expert Interviews & Opinions
Most Important Criteria
(According to our experts opinion)
Experts Opinion
Editors Opinion
Users Opinion
By Default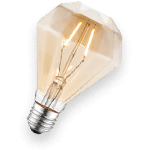 Selecting A Cleat For Your Position
Whichever position you play during the game, it's important that your cleats help you perform the best possible.
Pitchers also should consider a low-top option to maximize their ankle movement, while those in the infield or outfield should consider metal cleats, which won't pick up as much debris.
Cleaning Your Cleats
Most cleats are either made from a combination of soft leather and synthetic, which make them quite easy to clean with a damp cloth, and soap. Simply wipe of any debris or mud from the field, and let the air dry.
Other Factors to Consider
Bottom Line
Feet are easily irritated and sometimes bruised during softball games. There is quite a bit of running, dodging and awkward movement that can be hard on the feet. Without the proper cushioning and design, not even the best softball cleats will keep you on top of your game for long. A poorly cushioned shoe may get you into the start of the game, but in the long run, will take their toll on your feet.
Don't find yourself on the sidelines because of a poor quality or faulty pair. We carefully evaluated every single shoe reviewed in this article, and dug out their most unique features. We also let you know exactly how they earned their spot as one of the best softball cleats.
Remember, there are some aspects to consider when looking for the ideal pair of cleats. The first is whether the specific cleat is allowed in competition, and in what types of competition is it not if any. If you're a competing softball player, it would be a poor choice to have obtained a pair of cleats not allowed in competition. You also want to consider whether they are supportive enough. How much they allow the ankle to flex versus how much support they provide for the ankle is a huge factor. Ask yourself what you need.
Think about how the build of the whole shoe should be and not just the cleats. Is the shoe constructed properly? There are also different types of cleats available. That makes yet another factor to consider. The age range and sizing are typical. Just make sure you know your size. Lastly, you must choose based on your specific style of play. Are you a pitcher? Do you typically slide bases? These are factors that come into play in the perfect shoe. Below we explain each factor, and how they are beneficial to you as a player.
Frequently Asked Questions
q:

Can you use baseball cleats for softball?

a:

There isn't much of a difference except that some softball models are made of rounded rubber points which can be far more comfortable than the type found on baseball cleats. Baseball players generally do not use these types of points. The games are different so you would expect that the development of the rules and equipment would be separate as well.
q:

How should my cleats fit?

a:

You want your cleats to fit a little tighter than regular athletic shoes to avoid having your foot move in the cleats. This helps your efficiency and also helps avoid blisters. Remember to leave room for your socks. Because cleats are usually thinly padded, players have known to wear more than one pair of socks with their cleats so make room for your second or even third pair if that is your preference.
q:

Are softball cleat sizes the same as regular sneaker sizes?

a:

Not necessarily. Different manufacturers make different sizes of their shoes, and none are standard. Your best bet is to measure your foot or have it measured by a professional like a podiatrist and then carefully read the sizing charts that manufacturers provide. Remember to leave room for those socks! Also, remember that you want a snugger fit than your sneakers.
q:

Why are so many of these shoes black?

a:

Black is generally acceptable to most teams and leagues and hides dirt and scuffs well. It's also popular among players, so more manufacturers make more of them – supply and demand. Many of the manufacturers also make cleats to compliment team colors, and Adidas makes a shoe for kids that can change the color of the Adidas stripe on the side of the shoe. You could also dress up a black shoe with color by purchasing a pair of laces in any color or pattern you choose!
q:

What does B(M) mean in terms of size?

a:

This does not mean boys or men's. It indicates the width of the shoes in two different measurement types. A or AA mean narrow, B is average or medium width, and C/D/E/EE are all indications of a wider shoe. N, M, and W mean narrow, medium and wide. What this means for a particular softball cleat can vary, so it's always best to read the sizing charts.
Subscribe to our Newsletter