Best ASICS Running Shoes Reviewed
In a Hurry? Editors choice: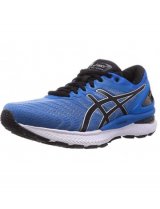 Test Winner: GEL-Cumulus 22

This list looks at the ten highest-rated and most advanced
ASICS running shoes
, helping you make your choice for
a pair of shoes for running
that will enable you to run farther, do it faster, and to feel more comfortable on the way. The Criteria for Evaluation section contains some useful information about ASICS technologies, so if you are looking for shoes with the latest tech features, make sure to check that out as well.
Standout Picks
Criteria Used for Evaluation
Features
In the modern era of technology and performance-enhancing features, a shoe that lacks performance technologies is considered obsolete. Don't get it wrong – shoes that lack technology may still be worth using if their design and construction are good. However, they don't compare to those shoes that have been technologically designed to offer enhanced features.
Some people would be surprised by the amount of technology that goes on inside a running shoe. When looking for the best ASICS running shoes, we carefully inspected the technologies involved in each of the running shoes put up for evaluation. For obvious reasons, we gave a slight preference to the shoes that involve more and better performance-oriented technology.
Unlike some users believe, technology does not necessarily involves mechatronic components or digital activity. The technology is anything that can reduce human effort or make a task simpler. In the world of performance footwear, any feature that enhances your performance or reduces the effort required to perform is considered technology.
The more of it you can get in a shoe, the better. But over quantity, you should always be looking for quality. Something as simple as a lacing system that makes better use and distribution of the tension in the laces is considered technology. Of course, there are advanced technologies just like there are simple ones.
ASICS in particular counts with a huge variety of technologies oriented to sports performance. They're constantly on the hunt for new technologies, lighter and more compressible materials, greater absorption through the gel, and so on. That is in part what defines a quality shoe manufacturer.
We'll give you some insight into specific technologies developed and used by ASICS in their best running shoes. If you're looking to take your performance to its most optimal level, then these technologies should give you an idea of what to look for:
Two Density Midsole™
This technology was designed to boost the speed of footwork and sudden, forceful movements in sports that call for constant and synchronized feet movement. By using two types of midsoles, tennis, and basketball players can turn and move much faster and smoother.
Both midsoles count with different levels of hardness that derivate from different material densities. The two midsoles work together to adequately change their structure about the pressure applied to them during movement. This allows for a much faster reaction. Depending on the sport and the purpose, the characteristics will vary.
For example, a user who practices table tennis counts with a low-hardness midsole material to support quick and smooth lateral motions. Handball and basketball shoes, on the other hand, have a high-hardness midsole material located on the exterior side of the forefoot. This reduces the lateral swinging of the foot when performing a side turn.
The Two Density Midsole™ smoothens forward and lateral motions as well as spins and turns, as they're highly-important aspects of many court sports. The purpose of this technology is to assists the user in conducting such motions properly. By having a second midsole, cushioning properties are also improved.
FluidFit™
The FluidFit™ technology is a combination of materials used to optimize the fit of the upper build. This is done by providing a mesh upper that is composed of two parts; a non-elastic part that acts as a reinforcement, and an elastic part that creates responsiveness as the foot moves inside the shoe. What it does is keep the foot in place in a stable manner as the user runs. While the foot is moving inside the shoe, the intuitive mesh upper will hold it in place thanks to its non-elastic portion. At the same time, the elastic motion will adapt to the foot movement, reshaping itself around the foot and delivering support at all times. This reduces the instability of the foot during running and increases running efficiency.
Solyte Midsole
You've probably heard about a material called ethylene-vinyl acetate (EVA). It's become pretty popular amongst shoe manufacturers, as it delivers a spongy effect that beats rubber and weighs much less. What you may not have heard of, though, is ASICS's new material, Solyte. Solyte is twice as light as EVA and delivers 20% more shock absorption during impact activities like running. It meets the high levels of demands by elite running and triathlon athletes. This very same material is found on the bumpers of cars; its absorption properties are so good, that they're used to protect lives. For the first time, ASICS incorporated such material into the world of sports footwear.
Solyte is a resilient resin that has greater foaming properties than most other midsole materials in the market. It's also much more compressible, meaning it will deliver a more powerful bounce-back every time it decompresses in a running gait. It's much lighter and efficient than most other sponge-like shoe materials. Normally, reducing the weight of material means hindering its properties. But this is not the case of solyte, as they developed a custom resin blend that keeps functionality at the top while obtaining a lower weight.
Guidance Line
The Guidance Line found in the outsole of ASICS running shoes aims at improving the gait cycle of runners by contributing to better alignment both during the landing and the push-off phase. It's a vertical groove that runs through the outsole, and which centers the pressure of each impact into these grooves. What this enables is more compression along the line, which, in turn, allows your entire foot to be in a more correctly aligned position. This is a piece of technology that both underpronators and overpronators can contribute from, seeing that it lessens the chances of your foot twisting, thus you are less likely to roll an ankle and hurt yourself during your runs, even on less stable surfaces such as nature trails.
The runners who will benefit most; however, from the guidance line, are those with less experience and whose running technique still needs to be developed. Beginner runners can rest assured that the Guidance Line Technology will lessen their chances of injury, and will enable a more comfortable run that will result in less ankle, knee, hip, and back pain in the long run.
SpEVA
This is a material that ASICS uses to replace traditional EVA foam to achieve properties more suited for runners of all levels. It's a material developed by using both traditional EVA foam as well as a rubber ball material, which creates a compound that offers the benefits of both of these constituents. While EVA foam has great shock absorption and cushioning properties, rubber is better at bounceback, and rebound, allowing the runner to have more energy with each push-off. Used in different shapes and different locations, SpEVA allows ASICS shoes to give a unique combination of the two. One of the benefits of SpEva over other ASICS technologies is its price, seeing that it's usually found in more affordable running shoes. With a lower price point than Solyte or FlyteFoam, it allows users with a more limited budget to get the benefits of a great running shoe that is suitable for long and hard runs.
FluidRide™
Not a material but a construction method, FluidRide™ is another piece of ASICS technology focused on improving performance in running shoes. It's a twin-layer structure that incorporates a Solyte material for its shock absorption properties and combines it with SpEVA for a better rebound experience in their running shoes. What differentiates it from similar materials is the fact that it's extremely lightweight. It's located in the heel area of some of the best ASICS running shoes such as the GEL-Nimbus 20 and is definitely a piece of ASICS technology to look out for when shopping for new running shoes.
FlyteFoam
One of the latest pieces of patented ASICS technology, FlyteFoam is a midsole technology that is inserted in the best of ASICS running sneakers. Newly developed, this system uses organic super-fibers which have astounding bounce-back abilities - they can return to their original shape in the matter of milliseconds. This means that with each stride, these fibers go back to their original state, enabling you to have the most responsive cushioning available on the market. What makes FlyteFoam stand out, even more, is its extremely small weight, seeing that they are 55% lighter than the industry standard.
You are bound to benefit from this reduction in weight if you are someone who likes to run longer distances, or if you want to use your ASICS shoes in competitive running. Combining these two properties, FlyteFoam is a great midsole technology to have in your shoes, seeing that it is also more durable than traditional cushioning. As it bounces back more quickly, it is less likely to flatten over time (or by the end of your run) ensuring that you get an elite level of performance from your shoes, start to finish.
Forefoot and Rearfoot GEL Cushioning
First introduced in 1986, GEL cushioning has become a staple of ASICS footwear seeing that it provides a reliable and durable cushioning system that is, most importantly, comfortable. It's found in either the forefoot or rearfoot of ASICS shoes, but the best running footwear will feature it in both parts. Even more, newer models insert GEL cushioning in the entire footbed to ensure a soft ride for runners who want the most comfortable run. Scientists have shown that when landing, a runner will put three to five times their entire body weight on just one part of their foot.
The amount of shock that is created during these landings is one of the leading causes of injury in runners, which means that all athletes, professionals, and enthusiasts, need to look for ways in which this shock can be dispersed from the foot and stopped from affecting their joints and muscles. With GEL inserts, the shock from each landing is absorbed and evenly distributed through the entire foot. This enables not only a more comfortable experience but also contributes to lower levels of fatigue and lessened chances of injury.
Heel Clutching System
An important safety and performance feature found in ASICS running shoes is the Heel Clutching System which ensures that there is minimal heel movement inside the shoe. The main benefit of this type of technology is a heightened level of comfort, as less movement means less traction, which in turn results in a lowered likelihood of you developing any blisters on your heels. But there are other benefits of such a system as well. Heel stability and a secure fit of your running shoes on your heel can mean better performance in terms of tracking. Furthermore, proper heel alignment minimizes the chances of injuries in the ankle and heel area. The ASICS Heel Clutching System utilizes a special resin insert in the shoe that is specially designed and constructed to adapt to a wide variety of heels so that any runner can benefit from it.
Weight
The weight of a shoe has become a popular factor to consider amongst runners and other sports practitioners. Each day, lighter shoes are more demanded; not only in terms of quantity, but users also call for shoes that are even lighter every time. You may have noticed a constant race amongst running shoe designers regarding who offers the lightest (and most functional) shoe.
Before proceeding, know that in most cases, reducing the weight of an object also means reducing its qualities. Depending on the sport you're practicing, this may be an advantage or a disadvantage. Regardless, the weight of a shoe should only be optimized to a point in which the performance qualities are not critically affected.
ASICS generally makes light shoes, and in some cases, they make some of the lightest ones on the market. But, the most important thing is that those shoes are highly functional while being ridiculously light.
Our criteria are meant to be applied to running shoes. However, if your practice calls for a lighter shoe over a better shoe, then get the lighter one. Also keep in mind that preferences play a role here, and you may find that a lighter shoe works better for you than a technically advanced one. At NicerShoes, however, we believe that functionality beats weight. For us, a shoe that weighs 8oz and has an 85% functionality rating is better than one that weighs 6oz with a 75% functionality rating.
A shoe that is too heavy requires a greater effort to lift off the ground. While such an amount of effort is meaningless in one gait, it can quickly add up as you start running. A lightweight shoe will save you some effort in each gait. At the end of the run, when you've performed over a thousand gaits, your feet and muscles will certainly feel the difference in the shoe's weight.
There are two principal characteristics of a shoe that are involved in its weight:
Materials
A material is called dense when its molecules are heavy. For example, 1ml of EVA weights 5mg, whereas 1ml of Solyte weighs just 3mg. Despite both having the same amount of material, 1ml, Solyte is lighter; this means that it's less dense than ethylene-vinyl acetate.
However, you don't necessarily want to opt for less dense materials. A dense compound will have more matter in 1ml than a compound that is not as dense. This means you'll be able to fit more of the material, 30g for example, inside the same space where you would only be able to fit 20g of the less-dense material.
If the space we're talking about is the midsole, for example, the denser material would be able to offer better absorption properties, as there would be more matter within that space. This would make the midsole heavier, of course. It's a matter of what objective you're trying to achieve. Is it lighter weight, better absorption, or a middle ground between both?
Durability
The problem with reducing the weight of a shoe is that its qualities are reduced with it as we explained previously. At the same time, a lighter shoe also means a thinner shoe. Not only does a lighter shoe offer lesser performance qualities (in most cases), but they're also likely to endure much less.
Think of air mesh, for example. That material is nearly weightless, but it offers very little to no resistance and protection at all. It's known for being one of the materials that break the most in shoes. A shoe made entirely from mesh would be extremely light, but it would take little effort to rip it apart.
Because of this, it's important to consider the qualities of the materials aside from their weight. The best running shoes are those that, aside from being lightweight, offer abrasion-resistant properties and a certain level of resistance. As you can probably guess, a shoe that breaks easily is no good, no matter its level of performance or what it weights.
Shock Absorption
This is one of the most important aspects of ASICS running sneakers. As you'll know by now, running is a high-impact activity. The sport involves a considerable amount of impact, not just regarding the force of each impact, but also the continuity of it. As a runner, you're constantly exposed to stress generated by the force of each impact.
Shock absorption is what prevents this energy from hurting your feet. The more absorption there is the less energy that gets into your body. Don't get it wrong, though – the impact will always make its way into your body, no matter how good the shoe is. Shock absorption is not meant to neutralize impact, but to hinder it.
The thing about shock absorption is that, unlike other features, it not only affects our feet but rather our whole body. If the shock is not regulated or absorbed, it will make its way up all the way from your heel to your spine. All the joints and muscles in the way will be affected. While the impact of one gait won't hurt you, repetitive running in poorly-equipped shoes can lead to disaster.
ASICS in particular counts with a highly-efficient shock absorption system, known as the GEL Cushioning Technology. It consists of a layer of a patent gel-like substance that lies within the midsole of the shoes. This gel does a great job of dispersing shock and creating a cushioning effect on each step.
Some ASICS shoes count with rearfoot GEL cushioning, whereas other shoes count with two individual layers of the gel; one on the forefoot, and one on the rearfoot area. They're always located inside the midsole.
The lack of an effective shock-absorption system can lead to serious damage on feet if not attended or if repeated excessively. In minor cases, users are likely to experience heel bruises which may impede them from perming for a short time-lapse. However, the lack of shock absorption will have long-term effects on the joints, ultimately being capable of affecting your posture.
Midsole
The midsole of the shoes is the only element that is directly responsible for the shock absorption process. While other elements participate in diminishing shock, it is the midsole that has the most influence on the process. This is why most shock absorption technologies are normally located within or around the midsole area.
Midsoles vary greatly in size, shape, material, and purposes depending on the sport they're meant for. In the case of running shoes, a midsole normally features a medium height; not too low to fit more material, and not too high to not affect the stability. But in reality, what matters the most are the technologies and the material of the midsole.
Materials like EVA and TPU are spongy and foam-like count with excellent absorptive properties; far more efficient than traditional rubber. However, an important factor to consider is the compressibility of the material. It has a lot do to with responsiveness, also known as bounce-back.
The bounce-back is an innovative system that, instead of dispersing shock, makes use of it to compress itself and then impulse to the user forward when decompressing. This way, aside from absorbing shock, the midsole is used to accumulate impact energy and use it to increase the user's performance.
Flexibility
A shoe that lacks flexibility is of very little use, and certainly useless in a sport like running. The best running shoes will never restrict your foot from bending or arching naturally. ASICS shoes in particular normally offer high standards of flexibility.
Flexibility is something that should be present on the sole, which is the area of the shoe that represents the underfoot. The middle of the sole would represent our arch in the human feet anatomy, which is why it's the most flexible point of a shoe.
However, the upper build also requires a certain level of flexibility. This is because our feet assumes a wide variety of different postures as we run. Its shape varies a lot, and a stiff, non-flexible upper build will restrict most of these motions. For runners, it's highly important that shoes allow their arch and upper foot to bend and flex freely.
The lack of flexibility will place a considerable amount of stress on the arch of our feet. Think of shoes as a foot that covers ours; its objective is to mimic the foot as accurately as possible. Knowing that flexibility is paramount for the human foot, a shoe that has none of it won't get you too far really, especially in a sport like running.
Support
Flexibility is not something you want to overdo either. The more flexible the shoe, the less firm, and stable it is. You don't want your shoe to lose its structure to gain more flexibility. You only need such a feature to an extent in which you can bend your arch and move your foot comfortably inside the shoe. The best running shoes are those which offer a healthy balance between support and flexibility.
If a shoe lacks support, our feet will swing and dance around the shoe in total synchronization. The support not only improves the fit of the shoe, but it also prevents our feet from overpronating and supinating. The objective of holding our feet steady is to prevent them from assuming an unnatural position.
If the foot is misplaced or disoriented upon impact, the user is much more likely to suffer an injury. On the other hand, a highly-supportive shoe will keep the foot in a natural and neutral position, preventing it from rolling inwards or outwards excessively.
Top 10 ASICS Running Shoes Reviews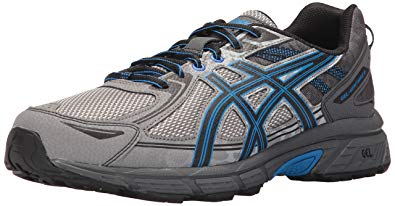 The Gel-Venture 6 is an update of the crowd favorite Venture 5. It's designed with human intelligence in mind, making a pair of shoes that are suitable for the most demanding and long distances while running. This new piece of technology was created by ASICS in combination with the ASICS Institute of Sports Science to introduce the Venture 6. It was built with the most exclusive ASICS technology, and they are the first-ever ASICS running shoes to offer a responsive ride.
Introducing some of their exclusive new technologies, ASICS incorporated a new midsole compound on their Venture 6 release. This piece of midsole technology generates a unique bounce-back system that stays responsive no matter the distance.
ASICS is known mostly for its signature GEL Cushioning System technology, which consists of its patent compound for shock absorption. However, things take a twist on the MetaRun release, as ASICS incorporates a different compound this time. Their X-GEL compound is a new high-level hybrid gel that counts with enhanced absorptive qualities. So far this technology has only been implemented in the Venture 6 design.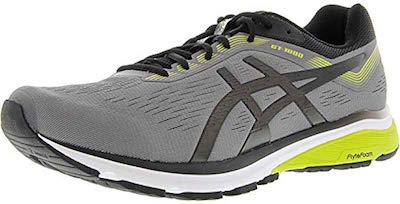 A stability road running shoe, the GT-1000 7 is a great choice for daily runs at all levels. Made to help those with pronation issues, it helps alleviate pressure off the ankles and joints by placing the foot in the correct position during the impact and toe-off phase and uses some of the brand's best technology to do so. Still, it remains one of the more affordable models on this list, which makes it a great investment, especially for beginners.
The AHAR outsole on the GT-1000 7 is made to withstand hours upon hours of running, but to still be comfortable enough for longer sessions. The Flex Grooves found in the outsole allow the foot to naturally flex, relieving pressure off the forefoot and improving your feel of the surface underneath.
ASICS styles are often considered to be geared more towards those with a narrow foot, so finding an option that's wide enough to allow a natural splaying of the toes might be a challenge. The GT-1000 7 is great for wider feet as it has a bigger surface under the forefoot, while the engineered mesh upper prevents any pinching or rubbing.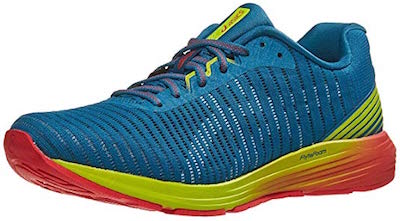 Probably one of the brand's most lightweight models, the DynaFlyte 3 are neutral road running shoes with a beautiful silhouette, and excellent performance features aimed at providing you with the cushioning and energy return you require for faster and longer runs with less fatigue. The last is semi-curved, allowing a great fit in the foot, while colorways are some of the unique in all ASICS footwear, giving you the opportunity to stand out.
The upper of the DynaFlyte 3 is made with a new type of mesh material that's stretchy, perfectly molding to the wearer's foot for the highest possible level of comfort. It does great on long runs, seeing that it will allow the natural swelling of the foot, while the open weave allows great breathability and temperature management.
55% lighter than standard industry EVA foam, the midsole of the DynaFlyte 3 drastically improves the performance features of this shoe. Combined with a Rearfoot GEL cushion, it helps disperse the shock from impact and allows a smoother transition to midstance. In the push-off phase, it gives great energy return, propelling you forward for a faster pace.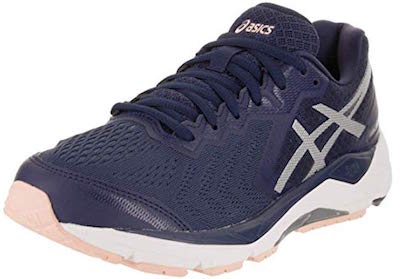 Made for severe overpronation, the GEL-Foundation 13 will work best for those who need motion control road running shoes that have ample room in the forefoot area to accommodate custom orthotics. For those with foot health issues, this may even prove to be a good choice of everyday footwear, mainly thanks to the excellent midsole, the cushioned outsole with AHAR sections to aid durability, as well as the engineered mesh upper that perfectly conforms to the foot's contours.
Visible in the design, the Dynamic DuoMax Support is a system that's inserted into the midsole on the inner part of the shoe, and it serves the purpose of stabilizing the foot and preventing it from rolling inwards. It uses dual-density foam to do this, and aided by the Guidance Trusstic System; it ensures long-lasting support that'll reduce joint pain and muscle fatigue.
A great addition for those who tend to sweat a lot during their runs, the removable sockliner in the GEL-Foundation is aimed at providing a cooler environment for the foot, allowing ample airflow and great moisture management. Nonetheless, should you need to use your orthotics, or simply want to wash your shoes, it can be easily removed and replaced.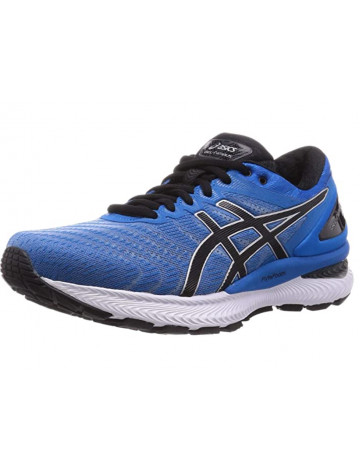 With a tradition that ranges over 20 years, the latest edition of the ASICS GEL-Cumulus brigs about new technologies implemented in the well-loved design in order to provide runners of all levels with even more support and comfort. Perfect for neutral and under-pronators, this is a shoe that provides excellent feeling underfoot, and a jacquard mesh upper that will completely adapt to your unique foot shape.
One of the most notable aspects of this running shoe is the fact that it offers full ground contact under the foot, making your run more stable and supported. A FlyteFoam Technology insert in the midsole allows for 54% better bounce back than regular EVA foam, while giving you an extra propel in the push-off phase.
With the GEL-Cumulus 22, the entire upper was redesigned to provide you with the most comfort available in a running shoe. Discrete eyelets disperse pressure and tension from the laces, while the seamless construction ensures that you don't develop any hotspots, even during the longest and hardest runs.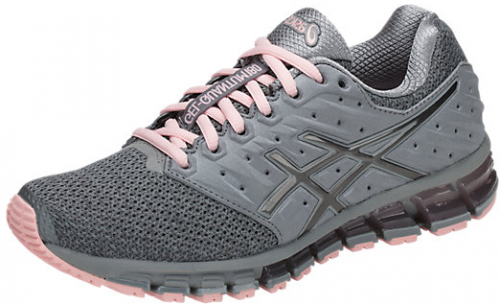 If you like the ASICS GEL Cushioning System, then chances are you'll love the GEL-Quantum 180 2. The second version of this model counts with GEL comfort from the heel to the toes, ensuring a smooth and painless ride for as long as you need it. The balanced cushioning acts both upon impact and during take-off from the toes, ensuring a comfortable stance throughout the full range of motion.
The GEL-Quantum 180 2 has one important mission; to optimize the weight of their shoe as much as possible without compromising its structural integrity. Every aspect of this shoe is not only optimized for performance, but also for weight. A careful selection of synthetic materials allows you to get the most out of the shoe, while still making it weigh less. The lightweight ride is ideal for long-distance running and walking.
The Trusstic System technology is a very particular addition to the GEL-Quantum 180 2. This technology has two purposes; contributing to the lightweight construction approach of the shoe, and keeping the support and integrity of the upper build. This initiative reduces the weight of the sole unit without affecting the structure of the frame of the shoe. The result is lightweight, supportive, and highly stable ASICS running shoes, the ASICS GEL-Quantum 180 2.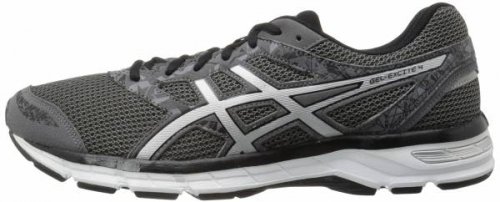 The next iteration of the Excite line is the 4, a lightweight, fast feeling pair of footwear designed with the sole purpose of allowing you better speed performance without having to worry about your gear. Made with the brand's lauded Rearfoot GEL Cushioning System, it's a style that's less likely to show signs of packing, while still providing great support for those who tend to overpronate. Made for the road, you can expect the Excite 4 to also perform excellently on the treadmill.
Made for overpronators, the Excite 4 features a removable Ortholite sockliner that adds a bit of cushioning while remaining extremely responsive. One of its main advantages is definitely its ability to wick moisture away from the foot, but if you're in need of custom orthotics, you can use those as well.
The AHAR Outsole, or the ASICS High Abrasion Rubber, is placed in important areas of the outsole to give amazing durability. The rearfoot GEL Cushioning system helps with shock impact and allows for a better and smoother transition to your midstance.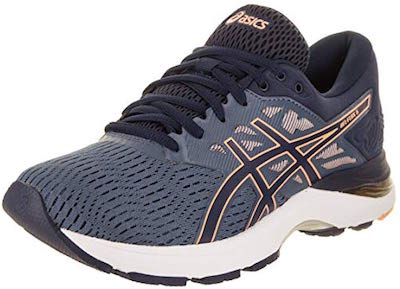 An affordable option for road running for those in need of a neutral shoe, the GEL-Flux 5 makes significant improvements over previous models in terms of weight and bulk, without removing the cushioning that makes it one of the best budget-friendly choices out there. Utilizing Rearfoot and Forefoot GEL cushioning, it'll do a good job at absorbing shock when used as a daily running shoe, while the Guidance Line and Guidance Trusstic System ensure proper weight placement without putting excess pressure and force on the ankles and knees.
The upper of the Flux 5 is made with an open mesh material that's soft, flexible, and breathable, while structural integrity and support are provided by printed overlays that help keep the weight down to a minimum. Semi-flat laces ensure a good fit adjustment, while the padded collar and tongue reduce any possible pressure points.
The outsole on the Flux 5 is made to provide an added layer of cushioning and energy return, seeing that it's made with DuraSponge which gives great traction while still providing cushion as well. To improve the durability factor, an AHAR element is added to the heel where most people wear their shoes down the fastest, ensuring a longer lifespan.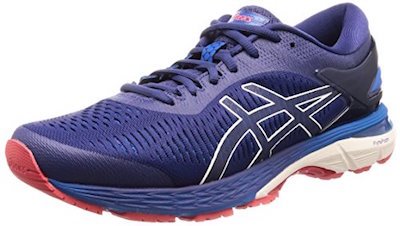 A model 25 years in the making, the latest edition of the GEL-Kayano employs a number of updated tech that's made for heavy overpronators who need a stabilizing road running shoe that's durable in the sole and comfy in the upper. One of the most innovation packed models by the brand, it features the already expected GEL cushioning both in the forefoot and rearfoot, while strategically placing different types of foam in parts of the midsole to ensure the best possible support.
The upper of the Kayano is made with a jacquard mesh upper that's got just the right amounts of breathability and stretch, while an internal fit system supports the foot without creating any pressure points, mainly thanks to the no-sew construction. The heel clutching system is an external one, providing the perfect amount of lockdown, preventing movement inside the shoe while remaining soft through the padded collar.
The midsole in the Kayano features FlyteFoam elements which are extremely lightweight but provide great shock absorption as well as energy return. The midfoot benefits from a Dynamic DuoMax System that's a wedge inserted underneath the arch to prevent overpronation, while the outsole itself makes use of a Guidance System to prevent unbalanced weight placement throughout the gait cycle.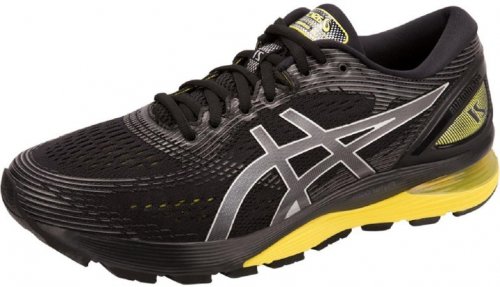 ASICS celebrates 20 years of the Nimbus series as a staple in the neutral running shoe category. The next version, the GEL-Nimbus 21 is a shoe for wide feet, going as big as 2E. It delivers its iconic Adaptive GEL shock absorption system for a smooth ride on the street or the wild. Responsiveness is present in the right amounts thanks to the updated FluidRide technology, which comes better and lighter than ever.
We wouldn't be talking about ASICS if we didn't mention their adaptive GEL system at least once. ASICS' own shock absorption system consists of a layer of gel that distributes the shock evenly through the midsole upon impact. Their GEL is a patent compound with unique impact-absorbing abilities and highly cushioning properties. The Adaptive GEL delivers greater cushioning as you start to fatigue, adjusting to your level of performance.
The combination of carefully engineered materials brings the upper build the adaptiveness it needs to support and comfort your foot. A combination of Gradient Mesh and 3D print delivers just the perfect fit. This new upper build makes the perfect combination of both flexibility and support at the same time. Furthermore, a new lasting method opens more space around the toe-box.

Subscribe to our Newsletter