Best Running Shoes by Adidas Reviewed & Rated
In a Hurry? Editors choice: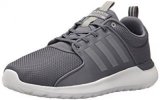 Test Winner: CloudFoam

Adidas is known the world over for their exceptional
athletic shoes for running
. From the soccer field to the trail, Adidas has brought quality and comfort to any sport. Adidas running shoes have brought technology to runners as well as style. We bring to you, the 10 best Adidas running shoes, perfect for a walk in the park or competing on the playing field. The combination of experience and knowledge has made Adidas one of the largest shoe companies in the world.
Standout Picks
Criteria Used for Evaluation
Comfort
It's very important to count on comfortable shoes regardless of the activities you'll practice. However, if we're talking about sports performance, comfortability becomes a critical factor in any shoe. To put it in simple words, you just can't reach your highest level of performance if your feet are in discomfort.
A top-notch brand like Adidas guarantees base comfort. What we mean by base comfort is that the shoe counts with the features to comfort the average human foot. However, someone with an abnormal arch condition, foot width, or just foot anatomy may still find it uncomfortable regardless.
Don't get it wrong, though – you should never let branding carry you away at the moment of making a purchase. While a reputable brand is much more likely to deliver a quality product, it may simply not suit your feet or personal preferences. Because of this, it's important that you're able to determine the elements of a shoe that deliver comfort, as well as the level of comfort in general.
The materials of which the shoe is made has an obvious impact on its comfortability. Some users, however, make the mistake of evaluating a shoe's comfortability based on its external materials. In reality, these materials are responsible for protection – what you should be looking for is inside the shoe. The inner materials that touch your foot are the ones that matter when it comes to comfort.
A soft lining (the material that covers the inside of the shoe) is paramount for comfort, but most importantly, it must not create friction and irritation when rubbed against your foot. There's hardly anything more annoying for runners than feet irritation in the middle of a running session. Just no.
Aside from providing certain performance features, the insole also becomes an element that enhances or reduces comfort. Do keep in mind that it's impossible for shoe companies to develop an insole that suits all feet equally. The best option (and what we recommend) is to obtain a pair of personalized insoles made specifically for your feet. We do understand, though, that this is not something all users are willing to pay for.
Durability
You want your shoes to last as much as possible. The problem is that some users, especially beginner runners, aren't able to determine the features that make a shoe durable or cheap. First off, it's good to note that running shoes suffer more than casual shoes, and thus often last less.
This doesn't mean, though, that your running shoes must have a short life expectancy. A reputable running shoe brand, such as Adidas, guarantees that their footwear will last a couple of years (under proper usage, of course). But, what exactly makes a shoe last more or less?
To start, we'll discuss the external look of the shoe. Although it does not always have a relation to the physical functionality of the shoe, the state of the exterior of the shoe can tell a lot about its condition. Not to mention the simple fact that nobody likes to run around in messed up shoes, even if they still function properly.
Avoid materials that peel, scuff, or lose their color easily. Running is not a harsh sport, but your shoes will always be exposed to a certain degree of abrasion and friction. All runners trip or hit something with their foot at some point; you don't want a shoe that will suffer significant visual damage from its first encounter with an obstacle.
Instead, go for materials that can take some hits without losing their properties. At the end of the day, it'll be impossible for you to prevent all accidents. What you can prevent, though, is your shoes from tearing apart in the first accident. Choose a shoe that has a solid upper material.
Shoes count with delicate materials, such as mesh, that should always be accompanied (or covered) by a stronger or thicker compound. Else, these exposed materials are bound to rip or suffer noticeable damage.
Aside from the materials, you must evaluate each element of the shoe to determine its durability. A shoe is as durable as its weakest element because once a part of the shoe is damaged, its quality just goes downhill from there. Having the most resistant upper build is useless if your sole loses traction early, for example.
No element should degrade faster than others. The parts of a quality running shoe must be designed to degrade at the same rate. You want to be able to get the most out of each element individually.
Flexibility
The running process calls for flexibility in order to even be considered. There's not much to say other than our feet being anatomically designed to flex. It happens when we run when we jog, and even when we walk. It's just natural, and the way it's meant to be for humans.
There are very few (if any) tasks that can be performed on our body without flexing our feet. Upper-body movements are an obvious exception. Even if you could physically perform a task such as walking, it would be uncomfortable, unstable, and nowhere near-optimal. Not to mention it looks pretty awkward if you don't have any shoes on.
Quality running footwear, such as the best Adidas running shoes, is flex-friendly. This is, of course, unless they're specifically designed not to do so for a specific reason. Allowing our feet to arch is a must in order to expect any sort of decent performance while running.
We will always arch our feet instinctively when walking or running unless we purposely stop them from doing so. A shoe that restricts the flexibility of the foot will only place a large amount of stress on the arch. As explained in the comfortability section, physical stress decreases both the quality and the duration of your running.
A non-bending shoe won't stop you from trying to arch your feet. As you run your feet will do their best to arch, and if they're restricted, you'll be getting much more tension than you want on the underfoot.
If the most basic process of them all, walking, is tough without flexing our feet, you can't expect anything from an aerobic sport. Your feet will be in a totally unnatural position at the moment of impact, and any overly-exposed area will suffer the consequences.
It's important that running shoes resemble the flexing motion of the foot as naturally as possible. In the case of Adidas running shoes, both the midsole and the outsole are carefully designed to imitate the foot during the running or walking motion. However, flexibility is not something that affects just the arch.
Shock Absorption
Any impact sport calls for a decent level of shock absorption, and running or jogging fall into this category. Despite running being a very healthy sport, things can quickly go downhill when a pair of shoes lack the proper equipment for it. Shock absorption is one of the features that draw the line between a healthy and enjoyable experience and discomfort, pain, and long-term consequences.
First off, it's important to note that no matter how good your shoes are, feet will always be exposed to a certain amount of impact (unfortunately). As you can probably guess, greater shock absorption means there will be less residual stress. However, this is not something you should be worried about when counting with a good level of shock absorption.
One of the key elements to shock absorption is the midsole of the shoe, which, in most cases, is mostly responsible for the absorption process. At the same time, there are other factors of the midsole that enhance (or decrease) the amount of energy absorbed from each gait.
Some of them are fairly obvious, such as the material of which the midsole is made from. Some others, however, is not necessarily known by everyone. Some of them are the midsole height, density, and compressibility, to name a few.
The force generated with each gait will move upwards, starting at the moment of impact. From there, each element that stands between your feet and the ground will reduce the amount of stress that eventually gets to your feet.
Depending on how effective (or ineffective) the absorption is, the impact can make its way through your foot, leg, hip, and up to the spine. If shock absorbing measures are not present, this will represent damage on every single joint and muscle in the way. Although the damage from each impact is nearly insignificant, it can add up quite abruptly when we're talking about a much larger amount of gaits.
Support
Support is a key feature of proper running performance. Think of support as a feature that helps our feet and shoes stay together. Your shoes are not going to fall off your feet if they lack support, but they will, however, start wiggling around.
In order to achieve an optimal running execution, you need a shoe that can bring stability and firmness to your feet. The lack of support will also translate into a lack of stability, and that's no good for a runner. Our feet and shoes need to move as synchronized as possible, meaning that shoes should resemble the movement of feet.
A shoe with no support will fail to keep up with your feet, and you'll end up with a loose and bouncy running footwear experience. On the other hand, a shoe that secures the foot properly with a decent level of support will allow you to perform in a controlled manner.
Shoes won't respond accurately to the movement of our feet if they lack support. Think of support as a feature that compresses the shoe against our foot, locking down the fit. The more support there is, the more firmly the foot and the shoe will stay together. The more it lacks, the more space there'll be between your foot and the shoe.
A shoe can be supported from different areas, and in most cases, different regions of the shoe call for different levels of support. Certain spots in our foot require the most support, while at the same time, other spots require more mobility. For instance, the heel should be one of the most supported areas in a shoe.
Support is important because it plays an important role in our running form. Most people would normally be surprised by how much their feet move unnaturally as they run. The support of a shoe helps to keep feet in a neutral and natural position while exercising or even walking.
By holding our feet in a natural and straight position, the support running shoes prevent over-pronation and supination. However, too much support is a thing that can considerably reduce your performance. A decent level of support is one that makes your feet and shoes feel like just one without over-compressing the foot or creating stress spots.
Like we mentioned, support is not just a general feature. Shoes must also deliver targeted support to key areas of the foot.
10 Best Adidas Running Shoes Reviews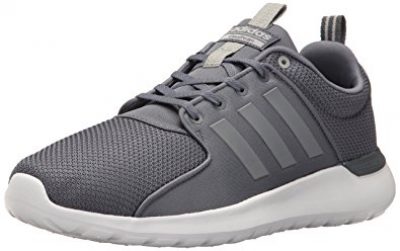 Light, supportive, and extremely inexpensive these are amazing shoes for individuals who want high performance on a budget. The cloudfoam sock liner and midsole is designed with comfort in mind, providing you the feeling of stepping on a cloud while you run. They may take a bit of time to break in, but once they have molded to your feet, you will notice they are extremely light and comfortable, perfect for new runners and seasoned runners alike.
As the name suggests, these Adidas cloudfoam running shoes are made with Adidas CloudFoam technology, and they feel the way they sound. If you want to feel like you are walking on the clouds, then these lightweight and airy shoes are a perfect choice. The cushioning is soft and extra light, and the shoe itself is sleekly cut for an attractive silhouette.
We've already mentioned on this list how important breathability is, and these shoes offer optimal airiness to keep your feet cool and dry. No one wants sweaty shoes and feet, and the NEO CloudFoam's should make sure that you are dry and odor-free by the end of your run.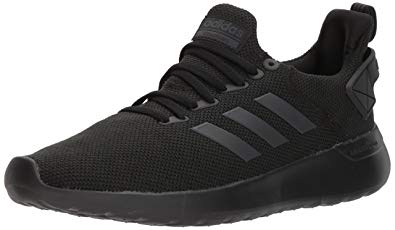 Designed with lightness in mind, this shoe is the ultimate in lightweight running style. Stop feeling like your shoes are weighing you down, and instead, take off with this mesh and foam Adidas shoes for men which are specifically designed to be both airy and breathable. Even with the light design, these shoes still offer both support and traction, ensuring you can train with ease.
Every runner knows that comfort is key, and if your Adidas running shoes are hurting your feet then they will seriously affect your performance. The Lite Racer BYD is an updated version of the Lite Racer shoes and is equipped with a removable insole that is crafted out of FitFoam, making it adapt to your specific foot shape. The elasticity of the insole will conform to your foot providing support where you specifically need it most.
Shock absorption is key, and these shoes use an EVA injected midsole to not only help with shock but to also keep the shoe lightweight. This cushioned midsole is made to be both durable as well as comfortable, so your shoes will last if you're putting serious mileage on them. The same material is used to make the outsole as well, keeping the shoe long-lasting and with added traction. The price of these shoes is as light as the shoe itself, and you can find them for much less than others on our list. For a reputable brand name, and a shoe that will help you perform your best, the cost of these shoes is extremely low and they are well worth the price tag.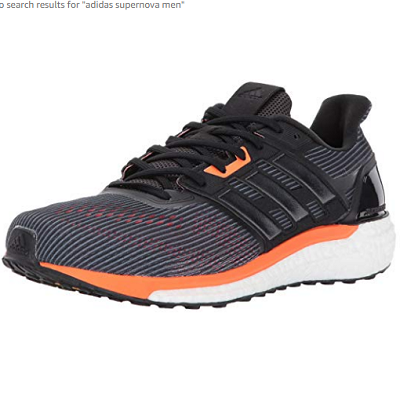 The Adidas running shoes Supernova represent one of the most efficient neutral running shoes even for elite athletes that aimed for victory in the Boston Marathon. Adidas' signature Boost cushioning is present in this edition, equipping you with both the cushioning and the responsiveness needed to land the first place on any marathon. What makes the Supernova so comfortable is the fact that it rides under a durable mesh upper and the molded heel counter for a steady fit.
The Boost technology is the most responsive cushioning system ever in Adidas. Its bounce-back system distributes the energy of your impact and uses it to push you forward in your next gait. The more energy you give, the more power you get back from each step. This not only helps you become faster, but it also reduces the amount of energy required to perform each movement.
The stretchweb outsole performs a completely natural flex, removing any sort of pressure point or accumulation of tension on the arch when running. Its deep-flex design is complemented by the Continental Rubber outsole material that is not only utterly durable but also counts with unique tractive qualities. The flexing sole allows users to drive energy much more powerfully through their outsoles when running.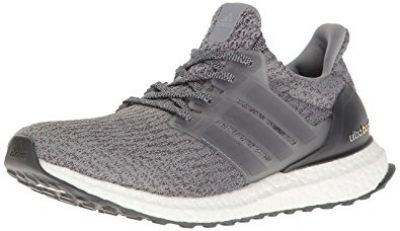 If you are a serious runner then you probably want shoes that are seriously designed to perform. The Ultra Boost model by Adidas is exactly as the name says, giving you the ultimate boost every time you step down and take off. The cushioning on these shoes is outstanding, and they are very responsive to your foot as you run. With the added benefit of Adidas patented Torsion System, you are bound to find these shoes meet your requirements.
Between the heel and forefoot is where you will find this patented system, which is designed to give you the utmost stability. The system works by allowing the front and back of your foot to move independently so you aren't weighed down or trapped by a rigid shoe. This can help reduce injury as well as offer enhanced stability so that your foot falls naturally with each stride. The fitcounter molded heel plays on this system, offering movement and support to the Achilles heel so that your entire foot is receiving the exact support it needs.
Pulled right from the name, these shoes are most known for their boost that they give to the runner, absorbing the shock of your weight and returning it with a bounce in your step. This energy-returning cushion will keep you moving faster and longer and is paired with a stretch web outsole that flexes to distribute weight. All of this added cushioning is crafted from lightweight materials, so your shoe isn't affected only enhanced. If you're a serious runner then these men's Adidas ultra boost running shoes are certainly worth looking in to, but for more casual wear they are a hefty investment. With what is being offered, the price tag is fair, but if you only want a shoe for walking around the block then this high-end price tag may be a bit off-putting. However, that price ensures you are getting a reputable brand that has put years of knowledge into crafting a shoe that will certainly perform with you.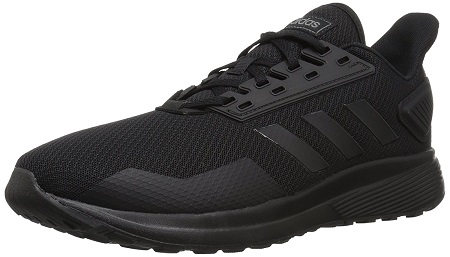 Good running shoes don't need to break the bank. The Duramo 9 Adidas jogging shoes are a great low-cost option, especially for those just getting into running, or who want high-quality shoes without burning a hole in their wallet. Like their predecessors, these lightweight shoes feature some of the best Adidas technologies, which will reduce fatigue and improve your performance.
Mesh is one of the most breathable materials out there, but its durability is often limited. To combat this, Adidas, used a dual-layer mesh for the upper on the Duramo 9. This mesh still provides breathability, while being more durable than other mesh uppers on the market.
A signature Adidas technology is the Cloudfoam midsole. Made of a specially engineered EVA foam- EVA is the most common material used in midsoles- Cloudfoam is plush and lightweight, and delivers impressive support and comfort across the board. Cloudfoam is also made to be responsive, promoting energy return and reducing the stress on your feet. We were pleasantly surprised by the low price tag on these Addidas running shoes. Adidas products tend to fetch a premium, so seeing the Duramo 9 at a price similar to no-name runners is refreshing. These are great for a first-time runner or those who are budget conscious. The Cloudfoam midsole support will put an extra spring in your step, while the dual-layer mesh is very durable.

6

. Adidas Men's Swift Runners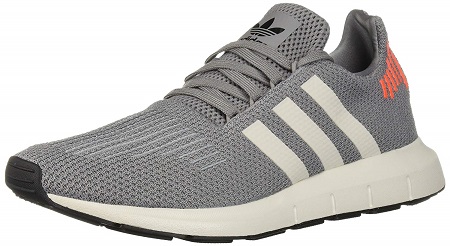 Featuring an injected EVA midsole and a unique silhouette with a sock-like fit, the Swift is a new iconic Adidas design. This unique silhouette is thanks to Primeknit technology, which has been prominent in Adidas products since 2012. This design is wonderfully lightweight and moves well with you.
First introduced in 2012, and a technology inspired by a pair of gloves at a tech fair in Germany, Primeknit has become an integral part of many Adidas shoes. While most uppers are made from separate materials, Primeknit is made of a single piece. That's right, one single piece of fabric for the entire upper. This unique method lends itself to the comfortable, sock-like feel of the Original Swift.
While information about its exact weight is limited, most reviewers feel that the Swift are some of the lightest shoes they have ever used. This is because of the Primeknit upper we discussed above, as well as the injected EVA midsole. This injection method introduces air into the foam, making it plusher and light. We'd consider the Swift Addidas running shoes to be reasonably priced, though the price will vary based on size and color options. Where this shoe really stands out is the Primeknit upper, which is incredibly light and flexible.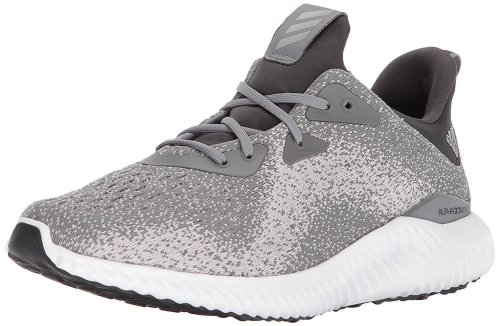 These are one of the most modern-looking Adidas running shoes, with an incredibly sleek and unique design. Completely seamless, these come in a variety of colors that stand out and make the shoe look amazing. Using bounce technology, these are crafted to give you optimal support and comfort. With their one of a kind design, they should hug your foot perfectly, feeling like they were made just for you.
Since these shoes are completely seamless, they are made of a mesh material that is very flexible. This allows the shoe to conform to the shape of your foot for a better and more secure fit. This flexible design means the shoe will move with you, and there is no rigidity so every step or turn you make feels smooth.
These shoes are made with athletes in mind, and the idea is that you shouldn't be concerned with your shoes while you are wearing them. These are light and comfortable, meaning that instead of focusing on your feet you can focus on what you're trying to do in them. The bounce midsole will add an extra push to your step, allowing you to go further and faster than before.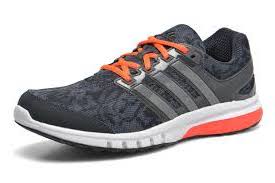 Combining some of our favorite features that other shoes on this list have had, the Galaxy Elite 2 puts a lot of Adidas original designs into one shoe, making it a solid all-around choice. ADIPRENE cushioning, a cage-like design, supercloud technology, and an adiWear outsole all come together to make a stand out shoe.
As you already know from previous shoes on our list, ADIPRENE is the best when it comes to shock and impact absorption. With the majority of the protection located in the heel, you can wear these if you have any kind of heel issue or pain, and be certain that it will not aggravate any condition. These shoes are very responsive and give you the extra push off you need to make your running more effective.
The sole of these shoes is made with a sponge-like material to offer you additional comfort when you wear them. This material does not absorb water at all, so your feet will stay dry even in rainy weather. SuperCloud gives you durable comfort that lasts, keeping the shoe feeling extremely plush over time.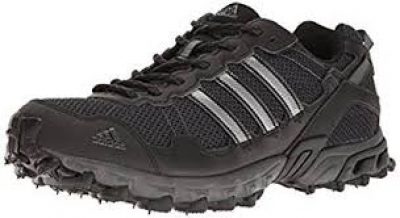 If you're looking for a rock solid trail shoe, the Adidas Rockadia was made for off-road adventuring, durability, and messy conditions. Padded with thick foam cushioning, and an aggressive sole made to provide traction anywhere and everywhere, you can hit the trails full speed. Breathability can be found in the mesh upper to keep you cool when the sun's blazing.
The outsole was specifically designed to address traction across uneven terrain and dig into the ground. Thick lugs on the bottom of the shoe grip dirt and rock well, and the rubber adiWear sole extends up around the outsole to help sling off any mud you may catch. The uppers have supportive textile and synthetic overlays for added stability for off-balance steps.
Despite its rugged look and function, the Rockadia is still quite breathable with its mesh upper, reinforced for durability. Comfort can be found in the plushy midsole, and neutral arch support to accommodate natural running gait. Form-fitting to your unique foot keeps slippage minimal, and your steps solid. For any Adidas trail running shoes, pricing can sometimes reflect the additional layers of support or traction trail shoes require, but the Rockadia is well priced, even compared to other brands of similar trail shoes. Great for beginner trail runners, it's tough outsole will last while you learn the ropes of trail running. Watch for a snug fit if your foot runs wide!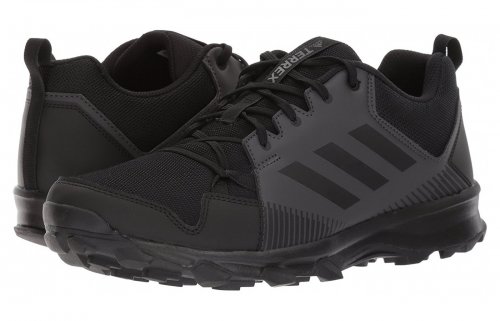 If you want the best Adidas running shoes that you can hit the trails with, then the Terrex Tracerocker may be up your alley. With ventilated air mesh, solid traction, and a tough rubber outsole these Adidas running shoes will take you across whatever terrain you want to explore. The EVA midsole is extremely comfortable with cushioning to keep your foot happy for long periods of time.
Just like some of the other shoes on our list, the Terrex Tracerocker is built with an adiWear outsole, making them ideal for running on either tracks or trails. The grip will help keep your feet planted on the ground while you take sharp turns and battle your way uphill. With the adiWear centered in high use areas, the durability and longevity of your shoes should last longer than other pairs making these some of the top Adidas running shoes on the market when it comes to durability.
Nice and thick, this midsole will offer up both comfort and support while you run and train. The firmness of the material will ensure that your foot gets the support it needs and these shoes offer up an assisted heel to toe transition. The price of these Addidas running shoes is fairly average compared to everything we have listed so far, but if we consider the fact that these are also trail shoes then the value is even higher. Trail shoes tend to be more expensive than basic running shoes, so you are saving quite a fair bit by purchasing these. With amazing traction and high durability, these shoes are easily worth the money.

Subscribe to our Newsletter