Best Gold Shoes Reviewed & Rated
In a Hurry? Editors choice: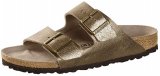 Test Winner: Birkenstock Arizona

There is something so glitzy and glamorous about a pair of golden shoes. When we see a pair, visions of money and class dance through our heads. With so many stylish designs on the market and with gold being a popular, versatile color, how can you narrow it down to just one pair to purchase?

We searched through dozens of options to make this list. We put each pair up against a rigid criteria scale and organized them by style, criteria ranking, and looks. Consider your top preferences and stack them up against our list to find the best choice for you!
Standout Picks
Criteria Used for Evaluation
Style
What kind of footwear style is the best for gold? Is there a style that is superior to others? While some people do choose to wear high heels every day, for most those are not considered a viable option because of their comfort levels or aesthetic. Similarly, while we all love the easiness of flip-flops, unfortunately, our workplaces often have policies against bringing these into the office.
We evaluated numerous different footwear styles for our list. In the end, the main categories here are flats, sneakers, heels, and sandals.
Flats
When choosing to wear flats, you are making a great all-around choice. This type can be worn for every situation. You can wear them for work, social events, and as an everyday option. Flats match any outfit, whether dressy or casual. They are also a very comfortable option if you are faced with standing all day or lots of walking. They also can be worn in many different weather elements. They pair nicely and complement dresses, shorts, pants, and leggings.
Sneakers
The ever-popular and always trendy sneakers are a good choice for anyone. They can be fashionable if the correct pair is picked, and they are beneficial for lots of walking. Some places of employment even allow employees to wear sneakers to work (hello, dress sneakers!). Furthermore, with sneakers, you can get unparalleled foot support that almost no other style offers. In fact, if you are an individual with foot issues or stability problems, you would probably be best served in sneakers. Sneakers are also more versatile than other options on our list. Simply put, you can wear them in rain, sun, snow, sand, dirt, you name it!
High Heels
It takes a bit of practice to get your stride and balance when wearing high heels, however, once you do, you won't look like Bambi trying to get your legs under you. There is something regal and magical about wearing gold high heels. It brings to mind a princess, dancing at the ball until midnight. High heels can make your legs look longer and leaner.
On the other hand, wearing high heels for prolonged periods tends to make the foot hurt. Long-term wear can also have adverse effects on the foot. So make sure to pair your favorite heels with the proper heel inserts to support your foot the best it can.
Sandals
A top pick among men, women, and children is the famous sandal style. The sandal is always a favorite as it is stylish and versatile. It prevents the foot from overheating since it is mostly open and the airflow is superb.
However, with as many positives to sandals, there are a few negatives. You can't wear them in cold weather, and they don't make a good choice for rain. Quite simply, you might even not be comfortable with exposing your toes to the world. And that's fine! There are also plenty of other summer options that don't have to be open-toed.
Breathability
When you put on a design, it might feel great at first. However, after wearing it around for an hour or so, you may notice your feet are sweating and that they begin to get hotter and uncomfortable. At this point, it is usually hard to focus on anything else because you just want to free your feet.
When searching for an option that is comfortable, you will want a shoe that is breathable. Breathability prevents you from feeling uncomfortable, but even more than that, it prevents you from catching a bacterial infection that easily develops in hot, damp environments, such as inside of a shoe.
Also, footwear that has wetness constantly trapped in it generally doesn't last as long as it should. The wetness and bacteria slowly degrade the integrity of the construction. They can cause foul odors, and even worse, they can cause the shoe to become unwearable because of mold or fungus growing inside.
As if that weren't bad enough, it is very difficult to wear footwear that your feet are not comfortable in. Selecting a design that is highly rated for breathability ensures you will have the best wearing experience possible.
Materials
The materials of a design play a huge part in how breathable it actually is. Not only that, but the materials determine how flexible the model will be, how durable, whether it will be water resistant, weather resistant, and so on.
Leather
This material has been used in footwear for thousands of years, as people in ancient times needed their goods to last for a long long time. When you purchase leather, you can know the material is going to be sturdy and reliable. Leather is a great material for durability and can be worn in all weather elements, especially when combined with a waterproof construction. Leather is so very easy to clean, and depending on the type of leather, it can be resistant to stains.
Canvas
Canvas footwear is widely popular as it is super lightweight, it moves with your foot, and is highly breathable. Canvas designs are a great choice for many people as they still protect the whole foot but are lighter weight than a leather option. They are also easy to clean and care for, too.
Mesh
Mesh is typically what makes most athletic sneakers. The reason mesh is used is because it is lightweight and breathable. Mesh is a choice material for its flexibility. Thanks to it, the design moves easier with the foot instead of resisting against it. This helps prevent foot fatigue, especially for occasions such as long-distance walking.
Those are just some of the materials that are most commonly used in the production of footwear. Some designers get far-fetched ideas and include crazy materials. However, for the most part, the materials above are the preferred norm and can be found in our list as well.
Flexibility
Some of the biggest complaints about footwear are that it is too stiff, too flimsy or that it doesn't move with the foot. This is all affected by the flexibility of the design.
When we talk about flexibility, we don't only mean in relation to the upper. The sole needs to be flexible in order for it to feel good on the foot. Can you imagine your walking sneakers if it didn't flex with your foot?
A design that does not move can easily tire the legs and feet out. Moreover, too rigid of a design will cause the person to not wear it, because it is going to be very uncomfortable and probably feel like a brick attached to the foot.
For the most part, the flexibility does, in fact, come from the sole. The sole needs to be made from a material that can move easily. This is why you will find the soles of most designs are made of rubber. The most popular method of sole production is the blown rubber technique.
Comfort
Of all the things that determine the comfort levels of a design, padding is the one which the wearer will notice immediately. For the padding, most people neglect to think that it starts in the sole. The sole and its layers are the portions that provide shock absorption as you walk. They protect the joints from injury over time. Having a sufficient padding level in the sole affects the overall feel in the entire design.
Most people assume padding is the portion of the interior that the foot rests against. This, however, is known as the footbed. The footbed can be made of different things, the most popular being memory foam. Memory foam is a very soft material for the foot to rest against, and it provides much-needed shock-absorption with your every step. The footbed can either be removable or stationary. Removable footbeds are useful if you wish to insert your own orthotic inside a design, or if you simply prefer more space for your feet.
Our Favorites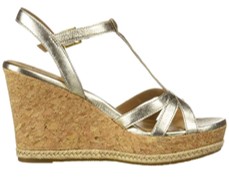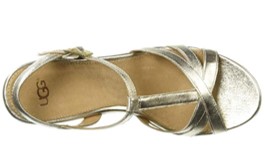 Another wedge style option on our list of gold shoes from UGG, this pair brings brilliance back to gold with its leather uppers. Construction of the Melissa doesn't lack in comfort however, as it has plenty of technology that will keep your steps cushioned and light. With a combination of a midsole cork, and jute for the outsole and rubber sole at the base, these wedges will feel lightweight and soft with each step! Add to this their posh gold and strappy uppers, and you have a winning combination for a formal, flirty shoe!
Uppers on the Melissa Wedge are made from leather, with a bright gold hue to each and every strap. Peep toe design utilizes three criss crossed straps that lead up the foot in a T-strap design to the ankle. A heel and ankle strap secure you in place with adjustable buckle closure which gives some wiggle room for fit. This pair raises you up 4 inches in height, with a platform for better comfort and stability when walking around town.
At the base of the Melissa is a rubber sole, texture to help with grip and traction on tiled surfaces. Inside, you'll find superior cushioning in the PORON insole, as well as a soft footbed for the ultimate comfort. Cork wraps the midsole, which adds a bit of comfort to your steps as well as support. This pair is meant for summertime fun, and romantic evenings, and the gorgeous gold will help you sparkle throughout the evening!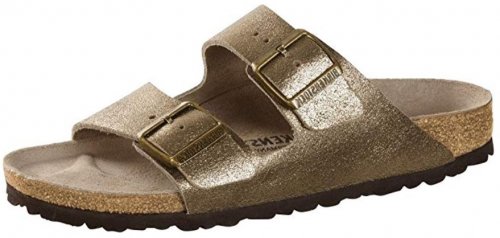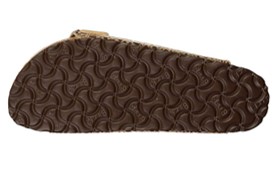 This list wouldn't be complete without the German classic, the iconic Birkenstock Arizona. This versatile, insanely comfortable sandal comes in a variety of colors, one of which is the burnished gold in our picture. The Arizona is a legend among supportive footwear, a design that is both practical, and a bit of a fashion statement itself, and you will quickly become addicted to its otherworldly comfort levels.
The Arizona has an upper made from genuine leather for soft comfort. It has two straps, both of which are adjustable via the buckle closures, so you can customize the fit to your liking. However, as with all Birkenstocks, the footbed takes the spotlight. This is an anatomically shaped footbed made from cork, an amazingly shock-absorbing and moisture-wicking material. It is lined with suede for plush comfort, and the sole is made from EVA foam, for even more protection against impact as you walk.

There is hardly a person on this planet who can't resist the Birkenstock Arizona. These take a while to break in - for the footbed to mold to the contours of your foot - but trust us when we say that it is absolutely worth it. You have yet to experience a sandal as supportive and as comfortable as the Arizona.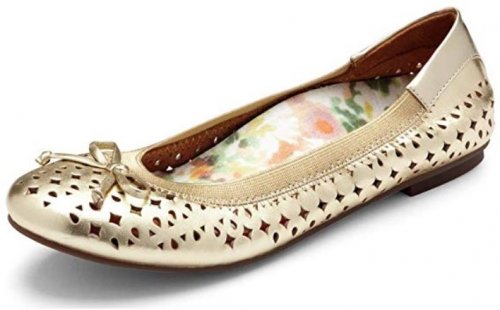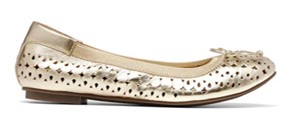 Vionic is a brand most well-known for its supportive, anatomical footwear. However, that doesn't mean they don't have their fair share of cute, stylish options that are equally as comfortable as their more medicine-focused lines. The Surin is a ballet flat that is perfect for spring, with laser cutouts for breathability and a touch of playful interest. It comes in several color options, but we have to admit that the gold is simply irresistible.
The Surin has a genuine leather upper for durable comfort. Inside, you will have the luxury of an orthotic insert made from EVA, one that is firm yet flexible, and covered in microfiber for a soft feel. It is also removable, meaning that if you wish for more space inside the flat, you can always take it out! The Surin is outfitted with the Orthaheel Technology which biomechanically hugs your arches and promotes natural alignment. On the bottom, there is a TPR outsole for slip-resistance.

The Vionic Surin is recommended by a medical physician for those who suffer from mild foot-ailments such as overpronation. At the same time, it is a flat that is too adorable to turn away from, and it will brighten up your closet in a blink of an eye!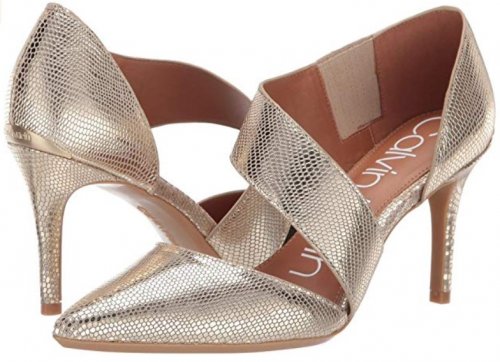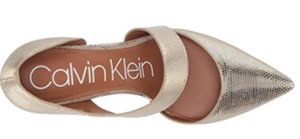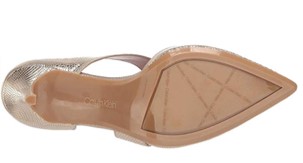 From a designer hailed as the 'supreme master of minimalism' comes a design that is anything but minimalist. The Gella pointy-toe pump is here to attract, to seduce, and to mesmerize with its elegant lines and sophisticated proportions. It bears an unusual silhouette, thanks to an asymmetrical strap which is there for both interest and for keeping you secure inside the design. With the Gella, you won't fail to make an outstanding first impression.
The Calvin Klein Gella has an upper made from genuine leather, which offers breathability, comfort, and durability. It is a slip-on pump, but there is a gore panel in the inner side which allows for a stretchy fit, accommodating feet of all shapes. The heel is about 3 inches high and stiletto, making it elegant but comfortable enough to spend many hours in, should you want to. Finally, as with all Calvin Klein heels, the Gella also comes with gel pod inserts for support.

The glamour of the Gella is not something to be passed over lightly. This is a design fit for a fashion icon, for a red carpet, but it also finds its place at wedding receptions and even office parties. Get your glam on and invest in a pair of high-quality, high-end heels like these, and have the whole world look at you in awe!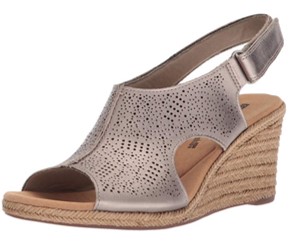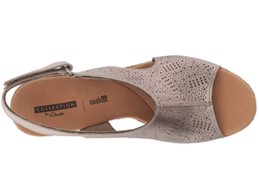 This sassy pair of wedges from Clarks amps up the style with a laser cut out upper in burnished gold hue. Textile wedge gives this a contrasting texture to the metallic hue, giving it a summertime feel for warm evenings and special occasions or parties. With its open styling, you'll have plenty of room for ventilation to help keep your feet cooler in those summer months, and the adjustable ankle strap closure helps add some adjustable yet firm fit to the wedge. The Lafley certainly can be worn for casual or formal attire, and makes for a perfect gold option to add to your collection!
Clarks comfort is packed into the footbed and construction of the Lafley, with an Ortholite footbed and Clarks Cushion Lite Technology. This creates one of the most comfortable and plush rides you can experience in a wedge style shoe! Textile jute creates the wedge, which raises just under 3 inches in height, for a solid boost in confidence. A flexible rubber sole is found at the base, to add more cushion, but is also patterned for better traction on slippery terrain or floors.
Uppers of the Lafley come in a number of hues, but their pewter gold color gives a burnished look to the uppers. It creates the perfect gold color that won't be too brilliant, but can still grab the attention of onlookers for appreciation. Uppers are leather, with a cutout pattern that allows for better breathability across the forefoot. A heel and ankle strap closes with Velcro, which allows for some adjustability in fit, but will secure you in place for the evening. A great pair of gold shoes to consider for casual or formal occasions!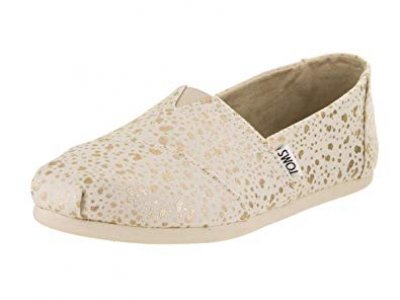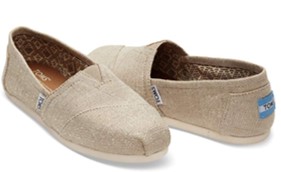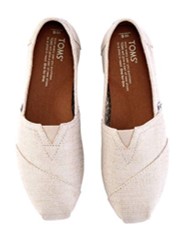 TOMS is well known for having some of the most comfortable casual designs, stylish and simplistic. Their classic canvas styled flats usually come in a vast majority of colors, patterns, and styles, but one that caught our eye was this particular slip on. Glittery gold spots surround this design in a pattern of sparkle that brings a rich feel, and you'll have the TOMS comfort to accompany the cute aesthetic when out and about!
TOMS created a sustainable line of footwear, with comfortable insoles and causal styling, to be made for daily wear and tear. Inspired from a trip to Argentina, the TOMS founder established their mission that for each 'pair purchased, another would be given for tomorrow.' These flats were not only made for daily use, and for being on your feet for most of the day, but they are also affordable and with a philanthropic mission backing their brand. Something you can feel good about with each purchase!

This particular pair of TOMS shows off gold foil spots, similar to a snowfall pattern, against a canvas white background. The simple alpargata design allows for room in the toe box, as well as versatility to dress this pair up or keep it casual. Insoles keep your steps cushioned and soft, but the footbed is removable should you require room for orthotics. A cotton twill sockliner keeps moisture from building up inside. Easy to wash should you need to, simply toss it into a pillow case and into the gentle cycle of a washing machine.

The TOMS Classic is a pair you can feel good about purchasing, knowing that you're helping provide footwear to those in need and support TOMS' One for One® mission. Glittery patterns dress up this casual pair of flats and will keep you comfortable all day at work, or just hanging out with friends. Well worth considering if you're in the market for some sparkle!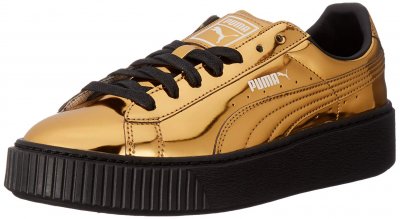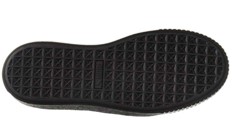 One of the bigger trends in footwear are fashion sneakers with patterns, outrageous colors, and sleek looking design. Something that can be comfortable to wear all day and that makes a statement even when you're just running about in jeans and a T-shirt. The Puma Basket Platform boasts of a shiny leather upper and a thick black platform sole, grabbing attention while just kicking it in comfort. This pair will keep you strutting in style, but just be sure to bring your shades when you're sporting these on your feet!
Uppers of the Basket Platform are super shiny leather, reflecting light wherever you step. The leather quality keeps the uppers durable and easy to maintain should they get dirty; just simply wipe them down with a damp cloth to remove dirt or spots. Black laces tone down the shine, but also create a pleasing contrast and match the sole.

The Puma Basket Platform has a thick, cushioned platform rubber sole that rises about an inch, giving some height to your steps. The black sole contrasts the bright metallic color, matches the laces and has a firm grip on the ground due to its patterned base. A slightly padded collar adds to the comfort by helping prevent any irritation from movement or walking.

The Puma Basket Platform makes a bold, bright statement to your outfits while keeping a sneaker comfort fit you'll not want to take off. With a contrast sole and laces to complement the leather uppers, it's sure to make casual looks seem like party attire and keep your feet wrapped in royalty.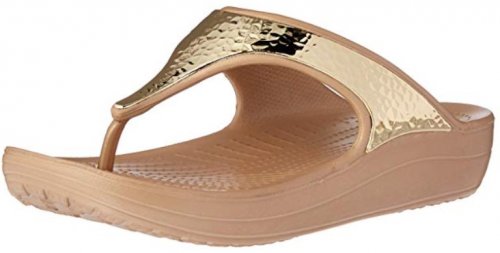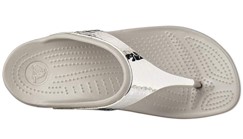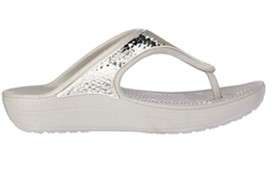 From the iconic brand known for its most comfortable clog comes the Crocs Sloane, a flip-flop design that is unlike any you have seen so far. The Sloane comes with a metallic embellishment on top which is molded into the design, meaning that it won't be coming off anytime soon. It is a wedge sandal that will keep you comfortable for hours on end, whether you're sightseeing or lounging at the beach. And of course, it comes with that legendary Croslite comfort.
The Sloane is a sandal that you can wear pretty much anywhere - to a lunch with friends, or to the pool - and be equally comfortable at both. The heel is wedge in shape, 1.6 inches high, giving you a boost in height and confidence. Thanks to the closed-cell foam resin that is Croslite - lightweight, bouncy and cushioned - you will not be able to get enough of these sandals, as their comfort is truly superior.

The Crocs Sloane is wonderfully versatile as well - you can easily dress it up with a cute summer dress, or dress it down with a swimsuit or a pair of shorts - and you get to enjoy it all summer long! Embrace the metallic shine of this Crocs sandal, and you will not look back ever again!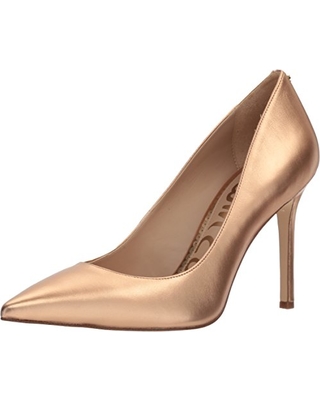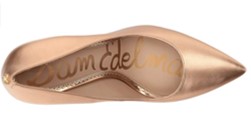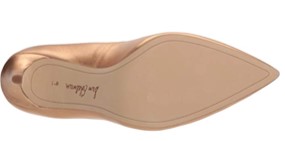 Sam Edelman is widely known for their gorgeous formal footwear. Their designs also have a strong reputation for being as comfortable as they can be for high heels. However, the Hazel has a somewhat shorter heel, making it quite wearable. And while it is shorter heeled, it definitely doesn't lack the style.
The insole of the Hazel is thickly cushioned so that you have an extra layer of comfort and protection. The insole acts as a barrier under your foot from the impact of each step. It prevents negative energy transfer. Also, it supports and cradles the foot. For a dress pump, the Hazel has excellent cushioning. Furthermore, this classic pointed toe silhouette is a perfect way to dress up any outfit. You can rest assured that this pop of gold will be the perfect addition to any style.

The Hazel is durable and made by a company that produces reputable footwear. You should find many uses for these heels other than just that one special occasion. In the end, when compared to other dress or formal designs, these rank at a very good overall price. They can fit into most budgets.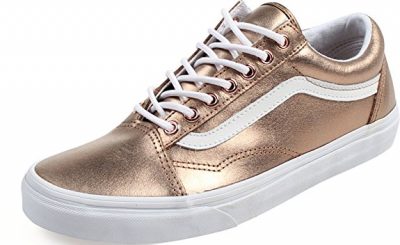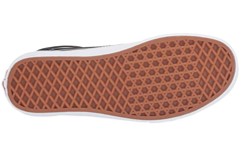 Vans has always been associated with comfort meets style footwear. However, they were originally adopted by skaters for the comfort and support they provided. Fast-forward a few years, and their reputation spread like wildfire to other areas of life. Vans are now recognized as a trendy brand that is accepted with everything from suits to shorts. Their desire to transform the footwear world has definitely worked as they are known for dependability and durability.
Cotton is the fabric known for breathability and comfort. The Old Skool is lined with a special cotton designed to breathe and mold to the foot. The lining will surround your foot with the softest feel. The collar is padded for extra comfort and support at the ankle. Strong support means the ankle is taken care of and has less chance of rolling in the instance of a misstep. It also keeps the fabric from rubbing and chafing the skin around the ankle as that part is exposed sometimes.

With the Old Skool, not only are you getting the reputation that Vans has built concerning their products, but you are also getting an extremely comfortable and durable design. You will not have trouble finding a reason to wear these sneakers. You can dress them up or down, especially since they are of such a versatile color. They might even become your daily-wear sneakers, who knows!

Subscribe to our Newsletter