Best Wedge Flip Flops Reviewed & Rated
In a Hurry? Editors choice: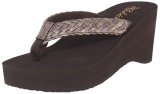 Test Winner: Cobian Zoe

Flip flops - the ultimate summer footwear you can wear to the beach, while running errands, and even for special occasions, if you happen to find the right pair. With this type of footwear being so popular, it comes as no surprise that wedge flip flops have become an instant hit among those who want something versatile and slightly more elegant.

Wedge flip flops are the ideal footwear to wear with a summer dress or a beach wedding. They come in a huge variety of styles, with embellishments that range from minimal to over the top, so you can easily find a pair that suits you perfectly. The list below looks at the best wedge flip flops currently available for purchase, ranking them based on comfort, style, durability and value.
Standout Picks
Criteria Used for Evaluation
Stability
Stability is not only crucial for comfortable and easy walking, but also for safety. Obviously, not being stable on your feet makes it harder and more stressful to get around. Having to make sure your shoes don't fall off or slip out of place puts a strain on the foot and can cause foot fatigue and aches. In addition, instability puts you at a greater risk for injuries since you're more susceptible to slips and falls. All in all, nothing good can come out of it.
As a disclaimer, the truth is that wedge flip flops are one of the least stable shoe styles out there simply because of their flimsy nature. We do have some products on the list that ranked very high on stability, but that's relative to other potential options.
One important factor for stability is the straps. Their role is to strap the foot down securely to the sole and prevent it from slipping and sliding out of place. In terms of strap width, wider is better because more surface area is covered. If they're tight, that's good too – though then there's a higher risk for skin irritation from friction. You'll also want straps that come farther up the foot rather than sits near the toes – the center and heel of the foot bear most of your weight rather than the toes, so the straps should be nearer to the center.
Another factor determining stability is the shape of the footbed. This is especially important for wedge flip flops, where support provided by the straps is minimal compared to that provided by most types of uppers. Though good arch support and a deep heel cup are praised for ensuring better alignment of the foot – which is certainly true – it's less-known benefit is ensuring the foot stays in place. When the dips and rises on the footbed match the contours of the foot, it holds it in place like two puzzle pieces. A smooth footbed, on the other hand, cannot hold on to the foot as effectively, not to mention also offering less structural support.
In short, snug, wide straps and a good footbed contour are important for wedge flip flops if you want stability. Just keep in mind that the former could lead to unwanted friction – while the latter's just a double-win.
Traction
Traction comes hand-in-hand with stability but focuses more on the outsole rather than the overall footwear construction. Traction is what prevents you from slipping on icy sidewalks and snowy streets. Though most prioritized for winter footwear, they're also important for summertime shoes because you might be encountering wet pool decks or smooth floors.
The degree of traction provided is determined by the outsole pattern. For maximum traction, athletic footwear has multi-directional grooves (eg. horizontal zigzags) that prevent slipping in all directions. Athletes can then turn on smooth courts without losing their balance.
Now, we may be talking about wedge flip flops rather than court shoes here, but the concept is the same. When checking out wedge flip flops, look for grooves in the shape of exaggerated zigzags, hexagons, or triangular patterns. Avoid those with straight lines or very shallow patterns.
Heel
To give you some background information, wedge flip flops are a type of footwear that has been around since the 1930s. They were created by the Italian designer Salvatore Ferragamo using cork and wood. Cork is an excellent material because it molds to the shape of the foot through time to provide customized comfort and arch support. However, through time the cost of cork increased and the cost of leather and rubber decreased, which is why most wedge flip flops nowadays are made of the latter two materials.
Moving on to the technicalities: with these, you're at an advantage because this style of heel is much more stable and comfortable than thinner heels. The outsole has maximum contact with the ground, giving you better balance.
When combined with a high platform, the benefits are increased. Instead of only elevating the heel, the sole of your foot is brought higher up thanks to the platform. That way your foot isn't as slanted, but you still get the same boost in height and leg-lengthening effect. It's true that too high of a platform can cause more imbalance, but it's much better than having to strain your foot with each step because the heel is too high compared to the sole. However, it can also increase the risk of ankle sprains, so be careful with that.
Heel height is also important. The higher the heel, the bigger the risk for injury, discomfort, and fatigue. However, you also want the elegant, feminine look that comes with it. 3-inches is the most typical heel height because it's comfortable for all-day wear but also stylish. However, that's a bit high for wedge flip flops, which tend to be less stable. With wedge flip flops, we recommend around two inches - short enough to avoid discomfort, but also trendier and more dressy than a one-inch heel.
Materials
The type of materials used determines both durability and overall comfort of a pair of wedge flip flops. An equilibrium between the two is ideal, but it's good to simply seek a good balance that suits your purposes and conditions.
First of all, most wedge flip flops are made from synthetic materials. This refers to man-made fabrics like EVA, vinyl, and patent leather and suede. It's most common because it is lightweight, cheap, and water-resistant, which is ideal for summer shoes. However, poor-quality synthetics can cause discomfort - for instance, when rigid plastic is used in the toe post or straps. It could cut into the feet, causing pain and even bleeding.
However, good synthetics can be a pro. As mentioned, they are lightweight, inexpensive, and waterproof. They don't weigh you down when walking and are often thin and flexible. Certain synthetic materials used in high-quality and pricey shoes can be soft as well.
Another material commonly used is leather. This material is known as luxurious because it was rare and high demand in the past. It is stretchy, flexible, and extremely durable. It's also breathable and can change through time to better suit the shape of the foot. It's much pricier than synthetics, but the benefits are also more rewarding.
Comfort
The final criterion we have is the overall comfort. It's obvious why this factor is important, but when shopping online it's difficult to evaluate it because you can't try on or feel the wedge flip flops for yourself.
Comfort is essentially a result of the combination of all the other factors listed already. Stability, heel height, and traction help you stay steady and keep your feet in healthy alignment, while materials determine the feeling of the shoe against your skin. However, some other factors must be considered when shopping for wedge flip flops.
Size is one of them. With the wrong size shoe, you could suffer from foot strain and fatigue. This is especially true for wedge flip flops, which already take more effort to walk in than, say, sneakers. Before purchasing a pair, make sure to check their product descriptions and determine whether they run true to size, or slightly larger or smaller. This way you can make adjustments to your order based on your actual shoe size. The good thing is, you don't have to worry about making room for socks with wedge flip flops, which is the main cause of headaches for boot sizing.
Something else to consider is cushioning. Though wedge flip flops generally don't provide much cushioning, the thickness of the wedge heel makes a difference - it can provide more than the typical cheap flip flops. EVA, and cork in the midsole provide very good shock absorption, so keep your eyes peeled for those.
Top 10 Wedge Flip Flops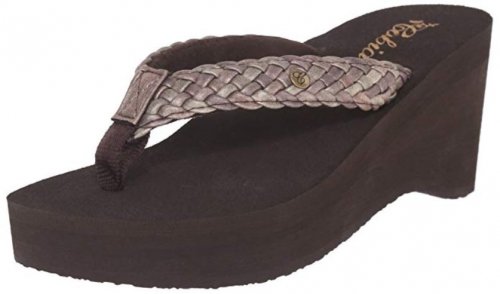 Cobian's motto is that "every step matters." Not only does the brand strive to ensure comfort, but it also guarantees that you get and give at the same time by giving a portion of their sales to non-profit organizations. The Zoe, with its elegant yet simple silhouette, is their best-selling pair of wedge flip flops. With a platform of around 1 1/4 inches, the foot can rest at a good angle despite their tall 3-inch heel.
The materials in this pair include soft synthetic in the braided straps, and nylon in the toe post. These supple fabrics reduce the risk of friction and blistering. Overall, these wedge flip flops are 100% synthetic, which means they're not only lightweight but also vegan-friendly.
Their cushioning EVA topsole ensures anatomical arch support for maximum comfort, while remaining lightweight and great at absorbing shock. These flip flops are one of our cheapest options on the list. Just keep in mind that they run small in size, and their straps are prone to breaking.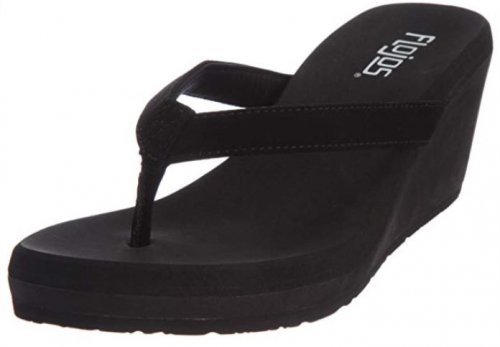 Flojos (pronounced "flo-hos") is one of the top sandal manufacturers on the globe. They've provided comfortable, everyday footwear for the past three decades and have never ceased to improve. And since they specialize in sandals and flip flops, you can be sure their products are high-quality. The Olivia wedge flip flops have a simple design, yet are packed with comfort-providing features.
A cupped sock cradles the curves of the foot to provide support and encourage the healthy alignment of the foot. To prevent friction against the skin, a reversed toe stitching is used. The risk of slipping is also greatly reduced by the heel seat on their footbed, resulting in increased stability.
Though the heel is 2 1/2 inches tall, 3/4 inches of it is platform height so that you get the height-boost without putting too much strain on the foot. One thing to note about these wedge flip flops is that they run small in terms of size, so you will have to size up. The price is on the lower side of the spectrum, which is a great plus for those on a budget.




The Surfa by FitFlop is a pair of wedge flip flops made to be worn for casual occasions. What differentiates it from the rest of the wedge flip flops in our top ten list is the upper, made with perforated leather that allows for an excellent fit even for those with more sensitive feet. The materials is not only soft, but it also breathes exceptionally well, and offers unmatched durability.
The Surfa wedge flip flops can also be bought with woven textile uppers, for those who prefer to stay away from leathers, and are available in a variety of upper options, including even metallic versions that you'll be able to wear to dress up a bit.
The sole has a 1 inch platform, and the heel is only ½ inches higher, which has several benefits. For one, you will get that wedge flip flop look without a heel that is actually uncomfortable to walk in. Secondly, you will benefit from the increased stability, coupled with the brand's support and cushioning technologies that have the APMA Seal of Approval.
The Surfa wedge flip flops rank about average in terms of price, and if you're looking for something that is both stylish, comfortable and of high quality, then this pair definitely comes highly recommended.

4

. Teva Mush Mandalyn Ola 2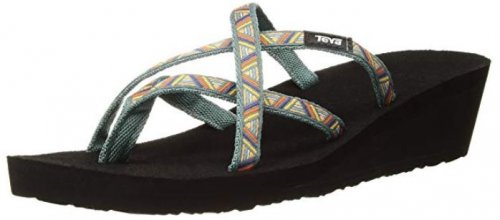 Teva was first founded in 1984 when a geophysicist noticed the inadequate footwear used in river activities. Ever since, the company has been providing reliable and practical water and sports sandals. The Mush Mandalyn Ola 2 is a pair of wedge flip flops that combines the practical features of Teva with a dressier style. Their heel measures around 1 3/4 inches tall and gives them a trendier appearance. The straps also have a unique crisscrossed pattern that ensures more security and stability than with only a toe post. Different strap colors and patterns are also offered.
Because the uppers of these wedge sandals are made of polyester webbing, they are super durable and quick-drying. The Mush topsole provides light cushioning and moulds to the shape of the foot for optimal comfort.
What's more, the EVA outsole keeps the flip-flops lightweight, and a horizontal groove pattern that's a tad on the slippery side, but provides some traction nonetheless. The downside is that their soles tend to wear out easily, and they fit narrow in size.
These wedge flip flops rank around average in terms of cost, and can even be purchased on sale. There's plenty of color options to choose from, so you shouldn't have any trouble finding the perfect pair.

5

. Sketchers Cali Beverlee


Unless you live under a rock, you've probably seen and heard plenty from the brand Sketchers. They are the third largest athletic footwear brand in the USA, and their skate shoes are particularly well-known. However, they make sandals as well. The Beverlee wedge flip flops are dressier than something you'd expect for the brand. They offer athletic-inspired comfort while also serving looks - hitting two birds with one stone.
The heel of these wedge flip flops measures around one inch tall, which is enough for an elegant stride but not enough to cause discomfort or foot fatigue. The flexible rubber outsole provides traction and stability, while the footbed is lined with Luxe Foam for light cushioning.
They've also got a unique crochet strap ending with a synthetic toe post. This results in a dressy, feminine appearance that can be worn for formal occasions as well as casual. The downside of these wedge flip flops is that the straps might stretch and become too loose, and could cause uncomfortable friction.

6

. Sanuk Yoga Mat Flip Flops



First founded by a Southern California native, you can be sure that Sanuk offers the best laid-back, summer-y footwear out there. In fact, the word "sanuk" is Thai for "fun," which is quite fitting. This pair of wedge flip flops features Sanuk's unique yoga mat footbed. Just like a yoga mat, the insole molds to the shape of the foot to provide optimal customized comfort. The cushioning feel is ideal for long days out.
At the same time, the look is kept casual and versatile. There are different color options for strap and sole, all of which are neutral tones that can be worn with anything.
The heel on these wedge flip flops measures around 2 inches, 1/4 of which is platform height so that the heel elevation isn't actually too high. A zigzag stitching can be found above the toe post to ensure the upper strap stays smooth and prevents friction. Though not the most durable, these moderately-priced wedge flip flops are super simple and traditional - perfect for everyone!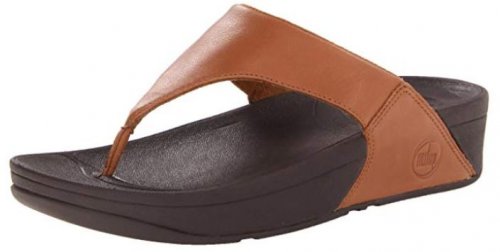 With their unique strap style, Lulu by FitFlop is great for switching up your look. Instead of the traditional V-shaped thong, these wedge flip flops have got a triangular vamp covering the top of the foot, giving them a simple yet rugged and boho-inspired look. The subtle wedge heel makes them casual, yet not entirely laid-back - a perfect versatile balance.
Appearance aside,these wedge flip flops are super comfortable as well. The triangular vamp allows them to strap down the foot more securely, giving the wearer more stability.
In addition, they feature FitFlop's signature Microwobbleboard midsoles, engineered by biomechanists to absorb shock and diffuse underfoot pressure to lessen the impact on the joints. What's more, their leather upper is supple and flexible. It's true that Lulu is the second-most expensive pick we've got, but their durability and high quality pays off.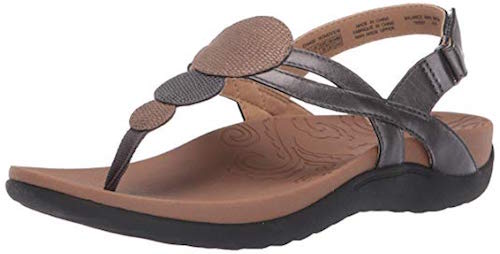 If you're after a pair of wedge flip flops you can wear without having to worry about security, you may want to check out the Rockport Ridge Circle, a T-thong sandal that combines the appeal of flip flops with a supportive heel strap and Rockport's comfort features. It can be purchased in two color options, pewter and black, and is an overall great choice for dressy occasions.
This pair of wedge flip flops focuses on foot comfort and support through an anatomical footbed with a supportive arch and moderate heel cup. Microfiber lining wicks moisture away from the foot, while the TPR outsole works to provide you with adequate traction on both indoor and outdoor surfaces.
The back of the heel strap features a hook and loop closure that allows you to modify the fit on these wedge flip flops - definitely not something that you often get. Furthermore, the 1 ¼ inch heel height provides elevation, without going overboard, which, ultimately, means that the Ridge Circle is better for your overall foot health.
The price of this pair of wedge flip flops ranks around average, making it a stellar choice for those after something a bit different, that can be worn on dressy occasions.

9

. Vionic Pacific High Tide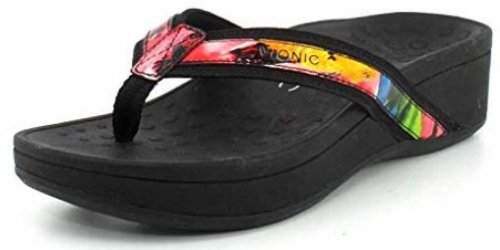 Vionic is a brand that aims to provide stability and support to its wearers. A contour is seamlessly engineered into all of their footwear to encourage the natural alignment of the foot. These wedge flip flops are no exception. With a molded EVA footbed and a padded neoprene upper liner, they provide comfortable cushioning from all sides. A dual-density midsole is featured to offer shock absorption to each step. You have the option between leather/textile and natural cork/textile for the uppers, both of which are nice and flexible material combinations.
The heel measures nearly two inches. It's a bit tall for all-day wear, but the podiatrist-designed footbed supports the arches and makes it much easier. In addition, massaging textures can be found at the heel and ball of the foot for a unique underfoot feel.
Several color options are also offered. The only thing to keep in mind is that some customers complain of the straps being too uncomfortable and aggravating. Overall, though this pair of wedge flip flops is one of our priciest options, the brand's careful and supportive design ensures you get the full benefit of what you paid for.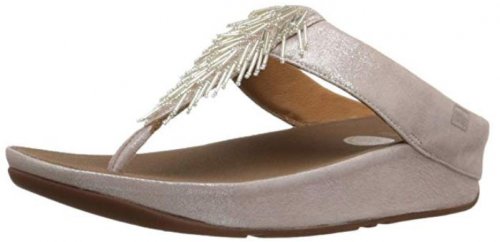 With these on, you'll be ready to "cha cha"! The combination of their fashionable silhouette and incredible comfort creates the perfect party wedge flip flops. With straps that extend farther back than on most flip flops and a shiny, metallic texture, they have a fun carnival-inspired appearance. The embellishment above the toe post add some spice, and the several different colors they offer mean that you can choose what best suits your taste.
As for comfort, it is largely provided by the materials used for the construction of these wedge flip flops. With a leather toe post, they minimize toe discomfort. Leather is also used in the lining, covering the biomechanically engineered footbed, for a smooth and slightly cushioning feeling.
Not only are these wedge flip flops breathable, but they are also easy to wear. The "wedge" effect isn't very obvious because the heel measures only 1 1/4 inch, and the platform is high as well. But on the plus side, that means more stability. In terms of cost association, the FitFlop Cha Cha ranks about average, making it an excellent choice for most budgets.

Subscribe to our Newsletter