Best Cork Sole Shoes & Sandals Reviewed & Rated
In a Hurry? Editors choice:
Test Winner: Mephisto Helen

If you suffer from foot pain, fallen arches, or other issues with the foot, we highly recommend that you try out a pair of cork shoes. Even if you have none of the problems listed, cork sole shoes can still be great as they provide amazing comfort and support for the feet from which everybody can benefit. In our list is ten of the best cork sandals and shoes out there, including those for men, for women, and those that are unisex. All of them have soles made of genuine cork rather than faux-cork or cork-wrapped synthetic soles so that you can get the full benefit of cork bottom shoes.
Standout Picks
Criteria Used for Evaluation
Outsole
In shoes, real cork is mostly used only in the outsole of the shoe. This is why the outsole is so important to consider, as it is the place where the benefit of cork shoes really shines through.
To begin with, we must first explain what the outsole is. The outsole of a shoe is sometimes known simply as the 'sole,' and refers to the bottommost part of the shoe. It is the part of the cork shoe on which you walk, and which makes contact with the ground. Depending on your needs and conditions, the outsole must have certain qualities in order to ensure that you stay comfortable and that your feet and joints are protected. If you are hiking, for example, the outsole must be thick and durable to ensure you perform well, and if you are running indoors or playing indoor sports, adequate grip and traction must be provided to prevent you from slipping.
Outsoles can be made of many different materials. Some popular materials include rubber, leather, and synthetic materials, all of which have slightly different properties which render them suitable for different types of shoes.
Cork is not a very common material to use in the outsole; however, there are amazing advantages when a real cork is used. As we previously mentioned, the density and softness of cork allow it to be molded to the shape of your foot through time, resulting in a custom fit footbed that can provide amazing comfort and structural support. It is also shock absorbent, meaning it provides cushioning and protection for the feet, ankles, and knees by lessening the shock impact on those joints. In the short term, this will prevent foot fatigue and keep you comfortable while walking in a cork shoe. In the long term, it keeps the joints healthy and can alleviate foot pain, such as that caused by plantar fasciitis. On top of that, cork is moisture-wicking, meaning it will get rid of moisture, which in turn prevents bacteria from growing and spreading.
A high score on the "outsole" criterion means the cork shoe is genuine, well-constructed, with a good traction, high comfort and molds well to the shape of your foot.
Band
As cork shoes are most often sandals, it's also crucial to consider the design of the straps on the sandal. This can make a difference in their fit and affect how comfortable and practical they are.
Backstrap
The strap on the heel of the cork shoe plays a crucial part. It ensures that the foot does not slip out of the sandal when walking, as well as prevents the foot from moving around in the sandal. It essentially secures the cork shoe to your foot. Not only does this render them more comfortable and stress-free to walk in, it reduces foot fatigue by eliminating any strain in the feet that would otherwise be used to keep the sandals on your feet. The potential downside is that, if the back strap is stiff and not very stretchable, it may take you more time to put them on and off compared to sandals without a back strap.
Adjustable or Not
The straps can also be used to provide a better fit. Though the buckle on most cork shoe straps adds a good finishing touch to their style, it is also beneficial when it comes to the technical aspects of the sandals.
For one, you can worry less about size. Of course, it's always good to buy the exact size that is perfect for you and your feet, as it will ensure maximum comfort as well as prevent any long-term foot and joint problems that may arise from wearing ill-fitting shoes. You can choose the right size by measuring your foot with a tape measure from the longest toe to the very back of the heel, then compared the measurement with the sizing charts of the particular brand of the shoe. This will ensure the pair you purchase is as close to your ideal size as possible.
However, not all of us can (or want!) to spend so much effort on measuring our feet. Or, you may not have access to sizing charts, or the shoe may not run in half-sizes and therefore do not fit your measurements. In this case, adjustable straps are a savior. They will ensure that, if the shoes end up a little too big or too small, you can still have a good fit. You could simply adjust the strap on your cork shoe to what feels best for you and be good to go. It saves you time, effort, and is a foolproof way to make sure you have a good fit.
Of course, it's still important to be as close to your ideal size as possible. But sometimes you just need to make do, and adjustable straps are perfect for that. So when buying your next pair of cork sole shoes, (or just regular sandals), check to see if the straps on the sandals are actually adjustable. Most will be, but it's still good to double check.
Strap Material
Like with toe posts, the material of the straps of the sandals is also important. The straps of cheap, low-quality sandals are often stiff and uncomfortable. This can rub against the skin with every step and cause blisters through time.
Good sandals are made from high-quality materials. Leather is an example: it is supple, comfortable, and great when used to make sandal straps. Some sandals also have a suede upper, in which case the soft, fibrous texture creates minimal friction when rubbed against the foot, thus preventing blisters.
Some cork bottom shoes made of synthetic materials (faux leather and faux suede, for example) can also have these desirable qualities, but that will depend on the manufacturer. If you'd like to make sure they are of good quality, you can always take a look at the sandals' reviewers to find out what other customers think of the shoes and get a general idea for yourself.
A higher score on the "band" metric will mean that the cork shoe under review tends to have a strap or straps that are effective in securing a good fit, are comfortable and not chaffing the foot, and can be adjusted to fit your foot size (within reason, of course).
Comfort
Toe Post
If the sandals are flip-flops, there's one very tiny aspect of them that can affect your entire experience - and that's the toe post. This is the part of the flip-flop that goes between the big toe and the second toe. When people claim they don't like wearing flip-flops, more and often than not it's because the toe post causes them pain or discomfort.
However, if you take care to choose cork shoes with the right kind of toe post, they can be much more comfortable.Canvas toe posts, for example, are not as hard and unforgiving as plastic ones and can provide adequate comfort. But do keep in mind that the toe post still must be rigid enough to hold your foot to the strap, or else other problems of discomfort will arise.
If you truly want a pair of comfortable cork sole shoes, you have to pay the price. Though you can buy them from nearly anywhere for $5, they will most likely have a hard, plastic toe post. Instead, look for a moderately-priced flip-flop with a canvas toe post, a good EVA outsole, and design that can keep you comfortable.
Fit
Finding a perfectly-fitting pair of cork sandals can be like finding the holy grail; there are so many brands, styles, models and makes of shoes that it seems like it's next to impossible, especially when you are shopping online! Fear not, as we've ranked each product on our list for their fit and trueness-to-size to help guide you in finding the perfect match for you.
To come up with a score for fit of a cork shoe, we considered several factors, like the ones mentioned above, in addition to real customer reviews, to help boil down everything into one simple score. For example, Nike tends to make shoes that are true-to-size, meaning that you can buy a pair of 11s one year, and another pair of 11s next year in a different model, and they will usually still fit (unless your feet grown or shrank). A brand like Nike will most likely have a high score when it comes to fit, but the other variables in play, such as make, model and purpose, will also affect the overall score.
Consider that a running shoe, with its thicker midsole and synthetic sole, might fit differently than a flat shoe, with its thinner midsole and hypothetical leather sole. Each of these shoes, even if they are both from Nike, may have similar scores for trueness-to-size, but a size 11 in one might not be the same as an 11 in the other. What's a reader to do in this case? You must also consider the purpose and type of shoe it is. Knowing what kind of shoe you are buying, and for what purpose, will help you make a better decision. A running shoe might run smaller than a flat because it has thicker materials, so read customer reviews as well to arrive at the best decision for fit, in addition to just our overall score.
At the end of the day, however, a higher score for the "fit" criterion will tend to mean that the cork shoe experiences a better trueness-to-size than a competing product; just don't forget all the underlying factors that are baked into arriving at that single score! Finally, if you are looking for tips on how to identify your shoe size, check out this guide by the American Orthopedic Foot and Ankle Society.
Durability
To assess each of the products on our list of cork shoes for durability, we not only read through thousands of customer reviews on our recommended products, but we also looked for some of the hallmarks of quality construction. From brand name reputation to their initial smell out of the box, there are a few ways of identifying a well-built, made-to-last product.
Brand Name
A product is a promise made, but a brand is a promise kept. A brand name is often a signal of quality and consistency in construction and durability from product to product. Although there are always exceptions to this rule, quite often brands that perform continue to perform. Brand names on our list of cork sole shoes tend to score higher in the durability score.
Product Purpose
A shoe made for running and high-impact sports will not likely last as long as a good pair of general activity shoes and that's okay. Being aware of the shoe's purpose is critical for you as a reader and for us as a reviewer. Although shoes that will last longer score higher on this criterion, you might also see high scores to shoes with a more limited durability, if that product was specifically designed for certain purposes that involve high-impact and high-stress motions. We take into account the type of shoes you are trying to purchase when assigning scores to shoes in this criterion.
Materials
Certain materials last longer than others, even if that comes at the expense of a higher score in the "comfort" criterion. Materials that are thicker and firmer tend to score higher on durability for cork shoes.
The Details
A strap that doesn't click or snap? Poor threading technique? A smelly, chemical residue on the shoe when you open the box? All these details were looked for an evaluated when assigning a score for durability.
The final word on durability is that a higher score on this metric means the cork shoe will last longer than its competitors, given similar shoe purpose, type, age and usage. Again, it never hurts to read some customer reviews before hitting the "buy" button.
Top 10 Cork Bottom Sandals and Shoes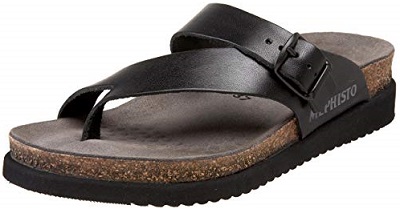 Need something comfortable for a day at the beach? There's no better choice than the Women's Helen thong sandals by Mephisto. Their construction means they are not the best for walking around on the street, but all their great features can be taken advantage of on other occasions. The cork footbed contours the shape of the foot to provide excellent arch support, making them perfect for those who suffer from fallen arches. They will ensure comfort when walking and will help to alleviate any pain or discomfort.
Despite being of a neutral color and having an overall low-key look, the strap design is quite funky. It features an adjustable strap as well as a toe loop and gives this cork shoe a touch of originality without bringing too much attention to them.
What stands out the most about these cork shoes is that, unlike most shoes, they have no lining. This allows them to be very lightweight, yet also cushioning and comfortable because of the cork footbed. However, do keep in mind that when walking on hard surfaces such as concrete, the cushioning may not be sufficient.
Though not the cheapest, this cork shoe is still a good deal when you think about it. The no-lining design and their contoured footbed combined with their unique yet low-key look results in a great balance between practicality and style.

2

. Birkenstock Mayari Birko-Flor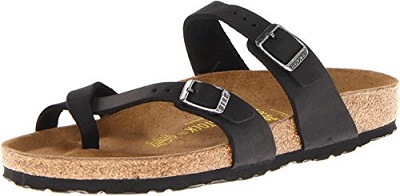 We've got an amazing pair of cork shoes by Birkenstock that add a slight twist to the classic sandal look. The cork-latex footbed is shaped to contour the foot and provide optimal structural support that will ensure you walk and stand with ease. The EVA sole provides additional cushioning with every step. They're also offered in a variety of different colors, most of which are neutral, but which also includes yellow, ocean blue, and magenta. Though not a cheap investment, these cork sole shoes definitely a good one!
Not only do they have the classic buckle on the straps which make them adjustable, the straps crisscross to form a loop around the toe. It gives them a more unique look compared to other sandals and ensures a more secure fit.
The upper of this cork sandal is made of Birko-Flor, which is a synthetic material that is easy to care for, comfortable, and extremely durable. The lining is suede, which is soft and flexible.
These cork bottom shoes are not cheap, but with their durability and high-quality construction, it's not hard to see why. In addition, they have received over four thousand five-star reviews so you know they're a worth every penny.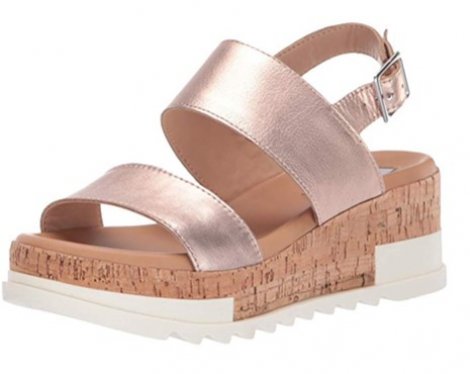 Another wedge sandal option on our cork shoe list, the Brenda is made for walking and for fashion. Leather strappy uppers create two wider bands to hold the foot secure, while an ankle strap buckles around you for adjustability and closure. While somewhat funky in its look and appearance, it packs a load of comfort features inside. This pair of cork bottom shoes would be great for strolling through amusement parks or along canals when the weather is warm.
A synthetic sole bases the Brenda, and wraps along the edges of the outsole at the toe and heel. Deep grooves on the bottom help give superior traction, especially on rocky or uneven surfaces. Cork platform raises about an inch off the ground, while the wedge is a modest heel of about three inches. It's a stable, supportive cork shoe that would be ideal for longer strolls or time periods of standing. Take this one to parades, events, outdoor festivities, or the beach!
Uppers on this cork shoe consist of two larger bands that strap across the mid foot and toes, along with an ankle closure which buckles you inside. This creates a snug, adjustable fit, as well as comfortable sandal for wear. Leather uppers come in a few different color options to suit your favorite outfit. A plush soft footbed cushions your steps, and won't get slippery if your feet start to sweat a bit. The Brenda is a great cork shoe option that functional and fashionable.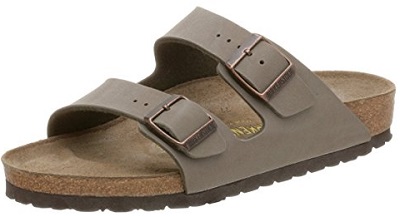 Though similar in design to the previous pair of sandals, these cork sole shoes have their own distinct qualities that are equally great. For instance, their materials include Birkibuc, which is a synthetic material that imitates the texture of nubuck leather and is comfortable and durable. They are also offered in many different colors such as stone, taupe, and mocha, all of which are neutral and will give you a relaxed and laid-back look while staying stylish. The only downside to this cork shoe is their expensive price, but with all their great features, it's justifiable.
This cork shoe is offered in different materials, all of which are of excellent quality and are durable and comfortable. Choices include leather, Birkibuc, suede, and Birko-Flor.
As always, the cork footbed provides amazing support for the arches and the overall foot. The design also includes a deep heel cup and a roomy toe box, ensuring that you can stay comfortable with every step you take.
As the second-most expensive pair we have on the list, their price tag may make you falter. However, if you really do like the design of this cork shoe, they are an excellent investment that will ensure satisfaction for years of wear.

5

. Skechers Beverlee-High Tea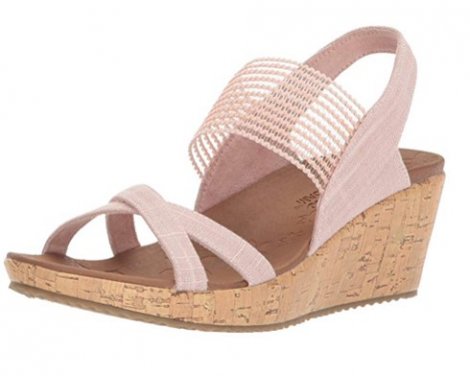 This adorable cork shoe from Skechers is all you need for a summertime tea party. Light and airy in its design, it has several comfort features to support and keep you cool. Strappy uppers give it a sophisticated look, and a wide lace band that sits across the foot makes it quite dainty in its appearance. The Beverlee-High Tea is ideal for warmer weather wear, both formal and casual settings, so it's a versatile option for a cork shoe as well!
With a couple different color options, the Beverlee has textile uppers that help wick away moisture when it heats up outside. Textile is quite easy to care for as well, as you can wipe these cork shoes off with soap and water should they pick up any dirt or debris. Dual strap criss cross over the toe box, and a wider band sits at the top of the foot to help hold you inside. This lacey design gives it a soft, feminine flair that makes it pairable with summer strappy dresses for a boho style feel.
The base of this wedge cork shoe has a synthetic sole with textured pattern for grip on slippery or uneve surfaces. Platform rises just under an inch, while the wedge heel provides stability and more height. A soft, foam footbed pads the inside of this cork shoe, giving a luxe on-foot feel. Open heel helps prevent any irritations when walking, while heel strap helps to hold you in. The Beverlee is a wonder cork shoe for dressing up your summertime wardrobe.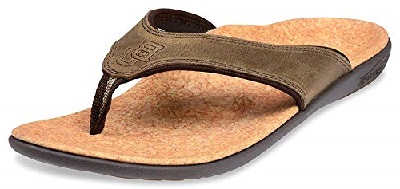 Need something a bit more simple and convenient, but still comfortable in your cork sole shoes? Spenco's got you covered with the men's Yumi leather sandal. Unlike the pairs we mentioned previously, these have a toe post rather than an adjustable-straps design. Because of this, they are very convenient and easy to slip on and off. Aside from that, this cork shoe has an EVA surface that molds to the contours of the feet with time, and a special technology helps to offload pressure from the ball of the foot to alleviate pain in the forefoot. All in all, they are a great pick for the summer.
Not a big fan of flip flops because of the toe post? Well, don't worry! These cork shoes have a flexible and comfortable toe post that are nothing like the plastic toe posts of the typical cheap flip-flop and will ensure that you walk with ease.
The deep heel cup ensures the heel stays comfortable and stable. In addition, both the heel and the forefoot are lightly cushioned to ensure the shock of every step is absorbed with no problem, which can also help prevent overpronation.
The Yumi leather sandal is quite a good bargain for a cork shoe option. Though they have a simple design, their clever construction renders them good for the feet and comfortable for the wearer.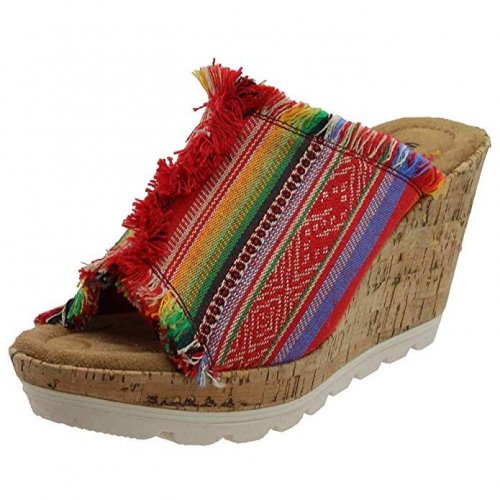 The Minnetonka York Wedge is part of the Empire Collection by Minnetonka. Perfect for Sunday brunch or a day strolling the esplanade, strut your stuff in this cork shoe with wedge-heel. With a denim upper featuring frayed edges, Minnetonka has paid attention to every minute detail to ensure the York complements and enhances an outfit, and is not just another pair of plain-ol' wedges.
The 1.25" platform is sure to be appreciated by those who want an extra boost in height and the wedge-style heel will allow you to walk without worry of falling down or losing your balance. The slip-on style makes getting this cork shoe on or off a breeze and the peep-toe design will let you show off that perfect pedicure you got just the other day.
The synthetic rubber sole adds durability to a well-constructed cork shoe and the patterned outsole adds stability and grip, no matter which terrain you are traversing. Available in unique designs like "blue denim" or "frisco stripe", everyone needs a York in their arsenal of fashionable heels.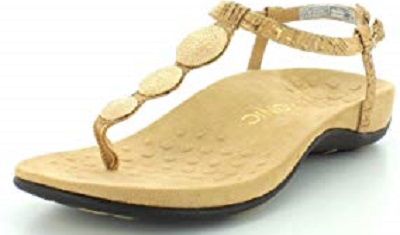 So far, the sandals we've listed mostly have the same classy and rugged style. However, if what you're into is something more feminine and stylish in your cork sandals, consider the Lizbeth T-strap sandals. Featuring a thin adjustable strap around the ankle and embellishments on the front strap, they add the perfect finishing touch to an outfit on a hot summer day. They also have a durable rubber outsole that provides traction and stability, and a shoe design that can help with issues such as plantar fasciitis. Just keep in mind that some claim the inside of this cork shoe is rather slippery, which may be inconvenient. But apart from that, style and practicality reunite and create a perfect balance that will keep you feeling good and looking good at the same time.
The midsole is made of EVA. Light, flexible, and shock absorbent, it cushions the feet with every step and reduces the stress that would otherwise be put on the feet, ankles, and knees.
These cork shoes are actually considered to be orthotic. A special technology is used in the sandal, resulting in a design that will help to realign the feet, provide structural support, and alleviate pain. It is successful in reducing over-pronation and in providing relief for aches in other parts of the body such as the knees, the heels, and even the lower back.
These sandals are somewhere in the middle of our price range. They're not overpriced, but they're not cheap, either. But considering the fact that they are considered to be orthotic and are proven to be good for foot health, we believe they are of excellent value in a cork shoe.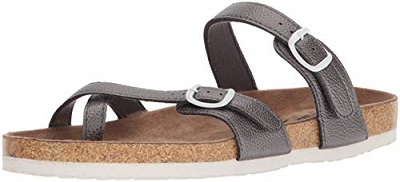 Our next pick is the women's Anya sandal by Northside. These are a great cork shoe for those looking to save some money but are still in need of a versatile and practical pair of shoes for the summer. With their neutral colors and unique strap design, they are stylish when worn with almost any outfit. What's more, they've got a cushioned and contoured footbed that, like all high-quality cork sandals, provides structural support to the foot. Perfect for a day at the beach, on vacation, or just for running errands, these sandals are definitely a summer must-have for every woman.
Despite having quite a simple design, these cork shoes somehow still manage to be super stylish. Their straps have two buckles that not only renders them adjustable but also add an eye-catching finishing touch to the sandal. In addition, the straps form a loop around the toe and give it a unique style.
Though the insole is made of cork and microsuede to contour to the shape of the foot and provide stability and support, the outsole is just as great. It is made of EVA, which is lightweight, shock-absorbent, and long-lasting.
As the least expensive item on our list of top cork sole shoes, they are definitely a great bargain. They provide amazing comfort and are sure to keep you satisfied throughout the summer.



Compared to our last pick, these cork bottom shoes have a more classic look that is recently coming back into style. The position and thickness of the straps make them super easy to slip on, as well as comfortable and secure when walking around. The cork footbed provides excellent structural support while the lightweight EVA outsole provides shock absorption. Wear them with a cute vintage outfit, or slip them on when in a hurry. And to top it all off, they're extremely affordable.
Suede is essentially the reverse side of leather and is very soft, flexible, and comfortable. In these cork sandals, the suede in the upper ensures there is no uncomfortable friction on the foot. Micro-suede is also used in the footbed to provide a plush, cushioning effect.
The micro-suede footbed, as well as the contoured cork footbed, are meant to provide support for the foot and the arches. If they suit the shape of your feet, they can provide amazing comfort and relief from pain. However, if they do not suit your feet, they may be uncomfortable and problematic.
These are our second cheapest pair on our cork sole shoes list. They're a great pick for anyone who's looking to save some money this summer but would still like a good pair of sandals. However, the downside is that their quality is not the best and the sole may detach easily according to some reviewers, so keep that in mind.

Subscribe to our Newsletter