Best White Shoes Reviewed & Rated
In a Hurry? Editors choice: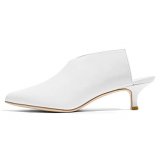 Test Winner: XYD Pointed Toe Kitten Mule

If you find yourself in need of a pair of shoes that will go with absolutely everything, you might want to consider getting some white footwear. If you find yourself in need of a pair of shoes that will go with absolutely everything, you might want to consider getting some white footwear. Sleek and minimalistic, white shoes make a classic statement and can be worn with any color outfit and on almost any occasion. Having such a pair of shoes on hand will ensure that you always have a great foundation on which you can build a stylish look of the day,
be it for work
, a special event, or just a casual lunch date.
Standout Picks
Criteria Used for Evaluation
Fit
One of the key things you need to make sure of when making a purchase for a new pair of shoes is to have them fit your feet comfortably. This not only ensures that you can wear them throughout the day without feeling any level of pain, discomfort or seeing them as an obstacle in performing your daily tasks, but even more, it can prevent the development of serious issues such as arch or heel pain, bunions, calluses, and of course, blisters and corns. Although you may have experienced some (or even all of these) in the past, when thinking long term, it is crucial to keep your feet as healthy as possible, seeing that this will have a positive effect on the rest of your body, including your knees, hips, back, posture and overall mood.
First and foremost, when shopping for a pair of new shoes, you need to consider size. You probably already know that, no matter how reputable a brand is, every shoe model will fit differently, which is why you need to determine whether and how it's going to fit your foot. Sizing charts are an excellent start. Manufacturers will usually have a sizing chart prepared to make the whole buying process easier for customers, and can definitely be extremely helpful when shopping online. In addition to length, you also need to consider the width of your shoes. Do you have a narrow foot or do you lean more towards the wider side? Do you have any special needs that require a certain type of shoe (for example, people with bunions will have to get wider shoes to prevent further damage to the big toe joint)? If you have a high instep, you may find that getting into a pair of Chelsea boots is too difficult if the elastic gussets aren't flexible enough.
The best way to determine what you need fit-wise is to take a look at your favorite pair of shoes to wear. Consider the size and width, but also the aspects that make them work for you, such as the toe box, heel height, upper material, closure type, and padding. If, for example, you know that ASICS shoes work great for your foot type, you may want to look at either getting your next pair of footwear from the same manufacturer or look for a fit that is similar to these shoes.
If you find that you're unsure of the size you need, there are a couple of options that will ensure you get a good pair of shoes. One is to visit a brick and mortar store where you can try on the model you've been looking at, then make a purchase online. Another is to buy two or three sizes, and try them on at home before determining which fits you best, then return the ones that don't fit as well. Even more, you will find that online reviews can be extremely helpful in determining the fit of a shoe, as people usually leave some feedback after making a purchase on Amazon. Thus, if you see that a particular model seems to run narrow or small, make sure to order the next ½ or full size up to avoid an ill-fitting pair of footwear.
Comfort
To ensure that you feel comfortable wearing a pair of shoes, there is more to consider than just size. Investing in a pair of shoes that are pleasant to spend several hours in – even if you have to walk or stand for a longer period of time than usual – can make a difference between footwear that you wear often, and footwear that is stuck in the back of your closet, that you dread having to put on. Overall, the factors that go into making a pair of shoes more comfortable include padding and cushioning, support, materials used and construction type. And although a pair of high heels is very unlikely to provide the same level of comfort as the latest pair of flagship running shoes, you will find that looking into the following things can contribute to a shopping experience you will be happy for quite some time to come.
Cushioning
Cushioning in a pair of shoes includes built-in or inserted features which are directly related to the feeling you get when you put on a pair of shoes. The best type of cushioning will feel soft and gentle and will enable you to stand or walk for longer periods of time without experiencing foot pain. Places, where you want to look for cushioning, include the footbed, but a padded collar and tongue can be just as important in providing you with a comfortable shoe. Look for materials such as gel or memory foam for the absolute best experience.
Shock Absorption
Closely related to the level of cushioning a pair of shoes will have, you can't go wrong with a pair of shoes that has some shock absorbing properties. This ensures that some of the impacts you make when connecting with the ground (whether walking, running or jumping) are absorbed by the shoe, ultimately protecting your joints and back. Rubber, foam and Ethylene-vinyl acetate (EVA foam) do a great job at providing shock absorption, and can usually be found in the soles of most shoes.
Support
While some footwear can feel good when you put it on, only to find out a few hours later that your feet hurt nonetheless, there are those pairs of shoes that just feel right. This can, largely, be attributed to the level of support they provide. Everyone is familiar with the concept of arch support which can greatly contribute to the feeling of comfort you get from wearing shoes. Not only can it help with several ailments such as plantar fasciitis or flat feet, but it can also prevent the appearance of symptoms, keeping your feet healthy and pain-free. Other types of support to look for including a deep heel cup which can ensure proper alignment, or varying levels of sole flexibility, depending on the height of your arch.
Materials
Upper Material
You will find that different types of footwear provide you with a different fit and comfort level. While you may find that a pair of canvas sneakers are the perfect choice for everyday wear because of how flexible and lightweight they are, someone else may prefer wearing a pair of leather boots that have been perfectly worn in, feeling like a second skin. The upper material used to make a shoe can not only influence the type of fit you will get, but even more, it will have an effect on how breathable your shoes are. Although you may love wearing your pair of leather boots as often as possible, it may be a good option to opt for something a bit more breathable for summer.
Lining
The material inside the shoe is the one that will be in contact with your skin, which makes it especially important when making a decision about which footwear to purchase. You want your shoes to be lined with a material that won't cause rubbing, chafing or irritation, and that will allow for good airflow, even if you opt to wear your shoes without socks. Furthermore, if you plan on doing any rigorous activities in your shoes, you may want to opt for something breathable, and, ideally, with moisture wicking properties in order to prevent odor and bacteria overgrowth.
Closure
Last but not least, the type of closure on your shoes can determine how well they will work for you. Though some people are happiest with a simple lace-up design, others may prefer a slip on, buckles, or even just a pair of slides that require no fuss. If you are shopping for someone else, especially for children or the elderly, you need to think about whether conventional closures such as laces or buckles will work for them, or if they will be more comfortable with a pair of hook and loop closure shoes that are easy to put on and off.
Durability
How long a pair of shoes will last can, and should, be a major factor when deciding on your next purchase. While you may be tempted by a low price or a fashionable design, a good pair of shoes will last you for several seasons without losing its original cushioning and support features. Furthermore, the stitching in the upper will hold strong, while the outsole will retain its tread pattern, providing you with a constant amount of grip.
One of the most important factors in providing this kind of durable quality are the materials used in production. If purchasing online, make sure to take a good look at the shoes once they have arrived. Are there any obvious defects, such as a poorly glued sole or damage in the upper? Look at the midsole; if there are obvious glue marks around the midsole it's either a knock-off or just a very low-quality shoe. In the case there is are any threads or cords, make sure the sewing looks good and it's not uneven or that it skips spaces.
What you need to understand is that defects can happen, and one of the important things to consider before purchasing is whether your selected pair of footwear comes with a warranty. This ensures that in case anything is wrong with the pair of shoes you received, you will be granted either a replacement or a refund.
Some brands offer a lifetime warranty on their products, while others do not subscribe to the practice. As a consumer who is looking for security, you want to have as long a guarantee as possible, and this should definitely be an influencing factor, especially if you are paying a lot of money for a product. Do note, however, that most warranties will come with certain conditions, such as that the item must be returned in its original box with the receipt. That means that you definitely need to hold onto those, just in case something happens and you find yourself needing to make use of that warranty.
Ease of Use
White shoes are a delicate topic when talking about cleanability. It's very, very easy to get a pair of white shoes dirty, not to say messed up. The thing about this color is that it looks ridiculously good when it's clean. Get some dirt on it, however, and anyone across the room will be able to tell. Seeing that this is a color that naturally attracts attention, it is important to consider how exactly you want your next pair of white shoes to serve you. If you are OK with scuffs, damage, and discoloration, and are a fan of a more rugged look, then you won't have a lot to think about when it comes to cleaning your shoes. If, however, you prefer a crispy, out of the box look, then taking proper care of a pair of white shoes is imperative.
The best white shoes are those that are carefully designed to avoid dirt. Note that in most cases a white shoe is not really specially designed to be white. Instead, it's just one of the colored versions of the certain model. Be careful when buying the white edition of any shoe, as the design may include flaws like integrated patterns that catch dirt and don't let go of it. You want the surface to be as smooth as possible, counting with as little obstacles as possible. Any included details of the design must not have spaces that dirt and debris can easily hold on to. It may have it, but know that it'll be hard to clean.
A massively contributing factor to the state of a shoe is how often you clean it, and how timely you are at the moment of doing so. We're not speaking about how quickly you can clean the shoe, but rather how long you take before removing the dirt it has accumulated. If you step in some mud, you want to clean it as soon as possible. You may not have to run home to clean your shoes right that minute, but wipe them with what you can and then wash them when you get home. The longer you let the mud sit on the shoe, the harder it will be to remove it.
Cleaning a white shoe can be as easy as wiping if you take timely action. Forget about it, on the other hand, and you'll find yourself soaking your shoes in soapy water before you can even get to scrub some of the dirt off it.
When talking about cleaning shoes, the first thing that comes to mind is wiping the upper. This is in part because it's the most visible element, but this doesn't mean that it's the only one that requires cleaning. Some white shoes are smartly designed to be cleanable on the upper, but they forget about smaller elements. The laces, for example, start getting dirty over time as well.
Do note that there's no way manufacturers can stop the shoe from getting dirty. All they can do is optimize the cleanability of the materials and their durability in their original color, but the rest falls into your hands. Designers are not to blame for a shoe that looks bad because it hasn't been cleaned.
10 Best White Shoes
1

. XYD Pointed Toe Kitten Mule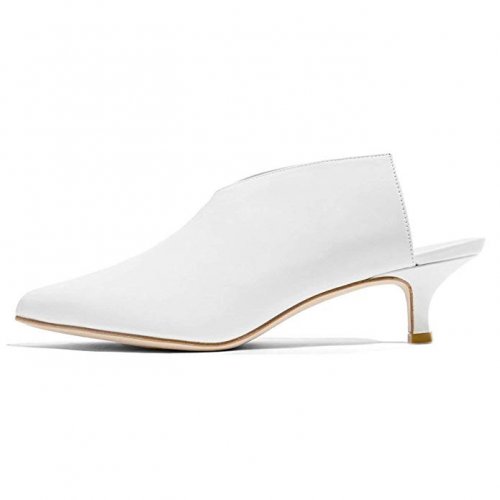 Looking for something stunning and unique in its design for a pair of white shoes? Try the XYD Pointed Toe Kitten Mule. Staying on trend with its architectural flair in design, this mule boasts a low two-inch heel, slip on style, and loads of fashion potential. Funky enough to pair with sleek shift dresses, or keep a simple pointed toe visible under loose slacks, it makes a great addition to your footwear collection.
Easy to walk and stand in, kitten heels are essential to business footwear, or even just for adding versatility to your wardrobe. With its two-inch low heel and rubber sole, you'll be able to catch that train to hit your early meetings and step out for a quick lunch with time to spare. Slip-on design makes them easy to get on and off, and synthetic leather white uppers give them a sleek texture and appeal.
One of the hotter trends in 2018 for footwear is having shoes with architectural structure or heels to them, and the XYD Pointed Toe Kitten Mule has that in abundance. With a unique flair, the uppers split midpoint atop the foot into two wing-like structures to wrap near the ankle but still keep an open heel. Pointed toe allows these to be versatile should you want to cover up some of the pizzazz, and simply have a pointed toe peeking out from under trousers or long dresses.

2

. Converse Chuck Taylor Hi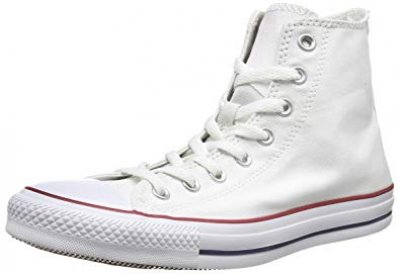 Originally made for basketball players in the 1920s, the Converse Chuck Taylor Hi shoes have managed to become iconic throughout the years. Today, there are very few people who've never owned a pair of Chucks, as they've become the favorite pair of shoes for numerous subcultures, including musicians, artists, and celebrities. Offering a wide variety of styles, the one thing that stays constant on these is the thick rubber sole that is slip resistant and offers the perfect blend of comfort and stability. When it comes to the upper, you can choose according to your personal preferences, from monochrome leather to white canvas hi-tops, and you can even opt for low-cut models. With Converse Chucks, the possibilities are endless.
The thing that makes Chucks stand out is the fact that they look great clean or dirty. Worrying about keeping your shoes clean and white isn't as much of an issue with these, as they are known for being more of a grunge shoe. Worn by musicians, skateboarders, and artists these are shoes that appear more "authentic" the more worn in they are. So go ahead and let them get dirty, and enjoy your rustic Chuck Taylors.
Cleaning your Chucks will depend on the type of upper you opt for. If you go with leather, you can pre-treat them with a leather spray to help them survive wet and rainy conditions. To wash them you should follow the advice of other leather shoes and use a damp cloth that has been dipped in lukewarm water and a bit of mild soap. Never put these into the washer or the dryer, as the leather will not do well at all. As for the canvas versions, your best bet is to spot clean them using mild soap and lukewarm water, baking soda or even bleach. Some people will put them in the washer on a gentle cycle, but note that this will shorten their lifespan significantly.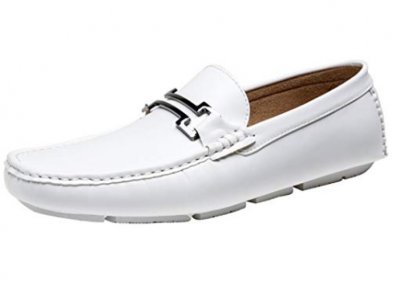 Loafers can make for a great pair of comfortable dress shoes, suitable for work or play, and the Jousen Loafer in white can make a bold statement when paired correctly. Synthetic uppers help keep them looking luxe but easy to maintain, while it's packed full of comfort features to make them light and breathable. Decorative metal buckle keeps them looking fashion forward, and its flexible split sole makes them into a great driving shoe as well.
At the base of the Jousen Loafer is a slip-resistant sole, perfect for wearing on the boat, driving, or just heading to the office on rainy days. Textured rubber construction allows the sole flexibility, and split construction adds mobility for driving. With great grip, it's also quite stable, with quality stitching keeping the sole and uppers in place for the long haul.
White synthetic uppers give the Jousen Loafer a rich feel and appeal, especially when wearing a white hue with shorts or slacks. Synthetic construction also makes these easy to clean with a damp cloth should you get any marks on them. Soft microfiber lines the inside helping to keep your feet cozy and give breathability to the shoe, while a softer insole allows for the potential to wear this loafer without socks. A metal buckle sits atop the forefoot for added flair and appeal.

4

. Viscata Satuna Espadrille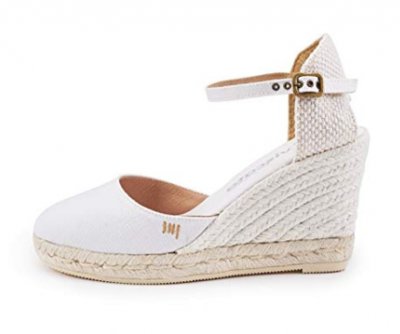 No closet is complete without a pair of white espadrilles. Reminiscent of summer vacations on the beach, the Viscata Satuna Espadrille is direct from Barcelona and inspired by Mediterranean way of life. Beautifully designed and handcrafted with care, the Satuna keeps a 3-inch wedge espadrille with soft canvas uppers and ankle strap for closure and fit. Top it off with soft sole and comfort insole, and this pair is sure to make it to your closet before summer's end!
Inspired in the Mediterranean, the Viscata Satuna Espadrille is handcrafted in Barcelona, Spain, made with the finest materials, so you're sure to get the most out of the dollar spent on this pair. A rubber and jute sole provide comfort and conform to the shape of your foot over time when walking and wearing. Lined with leather, it keeps a rich feel and look to it, while maintaining a summery feel and appeal.
The Viscata Satuna Espadrille has a 3-inch white wedge to boost your confidence and give legs a sexier silhouette, even if you're just on the beach enjoying cocktails. Soft white canvas uppers and heel hug your foot and keep the shoe durable with the ability to be cleaned if you get them dirty. A soft padded sole adds to the comfort, and ankle strap with buckle closure helps to keep you snug and secure.

5

. LifeStride Parigi Pump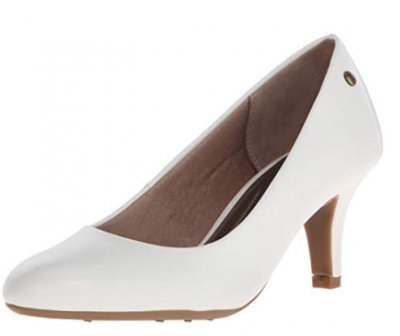 In search of a pump that keeps up with your busy life and style? The LifeStride Parigi Pump combines a sensible design in a high heel, with a clean modern aesthetic, and sleek white uppers. A modest heel of 2.5 inches gives adequate height for business attire, or fashionable everyday wear, and round toe allows for toe box room and helps to minimize restrictiveness of the pump. With several other comfort features padding the inside of the Parigi, these may soon become your go-to shoe!
The LifeStride Parigi Pump keeps a sleek, classic look to this modest working heel, with clean shape and solid coloring. The short 2.5-inch heel tapers into a stiletto-like pump but allows you to maintain balance for running meeting to meeting, or to grab the kids from daycare after that long pitch to the team at the office. Synthetic uppers allow you to care easily for the white coloring, making it simple to wipe away dirt and scuff marks.
Along with the shorter heel to help improve balance and walking stride, the LifeStride Parigi Pump keeps a round toe to help minimize restriction in the toe box when wearing for extended timeframes. They also have a Soft System technology insole, helping to pad each step in cushioned comfort. Synthetic sole has grippy traction with patterns along the base to help maintain grip on slippery surfaces.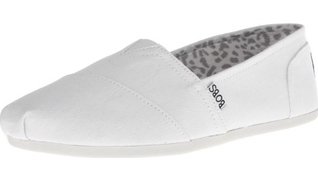 On first look, you'll notice that the Skechers BOBS appear quite similar to a pair of Toms, so you know they most likely pack the same kind of comfortable construction! One of the best things about this canvas slip-on is that with each purchase of BOBS, proceeds will go to help save the lives of cats and dogs through the philanthropic organization, Best Friends Animal Society. Packed with Skechers known-for cushioning technology and foam, you'll be quite please slipping these on to take your pup for a stroll!
As a slip-on style of footwear, the Skechers BOBS is similar to a simplistic loafer, made from comfortable canvas uppers. Roomy and flexible, canvas wraps the entire foot and has flexible goring inserted for a great fit. Canvas is layered in its construction, helping to make the shoe integrity more durable and last for longer. With a vast array of color options to choose, you can find a pair perfect for your style and wardrobe.
To help make this flat canvas shoe casually comfortable, Skechers has given it a memory foam footbed for soft cushioned steps, and a quarter inch heel for some shock absorption. Insole incorporates an arch pillow to give support and structure, while low-profile midsole helps to provide additional shock-absorption when out and about on your feet. Great for lounging around, walking the dog, or just casual evenings with friends!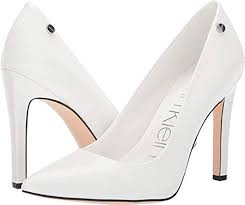 If you're looking for minimalist shoes, that'll be made with the best materials and with attention to detail and construction quality, then going with the Calvin Klein Brady should be a no-brainer. This classic pump is the ultimate sleek style, featuring a wrapped 4-inch heel that won't look out of place even if you decide to wear these shoes to the office. The only embellishment on these is the simple hardware stud on the outside of the heel, that doesn't steal the show, but lets everyone know that you're wearing some serious footwear.
The material of the upper used for the Brady is genuine leather or suede, both of which are supple to the touch. This means that these shoes will mold to your feet, giving you some space where you need it, but supporting everything else. They also won't need much breaking in, and you'll love wearing them straight out of the box.
Pointed toe heels can be a pain to walk in, but this is not the case with the Calvin Klein Brady. These pumps feature a good amount of padding in the insole and have a nice curve to them, which means that your arch is supported, preventing any unnecessary discomfort. While the Calvin Klein Brady does cost a lot compared to the majority of products on this list, it's an amazing pair of shoes that you should definitely consider. It will work both in formal and professional settings, but will also be a good choice to wear with a pair of jeans on a casual outing when you still want to look your best.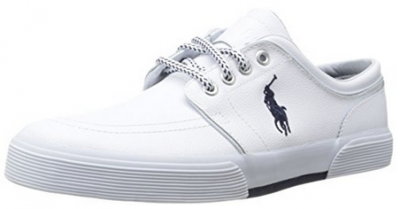 A vintage-inspired Faxon Low is probably the easiest way to look good and be comfortable at the same time. Available both in canvas and leather, this is the perfect sneaker if you want a pair of white kicks, but prefer to take the sophistication up a notch. These will look good both with jeans and chinos and are an excellent choice of everyday footwear, as they'll fit right in at a more relaxed office or for casual outings with friends. If you opt for a pair of Faxon sneakers, you can rest assured that you will be getting a high-quality pair of shoes that you'll love to wear as often as possible.
Focused on keeping you comfortable, as well as looking good, these shoes feature generous padding that was well thought out in order to provide you with an easy-to-wear style. The collar is one of the areas where the level of comfort was improved, giving you a low cut sneaker that is less likely to cut into your ankle or heel, lessening the chances of developing blisters or similar pain. The tongue is padded as well, which allows you to tighten the laces, ensuring a better and more secure fit.
How you clean these shoes greatly depends on whether you go with leather or canvas. Overall, leather is the choice with less work involved to keep it looking new, seeing that wiping it down with a damp cloth will get rid of most stains. However, it is important to note that water and salt shorten the lifespan of any pair of leather shoes, which means that you will have to watch out not to get these wet if you want to avoid cracking or discoloration.

9

. Keds Champion Original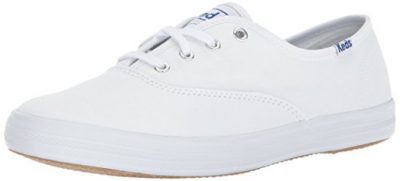 Keds are one of the most versatile shoes you can purchase, and really can be worn for any occasion. Low-key, simple, and comfortable these will become a must-have in your wardrobe the second you try a pair on. A very low cut sneaker, these go with any outfit and can be thrown on quickly and easily. They are made from breathable canvas so that your foot doesn't get sweaty or smelly throughout the day, and they include a terry-lined sock liner so they can be worn with or without socks. With a rubber midsole and outsole, your feet will be supported and comfortable all day long.
What makes Keds one of the best shoes to have on hand is that fact that you can literally pair them with almost any outfit or wear them for any occasion. There is nothing overly flashy or stand out about their appearance, so they are a subtle enhancement to whatever you're wearing. Lightweight and comfortable, you will find that you can slip these on and go no matter what you have planned for the day.
Since Keds are made of canvas, they are one of the easiest white shoes to clean. Any type of spot stain remover should be effective at removing stuck on stains, and you can wash them with soap and water. Canvas is similar to a lot of the fabrics your clothes are made from, so washing them isn't much different. If you want to make them more stain resistant, you can cover them in a canvas shoe spray, or even rub beeswax over them to create a protective layer.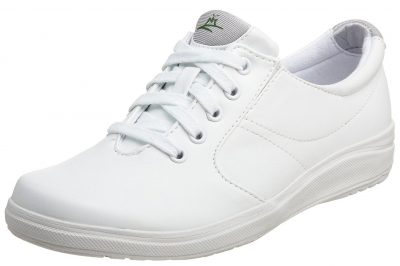 Approved by the American Podiatric Medical Association, the Grasshopper lace-up shoes have been designed to promote good foot health. Whether you want to use them as walking shoes, for leisure activities, or just for general wear, you will find that they are extremely comfortable as well as helpful if you suffer from any type of foot condition such as flat feet, plantar fasciitis or metatarsal pain. If you often find yourself suffering from sore feet at the end of the day, or after a few hours of walking or standing, you will find that investing in these shoes is a great idea. They are well-padded, have memory foam cushioning, a flexible upper and enhanced odor control for a fresh feel that stays fresh for longer.
These shoes check all the boxes when it comes to superior foot health promotion. They feature sturdy arch support to prevent pain and have a Purefit comfort arch cushion. The Ortholite sockliner further cushions the foot throughout its entire length, while the rounded heel lessens the shock your joints absorb upon impact. The outsole is flexible to adapt to your foot's natural movement, while the upper is made out of stretch vegan leather that will allow for plenty of room in the toe area. Seeing that the insole is removable, these are also a good choice if you need custom orthotics.
These shoes are made for people who are looking to do more leisurely activities, so you shouldn't really get them too dirty with regular wear. When they do get dirty, the upper should be spot cleaned with a brush and some soapy water then left to air dry. Under no circumstances should these be put in the washer or dryer as they will get too damaged.

Subscribe to our Newsletter